If you are going to take your online store seriously, you need to register your own domain and implement your own website. Many people who don't consider themselves tech saavy often question their own abilities and end up relying on 3rd party sites such as Ebay, Yahoo etc… to implement their website store for them.
Let me tell you why that's a bad idea.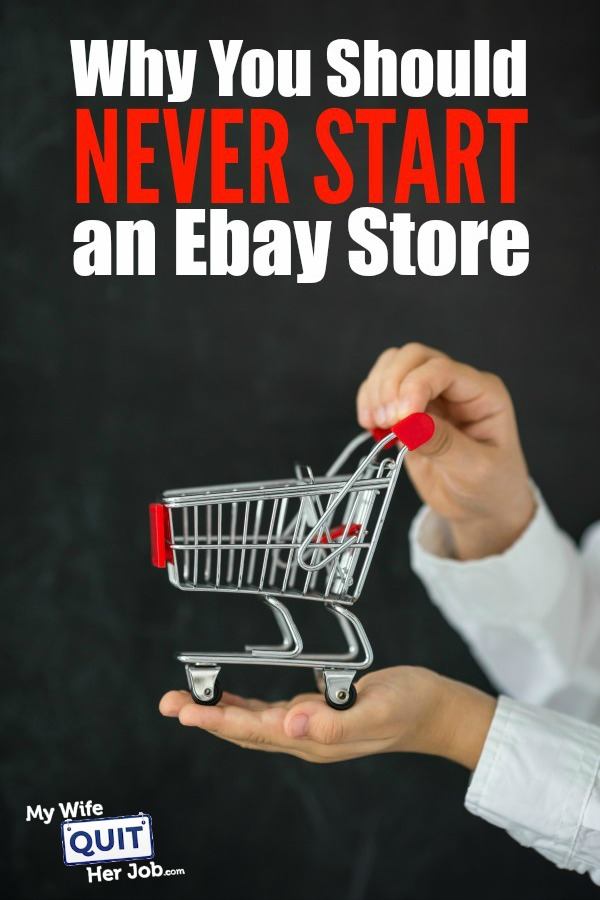 Ebay Doesn't Have Your Interests In Mind
Ebay, like most publicly traded companies are primarily concerned with their own growth and stock price. They don't care whether you are successful, nor do they care whether you provide a genuine service to the community. They'll do whatever it takes to demonstrate growth and make shareholders happy.
What this means is that you are always at their mercy and they can choose to put you out of business at their own whim. Most of their changes recently have been in the form of price hikes for using their service. Let's take a quick peek at their store pricing policy.
Final Value Fees
Price
Final Value Fee
Item not sold
No Fee
$1.00 – $25.00
12.00% of the closing price
$25.01 – $100.00
12.00% of the initial $25.00 ($3.00), plus 8.00% of the remaining closing value balance
$100.01 – $1,000.00
12.00% of the initial $25.00 ($3.00), plus 8.00% of the initial $25.01 – $100.00 ($6.00), plus 4.00% of the remaining closing value balance $100.01 – $1,000.00
Over $1,000.01
12.00% of the initial $25.00 ($3.00), plus 8.00% of the initial $25.01 – $100.00 ($6.00), plus 4.00% of the initial $100.01 – $1,000.00 ($36.00), plus 2.00% of the remaining closing value balance ($1,000.01-closing value)

If you were to open a store on Ebay, Ebay would take between 8-12 percent of your gross sales. Couple that with the fact that you have to use paypal for your transactions, Ebay takes between 11-15% of your revenue right off the bat. This is ridiculous!
In addition to this, you also have to pay a monthly store membership fee just for the right to get ripped off. For the past few years, Ebay's growth has ground to a halt. You can be sure that more rate hikes will be on the horizon soon.
Ebay Stores Don't Provide Design Flexibility
Unless you feel like paying hundreds of dollars a month, Ebay greatly limits what you can do with your Ebay storefront. They try to bundle their stores with a bunch of tools to add value, but most or all of these tools are available on the web for free already thanks to companies like Google.
To give you an idea of how restrictive an ebay store can be, the "Anchor" membership which costs $300 a month, allows you to build 15 custom webpages. Wow! 15 whole pages for $300 a month. Meanwhile, you can build unlimited pages on your own website that you host yourself.
Ebay Shoppers are Inherently Cheap
When I shop on Ebay, I shop for bargains. Especially since most of the stores on Ebay are mom and pop shops or individuals working out of their own home, I naturally expect to pay less for my merchandise.
What this means, is that you will rarely get top dollar for your items. Because you are limited by what Ebay allows you to do with your store design, the only way to differentiate yourself will be to lower your prices which will cut into your margins.
The Ebay marketplace is extremely competitive, cut throat and hard to break into.
Still Afraid to Open Your Own Store?
There are many shopping cart or online store software packages already written for you. Here are some choices.
Whatever you decide, stay away from Ebay Stores. As far as I'm concerned, Ebay is only good for getting rid of unwanted items through their auctions.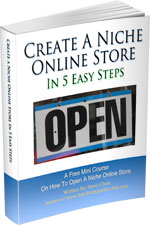 Ready To Get Serious About Starting An Online Business?
If you are really considering starting your own online business, then you have to check out my free mini course on How To Create A Niche Online Store In 5 Easy Steps.
In this 6 day mini course, I reveal the steps that my wife and I took to earn 100 thousand dollars in the span of just a year. Best of all, it's absolutely free!
Similar Posts
Have you read these?