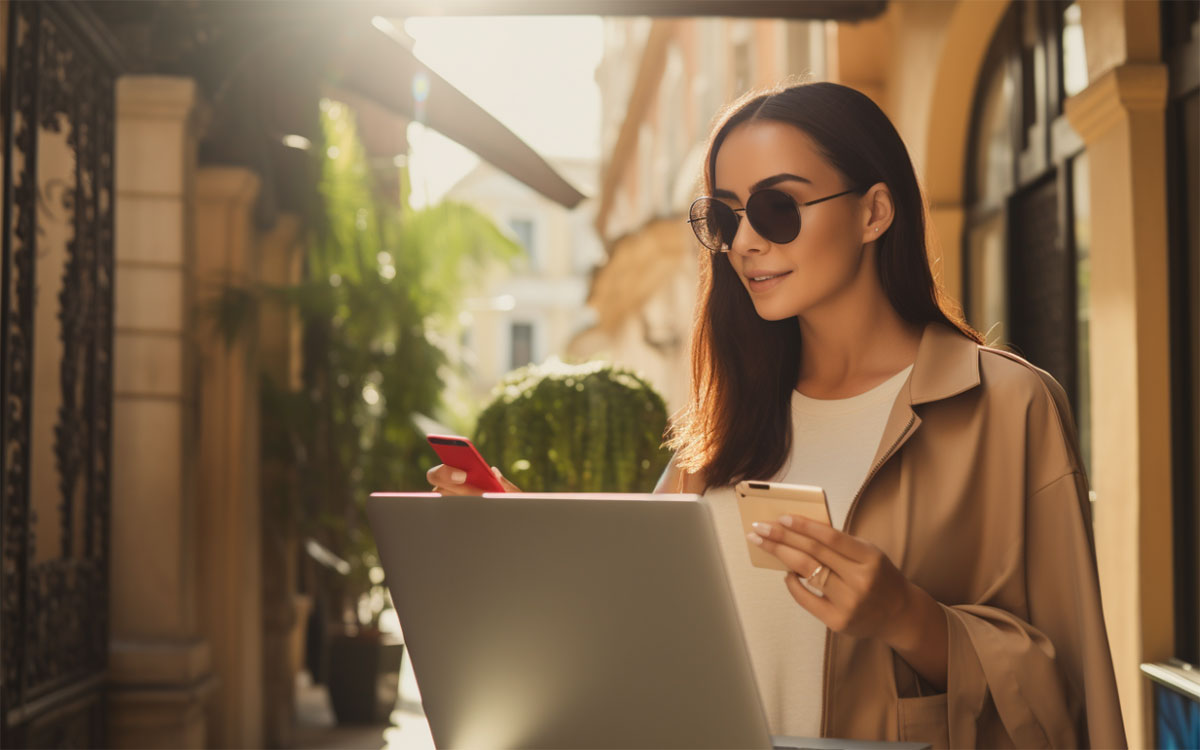 eBay is the second-most popular online marketplace in the US behind Amazon that offers a convenient platform for buying and selling goods online.
But is eBay safe? And can you get scammed on eBay?
In this post, I'll share everything you need to know about eBay, including their policies, common scams, and tips to keep you safe for a happy shopping experience.
Get My Free Mini Course On How To Start A Successful Ecommerce Store
If you are interested in starting an ecommerce business, I put together a comprehensive package of resources that will help you launch your own online store from complete scratch. Be sure to grab it before you leave!
Is eBay Safe?
Buying on eBay is 100% safe for buyers, as the eBay Money Back Guarantee program allows buyers to get their money back if an item doesn't arrive, is faulty or damaged, or doesn't match the listing.
However, you must complete the entire transaction on the eBay platform to be eligible. In addition, payment methods like cash, bank transfer, money orders, and escrow services are not covered by the money back guarantee.
The Money Back Guarantee policy allows buyers to request a refund if:
The order didn't arrive.
The item is delivered damaged, faulty, or doesn't match the listing description.
The seller sends the wrong item.
The seller doesn't fulfill their stated return policy.
Buyers can initiate a refund request by contacting the seller through the Resolution Center. If the seller fails to respond or provide a satisfactory resolution within three business days, the buyer can escalate the case to eBay.
eBay typically reviews the case within 48 hours. If it meets the Money Back Guarantee program criteria, eBay will provide a complete refund, including shipping fees.
However, the eBay Money Back Guarantee doesn't cover:
Orders paid with ineligible payment methods like cash, bank transfer, money orders, and escrow services.
Categories like real estate, websites, digital content (NFTs), intangible goods, classified ads, services, travel tickets, heavy machinery, and motor vehicles.
Sellers on eBay are responsible for the entire transaction process and product quality for the customer.
Overall, eBay is safe for buyers and sellers carry the full transaction responsibility. To avoid buyer fraud, sellers must use eBay-approved carriers with order tracking when shipping their orders.
Can You Get Scammed On eBay?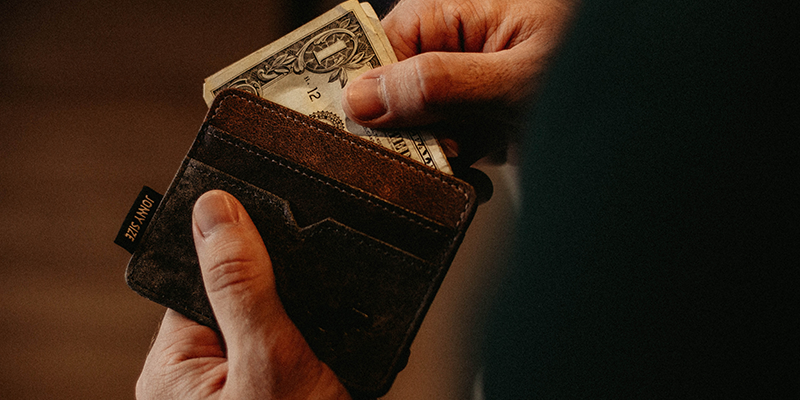 You can get scammed on eBay just like on any other online marketplace if you decide to conduct a transaction outside of the eBay platform or if you pay by cash, check or money order.
As long as you pay for your order on the platform, eBay offers security measures such as credit card protection and money-back guarantees for most transactions at no cost.
What Are The Common Scams On eBay As A Buyer?
Potential scams eBay buyers may face include non-delivery, mislabeling scams, and empty box scams.
1. Mislabeling Scam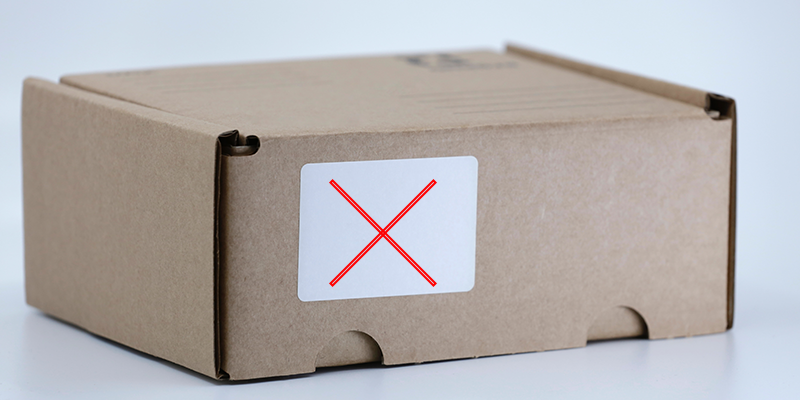 The mislabeling scam is when the seller deliberately uses an incorrect name on the shipping label when sending the package to the buyer's address.
This tactic is designed to make you believe you've received someone else's package.
Here's how this scam works:
You receive the package with the wrong name on it.
Acting responsibly, you return the package to the post office or shipping company.
By returning the package, it's marked as "Refused" or "Returned," which falls outside the protection of the eBay Money Back Guarantee.
The terms specify that refused deliveries are not covered unless the item had additional shipping costs due to insufficient postage applied by the seller.
As a result, the money you send to the seller becomes theirs to keep, and you have nothing to show for it. In addition, this situation is considered a resolved dispute, and you cannot leave feedback.
To avoid this scam, always check that the carton's tracking number matches your order.
2. Non-delivery Scam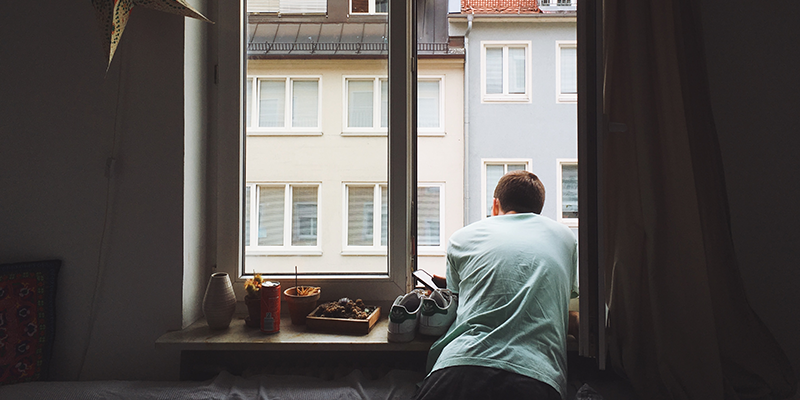 The non-delivery scam occurs when a payment is made, but the seller fails to deliver the purchased item.
In most cases, eBay provides protection through its Money Back Guarantee program. If your purchased item doesn't arrive as described and on time, you receive a full refund.
However, there are exceptions to this coverage especially when it involves a high-value transaction in specific categories.
Here's a list of categories that are excluded from the buyer protection program.
Real Estate, Websites, Businesses for Sale
Digital content, Intangible goods, Non-fungible tokens (NFTs) including physical items combined with or attached to NFTs
Classified Ads
Services
Travel tickets or vouchers
Industrial equipment and heavy machinery
Motor vehicles, including recreational vehicles, aircraft and boats
To protect yourself, avoid purchasing items in these non-covered categories. If you can't find the item in any other marketplace that provides protection, check the buyer rating before buying.
3. Box-Only Scam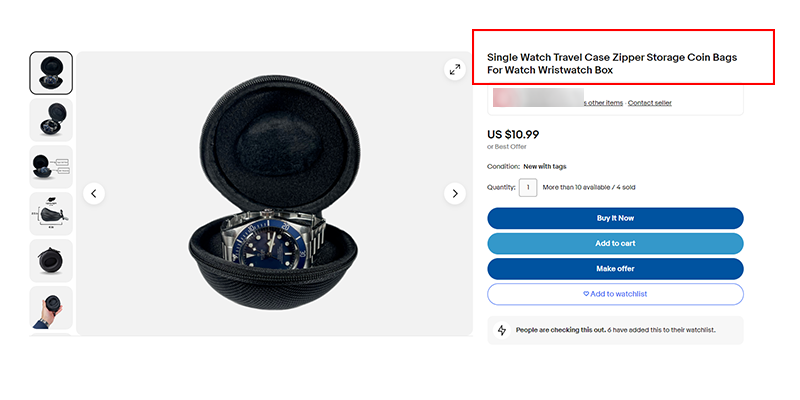 The box-only scam is when a seller creates a listing at an exceptionally low price to tempt buyers into hasty purchases without a thorough listing review.
The catch is that the seller clearly discloses in the listing that they are exclusively selling the box for the item, not the item itself.
When the package arrives, you discover that the seller did in fact send you what was specified in the listing.
This type of scam is prevalent with used video game listings, where sellers specify that the listing includes solely the manual or box.
As a result, you must not rush into purchases on online marketplaces. Always take the time to thoroughly read and understand the listing details before making a decision.
4. Photo-only Scam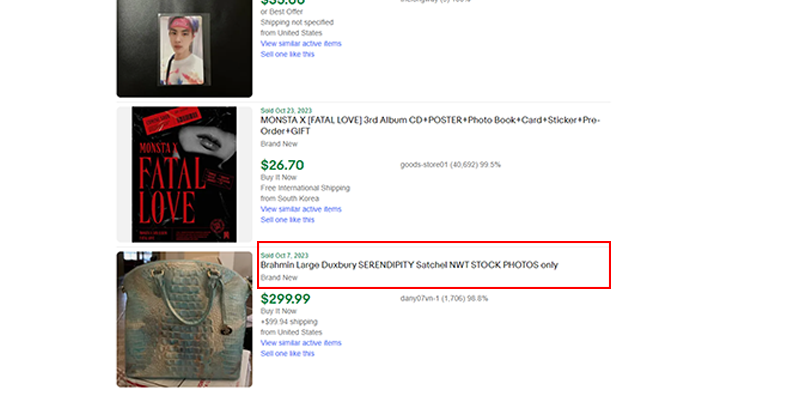 The photo-only scam involves fraudulent sellers posting a picture of a product with minimal or no details about the item. However, they include a vague disclaimer indicating "photo only" either in the listing title or in the bottom of the post.
The photo-only scam is similar to a box-only scam and is especially prevalent for high-demand or expensive items where the offer is too good to be true.
5. Tracking Number Scam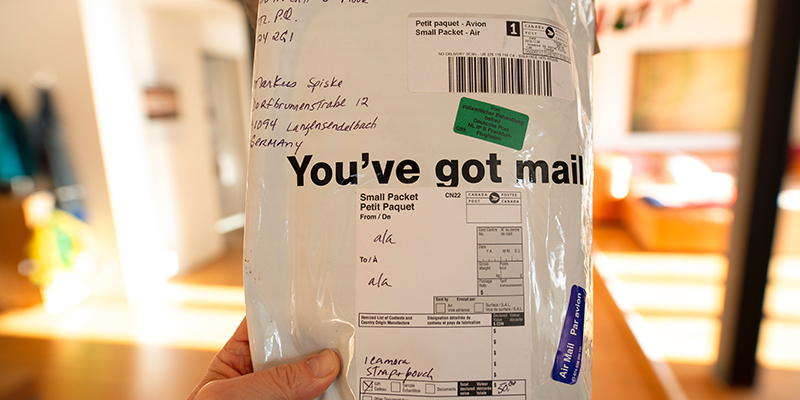 The tracking number scam is when sellers send a fake package to an incorrect address but provide genuine tracking details that falsely indicate successful delivery.
When the buyer claims non-delivery, the scammer presents a valid tracking number, avoiding the need to issue a refund under eBay's seller protection program.
To avoid this scam, cross-check tracking details with the shipping company. Although the shipping carrier may not provide you with specific details, they can verify whether the package was sent to a different address.
What Are The Common Scams On eBay As A Seller?
Common scams eBay sellers face include overpayment requests, empty box claims, off-platform transactions, fraudulent "item not received" disputes, and incorrect chargeback claims.
1. Overpayment Scam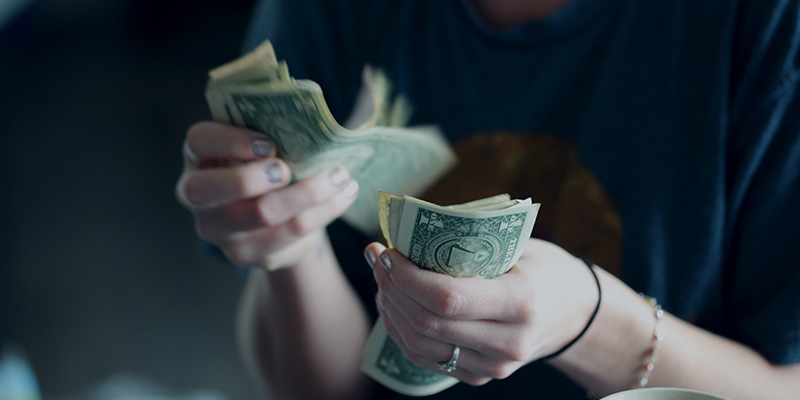 The overpayment scam occurs when a buyer contacts a seller with an offer to pay well above the item's listed price, such as offering $300 for an item listed at $150.
Then, they pay for the order with a fraudulent check that fails to clear. By the time you realize it's fake, you've already shipped the item.
To safeguard yourself from this scam, avoid shipping items until you have confirmed receipt of the payment, either in your possession or bank account.
To ensure a safe transaction, always accept payments exclusively through the eBay platform and avoid accepting checks as a payment method.
2. Outside Transaction Scam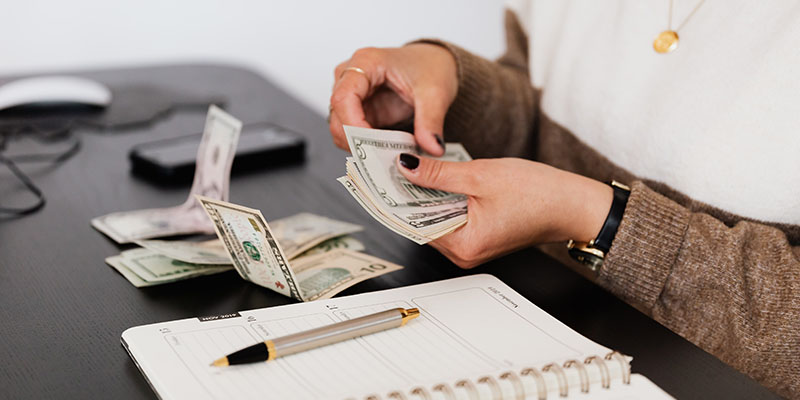 The outside transaction scam happens when a buyer proposes an immediate payment outside of eBay's platform to close the auction listing.
After the off-platform transaction, the buyer later files a complaint with eBay, alleging that the purchased item was defective, counterfeit, or non-existent.
Attempts to dispute these claims doesn't work because eBay's policy states that all communication and transactions must occur on the eBay platform.
As a result, never agree to conduct business outside of eBay, even if you need quick cash.
3. Empty Box Claim Scam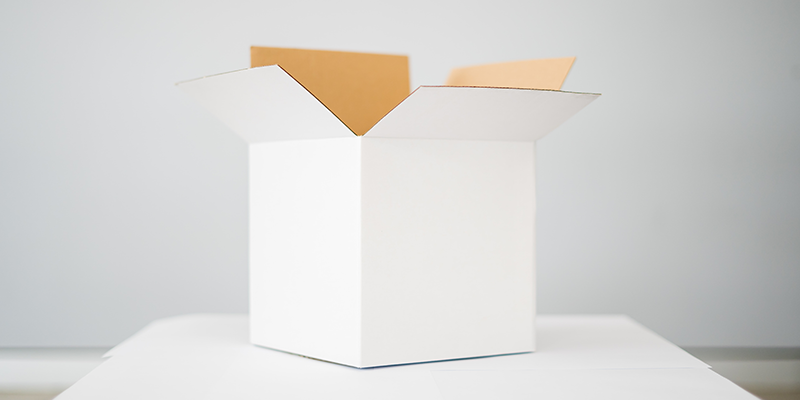 The empty box scam is when the buyer initiates an eBay dispute, alleging that the seller shipped an empty box.
Even though eBay requires a return of the item, the scammer returns an empty box while keeping the actual product.
If you get scammed this way, contact eBay and appeal the dispute. You'll be asked to give evidence, including photographic proof of item shipment.
If the evidence isn't sufficient, eBay usually rules in favor of the buyer.
For added security, take photos of the entire packing and shipping process for each eBay sale. You can also contact the postal service to obtain package weight information as proof of your shipment.
4. Faulty Replica Scam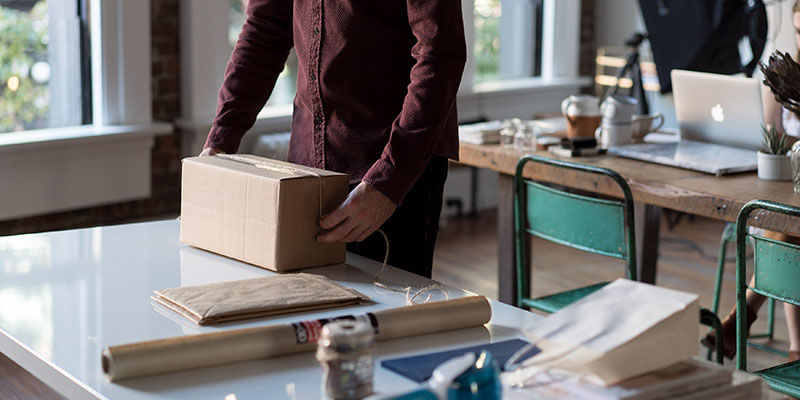 The faulty replica scam is when a buyer falsely claims a purchased item is defective, typically to obtain a refund or replacement.
For example, let's say you're selling a used item that's in high demand, such as an iPhone, and the buyer places an order. But unknown to you, they already have an identical broken or damaged iPhone.
When you ship the order to the buyer, the buyer alleges you sent them a defective product.
Unless you can prove that you shipped a working product, the scammer will get a refund, leaving you at a loss for both the item and the shipment costs.
To avoid this scam, document all distinctive details of the item before shipping it, including the serial number, IMEI number, and any other unique identifiers.
In addition, taking photographs and meticulously documenting the shipping process can be important evidence in your defense.
5. PayPal "Item Not Received" Scam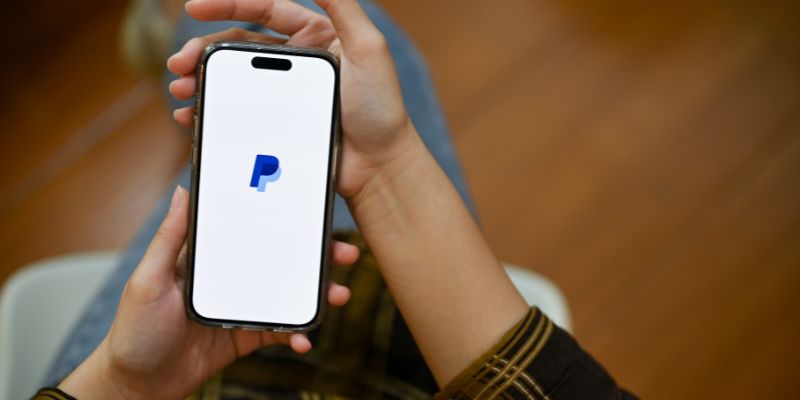 The "PayPal "Item Not Received" Scam" involves a buyer falsely claiming that a purchased item was not received to exploit PayPal Seller Protection requirements.
They often target sellers who don't have signature confirmation of delivery for high-value transactions.
PayPal's policy mandates different levels of proof for transactions based on their value.
For transactions under $750, simple delivery confirmation is sufficient, while for those exceeding $750, obtaining a signature confirming delivery is compulsory.
Scammers take advantage of the fact that many non-business eBay sellers may not be aware of this requirement. So they intentionally purchase an item valued over $750 through PayPal and falsely assert that it was never received.
Since there is no signature confirmation of delivery, the seller is left without protection.
To counteract scams, track your shipments regularly. For sales exceeding $750, get a signature confirmation for added security.
6. Chargeback Scam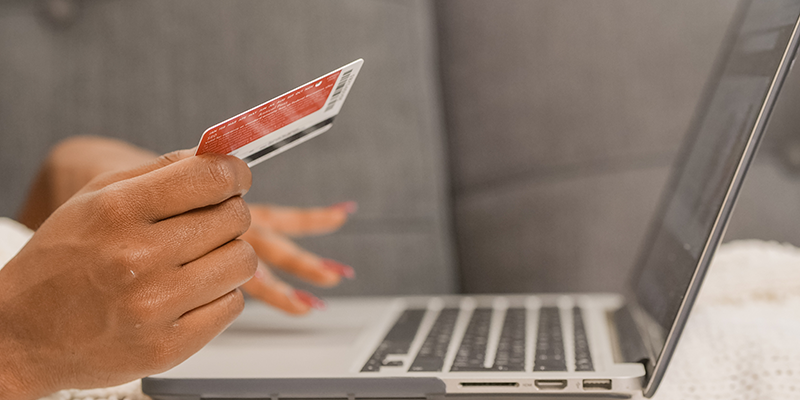 The chargeback scam is when a buyer initiates a transaction reversal, typically through a credit card or PayPal. This results in the withdrawal of funds from the seller's account in addition to a chargeback fee.
Chargebacks are relatively easy for buyers to initiate, usually requiring only the suspicion of wrongdoing, prompting banks and PayPal to return the money to the buyer without evidence.
PayPal Seller Protection offers shield sellers from unjustified chargebacks, provided they comply with their rules.
In contrast, banks conduct investigations following chargebacks, which can be overturned if you can prove the transaction's legitimacy.
Keep in mind if a buyer requests a refund and you cannot convince them otherwise, issuing the refund is advisable to avoid potential chargeback fees.
7. Address Change Scam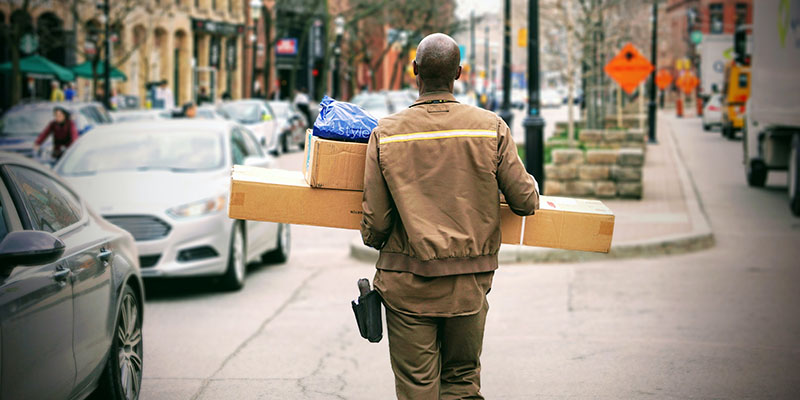 The address change scam occurs when a buyer requests a change to a foreign address and offers to cover the extra shipping costs.
The scammer will then send you a fake PayPal email claiming that the payment will be released once they have proof of shipment. But in reality, no payment was made through PayPal and if you ship the product, you're out of luck.
To avoid this scam, always ship the item to the address specified in the original invoice and verify all of the emails you receive from Paypal.
8. Feedback Extortion Scam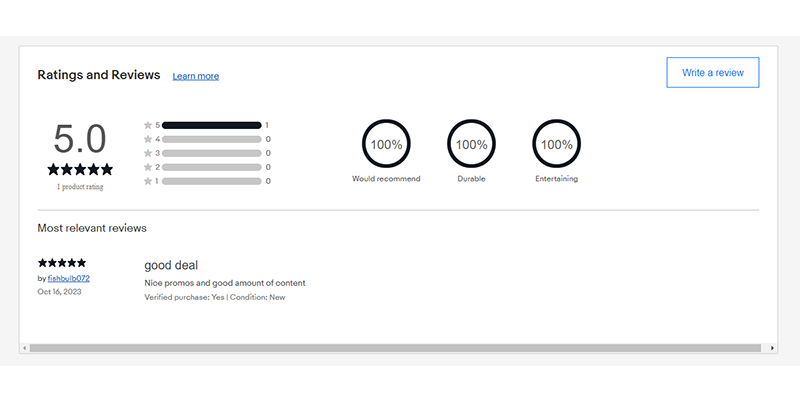 Feedback extortion on eBay involves buyers using negative feedback or a low seller rating as leverage to obtain concessions beyond what was originally listed.
For example, a buyer may threaten to post a negative review unless you cover the return shipping costs, especially if the listing doesn't mention free returns.
If you face a feedback extortion scam, simply report the individual, as eBay has a "Feedback Extortion Policy" for such cases.
Is It Safe To Use A Debit Card On eBay?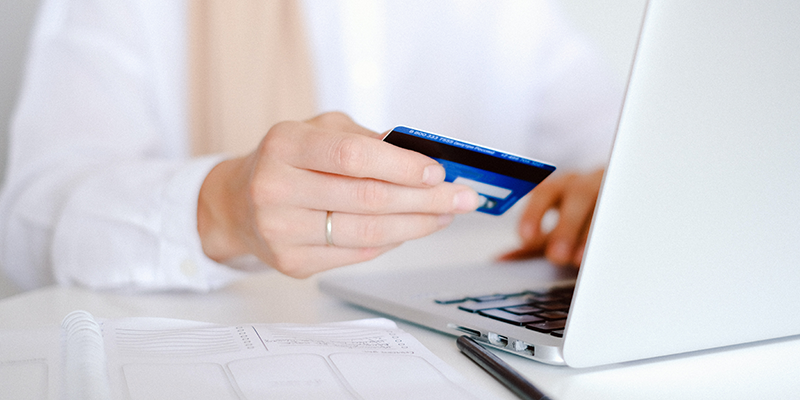 Using a debit card on eBay is generally a safe practice, provided that you maintain a secure and virus-free device when accessing the internet.
eBay uses industry standard 256 bit encryption to protect all transactions online.
Safety Tips For eBay Buyers And Sellers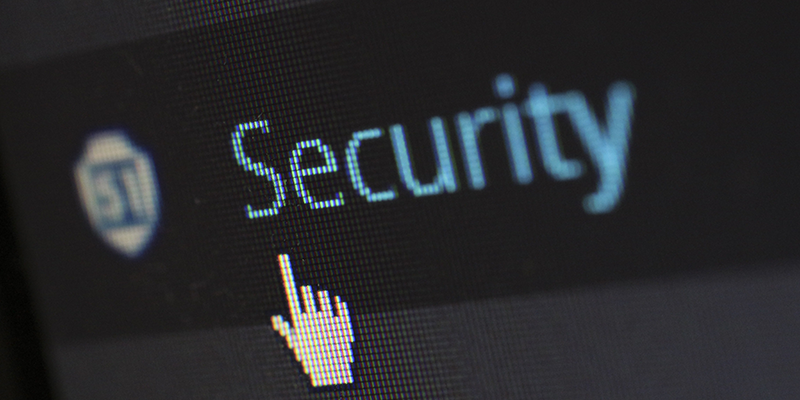 To make eBay safe, both buyers and sellers should conduct all transactions on the eBay platform, read product descriptions thoroughly and check customer feedback and seller ratings before making purchases.
1. Always Conduct Transactions On The eBay Platform
Be careful if someone encourages you to sell or make a purchase outside of eBay. It may be tempting to save on eBay fees but the eBay buyer protection will not apply and you will not be protected from fraud.
In addition, this practice goes against eBay's terms of service and could lead to suspension.
2. Read Product Descriptions Carefully
Some sellers employ deceptive tactics to dupe eBay users into purchasing items that do not meet their expectations.
For example, consider the following listing:
Title: GoPro Hero 12 Black For Sale (Great Low Price)
Description: Get your hands on this GoPro Hero 12 Black box for half the price you would pay anywhere else.
The seller has presented the product as if it were a GoPro Hero 12, but in reality, it's just an empty box. Always read the description thoroughly especially if the price seems too low.
3. Contact The Seller With Any Questions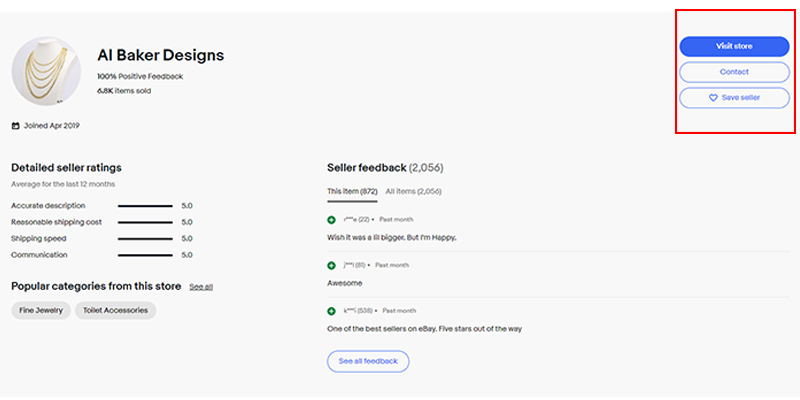 Contact the seller using eBay's messaging system if you have any product inquiries.
A reputable eBay seller should know the item well, respond promptly and be readily available to provide excellent customer service.
4. Read eBay Customer Feedback
Both past buyers and sellers can provide feedback on each other's eBay accounts.
Before you buy or sell on eBay, always check the percentage of positive feedback ratings as part of your evaluation process.
5. Look At The Seller's Rating
eBay provides each seller with a rating displayed alongside their name. Avoid buying from a seller with a rating below 95% on eBay.
6. Always Use PayPal
Paying by PayPal offers several advantages, including PayPal seller protection, an eBay money-back guarantee, and the ability to raise disputes with both companies in case any issues arise during a transaction.
However, if you want an alternative payment method, check out my guide on how to sell on eBay without using PayPal.
7. Write Detailed Product Descriptions
If you're a seller, write detailed product descriptions that include multiple photos of the product you are selling. This helps avoid buyer confusion and prevents "item not as described" claims.
Sometimes, you'll encounter scammers who will use the product and request a refund after an extended period.
To prevent this from happening, make sure your return policy is clearly specified in your product descriptions.
8. Check The Delivery Costs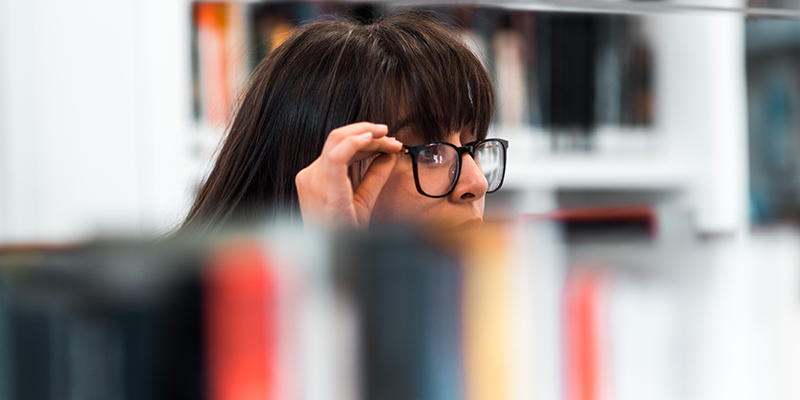 When making a purchase on eBay, check delivery costs, as some sellers may offer low product prices but exorbitant delivery charges.
This tactic is occasionally employed as a marketing strategy to attract buyers.
9. Check The Return Policy
If you purchase an item that does not meet your expectations and requires a return, be wary of sellers who may attempt to manipulate the return policy.
Some sellers may falsely claim the return request falls outside a seven-day return window. However, eBay guarantees 30 days from the estimated delivery date.
When in doubt, always initiate a dispute with eBay to protect your rights as a buyer.
10. Trust Your Gut
If you find a deal that appears too good to be true, it likely is. Trust your instincts.
For example, if you come across an item priced 80% lower than similar listings on the site, you should question the seller about the discrepancy or avoid the listing altogether.
11. Maintain Records For Delivery And Shipping
Keep all your eBay transaction receipts along with comprehensive records of delivery and shipping costs.
These documents serve as evidence in case of disputes, particularly when dealing with scammers who may falsely claim non-receipt of items.
Safety Tips When Buying A Vehicle On eBay Motors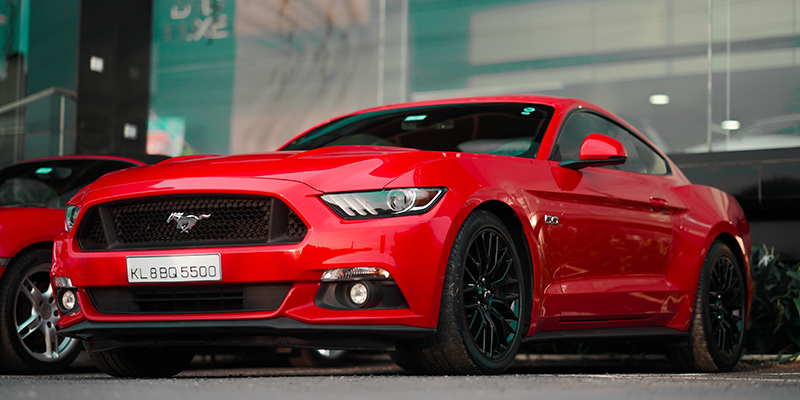 Price comparison: Before purchasing a car on eBay, compare prices for similar vehicles on third-party websites to determine if the deal is reasonable.
Be wary of excuses: If the seller hesitates to allow vehicle inspections or provide history reports, it's a red flag. Reputable sellers typically comply.
Beware of bogus emails: Watch out for fraudulent emails from sellers pretending to provide vehicle-related documents. Verify the legitimacy of such emails online and make inquiries to confirm their authenticity.
Know your rights: eBay and PayPal do not protect vehicle sales. Research common issues with the vehicle, inspect, and involve a mechanic if needed.
Avoid risky payments: Steer clear of payment methods like Western Union, MoneyGram, and escrow services. If you're paying with cash, withhold funds until all necessary checks are completed.
Consult eBay support forum: When in doubt, seek advice from the eBay community forum, where members can provide valuable guidance for a secure transaction.
How To Know If An eBay Seller Is Trustworthy?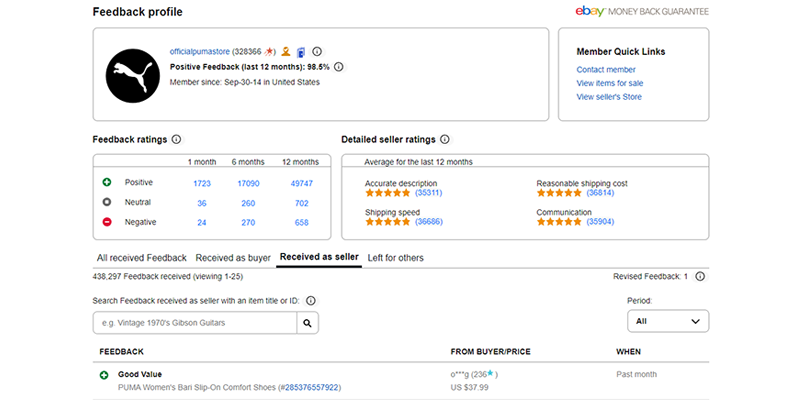 An eBay seller is trustworthy if they have conducted at least 100 transactions with a 95% positive feedback rating or higher on eBay.
1. Volume Of Orders Fulfilled
While a seller may have a flawless 100% feedback rating, the quantity of orders they have fulfilled also plays a significant role.
For example, a seller can have a 100% feedback rating with just two fulfilled orders.
As a result, go with a seller with an extensive track record of at least 100 orders. They tend to offer a more reliable experience than a seller with limited ratings.
2. Recency Of Feedback
Even if a seller has a high overall rating, check for recent reviews.
Focus on feedback from the past six months to gain insights relevant to your current transaction.
3. Specific Feedback Details
Pay attention to keywords and specific feedback details that align with your product of interest.
Sellers often sell a wide range of products, so searching for product specific feedback will be more useful than generic seller feedback.
Use the "Search Seller Feedback" option to pinpoint relevant reviews.
4. Percentage And Star Rating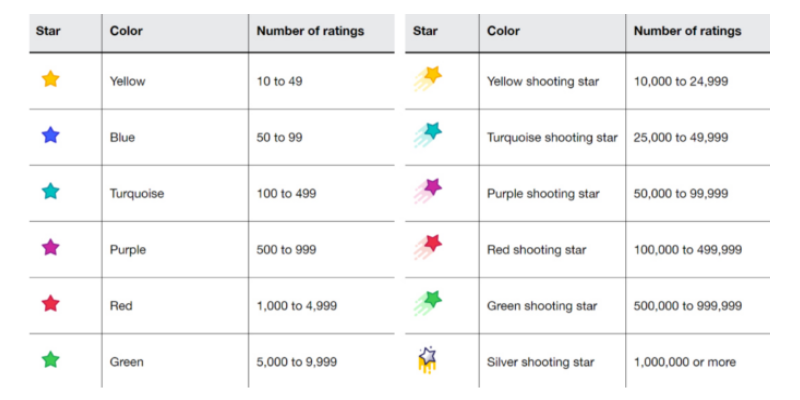 eBay calculates feedback scores on two levels:
A percentage rating
A colored star rating
The percentage rating, a score out of 100, reflects the positive to total feedback ratio. For example, a user with 20 positive ratings and 0 negative would have a 100% rating.
The star rating, represented by colored stars, correlates with feedback scores, with a higher score indicating greater trustworthiness. You can find the tiny star icon beside the seller's name.
Here's how the star rating system on eBay works as follows:
| | |
| --- | --- |
| Star Color | Number of ratings |
| Yellow | 10 to 49 |
| Blue | 50 to 99 |
| Turquoise | 100 to 499 |
| Purple | 500 to 999 |
| Red | 1000 to 4999 |
| Green | 5000 to 9999 |
| Yellow shooting star | 10,000 to 24,999 |
| Turquoise shooting star | 25,000 to 49,999 |
| Purple shooting star | 50,000 to 99,999 |
| Red shooting star | 100,000 to 499,999 |
| Green shooting star | 500,000 to 999,999 |
| Silver shooting star | 1,000,000 and more |
Should You Buy Or Sell From eBay?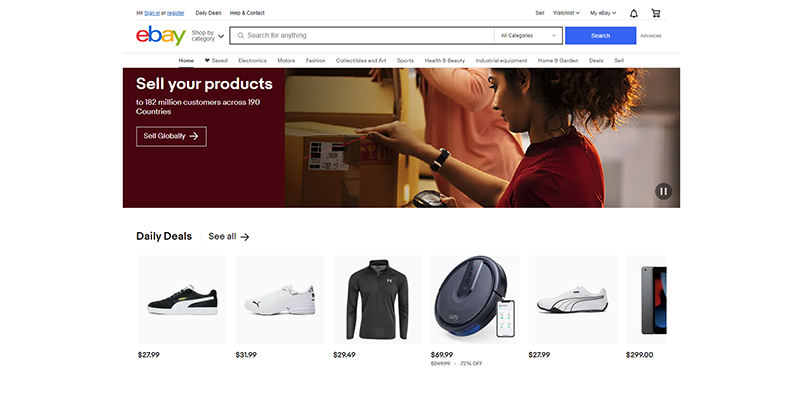 eBay offers a convenient platform for buying and selling both new and used items. Buying from eBay is generally safe, which is why over 30% of mobile users in the US use the eBay app.
If you're a buyer, you should be aware of potential scams. Use the tips provided in the article to mitigate risks. Remember, if a deal appears too good to be true, it often is.
In addition, selling items on eBay can be an effective way to declutter your house as well.
If you're a seller, consider using eBay, especially if you're dealing in collectibles, electronics, automotive items, and accessories that are hard to find elsewhere.
Selling on eBay has very few requirements and you can get started selling with minimal inventory, all from the comfort of your home.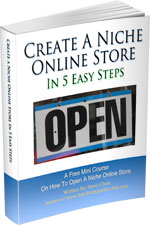 Ready To Get Serious About Starting An Online Business?
If you are really considering starting your own online business, then you have to check out my free mini course on How To Create A Niche Online Store In 5 Easy Steps.
In this 6 day mini course, I reveal the steps that my wife and I took to earn 100 thousand dollars in the span of just a year. Best of all, it's free and you'll receive weekly ecommerce tips and strategies!
Note: This post above may contain affiliate links, which means that I may receive a commission if you make a purchase when clicking a link. Please consult our privacy policy for more information.
Related Posts In Ecommerce Marketplaces
About Steve Chou

Steve Chou is a highly recognized influencer in the ecommerce space and has taught thousands of students how to effectively sell physical products online over at ProfitableOnlineStore.com. 

His blog, MyWifeQuitHerJob.com, has been featured in Forbes, Inc, The New York Times,  Entrepreneur and MSNBC.  

He's also a contributing author for BigCommerce, Klaviyo, ManyChat, Printful, Privy, CXL, Ecommerce Fuel, GlockApps, Privy, Social Media Examiner, Web Designer Depot, Sumo and other leading business publications.

In addition, he runs a popular ecommerce podcast, My Wife Quit Her Job, which is a top 25 marketing show on all of Apple Podcasts. 

To stay up to date with all of the latest ecommerce trends, Steve runs a 7 figure ecommerce store, BumblebeeLinens.com, with his wife and puts on an annual ecommerce conference called The Sellers Summit.  

Steve carries both a bachelors and a masters degree in electrical engineering from Stanford University. Despite majoring in electrical engineering, he spent a good portion of his graduate education studying entrepreneurship and the mechanics of running small businesses.