Farfetch has been an online luxury shopping destination for women and men since the early 2000s. The premier platform offers an optimal solution for those seeking upscale brands while living far from luxury boutiques.
But is Farfetch legit? Are their products authentic?
In this Farfetch review, I'll share everything you need to know about the platform, including how to initiate returns and ways to earn rewards while shopping.
Get My Free Mini Course On How To Start A Successful Ecommerce Store
If you are interested in starting an ecommerce business, I put together a comprehensive package of resources that will help you launch your own online store from complete scratch. Be sure to grab it before you leave!
What Is Farfetch?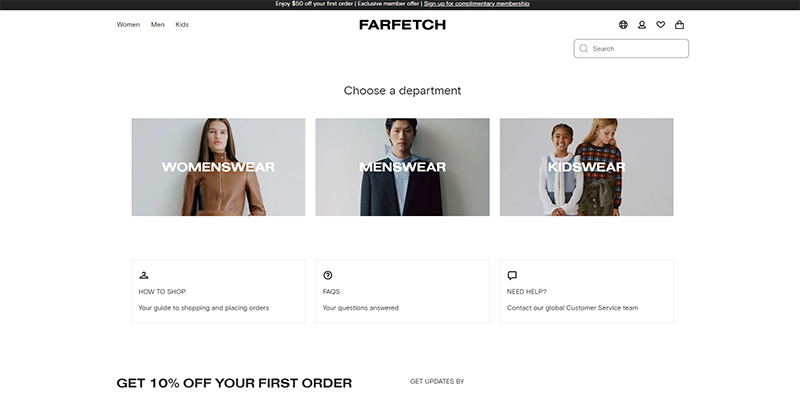 Farfetch is an online luxury fashion retail platform that sells products from over 700 boutiques and over 3500 brands from around the world.
Founded in 2007 by Portuguese entrepreneur José Neves, Farfetch has grown to become one of the leading global platforms for luxury fashion.
In its earlier stages, Farfetch grew quickly by relying on boutique stores and brands to fulfill orders. Today, Farfetch provides its partners the option to fulfill orders independently or use Farfetch's logistics services.
Farfetch has an expansive selection of items including clothing, shoes, bags, and homeware from established high-end labels. These brands are some of the world's most prestigious boutiques across Asia, Europe, and North America.
In addition, Farfetch owns its own fashion brand called "There Was One," with products in categories like clothes, accessories, and activewear.
Overall, Farfetch is a renowned online store that provides high-end products to customers in 190 countries.
Is Farfetch Legit?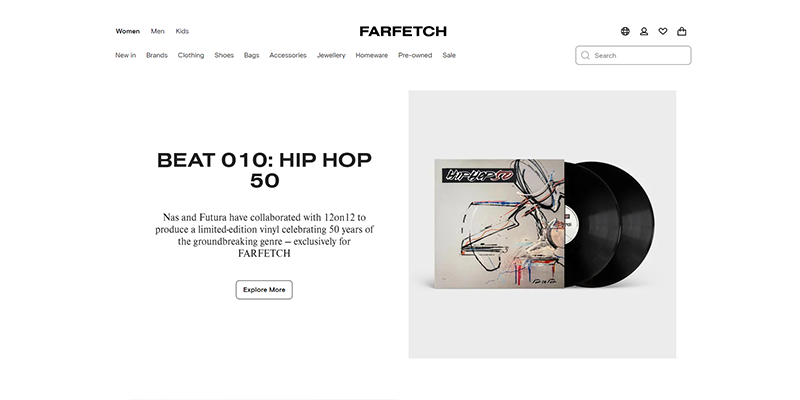 Farfetch is a legitimate company that is publicly traded on the New York Stock Exchange. They offer a generous return policy and the reviews from real customers suggest that it is a trustworthy company to buy from.
They are also accredited by the Better Business Bureau (BBB) and hold ratings of 4.2/5 on Trustpilot and 3/5 on Sitejabber.
With over 10 million app downloads and 35 million website visits, Farfetch offers secure payments, reliable support, and free returns for all orders.
The company achieved $1 billion in revenue and two million active users in 2019, just two years after its IPO. As of August 2023, Farfetch reports 4.1 million active users.
Is Farfetch Safe?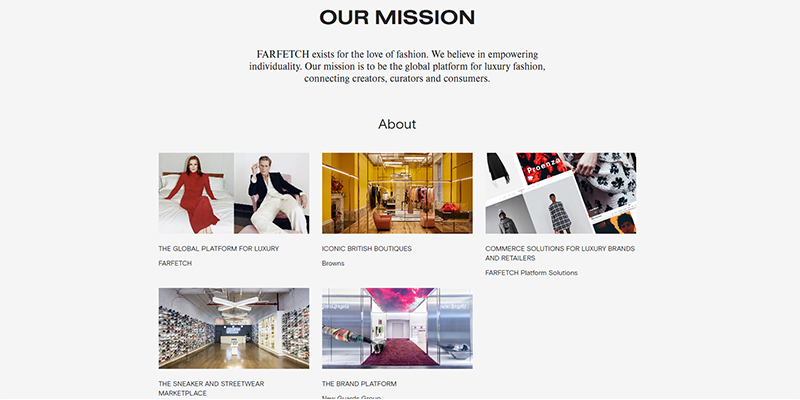 Buying from Farfetch is 100% safe because they offer free returns on all orders within 14 days, starting from the day your order was delivered. Once Farfetch receives your return package, the refund process is initiated within six days.
In addition, Farfetch ensures the safety of your personal and payment information through SSL encryption.
Farfetch ships out orders quickly, within two business days. If you live in major metropolitan cities like London, New York, or Paris and place your order before 11 am, you can expect to receive the order on the same business day.
Farfetch also offers estimated shipping times and a tracking number upon dispatch, allowing you to monitor your order's progress.
What Products Does Farfetch Sell?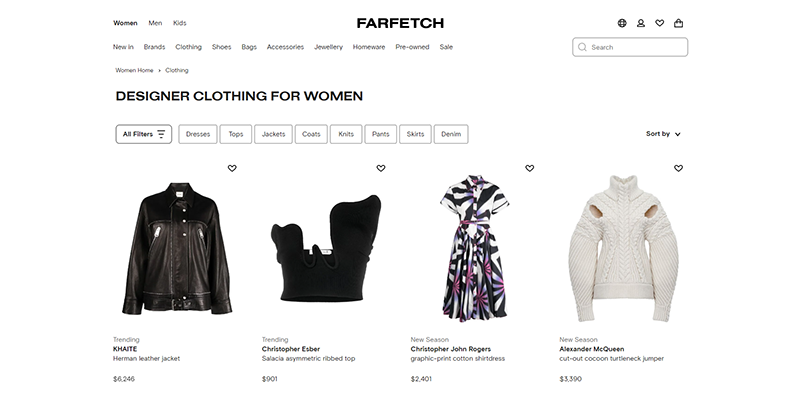 Farfetch offers 100,000+ products for women, men, and kids, including new and pre-owned items, from popular brands like Alexander McQueen and Gucci on its online store.
Here are a few of the items you'll find on Farfetch:
Activewear
Bags
Bath products
Beachwear
Belts
Bridalwear
Coats
Collectibles
Dresses
Fine jewelry
Formal wear
Fragrances
Furniture
Gloves
Hats
Home accessories
Lingerie
Shoes
Sunglasses
Tops
Watches
Farfetch's apparel collection, shoes, and bags are equally popular. In addition to new merchandise, Farfetch lists pre-owned items in categories like accessories, bags, jewelry, and clothing.
According to customer reviews, the product quality is top-notch. However, Farfetch has received criticism for their packaging. Moreover, product pages do not have customer reviews, a feature that could help customers make better purchasing decisions.
As a result, you might need to rely on your own judgment or explore product feedback on community forums before buying from Farfetch.
How Farfetch Works for Buyers
Farfetch connects buyers with a global network of fashion boutiques and brands, processing most orders on the same business day.
Here's a step-by-step guide to shopping on Farfetch:
Open An Account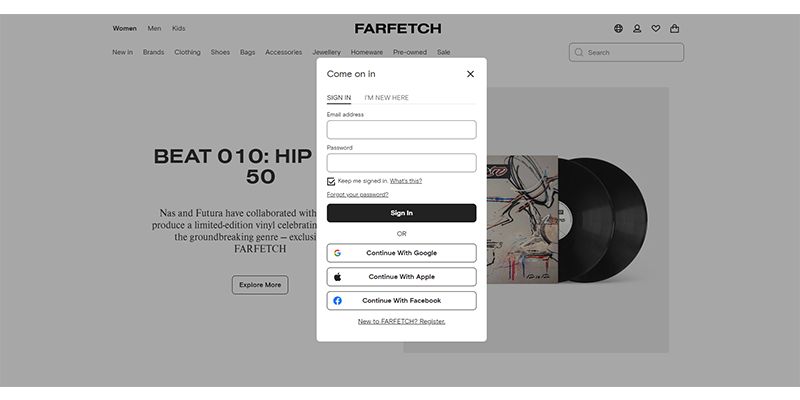 To create a Farfetch account, visit their homepage and click the person icon at the top right corner.
Sign-up options include email, phone number, Google, Apple, or Facebook. Upon registration, Farfetch will send an account activation link for confirmation.
Go Shopping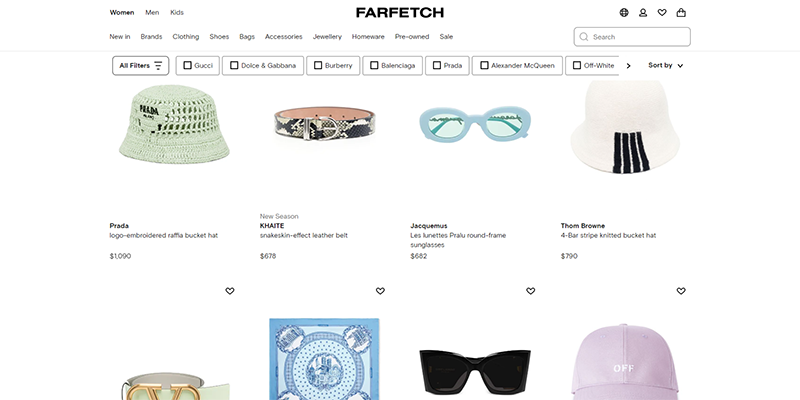 You can shop on Farfetch without an account, but there are advantages to having one. After you create an account, you automatically become a Bronze member and get access to Farfetch's loyalty program.
Your spending over the year determines your tier: Bronze, Silver, Gold, Platinum, or Private Client.
You also receive 10% off on your first order. In addition, you can save your favorite items to a wish list, and your shopping cart contents are saved to allow for more time before finalizing your order.
Farfetch Shipping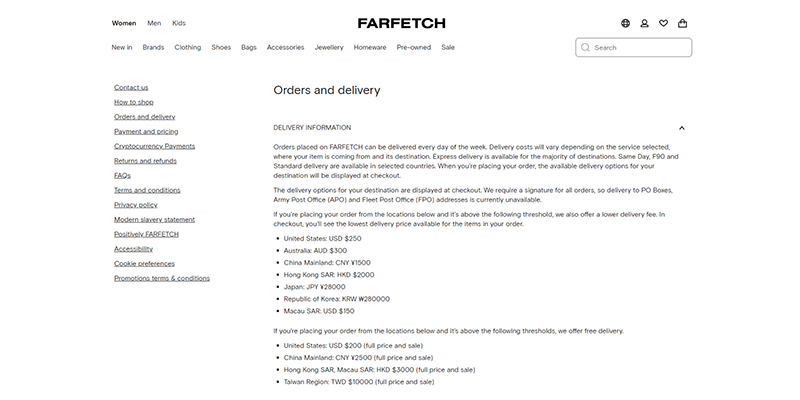 Farfetch orders are delivered between two to seven days, depending on the country and delivery method.
At checkout, Farfetch provides estimated shipping times for each product, and you can select from the following shipping options:
F90 delivery: Available in select cities like London and Paris, this option ensures delivery within 90 minutes of placing an order.
Same-day delivery: Available in select cities like Miami and Shanghai, orders placed before 11 am are delivered on the same business day.
Standard shipping: This shipping method takes two to six days.
Express shipping: Customers in most of Europe and the US can expect delivery in two to five days, while the rest of the world generally receives orders in three to seven days.
Depending on your location, couriers such as DHL, UPS, FedEx, TNT, or DPD handle your order delivery.
Farfetch also offers free delivery for specific locations and minimum order amounts:
US: USD $200
China: CNY ¥2500
Hong Kong, Macau: HKD $3000
Taiwan: TWD $10000
CIS countries: USD $430
What Is Farfetch's Return Policy?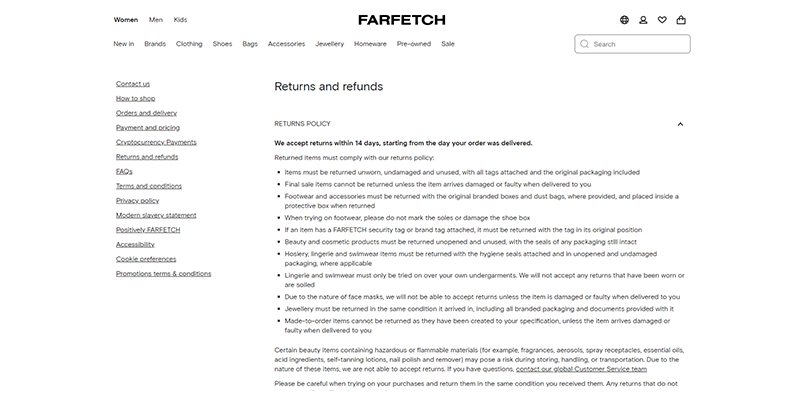 Farfetch's return policy allows you to return the items within 14 days of delivery to qualify for a refund. This policy doesn't cover made-to-order or pre-owned items.
For customers who use cryptocurrency for payment, items can be returned within 30 days from the order placement date.
Farfetch recommends booking a return collection within seven days of delivery to ensure the package arrives at their warehouse or partner boutique within the 14-day timeframe.
Here's how Farfetch's returns process works:
You log in to your account and navigate to the "Orders & Returns" page.
You find the order you want to return and click "Return Item(s).
You initiate a return by selecting each item and your reason for returning.
After receiving your return package, Farfetch processes refunds within six days. Depending on your payment provider, refunds may take up to 14 days to appear in your account.
Farfetch offers two ways to return your order:
Free return shipping: Arrange a courier pickup by providing your collection address.
Drop-off: Opt for in-store drop-off at a Farfetch partner boutique or courier drop-off.
Depending on your location, Farfetch provides either or both of these return options.
Do You Have To Pay Duties And Taxes On Farfetch Orders?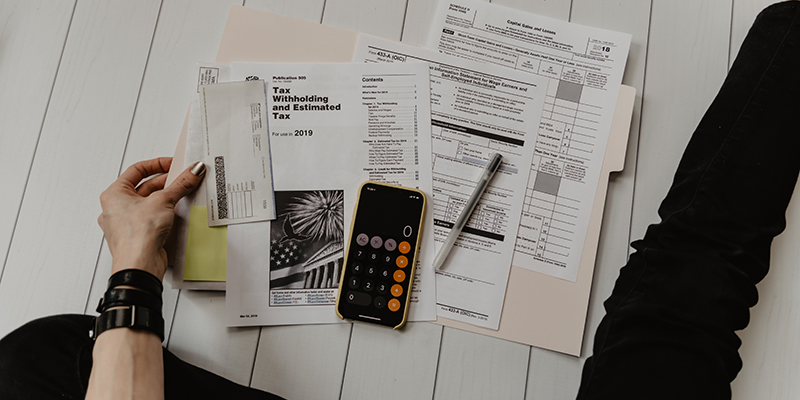 Farfetch offers shipping to most countries on a Delivery Duties Paid (DDP) basis which means that all applicable duties and taxes are included in the final order price. There are no extra expenses upon delivery for the customer.
If you opt for Delivery At Place (DAP) destination, the amount you pay Farfetch will not cover import duties and sales taxes. As the recipient, you'll be responsible for settling these charges directly with the courier to facilitate customs clearance upon arrival.
For US customers, Farfetch does not use tax or collect sales in all states. Depending on your state's taxation policies, your purchase may be subject to sales or use tax.
What Payment Methods Does Farfetch Accept?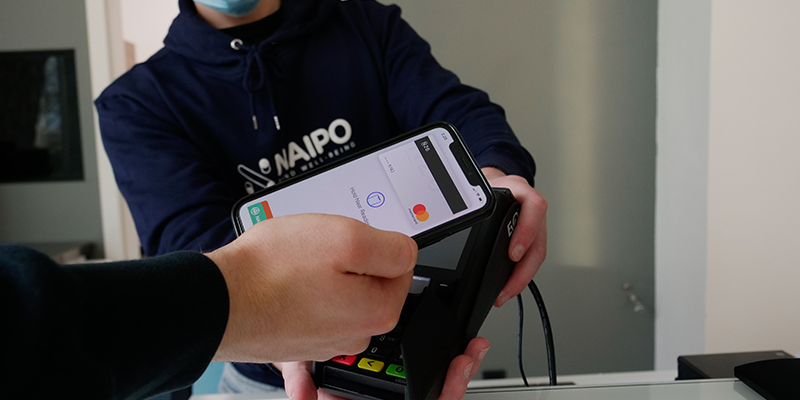 Farfetch accepts payments from major credit cards and trusted providers like Klarna and PayPal.
Here's the list of global payment methods available for your Farfetch orders:
Afterpay (Australia and the US only)
Alipay (Canada, China, Hong Kong, Macau, and the US only)
American Express
Apple Pay
Boleto (Brazil only)
Cryptocurrency
Diners
Discover
HB Pay (China and Hong Kong only)
iDEAL (Netherlands only)
JCB
JDpay (China only)
Klarna (Austria, Belgium, Germany, Switzerland, the UK, and the US only)
Maestro
MasterCard
PayPal
UnionPay
Visa
WeChat (China, Hong Kong, and Macau only)
Is Farfetch Overpriced?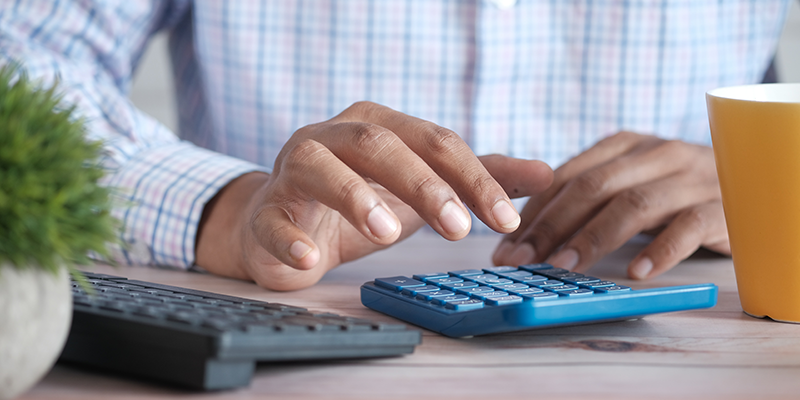 Farfetch's pricing is reasonable and is generally more affordable than traditional retail prices depending on the promotion.
Farfetch doesn't own the products they sell, nor do they operate physical stores so they pass the savings on to you. Plus, many brands manage their own order fulfillment for Farfetch.
Not having to maintain extensive inventory helps Farfetch keep prices competitive. Moreover, Farfetch offers pre-owned items, which are generally priced significantly lower than their original retail value.
All in all, Farfetch is an excellent option for shoppers looking to get luxury fashion items at a competitive price point.
How To Earn Money From Farfetch?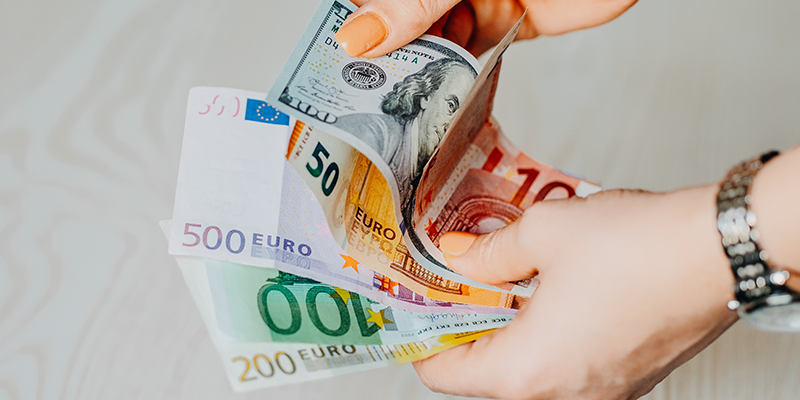 You can make money with Farfetch through affiliate marketing, referring friends to join the platform, and selling your designer bags through the Second Life program.
Affiliate marketing allows you to earn a commission by using unique affiliate links to promote products. Here's how you can profit from Farfetch's affiliate marketing program:
Enroll in Farfetch's affiliate program via their official website.
Add your unique affiliate links to products and promote them.
When a user makes a purchase within 30 days of clicking your link, you receive a commission.
The affiliate program is free to join, and you also get access to news about the latest product arrivals, new boutiques, and offers through their newsletter, which you can share with your audience.
Besides affiliate marketing, you can earn from Farfetch by referring friends. Share your referral link, and when they place an order, you get a 10% discount on your next order.
You can also sell your designer bags through Farfetch's Second Life service. Here's how it works:
Upload images of the bag you want to sell.
Farfetch responds within three business days with a quote.
After approving the quote, schedule a collection time for bag pickup.
Once the Farfetch team receives and verifies your bag, the credit is applied to your Farfetch account.
With the Farfetch Second Life service, you earn credits, not cash. These credits can solely be used for shopping on Farfetch, making this option more appealing to only frequent Farfetch shoppers.
Farfetch Pros And Cons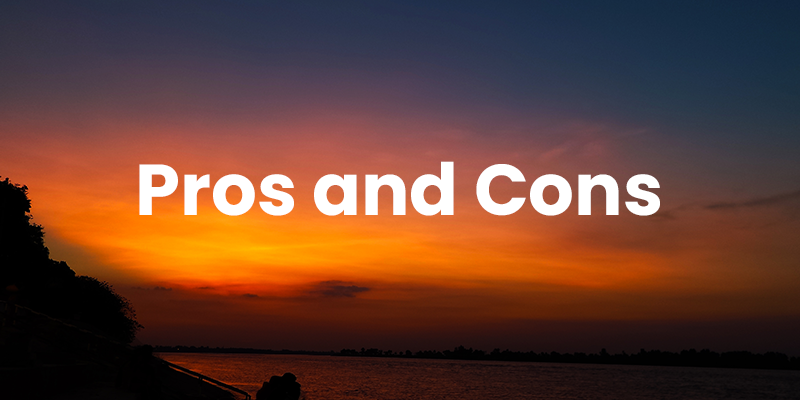 Farfetch offers a vast range of luxury products for men, women, and kids at competitive costs, along with the benefit of free returns on all orders. However, Farfetch has some drawbacks, such as slow customer service and a small return period.
Here's a breakdown of the pros and cons of Farfetch:
Farfetch Pros
Extensive collection: Farfetch boasts an impressive selection of designers and products to choose from.
Different shipping options: Besides standard and express deliveries, Farfetch provides shipping options like 90-minute, same-day, and next-day deliveries.
User-friendly interface: The platform's intuitive design ensures easy account creation and shopping experiences.
Free returns: Farfetch covers return shipping costs for all orders, streamlining the return process.
Farfetch Cons
Customer service: Email-based customer service response time can be slow, often taking 12 to 24 hours to address basic queries.
No reviews: Unlike most online stores, Farfetch lacks the option for customers to leave product reviews. This means you won't have access to customer images or feedback before making a purchase.
Small return period: Farfetch requires return items to be delivered to their warehouse within 14 days of receipt. This could be problematic, especially for customers living in remote or distant areas.
The Truth About Farfetch Reviews
Farfetch holds a review rating of 4.2 out of 5 stars on Trustpilot and 3 out of 5 stars on Sitejabber. However, customers have complained about difficult returns, unresponsive customer service, and receiving multiple deliveries for a single order.
Here are the most common Farfetch reviews you'll find online, along with tips to avoid these issues:
Farfetch Review #1: Short Return Window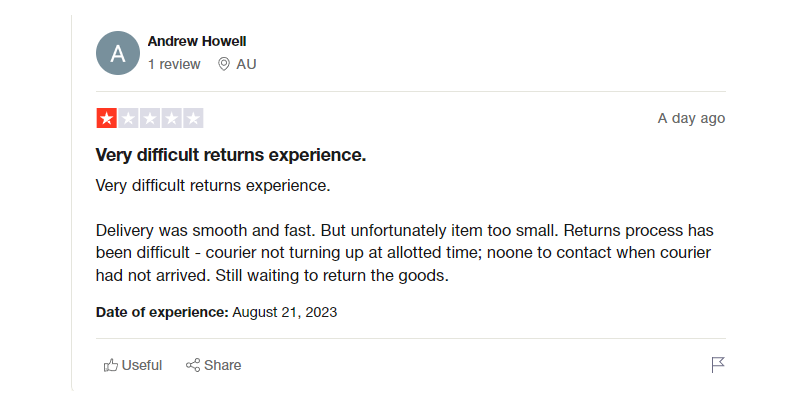 Farfetch's return policy states that all returns must reach them within 14 days of order delivery. As a result of the short return period, customers are often anxious about the timely delivery of return packages to Farfetch.
While Farfetch covers the cost of the shipping label, there can be delays in courier pickups. You might need to contact Farfetch support for an extension on the 14-day window, particularly if the delay isn't your fault.
Moreover, even if you manage to meet the deadline for returns, Farfetch retains the right to cancel return orders if the items aren't in the same condition as received or if packaging materials are absent.
This is why you must check the returns process and ensure that all items are in excellent condition before initiating a return. If you live in a rural area, it's best to avoid purchasing goods from international boutiques.
Farfetch Review #2: Slow Customer Support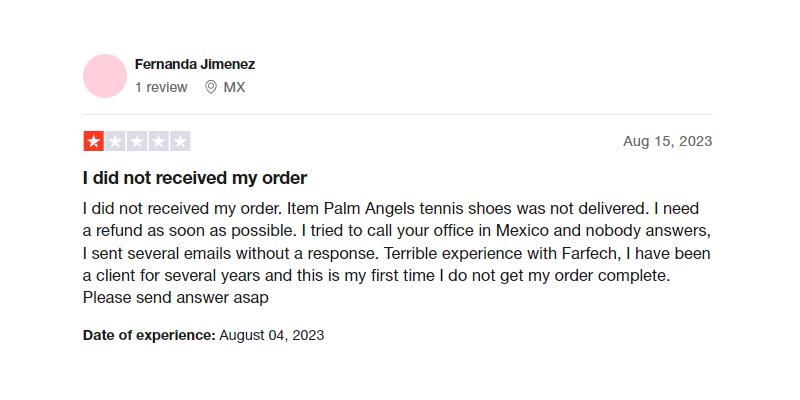 While Farfetch offers a reasonably broad support window, their customer support team often takes over one business day to address basic inquiries.
Their stated response times on the website are as follows:
Email: Available 24/7 from Monday to Friday. Weekends from 8 am to 3 pm EST.
Phone: Available from 8 am to 9 pm EST, Monday to Friday.
In addition, Farfetch lacks live chat for immediate order issues. That's why, avoid placing complex or urgent orders, given that customer support responses are generally slower.
Farfetch Review #3: Multiple Deliveries For A Single Order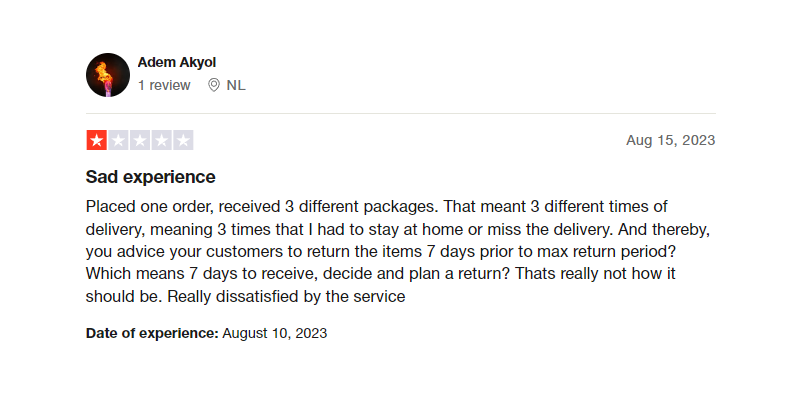 Several customers expressed frustration with receiving multiple deliveries for a single order.
However, Farfetch's business model is similar to Amazon's, where they offer brands to stock products with Farfetch or handle order fulfillment independently.
In Fartech's case, many brands handle the stocking and shipping of orders directly. As a result, if a customer orders three products, each from different brands, they will receive three separate deliveries.
For a single or consolidated shipping, customers must purchase products from the same boutique store.
Farfetch Alternatives
Farfetch is the go-to destination for fashion enthusiasts seeking designer items from famous brands.
However, if you're not satisfied with your Farfetch orders, here are a few other high-end fashion curation platforms you might want to explore:
Net-a-Porter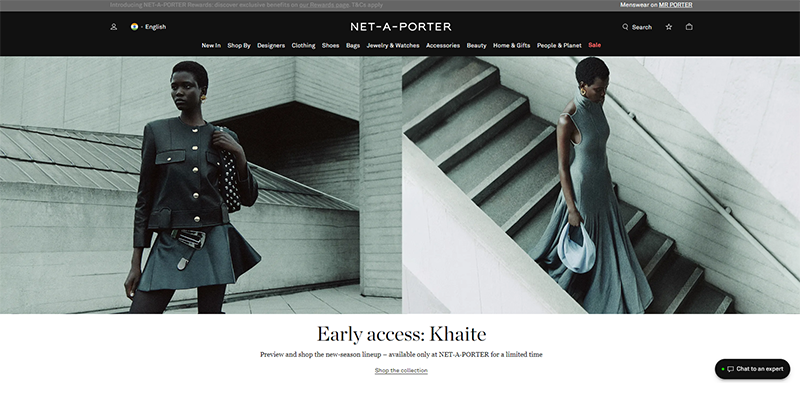 Net-a-Porter is an online luxury fashion store exclusively for women, with a collection of 800 coveted global brands like Balenciaga and Saint Laurent.
As part of their infinity sustainability strategy, this London-based company offers pre-owned designer goods, vegan beauty, locally made accessories, and sustainable clothing.
With quick delivery, including same-day in select areas, and a 28-day return window, Net-a-Porter is a solid option for those seeking designer pieces at competitive prices.
Mytheresa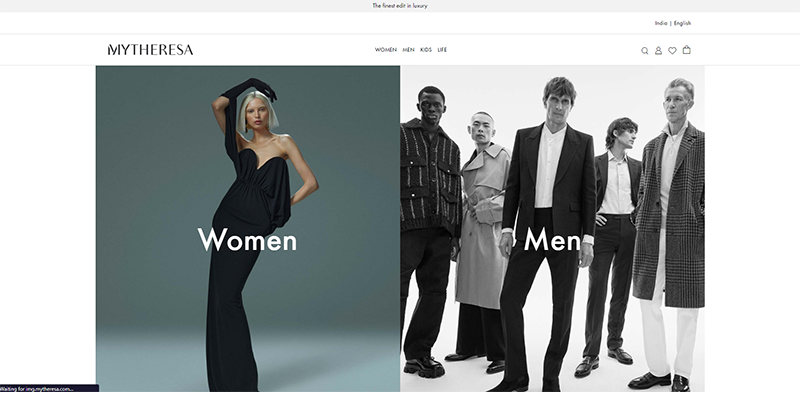 Mytheresa, which began as a fashion boutique in 1987 and transitioned into an online store in 2006, offers ready-to-wear clothing, shoes, bags, and accessories across luxury brands for women, men, and kids.
Like Farfetch, Mytheresa is also a NYSE-listed company with an annual revenue of €800 million.
Mytheresa is an excellent choice for those looking for high-end fashion items, a 30-day return policy, and 24-hour customer service in various regional languages.
SSENSE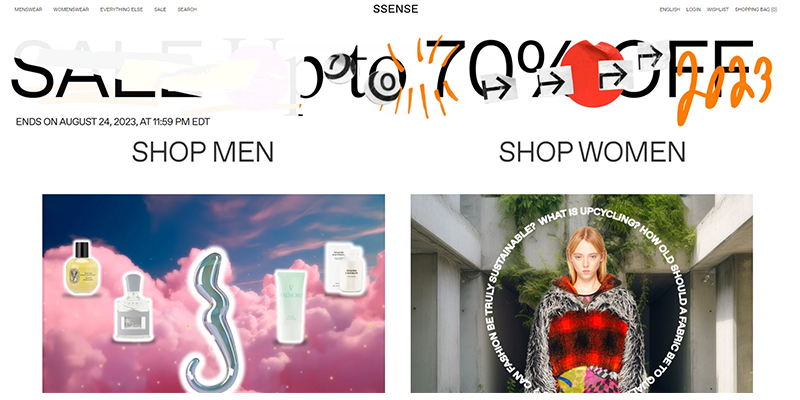 Ssense, a Canadian retailer, specializes in high-end fashion and streetwear. They offer the latest styles in men's and women's wear, along with shoes and accessories.
Ssense's return policy allows you to request a return within 30 days of delivery. In addition, they offer free returns to customers in Canada, Japan, and the US.
Ssense is a great alternative to Farfetch for those who want a more flexible return option.
Should You Buy From Farfetch?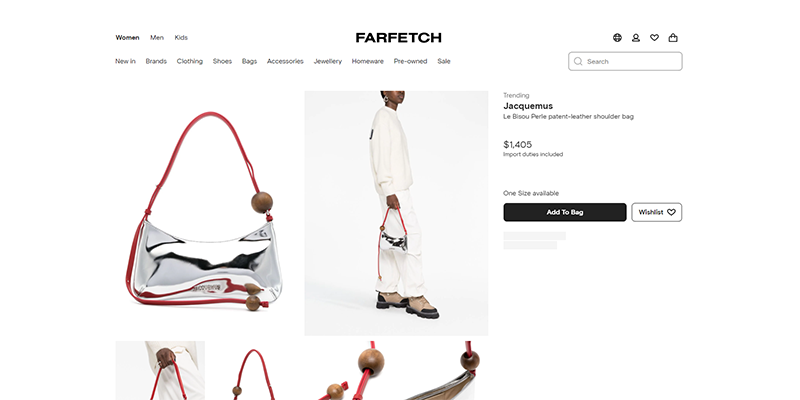 Farfetch is a popular online fashion marketplace that offers designer goods at competitive prices. And, they've gotten rave reviews about their product quality and shipping methods.
However, there are some concerns you should consider before purchasing from Farfetch. For example, their strict return policy only allows returns within 14 days of receiving the goods.
In addition, Farfetch's customer service is average at best, with a response time of more than a day.
In spite of these issues, Farfetch has more than four million active users and 35 million monthly visits. But if you want a 30-day return period, you might want to explore other brands like Ssense and Mytheresa.
Farfetch FAQs
Are Farfetch Items Authentic?
Farfetch items are 100% authentic as they are sourced directly from brand designers or the Farfetch warehouse.
Does Farfetch Have A Physical Store?
Farfetch has luxury outlets named "Store of the Future" (SOF) in select cities like London and New York. However, these stores don't stock products but have innovative technology like holographic displays and smart mirrors for virtual product try-on.
Who Owns Farfetch?
Farfetch was founded in 2007 and launched in 2008 by José Neves, a Portuguese entrepreneur.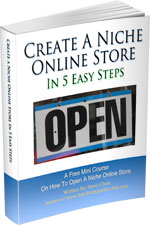 Ready To Get Serious About Starting An Online Business?
If you are really considering starting your own online business, then you have to check out my free mini course on How To Create A Niche Online Store In 5 Easy Steps.
In this 6 day mini course, I reveal the steps that my wife and I took to earn 100 thousand dollars in the span of just a year. Best of all, it's free and you'll receive weekly ecommerce tips and strategies!
Note: This post above may contain affiliate links, which means that I may receive a commission if you make a purchase when clicking a link. Please consult our privacy policy for more information.
Related Posts In Ecommerce Marketplaces
About Steve Chou

Steve Chou is a highly recognized influencer in the ecommerce space and has taught thousands of students how to effectively sell physical products online over at ProfitableOnlineStore.com. 

His blog, MyWifeQuitHerJob.com, has been featured in Forbes, Inc, The New York Times,  Entrepreneur and MSNBC.  

He's also a contributing author for BigCommerce, Klaviyo, ManyChat, Printful, Privy, CXL, Ecommerce Fuel, GlockApps, Privy, Social Media Examiner, Web Designer Depot, Sumo and other leading business publications.

In addition, he runs a popular ecommerce podcast, My Wife Quit Her Job, which is a top 25 marketing show on all of Apple Podcasts. 

To stay up to date with all of the latest ecommerce trends, Steve runs a 7 figure ecommerce store, BumblebeeLinens.com, with his wife and puts on an annual ecommerce conference called The Sellers Summit.  

Steve carries both a bachelors and a masters degree in electrical engineering from Stanford University. Despite majoring in electrical engineering, he spent a good portion of his graduate education studying entrepreneurship and the mechanics of running small businesses.