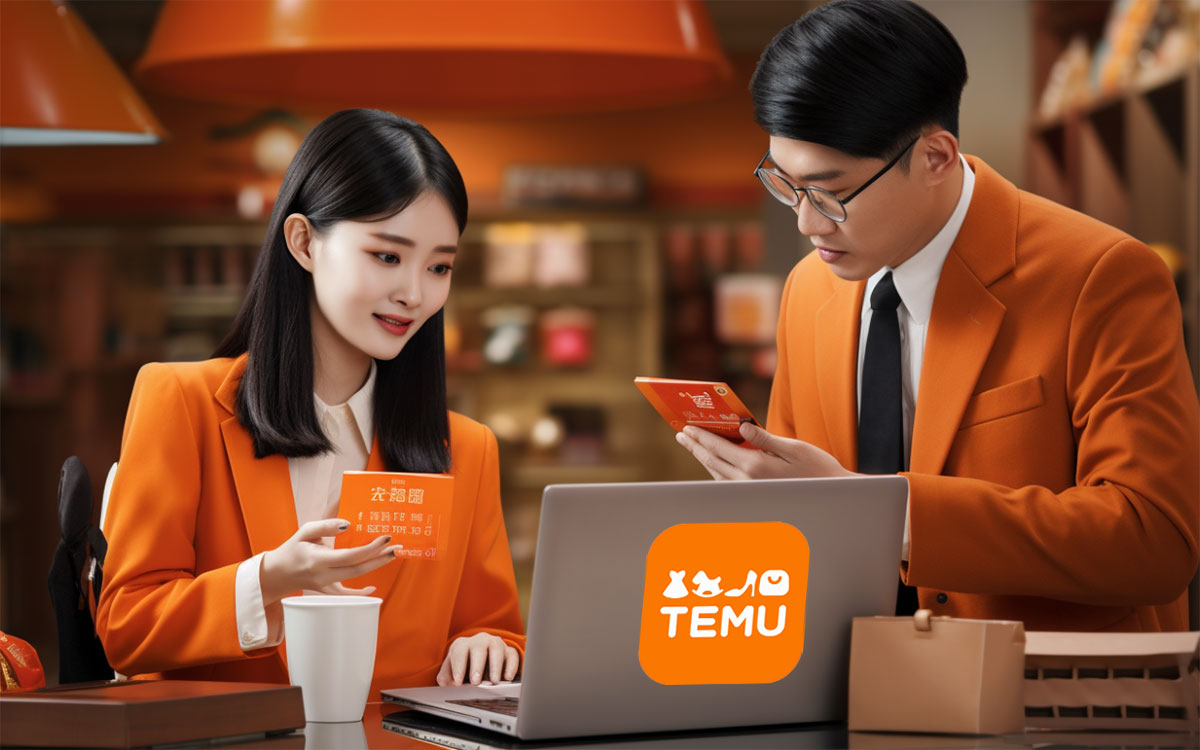 Temu is a low-cost online marketplace that has generated a lot of attention since launching in the US in September 2022. But is Temu a reliable platform for online shopping?
As with any online marketplace, there are potential risks to be aware of, such as slow shipping times, poor customer service, and issues with product quality.
In this Temu review, I'll explore the pros and cons of shopping on Temu, explain how to place and cancel orders, and initiate returns.
Also, is Temu a scam? I'll explain whether Temu is a safe and legitimate online shopping platform.
Get My Free Mini Course On How To Start A Successful Ecommerce Store
If you are interested in starting an ecommerce business, I put together a comprehensive package of resources that will help you launch your own online store from complete scratch. Be sure to grab it before you leave!
What Is Temu?
Temu, pronounced "tee-moo," is a US-based online marketplace that offers extremely affordable prices on thousands of products shipped directly from China. The company is based in Boston, Massachusetts and is incorporated in Delaware. However, its parent company Pinduoduo is Chinese based in Shanghai, China.
Temu is essentially the sister shopping platform to Pinduoduo that serves the United States and is a Chinese owned company.
Since their launch in September 2022, Temu has been making headlines in the ecommerce world, partly due to a Super Bowl ad that led to a sharp increase in app downloads.
Temu provides access to a wide range of affordable products that are made in China. And because products are shipped directly from China, Chinese vendors avoid the expense of storing inventory in the US, resulting in lower prices for customers.
Temu is a direct competitor to AliExpress, offering extremely low prices for cheap items made in China.
Users mention that between the two platforms, Temu has a more user-friendly interface on its app and website compared to Aliexpress.
It also offers faster shipping with improved shipment tracking, typically lower-priced products, and a 90-day return policy.
Temu has also been compared to SHEIN, the largest online fashion retailer.
While both platforms source many of their products from China and emphasize affordability, SHEIN's niche is trendy clothing, shoes, and accessories, targeting fashion-forward consumers.
Temu provides a wider range of everyday products similar to AliExpress and is not exclusively centered on fashion.
Is Temu Legit?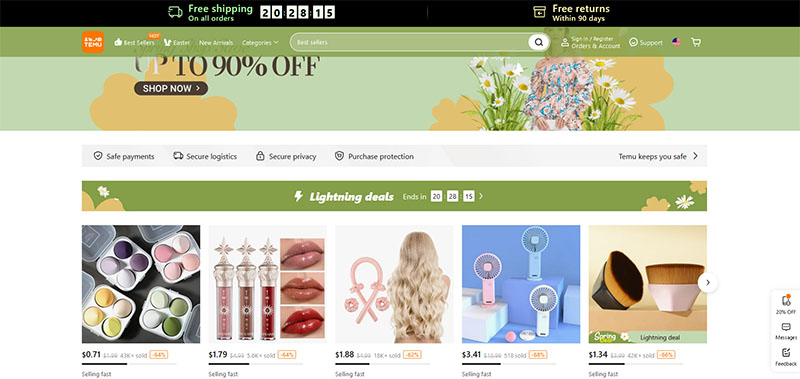 Temu is a legitimate online marketplace that is owned by PDD Holdings Inc. Temu's parent company is a publicly traded company on the Nasdaq stock exchange. However, Temu is not accredited by the Better Business Bureau (BBB) and the company currently has a rating of 3/5 on Trustpilot and 3.4/5 on Sitejabber.
If you look closely at their customer reviews, you'll notice a significant number of complaints from users about late delivery, incorrect sizing, and counterfeit items. Given these complaints, it's clear that maintaining strong customer satisfaction can be challenging for online sellers on the Temu website.
To limit your chances of a negative experience with Temu, stick to internationally known Chinese brands such as Lenovo, Huawei, and Xiaomi.
While Temu is a legitimate company and ecommerce platform, always use caution and read product reviews before purchasing. 
How Does Temu Work?
Temu has a very similar user experience to other online marketplaces like Amazon or Etsy, where sellers can list products which customers can view and purchase.
Then users can search for products, view product details, add desired products to their shopping cart, and purchase them through the checkout process.
Each product on Temu is accompanied by detailed descriptions, images, and pricing, allowing customers to make an informed purchasing decision.
Once the order is placed, Temu manages the shipping and collaborates with the sellers to ensure timely delivery. Sellers typically provide tracking information, which can be accessed directly on the Temu platform.
How Does Temu Make Money?
Like other online marketplaces such as Amazon, Etsy, and eBay, Temu makes money by taking a percentage of the sales from each transaction made on its platform.
Temu also generates revenue from advertising, shipping fees, and value-added services such as its Temu Select membership program, which costs about $5 per month or $50 annually.
Why Is Temu Controversial?
Temu has had its fair share of controversy mainly due to data privacy and identity theft concerns.
However, many users have also accused Temu of being a scam due to occasions of low product quality where the product received is very different from the product shown in photos.
Temu does track your device info and browsing activity, though there is no evidence that it is stealing your information and sending it to China. However, its sister app, Pinduoduo, has faced allegations related to privacy and data security due to reported malware presence.
But what data does Temu actually collect from you? Temu collects the following information from your phone by default.
Your name, address, and phone number.
Your birthday, photo, and social media profiles.
Your phone or computer's operating system and version, your IP address, GPS location (with permission), and your browsing data.
More details about Temu's data collection and privacy can be found in their privacy policy.
Cybersecurity experts have found that the Temu app may bypass your cellphone security settings to spy on other apps, read your notifications and messages, and possibly change your phone settings.
There have also been multiple reports in various sites and social media platforms of banking information being sold or leaked after using Temu.
Another issue raised about Temu is the ethical production of its products. It's difficult to confirm whether or not Temu produces its products ethically.
Despite claims of being an ethical and sustainable e-commerce platform that minimizes product waste and collaborates with sustainable manufacturers, there are a number of concerns about Temu's practices.
These concerns include a lack of transparency about its supply chain and manufacturing practices and reports of possible forced labor from a US Congressional report from June 2023.
Temu has also been accused of cloning the storefronts of Amazon sellers without their permission. This includes copying the seller's product listings, descriptions, and images. In some cases, Temu has even used the seller's brand name in its own storefronts.
Is It Safe To Buy From Temu?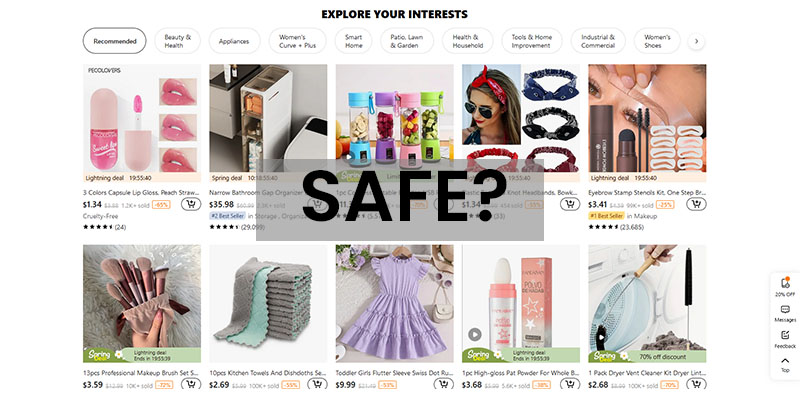 Buying from Temu is 100% safe because the company offers a purchase protection program that protects buyers in case of damaged goods or fraud.
The Temu Purchase Protection Program covers items that don't match the listing description, items that arrive damaged, and items that are lost in the mail.
Here's how the program works:
You initiate a return by selecting the item(s) you would like to return on the "Your orders" page, then click the "Return/other help" button.
After selecting the return method and indicating your reason for the return, print the return label and ship the package via USPS or UPS.
If your order is eligible for the Temu Purchase Protection Program, you'll be refunded for your item(s).
In addition to the purchase protection program, Temu also provides an estimated processing and shipping time. And once your order is shipped, you'll receive a tracking number.
What Are The Best Products To Buy On Temu?
The best products to buy in Temu are simple, everyday items since they carry less risk of defects or damage during transit. These include:
Non-electronic household items: Things like kitchen utensils, home decor, and storage solutions are considered very safe. These items don't have complicated parts, so there's a lower chance of defects or damage.
Clothing and accessories: While sizing can sometimes be an issue when ordering clothes online, the actual safety risk is low. Accessories include sunglasses, hair accessories, organizers, storage bags, and more.
Stationery and craft supplies: Products such as pens, tape, organizers, notebooks, etc. are typically straightforward and don't pose much of a risk.
Simple gadgets: Basic tools and gadgets like portable fans, cords/wires, keychains, etc. don't require complex electronic components and are generally safe to order.
Books and printed materials: These are some of the safest types of products to purchase in Temu since they have a very low risk of being different from what is described or shown.
How Are Temu's Online Reviews?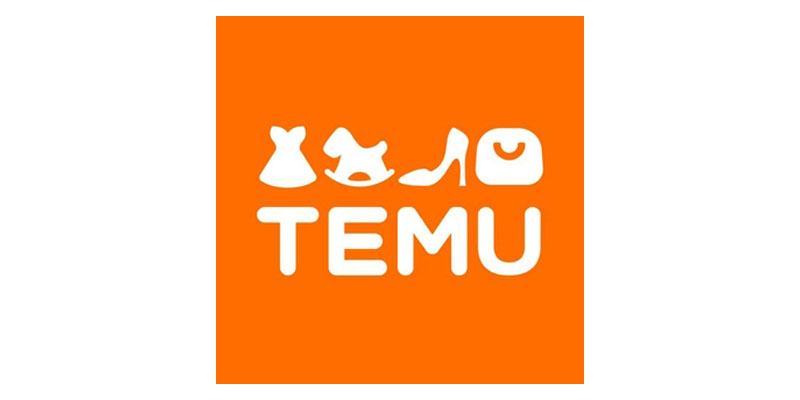 Temu currently has a review rating of 3 out of 5 stars on Trustpilot and 3.2 out of 5 stars on Sitejabber. In addition, Temu is not an accredited company by the Better Business Bureau and has a rating of C+.
But because Temu is an ecommerce marketplace and doesn't physically sell its own products, all 1-2 star negative reviews for Temu should be approached with a hint of skepticism.
Temu is a global platform and open to any seller in China. As a result, it's inevitable to have a mix of both reliable and unreliable sellers. Due to the sheer size of Temu's marketplace, it's virtually impossible for Temu to oversee every product listing.
Even though Temu has measures to combat scams and fraud, you still have to exercise caution.
Here are the most common Temu reviews you'll find online and how to avoid getting ripped off.
Temu Review #1: Items Are Poor Quality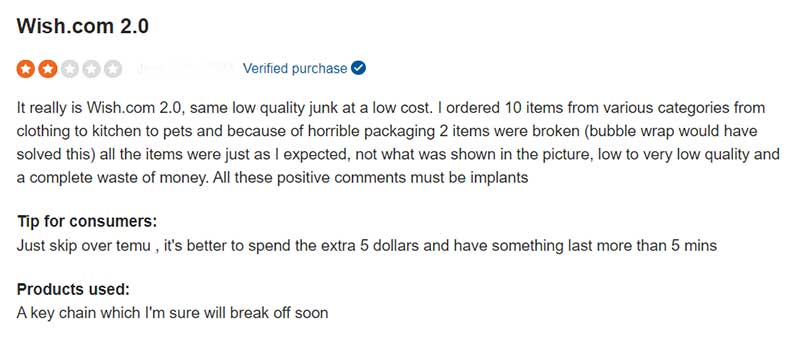 Are Temu products good quality? By far one of the most common complaints about Temu from review sites like Sitejabber and Trustpilot is that the products received are poor quality junk.
The standard of quality in China is much lower than the United States and many products on Temu are cheap and poorly made.
Temu can offer low prices because the materials are cheap and there's very little quality control. To prevent getting shipped poor quality goods, be careful of the following…
Check the seller feedback rating – Only work with sellers with a 4.5 rating or higher
Check the number of orders shipped – Only work with sellers who have shipped at least 1000 orders or more
Check the number of reviews – Only work with sellers who have at least 100 reviews
Read all of the 2-3 star reviews – Avoid products with quality complaints
Avoid buying electronics – Most electronics on Temu are poor quality junk.
Avoid deals that are too good to be true – Don't buy products when the prices are impossibly low.
Temu Review #2: Shipping Is Slow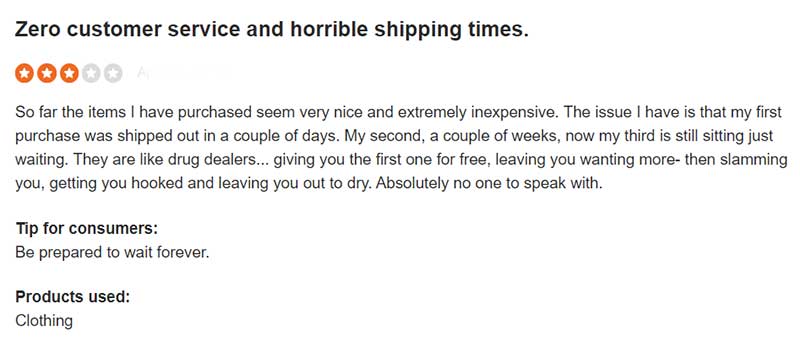 Products purchased from Temu are typically shipped from China. As a result, delivery times are long and never guaranteed.
You might receive your products within 1 week or 2 months depending on the vendor and shipping from China is unpredictable.
Temu has a reputation for shipping out your first order extremely quickly to hook you onto the platform. Then, subsequent orders are often delayed and shipped out at a much slower rate.
If you look at the 2 and 3 star reviews on SiteJabber and Trust Pilot, the trend of slow shipping times after the initial order is fairly common.
Temu Review #3: Poor Packaging

Temu is notorious for shipping out products in flimsy and unprotective packaging. As a result, your products will often arrive broken or damaged.
According to reviews on SiteJabber, even fragile items are often thrown into envelopes without bubble wrap or protection. Customers have also complained about their orders being shipped in a cheap plastic bag held together by tape.
To avoid damage during shipment, it's best not to order any fragile goods from Temu.
Temu Review #4: Item Not As Described
What you receive from Temu may not exactly match the listing photos and there have been many complaints of products not arriving as described.
Be especially careful of product accessories displayed in the listing photos that may not come with the product. Be sure to read the description thoroughly to understand exactly what you will receive.
Products on Temu have also been known to ship without instructions manuals or accessories.
Temu Review #5: Unresponsive Customer Support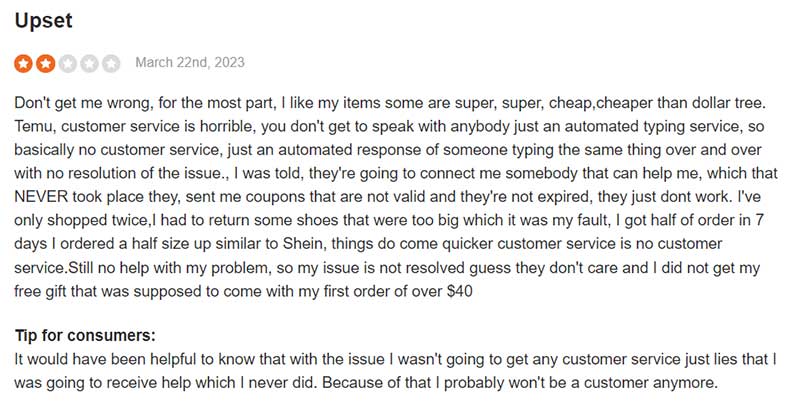 The platform offers several ways to contact its customer support, including by phone, email, website, physical address, and Temu app live chat. However, customer service quality can be hit or miss with any large marketplace and Temu seems to have an overwhelmingly large number of complaints regarding their coupon codes and discounts not being valid.
Temu is notorious for giving out heavy discounts and coupons that are expired or do not work. Unless you are asking for a partial or full refund, don't expect the Temu team to be responsive to your complaints as most customer service is handled by bots.
Temu Review #6: Deceptive Reviews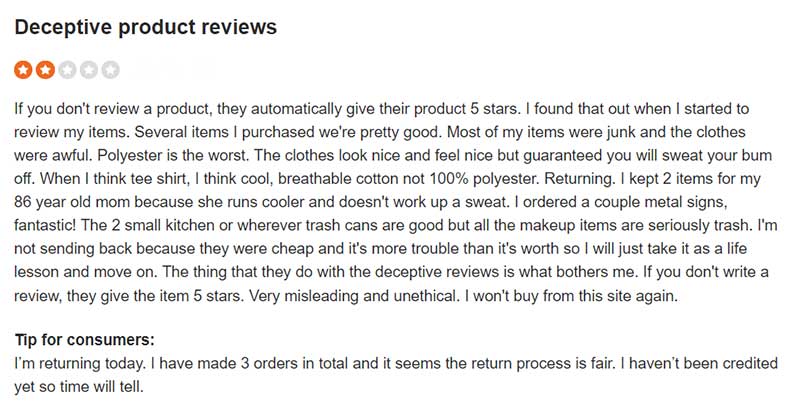 Several customers on Sitejabber have complained about fake reviews left on Temu's products. While this is a problem for many marketplaces including Amazon, Temu reportedly leaves 5 star reviews on its own products when customers do not write reviews.
Be careful when reading the product reviews on Temu and take every review with a grain of salt.
What Is Temu's Return Policy?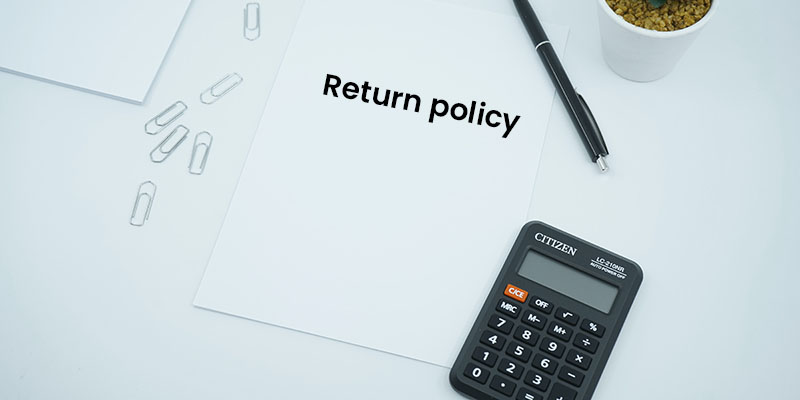 Temu's return policy allows you to return eligible items within 90 days from the date of purchase, but you must return the item within 14 days of submitting your return request to qualify for a refund.
Temu's return window is notably longer than competitors like AliExpress, Shein, and Wish. They even offer free return shipping labels for your first return within the 90-day window.
You can return additional items from the same order as long as the 90-day window has not expired, but there is a $7.99 shipping fee, which is deducted from your refund.
Temu processes refunds within 3 working days after receiving the return package from the customer.
Refund amounts, which are applied to the customer's account, can take 7 to 30 business days, depending on the payment method. For example, credit card payments can take up to 18 business days.
If you choose "Temu credit balance" as your refund method, you should receive the refund amount within a few minutes.
Does Temu Offer Free Shipping?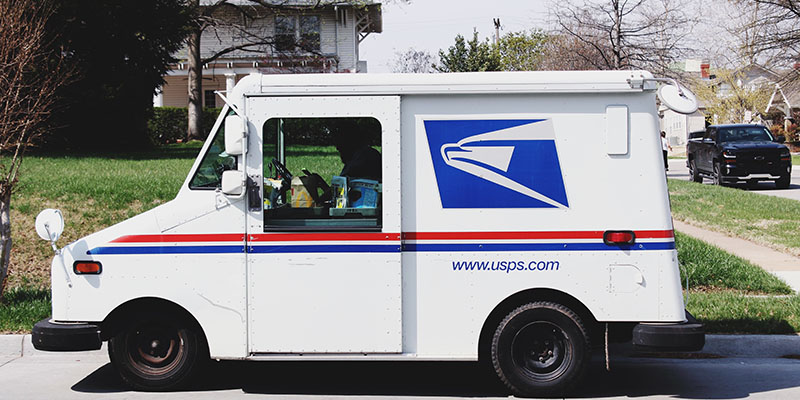 Temu offers free standard shipping for most orders. But as part of a special promotion for 2023, standard shipping is 100% free for most items.
If you need your order sooner, you can choose Express shipping, which is free for orders above $129.00 USD, or $12.90 USD for orders below that amount.
How Long Does Temu Shipping Take?
Standard shipping usually takes 6 to 20 business days to arrive. Meanwhile, express shipping usually takes 4-9 days for delivery.
Once your order has been confirmed, you will see the estimated delivery time and shipping cost on your order confirmation page.
The warehouse can take 1 to 3 days to process your order, and you will receive a message once your order has been shipped.
What Payment Methods Does Temu Accept?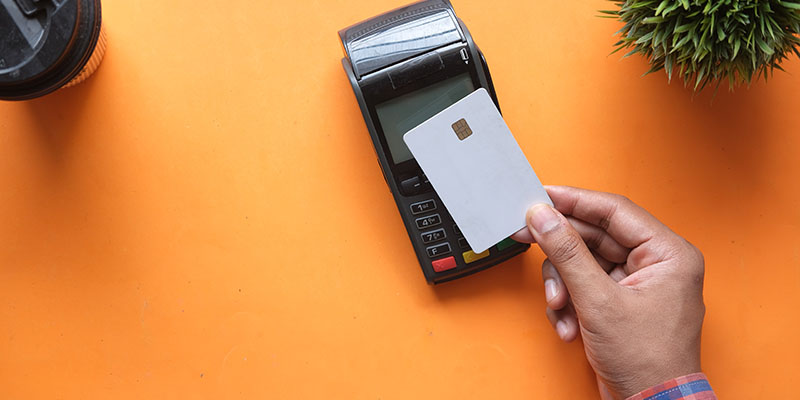 Temu accepts payments from all of the major credit cards and other well-known providers, such as Apple Pay, Google Pay, Klarna, and PayPal. 
Here's the list of international payment methods you can use for your Temu orders:
Afterpay
American Express
Apple Pay
Cash App Pay
Diners Club
Google Pay
JCB
Klarna
Maestro Card
Mastercard
Visa
How To Cancel A Temu Order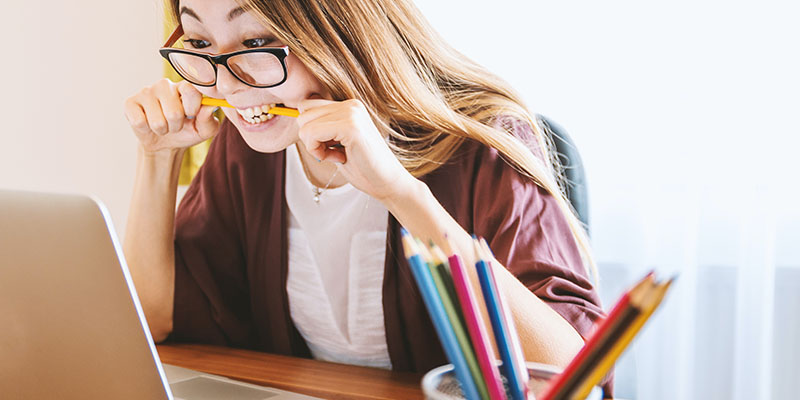 It's easy to cancel a Temu order as long as it hasn't been packed yet. Here are the steps to follow to cancel your order:
Sign in to your account and click on your user avatar in the top right corner of the screen.
Select "Your orders" from the left menu panel.
Find the order under "All Orders" and select "Cancel/Other help."
Follow the instructions on the screen and click "I want to cancel item(s)."
Select "All" at the top of the product list.
Scroll to the bottom and click "Cancel checked items."
You will receive a refund confirmation in your inbox immediately after you cancel an order.
If your order has already been packed, you won't be able to cancel it. However, almost all items are returnable within 90 days of purchase. Once you receive your order, you can request a refund.
How To Get Free Products From Temu
To receive free products on Temu, you must refer others to sign up for the Temu app. The more referrals you make, the more credit you earn that can be applied to free items.
Temu's referral program has allowed the app to spread quickly because influencers and users promote the app to get free stuff. Temu also has a dedicated section to win free items or get a free gift.
In other words, Temu has been purposely losing money in order to gain marketshare.
What Is The Temu Method?
The Temu Method is a strategy for earning money online that involves referring others to download the Temu app or completing certain tasks, such as watching videos, taking surveys, and shopping online. Points are earned for each task completed and these can be redeemed for cash or free Temu merchandise.
Temu also has an affiliate program which allows you to earn a 5%-20% commission on any sales that you refer. Temu often holds contests and gives out bonuses if you refer a certain number of customers in a short period of time.
What Does Temu Stand For?
Temu means "Team Up, Price Down," which reflects the company's philosophy of reducing the prices for its most popular products.
The more people who use Temu to buy a specific product, the more of that product the seller will manufacture, which will in turn reduce the price for everyone. As a result, the most purchased items on Temu are also the cheapest ones.
Pros Of Buying From Temu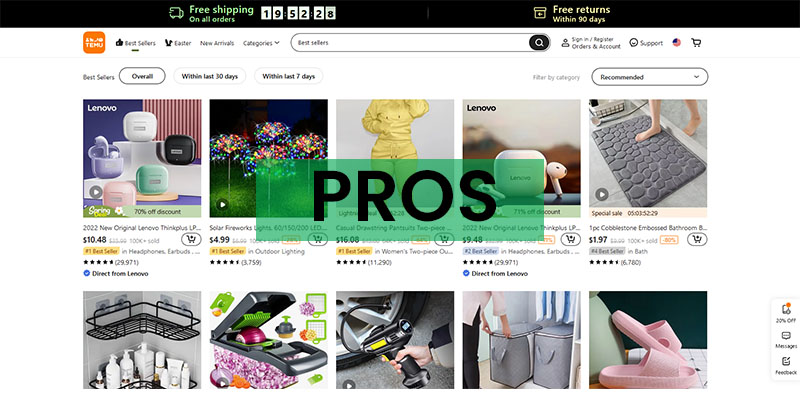 There are multiple benefits to buying from Temu.
Cheap pricing: Temu offers affordable pricing on a wide range of products, making it an excellent choice for budget-conscious shoppers.
Easy to navigate: The Temu.com website has intuitive filters and search options to help you find what you need quickly.
Free shipping: Temu offers free shipping on almost all products, saving you even more money.
Easy returns: The return process is hassle-free and straightforward.
Free return shipping: Temu offers free shipping on your first return for every order within 90 days of purchase.
Extensive catalog: Temu has millions of product listings across 29 categories and 250 subcategories.
Promotional offers: Temu offers significant discounts and promotions. Right now, they're running a "free shipping" promotion on all orders of any amount.
Cons Of Buying From Temu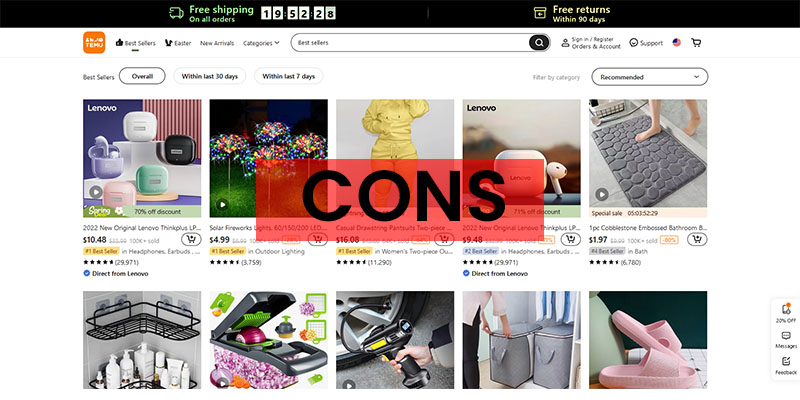 Here's a list of potential cons to consider before purchasing from Temu.
Slow shipping time: Customers have reported that their orders took a month to arrive. The average shipping time is 7 to 14 days on Temu.
Slow and not-so-great customer service: Temu's customer support has a bad rep for slow response times or unhelpful representatives.
Not enough protective packaging: A few customers have reported receiving items that were damaged during shipping due to inadequate protective packaging.
Slow refunds: Temu initiates a refund only after they receive the return order, which can take anywhere between a week to a month. After that, it takes 7 to 30 days for the refund to be processed. You can get immediate Temu credits or request a refund to your original payment method.
Should You Buy From Temu?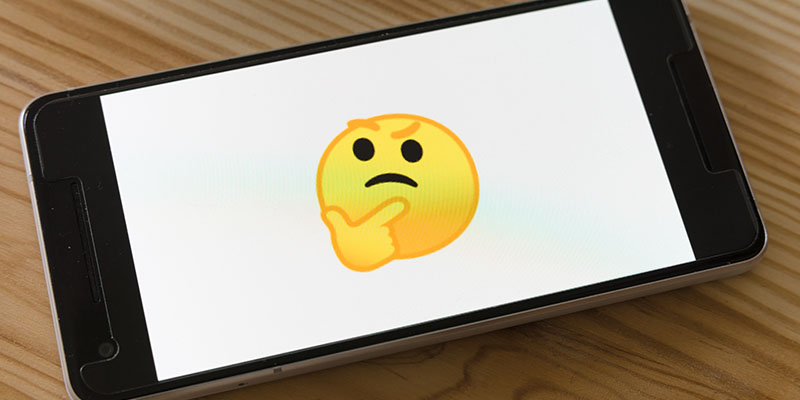 Temu is a great option for individuals looking to buy inexpensive consumer goods directly from China suppliers.
However, if you are looking for products to sell on your online store, consider more reliable brands and marketplaces such as Alibaba, AliExpress, 1688, Chinabrands, and Made-in-China.
Unlike Alibaba, Temu doesn't have wholesale suppliers that provide additional discounts for larger quantities. In addition, Temu may not be the best option if you're looking for specialized or hard-to-find items, as their catalog focuses more on general products.
That said, if you are looking for a diverse range of affordable items and don't mind slightly longer shipping times, Temu can be a great option for you.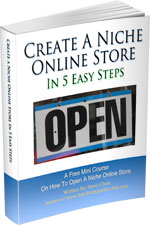 Ready To Get Serious About Starting An Online Business?
If you are really considering starting your own online business, then you have to check out my free mini course on How To Create A Niche Online Store In 5 Easy Steps.
In this 6 day mini course, I reveal the steps that my wife and I took to earn 100 thousand dollars in the span of just a year. Best of all, it's free and you'll receive weekly ecommerce tips and strategies!
Note: This post above may contain affiliate links, which means that I may receive a commission if you make a purchase when clicking a link. Please consult our privacy policy for more information.
Related Posts In Ecommerce Marketplaces
About Steve Chou

Steve Chou is a highly recognized influencer in the ecommerce space and has taught thousands of students how to effectively sell physical products online over at ProfitableOnlineStore.com. 

His blog, MyWifeQuitHerJob.com, has been featured in Forbes, Inc, The New York Times,  Entrepreneur and MSNBC.  

He's also a contributing author for BigCommerce, Klaviyo, ManyChat, Printful, Privy, CXL, Ecommerce Fuel, GlockApps, Privy, Social Media Examiner, Web Designer Depot, Sumo and other leading business publications.

In addition, he runs a popular ecommerce podcast, My Wife Quit Her Job, which is a top 25 marketing show on all of Apple Podcasts. 

To stay up to date with all of the latest ecommerce trends, Steve runs a 7 figure ecommerce store, BumblebeeLinens.com, with his wife and puts on an annual ecommerce conference called The Sellers Summit.  

Steve carries both a bachelors and a masters degree in electrical engineering from Stanford University. Despite majoring in electrical engineering, he spent a good portion of his graduate education studying entrepreneurship and the mechanics of running small businesses.