If you want to start an online store, you have to know where to find small business wholesale suppliers.
Should you search on Google?
Should you attend a tradeshow?
Should you import from China?
Where can you find drop ship suppliers, wholesalers or factories to manufacture your products?
When my wife and I first started our online business, we had these exact same questions.
The correct approach for finding a small business wholesale supplier or factory is highly dependent on your ecommerce business model.
For example, the methodology for finding a dropship supplier is completely different than finding a private label manufacturer.
As a result, this post will discuss the best wholesale suppliers depending on whether you…
Sell Dropshipped Products
Sell Wholesale Products
Sell Private Label Products
Having sourced products using all 3 methods above for my 7 figure ecommerce store, here's my take on the best way to find small business wholesale suppliers for your online business.
Get My Free Mini Course On How To Start A Successful Ecommerce Store
If you are interested in starting an ecommerce business, I put together a comprehensive package of resources that will help you launch your own online store from complete scratch. Be sure to grab it before you leave!
Selling Dropshipped Products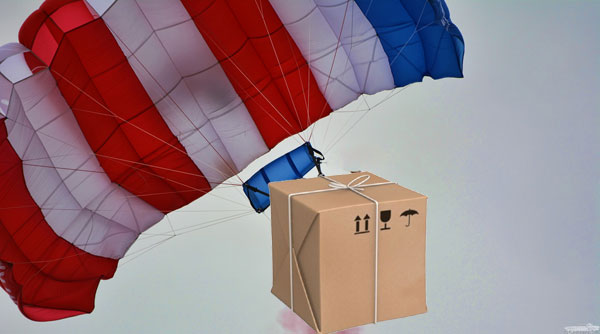 Most people fall into the trap of wanting to dropship when they start their first online store. Dropshipping seems appealing for several reasons.
For one thing, you don't have to stock any items. Whenever an order comes in, you simply place the exact same order to the drop shipper and collect the profit based on the difference in selling price.
There is no inventory, no fulfillment obligations and all you have to do is take orders.
While dropshipping sounds like a dream come true, what most people don't realize is that the profit margins are terrible and you have to provide customer support for problems that are completely out of your hands.
For example, sometimes your drop ship wholesale supplier will mess up your order or ship your product late. Sometimes your drop shipper will send defective merchandise. As the online store owner, you have to deal with all of these issues even though they aren't your fault.
When you add the fact that your profit margins are extremely small (between 10-25%), you have a situation where you are sacrificing your mental health over problems beyond your control for very little money.
Even if you manage to find a reliable drop shipper, customer issues will still pop up and it will be much harder to deal with them when you don't have control over your fulfillment.
In a nutshell, you are staking the reputation of your business on a 3rd party who may not have your interests in mind.
In most cases, it's easier to become an affiliate rather than drop ship. This way, you take your cut and you're done. There are no hassles.
How To Find A Small Business Wholesale Supplier That Dropships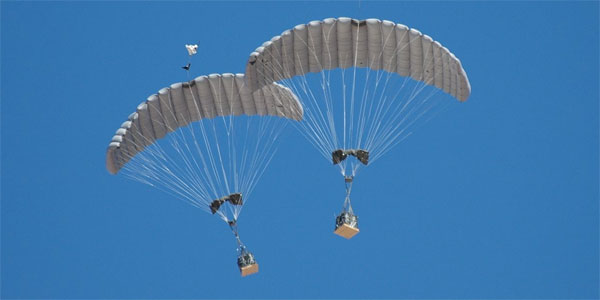 That being said, drop shipping is an excellent way to fill in gaps in your overall product line. For example, let's say I sell handkerchiefs but I only have 3 private label styles of my own to sell.
Instead of launching a store with only 3 products, I can fill out my selection with drop shipped goods. Most people aren't aware that you can mix and match dropshipping with your own inventory but you can!
For those who are apprehensive about starting a small business, dropshipping is also a good way to dip your toes in ecommerce without risking a lot of money.
While I would never base my online store solely on drop shipping, an easy way to find companies willing to drop ship is via a service called Worldwide Brands.
We've used Worldwide Brands in the past to quickly find small business wholesale suppliers to fill out our inventory for sparse categories.
That being said, most wholesale suppliers will not want to drop ship for you unless you can demonstrate that you are a legit business that can drive sales.
And while many vendors don't openly advertise that they'll drop ship, you can sometimes negotiate a dropship arrangement if you just ask.
For information on how to start a dropshipped business and approach a dropship vendor, read the following posts
Where To Find Print On Demand Suppliers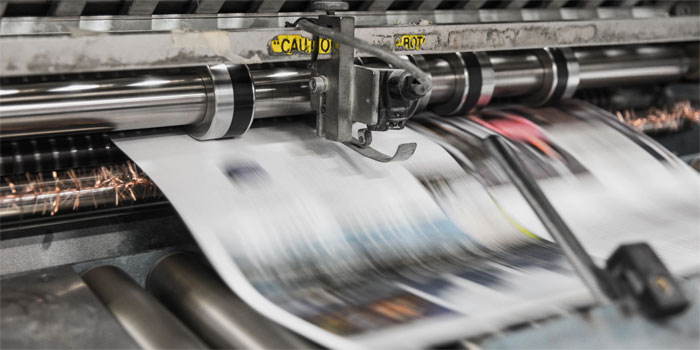 Print on demand is a form of dropshipping where you work with a supplier to print your own custom designs on white label products like a t-shirts, mugs, pillows etc…
No money is required upfront. When your customer makes a purchase, the print on demand company builds your product with your design on the fly and ships it to your customer.
You don't have to pay for the cost of your product until after it's been sold which allows you to start a print on demand dropshipping store for very little money.
Here are my top 3 print on demand companies to work with.
Printful – Printful is my favorite print on demand company and they probably offer the largest selection of products to choose from. They print all of their goods in house with fast turnaround times.
Printify – Printify is Printful's main competitor. But unlike Printful, Printify partners with different print providers to offer a wide range of customizable products.
Custom Cat – CustomCat isn't as large or as polished as Printful or Printify but their wholesale price is lower.
How To Find Domestic Wholesale Suppliers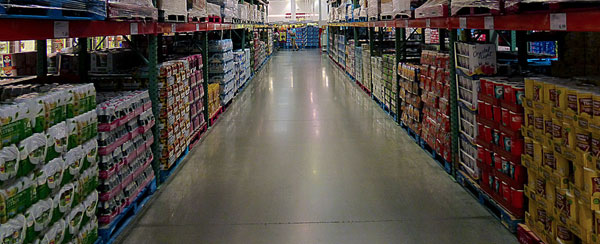 The term "wholesale" gets thrown around a lot.
Whenever anyone asks me about wholesale goods and where to find a wholesale distributor, I always emphasize that the word "wholesale" can be misleading.
"Wholesale pricing" seems to imply that the price is the lowest that you can find. But that's rarely the case.
When I was looking for a wholesale vendor in the US for our online store, all of the small business "wholesale" suppliers quoted extremely high prices that were comparable to Walmart.
Sure, they were cheaper than MSRP (MSRP is just a made up number anyway), but the wholesale prices were sufficiently high that the profit margins would have been on the low end for the products we wanted to sell.
To make things worse, there were already a large number of competitors selling the exact same products at close to the wholesale price.
While sourcing your products from the US (or your home country) is generally going to be more expensive, it does have its advantages.
Because many products are not made in the United States anymore, wholesale suppliers take care of all the hassle of importing and warehousing the goods from the manufacturer.
You don't have to travel to a foreign country. You don't have to deal with shipping or customs. You just place your order and the merchandise appears at your doorstep.
Finding domestic wholesale suppliers also saves you time from having to perform extensive quality control checks on your merchandise because presumably the wholesale supplier has gone through it all already.
The simplest way to find a small business wholesale supplier in the US is by Googling the company of the product you want to sell, going on their website, and finding out who their wholesale distributors are.
Smaller companies most likely won't have distributors and will sell to you directly. Typical wholesale discounts are on the order of 30-50% off MSRP. And depending on the item and the brand, the minimum order can be as low as a hundred dollars.
Another great way to find wholesale merchandise is by attending local trade shows.
For example, Wholesale Central is a wholesale directory that contains a list of wholesale companies and wholesale trade shows in the US.
All supplier information is sorted by product category and you can easily find a niche specific convention to attend.
The best wholesale suppliers can be found at trade shows because they go through a vetting process and have the funds to invest in a booth.
If you live near a major city, you should definitely go and check out a trade show if you have the time. All you need is a sellers permit and admission is free for most shows.
Outside of Wholesale Central, you can also find many niche specific online wholesale directories by using Google.
How To Buy Factory Direct From Overseas Manufacturers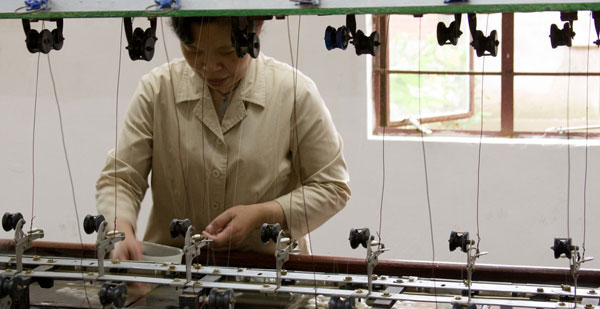 Buying direct from the manufacturer is the holy grail of merchandising, but it also takes the most amount of work, dedication and time.
These days, almost everything is manufactured overseas because the labor costs are much cheaper.
My general rule of thumb(for textiles at least) is that if you are buying from a vendor in the United States, you aren't going to get the best pricing for your products.
Buying direct from the manufacturer or from overseas vendors is the best way to obtain the lowest prices, but it also presents the greatest upfront headaches.
Here's a list of obstacles that we had to overcome when finding suppliers in Asia.
Communication can be an issue – Most Chinese vendors don't speak english very well so you often have to rely on written communication like email.
Product definition is a slow process – Factories in Asia have really poor websites and it's often hard to get an idea of their merchandise quality online. As a result, you have to get samples made and sent across the country which takes a long time.
The minimum order quantity is higher – Since you are dealing with factories, you have to order in larger quantities than you may be comfortable with
Importing from a foreign country requires more work – The logistics of international shipping in addition to dealing with customs is an extra hassle you have to deal with.
You have to manage quality control – Whenever you are producing a product in quantity, maintaining consistent quality is always a challenge.
The lead times are long – Getting products made from scratch often takes months and international shipping adds to the delay so you have to plan your inventory requirements carefully.
Is Buying Direct From Overseas Worth It?
Despite the hassles of importing from China, it is definitely worth it. The wholesale prices are unbeatable and the upfront investment pays for itself in the long run.
Once you've established a good relationship with your supplier, the process becomes much smoother. You will be able to competitively price your products.
You will be able to out price the larger chains and you will be able to differentiate yourself from the competition.
Once you have confidence in your manufacturers, you can design your own custom products and that is where the big money starts to kick in.
If you can fabricate your own designs or make small improvements to existing ones, you have the potential to sell products that no other store can offer.
How To Find Small Business Wholesale Suppliers Overseas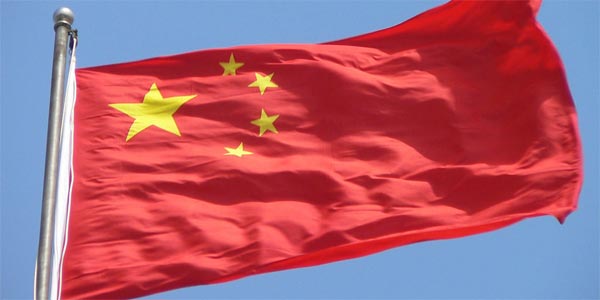 A great place to start is online. There are a variety of online directories for overseas manufacturers. For example, Alibaba.com or GlobalSources.com are good places to start for a wide variety of items.
Both Alibaba and Global Sources vet all of their factories and provide you with useful information so you can quickly find the best suppliers.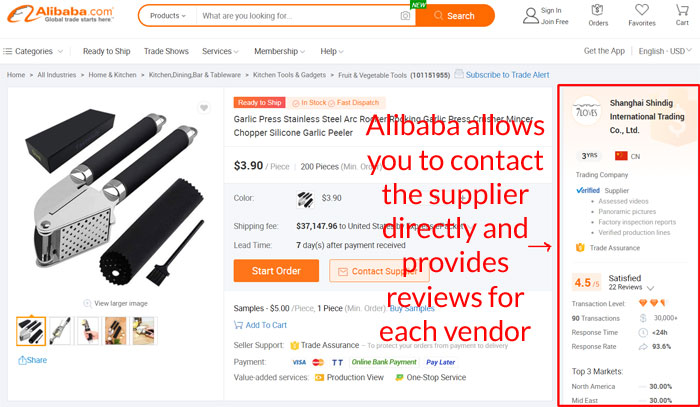 In addition, with a click of a button, you can easily contact a Chinese supplier directly and ask for quotes, minimum order quantities and lead times.
In general, both Alibaba and Global Sources allow you to quickly access thousands of vendors without having to travel to Asia.
Further reading: How To Buy From Alibaba Safely (Without Getting Ripped Off)
How To Find Wholesale Suppliers With The US Customs Database

Even though the vendor reviews on Alibaba and Global Sources are helpful for evaluating potential suppliers, an even faster way to vet great suppliers is to spy on who your competitors are using.
In fact, you can easily steal wholesale suppliers from your competition by leveraging the Jungle Scout supplier database.
What is a supplier database?
Every sea shipping container that enters the United States must clear customs before it is allowed to cross the border. And during this process, every shipment is carefully documented in the US customs database.
All of this information is freely available to the public and a supplier database tool allows you to quickly browse the shipments for every company that imports into the United States by sea.
For example, here is a sample shipping document(bill of lading) for The North Face.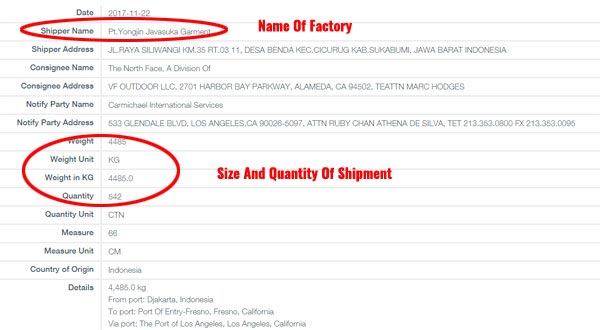 From this document, you can easily find North Face's supplier and the size and weight of their shipment. This information is extremely powerful!
My favorite supplier database tool is called the Jungle Scout Supplier Database
For a small fee, you can quickly find the best suppliers your competition is using!
Below is a video demo I created on how to use the Jungle Scout supplier database tool to find your suppliers.
Note: I have negotiated a significant discount on the tool for MyWifeQuitHerJob.com readers. Click Here To Save $20/month on The Jungle Scout Supplier Database
How To Contact Your Supplier
Once you've found some potential vendors, send them an email or give them a call. Get a feel for whether they truly carry or manufacture the products that you're interested in.
Once you've narrowed down potential vendors, it helps to have a Skype or WeChat conversation. And if you can, hop on a plane and visit them directly.
Especially if you are dealing with Asian vendors, face to face communication is strongly preferred in order to establish a good relationship.
By speaking to your vendor face to face, you are accomplishing three main things.
One, you are showing them that you are serious about purchasing from them.
Two, you will get to see their entire inventory of products in person to judge their quality.
And three, you will be able to place a face with a name and get to know them on a personal level.
Before meeting our first vendor face to face, I remember picturing him as a sleazy Asian dude wearing a wife beater and smoking a cigarette.
Much to my surprise, our supplier was actually clean cut and a pleasant, honest looking fellow. After meeting him face to face, I had much more confidence in ordering from him.
Because face to face communication is so important, my wife and I travel to China and Hong Kong every other year to visit our vendors.
For more information on how to find vendors in China, check out my post on How And Where To Buy Wholesale Direct From Chinese Factories
Attending Tradeshows In Hong Kong And China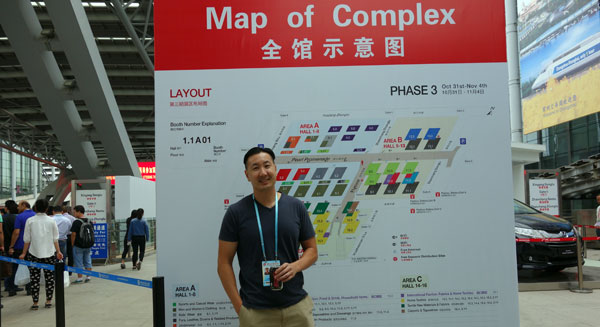 While finding and contacting vendors via Alibaba and Global Sources is fairly straightforward, it is a very slow and cumbersome process.
Not only do you have to get individual samples sent back and forth from Asia, but there's also a major communication slowdown because exchanging emails is highly inefficient.
Add in the time difference and you only have a small window of time everyday to communicate.
But what if you could contact and see sample products for thousands of Chinese vendors all at once in a single location?
What if you could see and touch all of the merchandise without having to wait several weeks?
That's what you get if you attend a major trade show like the Canton Fair or the Global Sources Expo.
Because so many different vendors congregate at these fairs and bring their merchandise with them, you can easily cover hundreds of vendors in the span of just a few days.
There's no back and forth or delay in communication. You don't have to get samples made and sent overseas. Everything is right there at your fingertips.
I've written about the Canton Fair extensively in the past. Check out this post!
GlobalSources Vs Alibaba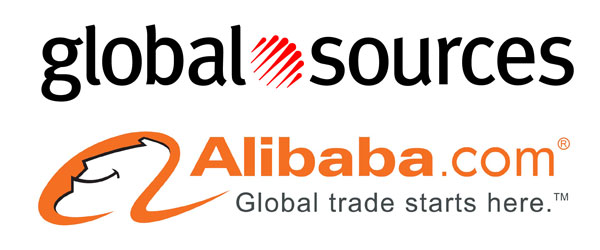 If you are finding your Asian vendors via Global Sources and Alibaba, keep in mind that these two services have different strengths.
If you are sourcing electronics, then Global Sources is by far the better service. In fact, the vendors you'll find on Global Sources will tend to be higher quality because they vet their companies more closely.
But on the flip side, the vendors on Global Sources are more established and prefer to work with companies with greater purchasing power. As a result, the minimum order quantities tend to be higher.
Alibaba has a much larger selection of vendors but it's going to be a mixed bag in terms of quality and legitimacy.
Some companies on Alibaba are trading companies. Some listings are individuals doing wholesale arbitrage online.
Make sure you do your due diligence on every company before you make a large purchase.
When To Source Product From Asia Vs the United States Or Your Home Country


While the wholesale price for your goods will tend to be cheaper if purchased from China, importing from Asia will not always be the right answer for everyone.
There are many factors that you need to take into account. First off, the main advantage of importing from China is that the labor costs are significantly cheaper.
Therefore if you want to sell products that are labor intensive to create, going with China will almost always be cheaper. So textiles, clothing and anything that needs to be handmade are ideal candidates for importing.
But let's say you manufacture plastic toys and you already own the molds. The cost of plastic between the US and Asia will probably not differ enough to warrant manufacturing in China.
The other thing you need to consider are the minimum order quantities and the cost of shipping and customs.
Note: I created a true landed cost of goods shipping calculator that you should check out if you plan on importing from overseas. Click here to check it out
Where To Find Wholesale Clothing Suppliers In The US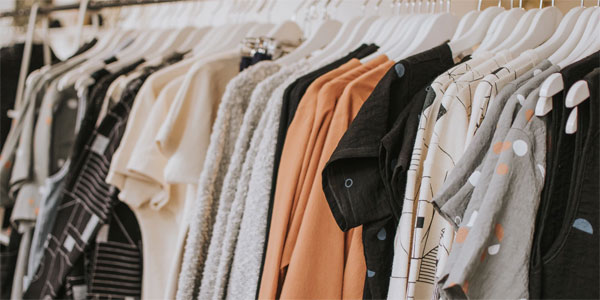 A lot of people come to me and ask if China is the right answer when manufacturing t shirts and dresses. If you are doing huge volumes, then the answer is yes.
But for most small business owners, making clothing in China is overkill. You're much better off buying fabric in the US and finding a local seamstress to make your goods for you.
Only once you have the patterns down and know that you can sell in sufficient volume should you import a large quantity.
If you want to manufacture your own products in the US, there are many ways to find a reliable supplier.
For textiles and clothing, you can visit the local garment district in your area.
If you want to manufacture your own goods in the US, check out my post on 4 Ways To Find USA Wholesale Suppliers
You can also use Google and look for local manufacturers, wholesale companies and product designers.
If you are specifically looking to sell ready made wholesale clothing, you can try the following companies in the US.
Wholesale Fashion Square
WholesaleFashionSquare.com is a wholesale clothing marketplace of manufacturers and importers from Los Angeles, CA. Most of their items are sold in bundles of 6 and they offer very reasonable pricing on their items.
Overall, they have one of the largest selections of wholesale clothing in the United States spanning accessories, jewelry scarves, makeup accessories and clothing for all seasons and occasions.
LA Show Room
Similar to Wholesale Fashion Square, LAShowRoom.com also offers a huge selection of clothing from designers, manufacturers, and wholesale distributors from around the world.
New products are added every week and they carry mens, womens and children's clothing from a variety of brands.
Where To Find Wholesale Clothing Suppliers In China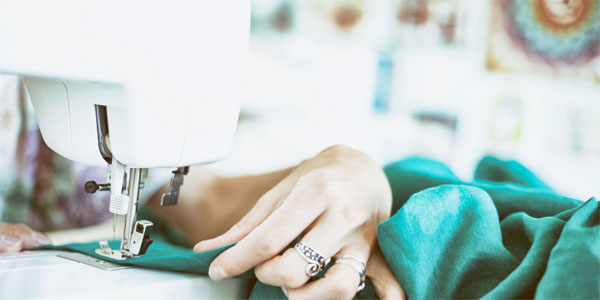 Once you are ready for larger scale manufacturing, then finding wholesale suppliers in China makes the most economic sense.
Just to give you an idea of pricing, you can buy a blank t-shirt in China for as little as 50 cents depending on quality.
But the downside is that the Minimum Order Quantity (MOQ) for clothing is on the order of 300-500 pieces per design. In many cases, you have to order 300-500 pieces per size as well.
As a result, manufacturing clothing in China carries a large upfront investment. In general, you should only order designs from China that you know you can sell in volume.
In addition to finding clothing manufacturers on Alibaba and Global Sources, you can also look at ChinaBrands.com and Made-In-China.com as well for clothing suppliers.
For more information, check out my post on How To Find China Wholesale Suppliers And Import Direct From Chinese Factories
Finding Wholesale Suppliers Summary
How you prefer to obtain your goods from your suppliers is up to you, but buying direct is a no brainer in my book. The more work that you are willing to put into your small business, the more profits that you will make.
No one said that opening an online store was going to be easy. By placing a larger investment of your time upfront, you will pave the way to greater rewards in the future.
Editor's Note: If you are interested in learning how to start your own online store, click here to take my FREE 6 day mini course on ecommerce.
Frequently Asked Questions About Finding Wholesale Suppliers
How Do I Find Wholesale Suppliers?
The easiest way to find a wholesale supplier is by reaching out to the product distributor directly. If you are looking to import from China, you can use a supplier directory like Alibaba or Global Sources. If you are looking for resources in the US, then you can turn to a service called Reference USA. In addition, there are many services out there where you can lookup exactly which factory a seller is using to fabricate their goods.
What Are Wholesale Suppliers?
Buying wholesale is when a seller buys goods in large quantities directly from the manufacturer or distributor at a significant discount. The seller then resells these items directly to the consumer. Buying in bulk allows the seller to maintain attractive pricing and make a profit
What Are The Best Wholesale Sites To Buy From?
The answer depends. If you are looking to source from China, then use Alibaba or Global Sources. If you are in the US, then use Reference USA or Wholesale Central. In general, wholesale directories are less attractive than if you do your own legwork and find the distributor directly.
Can You Buy Wholesale Without A Business License?
You can definitely buy wholesale without a business. However, you may be charged sales tax which can affect your margins. In general, there's nothing magical about the word wholesale. As long as you can make a profit, that's what matters.
Where Can You Find Drop Shipping Suppliers?
The best way to find dropship suppliers is by finding and reaching out to the distributor directly. However, there are directories like Worldwide Brands which aggregate a bunch of dropshipping suppliers all in one place for your convenience.
Do You Need A Tax ID To Buy Wholesale?
A business tax wholesale number allows you to buy goods wholesale without paying sales tax. While it is not explicitly required, some suppliers may not be willing to sell to you unless you have a business license and tax ID
Is It Legal To Buy Products And Resell Them?
It is completely legal to buy products and resell them. However, you must register for a sellers permit in order to pay sales tax to your governing entity.
What Are The Best Wholesale Suppliers In China
Most suppliers that you'll find in China are manufacturers and factories. As a result, when you source from China, you are buying straight from the source. The best way to find suppliers in China is through Alibaba, Global Sources or by using the Jungle Scout Supplier Database
photo credit: danielfoster437 Chinese Factory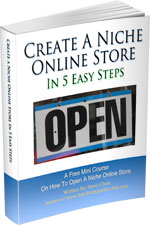 Ready To Get Serious About Starting An Online Business?
If you are really considering starting your own online business, then you have to check out my free mini course on How To Create A Niche Online Store In 5 Easy Steps.
In this 6 day mini course, I reveal the steps that my wife and I took to earn 100 thousand dollars in the span of just a year. Best of all, it's free and you'll receive weekly ecommerce tips and strategies!
Note: This post above may contain affiliate links, which means that I may receive a commission if you make a purchase when clicking a link. Please consult our privacy policy for more information.
Related Posts In How To Find Products To Sell
About Steve Chou

Steve Chou is a highly recognized influencer in the ecommerce space and has taught thousands of students how to effectively sell physical products online over at ProfitableOnlineStore.com. 

His blog, MyWifeQuitHerJob.com, has been featured in Forbes, Inc, The New York Times,  Entrepreneur and MSNBC.  

He's also a contributing author for BigCommerce, Klaviyo, ManyChat, Printful, Privy, CXL, Ecommerce Fuel, GlockApps, Privy, Social Media Examiner, Web Designer Depot, Sumo and other leading business publications.

In addition, he runs a popular ecommerce podcast, My Wife Quit Her Job, which is a top 25 marketing show on all of Apple Podcasts. 

To stay up to date with all of the latest ecommerce trends, Steve runs a 7 figure ecommerce store, BumblebeeLinens.com, with his wife and puts on an annual ecommerce conference called The Sellers Summit.  

Steve carries both a bachelors and a masters degree in electrical engineering from Stanford University. Despite majoring in electrical engineering, he spent a good portion of his graduate education studying entrepreneurship and the mechanics of running small businesses.