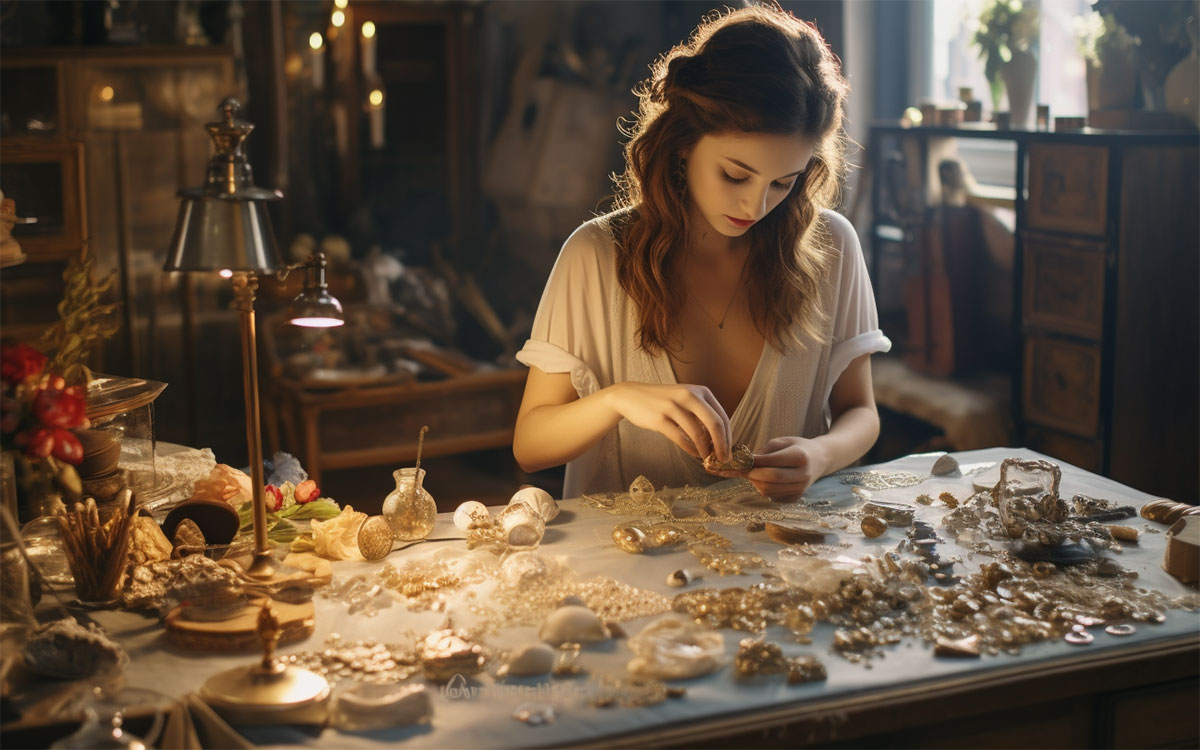 If you want to learn how to start a jewelry business, read this post to discover the jewelry niches that are trending, the best places to sell jewelry, and how to sell jewelry online.
The worldwide jewelry market is expected to reach almost $250 billion by the end of 2022 and selling jewelry online is a highly lucrative business.
Get My Free Mini Course On How To Start A Successful Ecommerce Store
If you are interested in starting an ecommerce business, I put together a comprehensive package of resources that will help you launch your own online store from complete scratch. Be sure to grab it before you leave!
Why Sell Jewelry Online?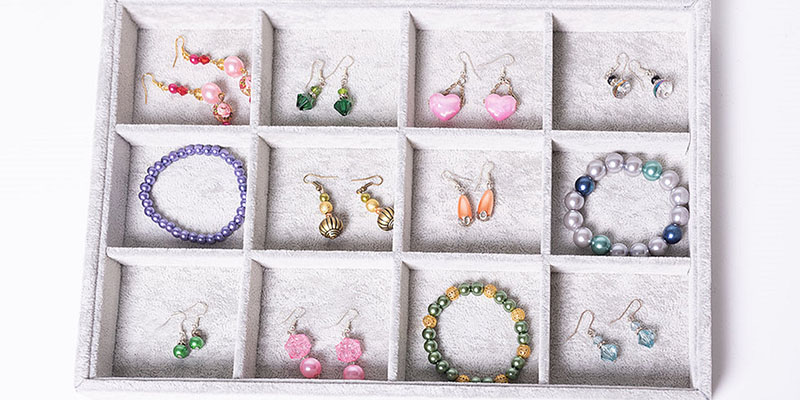 Selling jewelry is a great way to make money online because jewelry is light and easy to ship, the margins are extremely high at 70%+ and the business is easy to scale.
You can reach customers anywhere in the world, you aren't restricted by your business location and the cost of storage and transportation is minimal.
The pandemic was extremely favorable for jewelry makers. While most non-essential industries saw a slump, the jewelry industry experienced exceptionally high growth.
Many small brands made a fortune by selling handmade jewelry online through marketplaces like Etsy and their own ecommerce stores.
Jewelry is also a great way to express your creativity. You can sell anklets, rings, necklaces, and studs and each of these jewelry types can be made from different materials such as beads, gold, silver, gemstones, and shells.
Overall, the jewelry industry has a diverse demographic. People of different ages, races, and household incomes buy jewelry so you'll never be short of customers if you find the right product.
How Much Does It Cost To Start A Jewelry Business
The cost to start a jewelry business online ranges from less than $100 to $5000 depending on your cost of goods.
Because online marketplaces like Etsy and Amazon Handmade allow you to list your jewelry for free, you can get started selling jewelry online for very little money.
Is Selling Jewelry Profitable?
Selling jewelry is extremely profitable and the average gross margin for jewelers is 42.6%. Some online jewelry businesses make over a 70% margin because selling online is so inexpensive.
Here are 2 students in my Create A Profitable Online Store Course that run online jewelry businesses making over 6 figures in profit.
Best Places To Sell Jewelry Online
The best places to sell jewelry online for beginners are Etsy, Amazon Handmade, eBay and Shopify. However, experienced sellers can also list their jewelry on The RealReal, Ruby Lane and Worthy.
There are many places where you can sell jewelry online and the right platform depends on your target audience, your goals, and the type of jewelry you sell.
Here are my top picks for where to sell jewelry online.
Etsy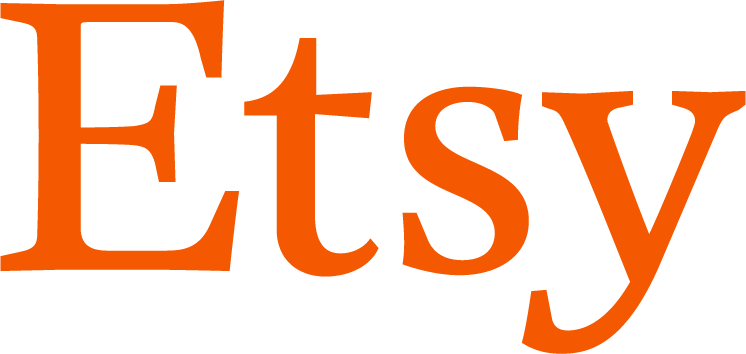 Etsy is a global online marketplace where independent artists can sell their goods and serves as the go-to online marketplace for handmade jewelry sellers.
Etsy allows you set up your online shop quickly and showcase your products in front of millions of buyers.
Setting up an online store on Etsy is free, but they charge a $0.20 listing fee and a transaction fee of 6.5%.
Etsy has a strong community of buyers and there are helpful tutorials that walk you through how to set up your shop and use ads to grow your business.
Amazon Handmade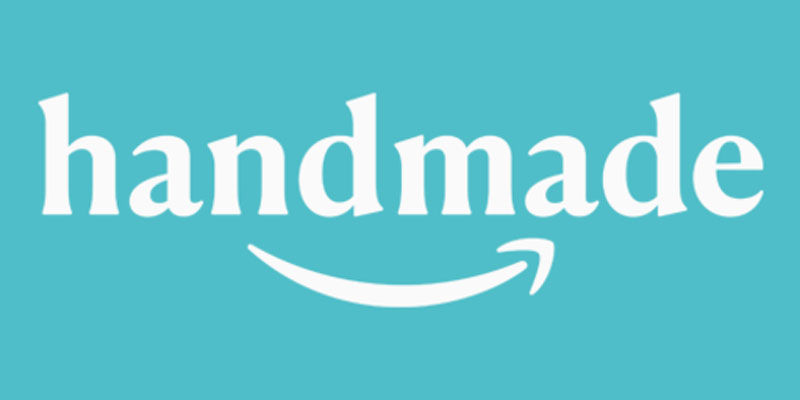 Amazon Handmade is Amazon's micro store that caters to artisans selling handmade products such as jewelry and crafts.
Amazon Handmade is similar to Etsy, except that Amazon Handmade is not a standalone marketplace.
Instead, Amazon Handmade listings appear alongside other Amazon listings, allowing you to tap into Amazon's vast built-in audience of buyers.
Overall, Amazon Handmade has a much larger audience compared to Etsy by a factor of 3X. There are no monthly subscription fees for Amazon Handmade but you get charged a 15% referral fee for every sale made. Read this for a more information on Amazon seller fees
Because Amazon is significantly larger than Etsy, selling on Amazon Handmade carries more profit potential for jewelry sales.
Ruby Lane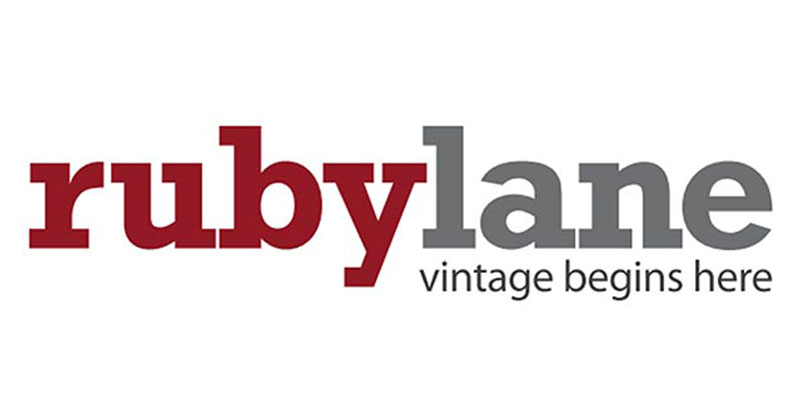 Ruby Lane is an online marketplace that specializes in vintage and antique products. Like Etsy, Ruby Lane allows you to set up your own online jewelry store.
However unlike Etsy, Ruby Lane has a one-time set-up fee of $100 and a monthly maintenance fee of $69. There's also a listing fee of $0.19 per item.
Ruby Lane also has specific requirements for selling vintage jewelry. For example, the jewelry must be over 20 years old and marked with a luxury brand or designer stamp.
If you own or trade expensive vintage jewelry, Ruby Lane can help you sell them for a good profit.
The RealReal

The RealReal is an online consignment retailer that sells 100% authentic luxury goods and fine jewelry.
To sell on The RealReal, you must first sign up and send details and images of your jewelry. Then, you must ship your jewelry to The RealReal to evaluate and authenticate your jewelry from their GIA-certified gemologists.
The RealReal's commission rates are extremely high. If the piece is less than $149, the commission rate can be 60%. If it's a branded item above $995, the fee is around 35%.
Although they take a large cut, The RealReal is the best platform for selling luxury jewelry because of their strict authentication process and reputation for selling authentic goods.
Shopify

Shopify is a leading ecommerce platform for creating independent online websites and you can customize your website exactly the way you want.
Shopify has advanced ecommerce tools that help you sell your jewelry online. The monthly subscription fees start at $29 for ecommerce stores and there are no listing or commission fees. Read this for more information on Shopify pricing
Overall, having your own Shopify store is the best way to build an audience of loyal buyers. However, you are responsible for marketing and driving traffic to your website.
eBay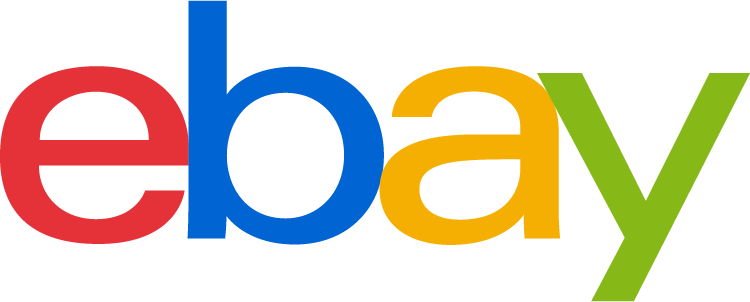 eBay is an online marketplace that doesn't specialize in any particular product category but many successful jewelry makers sell on the platform.
Compared to Etsy, eBay is roughly 5 times larger in terms of revenue. Their annual revenue for 2021 was $10.42 billion, and jewelry made up a small yet significant portion.
eBay is one of the best places to list and auction off your jewelry because eBay doesn't charge a listing fee for the first 250 items.
There's a commission fee of 15% for items up to $1000, and after that, it's 6.5% up to $7500, followed by 3% above $7500.
Overall, the more expensive jewelry you sell, the less you'll pay in commissions.
Worthy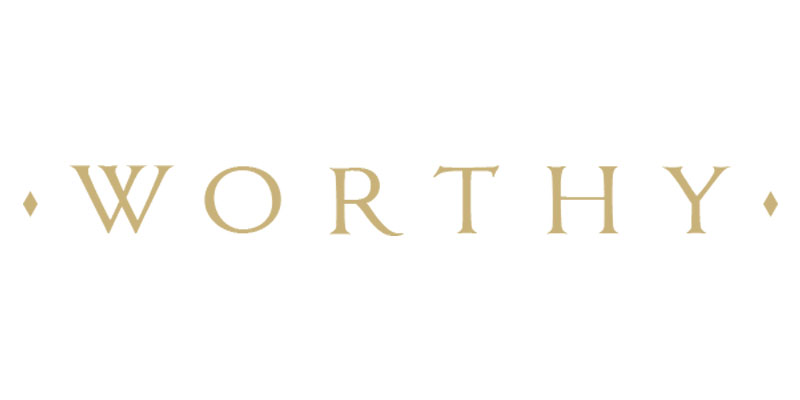 Worthy is an online marketplace used to sell engagement and wedding rings, gems, jewelry and watches through auction and is often called the eBay of luxury jewelry.
Worthy preps your jewelry for sale by providing free cleaning, photography, and listing creations.
Then, you set your price for your jewelry and they market the product for you via auction. When you make a sale, you receive your payment immediately.
Worthy partners with GIA gemologists for evaluating and certifying your products.
The only downside to selling with Worthy is that items under $5000 have an 18% commission fee.
How To Start A Jewelry Business Online
Selling jewelry online requires 5 main steps. You must…
Research and choose a niche jewelry market to target.
Select an ecommerce business model.
Validate your niche by selling on an online marketplace.
Set up and customize your online store.
Develop a marketing plan to sell your goods.
Here's a step by guide on how to start selling jewelry online.
Step 1: Research And Choose A Niche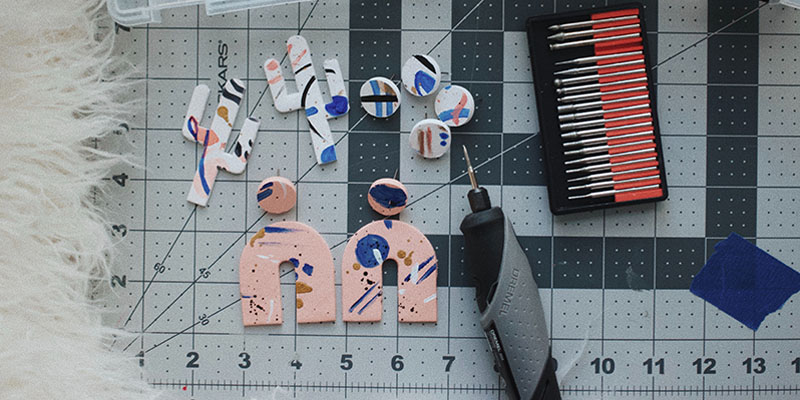 The first step when starting a jewelry business is deciding what type of jewelry you want to sell.
The most important aspect of successfully selling jewelry is finding your own unique value proposition.
What makes your jewelry special?
Why should a customer buy from you over a competitor?
What type of jewelry do you specialize in?
Once you find your value proposition, you must target a specific audience because different age groups and genders have different purchasing habits.
For example, 51% of millennial women buy their own jewelry to celebrate achieving their goals. If you're selling celebration jewelry, targeting millennial women will likely lead to more sales.
As you analyze your competitors, pay specific attention to their bestsellers and how they're promoting their jewelry.
Step 2: Select An Ecommerce Business Model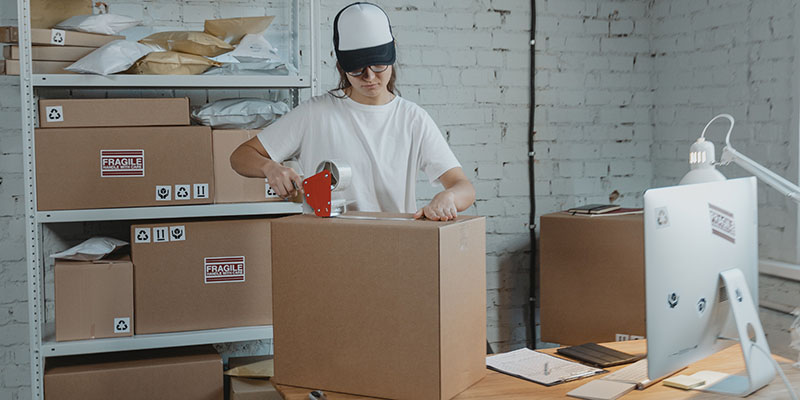 There are 4 main ecommerce business models to choose from when it comes to selling jewelry online:
Dropshipping is when you take orders online without carrying any inventory. You send orders to your supplier, who then ships the order to the end customer.
Dropshipping has extremely low startup costs because you don't have to pay money upfront for inventory. However, you have no control over the quality of goods and suppliers can be unreliable or late in delivering orders.
Retail arbitrage is when you buy clearance jewelry at a heavily discounted rate from thrift shops and garage sales and sell them at retail prices. The downside of retail arbitrage is that it's difficult to scale because you end up spending most of your time hunting for bargains.
Private labeling is when you place your own brand or label on a jewelry product that you purchase or make yourself. Selling private label is a highly scalable business model, but there is a much higher upfront cost.
Wholesale is when you buy jewelry in bulk from wholesale suppliers you find on Alibaba or Shopify Handshake. You can often buy in extremely low unit quantities and the turnaround time is super fast.
For a more detailed breakdown, read my article explaining the pros and cons of these 4 ecommerce business models and choose the one that works the best for you.
Step 3: Select A Platform To Sell Online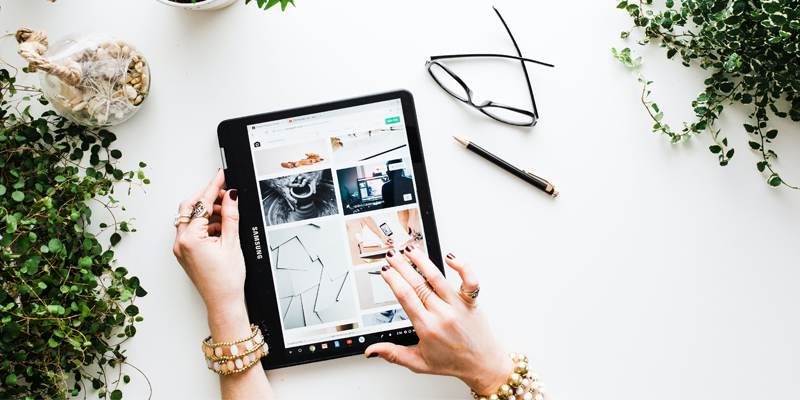 The are 3 main types of ecommerce platforms you can use to sell your jewelry online.
Social media platforms such as Facebook, Instagram and Tiktok.
Online marketplaces such as Etsy and Amazon Handmade.
Your own online store built with Shopify.
Selling On Social Media
Selling jewelry on social media is the most cost-effective way to reach a broad audience. Selling via social media is easy to set up and you can generate sales for free.
For example, the Checkout feature on Instagram and Facebook Marketplace allow US-based customers to buy items directly from your Facebook page. There's a commission fee of 5% or $0.40 for orders below $8.
Overall, selling on social media requires consistent work and you must build an audience in order to succeed.
Selling On An Online Marketplace
Online marketplaces have large built in audiences that expose your product to millions of people.
However, you have limited control over your branding and most platforms hide your customer's contact information from you so you can't directly market to them.
In addition, you must pay high listing, commission, and payment processing fees.
Selling On Your Own Online Store
Starting your own online store is the best way to sell jewelry online because you have full control over your store's design, messaging and images.
More importantly, you get access to your customer base which allows you to generate repeat sales and build a brand.
The main downside to starting your own online store is that you must learn how to generate your own traffic. But owning your own ecommerce platform is by far the most effective way to build a long-term business.
There are many website builders to help you get started like Shopify, BigCommerce, Shift4Shop and WooCommerce.
Overall:
Social media is best for hobbyists selling a small range of products.
Online marketplaces are best for quickly getting your products in front of a large audience.
Online stores are best for building a brand and a strong customer base.
Step 4: Validate Your Jewelry Niche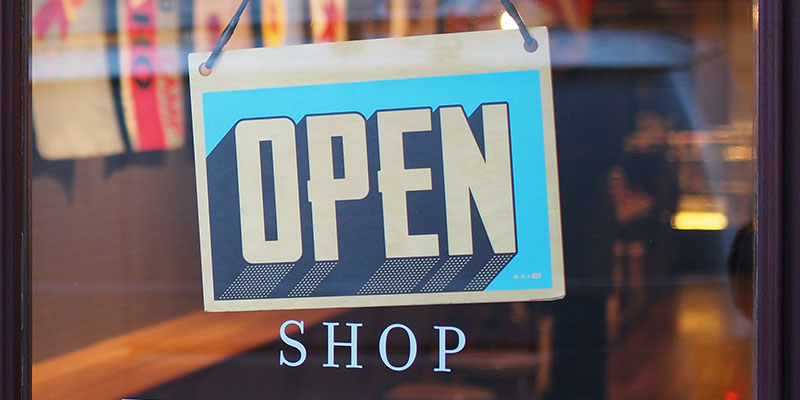 To generate your first sales and to validate your niche, list your jewelry on an online marketplace to get instant access to an active customer base.
Online marketplaces like Etsy and Amazon Handmade are the go-to places to sell jewelry online.
But before you start selling, read the platform requirements before listing your jewelry. Some marketplaces like Etsy do not allow mass produced jewelry from being sold online.
Other than that, listing your jewelry on an online marketplace is simple. All you need to do is create an account, set up your store, and upload your listings.
With Amazon Handmade, you should look into Amazon FBA, where Amazon will store, package, and ship your products to the customer on your behalf.
Once you start seeing some traffic and sales, build an ecommerce store to reach your brand's full potential.
Step 5: Start Your Own Online Store
The easiest way to build an online store is to use a website builder like Shopify which requires little or no technical knowledge.
To start your own website, you will need to:
Pick a domain name that's professional and recognizable.
Select a template theme for your website and customize it.
Add your products and categorize them.
When it comes to designing your website, the prices you can command for your jewelry depend on its perceived value. Selling jewelry is a visual game.
You want customers to connect with your products and make them feel like they're buying from a well-lit brick-and-mortar store. As a result, you must take great product photos.
For example, Boghossian Jewels uses purple and yellow company colors as their background for high-quality jewelry images which gives a feminine and regal feel to their brand.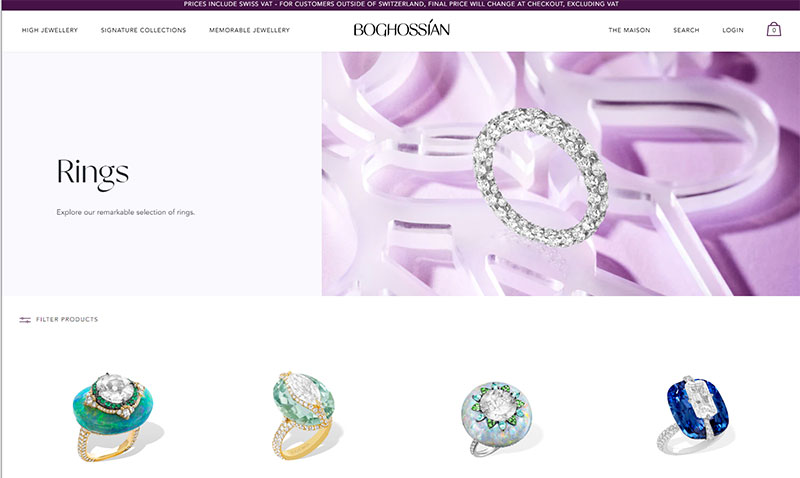 Ring Concierge sells fine jewelry and uses a sharp, clean, and modern aesthetic with slick product images.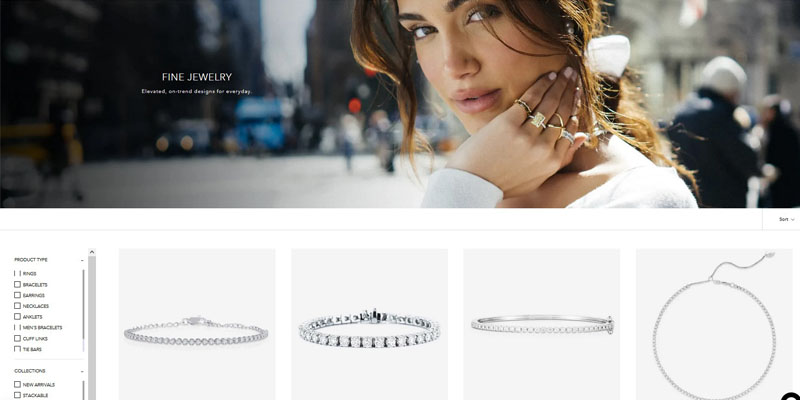 You must also write captivating, persuasive, and informative product descriptions.
Since customers can't pick up and examine the products online the way they can in a retail store, you must write persuasive copy.
To show off your jewelry, make sure you take at least three different high-quality product photos taken from different angles.
Pay attention to the background and lighting, and hire a professional photographer if it's within your budget.
Step 6: Price Your Products For Maximum Profit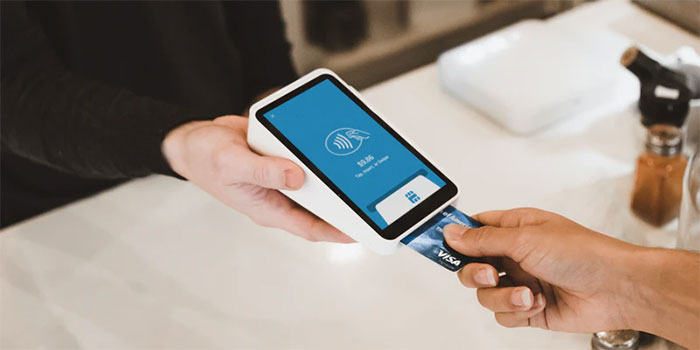 Unlike other products for sale, the pricing for jewelry is ambiguous and subjective. The prices that you can command depend on your images, product copy and the strength of your brand.
Here are three rules to follow when pricing products:
Add a markup of at least 2-4X your wholesale cost at a minimum.
Check what your competitors are charging for similar jewelry and price your jewelry appropriately.
Targeting higher end customers is much more profitable. Higher prices often carry a higher perceived value which can increase your sales.
Step 7: Develop A Marketing Plan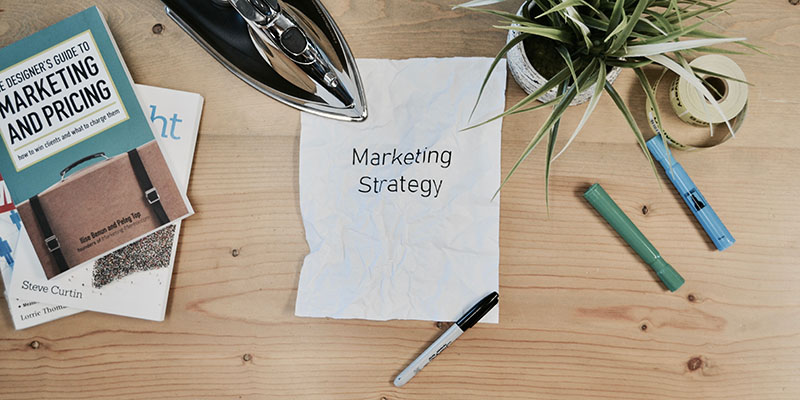 You could have the best looking jewelry in the world, but no one will know about your brand if you don't market it properly.
Here are some popular marketing methods you can use:
SEO: Search Engine Optimization is a technique used to get free traffic from organic search results on Google. There are plenty of guides that show how to implement a keyword strategy and write product and meta descriptions that rank high in search engine result pages (SERPs).
Facebook ads: Use ads on Facebook and Instagram to target potential customers and direct them to your website.
Email marketing: Email marketing is one of the most popular ways to stay in contact with customers and get repeat orders. Start a newsletter to promote ongoing sale events, latest blog posts, and new product launches.
Affiliate marketing: Work with Instagram influencers to promote your jewelry brand. They'll charge a commission on each sale in exchange for promotion.
Content marketing: Content marketing is a long-term strategy that involves writing blog posts and creating guides related to your product.
Trending Jewelry Niches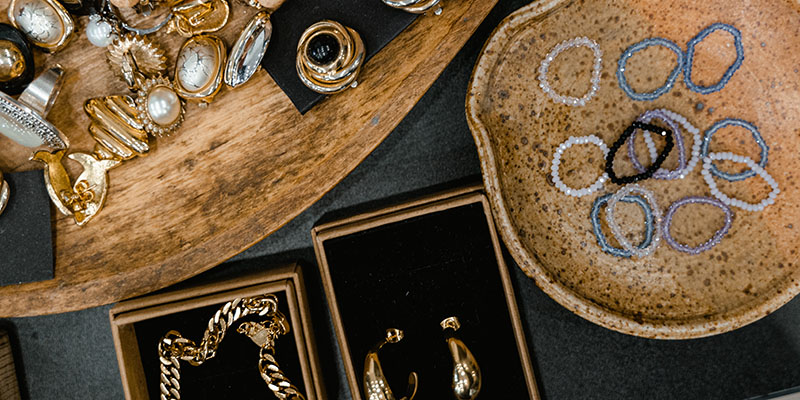 Jewelry is a highly competitive industry and it can be tricky to make your brand stand out because shoppers have so many options.
The only way to enter the jewelry market is by building a brand around a niche. If you target a small but enthusiastic audience, you can establish a loyal customer base.
Here are the top 7 trending jewelry niches:
Handmade Jewelry
Handmade jewelry is jewelry that is made and assembled by hand and not from a mold.
Most handmade jewelry is made on a per-order basis. As a result, every buyer receives a customized product.
Handmade jewelry is so high in demand on online marketplaces like Etsy and Amazon Handmade that many small businesses like Warang Beads fulfill 10,000+ orders each month.
However, because each item is made individually, creating handmade jewelry requires more time which makes it difficult to produce on a large scale.
That's why you'll often find individual sellers or boutique retailers make and sell handmade jewelry.
Nonetheless, there's a massive market for handmade jewelry as many buyers prefer customized jewelry with a personal touch over mass-produced ornaments.
Affordable Jewelry
Affordable jewelry is produced in bulk using imitation metals such as stainless steel and nickel, and artificial gemstones. As a result, affordable jewelry is lower in quality and does not last as long.
The pricing for affordable jewelry depends on the level of detail in its design. It can cost as little as $5 or as much as $100+.
If you want to succeed as an affordable jewelry seller, you must keep up with the latest trends to see what's hot in the market and what's out of fashion.
Check top fashion magazines like Vogue, Marie Claire, and Seventeen, and follow influencers on Instagram and Tik Tok for inspiration.
Fine Jewelry
Fine jewelry is made using precious metals like platinum and gold and rare gemstones like diamonds and opals. This type of jewelry is often worn on special occasions like weddings.
Fine jewelry is notably made in limited batches and can cost tens of thousands of dollars. Since fine jewelry is made from strong, rare materials and requires greater craftsmanship, it can last a lifetime and is passed down across generations.
Because fine jewelry is expensive, most buyers are wealthy and buy jewelry frequently.
You'll often see the middle and upper middle class use fine jewelry as an investment and sell it when it increases in value.
Body Jewelry
Body jewelry is made explicitly for body piercings such as nose, eyebrow, belly button etc… and is available in various sizes and metals.
However, body jewelry is known to cause allergic reactions, especially when made from inexpensive and affordable metals.
As a result, you'll often find high quality metals used for certain piercings. For example, titanium is typically used for tongue piercings for people with nickel allergies.
Although selling body jewelry may seem niche, the body piercing industry is over $60 billion.
Sellers make more profit by using precious metals to avoid allergic reactions. Because body piercings are a personal fashion accessory, people often opt for customized pieces, which further drives up the costs.
Plated Jewelry
Plated jewelry is jewelry made from inexpensive metals that are coated with a layer of precious metal such as gold or platinum.
Examples of plated jewelry include sterling silver necklaces coated with silver and copper rings coated with gold.
Plated jewelry is an excellent choice for shoppers who want the look and feel of fine jewelry at an affordable price.
As a seller, you must display clear disclaimers on your website stating that the jewelry is only coated with precious metals and not made from them.
You must also mention the non-precious metal contents for the safety of people who may have allergies.
Vintage Jewelry
Vintage jewelry is one-of-a-kind jewelry that lasts for generations and is typically at least 50 to 100 years old.
Some examples of vintage jewelry are handmade items made by an original designer or from known eras like the art deco era.
Since the jewelry is second-hand, it may have imperfections and signs of wear. But jewelry enthusiasts love buying and restoring vintage jewelry.
Vintage shoppers are fascinated by the jewelry piece's history. The older the piece, the more costly it is.
Fair Trade Jewelry
Fair trade jewelry is jewelry made from ethically sourced materials where the producers of goods in less privileged countries receive fair pay for their hard labor.
The jewelry industry has a history of human right violations and negative impacts on the environment due to careless and environmentally unsafe mining.
Today's shoppers are more conscious of their purchases and opt for socially responsible brands.
Take Angela Li's jewelry business AzuraJewelry.com. She transformed her side hustle into a 6 figure business by selling ethically sourced sterling silver pieces.
Brands with fair trade practices ensure that their suppliers pay workers a fair wage and use recycled materials.
Tips For Selling Jewelry Online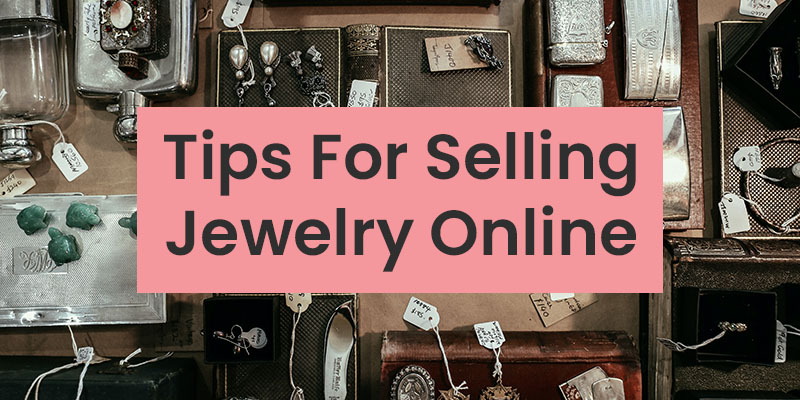 Tip #1: Avoid Selling Counterfeits
Selling fake products will get you in trouble with the law. If you see prices that are too good to be true, they probably are.
Recently, Cartier filed a lawsuit against a social media influencer and 8 businesses for selling counterfeits and engaging in false advertising.
Marketing gold-plated jewelry as pure gold or failing to mention a metal used in the jewelry that causes allergic reactions can also lead to a lawsuit.
To avoid all this hassle, look for suppliers that use good quality metals and gemstones.
Tip #2: Provide A Detailed Product Description
Products with concise product descriptions that tell a story have higher conversion rates.
With jewelry, you are selling emotions, not jewelry and you must write powerful descriptions that tug at the heart strings.
Tip #3: Make Packaging Appealing
Packaging is a major part of your branding and can add a much higher perceived value to your jewelry.
Jewelry is an emotional product and the unboxing experience is often just as important as the jewelry itself.
If you're on a budget and have no option but to use plain old cardboard boxes, try adding a note or an extra item inside to make your customer's buying experience more memorable.
Tip #4: Protect The Jewelry
To avoid damaged jewelry during shipment, it's best to use jewelry foam inserts or pads for protection.
Avoid including any branding on the shipping box as branded cartons receive more attention and are likely to be targeted by thieves and porch pirates.
For more expensive pieces, consider paying for signature upon delivery.
Tip #5: Run Strategic Ads
Running profitable advertisements for jewelry requires you to trigger an emotion.
People don't buy jewelry for the jewelry itself. People buy jewelry because of the emotions jewelry evokes.
Here are the human instincts that you should target with your jewelry ads.
Enjoyment of food and beverages (while wearing your jewelry)
Sexual companionship
Comfortable living conditions
To be superior, winning, keeping up with the Joneses
Social approval
Tip #6: Provide Free Shipping
Social media and online marketplace algorithms rank brands that provide free shipping over brands that don't.
47% of customers abandon their cart if they go to checkout and find out that free shipping isn't included.
If you're unable to offer free shipping on all orders, consider these options:
Free shipping above a certain amount.
Free shipping for first-time customers only.
Free shipping when you purchase specific items.
Free shipping on all orders for a limited time.
Free shipping when you buy 2 or more items.
Is Selling Jewelry Worth It?
Selling jewelry is 100% worth it and you can make a lot of money selling jewelry online.
Here's my recommended flow when starting a jewelry business.
Find your target audience when selecting your jewelry niche.
Choose dropshipping or retail/online arbitrage if you're on a tight budget. But the real money lies in private labeling and wholesale. Stay away from counterfeit products.
Start selling jewelry on Etsy and Amazon Handmade and then transition to your own Shopify store once you've validated your niche.
Provide a detailed product description with high-resolution images.
Use social media to improve your brand's visibility.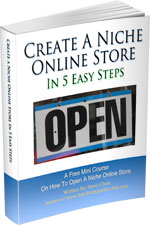 Ready To Get Serious About Starting An Online Business?
If you are really considering starting your own online business, then you have to check out my free mini course on How To Create A Niche Online Store In 5 Easy Steps.
In this 6 day mini course, I reveal the steps that my wife and I took to earn 100 thousand dollars in the span of just a year. Best of all, it's free and you'll receive weekly ecommerce tips and strategies!
Note: This post above may contain affiliate links, which means that I may receive a commission if you make a purchase when clicking a link. Please consult our privacy policy for more information.
Related Posts In How To Find Products To Sell
About Steve Chou

Steve Chou is a highly recognized influencer in the ecommerce space and has taught thousands of students how to effectively sell physical products online over at ProfitableOnlineStore.com. 

His blog, MyWifeQuitHerJob.com, has been featured in Forbes, Inc, The New York Times,  Entrepreneur and MSNBC.  

He's also a contributing author for BigCommerce, Klaviyo, ManyChat, Printful, Privy, CXL, Ecommerce Fuel, GlockApps, Privy, Social Media Examiner, Web Designer Depot, Sumo and other leading business publications.

In addition, he runs a popular ecommerce podcast, My Wife Quit Her Job, which is a top 25 marketing show on all of Apple Podcasts. 

To stay up to date with all of the latest ecommerce trends, Steve runs a 7 figure ecommerce store, BumblebeeLinens.com, with his wife and puts on an annual ecommerce conference called The Sellers Summit.  

Steve carries both a bachelors and a masters degree in electrical engineering from Stanford University. Despite majoring in electrical engineering, he spent a good portion of his graduate education studying entrepreneurship and the mechanics of running small businesses.