Facebook is a great place to connect with friends and family. But Facebook also offers a marketplace where you can sell new and used products for free.
The Facebook Marketplace is so popular that 1 in 3 Americans use it to buy and sell products which makes it a perfect platform to start or expand your ecommerce business.
In this post, you'll learn everything you need to know about selling on the Facebook Marketplace, including what it is, why you should use it, and how to sell your first product on the Marketplace.
Get My Free Mini Course On How To Start A Successful Ecommerce Store
If you are interested in starting an ecommerce business, I put together a comprehensive package of resources that will help you launch your own online store from complete scratch. Be sure to grab it before you leave!
What is Facebook Marketplace?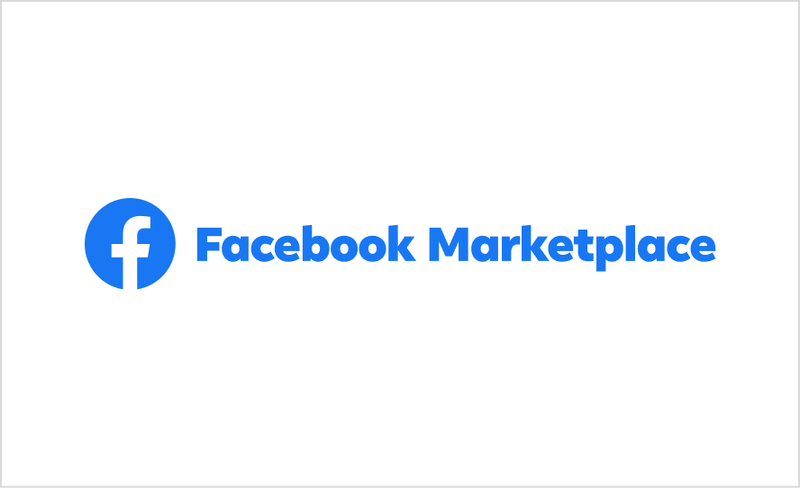 Facebook Marketplace is an ecommerce platform owned by Meta where individuals and businesses can buy and sell goods online.
There are no fees to sell on the Facebook Marketplace. You list goods for free and ship them out when a buyer purchases the product.
Marketplace started out as a place to sell items locally but you can now ship products nationwide with the Facebook Marketplace Checkout feature.
With Checkout, buyers can complete purchases directly on Facebook, allowing you to reach more customers and get paid securely.
Note: The Facebook Checkout is available only in the US currently. Meta plans to extend this feature to other countries soon.
Why Use Facebook Marketplace?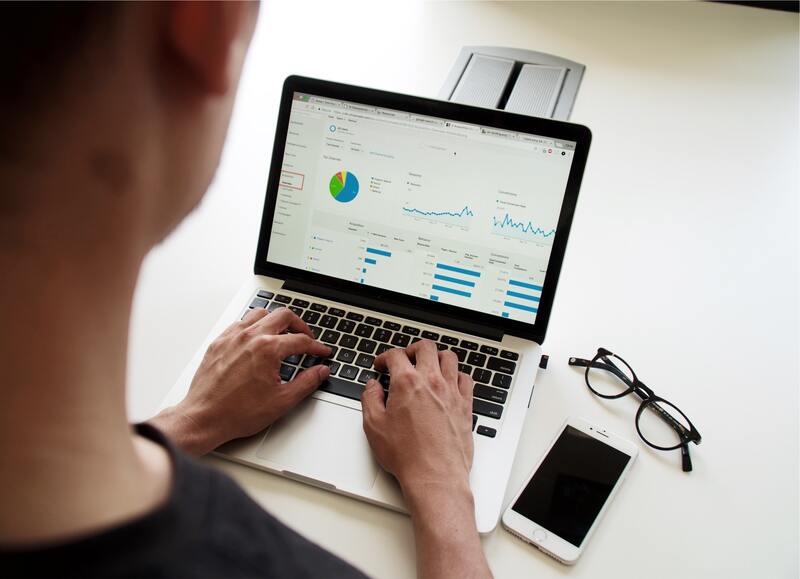 Facebook Marketplace allows you to showcase your products in a place where over a billion Facebook users shop every day.
In 2021, the Marketplace reached 1 billion monthly users.
With Facebook Marketplace, you can directly communicate with buyers via Facebook Messenger. As a result, potential customers can reach out to you with questions in real-time.
Aside from reaching a broad audience, Marketplace also offers tools to boost productivity and improve your conversion rates.
There are no listing fees, and the product listing process is simple and straightforward.
In short, Facebook Marketplace is an excellent platform for artists, Amazon sellers, retailers and private label brand owners alike.
How Does Facebook Marketplace Work?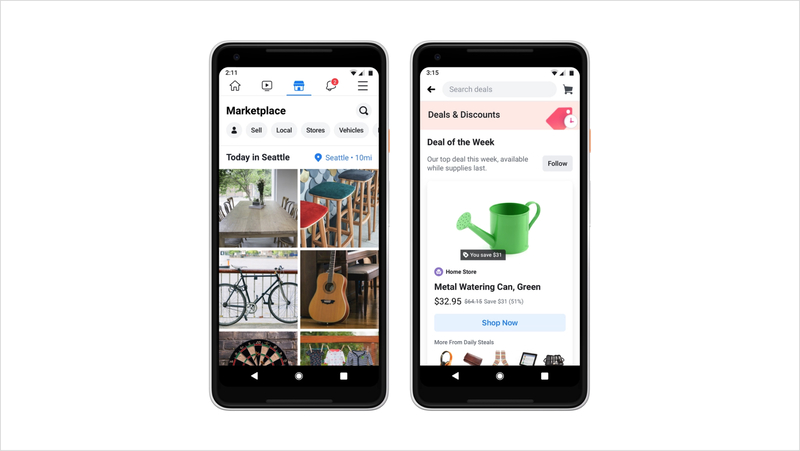 Here's how Facebook Marketplace works:
You list your product on the Facebook Marketplace using the Facebook app.
Facebook's algorithm recommends your product to potential buyers who can ask you questions through Facebook Messenger.
Buyers pay using the Checkout feature if you're based in the US. If you're from any other country, you must agree on a payment method with the buyer.

You have 2 options for payment.

Facebook Pay + Checkout
Third-party Payment Method

Facebook Pay is like Venmo, where buyers can make quick payments securely. You can add your PayPal account or credit/debit card to Facebook Pay to receive payments.

You ship the product or hand deliver the item to the customer. You have 3 business days to ship the product after receiving the order.

You also need to provide tracking information for the order and must ensure the order is delivered within 10 business days.

Meta takes a 5% per shipment cut on every order and releases payment after the customer confirms delivery of goods. As sellers outside the US don't have the shipping option on Facebook, they need to reach an agreement about the delivery terms with buyers.
Is The Facebook Marketplace Safe?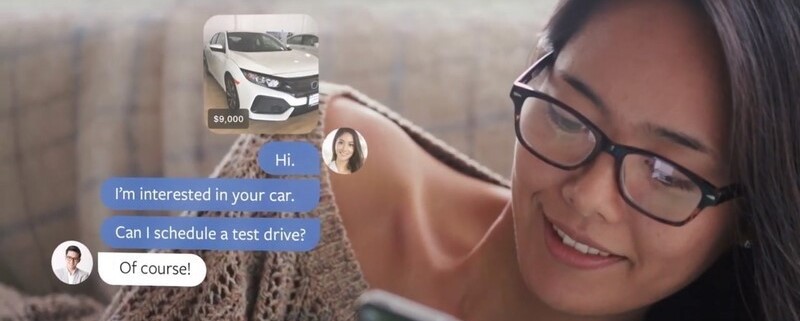 Buying and selling on the Facebook Marketplace is 100% safe because eligible purchases are covered by Facebook's Purchase Protection program.
Facebook Purchase Protection is free, and automatically covers orders made directly through the Facebook platform.
With Facebook Purchase Protection, you can request a refund if:
Your order was not delivered.
Your order arrived damaged or not as described on the listing.
The seller violated any of their stated selling policies.
The purchase was unauthorized or fraudulent.
The seller is no longer a member of Facebook.
Facebook Purchase Protection only protects orders placed through Facebook Checkout. Purchases made through third-party sites or payment processors, local pickups, Messenger transactions, or other external methods don't qualify for Purchase Protection.
Is Facebook Marketplace Free?
Listing products on the Facebook Marketplace is 100% free. However, Facebook charges a selling fee of 5% per order for orders above $8. For orders below $8, the selling fee is $0.40 per shipment.
Compared to other marketplaces like Ebay or Amazon, the Facebook Marketplace is extremely inexpensive and offers free exposure to billions of Facebook users.
How To Sell On Facebook Marketplace?
To sell on Facebook Marketplace, you need either a personal or business Facebook account.
Here's a step-by-step tutorial that shows you how to sell on Facebook Marketplace:
Step 1: Choose A Listing Type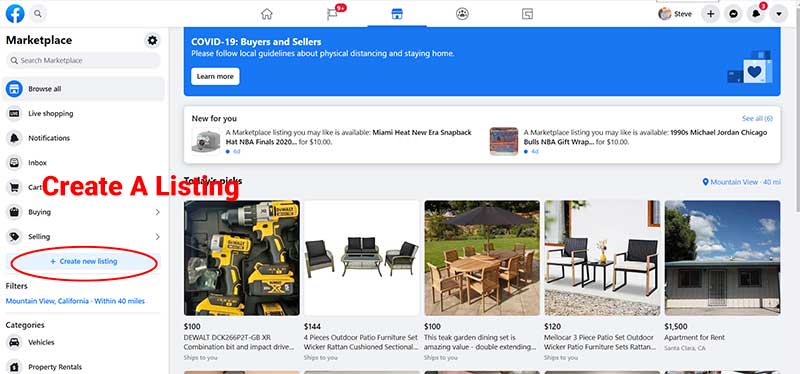 Find and click the Marketplace icon that looks like a storefront.
Next, click the "Create New Listing" or "Sell" button. Select the listing type from one of the following options:
Item for Sale
Vehicle for Sale
Home for Sale or Rent
Job Opening
Individuals can only choose the "Item for Sale" option. Business account users have access to vehicle, property, and job listings.
The "Vehicle for Sale" feature is available in the US, France, Germany, and Indonesia. The "Home for Sale or Rent" and "Job Opening" listing types are available only in the US and Canada.
Step 2: Fill Out Product Details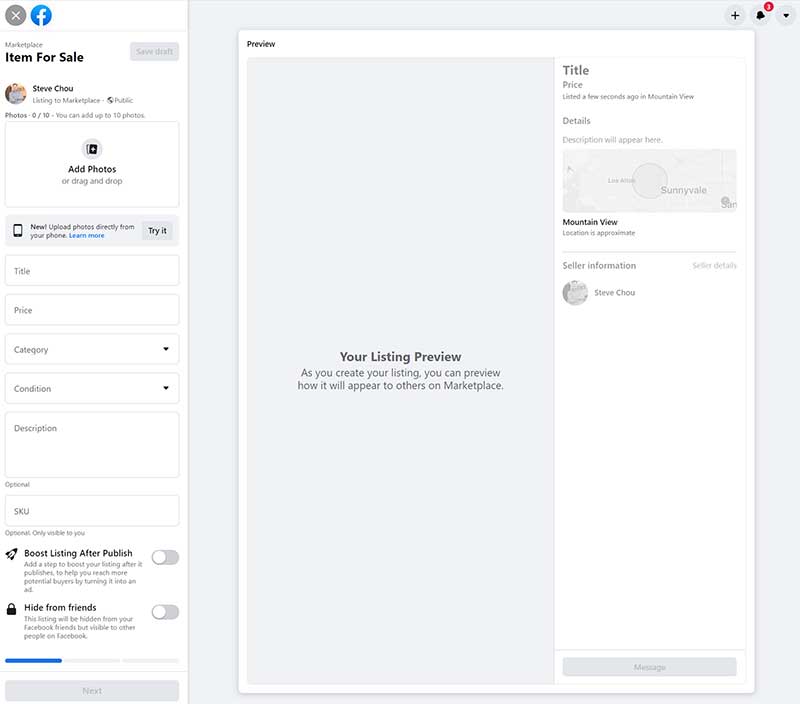 Fill out your product information and add product images using the following fields:
Photos: Add up to 10 images here.
Title: The title can be up to 100 characters.
Price: The pricing should include shipping fees if any.
Category: Choose the appropriate product category.
Condition: Select either of the four options: New, Used – like new, Used – good, Used – fair.
Description: Describe the product, including wear and tear, dimensions, color, and so on.
Product tags:Add product tags to improve product visibility.
Brand: This is an optional field where you can add the product brand name.
SKU: This is another optional field that is visible to select sellers where they can add product SKU.
Click on the "Hide from friends" toggle to hide the listing from Facebook friends. Skip the "Boost listing after it's published" toggle. You can use this option later.
Check how the listing appears in the "Preview" section and if the listing looks good, click the "Next" button.
Step 3: Add Shipping Options (Only for US-based Sellers)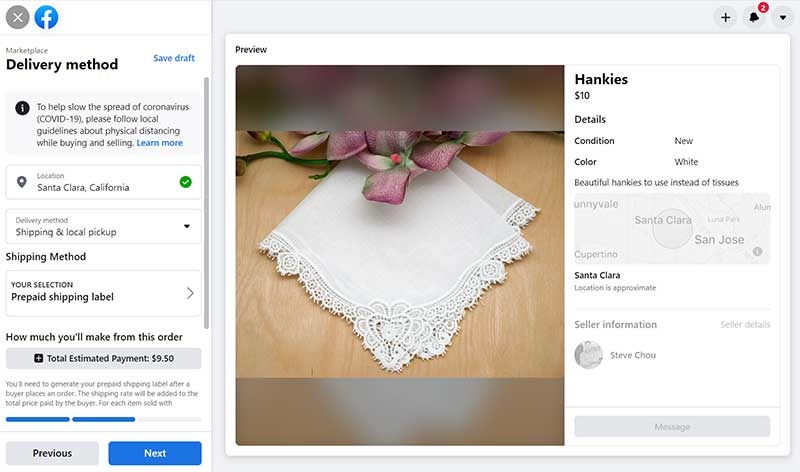 US-based sellers can choose a delivery method in this step. Sellers in all other locations will automatically be directed to the publishing step.
You will see the following three delivery methods:
Shipping and Local Pickup
Shipping Only
Local Pickup Only
You can choose the "Shipping and Local Pickup" method if you wish to target both local and remote buyers. Alternatively, you can opt for "Shipping Only" or "Local Pickup Only."
Facebook provides a prepaid shipping label from UPS or USPS to simplify the shipping process. However, you can choose to print your own labels as well.
Next, you will be asked to choose the package weight to determine label costs. After selecting a shipping quote, Facebook shows the total estimated payment you will receive once the product is sold.
Note: Sellers outside the US need to arrange their own delivery because the Checkout feature is not available.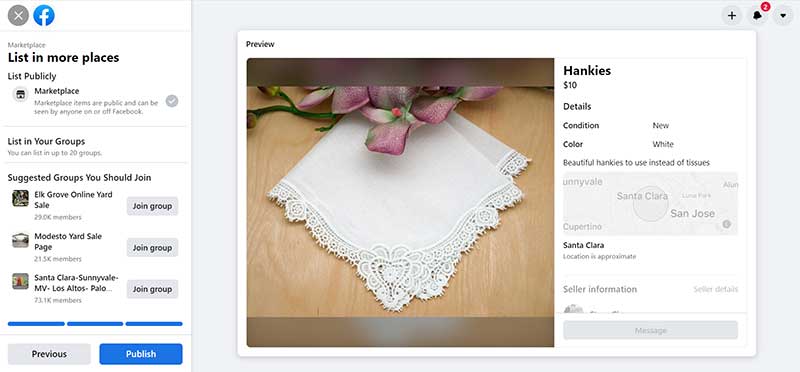 Facebook gives you the option to share the listing with your Facebook groups. You will also see suggested groups where you can share your listings to improve the reach of your product.
Click "Publish" after choosing where to share the listing to make your product listing public.
What Are The Facebook Marketplace Rules?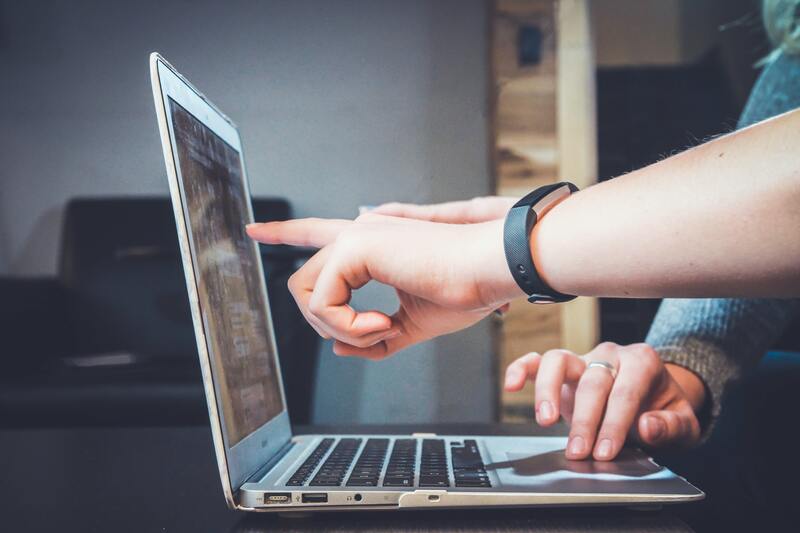 The Facebook Marketplace rules are as follows:
The product must be a physical item. You can not buy or sell digital products or services nor can your make product requests.
You must not list prohibited items. These items include adult products, alcohol, digital media and electronic devices, hazardous goods, etc.
You must not directly list a restricted item such as events or admission tickets, gift cards, or vouchers. You need to coordinate with Facebook partners to list these items.
The product listing must not infringe on third-party IP rights.
The description of the product must match the title and product images.
Before-and-after pictures are not allowed — for example, photos showing weight loss or acne reduction.
What Are The Facebook Marketplace Categories?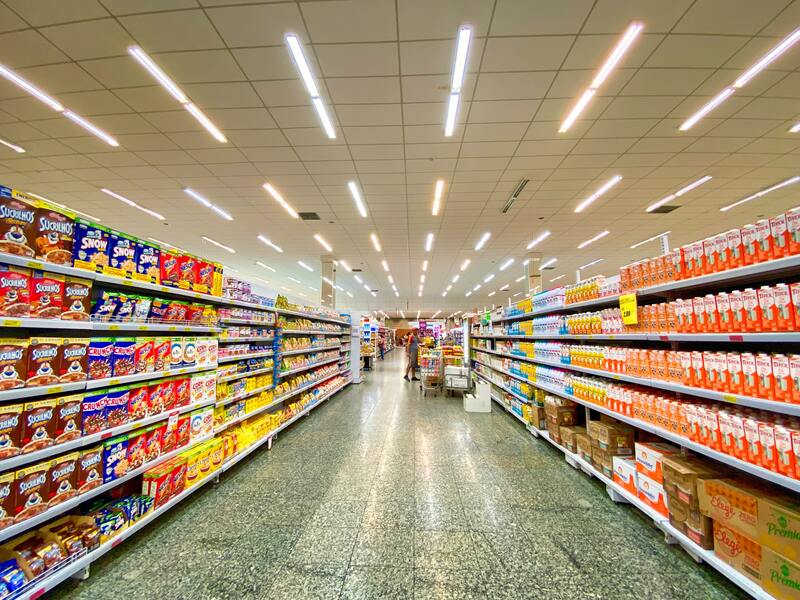 The main Facebook Marketplace categories are:
Classifieds
Clothing & accessories
Deals
Family
Electronics
Entertainment
Free Items
Hobbies
Home & Garden
Home sales
Housing
Vehicles
Tips For Selling On Facebook Marketplace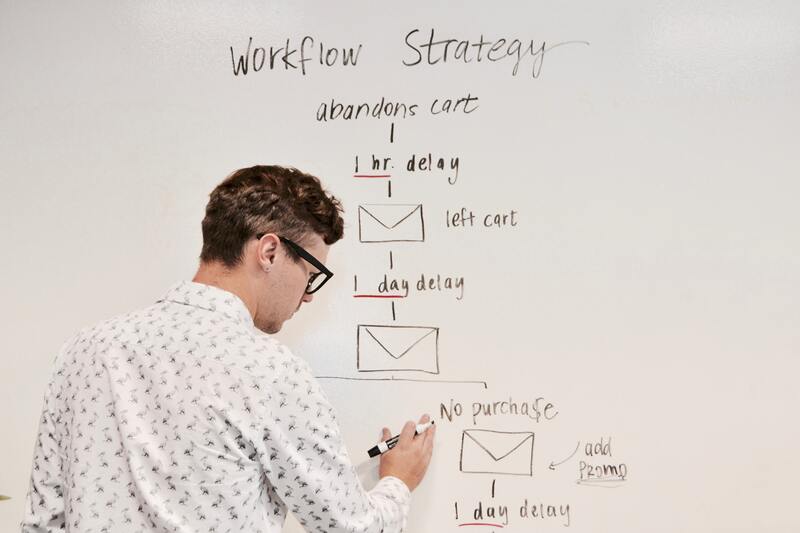 Optimize Your Product Listings
Optimizing your product listing allows it to rank higher in the Marketplace feed. Make sure you use relevant search keywords in your title and description to improve your reach.
The description should be clear and detailed to convey product information precisely. Be honest if your product is used and mention any defects or wear and tear.
Offer Free Local Delivery
Most buyers prefer to have items shipped rather than picking them up directly, especially for products like furniture. You can offer free delivery of goods to help boost conversions.
Use High-Resolution Product Images
Take high-quality product images in clear and well-lit environments. Product photos taken with a plain background from different angles work best.
Sell On Other Facebook Groups
There are many buyer/seller groups on Facebook where you can share your Marketplace listings. These Facebook groups often target specific niches, which can help your products reach the right audience.
Keep in mind that although people can't comment on Marketplace listings, they can comment on group posts. Do your best to ensure your product listing details are accurate to avoid negative comments.
Renew Your Product Listings
Renewing a product listing will temporarily bump it up in the search results. You can use this option if your product hasn't sold within a week.
Here's how to renew your product listing on Facebook Marketplace:
Go to Marketplace and click "Your Account" > "Your Listings."
Find the product listing and click on the three dots icon.
Click "Renew Post."
You can renew a listing for free up to 4 times without making any changes.
Boost the Post
Boost Listing is a type of Facebook advertisement that gives your listing a push in the Marketplace search results and news feeds.
Follow these steps to boost a product listing in the Facebook Marketplace:
Go to Account > Listing > Product.
Find the product in the "Your listings" section and click "Boost Listing."
Choose one of the options under "Select Your Budget" or click "Select Custom Budget" below the list to set the daily budget and duration.
If your listing has delivery options, select a target audience. You can also create an audience of buyers based on postal code, region, etc.
Make payment and preview the ad.
Click "Promote Now" to boost the product listing.
You can check Facebook Insights to see how well the boosted listing is performing.
Be Professional
The main advantage of selling on Marketplace is that buyers can directly contact you through the Messenger app.
Follow these tips when communicating buyers:
Don't get offended when customers negotiate. Stand your ground and answer calmly if buyers try to lowball you.
Reply to your customers as soon as possible to improve conversions.
Ignore or block customers that are rude or angry.
Be Careful With Local Sales
You must be extremely careful when hand delivering products to a local buyer. Here are some tips to ensure a safe transaction:
Conduct a background check on the buyer using Google.
Avoid meeting at night. If there's no other option, meet in a crowded place.
Avoid a pick-up from your home unless there's someone with you.
Keep a counterfeit detector pen on hand when accepting cash payments.
Trust your gut feeling even if the buyer ticks all the right boxes.
Pros Of Selling On Facebook Marketplace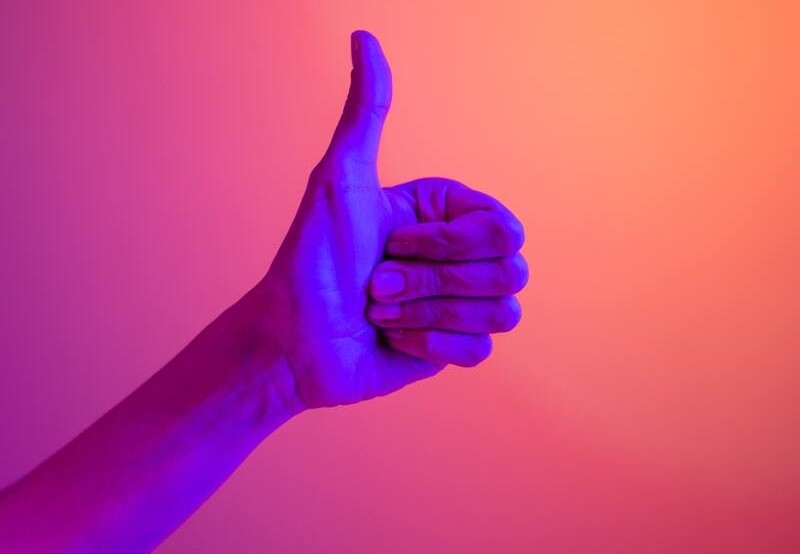 No Listing Fee
In contrast to other popular online marketplaces, Facebook Marketplace doesn't charge any listing fees.
Other online marketplaces such as Etsy and eBay charge listing fees of $0.20 and $0.35 per item, respectively.
Low Selling Fee
Facebook charges 5% per order or $0.40 for orders below $8. The selling fee includes taxes and payment processing fees and applies to all product categories on Facebook.
For example, if the shipment is $100, Facebook deducts $5 as the selling fee. But if the shipment is $7, then a flat fee of $0.40 will be deducted.
Customized Buyer Experience
Facebook Marketplace recommends products to relevant customers. This helps you save on advertising costs.
Facebook also suggests products to local consumers, helping you reach local audiences.
User-friendly UI
Facebook Marketplace has a minimalistic user interface that makes it easy for consumers to make a purchase.
Buying on Marketplace is intuitive and requires just a few clicks.
Direct Connection Between Buyers and Sellers
Shoppers can quickly contact you via Facebook Messenger and review your profile before purchasing your product.
Having a direct line to the seller provides trust to the buyer unlike Ebay where sellers are largely anonymous.
Easy Syncing With Ecommerce Platforms
Many ecommerce platforms such as BigCommerce, ShipStation, Shopify, Quipt, and Zentail sync with Facebook Marketplace.
You can import products from your store to the Marketplace instantly and manage inventory and sales from your store backend.
Cons Of Selling On Facebook Marketplace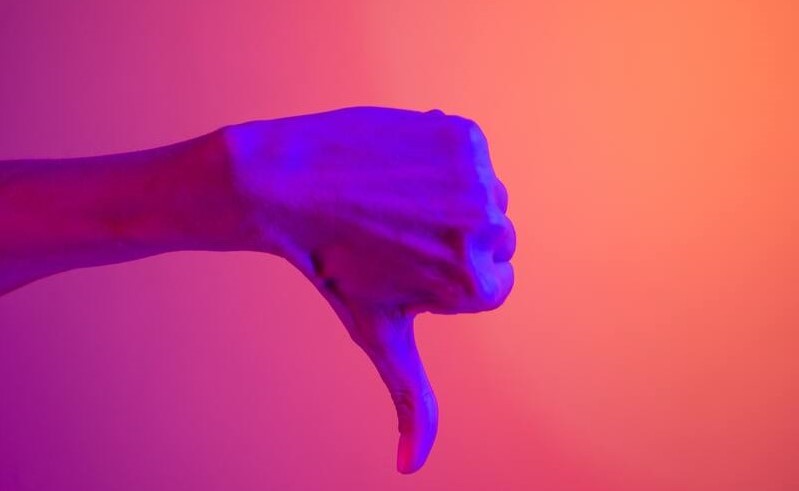 Difficult To Establish A Brand
Facebook Marketplace allows anyone to sell their goods online. As a result, the platform is filled with used items sold by individuals and not professional sellers. This can make it problematic for you to develop your brand on the platform.
Instead, you should use the Facebook Marketplace as a platform to generate cashflow and sales. Make sure you start your own online store so you can establish your own brand and build an audience.
No Vetting
Facebook does not vet buyers or sellers. Anybody can list and buy products as long as they have an active Facebook account. The lack of background checks opens up the platform to scammers.
Facebook Purchase Protection mitigates the scams but you must use the Facebook Checkout feature to take advantage of it.
Safety Issues (Non-US)
Non-US Facebook users don't have access to the Checkout feature yet. So if you're based outside of the US, you can't get paid or ship items using the Facebook platform.
For payments, you can accept cash, bank transfer, or online processors like PayPal. For delivery, you can either ship the product yourself or drop it off at the buyer's address.
However, it can be time-consuming and even dangerous. You should avoid meeting buyers directly and use a service that handles pickup and delivery.
No Fulfillment
Unlike Fulfillment by Amazon (FBA), Facebook doesn't provide storage space for sellers. You are responsible for shipping packages at your own risk.
Facebook doesn't take any responsibility if there's a delay in shipping or delivering orders. Working with a fulfillment center is a huge advantage if you process a high volume of orders every day.
Facebook Marketplace Next Steps
After listing your products on the Facebook Marketplace, you should share your listings with other Facebook groups to improve visibility. You should also list your products on other marketplaces for better reach.
For example, if you're selling jewelry or home decor products, list them on Etsy in addition to Marketplace. If the product is a toy or collectible, list the product on eBay. You can also connect your Facebook inventory to Instagram Shopping.
Ultimately, your goal should be sell on your own ecommerce store. Having your own website allows you to build a brand and avoid paying commission fees to marketplaces.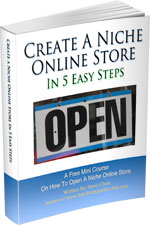 Ready To Get Serious About Starting An Online Business?
If you are really considering starting your own online business, then you have to check out my free mini course on How To Create A Niche Online Store In 5 Easy Steps.
In this 6 day mini course, I reveal the steps that my wife and I took to earn 100 thousand dollars in the span of just a year. Best of all, it's free and you'll receive weekly ecommerce tips and strategies!
Note: This post above may contain affiliate links, which means that I may receive a commission if you make a purchase when clicking a link. Please consult our privacy policy for more information.
Related Posts In Ecommerce Marketplaces
About Steve Chou

Steve Chou is a highly recognized influencer in the ecommerce space and has taught thousands of students how to effectively sell physical products online over at ProfitableOnlineStore.com. 

His blog, MyWifeQuitHerJob.com, has been featured in Forbes, Inc, The New York Times,  Entrepreneur and MSNBC.  

He's also a contributing author for BigCommerce, Klaviyo, ManyChat, Printful, Privy, CXL, Ecommerce Fuel, GlockApps, Privy, Social Media Examiner, Web Designer Depot, Sumo and other leading business publications.

In addition, he runs a popular ecommerce podcast, My Wife Quit Her Job, which is a top 25 marketing show on all of Apple Podcasts. 

To stay up to date with all of the latest ecommerce trends, Steve runs a 7 figure ecommerce store, BumblebeeLinens.com, with his wife and puts on an annual ecommerce conference called The Sellers Summit.  

Steve carries both a bachelors and a masters degree in electrical engineering from Stanford University. Despite majoring in electrical engineering, he spent a good portion of his graduate education studying entrepreneurship and the mechanics of running small businesses.