A common question I often get asked is whether to start your ecommerce business selling on Amazon vs Ebay and which marketplace will make you more money.
However, the answer isn't clear cut and it depends on the nature of the products you sell. Over the years, my wife and I have sold on Amazon, Ebay as well as our own online store.
And while we've been successful selling on all 3 platforms, there are distinct pros and cons with each.
This post will provide you with a thorough breakdown and comparison of Amazon vs Ebay and help you determine which marketplace is better suited for you.
Get My Free Mini Course On How To Start A Successful Ecommerce Store
If you are interested in starting an ecommerce business, I put together a comprehensive package of resources that will help you launch your own online store from complete scratch. Be sure to grab it before you leave!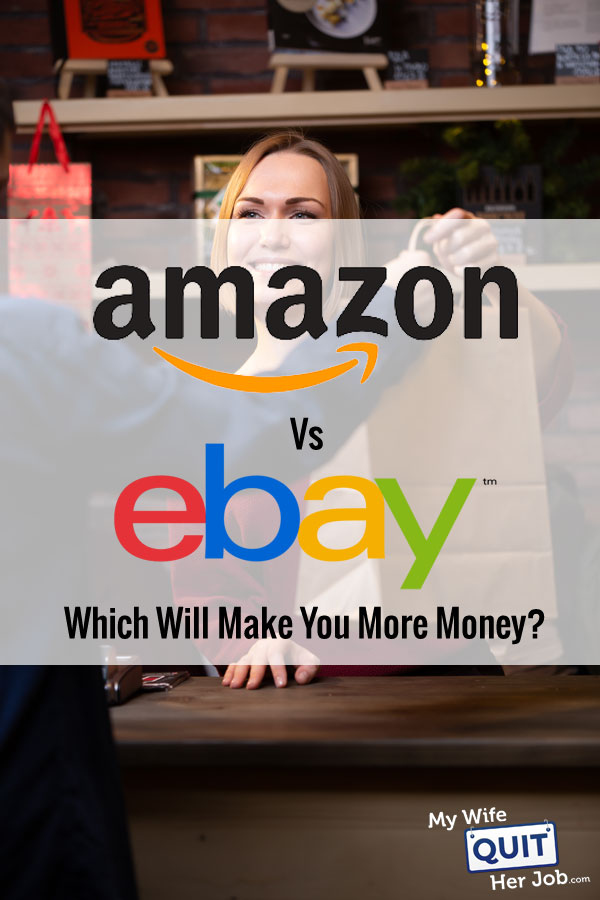 Which Marketplace Is Larger? Amazon Vs Ebay
First off, Amazon is over an order of magnitude larger than Ebay.
As of 2018, Amazon's annual revenue was $232.887 billion whereas Ebay only made 10.76 billion.
Editor's Note: These numbers are slightly skewed because they include Amazon's Web Services platform which makes up about 10% of their revenues.
Regardless, Amazon dwarfs Ebay when it comes to ecommerce sales. In addition, Ebay's revenue has been flat for the past 5 years whereas Amazon has been growing over 30% year over year.
In terms of raw users, Amazon has about 310 million customers whereas Ebay only has 167 million.
Now on the surface, it may seem as though Amazon only has 2X the number of customers compared to Ebay. But these user numbers don't paint an accurate picture because of Amazon prime.
Not only does Amazon have 2X the amount of shoppers, but their customers are much more loyal as well. Out of Amazon's 310 million users, over 100 million are Amazon prime members and they are extremely active on the platform.
Here are some crazy facts about Amazon to give you an idea of how fanatical their user base is.
46.7% of shoppers start their shopping journey on Amazon compared to only 34.6% on Google
95 million people pay money for Amazon Prime memberships in the US alone
The average Amazon Prime member spends $1.3K every year
The average non Amazon Prime member spends $700 every year
Over 50% of Amazon sales are from third-party sellers
90 percent of consumers check Amazon's selection or prices before buying a product on a retailer's website.
In my experience, you will easily make 10-15X more selling on Amazon vs Ebay.
In fact with Bumblebee Linens, we primarily sell on Ebay to liquidate our irregular goods whereas we make 6 figures per year selling on Amazon alone.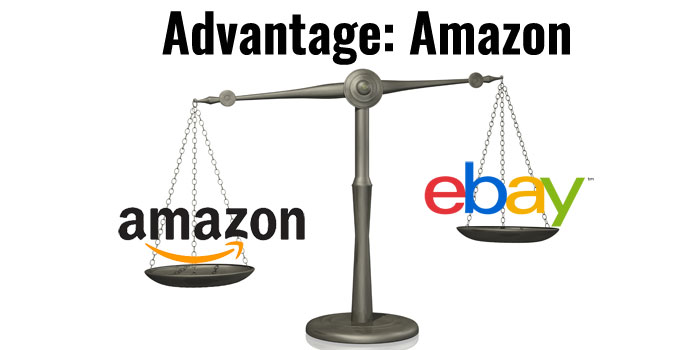 Which Marketplace Is More Competitive? Amazon Vs Ebay
As of 2019, Amazon has over 5 million sellers on their platform across all marketplaces and this number continues to increase at a clip of 100K new users per month.
Meanwhile, Ebay has over 25 million sellers on their platform with over 1.1 billion live listings.
But even though Ebay has over 5X the number of sellers, if you do the math, most Ebay sellers make next to nothing in revenue.
$10.76 billion dollars in annual revenue / 25 million sellers means that the average Ebay seller makes $430 per year.
Meanwhile, many Amazon sellers are crushing it. Here are some startling statistics regarding Amazon sellers.
There are 25,000 Amazon sellers generating over $1 million in sales
There are 200,000 sellers making over $100,000 in sales
While Amazon currently has less sellers than Ebay, their seller base is growing exponentially every year and many of these new sellers are based in China.
In addition, Amazon sells their own private label brands which compete directly with 3rd party sellers.
In the past, Amazon has been known to unfairly feature their own products in the search results over similar items sold by 3rd party sellers.
Meanwhile, Ebay is just a marketplace and does not sell products of their own.
Overall, providing a competitive assessment of the market between Amazon vs Ebay is a tough call.
But because Amazon has fewer sellers serving a marketplace that is 10X larger than Ebay, I give Amazon the edge here.
It is easier to make significant money selling on Amazon than Ebay.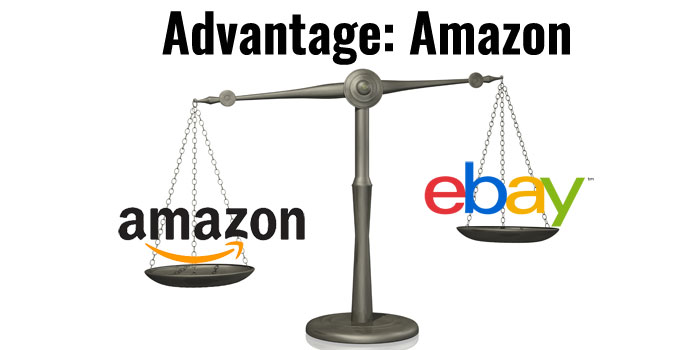 Which Marketplace Has Lower Selling Fees? Amazon Vs Ebay
When it comes to comparing selling fees between Amazon and Ebay, it can be difficult to provide an apples to apples comparison because Amazon FBA (Fulfillment By Amazon) throws a wrench into the calculations.
First off, the majority of successful sellers on Amazon are using Fulfillment By Amazon which means that they are using Amazon's services to store and fulfill their products.
Ebay on the other hand does not offer fulfillment services so you are forced to store and ship out your products yourself.
Having to store and ship your own products is a key factor because your individual shipping costs will likely be higher than Amazon's negotiated rates which can greatly affect your overall selling costs.
Regardless, here are the assumptions I am making for this Amazon/Ebay fee comparison.
Amazon seller is using FBA with a professional sellers account
Ebay seller is paying 2.9% + $.30 for credit card processing
Seller storage and transit fees to Amazon's warehouse are not factored into the numbers.
Editor's Note: The reason transit fees to Amazon's warehouse are not being considered is because most seasoned merchants send their goods directly to Amazon straight from the manufacturer.
When you sell on Ebay, you have 4 main costs.
You have to pay a $.35 listing fee to sell your goods
You have to pay a 10% final value fee on your goods
You have to pay a 2.9% + $.30 credit card processing fee to Paypal
You have to pay for packaging and shipping of your product to the end user.
When you sell on Amazon, you have 2 main costs.
You have to pay Amazon a 15% commission fee which INCLUDES credit card processing fees
You have to pay Amazon a fulfillment fee which varies depending on the size and weight of your product
For this example, I am using a set of hankies which can be shipped in a lightweight box that weighs less than 13oz and sells for $20.
The packaging for shipping is obtained for free via USPS.
| | | |
| --- | --- | --- |
| Platform | Ebay | Amazon |
| Selling Price | $20 | $20 |
| Selling Fees | $2 | $3 |
| Listing Fee | $.35 | 0 |
| Payment Processing | $.88 | 0 |
| Shipping Fees | $2.80 | $2.41 |
| Total Fees | $6.03 | $5.41 |
In this example, the overall cost of selling on Ebay is about 11% higher than Amazon when you factor in shipping.
For larger items, the shipping discrepancy widens because Amazon has negotiated such incredibly low rates with its shipping carriers.
Bottom line, selling on Amazon is cheaper than selling on Ebay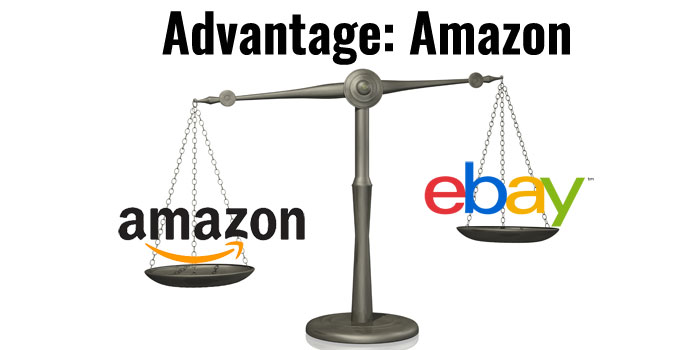 Which Marketplace Is Easier To Manage? Amazon Vs Ebay
Having sold on both Amazon and Ebay, it's pretty clear which marketplace is easier to manage.
Because Amazon offers order fulfillment via Amazon FBA, managing Amazon sales is as simple as sending your goods into their warehouse and collecting your money.
Amazon manages your shipping, your fulfillment and your customer service and you rarely have to interact with the end customer.
Meanwhile when you sell on Ebay, you first have to wait for the customer to pay. Sometimes a customer will flake out on the transaction and you may have to relist your item online. Then, you have to physically ship the product to the customer.
From experience, Ebay customers are often high maintenance and there's a lot more customer service involved than managing an Amazon store.
And when you factor in the costs of having to store and personally ship out your goods for Ebay customers, the answer becomes crystal clear.
Running an Amazon business requires much less work than selling on Ebay.
The only downside to using Amazon FBA is that you may have to obtain a sellers permit and pay sales tax wherever Amazon has a fulfillment center.
Sales tax and economic nexus are beyond the scope of this post, but keep in mind that there are additional tax implications involved when you sell on Amazon.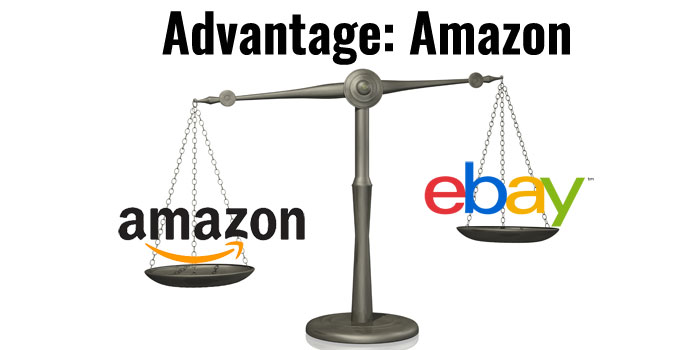 Which Marketplace Requires More Customer Support? Amazon Vs Ebay
If I were to use 2 words to describe the average Amazon buyer, I'd use the words loyal and value focused.
As I mentioned earlier, 46.7% of shoppers start their shopping journey by doing a search on Amazon. And of the remaining 53.3% of shoppers that start elsewhere, over 60% price check against Amazon before making their final purchase.
In the United States, over 40% of U.S. households have Amazon Prime.
They are willing to pay a yearly fee in return for special perks like same day shipping, cheaper prices and access to free movies and entertainment.
If I were to use 2 words to describe the average Ebay buyer, I'd use the words frugal and bargain hunting.
In my experience, Ebay customers expect to pay less for their goods because of Ebay's auction model.
Whenever I shop on Ebay, I'm often watching many identical items at the same time in hopes of swiping an auction at the cheapest price possible.
For Ebay shoppers, it's price first, followed by service and quality.
As a result, you are much more likely to encounter super cheap customers on Ebay who will try to haggle with you even after an auction is completed.
From my experiences selling on both Amazon and Ebay, I can confirm that the amount of customer service required is an order of magnitude greater on Ebay compared to Amazon.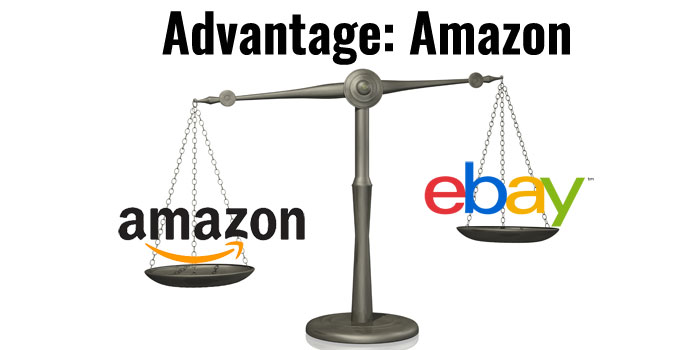 Which Marketplace Is Better For Establishing A Brand? Amazon Vs Ebay
When you sell on Amazon, Amazon goes to great lengths to make sure that they own the customer completely.
When you complete a sale, most customer information is hidden from you.
For example…
You do not have access to a customer's email address
You do not have their phone number
You are only allowed to contact a customer via a masked email address for customer service queries
Not only that, but Amazon has threatened to hide customer name and address information altogether so you literally have no knowledge of who your customer is.
In addition, Amazon forces you to create your product listings using a very rigid structure that effectively masks your brand name.
For example, look how small the brand font is on the average Amazon listing.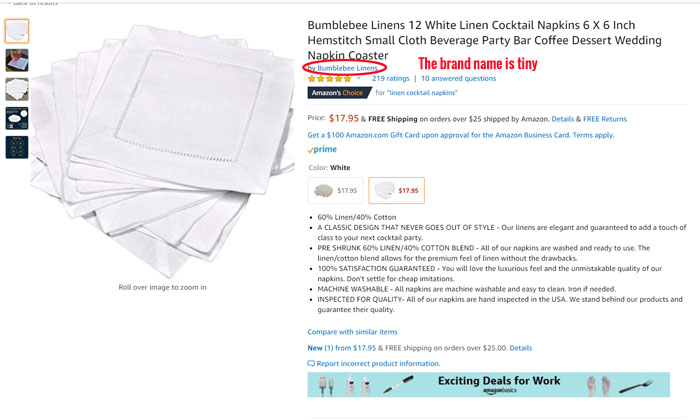 Just the other day, I was chatting with my Mom and she was under the impression that all goods sold on Amazon were owned and operated by Amazon!
When you sell on Ebay, you have many more branding opportunities and wider access to the end customer.
Even though EBay does not allow you to direct customers to your own online store website, you can get access to a customer's email address with a little creative marketing.
For example, you have more freedom to provide customers with free resources on how to use the products that they buy on Ebay whereas Amazon prohibits almost all forms of customer contact.
Ebay has also allowed sellers to create a branded storefront for quite some time whereas Amazon only recently released this functionality on their platform.
The main downside to branding on Ebay is that they have a reputation for primarily selling used goods and collectibles.
Ebay is often described as one gigantic garage sale online which is why most larger brands haven't invested as much money on the platform.
Overall, Ebay is a much better marketplace for establishing a brand because they offer much more flexibility and a less rigid listing structure where you can flex your creativity.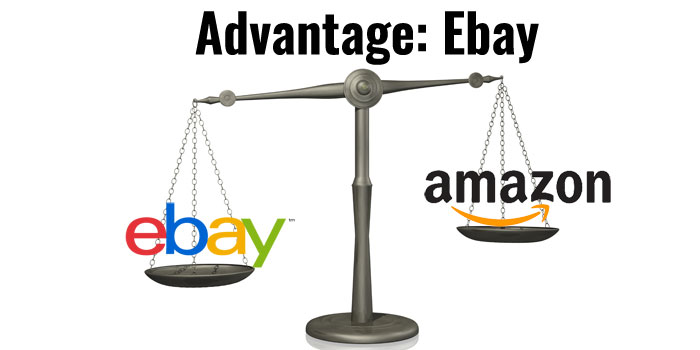 Which Marketplace Is Easier To Sell Internationally? Amazon Vs Ebay
If you are wondering which marketplace has a wider international footprint, the answer is Ebay.
Currently, Amazon services 14 global marketplaces in North America, Europe, Asia and Australia. Meanwhile, Ebay has 23 separate international sites and serves over 100 countries.
What's convenient about Ebay is that you only have to register once as a seller and start selling on any Ebay marketplace worldwide.
With Amazon, sellers generally need to create separate accounts for every marketplace they sell on. In addition, managing feedback and listings is separate for every marketplace as well.
Recently, Amazon has been actively consolidating their marketplaces to make international selling more straightforward.
For example, the European Amazon marketplaces are now unified which means that a single account can sell across all of the European countries that Amazon serves.
In addition, you only need a single account to sell across the US, Canada and Mexico.
Overall, Amazon is making great strides in global expansion but Ebay still has the edge in worldwide reach and convenience of international selling.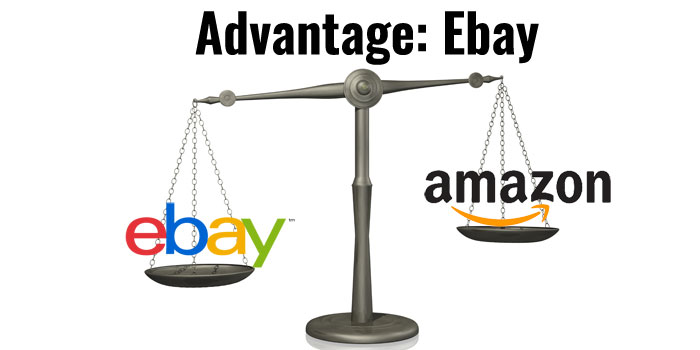 Which Marketplace Has More Product Restrictions? Amazon Vs Ebay
When it comes to listing your products online, Amazon requires you to jump through more hoops to get your items on their platform.
Not only do you need a UPC barcode to create a listing, but Amazon restricts several categories by application only as well. In some cases, you have to tell Amazon who your suppliers are in order to sell on their platform.
Meanwhile, Ebay is much more lenient. Since a lot of people sell random knick knacks on Ebay, you don't need any official product identifiers like UPC codes to sell on their platform.
You can pretty much take anything in your garage and list it on Ebay.
That being said, there are a bunch of restricted categories on Ebay which include…
Adult Items – All adult items are restricted to buyers 18 or older. Adult listings may not use profanity, sexually explicit, or overtly sexual content. Sellers of adult items must be pre-approved by Ebay
Alcohol and Drugs – You are only allowed to sell wine on ebay.com to US buyers but you must be pre-approved by Ebay. Drugs and other controlled substances which require a prescription can not be sold whatsoever. Over the counter drugs are fair game but only if not expired.
Animals and Wildlife – You can't sell live animals on Ebay. In addition, you can't sell certain animal derived products like ivory either.
Clothing – Aside from underwear, socks, and some athletic garments, you can list any clean, stain-free used clothing.
Credit and Debit Cards – You can only sell your credit card if it's inactive, and has been expired for over 10 years.
Cosmetics – You can't list used cosmetics, used make-up sponges, or used applicators on Ebay.
Firearms – You can't sell weapons but certain firearm parts and accessories are permitted to be sold on Ebay
Coupons/Gift Cards – If you're selling retail gift cards, you must have the card physically available when you list it, and must post it within 5 days of receiving payment. You also can't sell retail gift cards with a value of more than $500.
Mailing Lists – The sale of personal or contact information, including mailing lists and website traffic-driving services, is generally not allowed on Ebay.
Documents – The sale of government-issued documentation or identification cards, such as driver's licenses ,fake IDs and passports can't be sold on Ebay.
Electronic Equipment – You are not allowed to list equipment prohibited by the FCC, such as cell, GPS and other signal jamming devices.
Hazardous Materials – There's a long list of hazardous items that are banned on Ebay which include fireworks, fire extinguishers, pesticides and explosives. Basically, anything dangerous is prohibited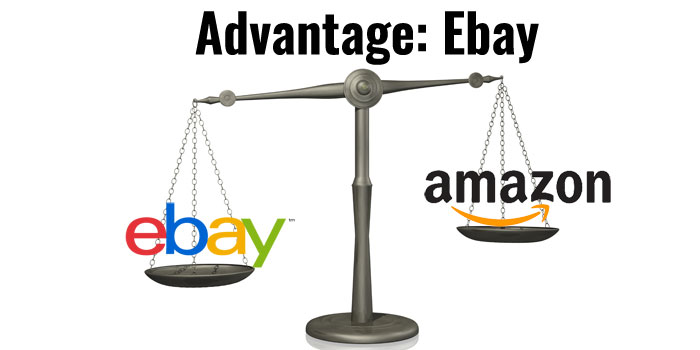 Pros Of Selling On Amazon Vs Ebay
For most sellers, selling on Amazon offers the most profit potential compared to Ebay.
Because Amazon is over 10X the size of Ebay, the potential for sales is much higher and there are less sellers on the Amazon platform as well.
In addition, the convenience of Amazon FBA should not be underestimated. Shipping and fulfillment is a huge headache for any ecommerce store owner and FBA allows you to make millions of dollars with a very small team.
Finally, selling on Ebay requires more customer support resources because their user base is higher maintenance and more cost conscious.
Cons Of Selling On Amazon Vs Ebay
The main negative of selling on Amazon is that Amazon owns the customer completely.
The opportunities for establishing your own brand are much less and you have limited marketing opportunities outside of Amazon.
In addition, the caliber of seller is much more sophisticated on Amazon. Because Amazon tends to attract larger brands, Amazon sellers tend to have larger budgets and more resources.
Finally, Amazon is absolutely ruthless when it comes to enforcing their policies and dirty sellers are taking advantage of this. Right now, there is rampant sabotage and there are many evil sellers on the platform.
Editor's Note: For more information, please read my post on The Dangers Of Selling On Amazon
Pros Of Selling On Ebay Vs Amazon
The main advantage of selling on Ebay is that you can more effectively brand your products. Ebay offers more opportunities to design your store and product listings to make you stand out among the crowd.
In addition, they are much more lax about your communications with your customers and you have an opportunity to obtain real email addresses and contact info.
Finally, you can practically sell whatever you want on Ebay including used items. If your goal is to get rid of used or surplus products, then Ebay is your platform.
The barriers to entry are also far lower on Ebay. You don't need UPC codes or any real infrastructure to sell on the platform. It's quick and easy to get started.
Cons Of Selling On Ebay Vs Amazon
The main negative for selling on Ebay is that it's a much smaller marketplace. As a result, you will sell 10-15X less volume on Ebay vs Amazon.
In addition, the fact that Ebay does not offer fulfillment services means that you potentially have to get your own warehouse and ship out your own products as well.
Finally, the Ebay customer base is much more frugal and requires more customer support per sale.
Which Marketplace Is Better? Ebay Vs Amazon
Even though Ebay has its advantages, selling on Amazon will almost always result in more revenue and profit.
Amazon has 10X the customer base and their fulfillment services allow you to easily scale your ecommerce business without the need for a large team.
As I mentioned earlier in this post, my wife and I sell on both Ebay and Amazon today. However, we primarily use Ebay as a liquidation outlet for our irregular goods or as a platform to validate new products before we buy in bulk.
The amount of work to manage an Ebay store is much greater than Amazon so we have chosen to focus on Amazon and our own online store for the majority of our sales.
That being said, Ebay is good for selling certain products like used goods and collectibles. But if you are selling new private label goods, Amazon is the clear winner.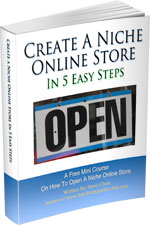 Ready To Get Serious About Starting An Online Business?
If you are really considering starting your own online business, then you have to check out my free mini course on How To Create A Niche Online Store In 5 Easy Steps.
In this 6 day mini course, I reveal the steps that my wife and I took to earn 100 thousand dollars in the span of just a year. Best of all, it's free and you'll receive weekly ecommerce tips and strategies!
Note: This post above may contain affiliate links, which means that I may receive a commission if you make a purchase when clicking a link. Please consult our privacy policy for more information.
Similar Posts
Have you read these?