On a base level, selling on Amazon is very straightforward. All you have to do is find a product with good margins/demand, list it on Amazon, and it will eventually sell because Amazon's audience and reach is so vast.
When my wife and I first learned how to sell on Amazon FBA several years ago, we sold over 60 units in a matter of 8 days with just 3 products listed online with no reviews. Amazon is seriously that powerful.
But with any business with low barriers to entry, there's always going to be a ton of competition. Right now, with all of the various Amazon courses and tutorials out there pushing private label selling, Amazon is already getting flooded with a bunch of me too sellers.
Not only that, but Chinese sellers have practically taken over the platform. In fact as of this writing, Chinese sellers outnumber US sellers on Amazon.com.
Don't get me wrong, the market is still far from saturated but I foresee Amazon turning into another EBay in a few years or so. In fact, there are many tell tale signs already which I'll describe in this post.
To me, Amazon is like a drug, a drug that promises you quick sales in a short period of time while making you addicted and dependent on their marketplace.
When I interviewed various ecommerce business owners, there were 2 main schools of thought.
Go all in and ride the Amazon wave for as long as it lasts.
Proceed with caution, think long term, and divert some resources to your own branded site.
Sales and revenue might be great right now, but things can turn on a dime and you have to make sure you have a fall back plan just in case…because Amazon doesn't really care about you.
The best advice I can give is that you place at least 20% of your resources on your own branded platform instead of going all in on Amazon. Or else here's what could happen…
Note: The following are real stories that either I or my close colleagues have experienced first hand from selling on Amazon. While Amazon is great way to make money right now, you have to be careful and not put all of your eggs in Amazon's basket. Here are some Amazon alternatives.
Get My Free Mini Course On How To Start A Successful Ecommerce Store
Are you interested in creating a strong, defensible brand for your products? If so, I put together a comprehensive package of resources that will help you launch your own online store from complete scratch. Be sure to grab it before you leave!
The Dangers Of Selling On Amazon – A Video Overview
Amazon May Ban You For Factors Beyond Your Control

If you do a little Google searching, you can easily find stories of Amazon entrepreneurs losing their businesses practically overnight. But as with anything on the Internet, I like to take everything I read with a grain of salt.
After all, the seller could have sold counterfeit goods or violated Amazon's terms of service and got banned for legitimate reasons.
For this article, I decided to do some of my own research and reached out to a few banned Amazon sellers for their side of the story.
Long story short, after talking to several sellers, one common theme emerged. The threat of getting banned is quite real, can happen unexpectedly, and often times can be out of one's control.
In fact, the #1 number threat of getting your Amazon seller's account revoked is by getting a string of negative feedback on product quality policy violations.
I also learned that there are "negative feedback" services out there that will leave an array of bad seller feedback for a nominal fee.
But anecdotes aside, I reached out to a few 6 and 7 figure sellers who had been banned on Amazon and here's what they had to say.
The first seller was making over $1.5 million in sales over the last few years and was suspended for product quality policy violations.
Out of over 8000 products that were shipped that year, six customers complained to Amazon that their product arrived used or damaged. In addition, a small percentage of customers also listed the item as "defective" or "didn't match the listing" as their return reason.
First off, all of the products cited were brand new and the listings all accurately matched the products being sold. (I took the seller's word for it)
But here's where it gets interesting. According to Amazon's policies on return shipping.
When you return an item using the Online Returns Center, and the reason for return is not a result of an Amazon error, the cost of return shipping will be deducted from your refund unless your item qualifies for a free return.
Amazon's policies always favor the buyer in almost all cases. And savvy customers are well aware that customers can bypass return shipping fees by stating their product arrived damaged or that it did not match the listing.
So let's say Joe Schmoe wants to make a return and doesn't want to pay for return shipping. Why not just mark it as defective or inaccurate? There's no penalty for the buyer and the seller has everything to lose.
Side Note: One time, a buyer purchased a bunch of our napkins, used them for a party and soiled them, and then returned them for a full refund stating that the item was not as expected. We had to eat the cost.
This particular seller had metrics that never fell below targets (98%+ positive feedback, 99%+ on time delivery, 99%+ tracking information, .11% defect rate, 0.00% cancellation rate, and fast customer response times). He's had less than five A-Z claims ever and the majority of which were immediately refunded.
While no one will ever know the true reason why he was banned, the upshot was that he was stuck with $180,000+ in liabilities and $350,000+ in retail merchandise in stock that he could not move.
Amazon froze over $100,000 in his account for months and he had to lay off 1/3 of his staff.
Moral of the story: Never depend on Amazon, eBay, NewEgg, Rakuten, or any other marketplace as your primary stream of revenue because your business can literally disappear overnight. These companies can close accounts for any reason, including but not limited to complaints of any kind, policy violations that may not be valid or eliminating you as a competitor to make higher profits.
Focus on multi-channel selling with your own store/site at the forefront to ensure you can never be "deleted".
Amazon Can Force You To Sell Your Goods At Whatever Price They Want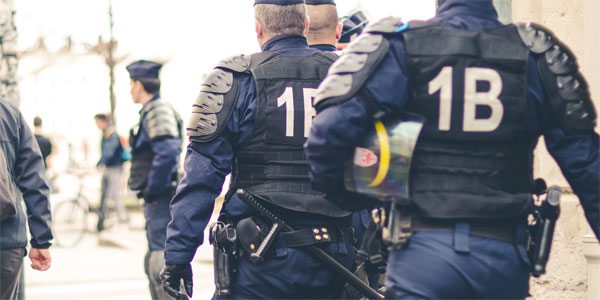 Even if you sell your own branded products on Amazon doesn't mean that you get to set your own prices.
Every day, Amazon deploys an army of computer bots who crawl and scrape other websites for product and pricing info.
If Amazon's determines that your products are priced too high, they may take away your buy box which will basically kill your sales.
If you read the fine print on Amazon's terms of service, it explicitly states that if you sell on Amazon, your prices can not be higher than any other platform.
Update: Due to anti-trust scrutiny, Amazon has lifted this restriction. But there are rumors that your product visibility may be silently reduced if they discover you are selling on Amazon at a higher price than competing marketplaces.
In addition, if you've previously priced your goods at low prices during a lightning deal or a sale, Amazon may not let you raise your prices back up to where they were prior to the sale depending on their algorithm.
One seller who I interviewed on my podcast had to lower his prices near break even on products that he'd heavily discounted in the past in order to retain the buy box.
But at these low prices, his products now make little or no profit and it has destroyed his margins.
Amazon Can Force You To Sell Your Goods On Vendor Central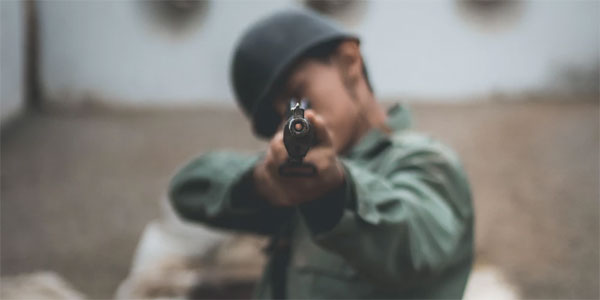 There are 2 ways to sell on Amazon. One, you can sell as a 3rd party vendor where you control your products, inventory and listing.
3rd party selling is by far the most desirable way to sell on Amazon today because you have full authority over your listing and your marketing.
The other way to sell on Amazon is as a 1st party seller on Vendor Central. As an Amazon vendor, you sell your goods directly to Amazon at a wholesale price that they set and you have zero control over anything.
Colleagues of mine who have converted products over to Vendor Central in the past have all had terrible experiences where Amazon totally destroyed their product listings and their sales.
Well guess what?
There have been reports of Amazon forcing popular vendors to convert from being 3rd party sellers to 1st party sellers. Why? It's because Amazon can make more money this way.
You can read more about this atrocity by clicking here
Amazon Employees May Sell Your Data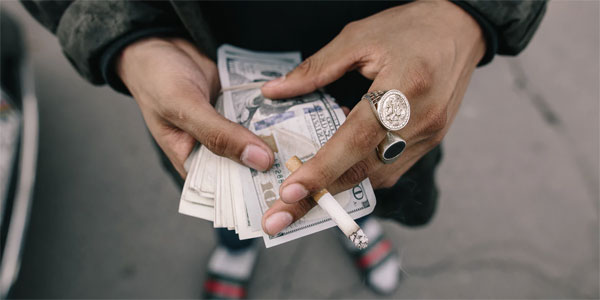 Earlier in the year, Amazon employees in China and India were caught selling confidential information regarding 3rd party sellers on Amazon.
And this information was used to give independent merchants an advantage over others on the site.
Dirty sellers are also buying Amazon Vendor Central accounts on the black market to gain access to other people's product listings.
Here's a picture of a black market Amazon rate sheet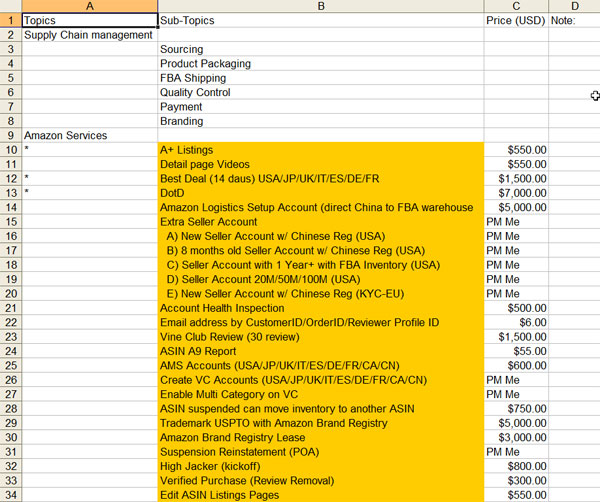 Because Vendor Central accounts allow wholesalers to edit other people's product listings, these accounts have been misused to change product pages and sabotage other sellers.
If you want to read more about this, check out this article in the Wall Street Journal
Bottom line, Amazon is growing so quickly that it's the wild wild west out there. There is mass corruption everywhere and it's tough for Amazon to control.
Other Amazon Sellers Will Copy You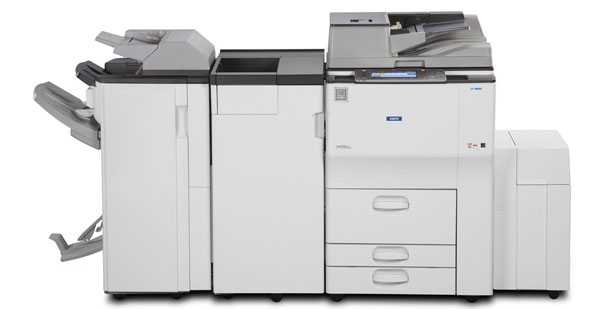 I actually have my own personal horror story to share here which occurred during my first year selling on Amazon. One day, I was checking up on my listings when I noticed that products from our online store were being listed on Amazon without my permission.
When I took a closer look, I discovered that a seller under the name "bee" had stolen all of our product photos and all of our product descriptions and were selling our items on Amazon!!!
They literally ripped everything off! They stole our photos, our verbiage and even our product numbers. It was wholesale piracy on a large scale with over 400 SKUs.
When we sent an email to Amazon, they sent us an automated response asking us for documentation on each and every product to show proof that we owned the photos and descriptions.
To put together a thorough response would have taken a ton of work and time and we were unable to get a human to take care of this for us. Fortunately, we politely reached out to the vendor and they took everything down without a fight.
But what if they refused? We could have been mired in a battle for months and forced to navigate through a series of automated responses for over 400 products.
While it's easy for a customer to file a complaint on a seller, it's much harder for a seller to file a complaint against another seller. Be aware!
Other Amazon Sellers Will Hijack Your Listings With Copycat Goods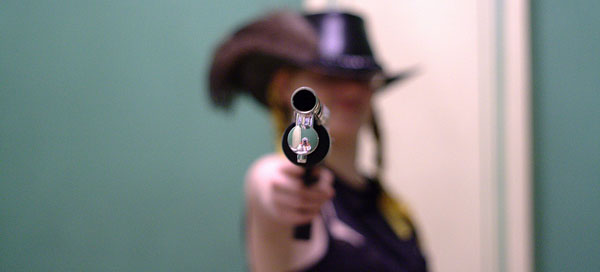 While getting all of your products copied and stolen doesn't happen very often, there is rampant piggy backing of Amazon listings happening all the time.
Even if you sell a private labeled product under your own brand and ASIN (Amazon product number) on Amazon, there is nothing stopping another seller from piggy backing on your listing and undercutting you on price with a counterfeit item.
For example, let's say I sell linen napkins that are clearly labelled with my own brand and label. An unscrupulous seller could sell poorer quality linen napkins under my same Amazon product number and undercut me on price even though it's not the same item.
In the worst case scenario, a customer might buy this counterfeit product, be unsatisfied with the quality and leave bad feedback on my product even though it's counterfeit!
The best way to fight this is to actually purchase the product yourself as a customer and then file an AtoZ complaint against the fraudulent seller.
Unfortunately, this process is a major pain in the butt and Amazon has been known to take its time before taking action.
A Real Life Horror Story Selling On Amazon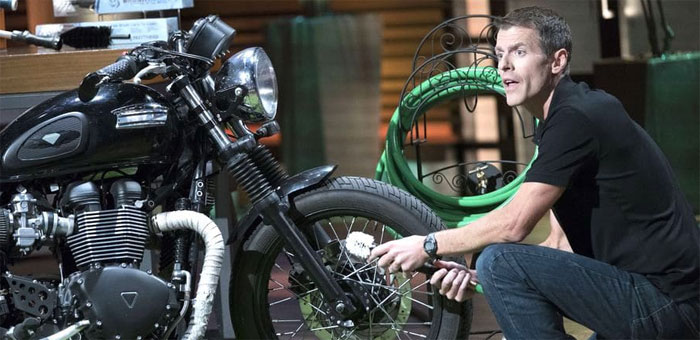 My friend Kevin Williams was making close to 8 figures selling on Amazon with his cleaning brushes when Chinese sellers decided to copy his entire product line.
And when I say copy, they made an EXACT duplicate of his cleaning brush with inferior materials, took his EXACT packaging (with his face on it even) and sold it under his listing at half the price.
Because the Chinese seller's price was significantly lower than his, they got the buy box and stole all of his sales.
Even worse, because the Chinese knockoff was a piece of junk, angry buyers started leaving 1 star reviews which basically destroyed his entire business.
For the next year and half, Kevin would invest over a million dollars and constant headache trying to fight off these sellers because Amazon does not allow you to easily shut down the copycats.
If you want to hear his story first hand, I had the pleasure of having Kevin on my podcast which you can listen to below.
Underhanded Tactics Evil Amazon Sellers Are Using To Cheat And Get Ahead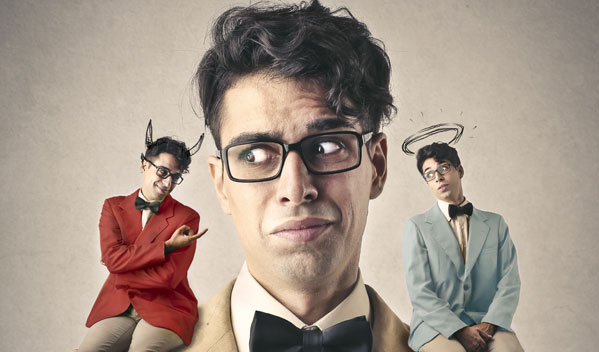 In just the past few years, Amazon has become such a cutthroat marketplace that unscrupulous sellers have been purposely trying to sabotage their competitors. As a result, most sellers are hush hush about their products and never talk about their winners in public.
In fact Amazon is so competitive today that if you have a product that is even mildly successful, you will eventually get piggybacked by multiple sellers if you haven't been already.
Here's a sampling of some of the insidious activities that are happening on the platform right now.
The tactics mentioned below are evil and highly unethical. And the fact that people are using these strategies really makes me angry.
But you should be aware of what's happening out there in case it happens to you.
What Dirty Amazon Sellers Are Doing To Sabotage Your Business – A Video Overview
Evil Strategy #1: Amazon Sellers Can Tie Up All Of Your Inventory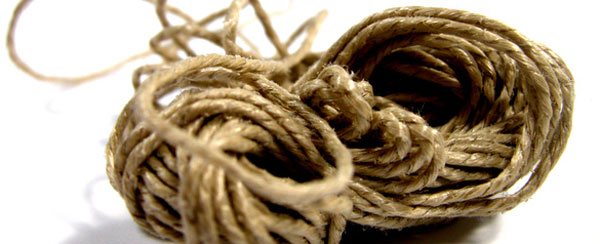 It's quite possible that I was a victim of this first strategy during the holiday season last year. In November, a customer purchased a large quantity of product which put us out of stock of this one particular SKU.
While my wife and I were thrilled at receiving such a large order, we knew that we would not be able to replenish the stock in time to meet the rest of the holiday demand.
No big deal, we thought to ourselves. It was only 1 product. But guess what happened? A seller who was piggybacking our product got the buy box because we were out of stock.
And then about 4 weeks later, a substantial portion of that large order was returned.
So not only did we miss out on a lot of holiday sales for that particular product because we were out of stock, but we didn't make much money either because the large order was returned!
Looking back, we can't really prove whether the buyer was in cahoots with the piggybacker to purposely put us out of stock, but I learned from my friend that there are groups out there who do this on purpose!!!
Here's the strategy that the evil Amazon sellers are employing.
First off, they buy all of your inventory to steal the buy box. Then they sell your exact same goods on the same Amazon listing and on EBay.
Finally at the end of the season, they return the excess inventory!
I wish that there was a good way to combat this but there's nothing you can really do except to be wary of any large order that you receive and to contest any large return complaints.
Update: Chinese sellers are now using automated software that will keep buying your stock and then cancel in bulk. This software basically causes you to go out of stock quickly which basically destroys your listing.
Evil Strategy #2: Amazon Sellers Can Change Your Product Photos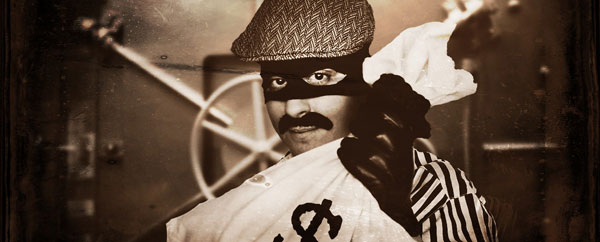 If you are an Amazon seller who has not registered your brand (which now requires a trademark), you need to be very careful about other sellers changing out the photos on your listing.
Here's what sucks. When someone changes the photo on your listing, you don't even get a notification! So the only way to know that this has happened is to constantly watch your listings like a hawk.
If your picture gets switched out from under you, there are many bad things that could happen. For example in the worst case, an evil seller could change your photo to a completely different product or bundle.
So when a customer buys from you and notices that the product doesn't match the photo, they could complain and ding your account.
The best way to combat this is to register your brand. A lot of new sellers skip this step in the beginning because it requires a website and a trademark but if your product ends up taking off, you need to take care of this ASAP.
Related: If you are interested in learning how to register your brand, check out my post on How To Register Your Brand On Amazon's Brand Registry
For us, we've had cases where our primary photo was swapped despite being brand registered. So today, we consistently monitor our account health for anomalies.
For example, if we see a lot of returns marked as "does not match description" or "not as advertised", we take a closer look to make sure that there's no foul play involved.
Evil Strategy #3: Amazon Sellers Can Leave False Negative Feedback On Your Products


Did you know that there are people out there who will leave negative feedback on a product for a fee? While Amazon has tried to crack down on this practice, there are still groups out there doing this.
Basically, a competitor will have someone buy your product and then leave you negative feedback claiming that your product is counterfeit or fake.
Amazon's bots will then take notice of these "trigger keywords" and immediately ding your account.
Here's the thing. Most real buyers don't use language like "bootleg" or "counterfeit". In our experience, genuine buyers who want their money back for a return just express their anger or disappointment at the product for a specific reason.
If you find that someone is using words like "counterfeit, bootleg, or fake", then chances are the feedback is malicious.
The best way to combat this practice is to pay attention and address the negative feedback immediately. Be super courteous and show that you are willing to do ANYTHING to make the problem right.
Amazon will keep a record of all of the conversations and take note of your responsiveness and great customer service should you ever get suspended.
In other cases, Amazon may force you to show documentation that your products are indeed "genuine". Sometimes this involves suspending your product until the proof is provided. Either way, it sucks because you are guilty until proven innocent.
Hopefully, Amazon is hard at work creating algorithms to detect fake negative feedback because getting targeted by malicious claims really sucks.
Evil Strategy #4: Amazon Sellers Can Leave False Positive Feedback On Your Products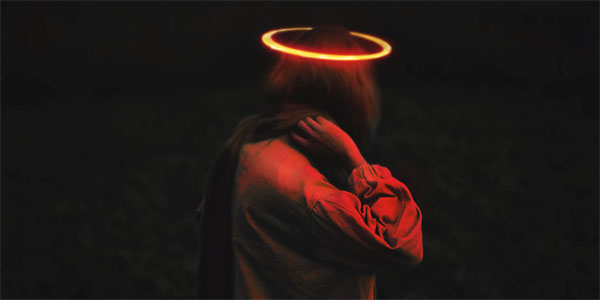 Similar to the negative feedback strategy above, there are groups of malicious sellers who are leaving mass amounts of positive reviews on listings as well.
Now you would think that getting a bunch of positive reviews on your listings would be a good thing.
But because Amazon has been cracking down on sellers who buy 5 star reviews, Amazon now has algorithms in place to detect unusual spikes in positive review activity.
Well guess what?
If your listing all of sudden gets 100 5-star reviews, Amazon will detect this anomaly and instantly suspend your account.
As a result, not only do you need to monitor your negative feedback but you also have to be on the lookout for 5 star reviews as well!
The downside is that if you get banned for positive review manipulation, it's really hard to prove your innocence. After all, why would someone else purchase 5-star reviews for listings they don't own?
Evil Strategy #5: Amazon Sellers Can Orchestrate Multiple Returns And Simultaneous Negative Feedback


As an Amazon seller, you are required to maintain certain metrics on your account to stay in good standing in the eyes of Amazon.
If you have too many returns or too many bad feedbacks on your products in a short period of time, you risk getting your product or account suspended.
For example, here are some of Amazon's guidelines for a high quality account.
Order defect rate of less than 1%
Negative feedback less than 6%
Customer response time less than 24 hours
A return rate of less than 3%
What evil Amazon sellers will sometimes do is have people make multiple purchases of your products and then coordinate their returns and negative feedback all at once.
Multiple returns and multiple negative feedbacks in a short time frame can be disastrous to your account standing.
Unfortunately, there's not much that you can do about this practice other than to respond to each complaint as soon as possible. And hopefully, your products already have enough positive feedback to counteract the bad.
In the event that you suspect foul play, report it to Amazon. The good thing is that you have 90 days to contest bad feedback and if it is removed during that time then nothing bad happens to your account.
Evil Strategy #6: Amazon Sellers Can Steal The Buy Box And Ship Poor Quality Items To Sabotage Your Listing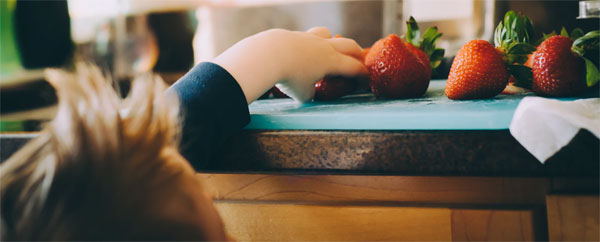 Over the holidays, one of the students in my Create A Profitable Online Store Course had a product that absolutely killed it. She managed to rank her product in the top 3 of Amazon search for a competitive keyword and she was making 5 figures per month off of a single product.
At the time, her product had a 4.5 star rating and things were great. But one day, she noticed that her sales had dropped to just a trickle and when she checked her listing, she noticed that someone else was selling her product for significantly cheaper and she no longer had the buy box.
Here's the thing.
She designed these products herself so it was highly unlikely that this seller was selling the exact same thing. As a result, she did a test buy and when she received the item, she was shocked to see a poorly made imitation with a cheap copy of her packaging.
Even though she contacted Amazon, she got the run around and they did nothing about it. Meanwhile, negative reviews started trickling in and her search rankings started dropping.
Eventually, this seller went away but the damage was already done. She was left with a crippled listing that still hasn't fully recovered.
Unfortunately, this student learned the hard way not to depend on Amazon for 100% of your sales. Today, she's focusing a lot more time on her own website and diversifying across other channels.
Evil Strategy #7: Amazon Sellers Can Outright Accuse You Of Selling Counterfeit Goods

Over the years, the number of knockoff products from China has been exponentially increasing. And with large brands like Birkenstock pulling out of the platform due to piracy, Amazon has been extremely sensitive to counterfeit claims.
Unfortunately, unscrupulous sellers have started using this to their advantage.
Because Amazon is quick to the ban hammer and sellers are considered guilty until proven innocent, evil sellers are getting legit private label products suspended by accusing them of selling fake products.
Everyone that I spoke to who has had this happen to them eventually got their products back online. But the appeals process was grueling and tedious and some sellers had their products suspended for weeks.
What's particularly frustrating about this tactic is that Amazon simply doesn't care. Your puny listing doesn't matter to them as there's always another product to take its place.
Evil Strategy #8: Amazon Sellers Can Trademark Your Amazon Account Name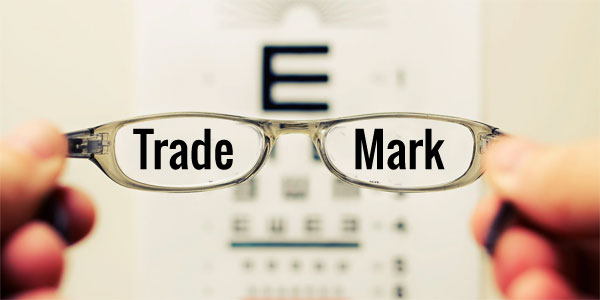 Most serious sellers on Amazon trademark their brand name so they can enroll in Amazon's brand registry. But many sellers don't bother to trademark their Amazon seller account name.
For example, your Amazon account might be called XYZ Corp. And under XYZ Corp, you might sell 2 brands, "Brand A" and "Brand B". Most people trademark "Brand A" and "Brand B" but don't bother trademarking XYZ Corp
Right now, malicious sellers are trademarking other people's Amazon account names and then completely taking over their accounts.
In a recent article on The Verge, a poor seller named Harris fell victim to this scheme. The hijacker planned his attack for over a year, took his trademark to Amazon and registered it.
Once the trademark was obtained, the evil seller instantly held the power to kick Harris off his own listings and control his account.
Evil Strategy #9: Amazon Sellers Can Abuse Your Inactive Listings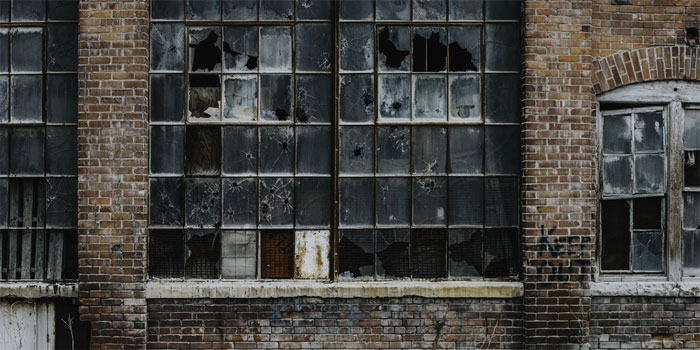 Dirty Amazon sellers routinely use Google to comb inactive or "out of stock" listings because they are easy prey for hijacking. In fact, all you have to do is type "site:amazon.com currently unavailable" to locate these products.
Because inactive listings are not usually monitored, hijackers can often piggy back and abuse these listings without knowledge of the seller.
For example, one of my colleagues had one of his product listings converted over to a sex toy without his knowledge.
Bottom line, you should close off all inactive product listings on your account that you don't intend to continue selling.
Conclusion
As with all things in life, if something sounds too good to be true, then there will always be unseen disadvantages. Don't get me wrong. There is still a ton of opportunity to be found from selling on Amazon.
But I caution you to not put all of your eggs in one basket.
With Amazon, you do not own the platform. You do not own your own brand. You can be banned at any time. And there are unscrupulous sellers and customers everywhere.
I've been selling on Amazon for several years now and I continue to be amazed at the lengths that some sellers will take to stay competitive. All of the tactics mentioned in this post are reprehensible yet Amazon isn't doing much about it.
In my opinion, the best way to stay sane is to
Spend at least a portion of your time and resources on your own branded platform to ensure the long term longevity of your business.
Keep clear of ultra competitive products where evil Amazon sellers are at their worst.
Build an audience of shoppers and establish your own brand immediately.
If you are interested in learning how to start your own online store and establishing a long term branded business, click here to take my FREE 6 day mini course on ecommerce.
Frequently Asked Questions About Selling On Amazon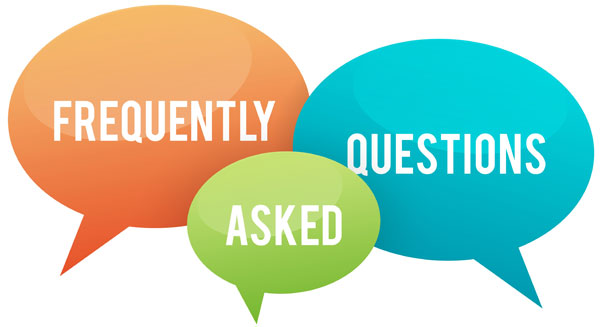 Is It Profitable To Sell On Amazon?
It can be profitable to sell on Amazon as long as you can maintain a gross margin of 50% or higher. In general, Amazon will take between 25-30% of your revenues for fees.
Is Selling On Amazon A Good Business?
If you have your own private label products, selling on Amazon can be a great business model. However, if you are just selling other people's products, your prices will generally erode over time.
Can You Get Rich Selling On Amazon?
It is very possible to generate 6,7 and even 8 figures selling on Amazon. However, because of rampant counterfeiting, you have to start a brand and build your own audience of fans for your business to stand the test of time.
How Much Money Do You Need To Start An Amazon FBA Business
For a private label seller, I recommend starting with at least $1-2K to cover the cost of inventory and tools.
Is It Easy To Sell On Amazon?
The days of easy money on Amazon are over. These days, it's best to validate your products on Amazon and then start your own website and brand as soon as you can. You have to build your own audience to survive.
Do You Have To Be A Business To Sell On Amazon?
You need to have a sellers permit to sell on Amazon so you can pay sales tax to your government entity. However, you do not need to be a corporation or LLC.
Do You Need A Trademark To Sell On Amazon?
You do not need a trademark to sell on Amazon. However, it's to your advantage to have a trademark and register your brand on Amazon to protect yourself from hijackers.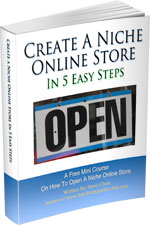 Ready To Get Serious About Starting An Online Business?
If you are really considering starting your own online business, then you have to check out my free mini course on How To Create A Niche Online Store In 5 Easy Steps.
In this 6 day mini course, I reveal the steps that my wife and I took to earn 100 thousand dollars in the span of just a year. Best of all, it's free and you'll receive weekly ecommerce tips and strategies!
Note: This post above may contain affiliate links, which means that I may receive a commission if you make a purchase when clicking a link. Please consult our privacy policy for more information.
Related Posts In Fighting Dirty Amazon Sellers
About Steve Chou

Steve Chou is a highly recognized influencer in the ecommerce space and has taught thousands of students how to effectively sell physical products online over at ProfitableOnlineStore.com. 

His blog, MyWifeQuitHerJob.com, has been featured in Forbes, Inc, The New York Times,  Entrepreneur and MSNBC.  

He's also a contributing author for BigCommerce, Klaviyo, ManyChat, Printful, Privy, CXL, Ecommerce Fuel, GlockApps, Privy, Social Media Examiner, Web Designer Depot, Sumo and other leading business publications.

In addition, he runs a popular ecommerce podcast, My Wife Quit Her Job, which is a top 25 marketing show on all of Apple Podcasts. 

To stay up to date with all of the latest ecommerce trends, Steve runs a 7 figure ecommerce store, BumblebeeLinens.com, with his wife and puts on an annual ecommerce conference called The Sellers Summit.  

Steve carries both a bachelors and a masters degree in electrical engineering from Stanford University. Despite majoring in electrical engineering, he spent a good portion of his graduate education studying entrepreneurship and the mechanics of running small businesses.