When it comes to ranking your products in Amazon search, there's a common misconception that amassing a bunch of 5 star reviews is the key to success.
Don't get me wrong. Reviews do matter, but they are just a small part of your overall Amazon SEO strategy.
Today's post will teach you everything you need to know on how to get your product to the top of Amazon search based on my own experiences as a 7 figure seller.
Note: Both grey hat and white hat techniques are discussed in this post so please proceed with caution.
Get My Free Mini Course On How To Start A Successful Ecommerce Store
Are you interested in creating a strong, defensible brand for your products? If so, I put together a comprehensive package of resources that will help you launch your own online store from complete scratch. Be sure to grab it before you leave!
Amazon SEO – A Video Overview
How Amazon Search Works And What It Takes To Rank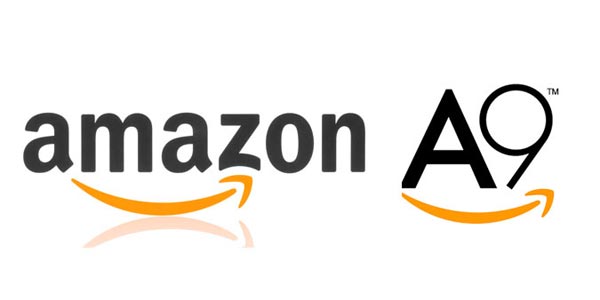 At a high level, understanding Amazon's A9 search algorithm is very straightforward. Amazon's primary goal is to display products that will generate the most sales and make the most money.
As a result, ranking in Amazon search comes down to a just a few basic factors.
Sales Performance – Does your product listing generate sales?
Keyword Relevancy – Does your product listing have a high conversion rate for the keyword query?
Bottom line, if you have a product that Amazon deems will make the most money for a given keyword, then you'll be on the front page.
It's that simple!
But how do you prove to Amazon that your brand new product will actually generate sales? There are 3 things that you much do.
First, you have to be very deliberate in which keywords that you target and make sure that these queries match what consumers are typing in to find your product.
Second, you have to structure your product listings to make them relevant to your targeted search term.
Third, you have to refine your listing so that it has an extremely high conversion rate.
And finally, you have to jumpstart your listing with enough initial sales velocity to match your competition on the front page of Amazon search.
Note: These steps must be done in order and your success hinges on proper keyword research.
Google SEO Vs Amazon SEO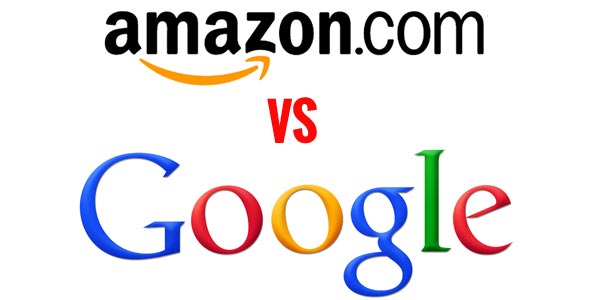 Before we delve into the intricacies of keyword research, it's important to note that Amazon search is significantly different than Google search.
When someone performs a search on Google, only a small fraction of the queries are from people looking to buy products online.
In fact, most Google searches are conducted for information and not for shopping.
However when someone does a search on Amazon, they are looking to make an immediate purchase.
Because the search intent is different between Google and Amazon, you should not rely on Google Adwords keyword data for your Amazon keyword research.
Step #1: Perform Keyword Research Like The Pros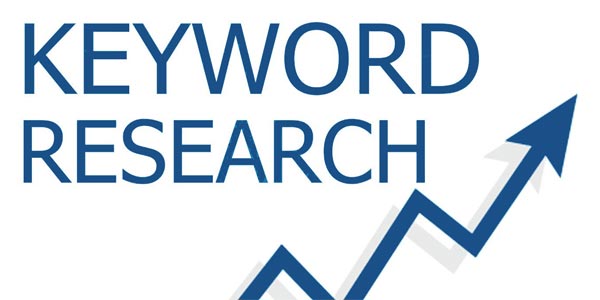 The main goal when conducting keyword research for Amazon SEO is to find out exactly what keywords customers are typing in when they buy products online.
And to gather this data, you need to use an Amazon specific keyword tool. (As I mentioned earlier, free Google search tools like the Google Keyword Planner simply won't cut it)
Right now for my own listings on Amazon, I rely on 2 tools, Scope and Viral Launch.
Scope By SellerLabs
Scope is a tool that performs a reverse ASIN lookup on any product on Amazon and tells you exactly which keywords are generating its sales.
For example, when I run Scope on the bestselling garlic press on Amazon, here's what I get.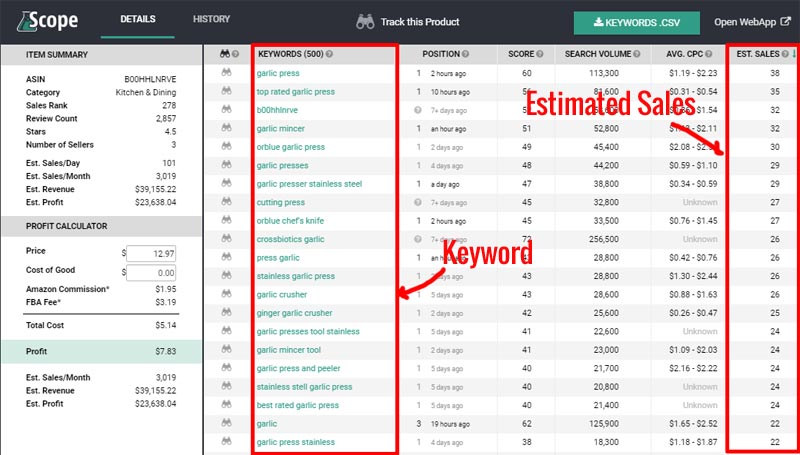 According to Scope's data above, the exact keyword term "garlic press" is responsible for the majority of sales.
Duh! This is common sense:)
But what other keywords are consumers typing in that you may NOT have thought of?
For example, would you have known to target the following keywords? (I probably would not have).
Garlic Mincer
Cutting Press
Garlic Crusher
Finding all keyword permutations is the primary value of using a keyword tool like Scope.
It allows you to peek directly into any product on Amazon and instantly know which keywords are generating its sales.
You can then use this data in your own product listing and steal their sales.
Viral Launch Keyword Explorer
The other keyword research tool that I use for practically every single SKU I list on Amazon is Viral Launch.
Unlike Scope which allows you to peek into a specific listing on Amazon, Viral Launch allows you to extract keyword data for the entire Amazon catalog.
In addition, Viral Launch will also tell you how competitive that keyword is to rank for in Amazon search using their own proprietary algorithm.
For example, let's say I want to sell apple slicers on Amazon. Here's the data that Viral Launches provides.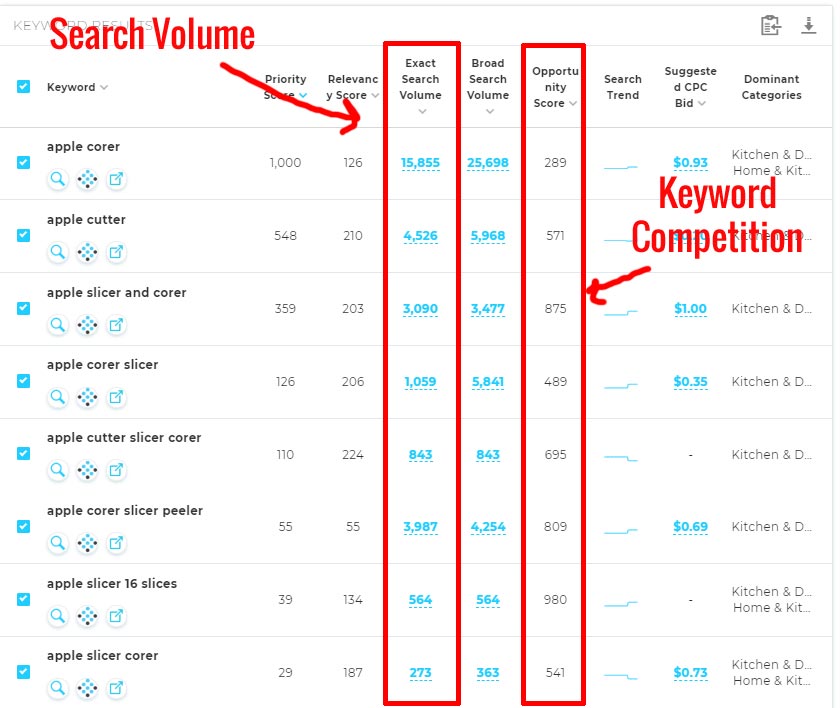 If you look at the image above, Viral Launch provides me with the exact search volume for every keyword related to "apple slicer".
So when I create my product listing, I can focus on the highest volume keywords such as…
Apple Corer – 15855 searches
Apple Cutter – 4526 searches
Apple Slicer And Corer – 3090 searches
Apple Corer Slicer Peeler – 3987 searches
Viral Launch also provides an opportunity score which helps you determine how difficult it will be to rank a keyword in Amazon search based on a scale from 1-1000 where 1000 is the easiest.
Based on this data, I can easily prioritize which keywords to target in my product listings for maximum exposure and sales.
In addition, Viral Launch always finds keywords to target that I would never have thought of by myself.
Step #2: Integrate Your Keywords Into Your Listing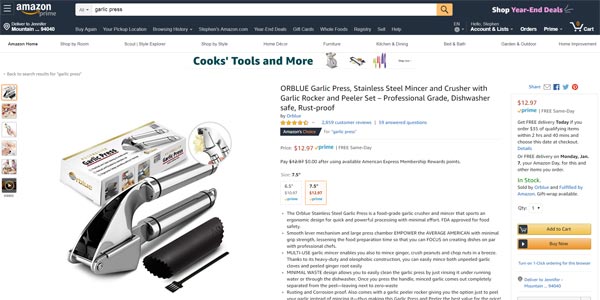 Once you've done the proper keyword research using Scope and Viral Launch, you now have to apply these keywords to your listings.
Remember, keyword relevancy is an important factor with Amazon SEO so you have to spell out which keywords you want to rank for.
There are many different places where you should insert your target keywords but I've listed the most important places below in order of priority.
Product Title – Your most relevant and highest searched keyword terms should go in your title
Backend Search Terms – You can insert up to 250 characters of your secondary keywords in the backend of Seller Central
Bullet Points/Description – Other relevant keywords should be used in your bullet points and product descriptions without sounding keyword stuffed
For the purposes of illustration, let's breakdown the listing of the top selling garlic press on Amazon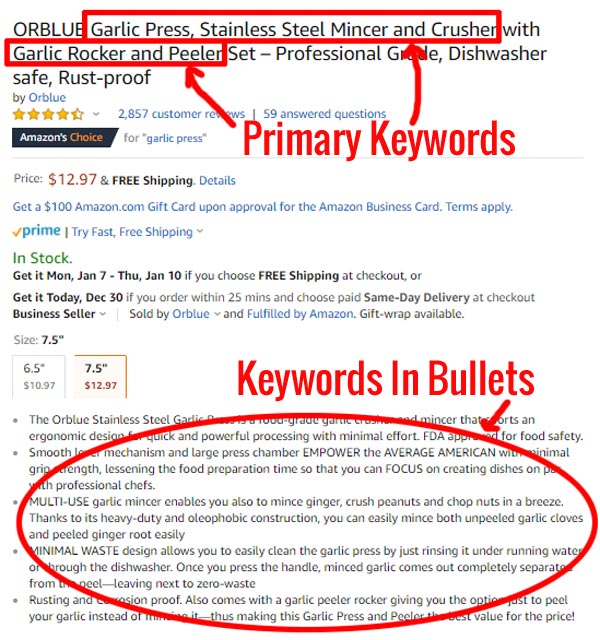 As you can see above, this seller is clearly targeting "Garlic Press", "Stainless Steel Mincer", "Garlic Crusher", "Garlic Rocker" and "Garlic Peeler".
It's also no coincidence that these are the most searched terms on Amazon related to the garlic press.
The seller has also liberally sprinkled these keywords in the bullet points and the description in a tone that sounds completely natural and not keyword stuffed.
This seller is also cleverly using his keywords in the initial 5-6 words of his title. Why?
The reason is because Amazon often truncates titles depending on the device.
Here are some examples of truncation.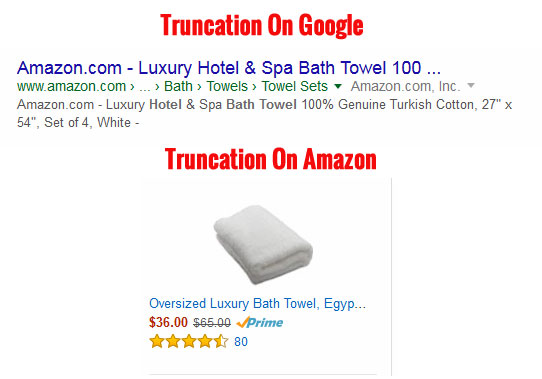 Placing your primary keywords in the beginning of your title allows customers to understand your product even when the majority of the title is cut off.
Overall, your title is probably the most important part of your listing when it comes to search.
And your goal is to include as many relevant keywords as possible in a natural sounding language that entices a customer to click on your listing.
Step #3: Populate Your Backend Search Terms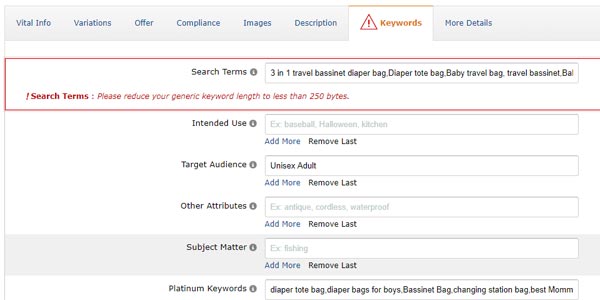 The Seller Central backend search terms are a great place to put secondary keyword variations, synonyms and other modifiers for your main keywords.
The most important rule to follow regarding the backend search terms is that Amazon treats the entire field as a random bucket of keywords.
In other words, the keyword location or phrase is irrelevant.
For example, you don't need to include the word "garlic" twice if you are targeting "garlic knife" and "garlic mash". Simply including "garlic knife mash" is good enough.
In addition to not repeating a keyword, you should also never insert a search term that is already in your product title.
As of this writing, Amazon is limiting the backend search fields to only 250 characters (including spaces and commas). Anything that exceeds this number will not be indexed.
Note: There's no need to use commas to delimit your keywords and this will waste your 250 characters. Try to include as many relevant keywords as possible!
When it comes to choosing the keywords for these fields, I like to include the following
Benefit Keywords – Features that customers look for when shopping. ie. Professional Grade, Dishwasher safe, Rust-proof
Problem Keywords – Keywords that describe a problem. ie. Stop biting your nails
Solution Keywords – Keywords that describe a solution. ie. Solves your dandruff problem
Synonym Keywords – Different ways to say your product. ie. SDCard, Memory Card etc…
Common Mispellings – Different ways to spell your product. ie. Handkerchiefs, Hankerchiefs
Attribute Keywords – Different ways to specialize your product. ie. Turkish Towels, Hotel Towels
Use Case Keywords – Different ways to use your product. ie. Kitchen Towels, Bathroom Towels
Audience Keywords – Different audiences for your product. ie. Towels For Kids. Tools For Women
Overall, you should use Amazon based keyword tools like Viral Launch and Scope to guide you when choosing the right backend search terms.
Step #4: Improve Your Product Listing Conversion Rate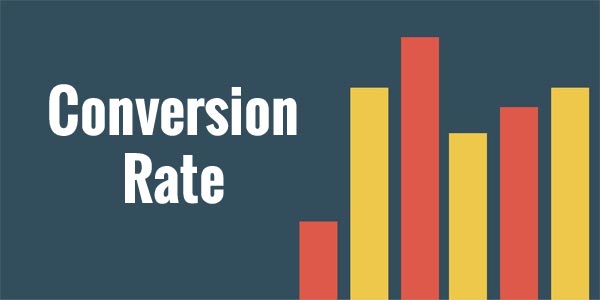 There's no point in getting traffic to your Amazon listing if the customer doesn't end up buying your product.
Amazon keeps track of the conversion rate for every product in its catalog for a given search term.
And in general, the higher the conversion rate for a certain keyword, the higher your product will be ranked in the search results for that keyword.
Remember, the conversion rate is calculated on an individual keyword basis which is why keyword research is so crucial.
With that concept in mind, you need to make sure that your product listing is both enticing and priced to sell.
Step #4.1: Use Your Photos To Sell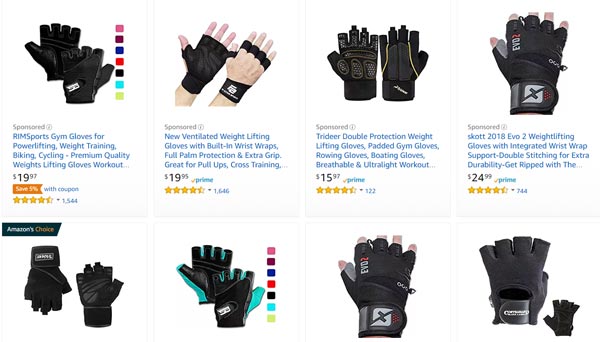 Your photos are easily the most important factor when it comes to converting a sale. Even if you are running your Amazon business on a tight budget, never skimp on photography!
The exact process of taking great photos is beyond the scope of this tutorial but please feel free to check out my full blown guide on how to take amazing product photos on a budget
Now taking great product photos is important but there any many ways to enhance your images BEYOND just photography to improve your conversion rate.
First off, your main Amazon product image must be on a white background and contain ONLY the product for sale with no extraneous objects or verbiage. It must also be a high resolution image of at least 1000 pixels square.
But outside of your main image, you can do whatever you want with your secondary images!
One method of boosting your conversion rate that works really well is turning your secondary images into miniature sales pages.
Because you can include whatever you want in your secondary images, you should emphasize your product benefits within your photos.
Here's a great example of a secondary image that I found while looking for weight lifting gloves the other day that really caught my eye.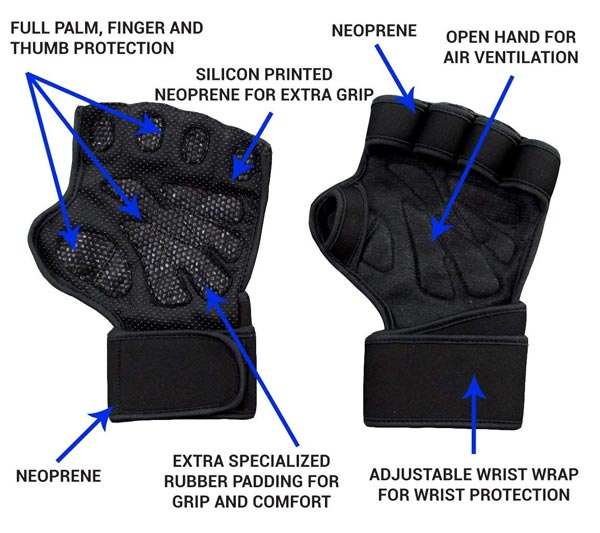 In fact, this image is what caused me to buy these gloves over 6 other near identical product listings on Amazon.
The last tip I have with product images is to always test them with real people before you launch your product.
And the best way to split test your images is by using a service like PickFu
Below is a post I wrote where I used PickFu to make a simple photo tweak which resulted in a 209% increase in sales.
Click Here To Read My Post On How To Increase Your Amazon Sales Rank By 209% With A Simple Photo Tweak
Step #4.2: Setup Your Bullet Points
While your images are the primary driver for a great conversion rate, your bullet points can also have a major effect on sales depending on the nature of your product.
Overall, you want to use your bullet points to convey your unique value proposition using verbiage that is concise and easily scannable.
Here's an example of a listing with great bullet points.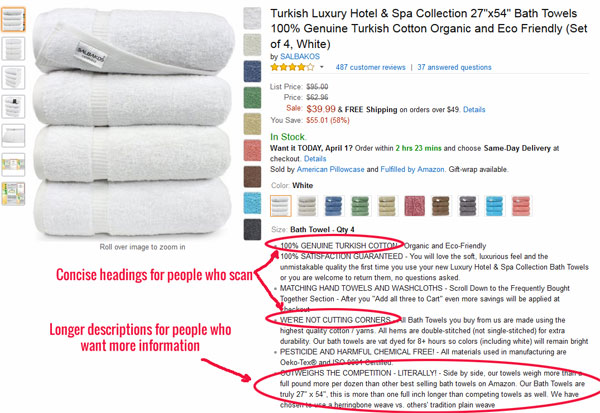 The listing above is ideal because it clearly outlines the reasons why I should buy the product. Every bullet point starts with a key benefit in all caps which is easily scannable but I can continue reading for additional information.
Overall, your primary goal with your bullet points is to convince the customer to add your product to their shopping cart.
Step #4.3: Setup Your Product Descriptions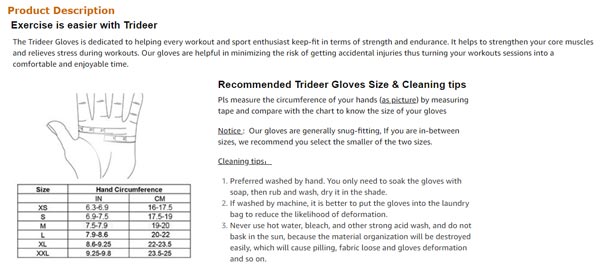 Out of all of the product listing elements, your product description is by far the least important.
And the reason is because shoppers rarely scroll down to the bottom of the page.
Most people look at the images and bullet points above the fold or skip straight down to the reviews with few in betweens.
Now that's not to say that your product descriptions are not important but they should be prioritized towards to bottom of your to do list.
The only exception to this rule is if you have a complicated product that requires more information to sell.
For example if you sell computers, you should probably create a very comprehensive product description that takes advantage of Amazon's Enhanced Brand Content.
But overall, the more complex your product, the more important your product description will be in convincing someone to buy.
Step #5: How To Get Reviews For Your Products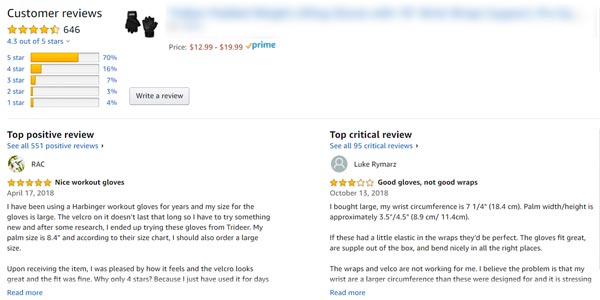 First off, the sheer number of reviews your listing has does not directly determine where your product ranks in Amazon search.
In fact, you'll often find products that rank in the top 5 of Amazon that have very few reviews at all.
But that being said, having a large number of reviews greatly improves your conversion rate which leads to more sales which ultimately leads to higher rankings.
Overall, my philosophy with product reviews is that you need to amass enough reviews to get past a certain threshold of social proof and then you can rely on automated tools to take care of the rest.
As a result, it's important to have processes in place to grow your pool of reviews on autopilot as your sales velocity increases.
First off, you need to use email autoresponder software like Feedback Genius that automates the review acquisition process.
Whenever someone makes a purchase, you should ask your customer for a review via email after they have received your product.
Your email sequence will convert reviews anywhere from 1-5% of your sales.
In addition to Feedback Genius, you can also try the following methods to get early reviews to jumpstart your listing.
Manually Request Reviews Through Seller Central – This is probably the most effective way to get reviews right now but it can be tedious. Use a tool like Jungle Scout to automate the process.
Product Inserts – You can include inserts in your product that request customers to leave a review.
Product Discounts/Giveaways – You can giveaway products at a discount to boost your sales velocity and rely on your email autoresponder to obtain reviews
Amazon Vine Program – Amazon Vine is Amazon's product review program designed to encourage shoppers to leave honest reviews in return for free Amazon products.
Amazon Early Review Program (Now defunct) – This program run by Amazon entices customers to write reviews of your product in return for small gift cards from Amazon. The Early Reviewer Program costs $60, you must have less than five reviews and you must be brand registered.
There are also many grey hat methods of getting reviews on Amazon that are beyond the scope of this post. For example, you can ask distant friends who are not connected to you on social media to leave a review.
There are also review groups on Facebook that you can join to get your first set of reviews. (Note: I do not recommend this practice)
Whatever method you choose, make sure that you comply with Amazon's terms of service or you may risk a suspension.
Step #6: Boost Your Sales Velocity For Your Keywords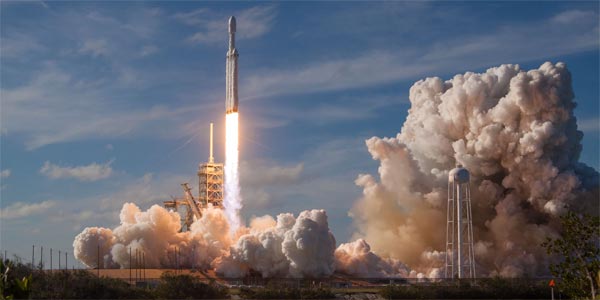 Once you have a well optimized product listing that uses your targeted keyword terms and a process for extracting reviews from customers, it's time to start generating sales.
The best "white hat" way of generating sales is by running Amazon Sponsored product ads.
While the details of Amazon PPC are beyond the scope of this post, you can check out my comprehensive Amazon PPC guide by clicking on the link below.
Click Here To Read My In Depth Amazon PPC Tutorial
But aside from Amazon PPC, the best way to boost your Amazon rankings is by leveraging your email list of customers.
Note: You can quickly grow your email list by running group giveaways. Click Here To Check Out My Free Email List Building Service For Ecommerce Merchants
With your email list, you can offer a discount, instruct your customers to find your product by typing in a specific keyword and have them make a purchase.
Generating sales this way works well because you are telling Amazon which keywords lead to sales at a very high conversion rate.
In fact if you have enough subscribers, you can easily jumpstart your keyword rankings with an initial boost of sales velocity for your targeted search terms.
But what if you don't have an email list?
There are services out there like Viral Launch that will help you execute a viral giveaway to artificially boost your sales velocity and ranking.
Here how it works.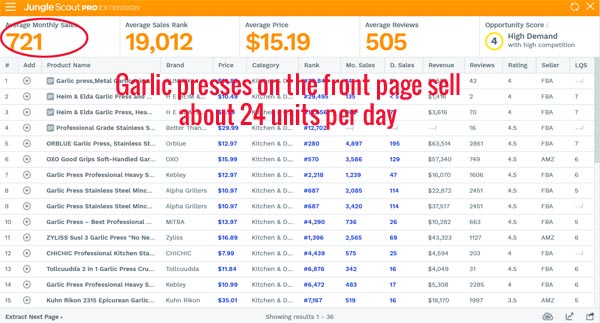 According to Jungle Scout, garlic presses on the front page sell on average 24 units per day. (BTW, this is a very competitive product so please don't try to sell it)
As a result, you will need to sustain sales of at least this many units per day for an extended period in order to crack the front page.
This is where a service like Viral Launch comes in handy. They will use their large audience to help you generate the necessary sales velocity you require to make the front page.
But please note that the goal of using Viral Launch is NOT to generate reviews.
Instead, your objective is to generate enough sales velocity to crack the front page and generate real organic sales.
If your product listing is optimized and achieves a high enough conversion rate, then Amazon will deem your product worthy of the front page and you will keep your top spot once the giveaway is over.
Click Here To Try Viral Launch And Get $50 Off Your Launch
Editor's Note: If you have chosen your products and keywords correctly, then Amazon PPC by itself might be all you need to jumpstart your listing. Amazon has been known to give new products extra visibility in the first month to see how they perform.
To further boost your sales velocity, it's also advisable that you lower your prices when you first launch a brand new product.
In general, I typically set my prices at 20% less than the competition until I start ranking on the front page.
Other Ranking Factors
Aside from sales velocity and keyword relevancy there are other factors that anecdotally affect your search rankings.
First off, listings that leverage Amazon FBA will generally rank higher in the search rankings.
In fact, many people specifically filter out non-fulfilled by Amazon products in the search results when they shop.
Your stock history also plays a role in the search rankings. For example if your product is frequently out of stock, it's generally not going to stay on the front page.
That's why it's crucial to maintain your inventory levels and understand the peak periods for your ecommerce business.
Finally, products that are brand registered anecdotally get a small boost as well. As a result, you should apply for the Amazon Brand Registry as soon as you can to protect your listings.
Further Reading
If you interested in more tips on how to launch a 7 figure ecommerce business, then consider signing up for my free 6 day mini course.
There are 2 two tracks, one for beginners and one for advanced sellers and it's completely free.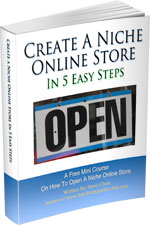 Ready To Get Serious About Starting An Online Business?
If you are really considering starting your own online business, then you have to check out my free mini course on How To Create A Niche Online Store In 5 Easy Steps.
In this 6 day mini course, I reveal the steps that my wife and I took to earn 100 thousand dollars in the span of just a year. Best of all, it's free and you'll receive weekly ecommerce tips and strategies!
Note: This post above may contain affiliate links, which means that I may receive a commission if you make a purchase when clicking a link. Please consult our privacy policy for more information.
Related Posts In Amazon Ranking & Review Strategies
About Steve Chou

Steve Chou is a highly recognized influencer in the ecommerce space and has taught thousands of students how to effectively sell physical products online over at ProfitableOnlineStore.com. 

His blog, MyWifeQuitHerJob.com, has been featured in Forbes, Inc, The New York Times,  Entrepreneur and MSNBC.  

He's also a contributing author for BigCommerce, Klaviyo, ManyChat, Printful, Privy, CXL, Ecommerce Fuel, GlockApps, Privy, Social Media Examiner, Web Designer Depot, Sumo and other leading business publications.

In addition, he runs a popular ecommerce podcast, My Wife Quit Her Job, which is a top 25 marketing show on all of Apple Podcasts. 

To stay up to date with all of the latest ecommerce trends, Steve runs a 7 figure ecommerce store, BumblebeeLinens.com, with his wife and puts on an annual ecommerce conference called The Sellers Summit.  

Steve carries both a bachelors and a masters degree in electrical engineering from Stanford University. Despite majoring in electrical engineering, he spent a good portion of his graduate education studying entrepreneurship and the mechanics of running small businesses.