When it comes to starting a successful ecommerce business, you have to know how to get reviews on Amazon.
Not only do reviews provide social proof for your listing, but there's a strong correlation between the number of positive reviews and your conversion rate on Amazon.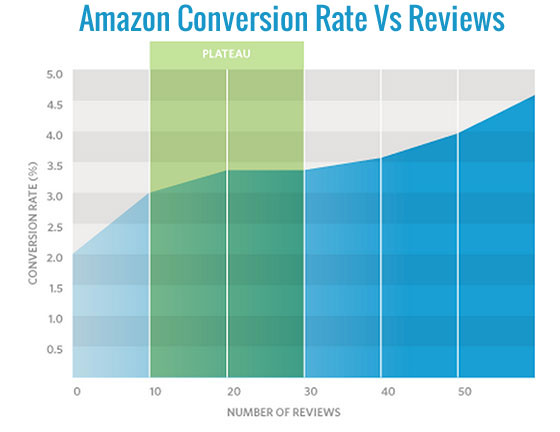 As you can see from the graph above, the conversion rate doubles once you reach 50 reviews. As a result, getting more reviews should be an integral part of your overall Amazon strategy.
Today's post will teach you white, grey and black hat techniques for how to get reviews on Amazon. Some of the strategies below should be implemented at your own risk!
Get My Free Mini Course On How To Start A Successful Ecommerce Store
Are you interested in creating a strong, defensible brand for your products? If so, I put together a comprehensive package of resources that will help you launch your own online store from complete scratch. Be sure to grab it before you leave!
Amazon's Review Policy
Back in the day, getting reviews on Amazon was easy. All you had to do was offer a customer a reward in return for leaving a review. But today, this practice is illegal.
According to Amazon's terms of service, you are not allowed to incentivize the customer in any way to leave a review.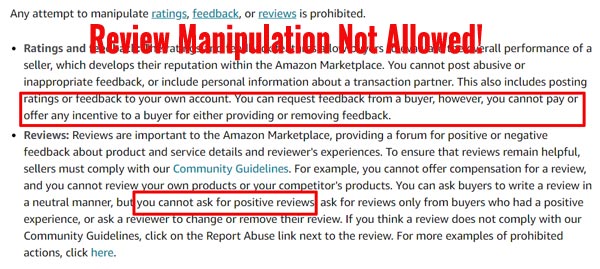 Specifically, you can not…
Pay or offer any incentive to a buyer for giving or removing feedback.
Post abusive or inappropriate feedback, or expose personal information about an order
Only ask for positive reviews
Only ask for reviews from buyers who had a positive experience
Ask a reviewer to change or remove their review.
In the event that you perform any of the actions above, you risk getting your account suspended.
Here's what the dreaded Amazon review manipulation warning email looks like.

In the event that you get one of these emails, stop whatever grey or black hat review activity that you are doing and go on the straight and narrow.
If you continue violating Amazon's review terms of service, Amazon will escalate your punishment.
First, they'll take away your review privileges.
You have failed to comply with our policies by manipulating product reviews. As a result, you may no longer post reviews on Amazon.com, and your reviews have been supressed. Any new reviews written will automatically be suppressed.
Finally, if you continue to violate their policies, you risk getting banned.
Your account activity has been found to violate one or more of the following policies; "Misuse of Ratings, Feedback, or Reviews", "Misuse of Sales Rank" and "Misuse of Search and Browse". As a result, you may no longer sell on Amazon.com and your listings have been removed"
Note: Brand new sellers with little or no sales history are especially at risk of a suspension.
With these risks in mind, let's talk about the many different ways on how to get reviews on Amazon.
Amazon Review Strategy #1: Manually Request Reviews Through Seller Central
(Safety Rating: 10/10)
Right now, one of the most effective ways to get reviews on Amazon is to manually request a review in your Seller Central account.
Simply go to your "Manage Orders" page and select an order you want a review for.
Then, click on the order and go to the "Order Details" page. From here, click on the "Request Review" button.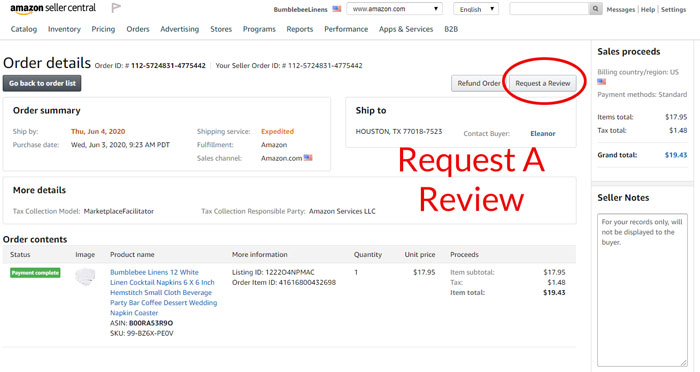 Once you click on the button, you'll see the following screen.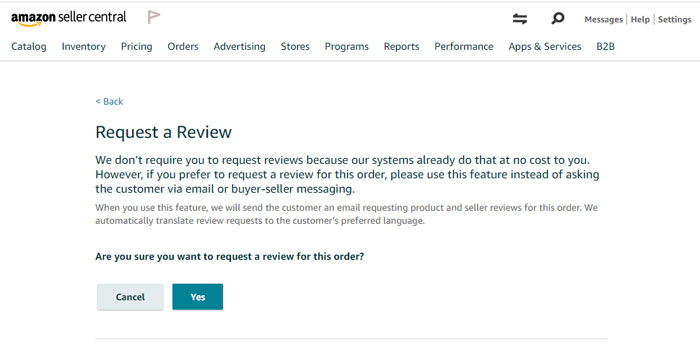 If you click "Yes", Amazon will send both a seller feedback request and a product review request to the buyer and what's nice is that this message will automatically be translated into the buyer's language.
Note: You can only send manual review requests 5-30 days after the order has been delivered. Furthermore, the seller can not customize the message. In addition, buyers can not reply to these messages nor can the seller.
Here's what the review request message looks like from the buyer's perspective.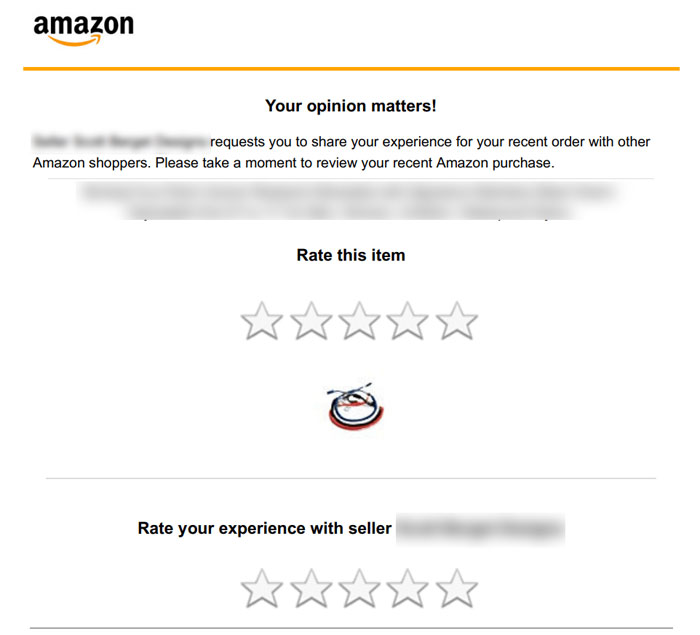 From experience, these messages are one of the most effective ways to get reviews and the deliverability is excellent. However, the process is intentionally very manual.
However, the Jungle Scout Chrome Extension allows you to request reviews in bulk. This tool basically takes control of your browser and clicks on the buttons for you!
Here's how it works.
First off, under the "Orders" tab in Seller Central, go to "Manage Orders". Then, click on the Jungle Scout Chrome app button as if you were going to gather product data on Amazon.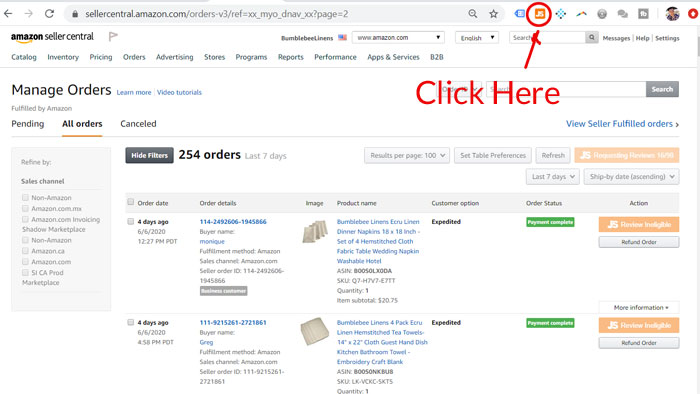 You will then be asked to grant Jungle Scout permission as shown below.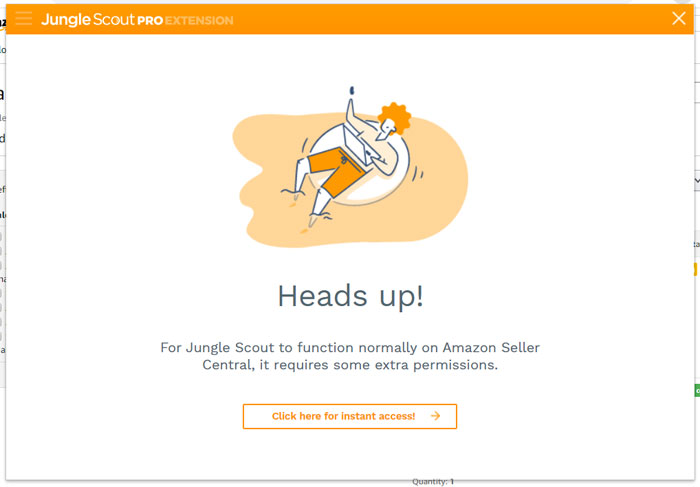 Finally, click on the orange Jungle Scout button to request a review for every order on the current page.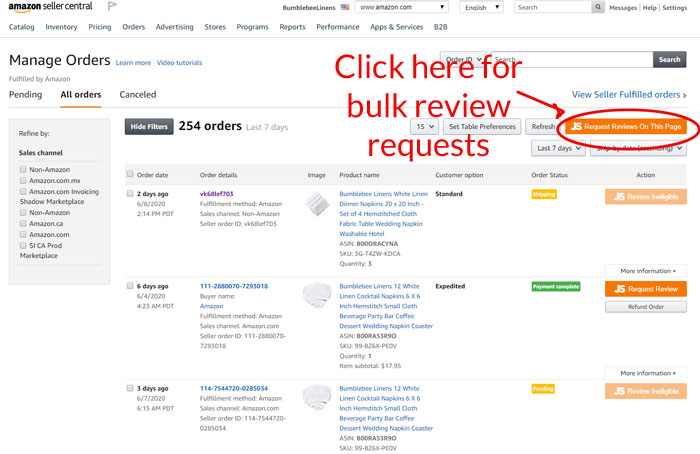 Go through all of your order pages and that's it!
Amazon Review Strategy #2: Use A Review Tool Like Feedback Genius
(Safety Rating: 10/10)

According to Amazon's terms of service, you are allowed to "request a review" from a buyer as long as you don't try to bias them in any way.
Now you can send emails to buyers manually or you can use an automated service like Feedback Genius.
Note: There are many email feedback services out there, but Feedback Genius was one of the first and arguably has the most features.
In addition, Feedback Genius is free up to a certain number of orders which makes it a no brainer to sign up.
Here's a sample email that I send out to customers who purchase.
This is Jennifer, the owner of Bumblebee Linens.

We are a small family-owned business and our goal is for you to be completely satisfied with your transaction.

I wanted to thank you for your purchase and let you know that it was a pleasure doing business with you. I hope everything turned out fantastic, and that our linens are everything that you expected.

If you're open to it, we would appreciate it if you could tell others about your experience by leaving a review on Amazon.

If you're NOT totally satisfied for any reason, please hit reply to this email and we will help you resolve any issues. Just let us know what you need and we'll make things right.

Please click the link below, find our product and tell us your experience. It only takes a minute.

[[product-review-link]]

Your feedback and business are GREATLY appreciated!!

Thank You,

Jennifer
Note: I only send out a single email and I make sure to use language that does not imply any contingency for leaving a review.
Recently, Amazon has allowed buyers to opt out of customer emails which has mitigated the effectiveness of this strategy.
So don't panic if you get an email like below.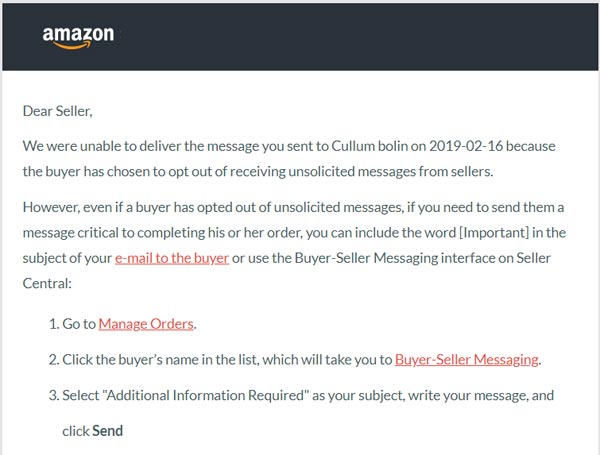 Nonetheless, automated feedback emails are still one of the best ways to get reviews today.
Amazon Review Strategy #3: Amazon Early Reviewer Program(No Longer Available)
(Safety Rating: 10/10)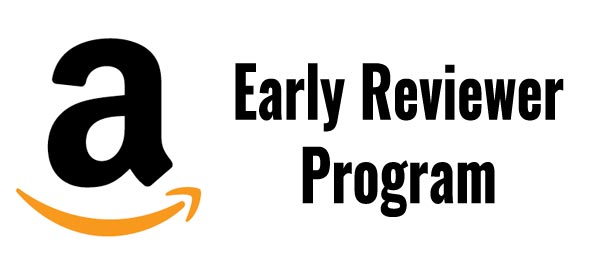 Even though Amazon made incentivized reviews illegal for sellers, they do allow compensation for reviews as long as Amazon is the one providing it.
In 2016, Amazon introduced the Amazon Early Review Program where Amazon "encourages" customers to share an honest review about your product in return for a small gift card.
Participating in the Amazon Early Review Program costs $60 per product and here are the rules.
You must be brand registered
Your product must have less than 5 reviews
Your product must sell for more than $15
If your product meets all of the guidelines above, then signing up for the early review program is a no brainer. Not only is the fee reasonable at only $60 but the reviews that you obtain are pretty much guaranteed to stick.
When it comes to launching a brand new product on Amazon, 5 reviews is often enough to jump start your listing. However it's important to note that you still must generate your own sales.
If your product is not selling, then Amazon will not be able to incentivize a buyer to leave a review. As a result, you must still run Amazon PPC and employ other strategies for boosting your sales velocity.
Editor's Note: For more information on how to boost your sales, check out my post on How To Run Amazon PPC Sponsored Product Ads – A Step By Step Guide
Amazon Review Strategy #4: Use The Amazon Vine Program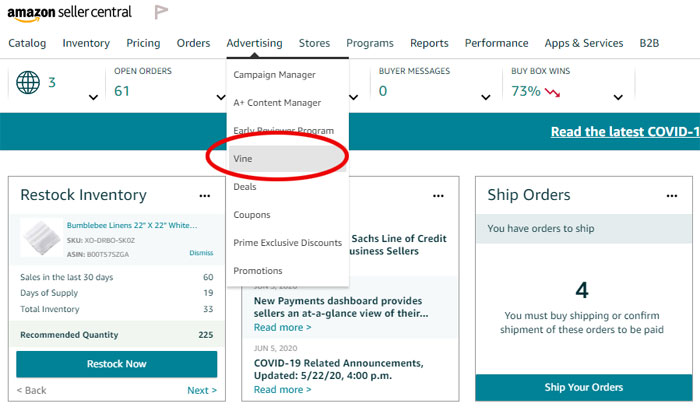 Amazon Vine is a product review program that is completely managed by Amazon. Basically, Amazon invites a select group of reviewers into their program based on their review ranking.
And these reviewers get free products in exchange for their unbiased and unincentivized reviews. To use Vine, simply select this option in Seller Central under "Advertising".
Then, you must give away 30 products to Vine review members and a significant percentage(80%+) of these members will leave an honest review of your product.
Currently there's no fee to enroll and you can only sign up your products that have less than 30 reviews.
Overall, Vine is a great way to get a bunch of reviews quickly. However, Vine reviewers are known to be extremely critical of your products in their reviews.
If your product is junk, then don't sign up:) But if you have confidence in your product quality, Vine is a great way to amass early reviews.
Amazon Review Strategy #5: Add Product Inserts
(Safety Rating: 8/10)
As part of your product, you can include inserts that encourage customers to leave a review.
Now the reason I made the safety rating of this strategy an 8/10 as opposed to a 10/10 is because the risk factor depends on how you structure your insert.
Anecdotally, there have been stories of Amazon setting up honeypot buyers to detect illegal review solicitation but realistically, you are more likely to have a competitor report you to Amazon as opposed to Amazon detecting this on their own.
Just be careful to use language that does not incentivize a customer to leave a review.
Here's an example insert I use for my product that is a part of the packaging itself.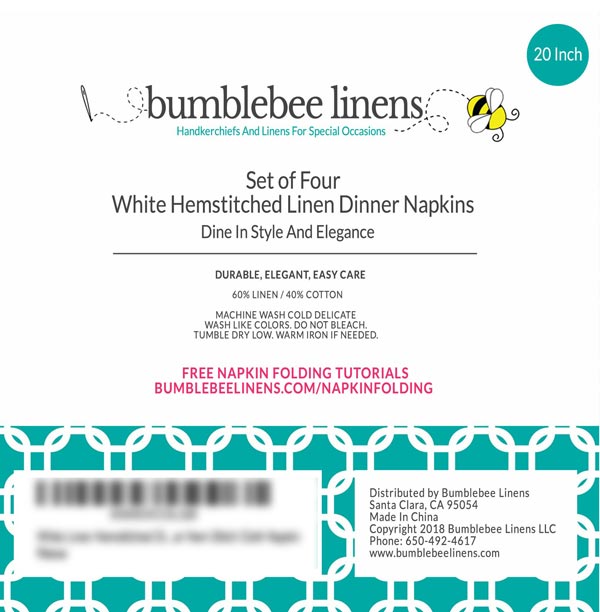 I first try to get the customer to sign up for my email list by offering them a special ebook or a warranty (depending on the product). Then, once they are on my list, I remind them to leave an honest review.
Amazon Review Strategy #6: Launch A Rebate Promotion With Facebook Messenger
(Safety Rating: 8/10)

In general, reviews tend not to stick when you make a sale on Amazon at a discount higher than 30%.
As a result, heavily discounted promotions or giveaways are great for generating sales velocity but don't work well for gathering reviews.
The best way to build verified reviews (and incentivize them to do so) is to have your customer pay full price first and then reimburse them later with Paypal. 
This way, the customer gets a free product and you get full credit for the sale in the form of a verified review that sticks.
If this review strategy sounds grey hat, it definitely is which is why it carries a safety rating of 8/10.
However done correctly, it's very difficult for Amazon to detect and you can quickly build a set of reviews for your newly launched product.
While there are services out there like RebateKey that promote rebates to a large audience of Amazon buyers looking for freebies, I generally don't recommend using a rebate service because the customer footprint is relatively easy to detect.
For example, if the same group of people consistently review the same set of products over and over again, Amazon can detect this practice and potentially flag your account.
The best way to run a rebate campaign is to use a Facebook Messenger bot and drive your own traffic to your products.
Here's how it works
Choose an Amazon product for your rebate promotion.
Create a Facebook Messenger bot using ManyChat that automates the process of guiding the customer to your Amazon product using a 2 step URL or search find buy.   
Run a Facebook ad or email promotion to drive targeted traffic to your Messenger bot.
Your Messenger bot will instruct your customer how to buy your product and leave a review.
After a purchase is made, your Messenger bot will ask for their Paypal information which is logged on a Google Sheet.
Once the purchase has been confirmed, the customer is reimbursed via Paypal.
The beauty of running an Amazon rebate promotion is that you get a full priced sale for your product in the eyes of Amazon so reviews are much more likely to be posted.
Meanwhile, you also get your customer's email address and these full price rebate sales also contribute to your sales velocity which will increase your rankings on Amazon.
Want to see the bot in action? Here's a walkthrough.
1. The user is first prompted with the details of the promotion.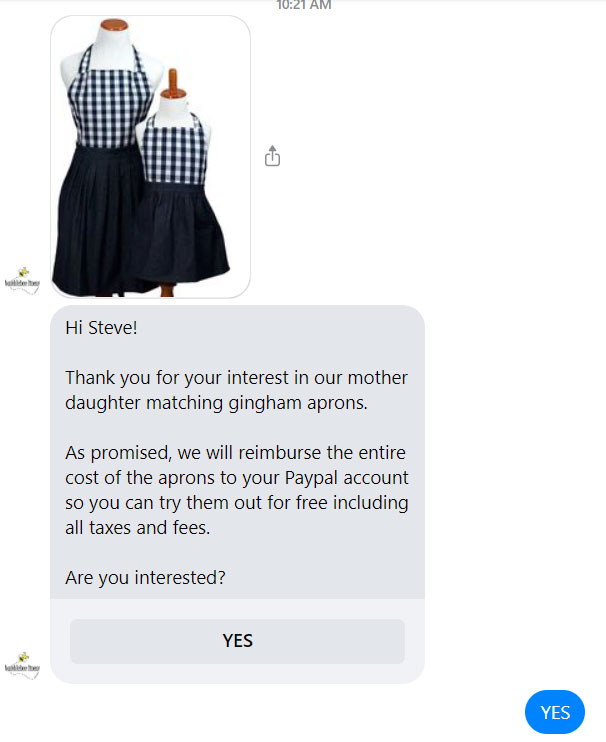 2. Then, detailed instructions are given to guide the customer to your products. In this example, the "search find buy" method is employed.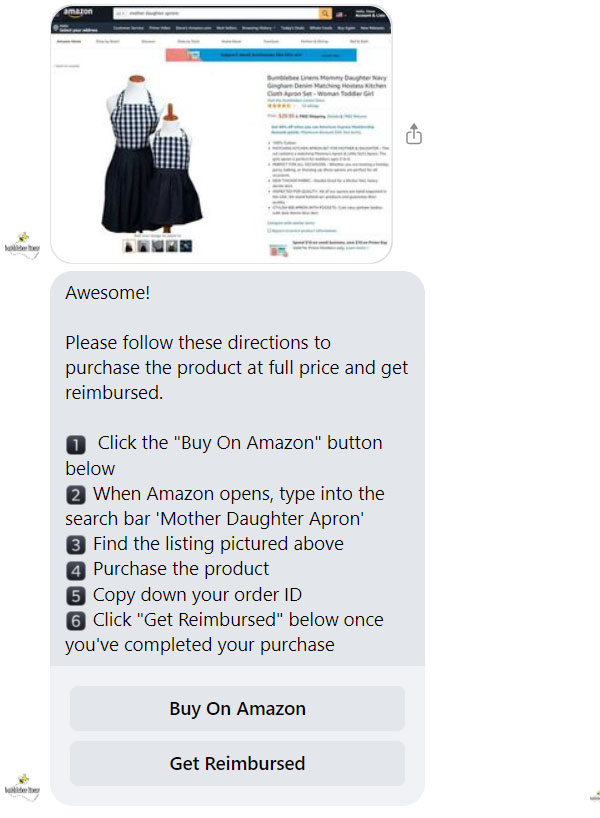 3. After the purchase is made, the bot automatically gathers your customer's information for the rebate.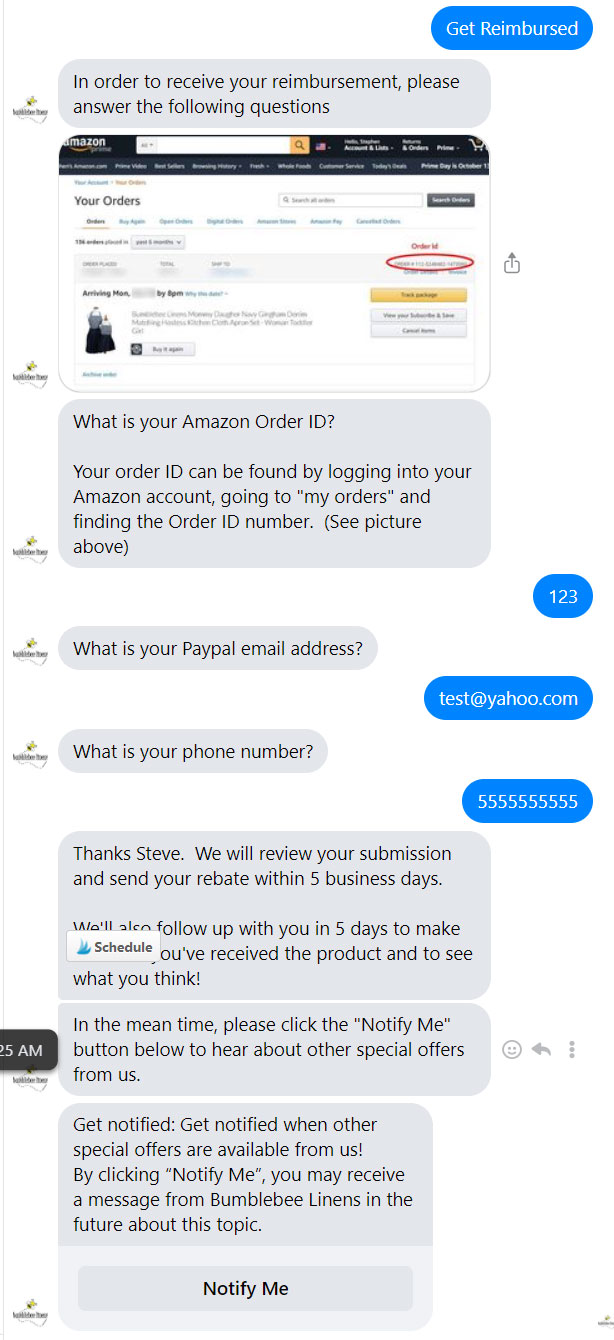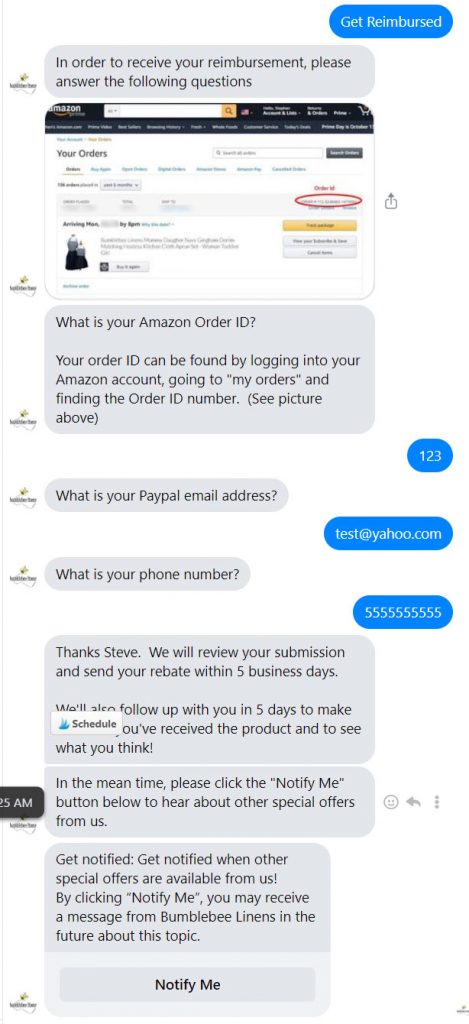 Amazon Review Strategy #7: Solicit Reviews From Friends
(Safety Rating: 7/10)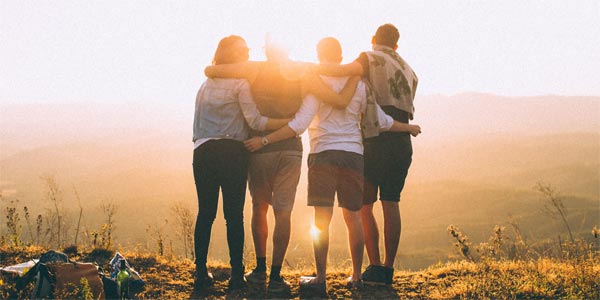 Soliciting reviews from friends is probably the easiest way to build your review portfolio. But you have to be careful because Amazon can easily detect your connections to friends through Facebook, Google and other social platforms.
As a result, if you go with this strategy, make sure that you get distant friends or friends of friends to leave reviews who are not directly connected to you on social.
Especially if you have a brand new Amazon account with only a few sales under your belt, you are much more likely to get a manual penalty if you are caught doing this.
Just don't over do it and do not reuse the same friends for multiple products.
Amazon Review Strategy #8: Take Part In Review Groups
(Safety Rating: 3/10)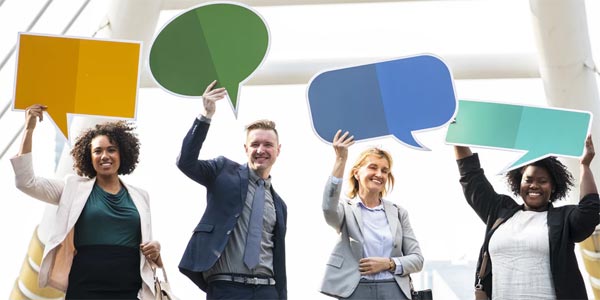 Because Amazon is getting smarter every day, taking part in Amazon product review groups is extremely risky. As I mentioned earlier in this post, Amazon can easily detect review rings and patterns of unusual activity.
The problem with review groups is that it's usually the same people leaving reviews over and over again and there's often review reciprocity.
"Hey Steve, leave a review for me and I'll leave one for you"
Multiple sellers leaving product reviews for each other is VERY easy to detect which makes this a risky practice. In the event that you opt to use a review group, do not use it for more than a few reviews at most.
Amazon Review Strategy #9: Use An Email Append Service And Run Facebook Ads
(Safety Rating: 7/10)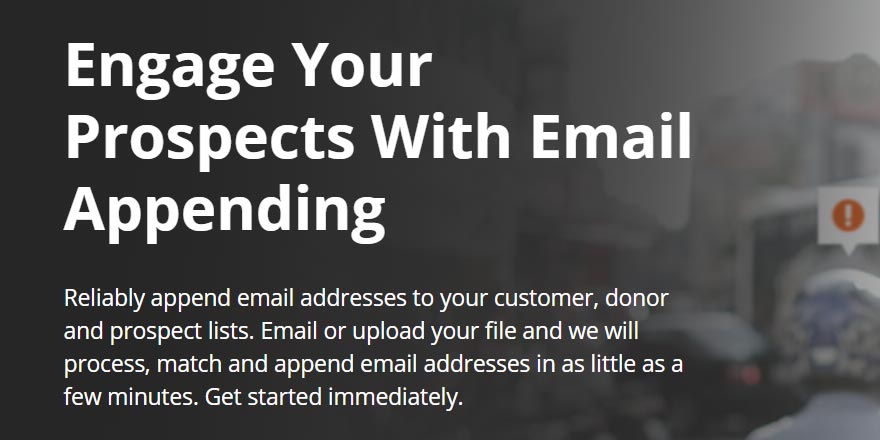 An email append service will match your entire Amazon customer list with a gigantic database of people to obtain real email addresses for your customers.
These services are not perfect and often times you will only receive email addresses for less than half of your customer list.
But these emails are extremely powerful!
Once you have the emails of your paying customers, you can easily create Facebook lookalike audiences and run Facebook ads to get these customers to buy more product, sign up for your email list or leave a review.
If you want to play it safe, I would run Facebook ads to get these customers to purchase directly from your website, leave their email or become a Facebook Messenger subscriber so you can contact them again going forward.
I would never overtly run a Facebook ad asking these customers to leave a review. As always, proceed with caution. The chances of getting caught are minimal unless you do something stupid:)
Editor's Note: For more information on how to run Facebook ads, check out my post on How To Advertise On Facebook – Strategies The Pros Use To Generate Sales
Amazon Review Strategy #10: Run Facebook Messenger Ads
(Safety Rating: 10/10)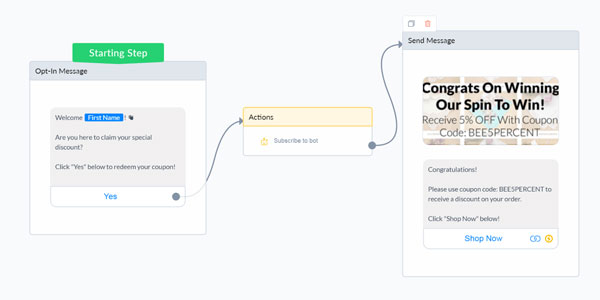 Using a Facebook Messenger bot is probably the easiest way to generate Amazon sales while retaining the ability to contact your customers.
Here's how it works.
You run a Facebook Messenger ad to your targeted audience and offer a decent sized coupon code
When the customer clicks on your ad, they are taken to Facebook Messenger where they must interact with your bot to obtain their coupon code.
Once the coupon code is sent, you steer the customer to your storefront URL where they make a purchase.
You cross reference your Facebook Messenger list with your customer list and send a Facebook Messenger broadcast to this customer asking for a review.
You can also combine this strategy with an email append service mentioned in strategy #7 and target your existing Amazon customer list with your Facebook Messenger ads.
Here's a sample Facebook Messenger bot that you can run to either get more sales or to get a customer to leave a review.
Note: If you want to see a more detailed tutorial on how to set up a Facebook Messenger bot, be sure to check out my post on The Best Way To Use Facebook Messenger Bots To Sell Online With ManyChat
Amazon Review Strategy #11: Send Offers To Your Email List
(Safety Rating: 10/10)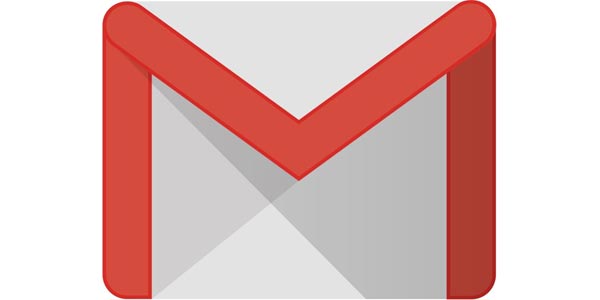 In order to execute this strategy, you need to have an email list of interested customers. So first off, here are a few good ways to get email subscribers
You can run an Amazon Group giveaway – GoBrandWin is a service that I offer for free that allows you to work together with other sellers and bloggers to easily grow your email list.
You can run Facebook ads to a coupon landing page – By offering a coupon code in return for an email address, you can quickly build an email list of interested buyers.
You can launch your own giveaway – By using a service like Viral Sweep, you can have people enter in their email for the chance to win valuable prizes.
Regardless of which method you choose above, once you have your email list you can drive your subscribers to your storefront URL on Amazon and have them buy your products at a discount.
If you're feeling risky, you can even ask these customers to leave a review on your product and give them a full refund via Paypal.
Note: Offering a customer a full refund for a review is completely against Amazon's terms of service but Amazon can't track it unless the customer directly reports you to Amazon.
If you do decide to go this route, make sure that you don't tie the refund to the review.
For example, you can use verbiage like "We would love to offer you a free trial of our product and give you a full refund via Paypal. Please click here and leave a review."

Again, be careful with this tactic.
Amazon Review Strategy #12: Manually Ask For A Review After Helping A Customer
(Safety Rating 10/10)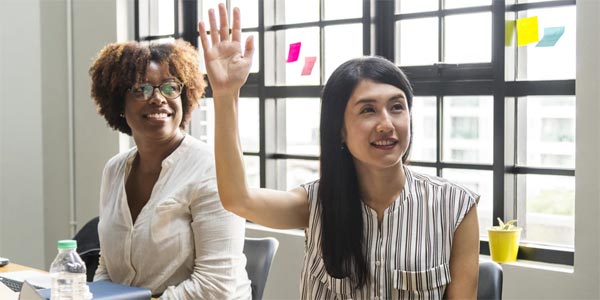 As you start generating sales on Amazon, sometimes customers will ask you questions regarding your product.
For example, we routinely get asked for quantity discounts on our napkins. We also get asked about the fabric quality of our products and when they will be received (even though they are buying through FBA).
Whenever we interact with a customer directly as opposed to a Feedback Genius automated email, we make a note of that order and hit them up for a review after the product is received.
Because we've had real human to human interaction with this customer, these buyers are much more likely to leave a positive review on your product.
Amazon Review Strategy #13: Buy Positive Reviews
(Safety Rating: 1/10)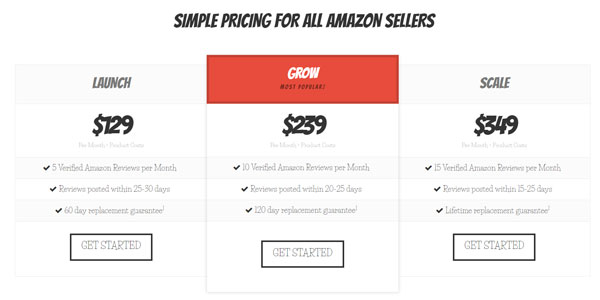 As I outlined in my post on The Dangers Of Selling On Amazon, there are services out there where you can purchase positive reviews or leave negative reviews on your competitors.
Almost all of these services are run out of China and there are steep penalties if you are caught.
Even though many dirty sellers are using these services and getting away with it, I strongly believe that Amazon will eventually crack down on all of the illegal review activity at some point.
Amazon is following Google's footsteps. Once upon a time, you could easily buy links and rank in Google search until Google started penalizing every site suspected of link manipulation.
Amazon will eventually invent a more sophisticated fake review detection mechanism. I guarantee it!
Conclusion
Even though more reviews can lead to a higher conversion rate and more sales, I see many sellers spending too much brain power on their review strategy.
In the grand scheme of things, all you need are a handful of reviews to launch a successful product on Amazon and there are diminishing returns associated with large amounts of reviews.
Instead, you should simply allow your natural sales velocity to build your reviews. If you are able to generate sales, then your review problem will take care of itself.
In my ecommerce course, I almost always advise that students gather a few reviews to jump start their listing and then focus on selling more product.
Sales begets more sales and reviews are a byproduct.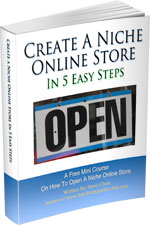 Ready To Get Serious About Starting An Online Business?
If you are really considering starting your own online business, then you have to check out my free mini course on How To Create A Niche Online Store In 5 Easy Steps.
In this 6 day mini course, I reveal the steps that my wife and I took to earn 100 thousand dollars in the span of just a year. Best of all, it's free and you'll receive weekly ecommerce tips and strategies!
Note: This post above may contain affiliate links, which means that I may receive a commission if you make a purchase when clicking a link. Please consult our privacy policy for more information.
Related Posts In Amazon Ranking & Review Strategies
About Steve Chou

Steve Chou is a highly recognized influencer in the ecommerce space and has taught thousands of students how to effectively sell physical products online over at ProfitableOnlineStore.com. 

His blog, MyWifeQuitHerJob.com, has been featured in Forbes, Inc, The New York Times,  Entrepreneur and MSNBC.  

He's also a contributing author for BigCommerce, Klaviyo, ManyChat, Printful, Privy, CXL, Ecommerce Fuel, GlockApps, Privy, Social Media Examiner, Web Designer Depot, Sumo and other leading business publications.

In addition, he runs a popular ecommerce podcast, My Wife Quit Her Job, which is a top 25 marketing show on all of Apple Podcasts. 

To stay up to date with all of the latest ecommerce trends, Steve runs a 7 figure ecommerce store, BumblebeeLinens.com, with his wife and puts on an annual ecommerce conference called The Sellers Summit.  

Steve carries both a bachelors and a masters degree in electrical engineering from Stanford University. Despite majoring in electrical engineering, he spent a good portion of his graduate education studying entrepreneurship and the mechanics of running small businesses.