When I first launched my online store, I generated a lot of sales early on by advertising with Google Adwords. And even today, orders from Google Adwords still represents a significant chunk of our monthly revenues.
But here's the thing about Google Adwords or any "query based" advertising platform. While your ads can be extremely profitable, the amount of customers you can possibly reach is limited by the number of searches for your targeted keywords.
And for the past several years, we have more or less maxxed out our Adwords reach. Even if we were to increase our budget, our Adwords traffic would not increase.
Then, I discovered how to advertise on Facebook and my life changed forever.
Note: While this post is primarily about Facebook ads, check out these articles if you are interested in learning more about Google advertising
Get My Free Mini Course On How To Start A Successful Ecommerce Store
If you are interested in starting an ecommerce business, I put together a comprehensive package of resources that will help you launch your own online store from complete scratch. Be sure to grab it before you leave!
The Number One Mistake People Make When Trying To Advertise On Facebook
When I first heard about Facebook advertising many years ago, I got so excited that I rushed out and started blowing cash left and right.
Not only does Facebook reach over a billion people worldwide, but the average user spends 40 minutes and checks their Facebook page over 14 times a day. That's crazy!
Because of these stats, I immediately signed up for an account, designed my first creative and pointed it at my top selling products with a $20/day budget.
Here's what my first creative looked like (You can click the image below to see the landing page)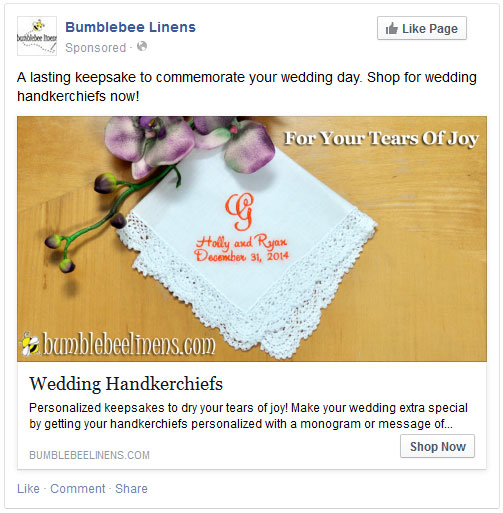 Facebook allows you to get very specific with your audience so for this ad, I targeted recently engaged women who lived in our highest performing states in terms of sales. And guess how it performed?
It did horribly! I blew through two hundred bucks in the first 2 weeks without a single sale!
The ad was getting lots of clicks but apparently no one wanted to buy anything and I knew something was grossly wrong.
Now to put things into perspective, it only took a few days before I made my first sale using Google and many of our Adwords ads were profitable almost immediately.
But Facebook was a completely different beast!
Overall, the mistake that I made with my first Facebook ad is a very common one. You can't just throw up an ad and point it at your products.
Running profitable Facebook ads requires a completely different approach.
The Difference Between Query And Content Based Advertising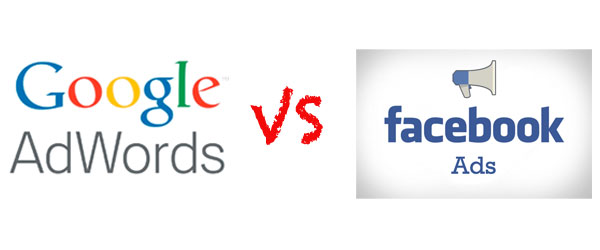 In order to run a Facebook ad properly, you first have to understand the main difference between how a Facebook ad works versus how a Google Adwords search ad works.
When someone does a search on Google, they are looking for something very specific. As a result when they click on your ad, there is a very specific context for their actions.
Mary does a search for wedding handkerchiefs
Mary finds a search ad for a handkerchief store
Mary clicks on the ad and finds a listing of handkerchiefs
Mary makes a purchase
Now contrast that with Mary's experience when she's surfing on Facebook and you'll see an immediate difference
Mary goes on Facebook to see what her friends are up to. She's getting married in a year but hasn't started wedding planning yet.
Mary sees a Facebook ad for wedding handkerchiefs and she thinks they look cute
Mary clicks on the ad and finds a listing of products
Mary thinks to herself "These look great" and then leaves the store because she's not ready to buy.
Mary clicks back to Facebook. Game over!
The primary difference between running Facebook ads and Google search based ads is that with Google, your customer has search based intent.
However when they click on a Facebook ad, they may have no intention of buying anything at all.
With a Facebook ad, the user is only interested in consuming content and understanding this difference is the key to your success with the Facebook ads platform.
The 3 Types Of Facebook Campaigns And What My Funnel Looks Like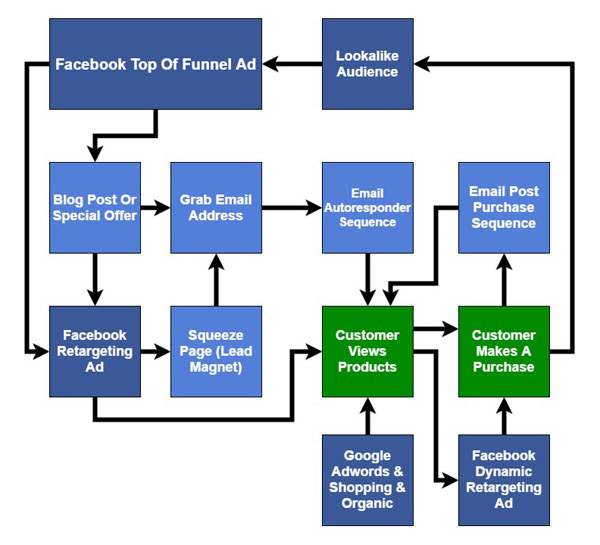 Because most people browse Facebook to consume content, the chances of closing a sale on your first encounter are very slim.
In fact, it can take upwards of 4-8 touchpoints before a customer decides to buy.
As a result, your Facebook ad campaigns need to take your customer on a multi-stage journey. And when it comes to calculating your return on ad spend, you must take into account the numbers for all of these stages collectively.
In this post, I will refer to 3 types of Facebook campaigns.
Top Of Funnel – These ads target cold customers
Middle Of Funnel – These ads target warm customers
Bottom Of Funnel – These ads target customers ready to buy
Top Of The Funnel Facebook Ads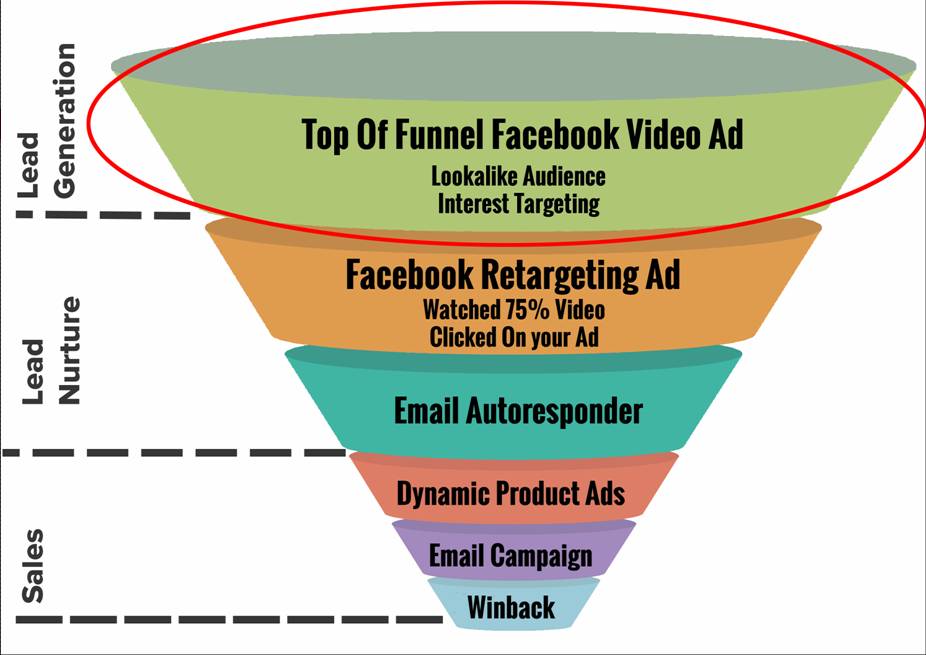 Top of funnel ads target cold customers who are discovering your brand for the very first time. They have no idea who you are so your first objective is awareness.
You need to clearly convey what your company sells and your unique value proposition. This can be accomplished either through the advertisement itself or through a landing page.
In the top of funnel, your goal is to get a lead through email, Facebook messenger or push notifications.
For further reading on these topics, check out these posts.
Alternatively, you can go for a quick sale with an extremely enticing offer.
Ultimately, your primary objective is to give yourself the ability to bring customers back over and over again until they are ready to buy.
Typically, the top of funnel does not have a high return on ad spend. Most people run top of funnel campaigns at a break even or a slightly profitable rate and use them to generate traffic and leads.
Middle Of The Funnel Facebook Ads
The goal of middle of funnel ads is to reinforce your relationship with your customer and to gain mind share. If the customer is in the market for your products, then you want them to think of you first.
Typically these ads consist of video or image content that further educates the customer why your company is awesome.
You can show these ads to
People who have visited your site but have not looked at a product or made a purchase
People who have watched more than 75% of your video ad
People who have engaged with your Facebook posts
People who are fans of your Facebook page
The conversion rate of a middle of the funnel ad is much higher than the top of the funnel because a customer is already familiar with your brand.
At this stage of the funnel, ads can point to advertorials, testimonials or product categories but you aren't necessarily going for a pure sell.
Bottom Of The Funnel Facebook Ads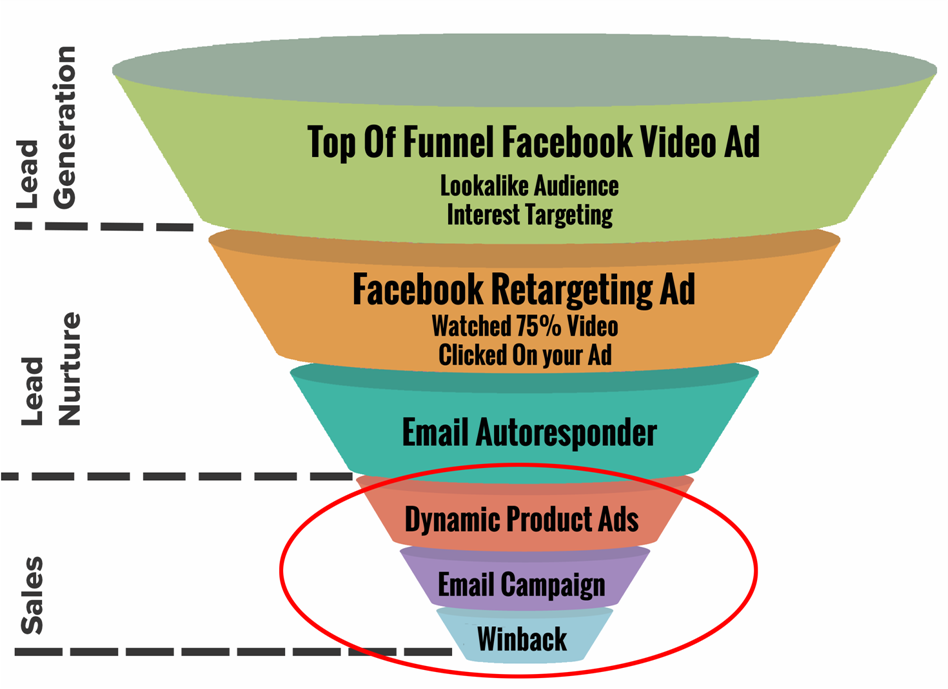 The bottom of the funnel is where you send customers directly to a product for purchase. The bottom of the funnel is reserved for customers who know your brand well, have seen your products and are ready to buy.
Typically, this stage of your Facebook funnel carries the highest return on ad spend. It's also where a large percentage of your most profitable conversions will occur.
Sample Top Of Funnel Ad #1 – Create A Content Based Landing Page
The following example is an ad/landing page combo where I use content to gather leads.
Instead of pointing my ad at a listing of products, I wrote an interesting post on wedding ideas for prospective brides.
Here's an excerpt of that post. (Note: The real article is over 1000 words long but you get the gist)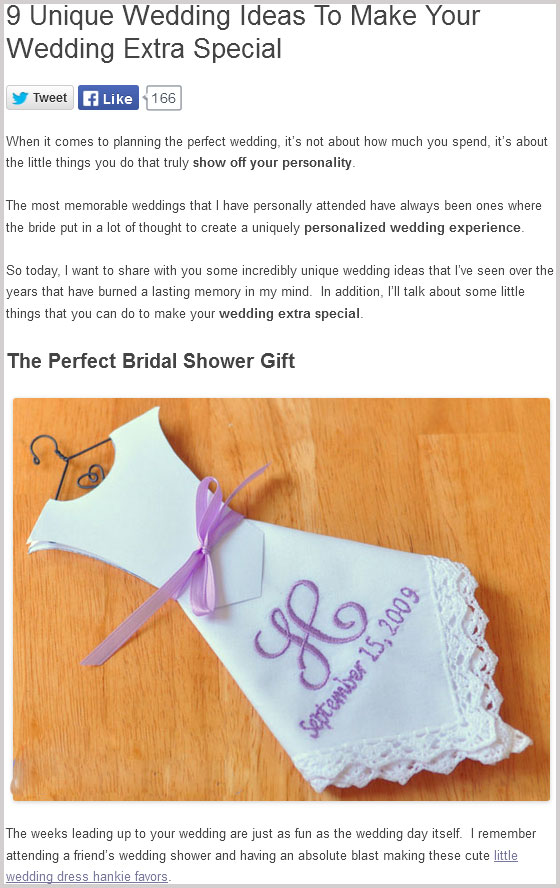 Here are a few things that I want to point out.
The landing page is a piece of interesting content that a bride to be would genuinely be interested in reading
Instead of overtly listing my products for sale, I link to specific products that I sell within the content
My landing page reads like a story and not an advertisement
To encourage visitors to visit my store, I also chose to superimpose "click to shop" buttons on the images as shown below.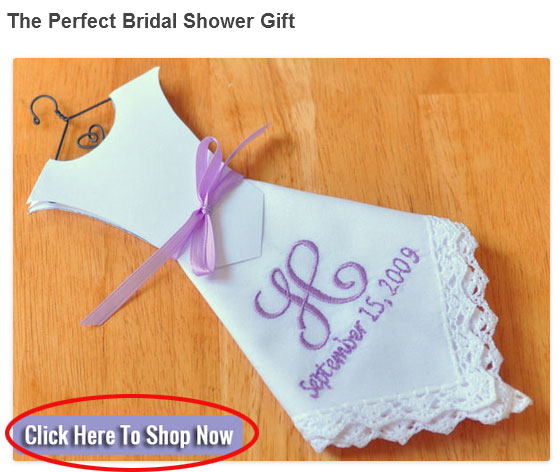 In general, only a small percentage of people will click on these images to make a purchase but those that do end up paying for the cost of the ad.
The primary objective of this top of funnel campaign is to grab a lead. Remember, most people on Facebook are there to consume content and they aren't necessarily ready to buy.
As a result, I want these customers to come back to my store when they are finally ready to make a purchase.
The easiest way to do this is to get them to sign up for an email list and create an email sales funnel.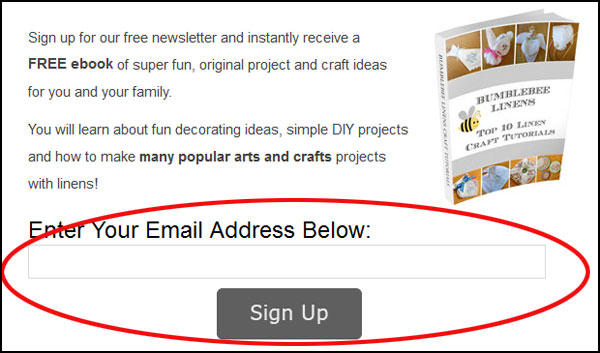 Once I have a visitor on my email list, I can contact them whenever I want and by keeping them engaged with my content, I can send them regular reminders to come back and check out my shop.
Now this customer might not be interested in buying the next day, the next week or even the next month but I can make sure that they are pleasantly reminded of our online store when they are ready.
Here are 3 elements your landing page needs to have.
First off, you need a lead magnet. In return for a customer's email address, we are giving away a free ebook of arts and crafts tutorials. Inside this book is a variety of DIY crafts that a potential bride would be interested in.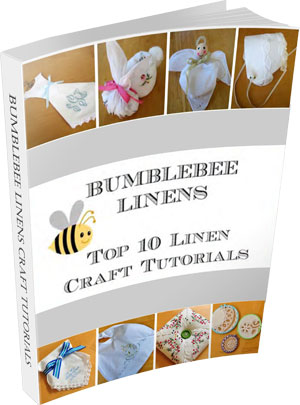 Then, you need to strategically place email signup forms all over your landing page post.
Add a popup signup form
Add a signup form above the content
Add a signup form below the content
Add a signup form in the sidebar
Basically, you want there to be very little chance that a user lands on your page without seeing an email signup form:)
For more information on my signup form placement strategy, check out this post.
Sample Top Of Funnel Ad #2 – Free Plus Shipping Offer
Another way to grab customer leads and sales to cold customers is by running a free plus shipping offer.
A free plus shipping offer is an offer where the product is free but a customer has to pay the costs of shipping and handling.
The reason this campaign is so effective is because the word "free" stops a customer in his/her tracks and they are enticed to make a purchase immediately.
Meanwhile along the way, you are grabbing their contact information.
Simply put, your goal with this campaign is to…
Grab a Facebook messenger lead
Grab an email address
Pixel them for retargeting
Complete a small sale
Here's what my free plus shipping offer looks like.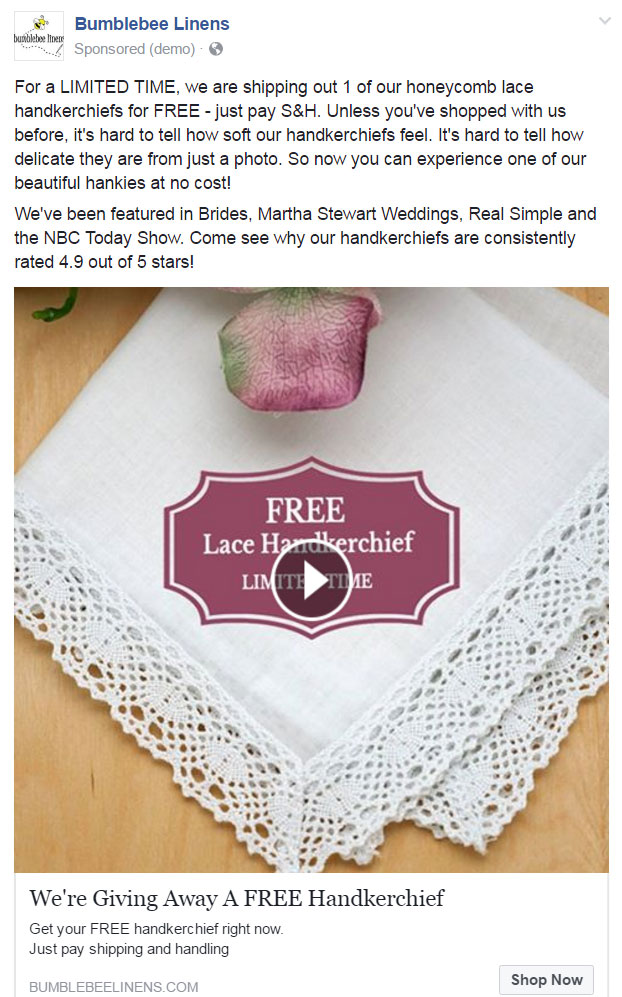 When a visitor clicks on the ad, they are taken to Facebook Messenger where I grab a Messenger subscriber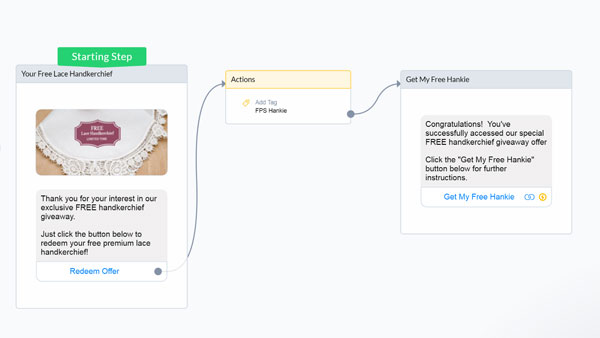 Then, they are guided to my landing page to grab an email and complete the sale.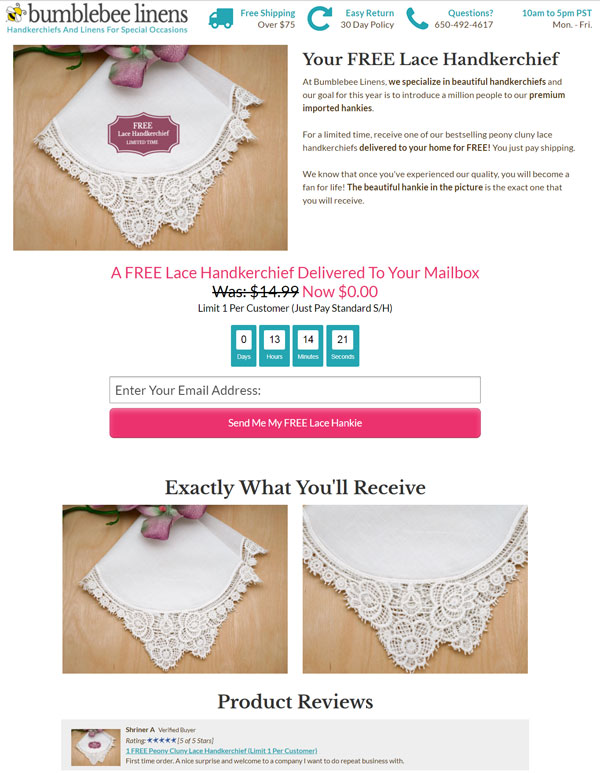 In general, the free plus shipping offer and additional upsells pay for the cost of the ad and I get email leads, messenger subscribers and real paying customers!
Your Email Funnel Is The Key To Top Of Funnel Success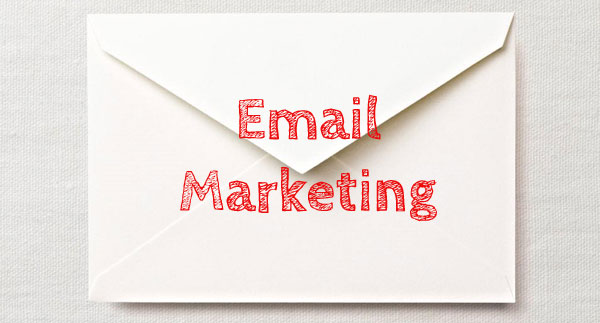 There's no point in grabbing an email address unless you plan on emailing your customers. So you need to create a multi step email autoresponder sequence to automatically send emails to your list of prospects on a weekly basis.
While the details of our email sequence is beyond the scope of this post, the point is that you can automate this entire process. And the key is to not come across as overtly salesy in your emails.
Provide the customer with useful content that they actually want to read and occasionally allude to products that you carry in your store.
This will not only create mind share for your ecommerce business but when they are looking to buy a product you carry, they will most likely look to your store to make a purchase.
This is the holy grail of how to make Facebook advertising effective.
If you need help on how to construct these email campaigns, then refer to my post on 5 Email Autoresponders Your Online Store Needs To Automate Sales
Sample Middle Of The Funnel Ad – Testimonials, Coupons And Stories
Whereas the top of funnel is designed to grab attention and obtain leads, the middle of the funnel is where you reinforce your relationships.
In general, you should use the middle of the funnel to tell stories about your brand, to point out customer testimonials and to send special offers to entice them to go shopping.
Here's an example Facebook ad where I use a customer testimonial for my napkins.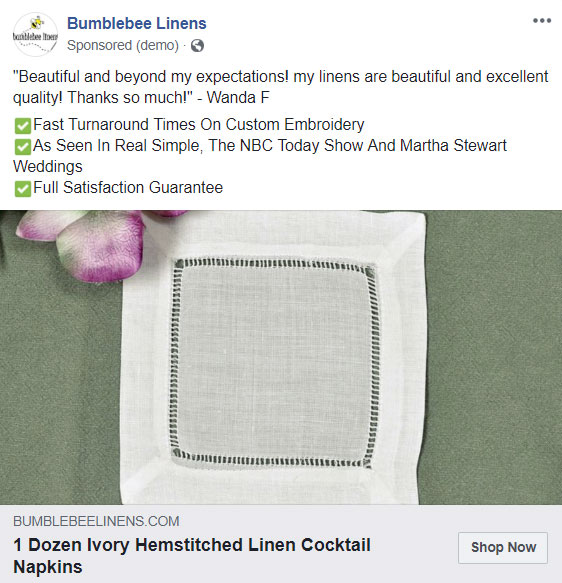 Sample Bottom Of The Funnel Ad – Facebook Dynamic Product Ads
Your bottom of funnel campaigns will be your most profitable ads and the best part is that they can be run completely on autopilot with Facebook Dynamic Product Ads.
Facebook Dynamic Product Ads are Facebook ads that change dynamically depending on what product a customer browsed in your shop.
For example, if a customer looked at a vintage blue handkerchief, then they will be shown that exact same handkerchief as the photo creative in your Facebook ad.
Dynamic ads can be easily setup by
Uploading your entire product catalog to Facebook at https://business.facebook.com
Creating an "product catalog" based ad in Facebook's ad manager interface
Here's what a sample Facebook Dynamic Ad looks like.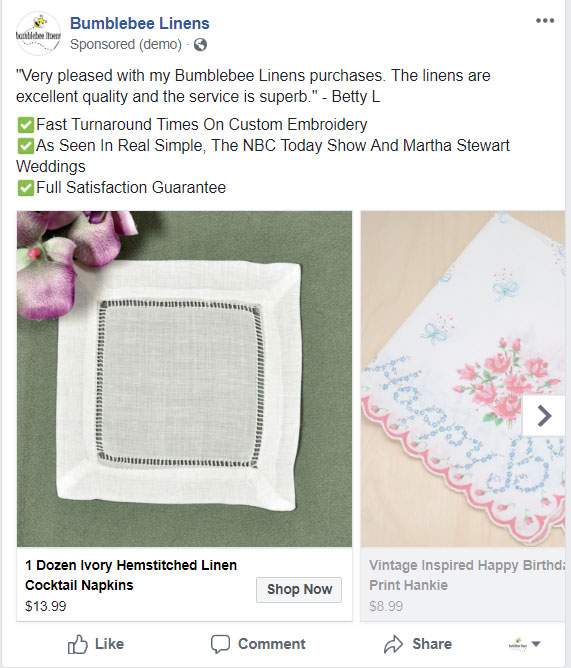 This one type of ad gets between a 10-12X return on ad spend and is the best Facebook ad you can run.
Note: I've written an in depth post on Facebook Dynamic Product Ads that you can read called How To Use Facebook Dynamic Retargeting To Make A 12x Return On Your Ad Spend
A Summary Of The Process
If you've digested all of the above, you'll soon realize that converting Facebook customers requires a much longer term sales process than a query based advertising medium like Google.
With Facebook, you have to keep your customer engaged until they are ready to buy. And then you have to bring them back to your store when that occurs.
Once you start collecting email addresses, messenger subscribers etc… and engaging with your customers via a dedicated funnel, you will be able to make Facebook ads profitable. I guarantee it!
Now there are a ton of little details that I left out in this post in the interest of time.
For example, you can also run retargeting campaigns to show ads specifically to customers who have visited certain pages in your store.
You can upload your email list and have Facebook generate a "lookalike list" of targeted customers who are demographically similar.
You can have Facebook target customers who have already liked your page.
What's really powerful about Facebook ads compared to Google search ads is that you can potentially reach far more people.
Anyway if you are interested in learning more about the different ways to implement paid advertising, I cover all of these concepts in my ecommerce course.
Feel free to leave a comment below if you have any questions or consider signing up for the class.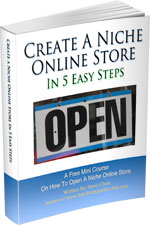 Ready To Get Serious About Starting An Online Business?
If you are really considering starting your own online business, then you have to check out my free mini course on How To Create A Niche Online Store In 5 Easy Steps.
In this 6 day mini course, I reveal the steps that my wife and I took to earn 100 thousand dollars in the span of just a year. Best of all, it's free and you'll receive weekly ecommerce tips and strategies!
Note: This post above may contain affiliate links, which means that I may receive a commission if you make a purchase when clicking a link. Please consult our privacy policy for more information.
Related Posts In Facebook Advertising Strategies
About Steve Chou

Steve Chou is a highly recognized influencer in the ecommerce space and has taught thousands of students how to effectively sell physical products online over at ProfitableOnlineStore.com. 

His blog, MyWifeQuitHerJob.com, has been featured in Forbes, Inc, The New York Times,  Entrepreneur and MSNBC.  

He's also a contributing author for BigCommerce, Klaviyo, ManyChat, Printful, Privy, CXL, Ecommerce Fuel, GlockApps, Privy, Social Media Examiner, Web Designer Depot, Sumo and other leading business publications.

In addition, he runs a popular ecommerce podcast, My Wife Quit Her Job, which is a top 25 marketing show on all of Apple Podcasts. 

To stay up to date with all of the latest ecommerce trends, Steve runs a 7 figure ecommerce store, BumblebeeLinens.com, with his wife and puts on an annual ecommerce conference called The Sellers Summit.  

Steve carries both a bachelors and a masters degree in electrical engineering from Stanford University. Despite majoring in electrical engineering, he spent a good portion of his graduate education studying entrepreneurship and the mechanics of running small businesses.