A while back, I published an article entitled "A Facebook Advertising Strategy For Ecommerce Stores That Really Works".
And in that post, I outlined how I run profitable Facebook ads by sending a customer through a 3 part journey with top of funnel, middle of funnel and bottom of funnel campaigns.
I also discussed how I employ a multi-step email autoresponder sequence to warm up leads so that customers think about our shop when they are finally ready to make a purchase.
Editor's Note: For more information about my email auto responder implementation, please read my post on 5 Email Autoresponders Your Online Store Needs To Automate Sales
Now this Facebook/email combo strategy works extremely well and I highly recommend that you give it a try with your own online store.
But in this post, I'm going to focus on the most crucial aspect of Facebook advertising.
In addition to email marketing, you also need to bring existing shoppers back to your website through a method known as retargeting.
Editor's Note: The strategies in my Facebook advertising post allude to retargeting in the middle and bottom of funnel but this post will go into much more depth on the actual implementation.
Get My Free Mini Course On How To Start A Successful Ecommerce Store
If you are interested in starting an ecommerce business, I put together a comprehensive package of resources that will help you launch your own online store from complete scratch. Be sure to grab it before you leave!
A Short Primer On Facebook Retargeting

For all of you who are unfamiliar with the term "retargeting", here's a quick definition.
Whenever someone visits your website, you can have Facebook (and Google) give you a special piece of javascript code called a "retargeting pixel" that allows you to track visitors who have visited your site.
And if the person visiting your site happens to have a Facebook account and is logged into either the Facebook app, messenger or Instagram, they are tracked in Facebook's database.
As Facebook collects more and more data about the visitors to your site, you have the option of running advertisements specifically targeting these people.
These ads are called retargeting ads because you are bringing previous visitors BACK to your website.
And this practice is extremely powerful because the returning customer is targeted, knows about your shop already and is an order of magnitude more likely to buy.
Running Simple Facebook Retargeting Ads
When I first started running Facebook retargeting ads, I did so in a very manual fashion which I'll describe below. (Note: At the time, this was the best way to do it)
For example, I created separate "custom audiences" in Facebook according to what type of product a customer looked at on our site.
Note: Creating a Facebook "custom audience" is simply a way to group and to segment different people that visit your website.

In the example above, I made 4 separate custom audiences. One audience consists of people who looked at pillowcase products on our site. Another audience shopped for handkerchiefs. Another group was for people who looked at our napkins. You get the idea…
And for each of these groups, I showed them a completely different Facebook advertisement.
For example, people that shopped for pillowcases were shown this ad.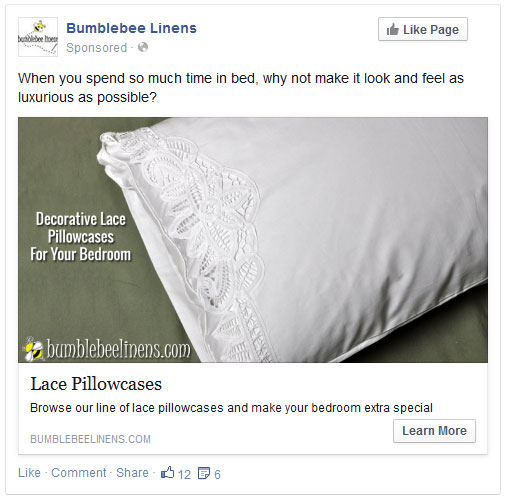 People that shopped for personalized handkerchiefs were shown this ad.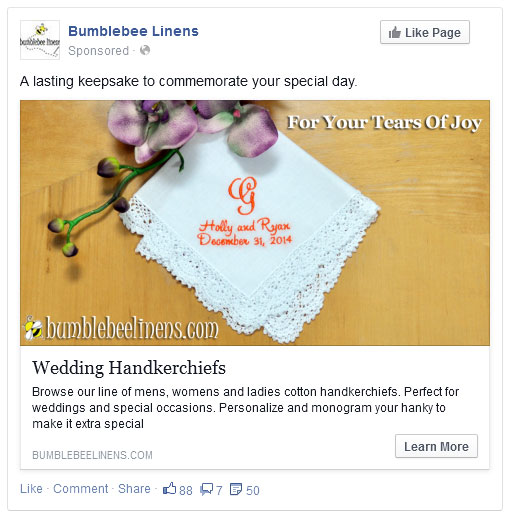 And people that shopped for our napkins were shown this ad.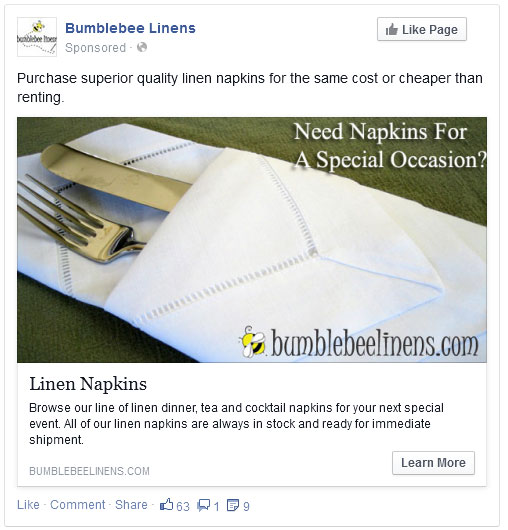 Basically, I had it set up so that anyone who visited my online store was only shown an ad for products that he or she was interested in.
Pretty cool eh? But as it turns out, there were some major problems with running retargeting ads this way.
The Problem With Regular Retargeting
First off, don't get me wrong. Running retargeting ads in the manner described above works extremely well and the conversion rate is off the charts. But there is one major disadvantage.
Because people who see Facebook ads tend to get tired of seeing the same ad over and over, you have to constantly rotate your ad creatives in and out in order to keep things fresh.
You can't run the same retargeting ad for an extended period otherwise 2 things will happen.
People will get tired of your ad and stop clicking
Facebook will notice the reduced activity and will stop showing your ads at all or at a severely reduced frequency
This phenomenon is known as ad burnout and it's a pain in the butt for shop owners like myself who don't have the time or resources to constantly create new ads on a regular basis.
Facebook Dynamic Retargeting Ads

But what if there was a way to create ads on the fly that showed customers exactly which products they looked at on your site?
What if there was a way to tell Facebook about all of the products in your online store and only show potential visitors ads that have the highest chance of converting?
You can do exactly that with Facebook Dynamic Ad Retargeting. Dynamic ad retargeting is the act of showing and creating highly relevant ads on the fly with your existing product database.
This is by far the most powerful type of ad that I use in my online store and it converts like crazy.
It gets all of the benefits of regular retargeting without the maintenance. Here's a sampling of my results
My overall conversion rate for Facebook Dynamic Ad Retargeting is approximately 16%
My return on investment (ROI) is over 12X
It costs me a measely $3.63 per conversion
How To Implement Facebook Dynamic Ad Retargeting
Here are the exact steps on how to setup Facebook Dynamic Retargeting ads for your online shop.
Step 1: Sign Up For A Facebook Business Account
The first thing you need to do is create a Facebook business account at http://business.facebook.com. For some strange reason, they won't let you run these ads with a regular account and this fact is not intuitive during the setup phase.
Step 2: Upload Your Products To Facebook
This step requires a little bit of technical know how but you need to send a feed of all of your products to Facebook. But what's nice here is that Facebook's product feed format is nearly identical to that of Google Shopping.
So if you are on Shopify or BigCommerce, then this is done for you through an app.
Also, Open Cart has a Google shopping feed built in as well.
Simply go to your Facebook business page and tell Facebook where to find your feed. This what my feed looks like as an example.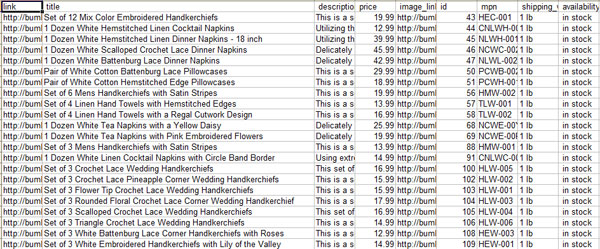 And here's a picture of what the Facebook catalog manager looks like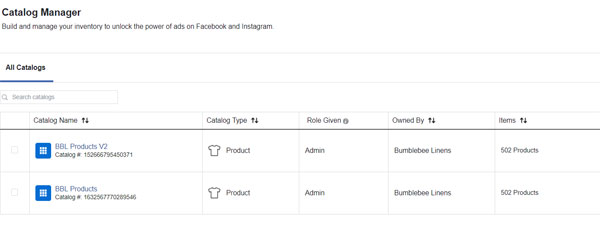 Step 3: Implement Your Tracking Pixel
This is arguably the hardest step in the process because you have to go in and add some custom code to your shopping cart.
But in reality, it's not that hard and any dev can probably do it in 20 minutes. In a nutshell, you need to tell Facebook which pages are product pages and correlate those pages with your product feed.
For example if someone is looking at my Floral German Guipure Lace Handkerchief (shown below), I need to tell Facebook that the visitor is looking at item 535 which corresponds to that item in my product feed.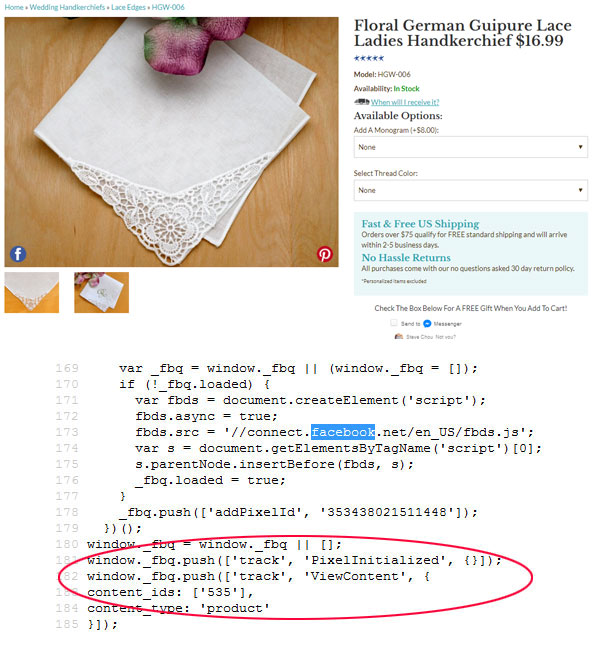 Editor's Note: Once again, if you are on Shopify or BigCommerce, then the pixel is automatically implemented for you.
Step 4: Create The Ad
Creating the ad is the easy part. Facebook has a few ad formats that automatically do what you want. Here's an example of my Facebook Dynamic Product Ad.
In my ad, I show the last several products a customer looked at in addition to product names and product descriptions. This ad format works awesome!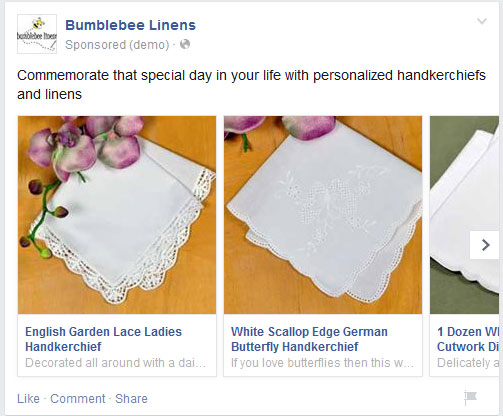 Step By Step Instructions How To Setup Your First Dynamic Product Ad
To create your first dynamic product ad, simply select "Catalog Sales" in the ad manager interface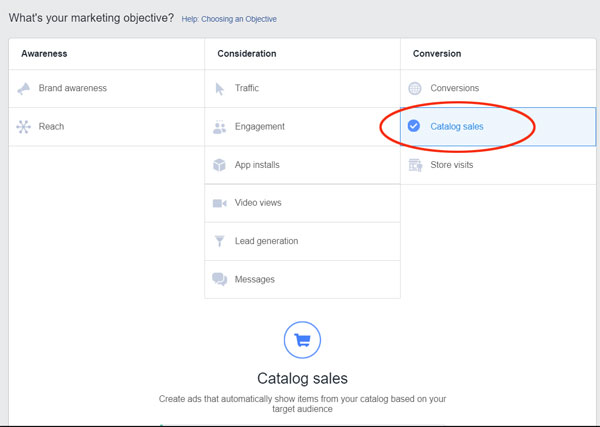 Then, give your campaign a name and select which product catalog you want to use for the campaign.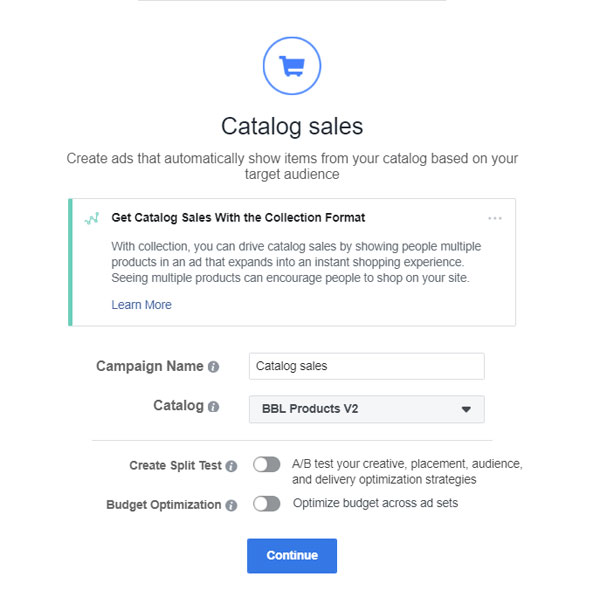 From here, you'll have a choice on how you want to target your visitors and it depends on your goals.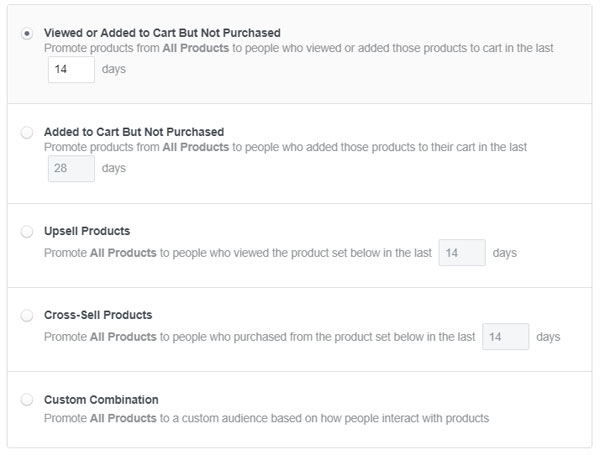 If you want the absolute highest ROI possible, then only target your dynamic ads to people who have added an item to their cart but not purchased.
If your site doesn't get that much traffic, you'll probably want to target people who have either viewed product or added an item to their cart without a purchase.
The choice is yours and depends on your objective. But after you've finalized on your targeting, you need to choose an ad type.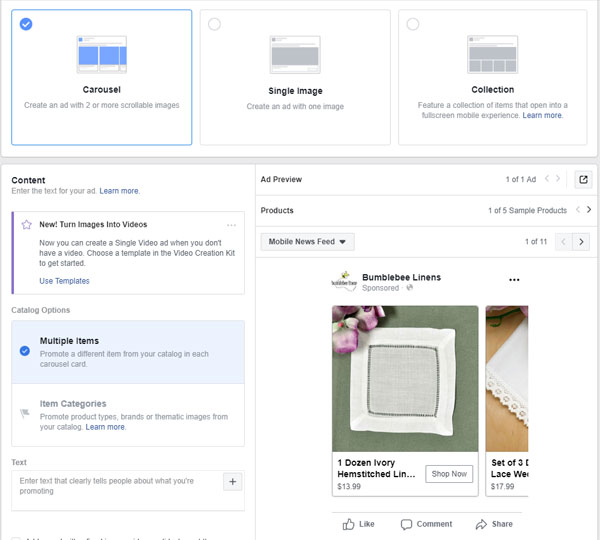 In general, single image ads convert better when you have a customer who has interacted with your site a short period ago.
For example if someone just visited your site in the last hour, they probably only looked at a few items and you want to show them the last thing they looked at.
Carousel ads tend to work better when you sell a wide array of products and your customers typically buy a variety of goods from your shop.
In any case, I hate making broad, sweeping generalizations on what converts well and what does not. You'll need to run your own experiments.
But once you're done, hit "confirm" and your ad will be live!
Advanced Facebook Dynamic Retargeting Strategies
Once you have a few conversions under your belt, it's time to further optimize your Facebook dynamic product ad campaigns.
Even though your dynamic product ads change depending on customer behavior, people can still get tired of seeing the same ad verbiage over and over again.
As a result, you'll want to mix things up and experiment with different creatives.
The first thing you want to do is further segment your dynamic ads by time frame.

In the example above, I have separated out my dynamic product ads into 3 distinct periods
Everyone who viewed product or added to cart with days 0-3
Everyone who viewed product or added to cart with days 4-5
Everyone who viewed product or added to cart with days 6-7
Each time period uses a different creative. For example, here's what our day 0-3 ad looks like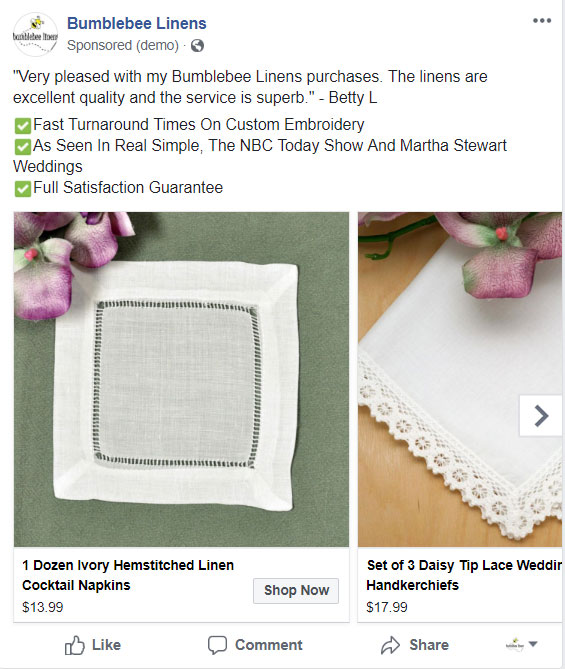 But we mix it up a little bit for some of the other days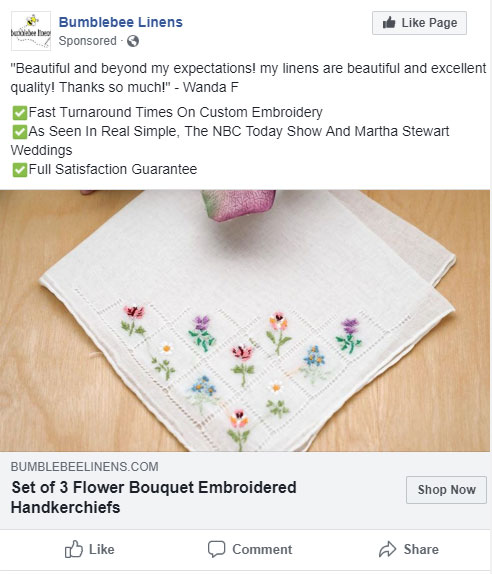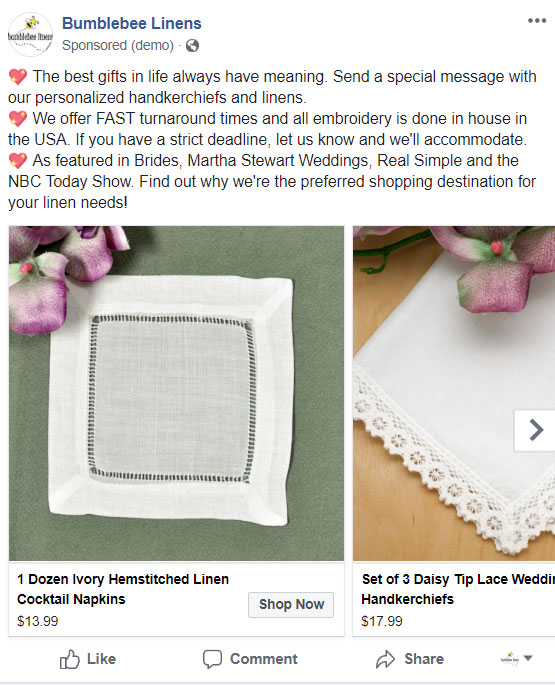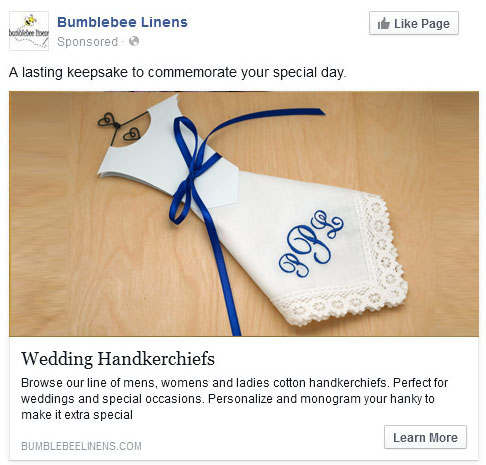 Each ad that you run should take your customer along a journey revealing different aspects of your brand.
You can also include product reviews, testimonials, lifestyle images and interesting stories as part of this journey.
Conclusion
If you aren't running Facebook Dynamic Product Ads, then you are likely leaking customers from your shop. If you combine retargeting with your outbound advertising then you can greatly improve the sales for your online store.
The key to any form of advertising is realizing that customers may not be in the mood to buy when they first encounter your website.
By bringing people back over and over again over the course of days, weeks or months, you have a much higher percentage of obtaining the sale.
In addition to going for just a straight conversion, you should also use your ads to tell a story about your brand. Mix up your ads with products, testimonials, and lifestyle images to reinforce your story.
Good luck!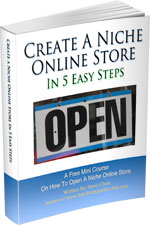 Ready To Get Serious About Starting An Online Business?
If you are really considering starting your own online business, then you have to check out my free mini course on How To Create A Niche Online Store In 5 Easy Steps.
In this 6 day mini course, I reveal the steps that my wife and I took to earn 100 thousand dollars in the span of just a year. Best of all, it's free and you'll receive weekly ecommerce tips and strategies!
Note: This post above may contain affiliate links, which means that I may receive a commission if you make a purchase when clicking a link. Please consult our privacy policy for more information.
Related Posts In Facebook Advertising Strategies
About Steve Chou

Steve Chou is a highly recognized influencer in the ecommerce space and has taught thousands of students how to effectively sell physical products online over at ProfitableOnlineStore.com. 

His blog, MyWifeQuitHerJob.com, has been featured in Forbes, Inc, The New York Times,  Entrepreneur and MSNBC.  

He's also a contributing author for BigCommerce, Klaviyo, ManyChat, Printful, Privy, CXL, Ecommerce Fuel, GlockApps, Privy, Social Media Examiner, Web Designer Depot, Sumo and other leading business publications.

In addition, he runs a popular ecommerce podcast, My Wife Quit Her Job, which is a top 25 marketing show on all of Apple Podcasts. 

To stay up to date with all of the latest ecommerce trends, Steve runs a 7 figure ecommerce store, BumblebeeLinens.com, with his wife and puts on an annual ecommerce conference called The Sellers Summit.  

Steve carries both a bachelors and a masters degree in electrical engineering from Stanford University. Despite majoring in electrical engineering, he spent a good portion of his graduate education studying entrepreneurship and the mechanics of running small businesses.