Joining the Amazon brand registry is more important today than it has ever been before.
Not only does registering your brand allow you to control your listing but it's also a requirement to get your brand gated so that other sellers can not sell your products on Amazon.
It also allows you to enroll in the Amazon Transparency program which further protects your brand from counterfeit sellers.
At a high level, registering your brand on Amazon is straightforward to do.
All you need is the following…
A Branded Email Address – Gmail, Yahoo, Hotmail email addresses are NOT acceptable. In order for Amazon to accept you into the brand registry, you must have your own domain branded email.
Branded Product Images – You will need to provide images that clearly show your branding on the product itself and on the packaging. Note: Stickers are not allowed.
A Unique Identifier For Your Products – Most people just use their UPC as their unique identifier but there are several other options that Amazon accepts as well. Basically, you must tell Amazon how to identify your product with a unique id or part number.
A Registered Trademark – You need to register a trademark with your brand. This can often take 4 months or longer so plan ahead
A Branded Website – You need a fully functional website that is hosted and accessible online.
This post will walk you through all of these steps in great detail and explain the benefits of registering your brand on Amazon.
Get My Free Mini Course On How To Start A Successful Ecommerce Store
Are you interested in creating a strong, defensible brand for your products? If so, I put together a comprehensive package of resources that will help you launch your own online store from complete scratch. Be sure to grab it before you leave!
What Is The Amazon Brand Registry And Why Should You Sign Up?

Quoting Amazon's exact words, the goal of the Amazon Brand Registry is to help manufacturers and brand owners protect registered trademarks (on Amazon) and create an accurate and trusted experience for customers.
But what does that mean exactly and what do you get when you sign up?
First off, Amazon provides you with a special portal with which to manage your various brands. There, you get access to a set of tools and features which allow you to monitor your trademarks and intellectual property for infringement.
For example on the official brand registry site, Amazon gives you access to special search and report tools to quickly report listings that potentially infringe on your brand.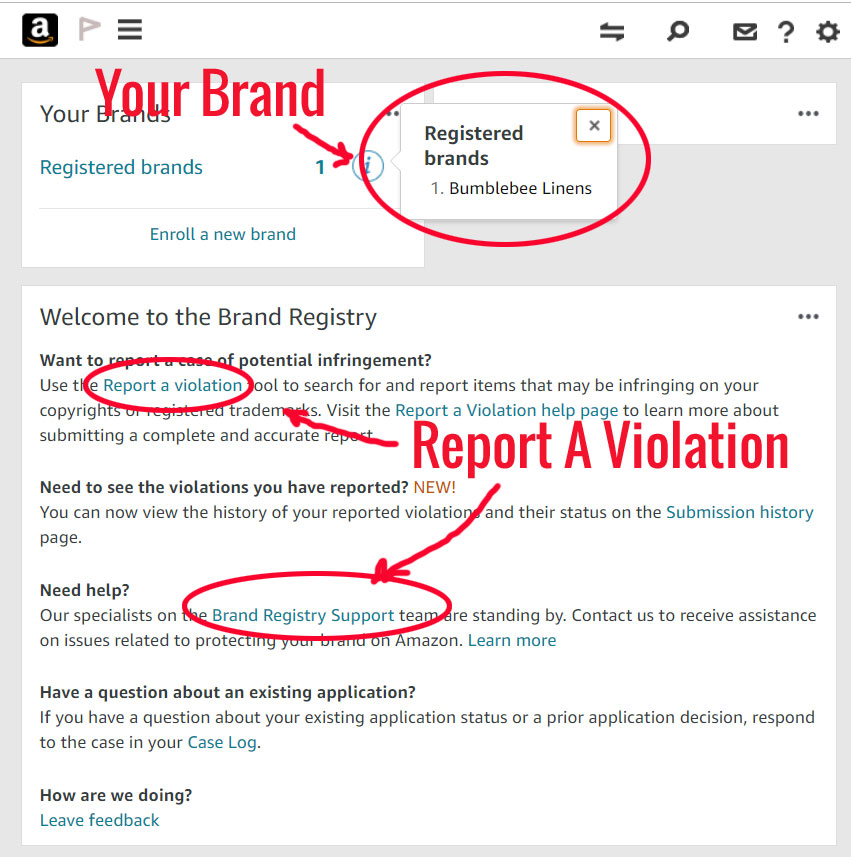 Amazon also collates the information you provide in the application process to provide computer driven predictive protections to algorithmically identify and remove potentially bad listings without your intervention.
For example, if someone is using Bumblebee Linens in their listing titles and bullet points, the brand registry can automatically detect this and prevent unauthorized listings from being created.
Sellers shipping products from countries where I don't manufacture or sell into will be gated as well.
Note: According to Amazon, they treat these violations with urgency, and they investigate and take action on more than 95% of all notices of potential infringement received from brands in Brand Registry within eight hours.
Bottom line, the most important feature of the Amazon Brand Registry is that no other seller can alter your product listings (except Amazon). In addition, no one else can create a product listing under your brand either.
Editor's Note: If you want to know all of the bad things that can happen to you selling on Amazon, then read this post on the dangers of selling on Amazon
What Is The Amazon Transparency Program?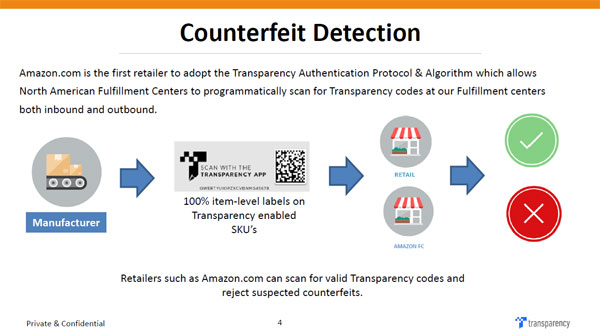 Once your brand is registered on Amazon, you also have access to Amazon's transparency program.
The Amazon Transparency program is a special product tracking service that prevents malicious sellers from selling counterfeit versions of your products.
Here's how it works.
Once you enroll in the Amazon Transparency program, Amazon will allow you to assign a secure code to every product unit that you sell. This code is then used to authenticate the products before they are fulfilled.
For example when someone makes a purchase on Amazon, the special product code is scanned in Amazon's fulfillment center prior to shipment. If the code does not match the list of valid codes, the product is marked as counterfeit.
Even though generating unique codes for every single product you sell requires a bit more work, it should prevent all but the most aggressive sellers from blatantly copying your branded products.
Once again, the Amazon Transparency Program is only available to sellers who are brand registered.
What Are The Requirements For Amazon Brand Registry?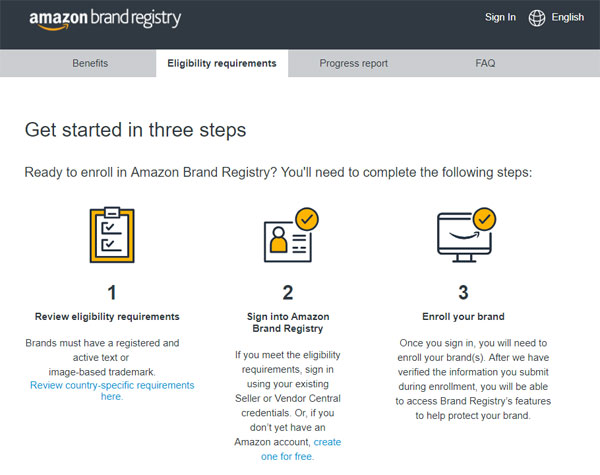 Even though Amazon states that you can enroll in the Amazon Brand registry in just 3 easy steps, it's actually a bit more involved and can be quite a tedious process:)
On the website, Amazon officially states that you only need to have a registered trademark in your country to join the brand registry but in reality, it's a little bit more than that.
Here are the requirements broken down line by line.
Requirement #1: You Need To Register Your Trademark

To be eligible for Amazon Brand Registry, your brand must have an active registered trademark in every country where you want to join.
Getting your trademark is easily the most time consuming part of the entire brand registry process and I highly advise that you hire a lawyer or a firm to take care of this process for you.
Yes. You can handle the entire trademark process all by yourself for about $300 but it's not worth it.
There are many tiny little gotchas that are specific to your brand that you may not be aware of and you want to do it right.
In any case, because there are a few different types of trademarks, here's specifically what you need for Amazon.
Amazon states that your trademark must be in the form of a text-based mark or an image-based mark with words, letters, or numbers.


The example on the left is a text-based mark. Basically, it's the name of your company.
The example on the right is an image based mark which includes the picture of your logo along with your company name.
Both are valid trademarks for the Amazon brand registry. Typically trademarks take between 4 months to a year to get registered depending on what you are trying to trademark.
For example, 3 years ago I tried to trademark my conference "The Sellers Summit" but had a lot of trouble doing so because the words "Sellers Summit" were too generic. As a result, the process took forever.
Again, getting help from a lawyer will greatly expedite the trademark process.
Requirement #2: You Need Images With Your Brand On Your Product
As part of the application process, Amazon will ask for images that clearly show your branding on the product itself and on the packaging.
And by "on the product itself", I literally mean that your brand must be on the product itself. Stickers are not allowed.
For our linen products, we have our brand sewn onto the fabric of our products.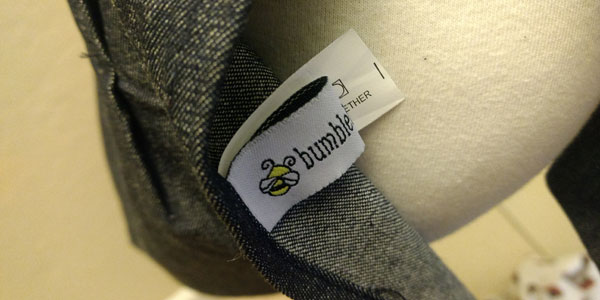 If you have a product that is small and difficult to apply your branding directly to, then you can usually get by with custom packaging that clearly shows your brand.
Just be prepared to show a professional image of your product that displays your logo. Depending on who you get to review your application, Amazon will usually let you pass as long as your photo looks legit and professional.
Requirement #3: You Need Your Own Branded Website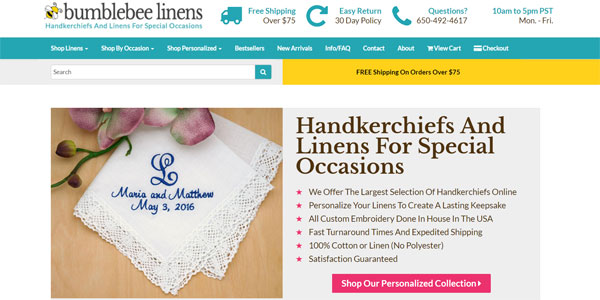 Now most people breeze through the first few requirements but balk at the website creation part.
And if you are new to ecommerce and a non technical person, it can be quite intimidating to put up your own hosted website for the purposes of Amazon brand registry.
One thing that I've noticed from teaching ecommerce is that a lot of people just want to sell on Amazon. They have no desire to sell on their own website and if they do, it's not going to happen until they've validated their niche.
But because Amazon forces you to have your own website for the purposes of brand registry, a lot of people end up paying for an overkill solution.
For example, some Amazon sellers are paying extra for a Shopify or a BigCommerce store when they could easily get by with a $3 per month website hosted on a cheap webhost like BlueHost
Now signing up for a fully hosted platform like Shopify is all fine and good if you plan on selling on your shop right away.
But if you're still in the process of validating your products, there's no reason to pay for more than you need.
How To Create An Amazon Brand Registry Site In Under 10 Minutes With No Technical Experience Required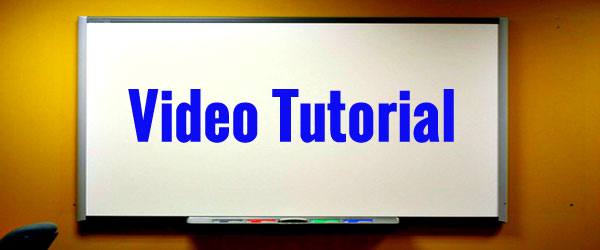 In the video below, I put together a full step by step video tutorial on how to create a fully functional ecommerce store for the purposes of Amazon brand registry.
This can be done in under 10 minutes and will cost you less than $3 dollars per month. It will contain your logo, your products and all of the verbiage you need on your site to get accepted into Amazon's brand registry.
And the best part?
The website that you are creating is a fully functional ecommerce store that can handle actual transactions should you ever decide to sell on your own platform.
Note: The tutorial below will show you how to set up your website on BlueHost which is where I ran my full blown ecommerce store long ago. If you sign up using this link, you will get 63% off of the regular price.
What's nice is that you can set up Open Cart to direct your product pages directly to your Amazon listings if you don't plan on taking orders in your own shop.
Here's what's included for $3.95/month
Domain branded email – This is actually a requirement for Amazon brand registry. No gmail or yahoo addresses are allowed!
Free Domain – Ideally, you would use your trademarked name as your domain.
OpenCart installation – It's a one click install
Enjoy the step by step tutorial!
How To Setup Your Email
A domain branded email address is also a requirement for Amazon brand registry. Here's how to create a custom email for your online store for free.
Login into your CPanel and click on "Email Accounts"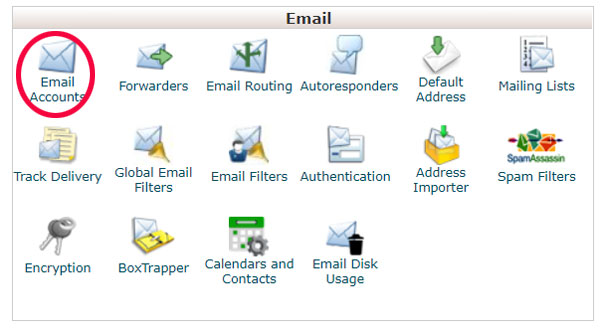 Click "Add Email Account"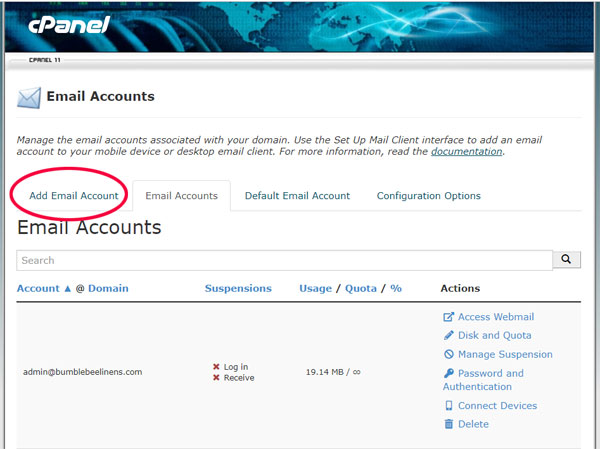 Follow the directions and fill in the form to create your own custom email address!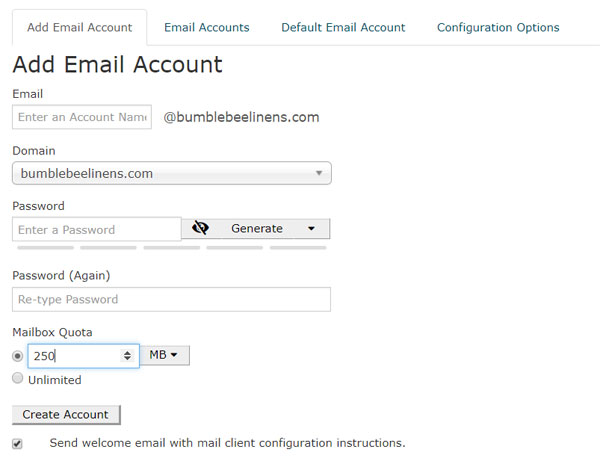 Note: You can have this email address automatically forward all emails to your main email inbox by clicking on "Access Webmail" and then selecting "Forwarding" from the drop down menu.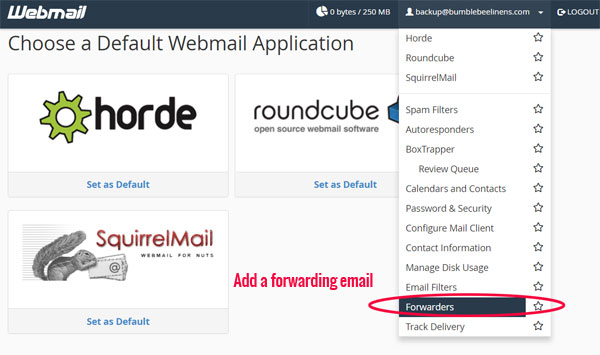 Then, make sure you use this email address when you apply for brand registry.
How To Setup The Miscellaneous Pages On Your Site
In order for your site to be accepted by Amazon, you must make sure that your site is complete. This means that every page on your site must be properly populated.
For example, you will need to update the following pages mentioned in the video tutorial
About Us – This page describes your shop's mission and purpose and a little bit about yourself.
Shipping/Delivery Information – Feel free to use verbiage from my shipping page.
Privacy Policy – Feel free to use verbiage from my privacy policy
Terms/Conditions – Feel free to use verbiage from my terms and conditions
In the event that someone randomly finds your site online and wants to make a purchase, you can prevent people from checking out by setting your in-stock quantities of your products to 0. Or you can point people directly to Amazon.
Remember, the purpose of this tutorial is to put up a quick and dirty brand page to get accepted into Amazon's brand registry.
If you want to accept transactions on this website, please sign up for my free 6 day mini course where I'll walk you through the process of completing the full setup of your shop.
In a nutshell, to turn this into a full blown ecommerce store, you will need an SSL certificate and a payment processor such as Paypal.
Good luck!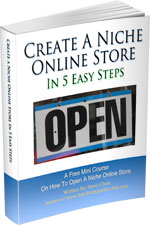 Ready To Get Serious About Starting An Online Business?
If you are really considering starting your own online business, then you have to check out my free mini course on How To Create A Niche Online Store In 5 Easy Steps.
In this 6 day mini course, I reveal the steps that my wife and I took to earn 100 thousand dollars in the span of just a year. Best of all, it's free and you'll receive weekly ecommerce tips and strategies!
Note: This post above may contain affiliate links, which means that I may receive a commission if you make a purchase when clicking a link. Please consult our privacy policy for more information.
Related Posts In Getting Started On Amazon
About Steve Chou

Steve Chou is a highly recognized influencer in the ecommerce space and has taught thousands of students how to effectively sell physical products online over at ProfitableOnlineStore.com. 

His blog, MyWifeQuitHerJob.com, has been featured in Forbes, Inc, The New York Times,  Entrepreneur and MSNBC.  

He's also a contributing author for BigCommerce, Klaviyo, ManyChat, Printful, Privy, CXL, Ecommerce Fuel, GlockApps, Privy, Social Media Examiner, Web Designer Depot, Sumo and other leading business publications.

In addition, he runs a popular ecommerce podcast, My Wife Quit Her Job, which is a top 25 marketing show on all of Apple Podcasts. 

To stay up to date with all of the latest ecommerce trends, Steve runs a 7 figure ecommerce store, BumblebeeLinens.com, with his wife and puts on an annual ecommerce conference called The Sellers Summit.  

Steve carries both a bachelors and a masters degree in electrical engineering from Stanford University. Despite majoring in electrical engineering, he spent a good portion of his graduate education studying entrepreneurship and the mechanics of running small businesses.