When importing goods from China, it's crucial to label your cargo with the correct shipping marks to ensure they reach their destination quickly and safely.
Failing to do so can lead to lengthy delays, damaged products, and lost revenue.
In this article, I'll explain what shipping marks are and how to properly label your cargo to ensure a smooth and successful international shipment.
I'll also list the Amazon FBA labeling requirements so you can get your products shipped without issues.
Get My Free Mini Course On How To Start A Successful Ecommerce Store
Are you interested in creating a strong, defensible brand for your products? If so, I put together a comprehensive package of resources that will help you launch your own online store from complete scratch. Be sure to grab it before you leave!
What Are Shipping Marks?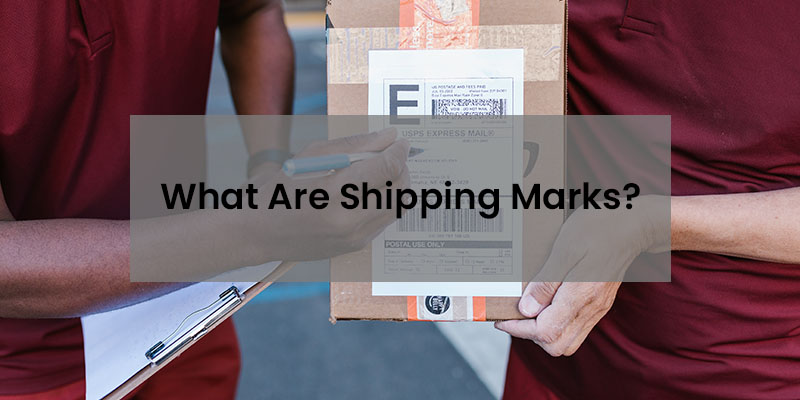 Shipping marks are unique identifiers in the form of symbols, numbers, and words on packages and containers that facilitate efficient loading, unloading, transportation, and storage of a delivery.
Basically, a shipping mark is how your boxes are labeled during a shipment. Without the right shipping marks, the likelihood of problems with a shipment increase dramatically. 
Manufacturers use shipping marks to record the volume and weight of cartons before booking transportation and declaring customs.
Customs officers can easily supervise and release the goods in batches if the necessary shipping marks are on the packages.
Similarly, consignees, or buyers, can differentiate cartons based on their colors and sizes if the appropriate information is labeled on the packages.
Are Shipping Marks Required?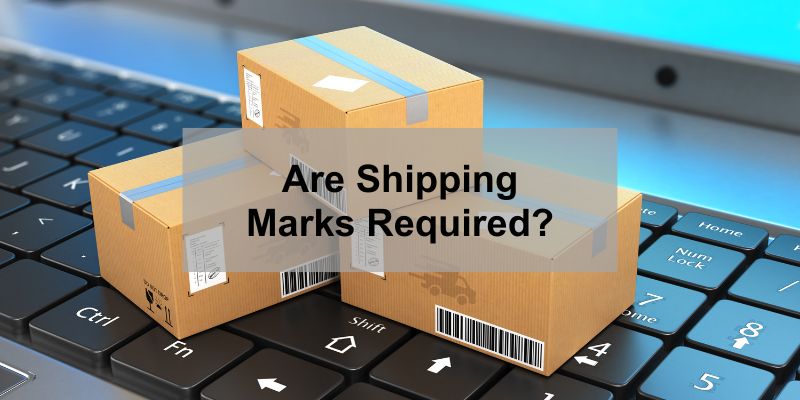 Shipping marks are not legally required when importing from China, but they are highly recommended as they help in the efficient identification, handling, and tracking of your goods during transportation and storage, reducing the risk of lost or misplaced shipments.
By using shipping marks, you increase the chances that your imported goods will reach their destination without any mix-ups, delays, or losses. Properly marked shipments also make it easier for customs officials to inspect and clear your goods, which can help avoid unnecessary hold-ups.
Who Provides The Shipping Marks?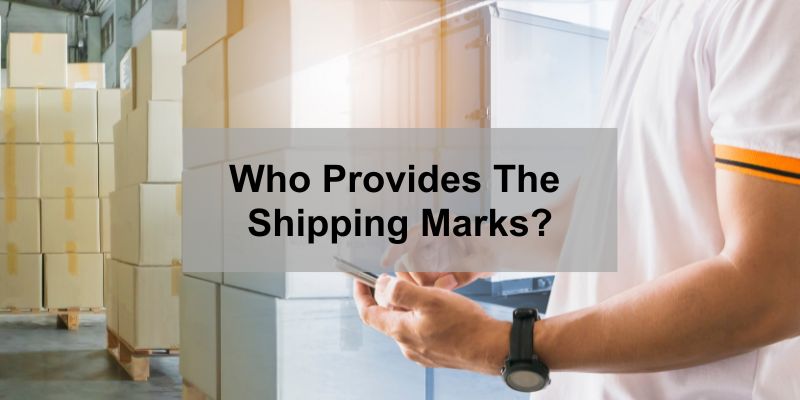 Shipping marks are typically provided by the exporter or the manufacturer of the goods being shipped. As the importer or buyer, you must specify the shipping marks you want to be used on your shipment, ensuring that they meet your requirements and preferences for easy identification and tracking.
Once you have provided the necessary shipping mark details to the exporter or manufacturer, they will incorporate the marks on the packages and containers before shipping the goods. It is essential to communicate your desired shipping marks clearly and in advance to avoid any misunderstandings or delays in the shipment process.
Types Of Shipping Marks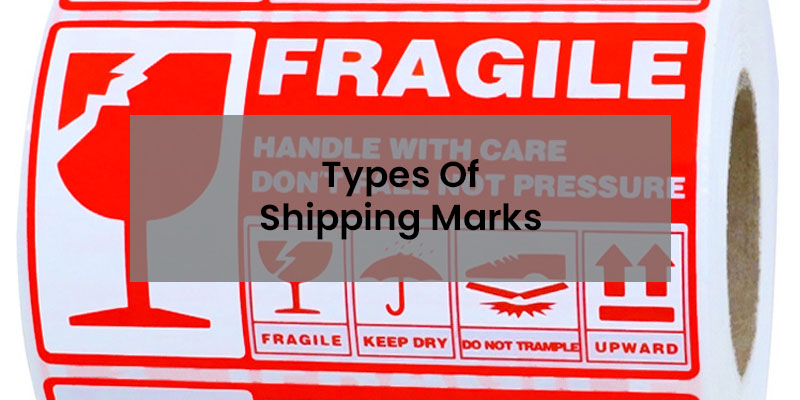 The most common types of shipping marks are indication signs, consignee marks, carton numbers, measurement markings, weight marks, and country of origin markings. Let's take a closer look at each mark.
Indication Marks
Indication signs are visual symbols that provide additional information about the handling or shipment requirements of the goods.
The two main types of indication signs are handling marks and dangerous goods markings.
Handling Marks
Handling marks are protection signs that explain how to handle the goods during transportation as well as loading and unloading.
For example, fragile items are marked with "This way up," "Handle with care," and "Fragile" signs.
Dangerous Goods Markings
Dangerous goods markings are images or symbols alerting handlers to hazardous items contained in a package.
Dangerous goods markings include "poison," "flammable liquids," and "protect from heat." They must be permanent and easy to read. 
Consignee Marks
Consignee marks list the name, address, and contact information of the individual or company accepting delivery of the goods at the port.
Consignee marks may also include the receiving company's logo, purchase order number, product details such as color and size, or other information that helps to link the shipment to a specific order.
Carton Number
The carton number indicates the total quantity of cartons and the unique number of each box.
For example, if you have 200 cartons, the supplier will assign a serial number from 1 to 200. The 21st box will be marked as s "CTN No.: 21/200".
Having a carton number helps handlers collect, sort, and dispatch your shipments.
Measurement And Weight Marks
Carton size and weight marks make it easy to calculate the shipment volume in cubic meters. They also help the shipping receiver(s) arrange the packages efficiently. 
Carton size marks are calculated by measuring the external dimensions of the outer packaging, including the length, width, and height in centimeters or inches.
Weight marks are calculated by measuring the gross and net weight of a carton, marked as "G.W.: 25 KG or 55.11 LB" or "N.W.: 20 KG or 44.09 LB."
Country Of Origin Markings
The outer sides of shipping cartons, as well as the products themselves,  must have the country of origin markings. For example, if you import goods from China, the cartons should bear a sign such as "Made in China" or "Made in PRC."
The country of origin label should be in both English and the language of the country of origin. Not having the country of origin label can lead to rejection and fines at the port.
How Do I Create A Shipping Mark?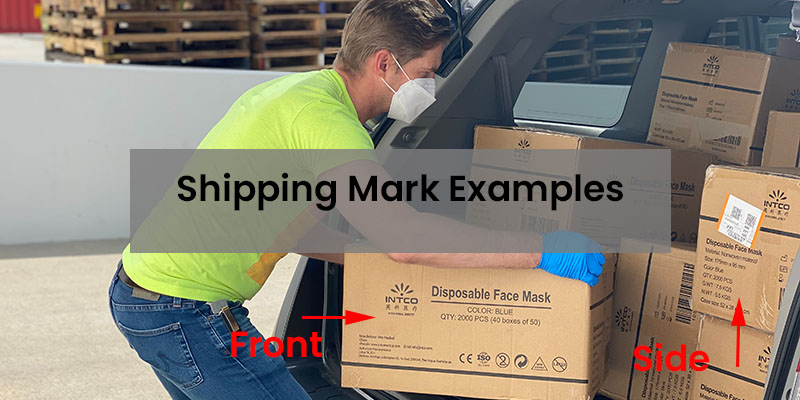 Creating a shipping mark involves compiling relevant information about your shipment that will help in identification, tracking, and handling.
Here is a step-by-step guide on how to create a shipping mark: 
Consignee's Name or Logo: Include the name or logo of the importer, buyer, or the final recipient of the goods. This makes it clear who the shipment is intended for.
Country of Origin: Indicate the country where the goods were manufactured or produced. This is particularly important for customs clearance and compliance with import regulations.
Port of Destination: Specify the port where the shipment is headed. This information helps logistics personnel route your shipment correctly.
Package Number: Assign a unique number to each package or container in the shipment. This helps in tracking individual packages and ensures accurate counting and handling.
Gross and Net Weight: Clearly indicate the gross and net weight of each package. This information is essential for carriers and customs officials when determining shipping costs and import duties.
Dimensions: List the dimensions (length, width, and height) of each package or container. This information helps in planning space allocation during transportation and storage.
Special Handling Instructions: If your shipment contains fragile, hazardous, or temperature-sensitive goods, include appropriate symbols and instructions to ensure proper handling.
Optional Information: You may also want to include additional details such as order or invoice numbers, a description of the goods, or any other relevant information that could be helpful during the shipping process.
Once you have compiled this information, design a clear and legible layout for your shipping mark. Ensure that the text and symbols are large enough to be easily read and understood by logistics personnel.
Shipping marks can be divided into two types based on their location:
Front mark or main mark
Side mark
Both marks can be the same or different, but they should clearly display essential information about the consignee, product, carton volume, and indication signs.
Here's an example of a shipping mark on the front and side of a carton:
Front mark
Consignee's Name: Bumblebee Linens LLC
Destination: Long Beach, USA
Item Name: Linens
Purchase Order No.: 0001159
Country of Origin: Made in China
CTN No.: 21/200 (carton serial number/the total number of cartons)
Handling marks for "Keep Dry" and "This Way Up."
Side mark
Item Name: Linens
QTY: 72 PCS/CTN
CTN No.: 21/200
G.W.: 25 LBS (55.11 KG)
N.W.: 20 LBS (44.09 KG)
MEAS: 35 x 25 x 45CM (carton size)
Handling marks for "Keep Dry" and "This Way Up."
Shipping marks must be easy to read, waterproof, and visible from a distance. That's why markings are generally printed directly on the box for large orders, while suppliers use labels for smaller orders.
If the shipping marks have incorrect details, your shipment might be returned to the country of origin.
Amazon FBA Shipping Mark Requirements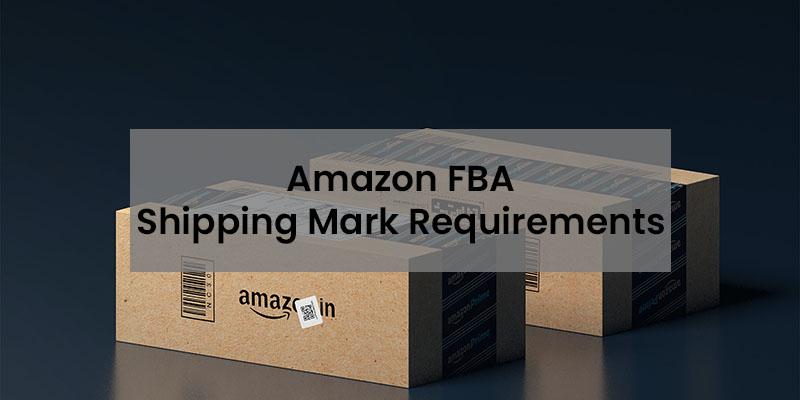 You must follow strict labeling and packaging requirements when you ship or import goods to Amazon FBA.
For example, if you're sending a shipment directly to Amazon FBA, each carton must have an additional Amazon carton label.
Your supplier will provide you with the necessary information, such as carton dimensions, weight, and total quantity of items per box for creating these labels.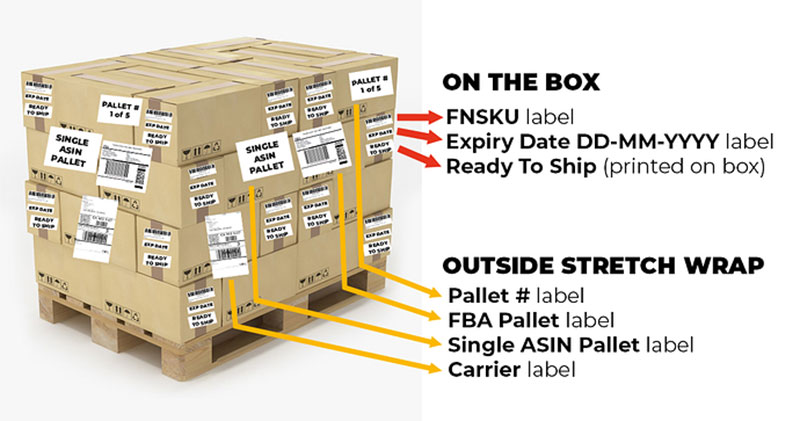 Here are the five main labels required for Amazon FBA:
FNSKU: FNSKU or Fulfillment Network Stock Keeping Unit is an Amazon-specific barcode placed on each product and outer packaging of FBA goods. Each product type, including colors and sizes, have a different FNSKU.
Outer box label: The outer carton label is placed on the outside of the package. It consists of the destination, country of origin, buyer's details, and carton size and weight.
Pallet label: A pallet should have a shipping label on each side if you're shipping pallets. Each pallet must have the vendor name, purchase order number, to and from address, number of cartons, and pallet number.
Made in China label: All products imported to the US from China should have a "Made in China" label. Similarly, the outside of cartons must be labeled "Made in China."
Overweight label: If a single carton weighs 50 to 99 lbs, you need to mark the carton with a "Team Lift" label. Similarly, cartons above 100 lbs must have a "Mechanical Lift" sign.
Here are some guidelines to follow to ensure the smooth transportation of shipping cartons:
Use proper packaging to protect each product. For example, if you're selling speakers, you must use bubble wrap and other protective materials to protect each item in the package.
Products sensitive to dust or moisture should be packed in a transparent plastic bag.
Products with multiple parts that need assembling must be packed together for delivery to an FBA warehouse. For example, you can't pack a tabletop in one box and its legs in another.
Use between two and four shipping labels in case of damage or stain on a label.
Place the shipping labels away from the edge, opening, and corner of the cartons.
Don't cover the shipping label with adhesive tape.
The position of the shipping labels must be easily visible when packing and unpacking the pallet at the FBA warehouse.
Individually wrap fragile items to avoid damage during transportation.
Don't add the receiver's trade name to avoid confusion.
Remove old shipping labels and markings if you're reusing cartons.
Ensure there's no third-party logo or website name on the cartons.
Note: If you don't correctly label the cartons, Amazon may reject or repackage the goods and bill you for them.
If you're new to the Amazon FBA program, you may wonder who does the labeling. Typically, your supplier will do the labeling. But you need to ensure they label your cartons and pallets correctly.
You can ask your supplier to send images of every product sample, carton, and pallet to be on the safer side. Alternatively, you can use a third-party logistics company (3PL) or an Amazon FBA prep center to label and ship the products properly.
Final Thoughts On Shipping Marks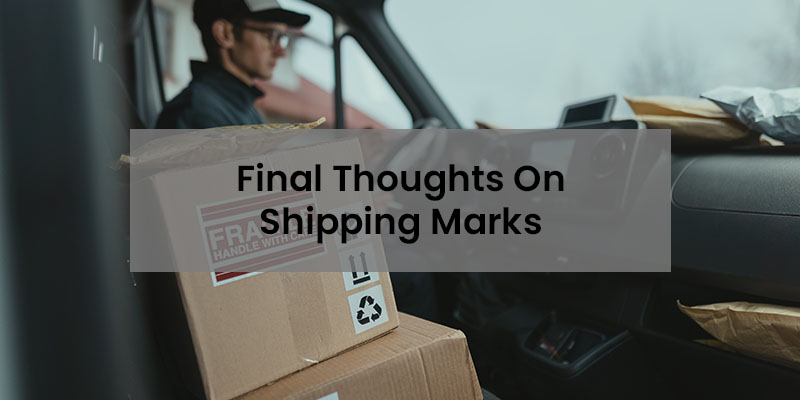 Shipping marks are a critical aspect of the shipping process and cannot be overlooked. They serve as a unique identifier for your cargo, allowing it to be tracked and located easily during transportation.
Shipping marks can also provide important information about the contents of the cargo, such as its weight, destination, and handling instructions. If your cargo is labeled properly, you can expect a smooth and efficient shipping process.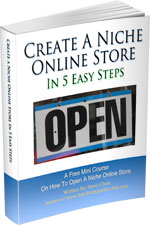 Ready To Get Serious About Starting An Online Business?
If you are really considering starting your own online business, then you have to check out my free mini course on How To Create A Niche Online Store In 5 Easy Steps.
In this 6 day mini course, I reveal the steps that my wife and I took to earn 100 thousand dollars in the span of just a year. Best of all, it's free and you'll receive weekly ecommerce tips and strategies!
Note: This post above may contain affiliate links, which means that I may receive a commission if you make a purchase when clicking a link. Please consult our privacy policy for more information.
Related Posts In Shipping & Fulfillment
About Steve Chou

Steve Chou is a highly recognized influencer in the ecommerce space and has taught thousands of students how to effectively sell physical products online over at ProfitableOnlineStore.com. 

His blog, MyWifeQuitHerJob.com, has been featured in Forbes, Inc, The New York Times,  Entrepreneur and MSNBC.  

He's also a contributing author for BigCommerce, Klaviyo, ManyChat, Printful, Privy, CXL, Ecommerce Fuel, GlockApps, Privy, Social Media Examiner, Web Designer Depot, Sumo and other leading business publications.

In addition, he runs a popular ecommerce podcast, My Wife Quit Her Job, which is a top 25 marketing show on all of Apple Podcasts. 

To stay up to date with all of the latest ecommerce trends, Steve runs a 7 figure ecommerce store, BumblebeeLinens.com, with his wife and puts on an annual ecommerce conference called The Sellers Summit.  

Steve carries both a bachelors and a masters degree in electrical engineering from Stanford University. Despite majoring in electrical engineering, he spent a good portion of his graduate education studying entrepreneurship and the mechanics of running small businesses.