One of my biggest pet peeves with product reviews found on the Internet are that they are often written by people who have never used the product or service. And most online reviews lack any sort of depth whatsoever.
For example, when I was looking for objective reviews on shipping services for ecommerce, all I found were glorified feature comparisons between the different companies. Not very useful!
Anyway, my wife and I were recently in the market for a new shipping service for our online store and we ended up switching over from Stamps.com to ShippingEasy.com.
If you just happen to be looking for a good shipping solution for your online store, this post compares and contrasts my real life experiences with these 2 shipping platforms.
Get My Free Mini Course On How To Start A Successful Ecommerce Store
If you are interested in starting an ecommerce business, I put together a comprehensive package of resources that will help you launch your own online store from complete scratch. Be sure to grab it before you leave!
Why We Started Out With Stamps.com
When we first launched our online store, all of our shipping was done through USPS. Why? It's because USPS is by far the cheapest shipping option out there. It's simple to use and the post man will pick up your packages for free wherever you are.
As a result, Stamps.com was a natural match for our shop early on. Not only do they provide a very straightforward integration to most shopping carts but they also provide discounts on various USPS services that are NOT available if you go to the post office.
But over the years, USPS has become more and more unreliable. Even though they "guarantee" a certain delivery time, they are often late. And even worse, we've had several cases when packages have been marked as shipped even though they never truly arrived.
As a result, we now ship all mission critical packages (anything that has a strict deadline) via UPS. In my experience, UPS and FedEx are much more reliable carriers and as our volume began to grow, we found it cumbersome to use Stamps.com and multiple other carrier websites to ship our orders.
Enter ShippingEasy.com
Ultimately, the main reason we decided to switch away from Stamps.com to ShippingEasy.com was because of the multi carrier integration. ShippingEasy allows you to ship from UPS, USPS, FedEx and DHL all from the same interface which is something that Stamps.com can not do.
But a funny thing also happened when we made the switch.
Have you ever been with a service so long that you've stopped keeping up with what else is out there? Have you ever used a service so long that you got used to its idiosyncrasies and just lived with them instead of looking for something new and better?
Switching over from Stamps.com to ShippingEasy reminded me of when I bought a brand new car earlier this year. All of sudden, I had access to cool features like Bluetooth and GPS navigation that my 16 year old beater car didn't have, features that I never knew I needed because I wasn't exposed to them.
Anyway, in this post I want to give you a detailed comparison of my experiences with Stamps.com vs ShippingEasy. Both services can get the job done, but one clearly does the job better than the other.
The Pros Of Using ShippingEasy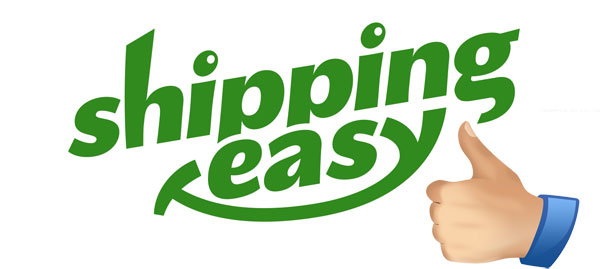 One of my biggest pet peeves with Stamps.com is that they only allow you to re-print labels twice. So whenever our printer experienced multiple paper jams, we would have to request a refund of the label and repurchase it.
Presumably this "feature" was meant to reduce mail fraud but boy was this a major pain in the butt!
ShippingEasy allows you to reprint labels as many times as you need. This may not sound like a big deal but trust me it is!
Order Batching Is Much Simpler With ShippingEasy
We use a ton of flat rate shipping envelopes and flat rate shipping boxes for our business. And these packages are by far the fastest to ship because they don't need to be weighed to determine the final cost.
With Stamps.com, even though most of our packages were of the flat rate variety, we still had to mark each package individually as flat rate which was extremely tedious.
But with ShippingEasy, you can create a group of orders that all have the same properties (all flat rate envelopes for example) and batch them all at once. This saves a ton of time!
You Can Save Common Package Configurations
Some of our orders use our own boxes and packaging. And the problem when you use your own boxes is that you have to enter in the dimensions of your box before they can be shipped.
ShippingEasy allows you to save these box configurations in a database so that you don't have to re-enter the same dimensions over and over again.
ShippingEasy Is Cheaper Than Stamps.com For USPS Packages
As far as costs go, the postage savings between Stamps.com and ShippingEasy are pretty similar. But depending on the type of postage you purchase, you can potentially save a lot more money with ShippingEasy because they offer Commercial Plus rates for USPS.
Especially if you ship a lot of priority mail packages, commercial plus pricing can be significantly cheaper than the regular price. So if you find yourself using priority mail often, you will definitely save more with ShippingEasy.
Also, ShippingEasy allows you to boost the shipping limit for First Class mail up to 16oz per package. So if you mostly ship packages below l lb in weight, then having First Class Rates up to 16 oz will save you a ton of cash.
Some Miscellaneous Benefits Of ShippingEasy
There were some other pleasant surprises that stood out when we made the switch to ShippingEasy as well.
Instead of having to fumble through the user interface and figuring everything out on our own, ShippingEasy actually set up an appointment for us to have a live sales rep walk us through the integration.
This hands on approach was very useful! And it gave us the confidence to make the switch sooner rather than later. The support over there is pretty awesome.
Some other minor benefits of ShippingEasy include
The ability to see your shipping zones to instantly tell whether they are commercial or residential
The automatic correction of zip codes when the customer has entered it incorrectly or without the last 4 digits
Finally, I really like how ShippingEasy is a web based application as opposed to a PC based app. This allows you to basically ship from anywhere you happen to be.
With Stamps, we had to have this clunky PC app installed on every computer and it sometimes didn't play nice across different machines.
The Cons Of Using ShippingEasy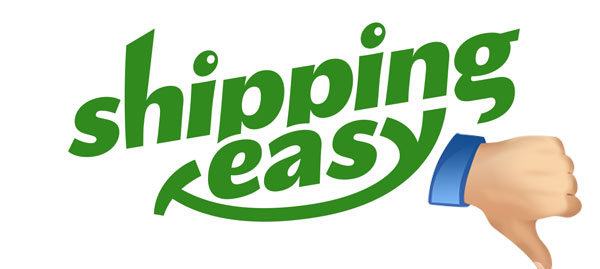 We've been on ShippingEasy for about 5 months now and while it's a lot better than Stamps.com, there are still some issues we have with it. Here's what we don't like about it.
You Can't Leave The Carrier A Message On The Package
Certain customers may have specific requirements for the delivery of their package. For example, some customers want their order delivered to their back door.
Unfortunately, ShippingEasy does not allow you to specify these messages on an individual order basis when doing a batch shipment.
You Can Only Sort The Orders By Order Number
This idiosyncrasy probably won't affect most of you. But we like to sort our orders alphabetically as we are fulfilling them. Since ShippingEasy does not allow us to do this, we've had to change our shipping and fulfillment procedures to accommodate.
ShippingEasy Does Not Provide Address Correction Suggestions
Every now and then, we receive an order where the customer has entered in an incomplete address. Now what's nice about Stamps.com is that the software automatically suggests possible addresses.
For example, Stamps.com will sometimes autofill the address with a missing suite number or building number.
ShippingEasy however, will only flag an address as incomplete and you have to do your own leg work to determine the right address.
ShippingEasy Does Not Allow You To Send Exception Notifications To The Customer
This "feature" is probably the most annoying aspect of ShippingEasy. Whenever you make a shipment on the UPS.com website directly, you have the option of automatically emailing your customer when something wrong has occurred with their package.
For example if a package is delayed due to inclement weather, the customer is instantly notified of the delay. Unfortunately, ShippingEasy does not allow you to send this notification.
ShippingEasy Software Is Slower Than Stamps.com
Finally because ShippingEasy is a web based application, it's generally slower than the Stamps.com desktop app.
For example if you have a USB scale hooked up to your computer, weighing a package with Stamps.com is instantaneous whereas ShippingEasy takes like 5 seconds for the weight to appear on the screen.
This is probably one of the main tradeoffs between using a web based app versus a native PC application.
The Pros Of Using Stamps.com

Even though we've been really happy with the switch to ShippingEasy.com, there are still a few features that we really miss about Stamps.com
For one thing, Stamps.com displays every single order on the same screen and you can pretty much ship your packages without switching back and forth between different menus.
However with ShippingEasy, you first have to select which packages you want to ship. Then, it takes you to a different screen where you must go through and decide on the various shipping parameters. Kind of annoying.
Stamps.com also allows you to sort your packages in a variety of ways whereas ShippingEasy only allows you to sort by order number.
And finally, I really miss the fact that Stamps.com is 100% free once you cross a certain shipping threshold.
ShippingEasy is the opposite. While their service is free for up to 50 packages a month, you'll end up paying a monthly fee if your store does any sort of volume.
Overall
My wife and I made a huge mistake by sticking with the same shipping vendor for such a long time. The problem with running a business is that it's hard to switch away from something that's already working even though it may not be working that well.
And as an engineer, I have a tendency to live with pain rather than to seek a completely new solution to alleviate it.
If you plan on shipping with multiple carriers (USPS, UPS, FedEx), then going with ShippingEasy is a no brainer.
And even if you are a brand new store, ShippingEasy is free for up to 50 packages a month. Hopefully my experiences and this detailed review was helpful!
Click here to sign up for ShippingEasy and get a free account for up to 50 packages a month!
[yasr_visitor_votes size="small"]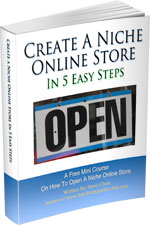 Ready To Get Serious About Starting An Online Business?
If you are really considering starting your own online business, then you have to check out my free mini course on How To Create A Niche Online Store In 5 Easy Steps.
In this 6 day mini course, I reveal the steps that my wife and I took to earn 100 thousand dollars in the span of just a year. Best of all, it's free and you'll receive weekly ecommerce tips and strategies!
Note: This post above may contain affiliate links, which means that I may receive a commission if you make a purchase when clicking a link. Please consult our privacy policy for more information.
Related Posts In Shipping & Fulfillment
About Steve Chou

Steve Chou is a highly recognized influencer in the ecommerce space and has taught thousands of students how to effectively sell physical products online over at ProfitableOnlineStore.com. 

His blog, MyWifeQuitHerJob.com, has been featured in Forbes, Inc, The New York Times,  Entrepreneur and MSNBC.  

He's also a contributing author for BigCommerce, Klaviyo, ManyChat, Printful, Privy, CXL, Ecommerce Fuel, GlockApps, Privy, Social Media Examiner, Web Designer Depot, Sumo and other leading business publications.

In addition, he runs a popular ecommerce podcast, My Wife Quit Her Job, which is a top 25 marketing show on all of Apple Podcasts. 

To stay up to date with all of the latest ecommerce trends, Steve runs a 7 figure ecommerce store, BumblebeeLinens.com, with his wife and puts on an annual ecommerce conference called The Sellers Summit.  

Steve carries both a bachelors and a masters degree in electrical engineering from Stanford University. Despite majoring in electrical engineering, he spent a good portion of his graduate education studying entrepreneurship and the mechanics of running small businesses.