I received a question from a reader the other day about how to handle inventory if you want to run your online store out of your house. Specifically, she asked.
Should I just store everything in the garage? What's the best way to run my online store without having to rent an office?
In reality, you should do what works for you. If you don't mind losing your garage by filling it with inventory for your business, then so be it.
But as your business grows, you'll soon find that your stuff will eventually fill up the garage and then slowly creep into your house inch by inch. If you don't plan carefully, your entire house could be overrun with merchandise!
Applying The Principles Of Locality
The best way to store inventory and run your business out of your own home is by taking advantage of a principle known in the microprocessor design world as temporal and spatial locality.
My wife is probably going to read this and call me a big nerd but it's rare that I get to actually apply something from my profession (I'm a microprocessor designer by day) to a real business. So please bear with me and call me whatever names you like but wait until after the article.
Microprocessors consume lots and lots of data. If you've ever taken a close look at your computer, you've probably noticed that a microprocessor uses many different types of memory to store its data.
For example, a computer's memory system usually consists of cache memory, system RAM and a hard drive. These 3 components all have different storage capacities and access speeds and are used by your computer to efficiently manage the data that your microprocessor requires.
There's a good reason why your computer has 3 types of memory and it mainly has to do with temporal and spatial locality. Temporal locality is the concept by which data that is referenced at one point in time will likely be referenced again sometime in the near future.
Spatial locality is the concept by which the likelihood of referencing a piece of data is higher if a piece of data near it was just referenced.
If you think of your computer's data just like the merchandise you store for your home business, you can easily apply the principles of computer memory organization to your inventory problems.
Cache Memory AKA Your Home Office
The cache memory is used by your microprocessor to store the most commonly accessed pieces of data. While the cache isn't very large, it can be accessed extremely quickly and is the closest memory to the processor.
Think of the cache memory like the shelves in your home office. After you've run your online store for little while, you'll likely discover that only 20% of your merchandise sells 80% of the time.
In order words, the bulk of your revenues will be from the sales of only a few items in your inventory. As a result, your shelves should only house the top selling merchandise that you move the most.
Because you constantly need to pack and ship your bestselling goods, they need to be quickly accessible without any hassle.
System RAM AKA Your Garage
The second level of memory is called system RAM and is the second fastest way for your computer to access its data. Unlike the caches, the system RAM takes an order of magnitude longer to access but it's also much larger as well.
Your computer's system RAM is analogous to your garage. Storing and going through boxes of stuff in your garage will take longer to access than if it's just sitting on your shelf but it's a nice, large and convenient place to store inventory in your home (Provided you don't park your car there).
Unless your office is huge, chances are you can store a lot more merchandise in your garage than on the shelves of your office. And ideally, you should use your garage to house a large variety of your bestselling goods.
Hard Drive AKA Off Site Storage
The final level of memory is your hard drive which is by far the slowest way for your computer to retrieve its data. In most cases, it's a million times slower to access your hard drive than it is to access data from main memory.
However, the advantage of storing data on your hard drive is that it offers enormous capacity at a low price.
In the home business world, your hard drive is your cheap offsite storage. You should store most of your least popular or your off season items in a facility outside of your home.
Sometimes, you may have to physically drive over to get your merchandise for a random order but this should be extremely rare.
Putting It All Together
Let's put it all together now and apply the principles of locality. The theory of temporal locality states that merchandise that is purchased once is likely to be purchased again in the near future.
As a result, once a customer purchases a particular item, you should then move some of that item onto the shelves of your home office (AKA the cache memory) and your garage (AKA system memory). In addition, items which are rarely sold should be moved to an offsite storage facility.
By adjusting your home inventory according to what is purchased, you'll be able to account for purchasing trends and the seasonality of your goods.
The theory of spatial locality states that the chances of selling a piece of merchandise is much higher if other similar pieces of merchandise just sold.
Therefore, once a customer purchases a particular item, you should move and keep other varieties of that same item on hand because other customers will be likely to purchase it.
Here's a real life example with our store. Many of our products are seasonal and we mainly sell wedding handkerchiefs, linen napkins and linen towels.
During the spring and summer months, the orders are predominantly for our wedding handkerchiefs. As a result, we keep our bestselling handkerchiefs on hand during the prime wedding season period.
However, once the holidays roll around during the fall and winter months, the sales transition to linen napkins and towels as more of our customers host tea and dinner parties.
Since we've run our business for several years now, we have a really good idea how much of each type of product that we need to carry on hand from month to month.
As a result, we only store what we need to store and we aren't overrun with merchandise. If you haven't been around long enough to know your demand patterns, then simply go with the flow and adjust the level of inventory that you carry in your home according to demand.
As you gather more data, you'll be able to refine your storage needs and reclaim your house from your home business.
Eventually, you will make enough money to move your business entirely out of your home and the added expense of renting office space will not be as big of a deal. Good luck!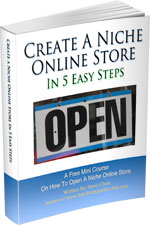 Ready To Get Serious About Starting An Online Business?
If you are really considering starting your own online business, then you have to check out my free mini course on How To Create A Niche Online Store In 5 Easy Steps.
In this 6 day mini course, I reveal the steps that my wife and I took to earn 100 thousand dollars in the span of just a year. Best of all, it's absolutely free!
Note: This post above may contain affiliate links, which means that I may receive a commission if you make a purchase when clicking a link. Please consult our privacy policy for more information.
Similar Posts
Have you read these?