If you use Facebook or watch YouTube, you've probably seen many ads on how to make money selling on Amazon FBA.
Overall, the concept is simple.
You list your products to sell on Amazon's enormous marketplace.
You ship your inventory to Amazon's warehouse.
Amazon brings you orders, takes care of fulfillment, stores your inventory and handles your customer service.
You make a profit.
Sounds easy right? But in reality, being a successful Amazon seller is much more complicated than it seems and the competition is cutthroat and fierce.
Don't get me wrong. There are thousands of Amazon sellers who make 6,7 and 8 figures online (including myself) but there are many pros and cons to selling on Amazon that most people don't talk about.
In this post, I answer all of the frequently asked questions about selling on Amazon FBA (including the negatives) to provide you with an accurate view of what it takes to be a successful Amazon seller.
Get My Free Mini Course On How To Start A Successful Ecommerce Store
Are you interested in creating a strong, defensible brand for your products? If so, I put together a comprehensive package of resources that will help you launch your own online store from complete scratch. Be sure to grab it before you leave!
What Is Amazon FBA?
Amazon FBA stands for "Fulfillment By Amazon" and is a service offered by Amazon that allows sellers to automate their order fulfillment and shipping process.
Essentially, Amazon stores your inventory, ships out all of your orders and handles customer service including returns and refunds.
To take part in Amazon FBA, you must send your products to an Amazon fulfillment center where your products are stored. Then, when an order comes in, Amazon processes and ships your products to the end consumer.
Your only responsibility is supplying product, generating sales and Amazon does the rest.
However, Amazon FBA comes at a pretty steep cost.
For most sellers, Amazon FBA fees usually make up between 10-15% of your revenue. If you add in Amazon's seller fees, you are essentially paying Amazon about a third of your revenue for every sale.
For more information about Amazon fees, please consult my post on Amazon FBA Seller Fees Explained.
Is Amazon FBA Legit?
Amazon FBA is 100% legit and safe. If you sign up for an Amazon seller account and ship your products to an Amazon fulfillment center, Amazon will store and fulfill your orders for you.
Also, as an Amazon FBA seller, you instantly become eligible for the prime badge which grants your customers free 2 day shipping.
In general, dealing with inventory and shipping logistics is an extremely tedious and time consuming aspect of selling online.
As someone who runs their own warehouse, I can tell you first hand that storing and organizing hundreds of thousands of units is a major pain.
But with Amazon FBA, you can leverage Amazon's army of shipping robots to handle and organize your inventory efficiently.
Overall, Amazon FBA is not a scam. However, there are many different ways to make money on Amazon that can come across as spammy depending on the business model.
What Is Amazon Retail Arbitrage?
Retail arbitrage is when you purchase products at a retail store at low prices and then sell them on Amazon FBA at a profit.
For example, Playstation consoles are in extremely short supply at the moment. If you were to get your hands on a Playstation, you could list that product on Amazon at a much higher price and make a profit.
Here's how Amazon retail arbitrage works.
You shop at a retail store and find products for sale that are priced significantly higher on Amazon.
You buy the product from the store and list it on Amazon FBA.
You pocket the difference between your cost and the selling price minus any Amazon fees incurred when a sale is made.
The main advantage of the retail arbitrage business model is that it doesn't cost much money to start. However, it is very time consuming to shop and find deals at brick and mortar stores.
What Is Amazon Online Arbitrage?
Online arbitrage is when you purchase products at an online store at low prices and then sell them on Amazon at a profit.
The online arbitrage process is very similar to retail arbitrage except that you don't shop at retail stores and all transactions are performed online.
Here's how Amazon online arbitrage works.
You shop online for products to buy that are priced significantly higher on Amazon.
You purchase the items online and list them on Amazon FBA.
You pocket the difference between your cost and the selling price when a sale is made.
What Is Selling Wholesale On Amazon?
Selling wholesale on Amazon is when you buy wholesale products from a wholesale supplier and list them on Amazon at a profit.
Gross margins are typically on the order of 50% and you can instantly have access to hundreds of products to sell from your wholesale distributor.
The hardest part about selling wholesale on Amazon is finding a good supplier who is willing to work with you.
The other downside is that you will be selling the exact same products as other Amazon sellers which always leads to a spiral to the bottom in terms of price.
What Is Amazon Dropshipping?
Amazon dropshipping is when you sell physical products on Amazon without having to deal with inventory, shipping or fulfillment.
But instead of using Amazon FBA, your wholesale supplier acts as your fulfillment center and processes all of your orders.
The main advantage of Amazon dropshipping is that there are no upfront costs for inventory.
All of your products are purchased on demand after they are sold which makes Amazon dropshipping one of the cheapest ways to get started selling online.
But the main downside is that the margins for Amazon dropshipping are extremely low at 10-30%. Remember, Amazon typically takes 15% of your top line revenue in Amazon selling fees.
As a result, your typical net margins for Amazon dropshipping are often in the single digits.
What Is Amazon Private Label?
Amazon private label is when you sell products that you manufacture under your own brand.
For example, my wife and I sell private label products under our own brand over at BumblebeeLinens.com
As a private label seller, you work with factories to create a product that meets your exact specifications which is then labeled with your logo and custom packaging.
The margins for private label are typically over 66% which makes private label the most lucrative way to make money selling on Amazon.
You also have full control over your product and no one else can sell under your brand.
However, the main downside is that it costs more money to start a private label brand. Typically, you need at least $2000-3000 to launch a private label product.
Where To Source Amazon FBA Products?
Where you source your Amazon FBA products largely depends on your ecommerce business model.
For retail arbitrage sellers, you will buy most of your products from retail stores like Target, Kohls, Walmart etc…
If you sell wholesale, you'll find most suppliers by Googling and reaching out to wholesale distributors directly for the products you want to sell.
You can also find wholesale suppliers in directories like Wholesale Central or Worldwide Brands
To source private label products, you will likely be finding your suppliers in China because the cost of labor is much lower overseas.
Here's a list of places to find factories to produce your private label products for Amazon FBA.
Who Can Sell On Amazon FBA?
As long as you reside in a country that Amazon allows for seller registration, you can sell on Amazon FBA.
Click here for a list of countries accepted for seller registration.
In addition to living in an Amazon supported country, you must also have a…
Valid Phone Number
Internationally Chargeable Credit Card
Bank account
Is Selling On Amazon Free?
You can start selling on Amazon for free. But in order to do so, you must first create an account over at https://sellercentral.amazon.com.
There are 2 account types to choose from.
Amazon Individual Seller Account (FREE)
Free to sign up
You must pay a 99 cent fee for every sale in addition to any relevant Amazon fees
You can only sell items that are already listed on Amazon. (No private label is allowed)
You can not buy Amazon PPC ads
Amazon Professional Seller Account ($39.99/month)
Costs $39.99/month
Allows you to sell private label products
The 99 cent fee per order is waived
Access to Amazon advertising and other brand tools
While selling on Amazon is technically free, it makes sense to pay for a professional seller account as soon as you generate more than 40 orders per month.
Is Selling On Amazon Easy?
Back in 2017, selling on Amazon was easy. All you had to do was a list a product on Amazon and it would generate sales. But today, the Amazon marketplace is much more competitive.
In order to be successful on Amazon today, you must know what you are doing and be willing to spend money on advertising.
Below is a list of skills that are required.
Overall, selling on Amazon is straightforward but it is definitely not easy any longer.
Can Selling On Amazon Make You Rich?
Selling on Amazon can make you rich. But to put things in perspective, here are some Amazon seller statistics for your review.
Over 200,000 third party sellers exceeded $100,000 in annual sales in 2021.
Third party sellers generate 56% of Amazon's ecommerce revenue.
Using Amazon FBA can increase your sales between 30-50%.
55% of customers begin their shopping journey on Amazon.
Overall, there are many opportunities to make significant money on Amazon. However, you must know what you are doing and the competition is becoming more fierce every year.
What's Selling On Amazon Right Now?
The list of Amazon best sellers fluctuates on a daily basis. And the best way to find what's selling on Amazon right now is to check the Amazon best sellers page.
However, by the time you see a best selling product on this list, it's already too late. Even if you can source your products quickly, the product category will likely already be saturated.
Instead of chasing best sellers, it's best to look at trends and come up with products to sell that have a defensible unique value proposition.
How To Start Selling On Amazon FBA And How It Works
In order to start selling private label products on Amazon FBA, you need to follow these steps.
You must sign up for an Amazon seller account
You must find a profitable product to sell on Amazon
You must find a good supplier to source your products
You must create an optimized Amazon listing
You must generate reviews for your products
You must learn how to run Amazon Sponsored Products ads
You must learn how to rank your Amazon products in search
All of these steps are covered in my free 6 day Amazon course.
How Does Shipping Work With Amazon FBA?
When you sign up for Amazon FBA, it's not obvious how shipping works.
If a customer chooses next day delivery, is there an extra charge?
If a customer makes a return, do I still have to pay for shipping?
Amazon charges you a flat rate depending on your package size, weight and product category, regardless of the shipping method.
To figure out exactly how much you will be charged, simply use this calculator.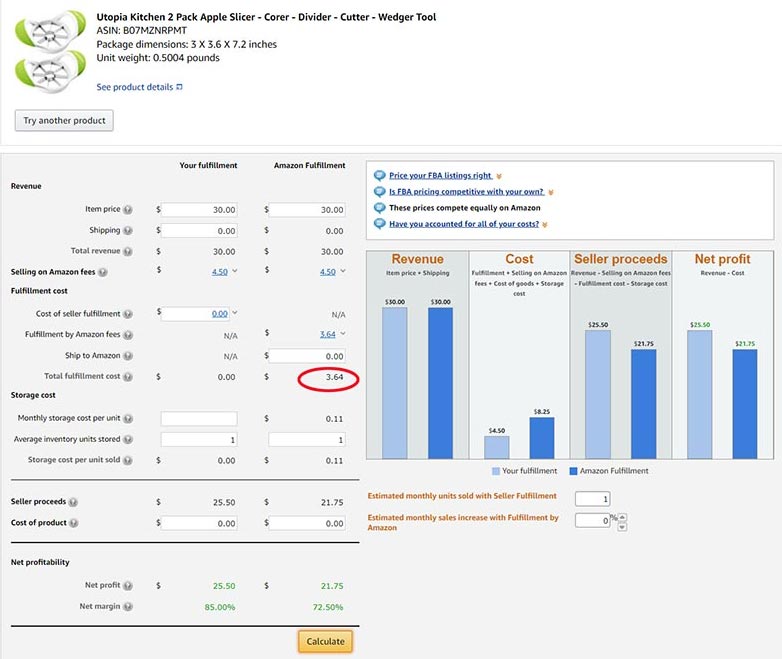 In the example above, the Amazon FBA fulfillment fee is $3.64 regardless of the shipping method the customer chooses.
There are also monthly storage costs associated with your products which must be taken into account.
If a customer returns your product, you still have to pay the Amazon FBA fee. Amazon will rarely refund you the fulfillment fee under most circumstances.
What Are The Fees And Charges For Selling On Amazon?
Amazon does not make it easy for you to calculate all of your costs when selling on Amazon FBA and there are many hidden fees that can decimate your profits.
Here's a list of Amazon FBA selling fees to be aware of before you start selling online.
Amazon Referral Fee – Amazon charges a variable closing fee based on your product category and price. The typical closing fee is 15% for most categories.
Amazon Fulfillment Fee – Amazon charges you a flat rate to fulfill an order placed on Amazon. Make sure you use the FBA calculator to determine your costs. Also, be aware of the dimensions of your package to make sure you have not crossed the oversized goods threshold.
Amazon Storage Fee – Amazon charges you a monthly rate depending on the amount of space your product occupies in Amazon's fulfillment center.
Amazon Long Term Storage Fee – If you store inventory at Amazon for more than 365 days, you will get charged a long term storage fee.
Amazon Returns And Damaged Goods – Because Amazon's return policy is so liberal, you will get a high rate of returns on your products. Regardless of whether a product is returned or not, you still have to pay Amazon FBA fees.
Amazon Advertising – Because the Amazon marketplace is so competitive, you must run Amazon Sponsored Products ads to make sure your products show up in Amazon search. For Amazon advertising, you are charged by the click.
When Do You Get Paid By Amazon?
Selling on Amazon is not like running your own online store because you are not paid right away.
In most cases, Amazon will pay you every two weeks for the last 14 days of your orders minus Amazon fees. The exact date of each payout depends on when you signed up as a seller.
Who Is Selling On Amazon?
Over the years, the Amazon marketplace has become dominated by Chinese sellers
According to Marketplace Pulse…
49% of the top 10,000 Amazon sellers are from China
58% of the top 50,000 Amazon sellers are from China
China makes up 37% of all active sellers on Amazon
Unfortunately, many Chinese sellers don't play by the rules and your Amazon listings may get attacked by malicious merchants.
Why Selling On Amazon is Good
Selling on Amazon is good for making money in ecommerce as quickly as possible. Because Amazon owns over 50% of the online retail market, they have a huge built in audience of customers you can tap into.
Amazon FBA is also a great way to run a scalable ecommerce business without having to deal with inventory. Many 7 and 8 figure Amazon businesses are run by 1 or 2 people and you don't need a large warehouse or staff.
If you consider the cost of renting out a building and hiring employees, Amazon FBA can actually save you time, money and headache.
Amazon's fulfillment center network is vast and efficient and most customers will receive their orders within 2 days or less.
Why Selling On Amazon Is Bad
Selling on Amazon is bad because you have very little control. Amazon sets the rules and calls all of the shots and you are at their mercy.
During the pandemic, Amazon did not allow sellers of "non-essential merchandise" to use Amazon FBA. In addition, Amazon is constantly changing and increasing prices every year.
Finally, it's nearly impossible to establish a brand on Amazon because Amazon hides all of your order information from you.
You don't have your customer's address, name or phone number. Every Amazon listing looks the same and it's hard to make your product stand out.
The worst part is that Amazon may even copy your product, private label it under their own brand and compete against you on your same listing!
What Are The Dangers of Selling On Amazon
There are many dangers of selling on Amazon that no one ever mentions online.
First off, Amazon can ban your account for factors that are beyond your control. For example, if you get a string of negative feedback on a product, your listing will get suspended.
If you have a series of back to back product returns, your listing will get suspended. Bottom line, Amazon is quick to the ban hammer and your Amazon business is fragile.
Second, Amazon can force you to sell your products at lower prices. If Amazon decides that your products are priced too high, they can take away your buy box which essentially kills your sales.
Third, other Amazon sellers will copy you. If your product ever reaches the Amazon bestsellers list, it's like a death sentence because someone in China will knock you off. To be successful on Amazon, you should focus on products that stay under the radar of the copy cats.
Finally, the main danger of selling on Amazon is dealing with malicious sellers.
Here's a list of evil tactics that are rampant on the Amazon marketplace.
Inventory Tie Ups – Malicious sellers will buy out all of your products during the holiday season to prevent you from selling and then return all of your products after 60 days.
Negative Feedback Bombing – Malicious sellers will purposely leave negative reviews to destroy your listing and reputation.
Coordinated Returns – Malicious sellers can coordinate a string of product returns to suspend your listing.
Buy Box Stealing – Malicious sellers can piggyback on your listing, steal the buy box and sell poor quality products to destroy your listing and brand.
False Accusations – Malicious sellers can falsely accuse you of trademark or copyright infringement to get you taken down. Amazon uses a guilty until proven innocent policy on suspensions.
Listing Hijacking – Malicious sellers can change your photos or listings to sabotage your brand.
The list of evil activity on Amazon is extensive and you have to learn how to protect yourself. Amazon Brand Registry is not enough.
Is Selling On Amazon Worth It?
Whether or not selling on Amazon is worth it is a loaded question. On one hand, Amazon owns over 50% of ecommerce and you can make money right away by leveraging their audience.
On the other hand, selling on Amazon is cutthroat and you have no control over your brand or your listings. Amazon essentially calls all of the shots.
But overall, selling on Amazon is worth it because Amazon is such a large marketplace. Ultimately, your goal should be to sell on as many channels as possible.
Some people prefer to shop on Amazon. Some people prefer to shop at online boutiques. Others may prefer shopping at brick and mortar stores.
In the long run, your ecommerce business must be omnichannel.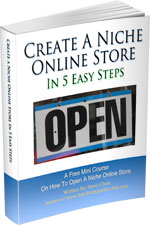 Ready To Get Serious About Starting An Online Business?
If you are really considering starting your own online business, then you have to check out my free mini course on How To Create A Niche Online Store In 5 Easy Steps.
In this 6 day mini course, I reveal the steps that my wife and I took to earn 100 thousand dollars in the span of just a year. Best of all, it's free and you'll receive weekly ecommerce tips and strategies!
Note: This post above may contain affiliate links, which means that I may receive a commission if you make a purchase when clicking a link. Please consult our privacy policy for more information.
Related Posts In Getting Started On Amazon
About Steve Chou

Steve Chou is a highly recognized influencer in the ecommerce space and has taught thousands of students how to effectively sell physical products online over at ProfitableOnlineStore.com. 

His blog, MyWifeQuitHerJob.com, has been featured in Forbes, Inc, The New York Times,  Entrepreneur and MSNBC.  

He's also a contributing author for BigCommerce, Klaviyo, ManyChat, Printful, Privy, CXL, Ecommerce Fuel, GlockApps, Privy, Social Media Examiner, Web Designer Depot, Sumo and other leading business publications.

In addition, he runs a popular ecommerce podcast, My Wife Quit Her Job, which is a top 25 marketing show on all of Apple Podcasts. 

To stay up to date with all of the latest ecommerce trends, Steve runs a 7 figure ecommerce store, BumblebeeLinens.com, with his wife and puts on an annual ecommerce conference called The Sellers Summit.  

Steve carries both a bachelors and a masters degree in electrical engineering from Stanford University. Despite majoring in electrical engineering, he spent a good portion of his graduate education studying entrepreneurship and the mechanics of running small businesses.