This post will teach you how to research and find potential Amazon best sellers to sell online.
But before we get into the details, you have to first understand what it takes to make the Amazon best sellers list. These days, selling on Amazon is much more difficult than it was in the past.
Not only is there rampant piracy selling on Amazon but Chinese sellers have almost completely taken over the Amazon marketplace.
In order to break free from the noise, the key to finding a potential Amazon best seller is to choose a product that carries a strong unique value proposition and to build a recognizable brand that people trust.
But how do you come up with a great product to sell in the first place? Do you just sit down and wait for a brilliant idea to come to you?
Absolutely not! Randomly brainstorming products to sell on Amazon is the wrong way to go.
Instead, a better approach is to rely on marketplace data to research profitable products to sell. Specialized Amazon tools can provide you with detailed stats that will allow you to avoid saturated markets and focus on products that have high demand.
Get My Free Mini Course On How To Start A Successful Ecommerce Store
Are you interested in creating a strong, defensible brand for your products? If so, I put together a comprehensive package of resources that will help you launch your own online store from complete scratch. Be sure to grab it before you leave!
How To Pick Amazon Best Sellers – The Ultimate Guide
First off, the key to finding a top seller on Amazon is to apply a methodical approach. And it's crucial to not let your personal experiences or tastes get in the way of finding the right niche.
Now there's a reason why top Amazon sellers rely on specialized tools for product research. These tools can help you objectively find a profitable product to sell online and avoid your own personal biases.
For example, I use Amazon tools every day (which I'll share in this post), and they've helped me find great products to sell both on Amazon as well as my online store.
Below are a set of actionable steps on how to find potential Amazon best sellers!
Step 1: Sell Painkillers, Not Candy
While there are thousands of products you can sell online, chances are they fall into one of the categories below.
If you can quickly identify which category your product idea falls under, you'll be able to predict its chances of generating consistent, long-term sales.
Is Your Product A Candy?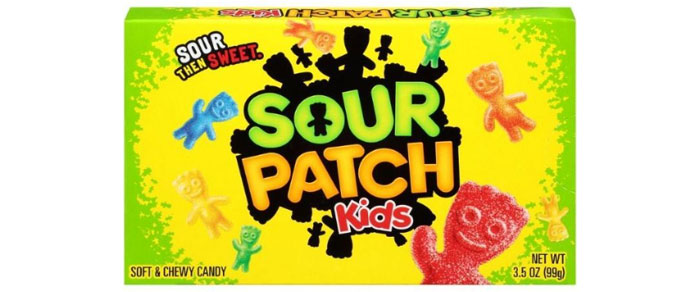 A lot of people like candy, but it's not a necessity. Candy doesn't really solve a problem or offer any tangible benefits. Instead, candy is just a nice-to-have item.
As a result, candy sales can be fickle.
For example, fidget spinners sold like candy—with hundreds of millions sold all over the world. But the hype eventually died down, and so did sales.
Candy-like products can earn you lots of money, but only in the short-term when buyer sentiment is high. You can ride the wave, but keep in mind that candy-like products may not be a good long-term choice for an ecommerce business.
Eventually, you'll have to come up with new product ideas to sustain your business.
Is Your Product A Vitamin?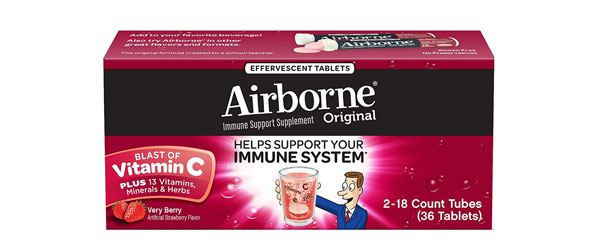 On the other hand, vitamins solve a long-term need. They provide the nutrients your body needs to stay healthy and avoid sickness.
But vitamins don't instantly provide a benefit that you can see or feel.
For example when I take a vitamin, I have no idea whether it's doing anything. When I'm feeling sick, I take Airborne even if I don't see actual, instant effects on my body to prevent a cold or improve my immune system.
But I buy the product anyway and hope that I'm doing something to fight my illness.
The best "vitamin" products fulfill a psychological need (i.e. make people feel they're improving their health, safety, or other long-term needs) and eventually become a habit.
Overall, vitamin-like products are much better for generating long-term and steady income than candy.
Is Your Product A Painkiller?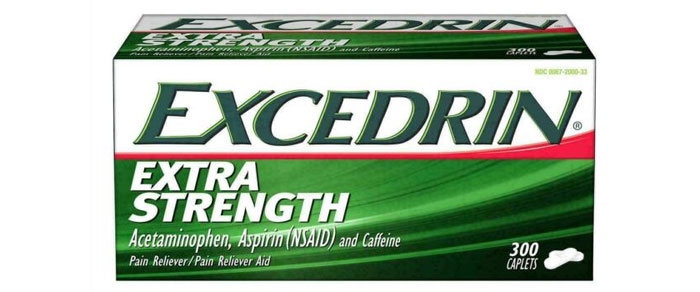 If your product fulfills an immediate need, then customers will flock to you. Painkillers instantly solve an obvious problem.
After taking my Create A Profitable Online Store Course, my student Abby decided to sell special insoles for women's high heels. And she now makes millions of dollars every year!
Abby solved a real-world problem that many women can relate to⁠, discomfort from wearing high heels all day. Her products relieve a literal pain, which is why there's such a high demand for her products.
Here's a podcast episode I recorded with her.
My friend Kevin makes millions of dollars a year selling laser hair growth products.
Now if I were losing my hair, I'd be willing to spend a lot of money to grow it back. It's a common need for people to want to maintain a good physical appearance.
You can listen to Kevin's story below.
The key takeaway is that almost all Amazon best sellers solve an immediate problem. And you can think of painkiller products as the holy grail of ecommerce.
Step 2: Follow These Amazon Best Seller Product Guidelines

By following the product guidelines below, you can avoid a lot of headaches and increase your chances of successfully selling on Amazon.
Please note that these guidelines are not hard and fast rules but it's in your best interests to follow as many as you can.
First off, here are product characteristics that you should avoid.
Fragile items – Choosing an item that won't break will save you the headaches related to shipping. Your life will be a whole lot easier if you sell non-fragile items.
Products that lose value over time – You want to sell something that is timeless. For this reason, avoid products that lose value the longer it's on the shelf.
Seasonal goods – The goal is to have a product that sells all year round. For example, you wouldn't want to sell winter clothing as you won't get enough demand for these products throughout the year.
Items that take up too much space – At this point, you should already be thinking about logistics. Ideally, your product should be able to fit in a shoebox so you can avoid Amazon oversized fees.
Products with known inherent value – Aim for products that have an ambiguous value. Electronics, for example, have generally known prices. Meanwhile, it's harder for customers to put a price on keepsakes and personalized goods. These types of products give you more flexibility on pricing.
As an additional guideline, the ideal price range for online purchases is between $20-200. So aim to price your products within this price range.
Once you've got the basics down, here are some additional product guidelines that are "nice to have".
Will your customer want to buy more than one piece of your item? When a bride buys a handkerchief from our store, she rarely orders just one piece. She'll usually buy several pieces to give to her bridesmaids or even her parents. For this reason, a typical bride will buy as many as 10 handkerchiefs at a time.
Can you expand your niche to sell related products? Can your product branch out to similar products in the future? You can make a lot of money on Amazon cross selling your goods. For example, we sell dinner napkins in our shop but we also cross sell cocktail napkins to the same customers.
Does your product have a fan base? A product with dedicated blogs or fan pages will bring you instant customers.
Does your product have accessories? Accessories make great cross sells to boost your average order value.
Can you personalize your product? If you can think of a way to personalize your product, great! Personalization allows you to charge a significantly higher price to boost your margins.
Is your item consumable? Consumables are more likely to bring you consistent, repeatable sales.
Can you create content around your product? Can you provide valuable information about your product and niche? Blog posts are great for search engine optimization, which drive traffic to your website and/or Amazon.
Now that you understand the basic guidelines, it's time to start brainstorming products. Keep on reading to find out what tools and platforms to use to find potential best sellers on Amazon!
Step 3: Use Online Tools To Find Potential Amazon Best Sellers
As I mentioned earlier, mindlessly brainstorming products or browsing the Amazon best sellers list will not get you very far.
Instead, you should use a specific set of Amazon research tools to come up with data-backed product ideas.
Basically, these tools can tell you what people are searching for, what sells, and which niches have low competition. Overall, the goal is to find a product with low competition and high demand.
Here's a walkthrough of all of the tools that I use to research product ideas.
Tool #1: Amazon BSR Data (Free)

If you are on a major budget and don't want to pay for an Amazon research tool, you can actually estimate a product's sales simply by closely looking at the Amazon listing.
Here's how.
Amazon assigns a BSR or best sellers rank to every product sold on the platform. This number ranks products in the same category to tell you how well a product is selling.
To find a product's BSR ranking, simply go to a specific product page on Amazon and scroll down to the Product Details.
Take this BSR rating for silicone baking mats on Amazon for example. (The product ranks #7,228 in the Kitchen & Dining category.)

This BSR rating can help you make an educated guess on how many pieces of the product are sold per day. To keep things simple, my buddy Greg Mercer provided this BSR to sales chart, which you can use for your own Amazon sales analysis.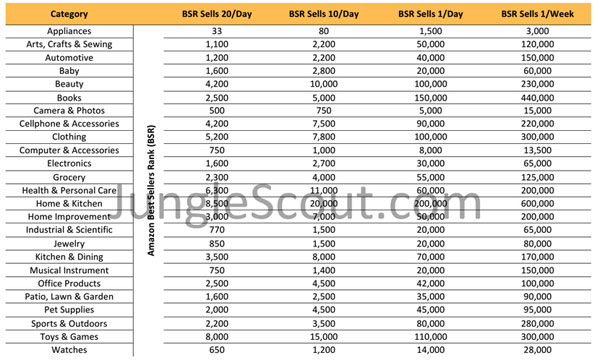 If your target product (baking mats, in this case) has a BSR of 7228, this chart tells you the rating is equivalent to about 10 sales per day.
Basically, you can search for product ideas by going through Amazon sales data and finding out what's selling. Or if you already have a product idea in mind, you can look it up on Amazon to see if there's a demand for it based on its BSR.
Tool #2: Use Jungle Scout To Speed Up The Product Research Process (~$39/month)

Checking an Amazon product's BSR can give you a general idea of a product's demand, but this process can be very tedious.
For faster and more targeted research, I like to use Jungle Scout to do product research on Amazon. I love this tool because it collates all Amazon products into a neat table.
What's more, I can filter my search to find products that meet my criteria.
For example, I can narrow down my search in the Arts & Crafts category by limiting the results to products that make at least $5,000/month but have less than 100 reviews.
Here's a 4-minute video demo of how I do product research with JungleScout.
Editor's note: I mention 2 JungleScout tools in the video.
Here are the two Jungle Scout tools you can use to do product research:
JungleScout Chrome Plugin – Find out how well other products are selling on Amazon directly within your browser.
JungleScout Web App – Brainstorm products to sell on Amazon by entering in your product criteria and have Jungle Scout tell you what to sell.
Tool #3: Use Viral Launch For Keyword Research (~$40/month)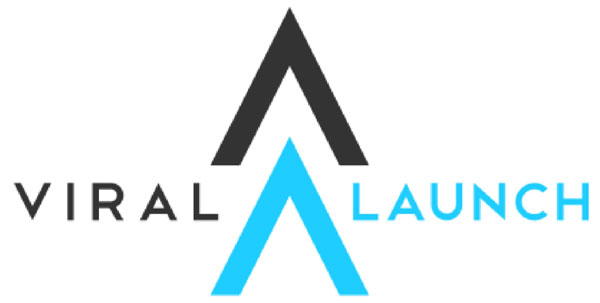 Another product research tool that I use all the time is Viral Launch. Viral Launch can help you find specific keywords that people are searching for on Amazon.
Their Amazon keyword research tool can help you find and gather keywords that have high search volume and low competition. Keyword research is a must if you want to make sure your product is visible on Amazon.
In this 5-minute video demo, I show you how I use Viral Launch to do product research.
Step 4: Use EBay Sales Data To Find Potential Amazon Best Sellers
EBay is another great ecommerce platform for product research because the platform provides you with real-time sales data.
Here's how to do product research on eBay. First off, search for a product on eBay's search bar.

Go to the sidebar and click "Sold listings."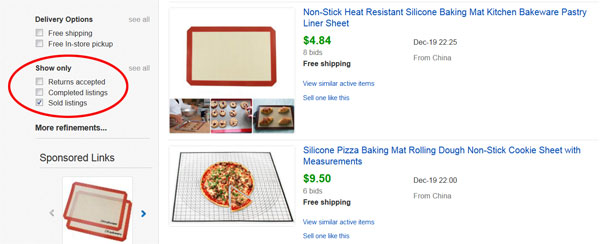 You'll then find every product that was sold in a specific product category, along with final selling prices.
By focusing on completed Ebay listings, you can gather data regarding the demand and standard selling prices for countless products.
Step 5: Use Google Search Data To Find Potential Amazon Best Sellers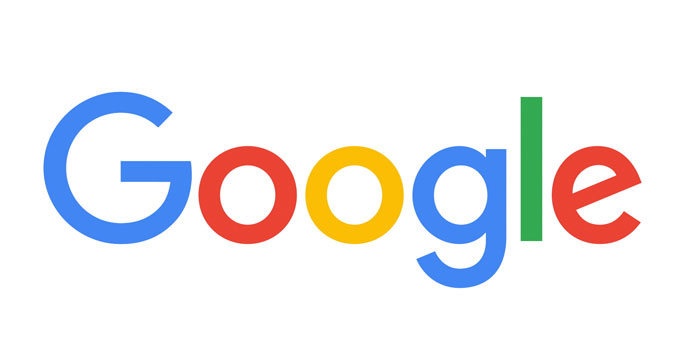 Many online shoppers go straight to search engines like Google when shopping instead of Amazon or eBay. As a result, you should also leverage keyword search data from Google for your product research.
Google Keyword Planner is a free and easy-to-use tool that lets you gather search data on specific keywords. This data can give you an idea of how much revenue you can make on products based on exact match keywords.
Here are some tips when doing keyword research on Google:
Find Product Focused Keywords.
The search volume for general keywords like "wedding planning tips" are not useful because they typically lead to informational articles.
So make sure to look for keywords that demonstrate buyers intent. For example, the keyword "bridesmaid robes" would be a much better and more product-focused search term.
Check The Keyword Competition
Will it be hard or easy for you to rank for a certain keyword? Your goal should be to rank among the top results for a specific search term and drive traffic either to Amazon or your own ecommerce store.
Unfortunately, Google Keyword Planner doesn't provide this data. If you want to get insight into your competition, I recommend a tool called Long Tail Pro.
In this 5-minute video, I'll show you how I use Long Tail Pro to find high-volume keywords you can easily rank for in search.
Click Here To Try Long Tail Pro For Free
In general, I try to target keywords with a search volume of at least 1500-3000 searches per month and a keyword competitiveness rating of 35 or less.
More Guidelines For Finding A Great Product To Sell With Google
The most important takeaway when conducting product research on Google is that most people use Google to find information and not necessarily to shop.
The trick is to check keyword search intent.
Search a specific keyword on Google and then browse through the types of content that come out on the top results page.
If the search results come up with blogs and informational posts, then it's probably not a good idea to use this keyword for your product.
While you are at it, take a close look at the websites on the front page and see if you can provide a better shopping experience than the existing competition.
If you want your online store to succeed, it's not sufficient to find products with great traffic potential. You also have to find a market where you can stand out and build a brand.
Step 6: Use Pinterest To Find Potential Amazon Best Sellers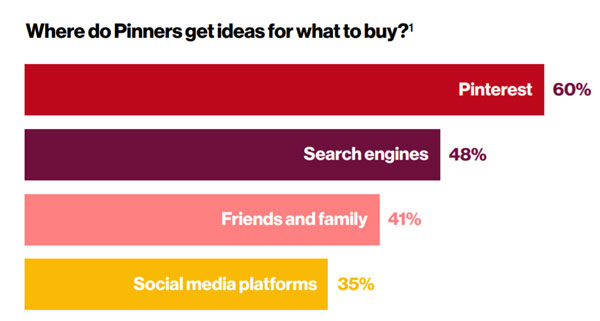 Interesting fact: 90% of Pinterest users use the platform to make buying decisions. With millions of active users, the platform is a go-to for ideas and products that add value to people's lives.
Here are some amazing stats on why Pinterest is a great way to find products to sell online:
Pinterest brings in 33% more traffic to online stores than Facebook
70% of Pinterest users go to the platform to discover new products
72% of people get inspired to shop after going on Pinterest, even when they didn't intend to buy anything before going on the platform
41% of people who buy products in-store use Pinterest while shopping
59% of people use Pinterest to do further research about a product they're thinking to buy
When using Pinterest to brainstorm products to sell online, keep in mind that search behavior on Pinterest is different than Google and other typical search engines.
People don't usually look up specific products on Pinterest. Instead, they look for solutions to their problems.
For example, a user won't search for a specific kitchen cabinet on Pinterest. Instead, they'll type in more general topics like "how to maximize kitchen storage space."
For this reason, widen your searches to big picture topics like "bridal shower gift ideas" when brainstorming a product.
Afterward, you can narrow down your search ideas with Pinterest's nifty guided search bar.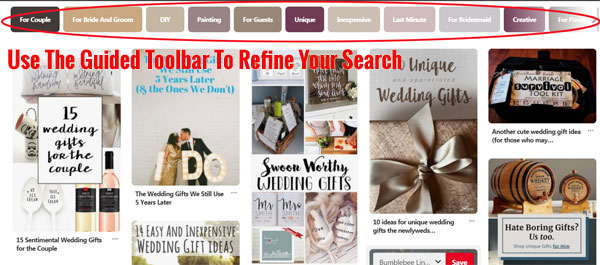 Search a specific keyword on the platform and you'll find great articles and product ideas on your Pinterest feed. Pay attention to pins with the most repins as these are usually popular products you can consider selling on Amazon.
Step 7: Follow These Amazon Specific Guidelines

Now that you have the tools to do your own product research, here are some criteria specific to Amazon that you should keep in mind.
Does Your Product Have Sufficient Demand In The Overall Market?
You're not going to get an accurate gauge of a product's demand if you just look at a single Amazon product listing.
Instead, you can get a much more accurate idea of demand by looking at the monthly sales estimates for similar products on the front page of Amazon.
Personally, I like to see average sales of at least 1500 per month across the top 10 sellers on the front page of search.
Is Your Product Niche Too Competitive?
If you want to have a good chance of hitting the Amazon best seller list, you need to check the overall strength of your competition in your product niche.
The strength of an Amazon listing can be gauged by looking at the number of reviews on the product.
Overall, the average review count for a listing of similar products should ideally be under 100 reviews but anything in the low 100's is ok.
In general, low review numbers tell you that it will be less difficult to break into the market.
Is There An Even Sales Distribution Among Sellers?
It's probably not a great idea to enter a market where just 1 or 2 sellers are generating most of the sales.
You want a market where all sellers have an equal chance of earning sales. If only a few brands are dominating the market, you might be better off not competing with these strong brands.
Jungle Scout can help you scope out your competition in this regard. If you see an equal sales distribution among sellers, then this is an indication that you have a pretty good chance of entering the market successfully.
Does Your Product Add Value?
In addition to analyzing the numbers, your product must also add value to the market. The last thing you want is to sell a redundant product. Can you stand out from the other sellers on the front page of Amazon search?
While brainstorming products, you should always take a close look at the competition to see if your product can offer a unique value proposition.
For example, yoga mats are very competitive on Amazon. But if you want to sell yoga mats, you need to ask yourself how you can take advantage of the high demand while making your product stand out.
Perhaps you can sell a special 6-inch thick mat. Perhaps you can make your mat out of a special material that wicks away sweat.
In other words, find the gaps in the market and figure out how your product can be differentiated from your competitors.
Can Your Product Be Found In Brick And Mortar Stores?
It can be hard to convince customers to buy your products online if they can find similar products in a brick and mortar store.
While this may sound counter-intuitive, you should always niche down rather than go broad when selling online. Traditional stores don't typically sell obscure products or carry a variety of specific items in their shops.
This is where you have a major advantage. By selling a product that appeals to a specific subset of people, you can completely dominate the market.
You can offer products that people can't easily find anywhere else. In my online store, we sell handkerchiefs that are hard to find in brick and mortar stores.
Obscure products with good demand can earn you a great profit and help you achieve Amazon best seller status in your category.
Does Your Product Have High Margins?
When choosing a product to sell, you must also check how much similar products sell for on Amazon. Can you source your product and still earn enough profit given the current selling price?
Personally, I will not sell a product on Amazon unless I have at least a 60-66% margin. As a result, I typically look for suppliers in Asia where the cost of labor is significantly less.
For more information on finding great suppliers, please consult the following posts.
Conclusion
You don't have to fumble around in the dark while finding and sourcing products to sell online. Hopefully, this post has shown that you must apply a strategic approach based on data when finding good products to sell on Amazon.
If you've found a good product that can earn you a profit with a strong value proposition? Give it a shot. You're already off to a great start.
If you found this post helpful, there's more where that came from with my free 6-day mini course.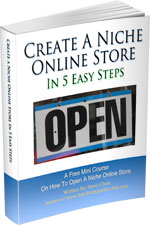 Ready To Get Serious About Starting An Online Business?
If you are really considering starting your own online business, then you have to check out my free mini course on How To Create A Niche Online Store In 5 Easy Steps.
In this 6 day mini course, I reveal the steps that my wife and I took to earn 100 thousand dollars in the span of just a year. Best of all, it's free and you'll receive weekly ecommerce tips and strategies!
Note: This post above may contain affiliate links, which means that I may receive a commission if you make a purchase when clicking a link. Please consult our privacy policy for more information.
Related Posts In Products To Sell On Amazon
About Steve Chou

Steve Chou is a highly recognized influencer in the ecommerce space and has taught thousands of students how to effectively sell physical products online over at ProfitableOnlineStore.com. 

His blog, MyWifeQuitHerJob.com, has been featured in Forbes, Inc, The New York Times,  Entrepreneur and MSNBC.  

He's also a contributing author for BigCommerce, Klaviyo, ManyChat, Printful, Privy, CXL, Ecommerce Fuel, GlockApps, Privy, Social Media Examiner, Web Designer Depot, Sumo and other leading business publications.

In addition, he runs a popular ecommerce podcast, My Wife Quit Her Job, which is a top 25 marketing show on all of Apple Podcasts. 

To stay up to date with all of the latest ecommerce trends, Steve runs a 7 figure ecommerce store, BumblebeeLinens.com, with his wife and puts on an annual ecommerce conference called The Sellers Summit.  

Steve carries both a bachelors and a masters degree in electrical engineering from Stanford University. Despite majoring in electrical engineering, he spent a good portion of his graduate education studying entrepreneurship and the mechanics of running small businesses.