Success as an eBay seller requires a lot of research. You can't just list any product for sale and hope to make a profit. You need to identify top-selling products the are in high demand with low competition.
The challenge is that product research can take hours or even days if you do it manually. That's where Terapeak comes in. This post will teach you how to use Terapeak to find profitable products to sell on eBay.
Get My Free Mini Course On How To Start A Successful Ecommerce Store
If you are interested in starting an ecommerce business, I put together a comprehensive package of resources that will help you launch your own online store from complete scratch. Be sure to grab it before you leave!
What Is Terapeak?
Terapeak is an eBay research platform that analyzes eBay's supply, demand, and pricing data. It helps you understand what products to sell, when, and at what price.
Terapeak offers two tools:
Terapeak Product Research
Terapeak Sourcing Insights
Terapeak Product Research
Terapeak Product Research gives you access to years of real-world sales data for millions of items sold on eBay, including the following metrics:
Average sale price
Number of listings for a particular item
Number of listings sold for a specific item
Condition of the items sold
Sell-through rate
Sales trend over one year
Unsold inventory
Listing formats of specific item
Terapeak Sourcing Insights
Terapeak Sourcing Insights identifies eBay product categories with high and low demand to help you make informed decisions on what to sell.
With Terapeak Sourcing Insights, you can see the following data for each category:
Search volume
Active listings
Search-to-listing ratio
Click-through rate over one year
Total number of listings
Total number of items sold
Top opportunities
Top listings
Why Use Terapeak?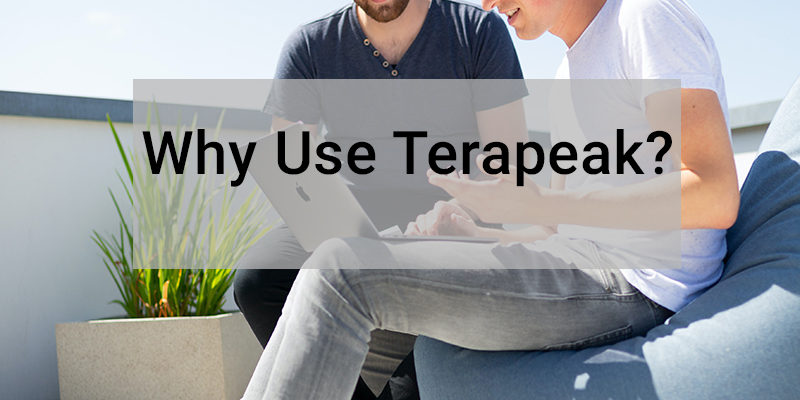 Terapeak provides real-time data on all eBay listings and helps you identify top-performing products that you can sell yourself.
It allows you to perform data analysis and visualization in a single place by streamlining market research.
For example, you can find products to sell on eBay by researching listing details such as price, images, and data-driven keywords.
And if you want to expand to global marketplaces, you can use Terapeak to research what's selling on eBay in other countries.
Is Terapeak Free?
Effective April 15, 2021, Terapeak Product Research is 100% free for eBay sellers. However, Terapeak Sourcing Insights requires a Basic Store subscription which starts at $21.95 per month.
To upgrade a store subscription plan or buy a new one, go to My eBay > Subscriptions management page > Select and Review > select a payment option > and click Submit Order.
Does Terapeak Work With Amazon?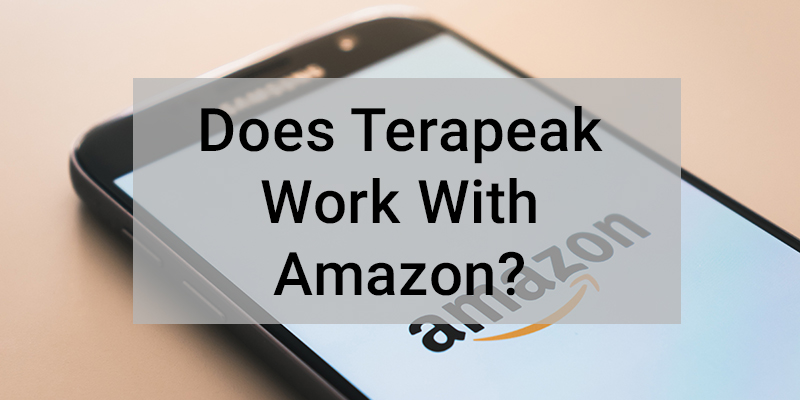 Terapeak does not work for Amazon sellers and only provides detailed sales data for the eBay platform.
Prior to being acquired by eBay in 2017, Terapeak was an eCommerce analytics company based in Toronto that used to provide analytics data for both eBay and Amazon.
However, eBay removed the "Terapeak for Amazon" tool post-acquisition and integrated Terapeak into its website to make it exclusive to eBay sellers.
How Do You Access Terapeak On eBay?

To access Terapeak on eBay, go to the "Research" tab in the "eBay Seller Hub" and then click "Terapeak product research" in the left side menu.
If you're subscribed to the Basic Store plan or above, you'll find "Terapeak sourcing insights" right below "Terapeak product research."
How To Use Terapeak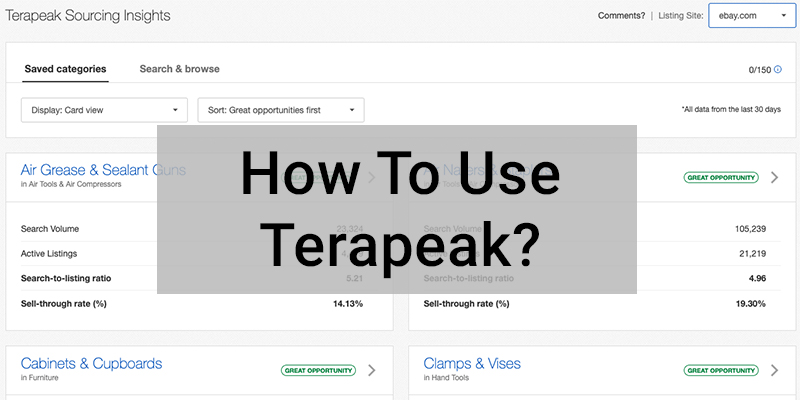 Here's a step-by-step tutorial on how to use Terapeak:
Step 1: Find Products Using Terapeak Product Research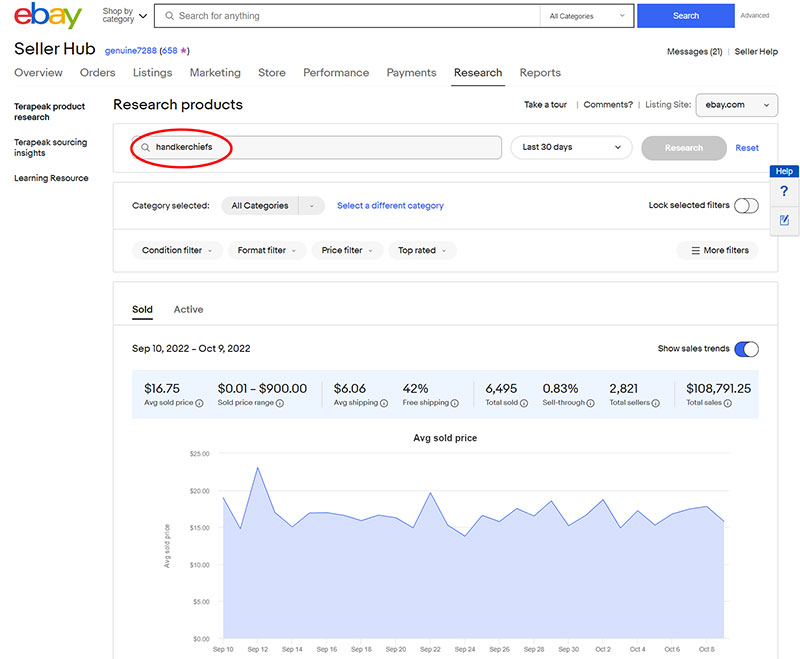 Use "Terapeak product research" to find products to sell using a keyword or one of the following identifiers:
Manufacturer Part Number (MPN)
Universal Product Code (UPC)
International Standard Book Numbers (ISBN)
eBay Product ID (EPID)
European Article Number (EAN)
You can also choose to refine your search results in the following ways:
Use long-tail keywords to find products with low search volume and competition. For example, search for "iPhone 14 Pro Max 128GB" instead of "iPhone" or "iPhone 14 Pro."
If you search for multiple keywords, you'll find listings with all of those keywords. For example, if you search for "iPhone 14 Pro Max 128GB," you'll see listings with all of the keywords "iPhone + 14 + Pro + Max + 128GB". If you use too many keywords in your search, Terapeak may return 0 results.
Exclude search results by adding "AND NOT" or "-" before a keyword. For example, "iPhone 14 Pro Max 128GB – Gold" will exclude listings with "Gold" in the title.
Add "OR" between keywords to add more product options. For example, "iPhone 14 Prox Max AND (128GB OR 256GB) will show results for iPhone 14 Pro Max with 128GB and 256GB.
Step 2: Use Filters To Refine Your Search Results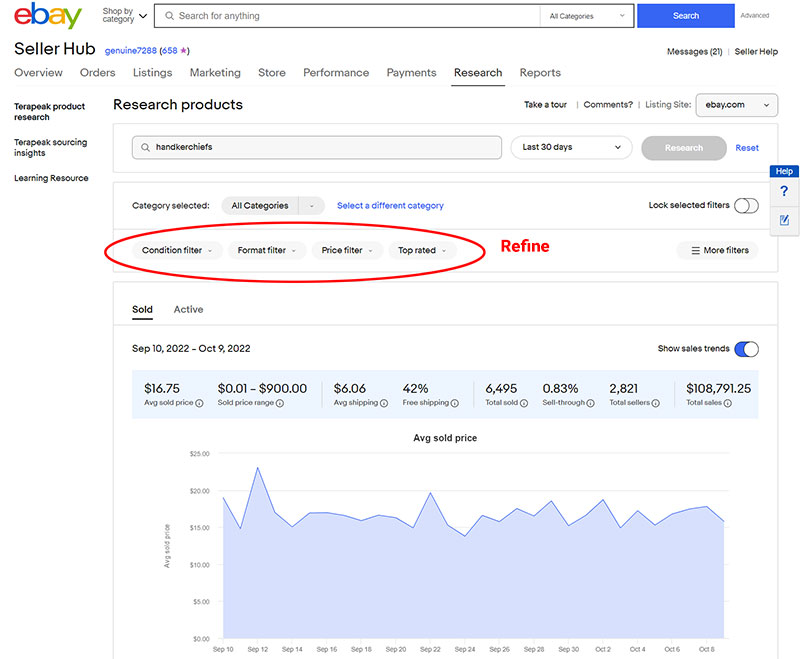 Above the search results, you'll see a series of filter options that you can use to refine your search by eliminating unnecessary products.
1. Select the period for the data you need, such as "Last 7 days" and "Last 30 days." Terapeak can return up to one year's worth of sales results. It's best to filter for an entire year since you get a better idea of sales and demand for the selected product.
You can also filter by the marketplace, such as eBay.com, eBay.co.uk, etc.
2. Select "Condition filter" to filter products by their condition. For example, select "Used" if you want to sell used items. Then select the "Format filter" dropdown and choose one of the following listing formats:
Auction
Best Offer Accepted
Fixed Pricing
3. Choose a price range. Consider eBay fees, product costs, and shipping fees when you set the minimum price.
Step 3: Analyze The Search Data
Terapeak will now show you two sets of results:
Sold: These are items sold in the specified time frame.
Active: These are active or live listings.
For the "Sold" items, you should see the following eight metrics: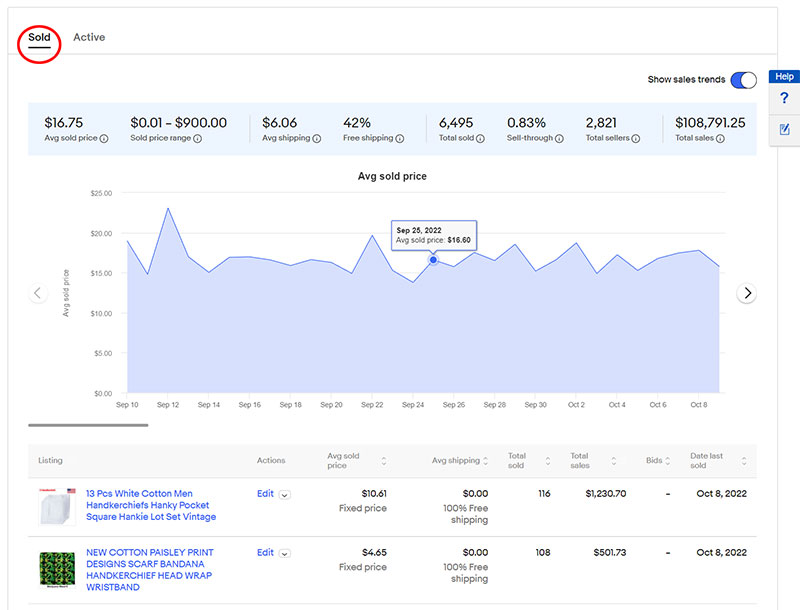 Avg sold price: The average selling price for listings in your search results, excluding shipping costs. Helps you decide how to price a product.
Sold price range: Shows the lowest and the highest sale price of the product. Best when using long-tail keywords; otherwise, pricing for unrelated products may get mixed into the data.
Avg shipping: The average amount buyers paid for shipping;  excludes listings that offer free shipping.
Free shipping: This is the percentage of products sold with free shipping. A high number indicates that you may need to offer free shipping to be competitive.
Total sold: The total number of matching items sold within the specified time period.
Sell-through: The percentage of similar items sold within the specified period. You can use the sell-through metric and the total sold metric to estimate the number of similar items listed.
Total sellers: The number of eBay sellers who listed similar items during the specified period.
Total sales: This is the total revenue of all the items sold. The total sales metric helps you know the eBay market size for a product or category.
"Active" listings should display the following metrics: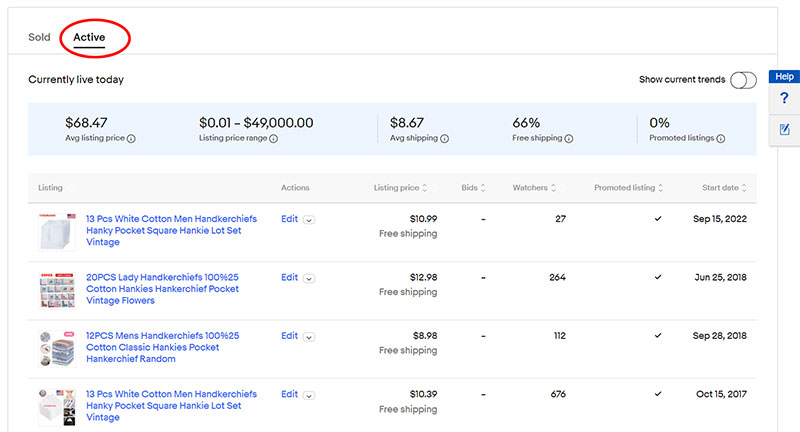 Average listing price
Listing price range
Average shipping
Free shipping
Promoted listings
All of the above metrics are similar to the Sold items metrics except for Promoted listings. Promoted listings are the percentage of active listings being promoted using the Promoted Listings Standard feature.
Below these metrics, you'll see different charts and graphs showing trends for the product over the specified time period.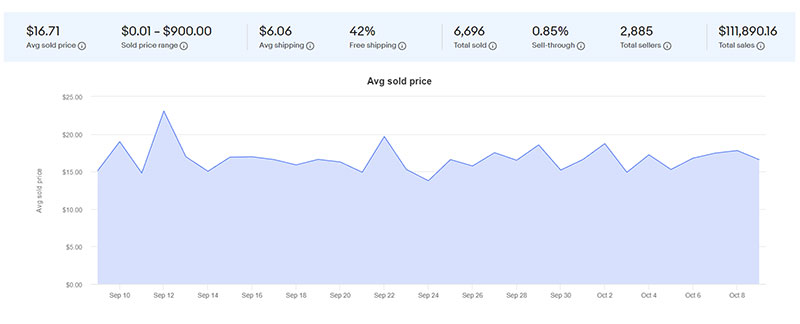 You should look at the "Trend line" in the graphs. A trend line with a distinctive peak indicates months with higher demand for the product.
Step 4: Perform Optional Category Research
If you have access to Terapeak sourcing insights, you can use Terapeak to find popular and trending product categories.
Go to the "Terapeak sourcing insights" section to research categories and search for the one you're interested in using a product keyword, ID, or name.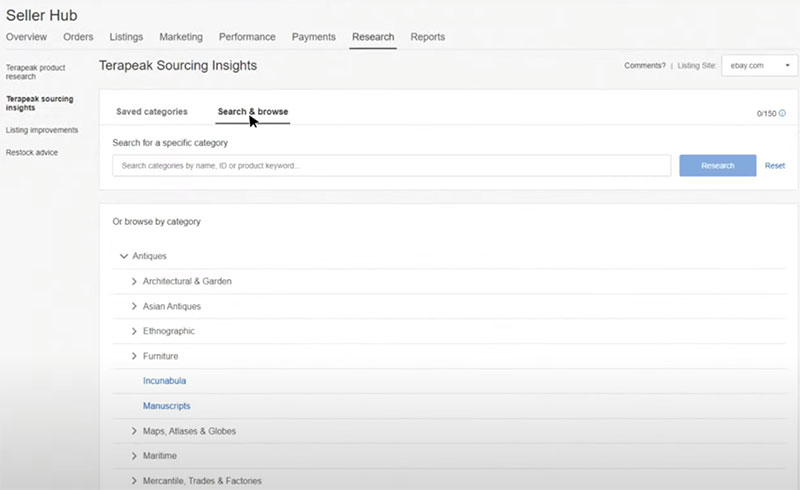 Alternatively, you can browse and select a category using the list below the search box.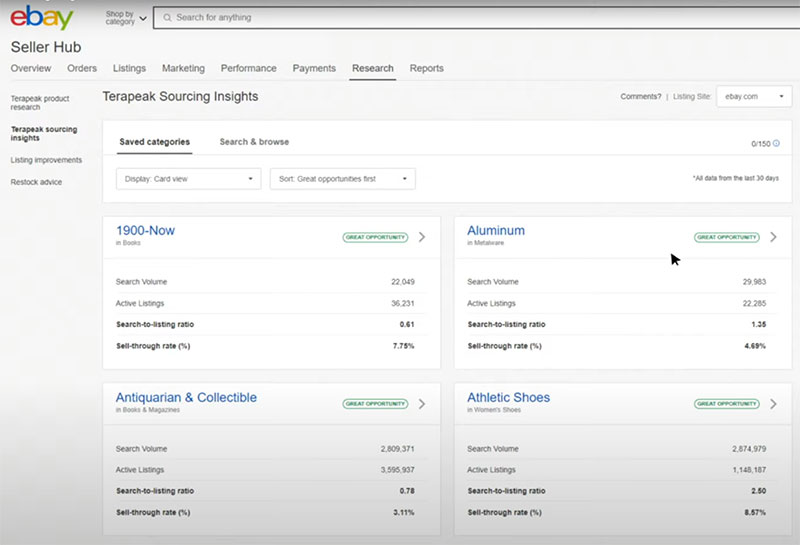 You should see these four metrics:
Search volume: This is the number of search queries for the selected category.
Active listings: This is the total number of active listings on eBay.
Search-to-listing ratio: The ratio of category search volume to the number of listings in the category. A higher search-to-listing number indicates lower competition. For example, if the search volume is 1000 and there are only 100 listings, then the search-to-listing ratio is 10.
Sell-through rate: A percentage value of the number of items sold divided by the product inventory. The higher the sell-through rate, the higher the number of products sold.
Click on the category to expand it and see more details.
The following two filters will allow you to refine your search results:
All formats: Choose either Auction or Fixed price format.
All conditions: Choose a product condition. If you're selling brand-new items, it's best to choose "New" instead of "All" conditions to avoid skewing the data.
Below the filter, you'll see the following three graphs:

Click-through rate: This is the number of clicks a product receives divided by the number of times the product is displayed in search results.
Total listings over time: This is the total number of listings displayed in a specific period.
Total items sold over time: This is the total number of items sold over a specific period.
Scroll down to see these three tabs below the graphs:


Top opportunities: These products aren't necessarily top-selling but generate good impressions and clicks and have a lower return rate than other products.
Explore item specifics: You can check product-specific details in this tab. For example, this section will give a product breakdown and variations to help you understand which variants sell more. For example, if you're looking to sell iPhone 14 Pro Max, you can check which color sells more.
Top listings: These are the best-selling listings in the category.
You can click on the products individually to do product research using the Terapeak Product Research tool.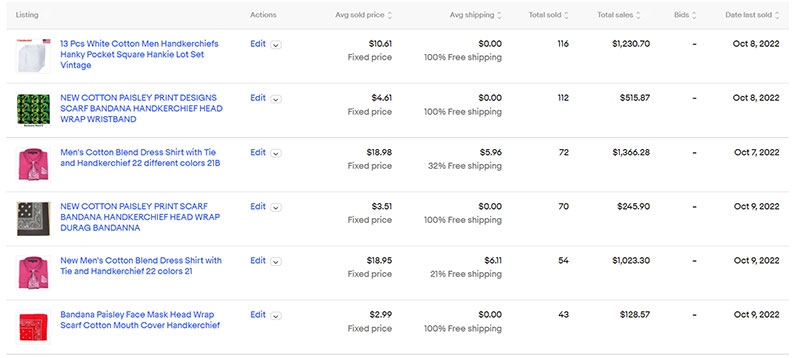 After exploring the category, go to the top of the page and click the "Save category" button on the top right to save the category and compare it with other categories.
Then go to the "Saved categories" section to get a better idea of which of your saved categories show better metrics.
Limitations Of Terapeak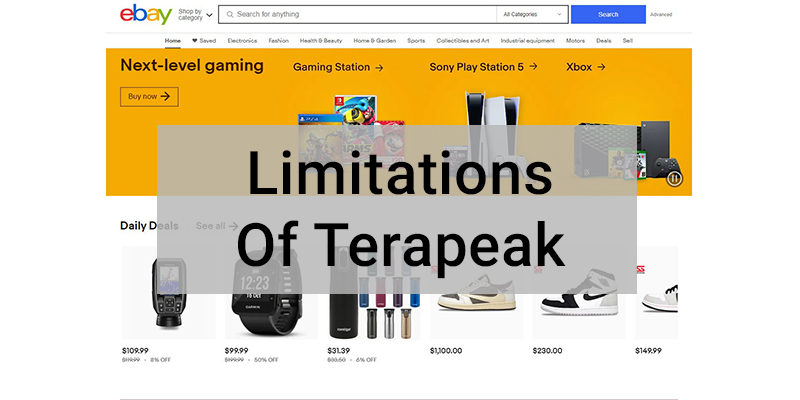 The main limitation of Terapeak is that it only shows data from the past 365 days. You can't check sales data or trends beyond that time period.
The other limitation of Terapeak is that the tool only provides revenue numbers and not the gross profit for every sale made.
For example, some high selling products on eBay are sold at wafer-thin margins or at heavy discounts which can artificially inflate the sell-through rate.
Make sure you check prices with your wholesale suppliers to calculate your potential margins before deciding to sell a product.
Zik Analytics: A Terapeak Alternative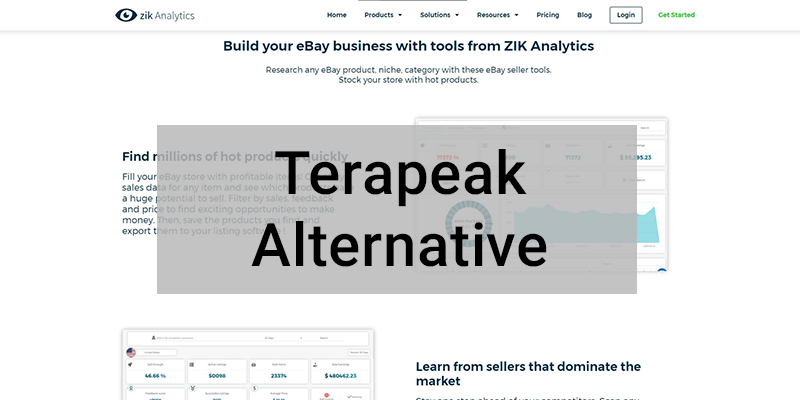 Zik Analytics is a cloud-based data analytics platform that enables users to collect, analyze, and visualize data from multiple ecommerce marketplaces including eBay and AliExpress.
Right now Zik Analytics is the best alternative to Terapeak. It provides most of the data that Terapeak does, such as top-selling items in a category, average product price, and total revenue earned.
It also has a Competitor Research Tool that lets you learn from sellers who dominate specific product categories. You can also see the best keywords for all eBay items and sort them by the number of competitors and sales.
Zik Analytics has three subscription plans:
Pro plan for $14.99 a month.
Pro+ plan for $29.99 a month.
Enterprise plan for $44.99 a month.
The Pro+ and Enterprise plans let you find and cross-compare eBay products with products on Alibaba, AliExpress, Amazon, and Walmart.
The Enterprise plan has extra features such as Turbo Scanner, which discovers best-selling dropshipping items on Amazon and Walmart.
Overall, Zik Analytics is a great analytics tool for non-technical users and has more features than Terapeak.
Pay $1 for their 7-day trial and decide for yourself before subscribing to one of their monthly plans.
Final Thoughts on Terapeak
As you can see, Terapeak is a powerful product research tool that can save you time and help you earn more money as an eBay seller.
If you don't require integrations with other stores, like AliExpress, Amazon, or Walmart, then Terapeak will get the job done.
If you do sell on other platforms, then check out Zik Analytics as a viable alternative.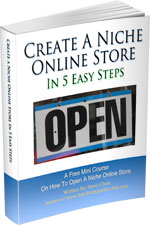 Ready To Get Serious About Starting An Online Business?
If you are really considering starting your own online business, then you have to check out my free mini course on How To Create A Niche Online Store In 5 Easy Steps.
In this 6 day mini course, I reveal the steps that my wife and I took to earn 100 thousand dollars in the span of just a year. Best of all, it's free and you'll receive weekly ecommerce tips and strategies!
Note: This post above may contain affiliate links, which means that I may receive a commission if you make a purchase when clicking a link. Please consult our privacy policy for more information.
Related Posts In How To Find Products To Sell
About Steve Chou

Steve Chou is a highly recognized influencer in the ecommerce space and has taught thousands of students how to effectively sell physical products online over at ProfitableOnlineStore.com. 

His blog, MyWifeQuitHerJob.com, has been featured in Forbes, Inc, The New York Times,  Entrepreneur and MSNBC.  

He's also a contributing author for BigCommerce, Klaviyo, ManyChat, Printful, Privy, CXL, Ecommerce Fuel, GlockApps, Privy, Social Media Examiner, Web Designer Depot, Sumo and other leading business publications.

In addition, he runs a popular ecommerce podcast, My Wife Quit Her Job, which is a top 25 marketing show on all of Apple Podcasts. 

To stay up to date with all of the latest ecommerce trends, Steve runs a 7 figure ecommerce store, BumblebeeLinens.com, with his wife and puts on an annual ecommerce conference called The Sellers Summit.  

Steve carries both a bachelors and a masters degree in electrical engineering from Stanford University. Despite majoring in electrical engineering, he spent a good portion of his graduate education studying entrepreneurship and the mechanics of running small businesses.