The best clothing dropshipping suppliers offer a large selection, sell high quality products and process orders quickly.
But with so many to choose from, finding the right clothing suppliers can seem overwhelming. In this article, I've compiled a list of 42 of the best clothing dropshipping suppliers and their pros and cons to help you find the best ones for your business.
Get My Free Mini Course On How To Start A Successful Ecommerce Store
If you are interested in starting an ecommerce business, I put together a comprehensive package of resources that will help you launch your own online store from complete scratch. Be sure to grab it before you leave!
Gelato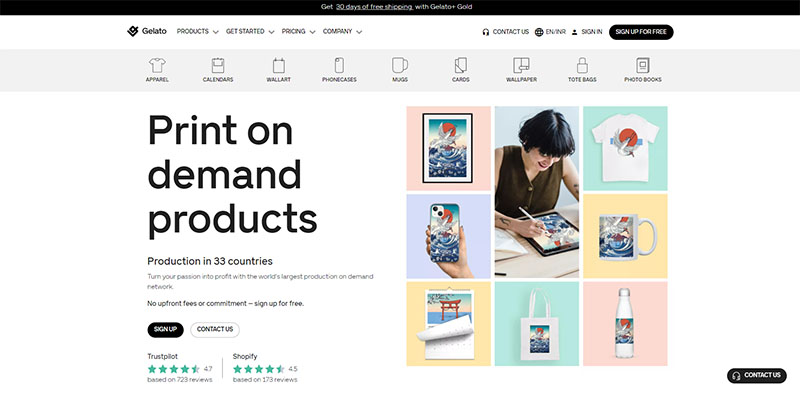 Gelato is a print-on-demand platform connecting dropshippers and retailers with suppliers from 33 countries. Gelato helps their partners customize products and deliver products quickly.
Gelato provides a wide range of apparel, such as T-shirts, hoodies, sweatshirts, and sportswear for men, women, and kids, including baby clothes. Besides the clothing options, they also offer other products, such as wall art, calendars, phone cases, and stationery items.
Pros
Fast shipping: ~90% of Gelato's orders are produced in the same country they are due to be delivered
Many integrations: Gelato can connect with your website via an app or API.
Free plan: Add unlimited products, create free product mockups and connect your ecommerce store on their free plan.
Custom branding: Add your logo to the packaging and inserts.
Wide product range: Gelato offers a broad selection of products, including apparel, home decor, promotional products, and more.
Cons
Discount restrictions: Shipping discounts are limited to countries like the USA, Canada, and Europe.
No phone support: If you have a question, you must use their live chat feature. Despite this, they still have great customer service that replies quickly.
Click Here To Try Gelato For Free
My Online Fashion Store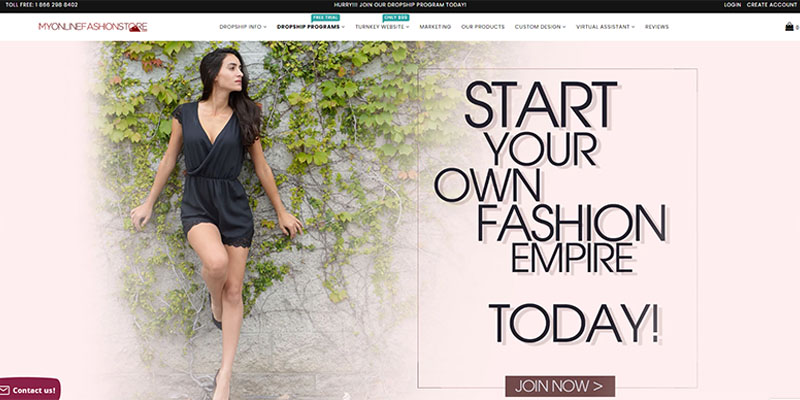 My Online Fashion Store is a California-based clothing dropshipping supplier specializing in women's fashion. They offer three dropshipping programs as follows:
Standard: $9 per month. The Standard plan gives you access to the platform's basic features and allows you to sell on Facebook and Instagram.
App: $29 per month. You can add and manage products on your Shopify, Wix, BigCommerce, and WooCommerce stores.
Inventory resource: $39 per month. Sync inventory levels and products with your online store, marketplace, or multi-channel platform.
Pros
Free trial: You can use My Online Fashion Store for 14 days before purchasing a subscription.
Fast shipping: My Online Fashion Store processes orders within one to two business days and guarantees shipping times of five to seven business days within the US.
Free returns: My Online Fashion Store offers free returns for return requests made within 30 days of delivery. Once you receive an authorization number, you'll receive a free UPS prepaid label via email.
Cons
Manual order fulfillment: Although My Online Fashion Store integrates with known ecommerce platforms like Shopify, Wix, and BigCommerce, there's no automated order fulfillment option. You need to place orders manually through their website.
No international shipping: My Online Fashion Store currently only offers to ship within the US. You must create your own shipping label and email it to them for international orders.
BrandsGateway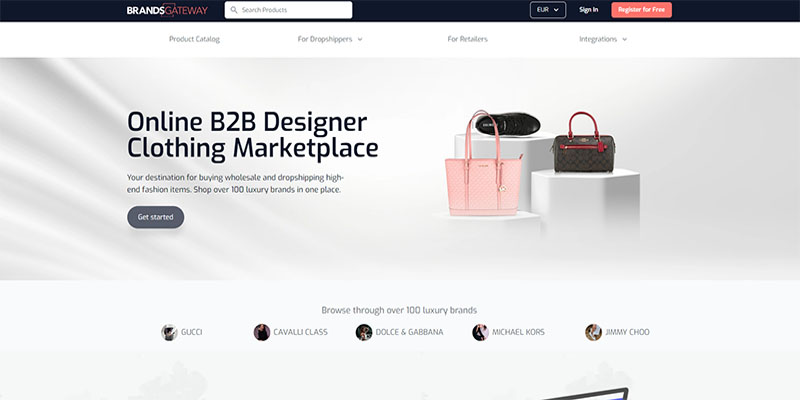 BrandsGateway is an Estonia-based wholesale clothing vendor that dropships luxury fashion products. They have warehouses worldwide, including in the US, Germany, and Italy.
BrandsGateway partners with over 100 luxury brands and offers over 9000 products in categories like clothing, shoes, handbags, and sunglasses.
Pros
Fast delivery: The estimated delivery time for EU orders is one to three business days and five to seven business days outside the EU.
Famous brands: BrandsGateway is a high-ticket dropshipping supplier of brands like Dolce & Gabbana, Gucci, Coach, and Moschino.
Automated order fulfillment: BrandsGateway integrates with Shopify, WooCommerce, Wix, and Shift4Shop stores to automate order placement.
Cons
Expensive pricing: BrandsGateway charges a flat monthly membership fee of $295. However, a discount of up to 52% is available if you purchase their annual plan.
ModeShe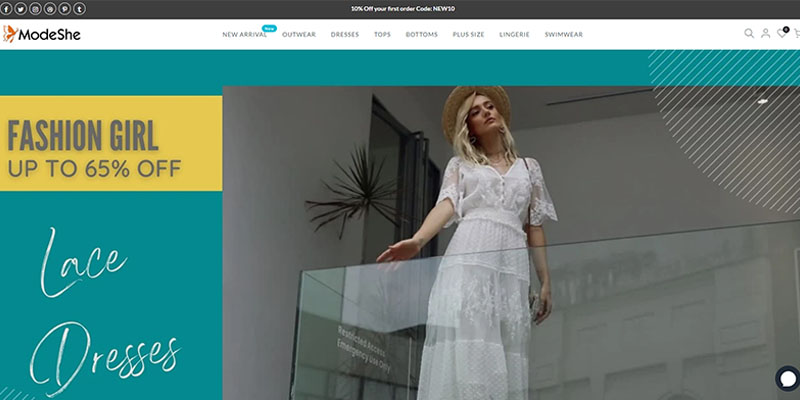 ModeShe is a Hong Kong-based dropshipping supplier offering stylish and modern clothing for women aged 18 to 35.
Founded in 2012, ModeShe offers regular discounts and sales on most items, including formal and casual wear.
Pros
No subscription fee: Unlike most dropshipping suppliers, ModeShe doesn't charge a monthly fee.
No MOQ: None of the products on ModeShe have a minimum order requirement.
Easy cancellations: You can get a full refund on orders canceled within 12 hours of purchase. After that, you are charged a 15% cancellation fee.
Cons
Limited syncing: ModeShe only integrates with Shopify stores.
Long processing time: The order processing time on ModeShe is one to five business days. Shipping can take another seven to fifteen business days.
Poor returns policy: ModeShe has a short 5-day return policy, whereas the industry standard is 15 to 30 days.
T-Pop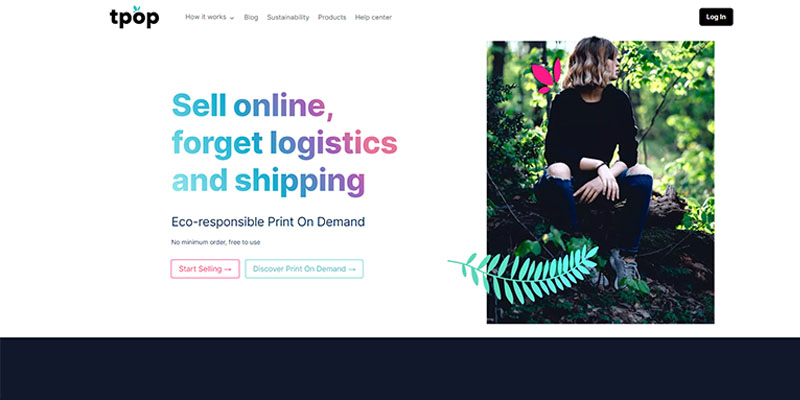 T-pop is a print-on-demand supplier that uses eco-friendly products for printing on shirts, hoodies, tanktops and more.
They have a wide range of sustainable products, including clothing, bags, stickers, posters, bibs, bottles, mugs, and cushions.
Pros
Plastic-free shipping: True to their ethos, T-Pop ships all their products in recycled material bags and doesn't use plastic in their packages.
Fully customizable: Other than a custom design, T-Pop can also add personalized thank-you notes, branded packaging, and stickers.
Cons
Limited integrations: T-Pop only integrates with Shopify, WooCommerce, and Etsy.
Delayed shipping: Since the company is based in France, shipping to the US takes five to 14 business days.
Buy2Bee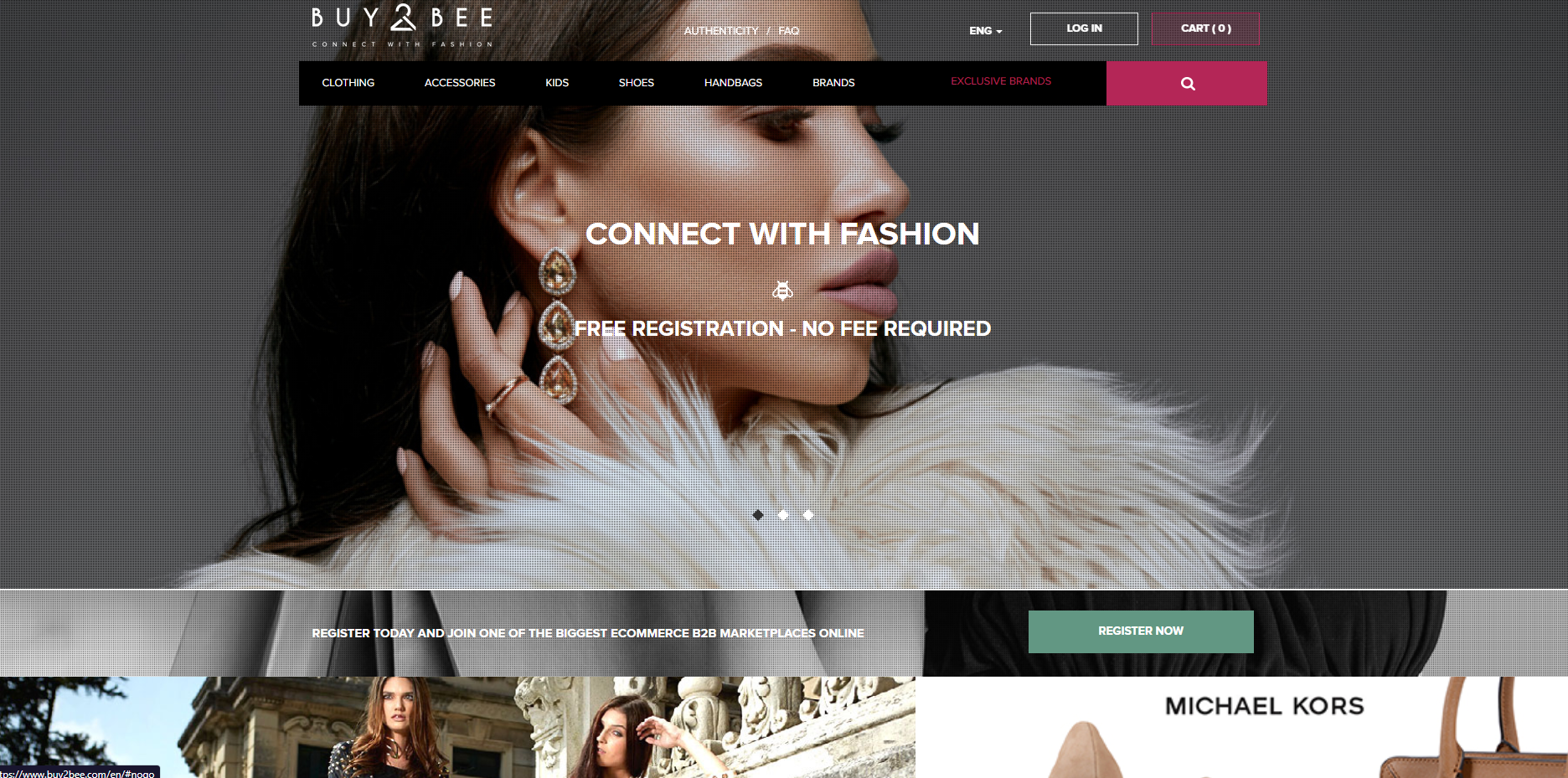 Buy2Bee is a luxury clothing dropshipping supplier based in Italy. They have two warehouses, one in Milan and another in Los Angeles, ensuring that customers in Europe and the US get their orders quickly.
Buy2Bee partners with brands like Emporio Armani, Michael Kors, and Salvatore Ferragamo.
Pros
Fast shipping: Buy2Bee ships orders within one to two business days at discounted rates.
Authentic products: All products on Buy2Bee are inspected and sourced directly from the manufacturers.
Cons
Limited integrations: Buy2Bee only syncs with Shopify stores.
Expensive: Buy2Bee charges $249 a month for Shopify integrations.
Spocket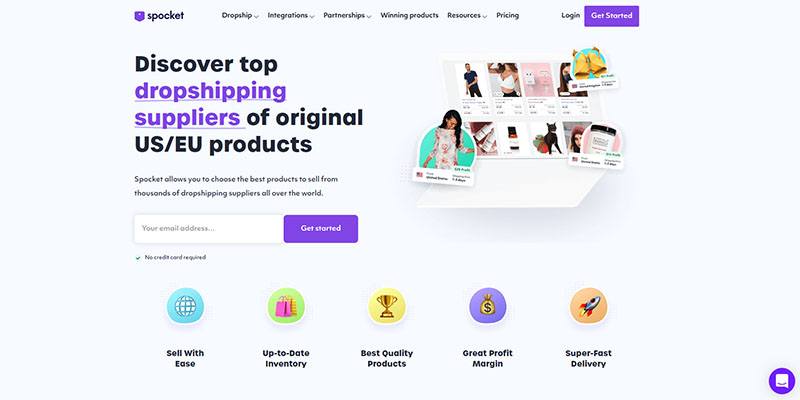 Spocket is a B2B online marketplace that connects dropshippers to suppliers from Europe and the US.
Spocket offers products in categories like clothing, toys, footwear, and tech accessories. You can search for products and add them to your online store with a push button.
Pros
Branded invoicing: Spocket allows you to add a logo and a personalized note for your customers.
Return policies: Spocket suppliers are given three return policies to choose from: no returns, 15-day returns, or 30-day returns.
Product samples: Spocket allows you to order samples to test the products and suppliers.
Cons
No custom packaging: Spocket doesn't let you customize packaging.
High product pricing: Some Spocket products are expensive, making achieving a good profit margin challenging.
Printful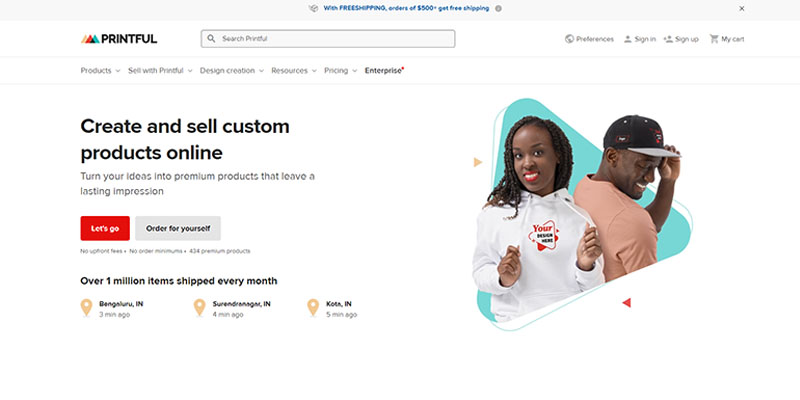 Printful is a well-known print-on-demand dropshipping company with fulfillment centers across Europe, Mexico, and the US.
Printful does their own manufacturing and printing, controlling order fulfillment from end to end.
Pros
Large product variety: In addition to offering standard clothing items like t-shirts and hoodies, Printful also offers swimwear, beanies, and leggings.
Automated order fulfillment: You can integrate most ecommerce platforms and marketplaces with Printful. That way, when you receive an order in your store, it's automatically placed on Printful.
Warehousing service: Printful offers storage, so if you have a hot-selling product, you can print it in advance and store it in Printful's warehouse.
Cons
High pricing: With Printful, you can source various products, print, and ship them all from one place; however, the added convenience results in higher pricing compared to other providers.
AnnLoren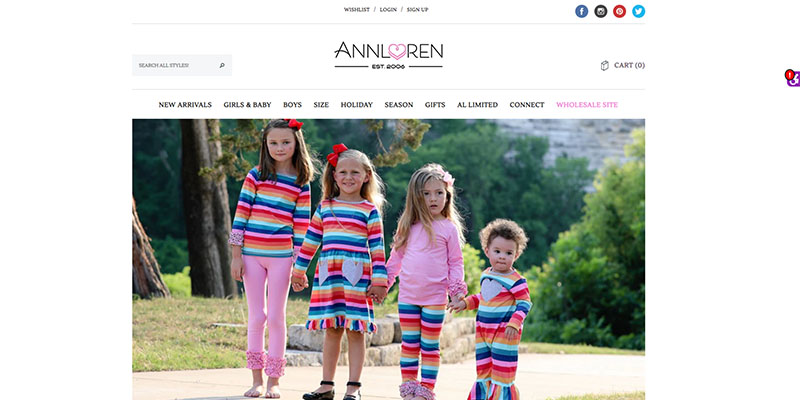 AnnLoren is an American clothing dropshipper for babies and children between 3 months to 12 years of age.
AnnLoren uses bright colors, bold prints, and comfortable fabrics for products such as dresses, blankets, bibs, and swimwear.
Pros
High-quality goods: Since AnnLoren designs and manufactures their goods, they have better quality control.
Unique products and designs: AnnLoren offers unique yet comfortable clothing for babies and kids. They also provide matching clothing for dolls.
Cons
No international shipping: AnnLoren only ships to the US and Canada.
Lack of boy's clothing: AnnLoren has limited product and sizing options for boys.
Contrado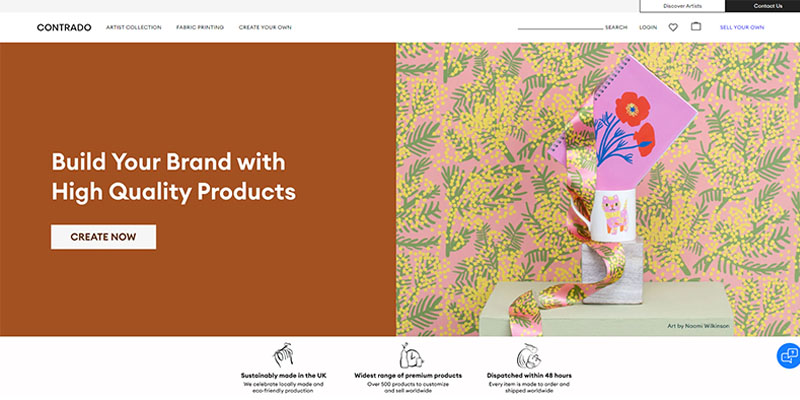 Contrado is a London-based company that makes high-quality print-on-demand products. Their platform lets designers upload artwork and receive up to 25% commission on each sale.
With Contrado, you can choose from various products created by independent artists or your own personalized designs. The best part is that they have no minimum order requirements or subscription fees.
Pros
Quick processing time: Contrado prints orders within one to three business days. Delivery is another one to four business days.
Large collection: Contrado offers a wide range of products, including clothing, accessories, home decor, pet accessories, and stationery.
Cons
Limited syncing: Contrado's dropshipping app is currently only compatible with Shopify.
High pricing: Product pricing is relatively high, making it challenging to add margins for dropshipping.
Simplee Apparel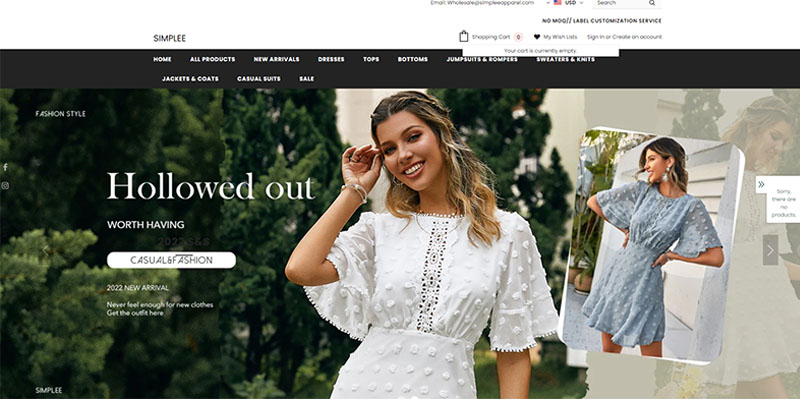 Simplee Apparel is a dropshipping supplier of women's clothing that offers high-quality and trendy dresses, tops, bottoms, jumpsuits, sweaters, jackets, and suits.
Simplee Apparel also provides discounts on bulk orders through their wholesale program.
Pros
Private labeling: Simplee Apparel allows you to add your labels to their garments.
Free shipping: Simplee Apparel provides free shipping on all orders. You also have the option to use express shipping for urgent orders for an additional cost.
Cons
Limited catalog: Simplee Apparel only has a handful of products in each category. They do, however, update their catalog regularly.
Modalyst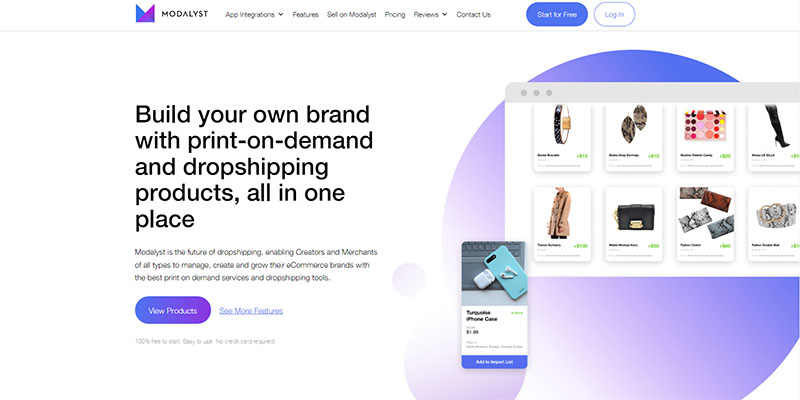 Modalyst is a clothing dropshipping platform that allows you to source low-cost products from international suppliers.
You can browse thousands of products using the Modalyst app and add them to your online store with the click of a button.
Pros
Print on demand: Modalyst lets you add custom designs on clothing, accessories, mug, and other products with no minimum order requirements.
AliExpress partner: Modalyst is the official dropshipping partner of AliExpress. You can easily integrate AliExpress with your online store to access products and manage orders within the Modalyst interface.
Cons
Transaction fee: Modalyst charges a 5% transaction fee on every order you make through their platform.
LA Showroom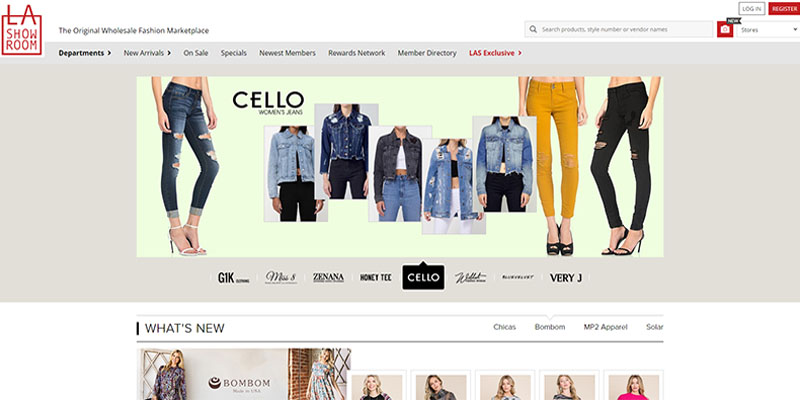 LA Showroom is a wholesale fashion marketplace that includes local brands like Rehab Lab, SJL Apparel, and Tua.
LA Showroom specializes in women's clothing but also offers men's clothing, children's clothing, bags, footwear, cosmetics, fragrances, and accessories.
Pros
Large catalog: LA Showroom offers thousands of products from Los Angeles manufacturers, distributors, and fashion designers.
Product imagery: LA Showroom provides high-quality product images you can upload to your online store.
Cons
Customer service: Customers have complained about late responses and delayed refunds from LA Showroom.
KidsBlanks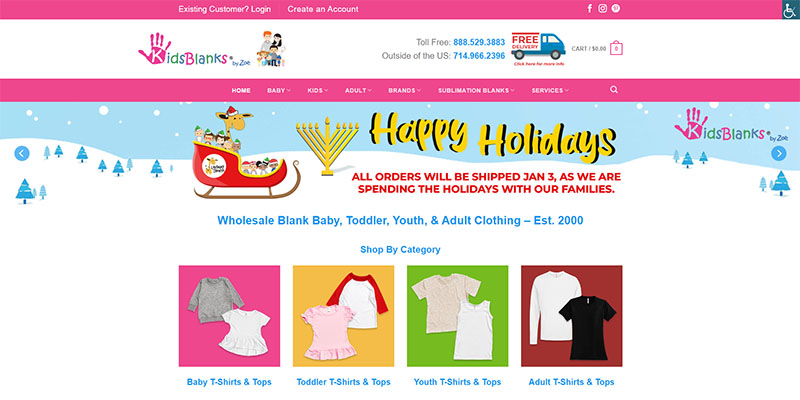 KidsBlanks is a California-based company that sells wholesale baby, toddler, youth, and adult clothing ready for your designs.
KidsBlanks also provides screen printing and embroidery services for dropshippers, but a minimum order of 48 products is required.
Pros
Quick turnarounds: KidsBlanks dispatches orders within one to two business days. Deliveries within the US take between three to five business days.
Cons
Limited integrations: KidsBlanks only syncs with Shopify stores using the Syncee app.
Trendsi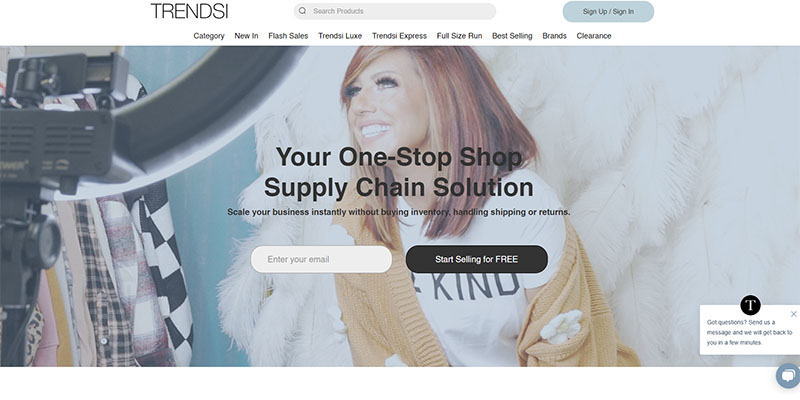 Trendsi is a clothing dropshipping and wholesale platform that connects brands to sellers. Trendsi features several products at competitive prices, including apparel, jewelry, footwear, bags, watches, and more.
If you have a Shopify store, you can easily connect it with Trendsi using their app for finding and adding products.
Pros
Branded invoices: You can personalize invoices by including your logo and a thank you note.
No monthly fee: You can open an account for free on Trendsi. There are no fees for using their platform.
Cons
No international shipping: Trendsi only ships within the US and its territories.
Women's clothing only: Trendsi doesn't offer products for men or kids.
Nordstrom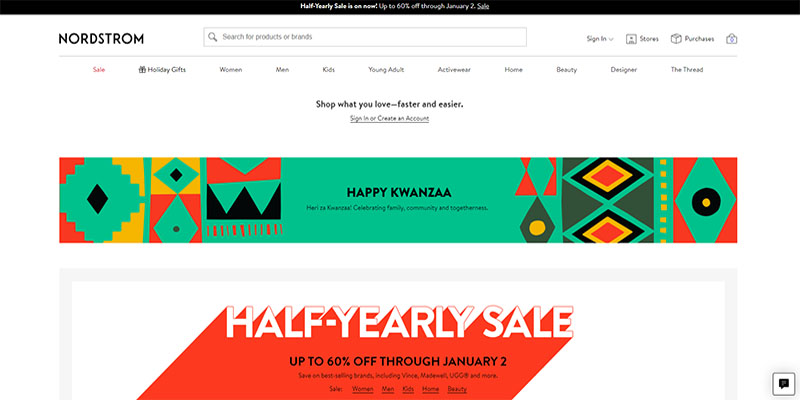 Nordstrom is a well-known American fashion retailer that offers high-quality clothing, shoes, and accessories for men, women, and children.
Nordstrom has partnered with Dsco (Dropship Commerce) to ship products on your behalf in the US and internationally.
Pros
Automated inventory: Nordstrom provides automated inventory syncing to avoid overselling.
No setup or transaction fees: Nordstrom doesn't charge subscription or transaction fees on their orders.
Cons
Invitation-only: Not all dropshippers can sign up for Nordstrom's dropshipping program.
Clothes2Order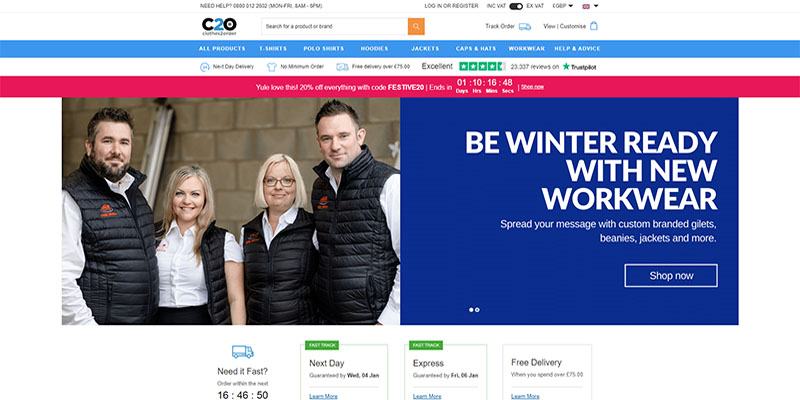 Clothes2Order is a UK-based personalized clothing company specializing in custom printed and embroidered clothing.
Clothes2Order offers a wide range of t-shirts, hoodies, workwear, and accessories for personal and business use. You can also buy blank garments from Clothes2Order.
Pros
No MOQ: Clothes2Order has no minimum order quantity for both blank and printed orders.
Great customer service: The Clothes2Order team is prompt with their responses and aims to provide helpful solutions to your order issues.
Dropshipping API: Clothes2Order's Dropshipping API helps you automate tasks like managing inventory levels and ordering.
Cons
Selective delivery: Clothes2Order only ships to the UK, Europe, USA, Australia, Canada, and a few other countries.
Slow dispatch: Standard dispatch time is seven business days. Shipping can take anywhere between two to ten business days.
Ujena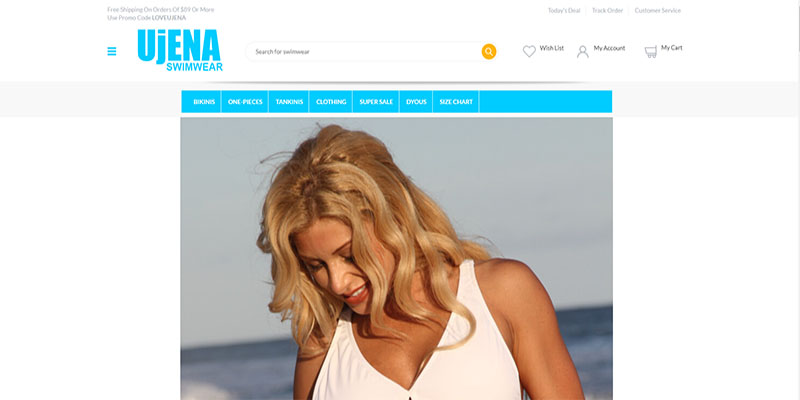 Ujena is a swimwear dropshipping company based in California. Ujena creates stylish and comfortable swimwear, including one-piece suits, bikinis, cover-ups, and beachwear.
Pros
Large swimwear range: Ujena has many types of swimwear available in multiple colors and sizes.
Cons
No integrations: Ujena doesn't integrate with online stores or marketplaces.
Dated website: The Ujena website has an outdated user interface which can be difficult to navigate.
Daring Diva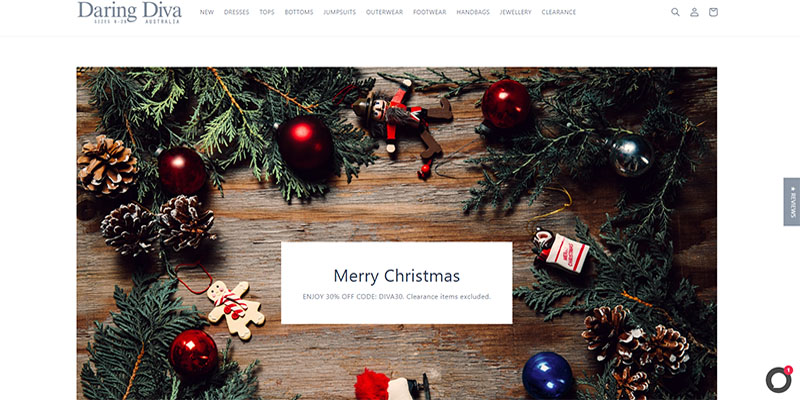 Daring Diva is an Australia-based fashion label that dropships plus-size clothing. In addition to apparel such as tops, dresses, and jumpsuits, Daring Diva also sells footwear, handbags, and jewelry.
Daring Diva has a dropshipping program where you can receive an additional discount on their retail pricing.
Pros
Flexible return policy: You can raise a return request within 14 days after the delivery of goods.
Simple user interface: The Daring Diva website is easy to navigate and has a clean user interface.
Cons
Long delivery: Since Daring Diva is located in Australia, shipping to the US can take five to seven business days.
Fashion TIY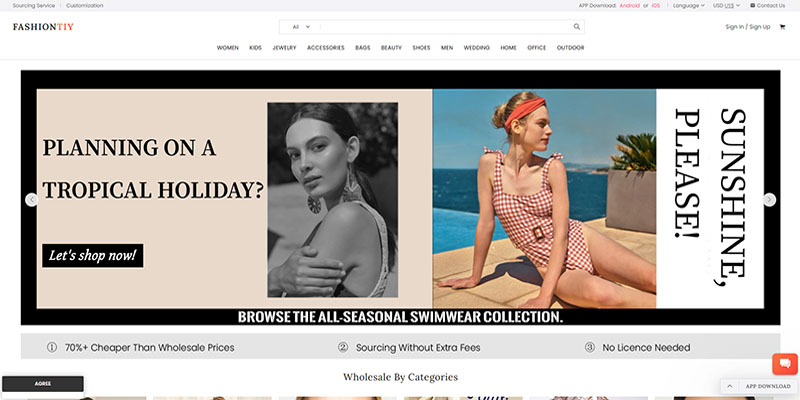 Fashion TIY is a Chinese-based B2B online clothing wholesale marketplace providing high-quality products to wholesale vendors, retailers, and dropshippers.
The most popular categories on Fashion TIY are women's clothing, kids' clothing, jewelry, handbags, and accessories.
Pros
Tiered discounts: The more items you buy, the more discounts you receive on Fashion TIY.
Low pricing: Pricing on Fashion TIY is 70% cheaper than retail stores.
Great customer service: The Fashion TIY support team is known to respond to customer inquiries promptly.
Cons
Slow shipping: Since Fashion TIY's warehouses are in China, delivery can take anywhere between five to 12 days.
Manual ordering: There are no tools to connect Fashion TIY to your store. As a result, you'll need to manage inventory levels and place orders manually.
Immediate Apparel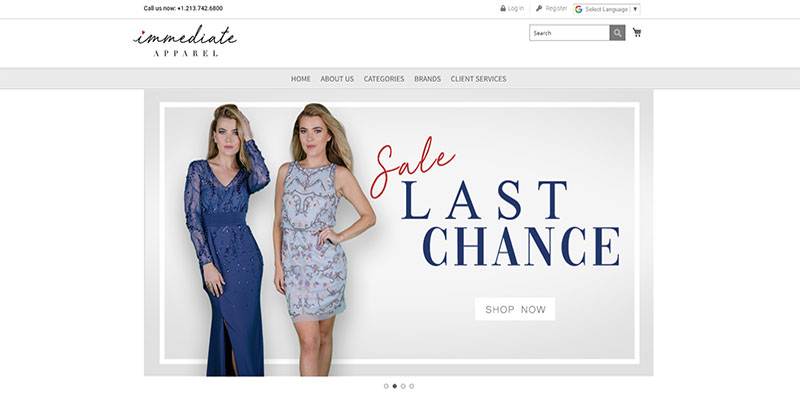 Immediate Apparel is a B2B clothing company that dropships over 15,000 styles across 13 categories. They sell over 120 brands, including Anne Klein and John Meyer Collection.
Based in California, Immediate Apparel has a dropshipping program where you receive additional discounts off the retail price depending on your order frequency and value.
Pros
Large variety: Immediate Apparel has a large product catalog with various designs and cuts.
Fast shipping: Orders are processed within one or two business days.
Cons
They only sell women's clothing: Immediate Apparel doesn't carry men's or children's clothing.
Short grace period: You can only claim order damages within three days of receipt. In addition, you must send the items back within ten days of delivery.
Handshake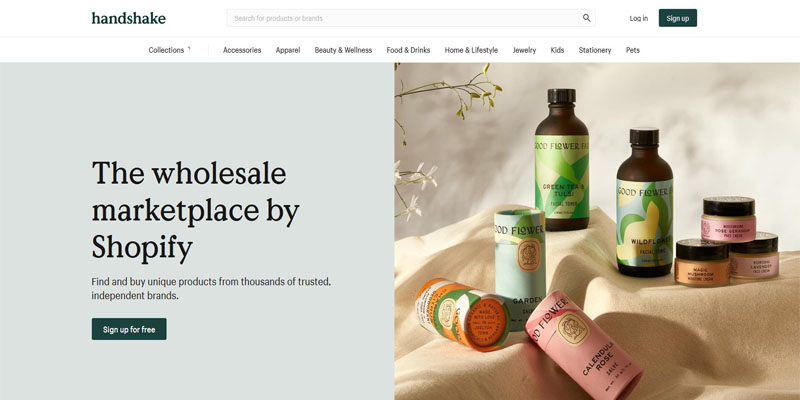 Handshake is Shopify's B2B marketplace which connects brands and wholesalers with retailers and dropshippers.
Handshake was an independent company before Shopify acquired it in 2019 and relaunched the Handshake platform in 2020.
Here are Handshake's main product categories:
Accessories
Apparel
Beauty & Wellness
Food & Drinks
Home & Lifestyle
Jewelry
Kids
Stationery
Pets
Pros
US-based suppliers: All wholesale suppliers on Handshake must be registered in the US.
Attractive user interface: Handshake has a clean and minimalistic user interface. Their intuitive filters help you locate dropshipping suppliers with ease.
No commission: Shopify doesn't charge their wholesalers any listing or commission fees. So you'll likely find cheaper pricing on Handshake than on other platforms.
Cons
Relatively new: Since the Handshake platform is relatively new and has strict supplier requirements, there are fewer brands on Handshake than other big-name B2B platforms.
Few dropshipping suppliers: Not all brands on Handshake offer dropshipping.
Kiyonna Clothing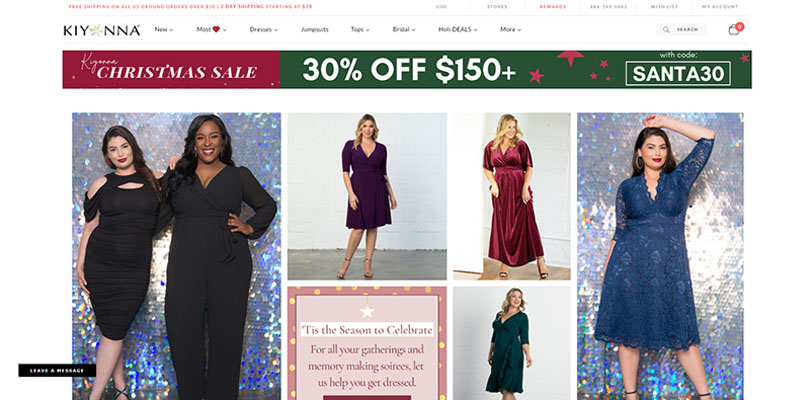 Kiyonna Clothing is a California-based fashion house that designs stylish clothing for plus-size women.
Founded in 1996, Kiyonna carries casual, bridal, and formal wear. Their clothing has been featured on the covers of top magazines such as Glamour and O, The Oprah Magazine.
Pros
Fast delivery: Since Kiyonna Clothing is based in California, deliveries within the US take only two to five business days.
Free delivery: Kiyonna Clothing offers free ground delivery for US orders of $50 and more.
No MOQ: None of the products on Kiyonna Clothing have a minimum order quantity.
Cons
Handling fee: Kiyonna Clothing charges a handling fee of $5 per order.
Gooten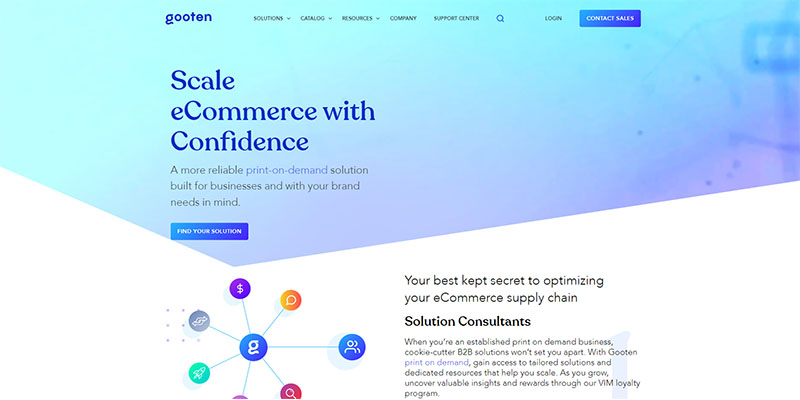 Gooten is a print-on-demand solution for online businesses and dropshippers. They enable merchants to quickly create, customize, and produce physical products like apparel, home decor, accessories, and more.
The company partner's with high-quality manufacturers worldwide to offer competitive prices. With Gooten's integrated shipping options, sellers can deliver their products directly to customers worldwide.
Pros
Multiple integrations: You can easily integrate Gooten with your BigCommerce, Ecwid, Etsy, Shopify, Squarespace, or WooCommerce stores.
Low processing time: Gooten claims to take an average of 1.7 days to print and process orders.
No membership fee: Gooten doesn't charge a monthly subscription fee.
Cons
Slow international shipping: Shipping for international orders except to Canada and the US requires 21 to 30 days.
Apliiq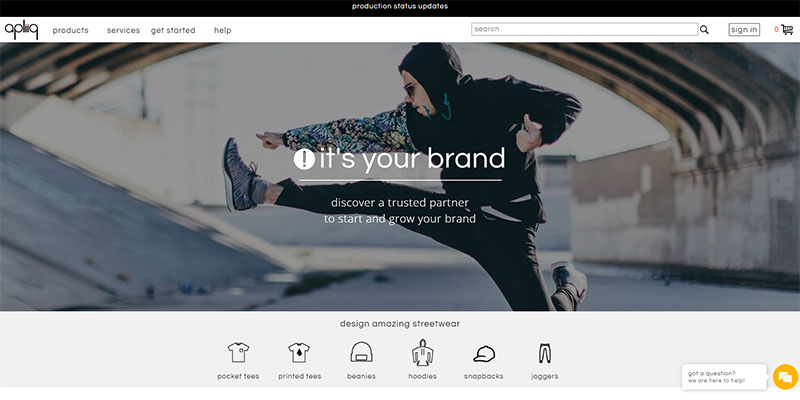 Apliiq is a US-based print-on-demand supplier specializing in clothing. Apliiq has warehouses in two cities in the US: Los Angeles and Philadelphia.
Unlike most other suppliers, Apliiq allows printing and embroidery on various products and locations, such as pockets, liners, joggers, and hats.
Pros
Free shipping: Apliiq offers free shipping for orders over $100 within the US.
Product samples: You can order samples at a discounted rate and test them before you sell them online.
Cons
US-only: Shipping is restricted to the US and its territories.
Lack of transparency: Apliiq doesn't specify their production or shipping times on their website.
DropCommerce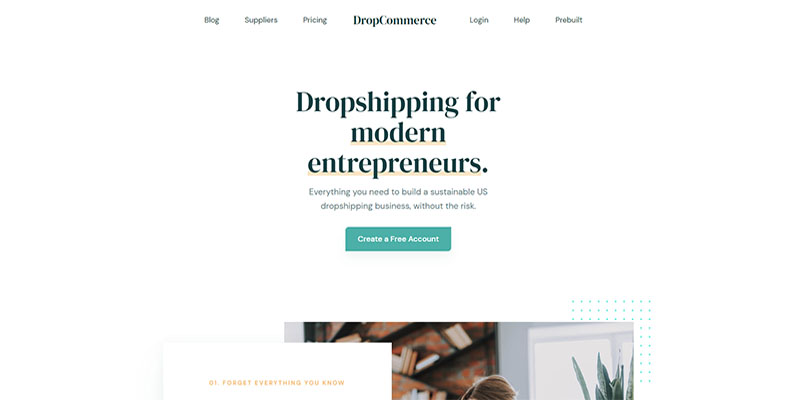 DropCommerce is a dropshipping marketplace that connects 8500+ North American suppliers to dropshippers.
Most products listed on DropCommerce are eco-friendly, fair-trade, vegan, or handmade.
Pros
Branded invoicing: You can customize your invoices by adding a special note and your brand logo.
No transaction fee: DropCommerce doesn't charge a commission or transaction fee on the orders made through their platform.
Free trial: DropCommerce allows a 14-day free trial with no strings attached.
Cons
Limited features: All plans except the Professional and Executive plans have limitations, including manual fulfillment and no branded invoicing.
Product limitations: You can only add a few products on the Free, Basic, and Growth plans.
SaleHoo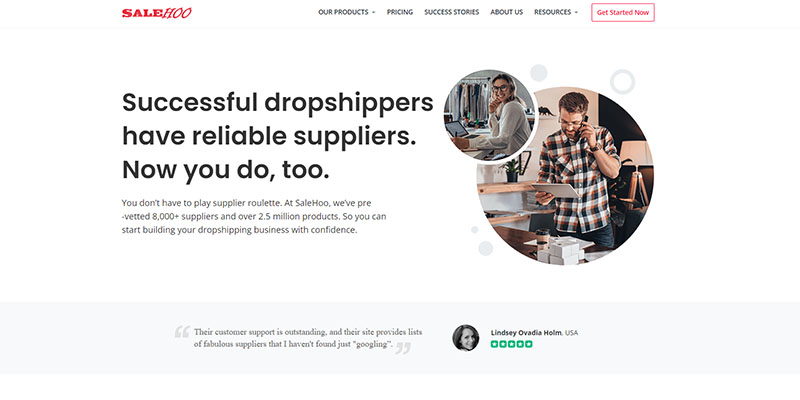 Salehoo is a comprehensive wholesale and dropshipping directory that connects dropshippers with over 8,000 vetted suppliers.
Since Salehoo is an online directory, not a supplier, they don't fulfill orders. However, their powerful search capabilities can help you quickly find suppliers based on your requirements.
Pros
Money-back guarantee: Receive a full refund within 60 days after signup if you're unhappy with the platform.
Great customer support: You can access unlimited one-on-one support via email, live chat, phone, and Facebook Messenger.
In-demand products: Salehoo lists hot-selling and trending items across all categories.
Cons
High product prices: Many Salehoo products can be purchased at a lower price on other dropshipping marketplaces.
Tasha Apparel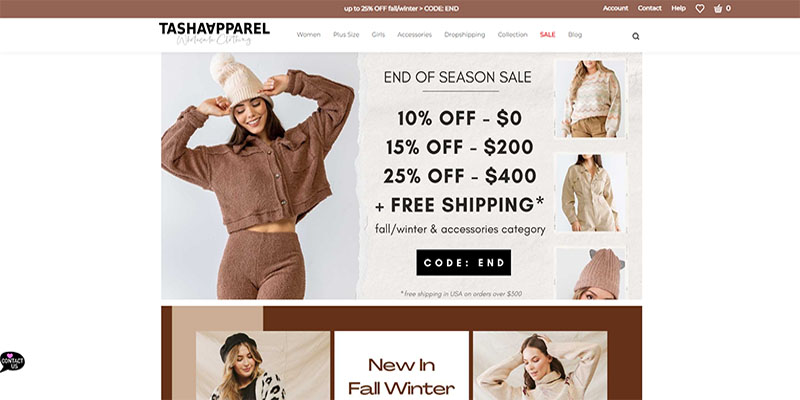 Founded in 2014, Tasha Apparel is a dropship clothing supplier in Los Angeles offering a wide range of products for girls and women.
Tasha Apparel specializes in producing quality garments at affordable rates. They list many types of women's wear, including loungewear, swimwear, and activewear.
Pros
Same-day dispatch: Orders placed before 12 pm PST are dispatched the same business day.
Fast shipping times: Since Tasha Apparel is located in Los Angeles, deliveries within the US are fast.
No restocking fee: Orders returned within the first seven days after purchase aren't charged a restocking fee.
Cons
No integrations: You can't connect your online store to Tasha Apparel. Instead, you'll need to import products to your store manually.
Manual order placement: No automatic order placement option exists, so you must place orders manually.
YourNewStyle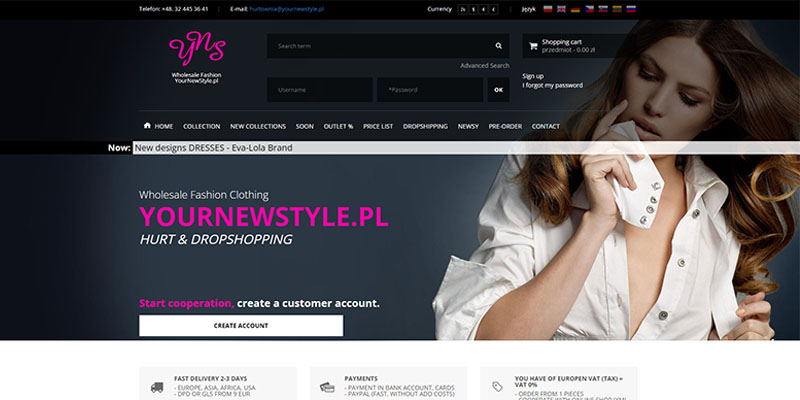 YourNewStyle is a Poland-based dropshipper that sells men's and women's apparel. With over 300 products in their inventory, YourNewStyle provides an array of options, including t-shirts, jeans, dresses, and outerwear.
You can also join their rewards program, which allows you to accumulate points on every purchase. You can use your points towards discounts on future orders.
Pros
No subscription fee: There is no monthly membership fee.
Stylish clothing: YourNewStyle has a collection of fashionable apparel at competitive prices.
Cons
Slow delivery: Since YourNewStyle's warehouse is located in Poland, delivery to North America is generally five to ten days.
High delivery fees: Deliveries outside of Europe are quite expensive.
Bambini Infant Wear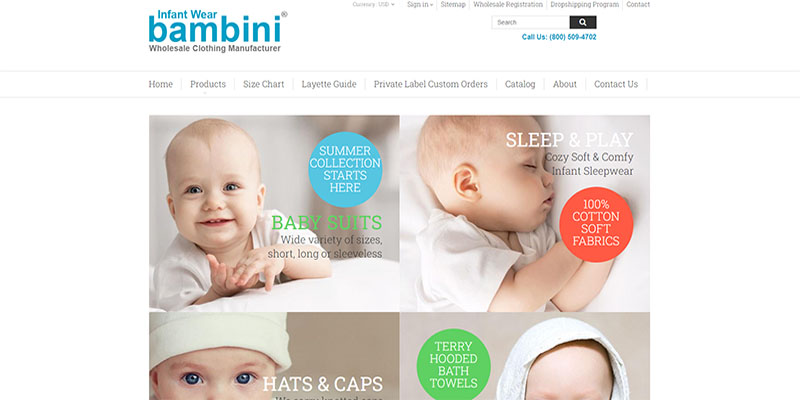 Bambini Infant Wear is a California-based and family-owned business that dropships clothing, hats, bibs, and accessories for babies and infants.
Bambini's collection includes everything from bodysuits to rompers, jumpsuits, bath robes, swaddle blankets, and more. Their garments are made from high-quality cotton, fleece, and other breathable materials.
Pros
Quick shipping times: Orders are processed within one to two business days.
No fees: Bambini Infant Wear doesn't charge a subscription or transaction fee.
Wholesale pricing: Dropshippers get wholesale pricing even for single product orders.
Cons
High international shipping costs: Bambini Infant Wear recommends shipping several items together to avoid high shipping costs to countries outside the US.
Matterhorn Wholesale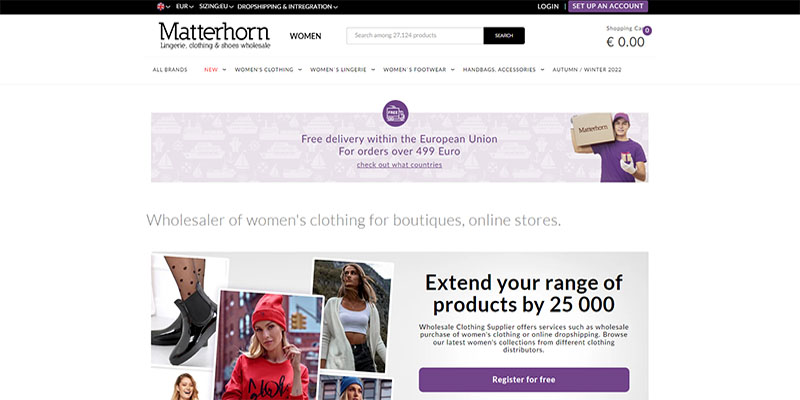 Matterhorn Wholesale is a Poland-based wholesaler that dropships women's clothing, lingerie, footwear, and accessories.
Matterhorn Wholesale sells more than 27,000 products from brands like Amour, Numoco, and FIGL.
Pros
Automated orders: You can either place orders manually on the Matterhorn Wholesale website or automatically through their API.
High quality: Matterhorn Wholesale has good quality products and is quite reliable in terms of service.
Cons
High shipping costs: Shipping anywhere outside Europe starts at €12.
Slow delivery: Delivery outside Europe takes seven to ten business days.
No returns: Matterhorn Wholesale only accepts returns for damaged products.
DHGate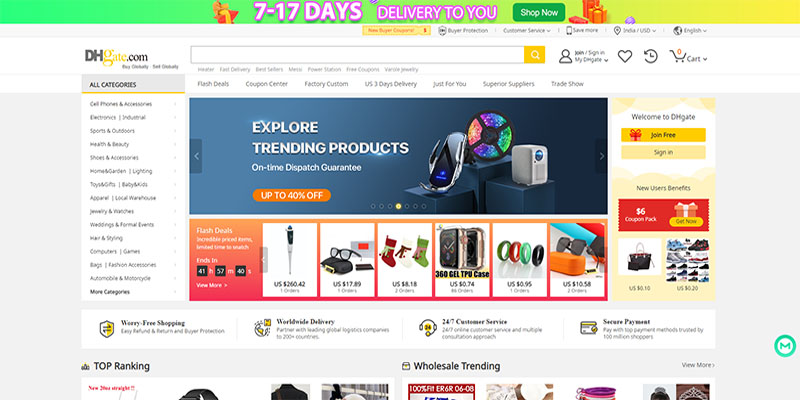 DHGate is a Chinese B2B online marketplace that connects dropshippers to suppliers.
DHGate is one of the world's largest ecommerce marketplaces, with more than 32 million products from 2.2 million sellers.
They are a competitor to AliExpress and offer products in similar categories like apparel, jewelry, home decor, and electronics.
Pros
Buyer Protection Program: DHGate's Buyer Protection Program releases payments to their suppliers only after customers confirm receipt of goods.
Easy to navigate: DHGate is designed to make it easy for buyers to find products quickly. Their user interface has a simple and clean design.
Cons
Poor customer service: The DHGate support team takes a long time to respond to emails and doesn't list a contact number on their website.
No manufacturers: Most sellers on DHGate are resellers, not manufacturers, so they have no control over product quality.
BelleWholesale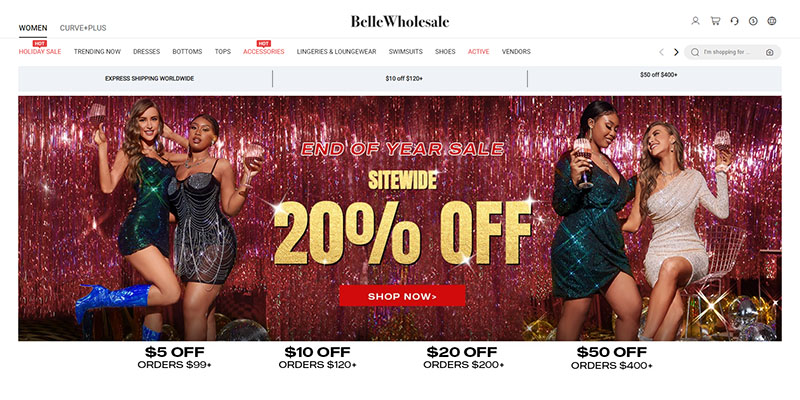 BelleWholesale is a Chinese B2B online fashion dropshipper specializing in trendy women's clothing, footwear, and accessories.
BelleWholesale features twelve different brands, including Lily Apparel and Sporty Space.
Pros
Order discounts: Dropshippers get an additional 5% discount on every order.
Lenient return policy: You can make a return request within 14 days of receipt.
Cons
Slow shipping: Average shipping time to the US is ten to 13 days.
Can't connect to your store: BelleWholesale doesn't integrate with online stores or marketplaces. You need to manage inventory separately and place orders by yourself.
Male Basics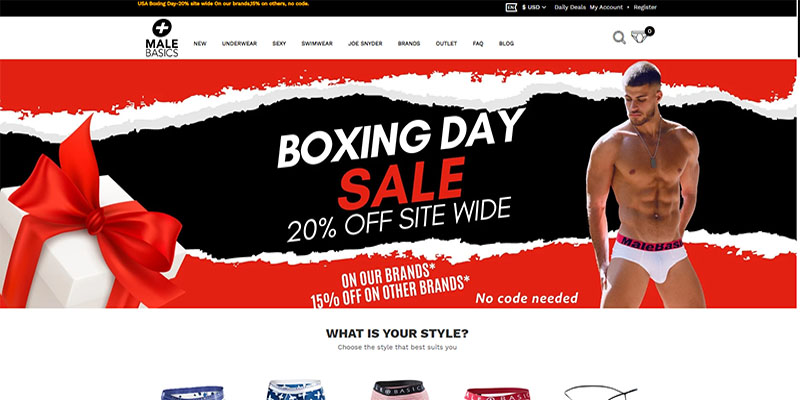 Male Basics is a Miami-based wholesaler that dropships men's underwear and swimwear.
They sell a wide variety of products from brands like Candyman, Hawai, and Gigo Underwear.
Pros
Fast shipping: On average, deliveries within the US take one to three business days.
Great customer service: The Male Basics customer team responds promptly with useful solutions.
Cons
Order processing fee: There is a processing fee of $3 per order.
Pricing rules: Male Basics requires you to list products on marketplaces at only 5% to 7% over or under the MSRP.
365 Dropship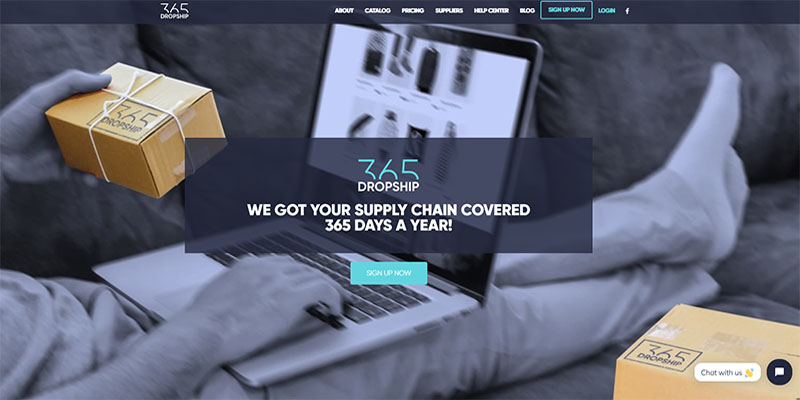 365 Dropship is a dropshipping solution that connects unique suppliers with dropshippers around the world. They have four product categories: Home & Design, Fashion, Jewelry, and Beauty.
With 365 Dropship's automated synchronization, you can update your inventory automatically in your online shop.
Pros
Store integrations: You can connect Shopify, Magento, WooCommerce, and Wix stores to 365 Dropship.
Cheaper pricing: Unlike other dropshipping solutions like Spocket and Modalyst, 365 Dropship offers cheaper subscription plans and has fewer product limitations on each of their plans.
Cons
Fewer suppliers: 365 Dropship currently has only 70 suppliers on their website.
Syncee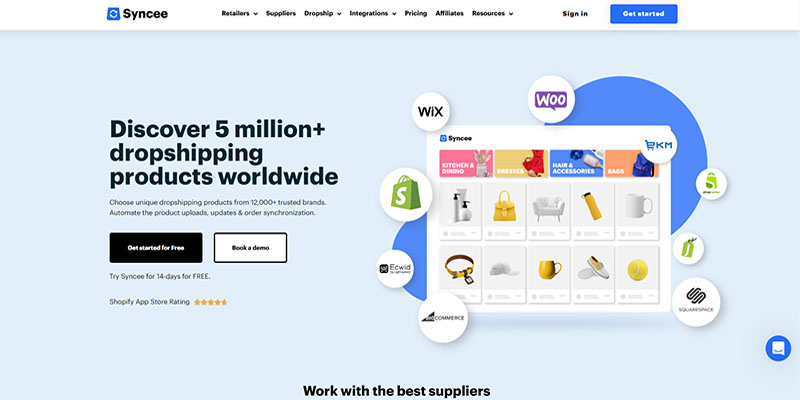 Syncee is a B2B dropshipping platform that lets resellers source products from international suppliers.
Syncee has over 800 suppliers from Australia, Canada, Europe, the UK, the US, and more. They are Alibaba's official technology partner so you can browse and order Alibaba products right from Syncee's dashboard.
Pros
Free plan: Syncee's free plan allows you to list 25 products and process unlimited monthly orders.
Location-based filtering: You can search for dropshipping suppliers based on location.
Multiple integrations: Syncee integrates with 12 ecommerce platforms like Shopify, Wix, and Ecwid.
Cons
High pricing: Many products on Syncee are overpriced.
KakaClo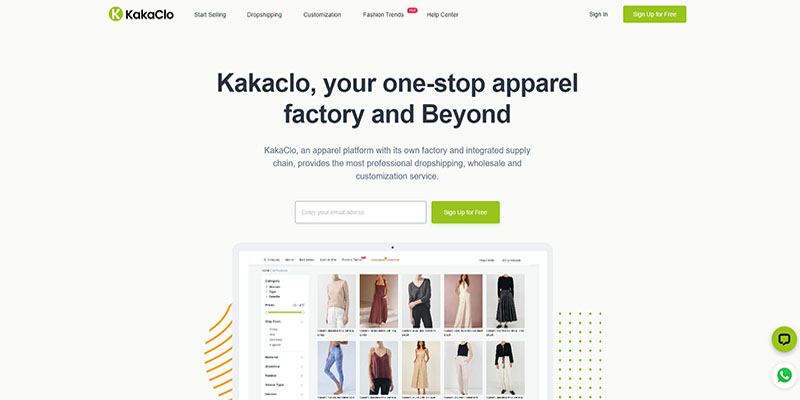 KakaClo is an Asian dropshipping platform selling trendy apparel at low pricing. KakaClo has more than one million SKUs and 800 suppliers on their platform.
You can automate everything from product listing to order placement and quality inspection on KakaClo.
Pros
Multiple warehouses: KakaClo has warehouses in Europe and the US, so you can expect shipping times to be faster for customers in those regions.
Add-ons: KakaClo provides additional services like print-on-demand, customized packaging, and customization-on-demand.
Cons
Limited support: The Help Center and blog offer limited information about their dropshipping service.
FondMart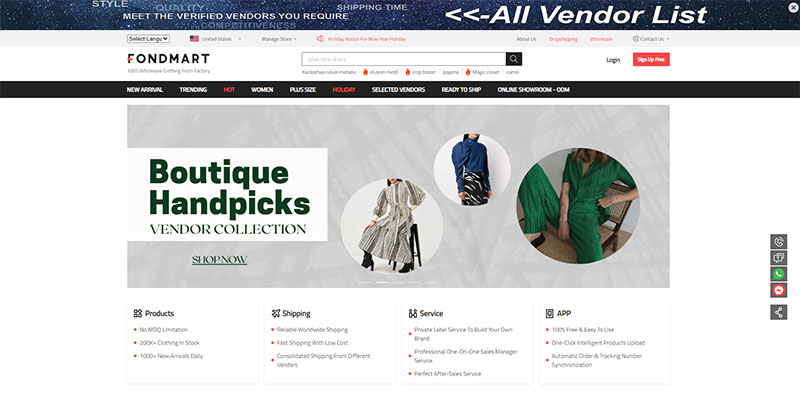 Fondmart is a Chinese B2B platform that connects suppliers to dropshippers and wholesalers. They are also one of the biggest suppliers of Shein and Simplee products.
Fondmart has over 2000 reliable suppliers that list over 200,000 clothing items. Currently, they process an average of 10,000 orders per day.
Pros
US Warehouse: Because Fondmart has a warehouse in the US, you can expect quick processing and shipping times for orders shipped within the US.
Customizations: Fondmart provides customized labels, tags, packaging, and invoicing.
Low pricing: Product and shipping prices are competitive, and they don't charge a monthly subscription fee.
Cons
Limited Niche: Fondmart caters to young women between the ages of 20 and 35.
CustomCat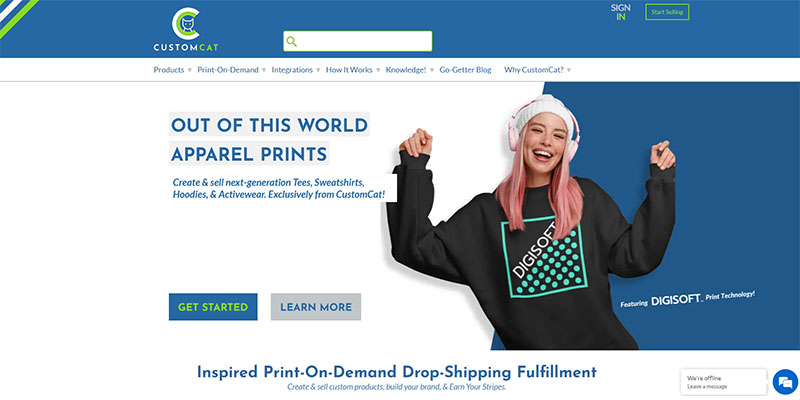 CustomCat is a US-based print-on-demand dropshipping fulfillment service. They fulfill orders themselves and ship them within two days or less.
CustomCat also has an innovative Digisoft print technology that produces more vibrant and long-lasting prints.
Pros
Store integrations: You can connect your Shopify, BigCommerce, and WooCommerce stores with CustomCat. Alternatively, you can connect other ecommerce platforms with CustomCat's API.
Ships from the US: Since their average order processing time for printed items is two to three business days, delivery times within the US are pretty fast.
Cons
No labeling: CustomCat doesn't offer customized labeling and tags.
Printify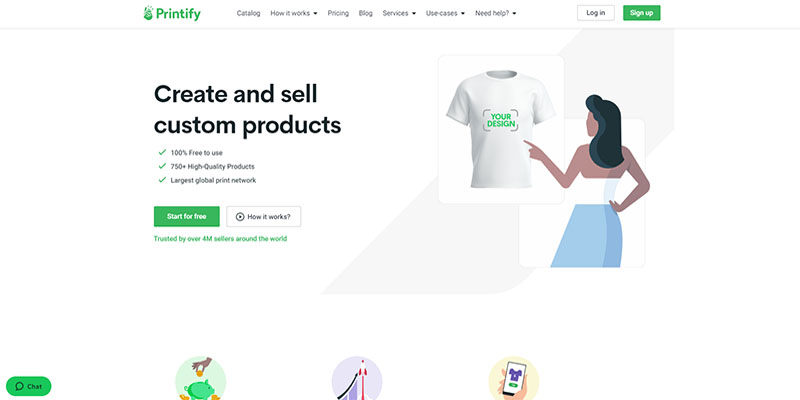 Printify is a print-on-demand solution that connects you with suppliers worldwide.
Printify doesn't print, manufacture, or ship your custom products. Once you place your order on Printify, they work with their print-on-demand partners to create and ship your orders.
Pros
Low pricing: Printify offers competitive pricing compared to other print-on-demand companies, like Printful.
No design limitations: None of their plans, including the Free plan, have any limits on product designs.
Diverse network: Printify's suppliers are based all over the world. No matter where your customers are, there will be a Printify partner nearby who can fulfill your order quickly.
Cons
Lack of control: Since Printify is a middleman, they don't have much control over printing quality or shipping times.
Slower processing time: Depending on the supplier, the shipping period can vary from three to 20 business days.
Inkthreadable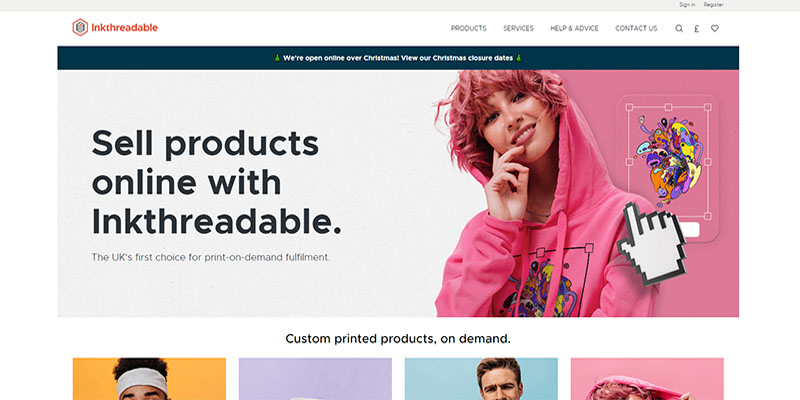 Inkthreadable is a UK-based print-on-demand fulfillment service. They are eco-friendly and adhere to the following standards: 
Use recyclable packaging and water-friendly inks.
Plant trees to offset their carbon footprint.
In addition to clothing, Inkthreadable can also print on homeware, hats, and wall art.
Pros
No MOQ: Inkthreadable products don't have minimum order quantities.
Friendly support: The Inkthreadable customer service team is available on weekdays from 9 to 5 GMT.
Cons
High shipping rates: Shipping is expensive outside of the UK.
BigBuy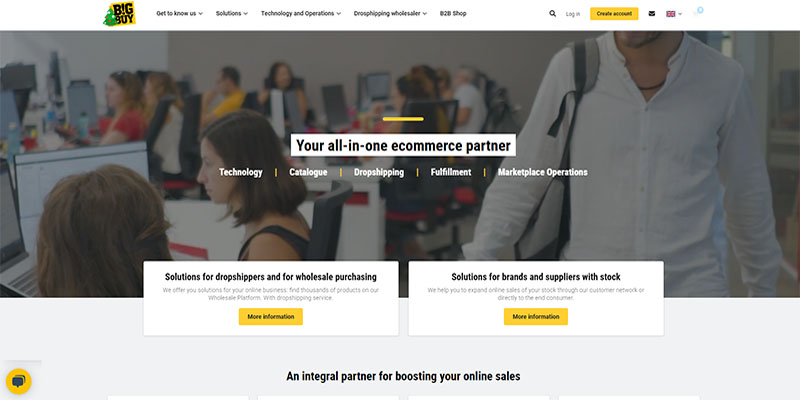 BigBuy is a European dropshipping and wholesale supplier that offers a decent selection of clothing. They include 5000 brands with 200,000 items on their platform.
BigBuy also offers a turnkey dropshipping website with all of their paid plans.
Pros
Online channels: BigBuy integrates with over 200 online marketplaces and platforms like Shopify, Prestashop, eBay, and Amazon.
Low product pricing: Get wholesale pricing without minimum order quantities.
Cons
Registration fee: There's a one-time fee of €90 for new members.
Expensive membership fee: BigBuy offers three plans: Free, Ecommerce for €51.75, and Marketplaces for €74.25. You'll need the Ecommerce plan for API synchronization or store integration.
Which Clothing Dropshipping Supplier Is Right For You?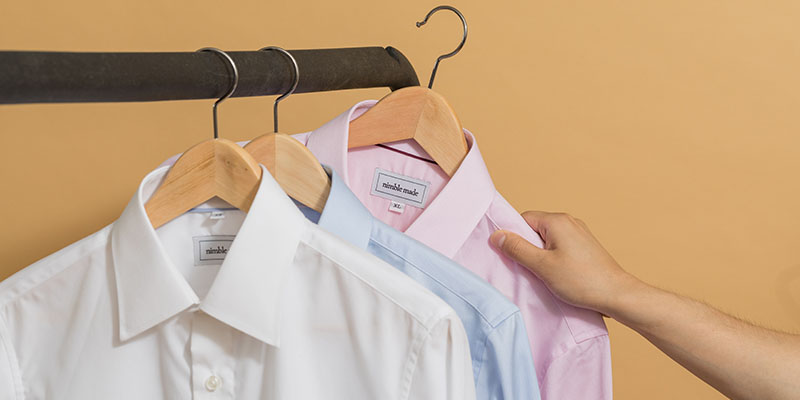 Finding the right clothing dropshipping supplier is crucial when starting an online store because your supplier can make or break your business.
Before signing up, research the dropshipping platform's product selection, pricing, shipping policies, and customer service.
If possible, order samples and place test orders to check the product quality and delivery times.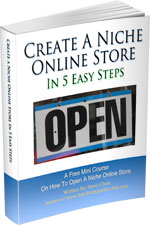 Ready To Get Serious About Starting An Online Business?
If you are really considering starting your own online business, then you have to check out my free mini course on How To Create A Niche Online Store In 5 Easy Steps.
In this 6 day mini course, I reveal the steps that my wife and I took to earn 100 thousand dollars in the span of just a year. Best of all, it's free and you'll receive weekly ecommerce tips and strategies!
Note: This post above may contain affiliate links, which means that I may receive a commission if you make a purchase when clicking a link. Please consult our privacy policy for more information.
Related Posts In Dropshipping
About Steve Chou

Steve Chou is a highly recognized influencer in the ecommerce space and has taught thousands of students how to effectively sell physical products online over at ProfitableOnlineStore.com. 

His blog, MyWifeQuitHerJob.com, has been featured in Forbes, Inc, The New York Times,  Entrepreneur and MSNBC.  

He's also a contributing author for BigCommerce, Klaviyo, ManyChat, Printful, Privy, CXL, Ecommerce Fuel, GlockApps, Privy, Social Media Examiner, Web Designer Depot, Sumo and other leading business publications.

In addition, he runs a popular ecommerce podcast, My Wife Quit Her Job, which is a top 25 marketing show on all of Apple Podcasts. 

To stay up to date with all of the latest ecommerce trends, Steve runs a 7 figure ecommerce store, BumblebeeLinens.com, with his wife and puts on an annual ecommerce conference called The Sellers Summit.  

Steve carries both a bachelors and a masters degree in electrical engineering from Stanford University. Despite majoring in electrical engineering, he spent a good portion of his graduate education studying entrepreneurship and the mechanics of running small businesses.