Print on demand companies (POD) are a valuable platform for entrepreneurs looking to sell customized products without worrying about order fulfillment and without spending any money.
In fact, print on demand is the cheapest and easiest way to create products to sell online with zero upfront cost.
With a print on demand company, you can instantly offer hundreds of personally customized products at the push of a button. If you're on a tight budget or looking to test out a business idea, print on demand is also a great way to dip your toes in the ecommerce waters.
For example, my 9 and 11 year old kids started their own t-shirt business over at KidInCharge.com for less than $3!
Right now, the custom t-shirt printing market alone is expected to generate more than $10 billion by 2025!.
Get My Free Mini Course On How To Start A Successful Ecommerce Store
If you are interested in starting an ecommerce business, I put together a comprehensive package of resources that will help you launch your own online store from complete scratch. Be sure to grab it before you leave!
What Is A Print On Demand Company?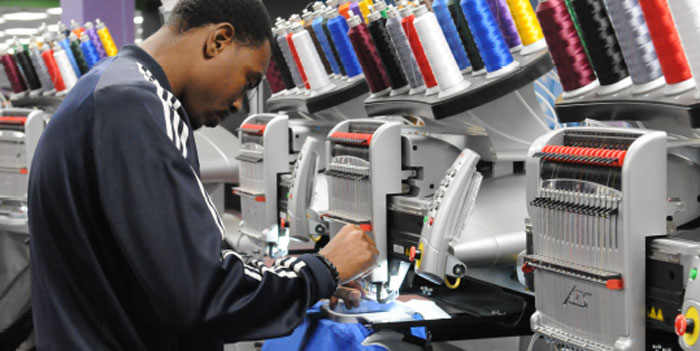 Print on demand is a service that lets you print custom designs on any product to sell online. Through print on demand, you can sell custom designs on products such as t-shirts, mugs, phone cases, books, and home decor. There are many options to choose from.
While major apparel companies and publishing houses print products in bulk, print on demand companies print in smaller quantities based on individual customer orders.
In most cases, there are no upfront costs to list a product online and there are no minimum order quantities.
How Does A Print On Demand Company Work?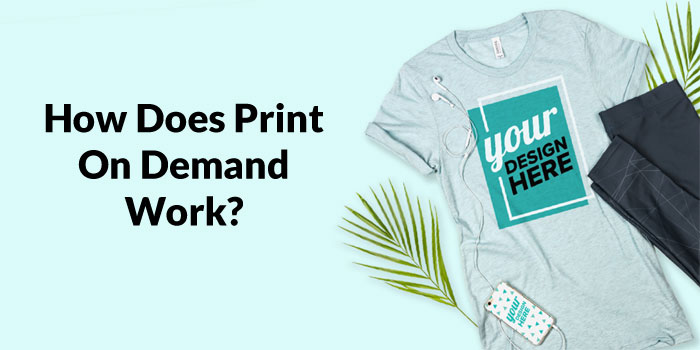 A print on demand company takes care of producing and shipping out your products while you provide the designs.
Here's how a typical print on demand company works:
You upload your design to the print on demand website.
A customer places an order on your ecommerce store and you collect the money. (This depends on the print on demand company that you choose. Some print on demand companies force you to send customers to a landing page hosted on their company's website)
The order information from your shopping cart is forwarded to the print on demand company's servers.
The print on demand company ships the order on your behalf.
You pay the print on demand company the wholesale cost for your product.
You keep the difference in profit.
Print on demand is a low-risk way to launch an online store without carrying inventory. However, keep in mind that there are trade-offs such as lower profit margins and customer service challenges.
Essentially, print on demand is a form of dropshipping. To learn more about the tradeoffs of dropshipping and using a POD company, read this post.
Who Can Benefit From Print On Demand Companies?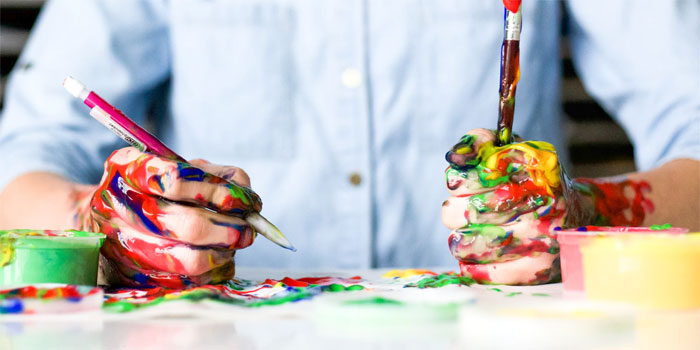 When evaluating the different ecommerce business models to pursue, print on demand companies are a perfect fit if you fall under the following categories.
Artists
Print on demand companies provide a platform for artists to upload their designs and expand their reach across the globe. These sites allow artists to make a profit every time a customer buys their designs.
The best part is that artists don't have to pay any upfront costs and they have an avenue to proliferate their works of art to the masses.
Creative Entrepreneurs On A Budget
Print on demand provides an opportunity to focus on a niche and sell to customers who seek custom made and unique products. Because ecommerce is highly competitive, selling a differentiated product is essential to building a successful online store.
If you have a creative mind, you can make money by printing clever designs on practically any household item.
Influencers
If you have a large following on YouTube, Facebook, Instagram etc… and you want to make some extra money selling physical products, then selling shirts and mugs with your logo or cover art generally sells extremely well.
Your fans want to support you and chances are, they are begging to wear your custom designed merchandise.
11 Best Print On Demand Companies For Custom Products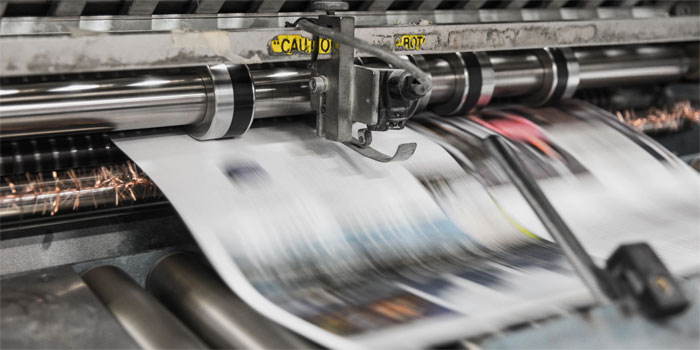 When it comes to selling your own custom merchandise, the challenge is choosing the best print on demand company to work with among the many options.
To reduce your time and effort, I've compiled a list of the best print on demand companies available online. This list covers product options and the unique features of each.
In addition, there are 2 distinct types of print on demand companies discussed below.
The first 3, Printful, Printify and CustomCat allow you to take orders on your own website in a true dropshipping arrangement. These are the best print on demand sites to work with because you can establish your own online store brand.
Editor's Note: If you are deciding between Printful and Printify, check out my comprehensive comparison of Printful vs Printfy
However, the remaining 7 print on demand providers all require customers to place orders on a 3rd party marketplace.
As a result, if establishing your own store and brand is important to you, you should only consider Printful, Printify and CustomCat.
Note: Only the best print on demand companies that offer a wide variety of products are covered in this post. There are many print on demand sites that specialize only in t shirts like Merch By Amazon for example, and those are not mentioned here. If you are not interested in print on demand, go here for a list of regular dropship suppliers
Printful

Printful is one of the best print on demand companies and they let you choose from hundreds of different products including t-shirts, hats, bags, and pillows.
Printful is one of the largest, most well known print on demand companies out there, and they support most shopping carts right out of the box including Shopify, BigCommerce and WooCommerce.
Printful is also one of the few print on demand companies that allow true dropshipping from your own website.
Unlike most POD companies, Printful allows you to take orders on your own store and they'll fulfill your order with your own store branding on the package complete with a custom packing slip.
For example, when your customer receives their order, they will not know that Printful processed the shipment. Instead, the box and all of the packaging will contain your logo and company name. This is important for establishing your own brand in the long run!
Printful also allows custom branding options like the ability to add a custom garment label with your logo if you sell t shirts!
However, Printful is slightly more expensive than other print on demand companies which may hurt your profit margin. But they more than make up for their higher prices by offering superior print quality, cost effective shipping, and a wide array of customization options.
Here's how Printful works
Connect your online store to Printful.
Create product images with your designs through Printful's mockup generator
A customer orders a product from your store.
Printful automatically receives the order. Afterward, Printful prints, packs, and ships your product. You get a notification and tracking number when Printful ships your order.
Your customer receives their order in your brand packaging, so it looks like it directly came from your store.
Here's what you can print.
Clothes
Phone cases
Wall art
Tote bags
Pillow covers and towels
Decor
Why Printful is great
Printful sells very high quality products, their print quality is excellent and their packaging is customizable. In addition, there's no minimum purchase and Printful will accept single item orders.
Pricing is tiered so that if you decide to purchase in bulk, you can save a significant amount of money.
Finally, Printful allows you to use your own logo on your packaging and invoices so your brand still gets the credit for your delivered products.
Overall, Printful offers a suite of print on demand services including direct to garment printing, dye sublimation, embroidery and basically everything you need to create your own white label products. This is why Printful is one of the best print on demand companies to work with and one of my top choices.
Click Here To Try Printful For Free
CustomCat

Very similar to Printful, CustomCat offers a wide range of products like shirts, jackets, hats, and bags. However, CustomCat has a much smaller product range than Printful, but it's noticeably cheaper.
For example, a 9 dollar printed shirt on Printful costs only 7 dollars on CustomCat.
However, CustomCat's user interface is not as sleek as Printful's website and will take some getting used to. But CustomCat is still one of the best print on demand sites to work with because of their low prices.
In addition, CustomCat only supports Shopify, BigCommerce and WooCommerce at the present time so if you are using any other ecommerce platform, you are out of luck.
How CustomCat works
Install the CustomCat app on your online store.
Choose a CustomCat plan that suits your needs.
Design & upload your products directly from the CustomCat dashboard.
Choose the type of printing and product you prefer.
When a customer orders a product on your store, CustomCat prints, packages, and ships the order on your behalf.
You make a profit each time a customer buys your product.
What you can print
Digital printer products
T-shirts
Jerseys
Hoodies
Sweats & More
Embroidery products
Backpacks
Hats
Dress shirts
Dye sublimation products
Phone cases
Jewelry
Water bottles
Mugs
Why CustomCat is great
CustomCat has a huge range of over 500+ customizable products. There are no minimum orders and their factories print their products 24 hours a day, 7 days a week. There is no downtime and they fulfill orders pretty quickly.
In addition, CustomCat is less expensive than other providers which allows you to make more money selling your custom designed goods.
Similar to Printful, CustomCat offers an array of print on demand services and printing methods which include direct to garment printing, dye sublimation and custom embroidery.
Click Here To Try CustomCat For Free
Printify

Printify is unique for its network of print providers in over 90 locations in the UK, USA, Australia, Germany, and China. Instead of physically printing their own goods, Printify partners with different print providers to offer a wide range of customizable products.
As a result, the print quality will be largely dependent on the specific provider you end up with.
How Printify works
Choose a print provider from over 90 locations across five countries
Choose and customize over 250 products
Customize your design with Printify's free mockup generator. You can also order samples to make sure the products are up to your standards.
Publish your custom products to your online store.
Printify produces and ships your products to your customers.
What you can print.
T-shirts
Hoodies
Accessories
Mugs
Phone cases
Why Printify is great
Printify is one of the best print on demand services in the world because of the sheer size of their print on demand business network.
There are over 250+ unique products to choose from and there over 90 international locations in the UK, USA, Australia, Germany, and China.
Printify also has an excellent mockup generator which allows you to quickly and easily create designs and publish custom design mockups.
Overall, Printify competes directly with Printful and CustomCat in that they offer true drop ship print on demand services. And because their network is so large, you'll easily find a print on demand provider that meets your needs.
Click Here To Try Printify For Free
Redbubble

Redbubble is a free print on demand marketplace dedicated to individual artists who want to sell their creations and showcase their work. The platform is home to over 700,000 artists, with more than 60 high-quality products to choose from.
Customers can expect to find quirky designs on awesome products on Redbubble: from a phone case with a galloping donut to a tote bag with a star-surfing astronaut. Redbubble is a haven for self-expression.
Here's how Redbubble works.
Create your design & upload it to the Redbubble site. You then choose your products and set your pricing.
Millions of Redbubble monthly users will see your print on demand products but orders must be placed directly on the Redbubble website. However, you can link and display products from your Redbubble shop on your own site.
Redbubble handles customer transactions, printing, and shipping.
Redbubble has a customer service team that will handle support issues for you.
Here's what you can print.
Clothes
Accessories
Wall art
Stickers
Phone cases
Stationery
Home accessories like bath mats, bedding, and pillows
Why Redbubble is great
Redbubble offers high quality print on demand products for customization but what sets them apart is their marketplace. Redbubble is known as a platform where customers can find unique designs made by talented artists and they have a large installed base of shoppers.
They also invest in socially responsible production to offset carbon emissions, offer worldwide shipping, free returns and 24/7 customer support to handle issues for you.
However, Redbubble can not integrate with your ecommerce platform and customers can only shop on the Redbubble website directly.
Click Here To Try Redbubble For Free
Zazzle

Zazzle is one of the largest print on demand companies in the world and you can choose from over 1300+ products. They also have nearly 30 million monthly visitors which makes it a great place to reach a wide customer base.
Here's how Zazzle works
Sign up for an account: Designer, maker, or affiliate
Designer: Upload your designs on the platform, choose where to print your products, and sell your own print on demand products on Zazzle's marketplace. Zazzle handles printing and shipping.
Maker: Manufacture your own products and sell them on Zazzle. Makers must handle their own shipping and fulfillment.
Affiliate: Earn commissions from every referred sale, whether or not it's your product.
Here's what you can print.
T-shirts
Fabric
Tote bags
Yard signs
Mugs
Business cards
Postcards
Invitations
Stickers
Playing cards
Ping pong paddles and balls
Why Zazzle is great
Because Zazzle has such a large installed base of shoppers, your listings will generally get more traffic than other POD marketplaces.
Zazzle also allows you to earn royalties for your work and provides a large repository of tutorials and tips to improve your product.
Zazzle also offers a huge array of different product options for their 1300+ product offerings. It's definitely worth a look.
However, Zazzle can not integrate with your ecommerce platform and customers can only shop on the Zazzle website directly.
Click Here To Try Zazzle For Free
Threadless

Threadless hand curates hundreds of unique and high-quality designs. This means that a design must go through a stringent selection process before it can be available for sale.
Once your creations are approved, you get to enjoy the many benefits of selling on this platform.
How it works
Upload your design.
Choose from hundreds of products and fill up your store.
Customize your products with Threadless' editing tool.
Spread the word and start earning.
What you can print.
T-shirts
Stickers
Phone cases
Blankets
Bags
Shoes
Notebooks
Why it's great
Because Threadless curates all designs, the overall quality of their products is much higher than other print on demand marketplaces.
As with other POD companies, Threadless allows fully customizable designs and great customer service with out any minimums.
If you are unsure about pricing, you can also let Threadless manage pricing and promotions for you. Threadless also ships worldwide.
However, unlike CustomCat or Printful, Threadless can not integrate with your shopping cart and customers can only shop on the Threadless website directly.
Click Here To Try Threadless For Free
Society6

Society6 welcomes artists from anywhere in the world. No matter where you're located, you can upload and sell your designs on Society6. This print on demand company specializes in art prints while offering other products as well.
How Society6 works
Upload your design to your artist shop
Choose from products such as wall art, furniture, apparel, lifestyle products, and home decor
Sell your work on their marketplace
Society6 prints and ships products for you
What you can print
Apparel
Gifts
Furnishings
Art prints & framed art prints
Stretched canvases
Why it's great
Society6 distinguishes itself from the rest of the print on demand companies by focusing on artists. In fact, they are known as one of the best print on demand marketplaces for art lovers.
If you are an artist, then Society6 might be a good fit for you.
However, you can not sell your products on your own website and all transactions must take place on Society6's website.
Click Here To Try Society6 For Free
Design By Humans
Design By Humans is a great print provider for artists, designers, gamers, and YouTubers. Users know to visit this website for amazing pieces of art.
This platform regularly holds themed shirt competitions. Customers can then buy the winning designs at discounted rates. With each sale, an artist makes a commission.
How it works
Like every other print on demand company, Design By Humans produces, fulfills, and ships your custom products for you and you maintain the rights to your designs.
However, Design By Humans caters more to gamers, YouTubers and musicians more than anyone else.
What you can print
Apparel
Mugs
Buttons
Hats
Art prints
Phone cases
Stickers
Why it's great
If you are a YouTuber, gamer or musician, then Design By Humans is worth checking out. What sets them apart from other print on demand companies is that they have a supportive community that empowers artists around the world.
Meanwhile, the profit margins are good and they handle everything for you including returns and exchanges.
Click Here To Try Design By Humans For Free
SPOD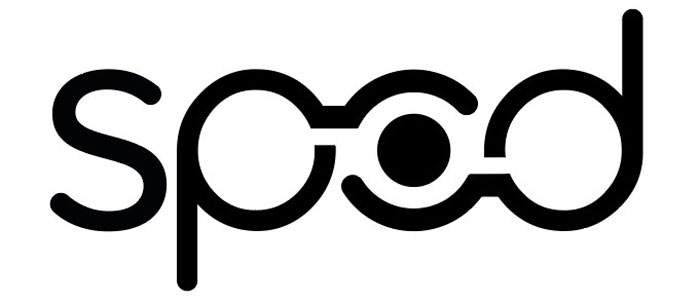 Owned by Spreadshirt, SPOD is a print on demand company that prides itself in the fastest fulfillment times in the industry. 95% of its orders are shipped within 48 hours.
While SPOD doesn't offer a large variety of products, it does offer competitive prices and an easy-to-use product design tool. SPOD has a simple pricing model based on order value rather than individual product costs.
How it works
A customer orders a product from your Shopify store.
SPOD picks, prints, and ships the order within two days.
Your credit card is charged once the order is shipped. You get charged based on total order value instead of individual costs per product.
What you can print
Classic t-shirts (as low as $6.39)
Organic t-shirts
Tank tops
Aprons
Baseball caps
Camper mugs
Socks
Why it's great
SPOD sets itself apart by offering competitive pricing and super fast product fulfillment. In fact, no other print on demand company offers 48 hour fulfillment so if speed is important to you, then SPOD might be a good fit.
The main downside is that SPOD only supports Shopify but overall, they offer an easy-to-use product design tool and boasts a below 0.8% return rate per 100,000 items shipped.
Sample orders are also discounted by 20%.
Click Here To Try SPOD For Free
Lulu xPress
Lulu xPress is the print on demand arm of the self-publishing platform Lulu. If you're looking to turn your ideas into a book or monetize your talent, Lulu xPress is a great print on demand option.
Lulu xPress offers an easy way to create and sell your own print products.
The best part is that Lulu xPress doesn't stop you from selling your work on other distribution channels like retail book stores and Amazon.
Through Lulu xPress, you can easily test an idea or self-publish under your own brand. In general, Lulu xPress is recommended for writers, illustrators, photographers, educators, and other types of creatives.
How it works
Upload your files.
Create your book for free. Just pay for printing and shipping costs.
Choose digital printing options: Paper type, size, print quality and color, binding type, and matter or glossy finish
Place your order
Lulu xPress does not have a store or retail distribution. But you can go to Lulu.com to find tools for selling your book online through the Lulu Bookstore.
What you can print
Novels
Photo books
Cookbooks
Journals
Artbooks
Poetry books
Calendars
Comic books
Why it's great
Lulu xPress specializes in printing on paper and they offer over 3,000 format options, binding types, and book layouts.
There are no minimums, no hidden fees and they ship to over 150 countries worldwide. They also allow you to sell your books on Amazon, Barnes and Noble in addition to the Lulu marketplace.
Spocket

Spocket is a company that connects your store to thousands of dropshipping suppliers from the US and EU.
Using the Spocket app, you can instantly add dropshipped products to your online store at the push of a button. While Spocket's primary purpose is to help you find dropship suppliers, many suppliers on Spocket offer print on demand services to customize your products.
Like Printful, Spocket offers full integration to most popular shopping carts like Shopify, BigCommerce and WooCommerce. In addition, Spocket is well known for their product quality, fast shipping and real time order tracking.
Even though Spocket only offers a limited selection of print on demand products compared to other POD companies on this list, their quality control and product quality is better than average.
How To Find A Profitable Niche For Your Custom Products
There are two ways to start a profitable print on demand business. You can either focus on a product niche or a subject niche.
Product niche
Focusing on a product niche is where you concentrate on selling a single type of product or a selection of similar products. For example, my online store focuses on selling personalized handkerchiefs for special occasions.
By narrowing down your selection to a specific type of product, you can sell many designs while building a good reputation for a specific type of product.
Subject niche
Meanwhile, a subject niche focuses on a specific theme or trendy subject rather than a specific product type.
For example, an online seller may choose to sell watercolor-style stationery but eventually branch out to other products such as tote bags and phone cases.
Tools like Google Trends and eRank can help you find trendy products.
In fact there are many tools and services out there that can help you find profitable products to sell online.
For example, you can use a service called PickFu to get instant feedback on your design or business idea before launching your online store.
These resources will increase your chances of success with your POD store.
Mistakes To Avoid In Your Print On Demand Business
A print on demand company takes inventory and product fulfillment off of your plate which allows you to focus on making amazing designs.
However, you will still face many challenges because the barriers to entry are so low for a POD dropshipping business.
Below are mistakes you should avoid to improve your chances of success.
Don't expect immediate success
A print on demand business is easy to start but difficult to attract sales because there's so much competition.
In order to create a profitable POD business, you must build a following and create content that resonates with your customers.
This will take time so don't expect to make significant money with your shop until after at least a year.
Don't sell "me too" designs
The print on demand industry is saturated with generic designs. The best way to succeed is to carve out a niche and focus on your creativity. Do not copy other people's designs and try to stand out!
Don't offer too many disparate themes
When it comes to selling your own designs, you need to focus on one thing and do it well. If you sell funny tshirts to gamers, then target all of your products towards gamers.
Going as narrow as possible is the key to success. By committing to a specific niche or type of product, you're giving your designs a chance to shine.
Set proper fulfillment expectations
The expectation that Amazon has set with ecommerce orders is 2 day shipping and next or same day fulfillment. However, your POD business can't compete with Amazon Prime's fast delivery times.
Print on demand products naturally take longer to ship.
Unless you are using SPOD, custom products can take up to a week to personalize before they are shipped. As a result US orders usually take a week or two before arriving at your customer's doorstep.
Make sure your delivery times are clearly stated.
Final thoughts
Print on demand companies provide an easy way to sell your own custom products. And POD services will save you the effort of carrying inventory and fulfilling orders.
However, your POD's performance and customer service practices will reflect on your brand and it's a tightly coupled partnership.
As a result, it's important to choose a reliable print on demand company to work with. After all, a reputable POD provider will minimize or eliminate the need to deal with customer issues.
Knowing what you want to sell and the audience you want to target will also help you choose the right print on demand company to work with.
Aside from pricing and features, pay close attention to how a POD company communicates its values on their website.
Does it have great customer reviews or low order return rates? Does the POD provider cater to a specific audience?
By knowing what to look out for, it will be easier to identify the print on demand company that meets your needs and aligns with your vision.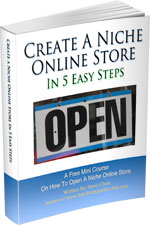 Ready To Get Serious About Starting An Online Business?
If you are really considering starting your own online business, then you have to check out my free mini course on How To Create A Niche Online Store In 5 Easy Steps.
In this 6 day mini course, I reveal the steps that my wife and I took to earn 100 thousand dollars in the span of just a year. Best of all, it's free and you'll receive weekly ecommerce tips and strategies!
Note: This post above may contain affiliate links, which means that I may receive a commission if you make a purchase when clicking a link. Please consult our privacy policy for more information.
Related Posts In Dropshipping
About Steve Chou

Steve Chou is a highly recognized influencer in the ecommerce space and has taught thousands of students how to effectively sell physical products online over at ProfitableOnlineStore.com. 

His blog, MyWifeQuitHerJob.com, has been featured in Forbes, Inc, The New York Times,  Entrepreneur and MSNBC.  

He's also a contributing author for BigCommerce, Klaviyo, ManyChat, Printful, Privy, CXL, Ecommerce Fuel, GlockApps, Privy, Social Media Examiner, Web Designer Depot, Sumo and other leading business publications.

In addition, he runs a popular ecommerce podcast, My Wife Quit Her Job, which is a top 25 marketing show on all of Apple Podcasts. 

To stay up to date with all of the latest ecommerce trends, Steve runs a 7 figure ecommerce store, BumblebeeLinens.com, with his wife and puts on an annual ecommerce conference called The Sellers Summit.  

Steve carries both a bachelors and a masters degree in electrical engineering from Stanford University. Despite majoring in electrical engineering, he spent a good portion of his graduate education studying entrepreneurship and the mechanics of running small businesses.