This post will show you exactly how to start dropshipping on Amazon. We'll also break down the pros and cons of Amazon dropshipping and how to make money with this ecommerce business model.
Having been in ecommerce since 2007, I've seen many popular ecommerce business models crash and burn and dropshipping is not as easy as it seems. Through all of the years that I've been doing this, one lesson always rings true.
If it sounds too easy and too good to be true, then it probably won't last.
Amazon dropshipping falls into this category.
First off, I want to say that there is money to be made by dropshipping on Amazon. And it's probably one of these least expensive ways to get started selling online with practically zero upfront monetary risk.
But before you jump the gun, I want you to ask yourself a few important questions.
Would you rather launch a business that makes a few bucks here and there in the short term?
Would you rather build a branded business that can stand the test of time?
Today, I'm going to analyze the pros and cons of the Amazon dropshipping business model and provide you with an accurate picture so you can decide whether you want to give Amazon dropshipping a try.
Get My Free Mini Course On How To Start A Successful Ecommerce Store
Are you interested in creating a strong, defensible brand for your products? If so, I put together a comprehensive package of resources that will help you launch your own online store from complete scratch. Be sure to grab it before you leave!
What Is Amazon Dropshipping
Amazon dropshipping is an ecommerce business model where you sell physical products on Amazon without keeping inventory. Instead, products are only purchased from a supplier after the customer places an order.
Basically, Amazon and your supplier handles all of the heavy lifting for you such as shipping and handling and customer service. When you make a sale on Amazon, you simply notify your dropshipper and they ship your products directly to the Amazon customer on your behalf.
You don't touch a single product in the process, there's almost zero upfront cost outside of signing up for an Amazon account and you don't have to buy any inventory whatsoever until the item has been sold.
The low risk aspect of dropshipping on Amazon makes it an appealing business model because anyone can do it and you don't have to be tech savvy to begin.
How Much Does It Cost To Dropship On Amazon?
Amazon dropshipping costs $0.99 per unit sold for Individual plans, and a flat $39.99 per month for Professional plans regardless of how many units you sell.
Amazon also includes dropshipping fees that range between 10%-15% depending on the product type.
Compared to all of the different ecommerce business models, Amazon dropshipping is probably the cheapest way to get started selling online.
How Amazon Dropshipping Works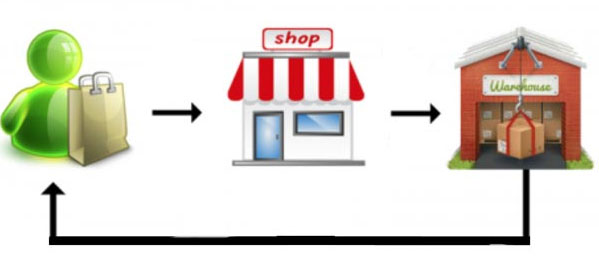 Amazon dropshipping works by partnering up with a dropship wholesaler or distributor that is willing to ship products direct to consumers on your behalf.
As a partner, you and the third party supplier decide on a wholesale price for the products you want to sell online.
Once an agreement is in place with your supplier, here's how Amazon dropshipping works.
The customer places an order on Amazon for your product.
You forward the Amazon shipping details directly to your dropship supplier and pay the agreed upon wholesale price for the product.
Your dropship supplier packages and ships the order directly to the end customer.
You keep the difference between your selling price and the wholesale price minus any Amazon selling fees.
When you dropship on Amazon, you must abide by Amazon's strict code of conduct. If you consistently violate any of the following rules, you are subject to a suspension.
Order Defect Rate Must Be Less Than 1% – The total number of orders shipped with defects must be less than 1%. An item is considered defective if it receives negative feedback, a chargeback or an A-Z claim. As soon as your ODR (order defect rate) exceeds 1%, your account will likely get suspended.
Cancellation Rate Must Be Less Than 2.5% – If an order is cancelled either by you or the customer before a shipping confirmation is issued, if goes against your cancellation rate. If the frequency of cancellations exceeds 2.5%, you risk getting suspended. This commonly happens if you make a bunch of sales but your supplier is out of stock.
Late Shipment Rate Must Be Less Than 4% – If your dropship supplier consistently ships products out late, you risk getting your Amazon account suspended.
Is Amazon Dropshipping Profitable?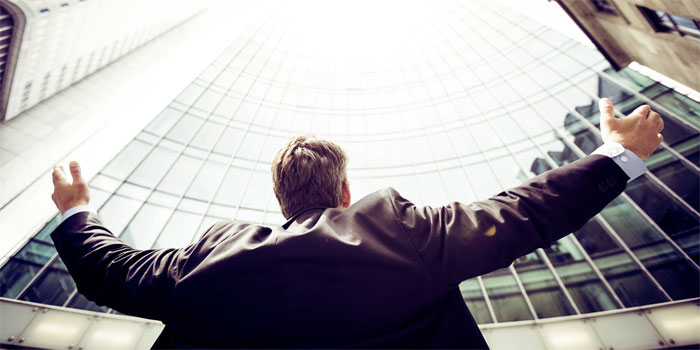 Amazon dropshipping can be profitable but the profit margins are small since Amazon takes 15% of the top line revenue. So if your normal drop shipping margins are around 25%, your final profit margin would be just 10% after Amazon's dropshipping fee.
While Amazon dropshipping is an easy business model to start, it's difficult to master if you want to make significant money online.
Because your margins are so low, you can only make significant profit at scale.
About 48% of Amazon dropshippers have profit margins between 11-25%.
Amazon dropshippers earn between $1,000 and $50,000 per month in revenue. But considering the average Amazon dropshipping margin is between 11-25%, $1,000 in revenue would only equate to about $150 per month in profit. So on average, Amazon dropshippers earn about $150 to $7,500 each month.
About 39% of all Amazon dropshippers earn less than $5,000 per month.
Bottom line, you need to sell a bunch of different products, drive down your costs and make sure that your Amazon listings are dynamically price optimized.
Meanwhile, you also have to make sure that your inventory counts and product descriptions are always accurate to prevent your Amazon account from getting banned.
As a result, you can't do any of this by hand and you have to rely on software to manage operations.
Here's what you need to automate in order to even have a chance of making a profit.
Purchase Order Creation – When an order comes in, you have to automatically send it to your supplier for fulfillment
Repricing – Because Amazon prices fluctuate constantly, you have to make sure you own the buy box. Otherwise, you won't make any sales.
Inventory Listing Management – When you go out of stock, you have to make sure to deactivate your listing to prevent unfulfillable sales.
Product Data Syncing – The products being shipped by your supplier must EXACTLY match your Amazon product listing. Any change in packaging or product version needs to be accounted for
Order Tracking – Your supplier must electronically provide shipping and tracking information which you must send to Amazon right away. This process must be completely automated to handle the volume of orders you will receive.
Basically, every area of your Amazon dropshipping business needs to talk to each other. Amazon dropshipping success is a low margin volume game with very high risks.
You can make money with this business model only if you scale and any mistake can mean losing your entire business overnight.
Is Amazon Dropshipping Legal?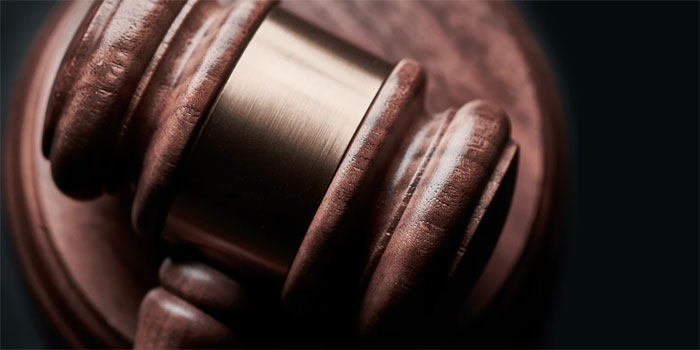 Amazon dropshipping is 100% legal and allowed on Amazon's platform as long as you have a sellers permit and follow Amazon's terms of service.
However, you must fulfill your goods from a legitimate wholesale supplier and not another retailer.
The following excerpt is taken verbatim from Amazon's website.
Drop shipping, or allowing a third-party to fulfill orders to customers on your behalf, is generally acceptable. If you intend to fulfill orders using a drop shipper, you must always:

Be the seller of record of your products;
Identify yourself as the seller of your products on all packing slips, invoices, external packaging, and other information included or provided in connection with them;
Remove any packing slips, invoices, external packaging, or other information identifying a third-party drop shipper prior to shipping the order;
Be responsible for accepting and processing customer returns of your products; and
Comply with all other terms of your seller agreement and applicable Amazon policies.

Examples of drop shipping that is not permitted:

Purchasing products from another online retailer and having that retailer ship directly to customers, if the shipment does not identify you as the seller of record or if anyone other than you (including the other online retailer) appears on packing slips, invoices, or external packaging; or

Shipping orders with packing slips, invoices, external packaging, or other information indicating a seller name or contact information other than your own.
Overall, Amazon dropshipping is 100% legal as long as you obtain a business license, sellers permit and follow Amazon's rules.
How Old Do You Have To Be To Do Amazon Dropshipping?
To open an Amazon seller account for dropshipping, you need to be at least 18 years of age. If you are not 18 years old, you must register the seller account under a parent or guardian's name with their permission.
However once you turn 18, you can change the registration name of the account under your own.
How To Make Money With Amazon Dropshipping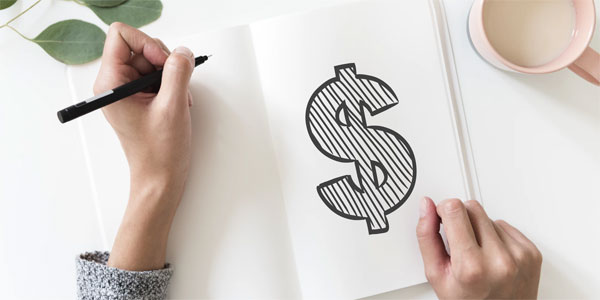 You can make money with Amazon dropshipping in 4 basic steps.
Open an Amazon sellers account
Perform keyword research to find profitable products to sell
Find a reliable wholesale suppliers to supply your products
Create an Amazon listing for your product
Step 1: Open An Amazon Sellers Account
You can sign up for an Amazon sellers account over at https://sellercentral.amazon.com.
You will need to have your personal information, a bank account and tax info handy to complete the Amazon Seller account forms.
If you are a beginner, sign up for an Individual Seller account which is free. However, once you exceed 40 sales per month, switch to a Professional Seller Account to save money on Amazon fees.
Step 2: Find Profitable Products To Dropship
To find profitable products to dropship on Amazon, you should follow these guidelines.
Sell products that won't go obsolete
Sell products that are niche or only apply to a focused group of people
Sell products that are catchy or flashy that are conducive to impulse buys
Sell products that are not sold directly by the manufacturer or offered by other Prime sellers
Sell products that are higher ticket so you can make more profit per sale
Read this post for more information on how to find profitable products to sell online
Step 3: Find A Dropshipping Supplier
To find legit dropship suppliers, consider using the following methods.
Contact The Distributor Directly – Every product sold online contains a UPC barcode. By looking up the manufacturer directly and contacting the distributor, you can ask whether they have a dropshipping program in place.
Attend Wholesale Tradeshows – Everywhere in the world, there are wholesale tradeshows catering to products in every category. By attending a tradeshow, you can quickly and easily find dropship wholesalers all in one place. You can use a site like WholesaleCentral.com to find tradeshows in your area.
Use A Dropship Directory – Directories like Worldwide Brands pre-vet legit wholesale distributors that offer dropshipping. Access to this directory comes at a one time cost.
In general, most dropship suppliers will only work with legit retailers so you must practice your pitch and come across as an experienced seller.
Never ever admit that you are a newbie.
For more information on where to find wholesale suppliers, please consult the following guides.
Important Questions To Ask Your Amazon Dropshipper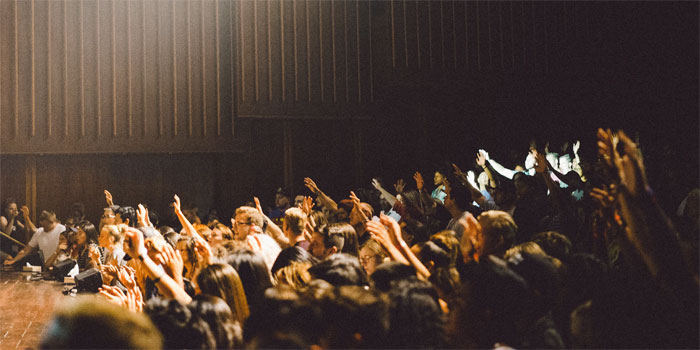 When it comes to dropshipping on Amazon, your relationship with your dropship supplier is extremely important. After all, your business success depends on your supplier's ability to deliver your orders on time.
Any hiccup will increase your risk of getting suspended by Amazon and losing your entire business overnight.
As a result, I've compiled a list of questions that you MUST ask your dropship supplier before getting started.
Are There Any Dropship Fees?
Dropshipping margins are very low and typically fall into the 10-30% range. On top of low margins, most dropship suppliers will also charge a per order dropship fee as well.
This dropshipping fee can range anywhere from a few dollars or more depending on your product. In addition, you will have to pay the shipping and handling costs for the supplier to ship out your product to the end customer.
Some dropshippers may pad their shipping fees to make additional margin on the transaction.
Make sure you run the numbers to ensure that you can still make a profit after all dropshipping fees.
Are There Any Deposits Or Upfront Payments Required?
Some dropship suppliers will ask for a deposit towards future product orders upfront. But over time as trust is established, you can often negotiate payment terms and have this deposit removed.
Regardless, make sure to ask your supplier how they want to get paid. Some require an invoice for every purchase order, while others will allow you to create one mass payment invoice at the end of the day.
Ask for a sample invoice so you can find out if there are any hidden or unexpected costs. Do your homework!
Do You Sell On Amazon?
Some dropship suppliers are already selling their products on Amazon which puts your Amazon dropshipping business at a major disadvantage.
Because your supplier has better pricing than you do, it will be difficult if not impossible to compete directly with your supplier.
What Is Your Return Policy?
Returns are a reality with any ecommerce business and you need to know how to get your money back for any returned orders.
In practice, it can be quite an ordeal to handle a return. Typically, you'll have to file an RMA with your supplier first and then have the customer ship the product back to your supplier directly.
Once the product is received, your supplier then reserves the right to provide you with a refund depending on the condition of the item.
Do You Provide An Inventory Data Feed?
Because Amazon's selling requirements are so strict, you have to make sure that your inventory levels are up to date in real time.
After all, if you sell a bunch of items on Amazon that are out of stock, you will have to cancel those orders and risk your account getting suspended.
In general, your supplier's inventory levels change constantly, especially if they work with large retailers like Target or Walmart. As a result, you need to know how much product you can sell WITHOUT running out of stock.
Always ask your supplier if they support EDI which stands for electronic data interchange. If they can't provide you with real time or daily inventory updates, consider using a different supplier.
The risk of an Amazon account suspension is not worth it.
Can The Packaging Be Branded With Your Logo?
Because Amazon requires you to be the seller on record, it's important that your packaging and inserts be branded with your logo.
If your supplier refuses to ship under your brand, you should probably pass or risk getting suspended on Amazon
How Often Does Pricing Change?
Prices can change at any time and it's important that you are alerted of any increases immediately. Because dropshipping margins are razor thin to begin with, any price increase can lead to a loss.
Ideally, your supplier will honor the prices quoted on your purchase orders but you have to ask to make sure.
Bring up all of these questions ahead of time to cover your tracks or you may end up losing a lot of money.
How Often Do Products Change?
Amazon is very strict about its products listings.
Certain products may undergo revisions in packaging from time to time and it's important that the product listing EXACTLY matches the product shipped.
Your supplier must have a way to notify you of any product packaging changes and/or product revisions.
To be absolutely safe, make sure you match Amazon ASINS and UPCs by hand to ensure that your products exactly match what your dropship supplier is selling.
How Are Orders Submitted?
It is your responsibility to submit your order data to your supplier as soon as you make a sale on Amazon. As a result, you have to find out what system your supplier uses for processing orders.
Ideally, the process should be automated so you don't have to painstakingly enter in orders by hand. But some unsophisticated dropship suppliers still use fax machines or email!
How Soon Is The Order Shipped?
To keep your Amazon account in good standing, your orders have to be shipped out on time. If your supplier is late with their shipments, you will take the blame and risk getting your entire account suspended.
Ask your supplier what their track record looks like for shipping and whether they offer any guarantees.
Once an order ships, your supplier also needs to provide shipping and tracking information to you electronically. Every Amazon order requires this information and it's your job to submit it.
Step 4: List Your Products On Amazon
Once you have your suppliers in place, it's time to start selling.
If your product isn't currently being sold on Amazon, you'll first need to create a product listing.
Here are some guidelines for creating a high converting Amazon listing.
Use Keywords In Your Titles And Bullet Points – Using a keyword tool like Jungle Scout, find keywords that shoppers are using to search for your products.
Take Great Photos – Your photos should be at least 1000×1000 pixels in size. Make sure you fill up all of the photo slots in your listings.
Write Enticing Bullet Points – Write copy for your listing that entices a shopper to click "add to cart".
For more information on how to create a killer listing, consult my Amazon selling guide.
The Benefits Of Amazon Dropshipping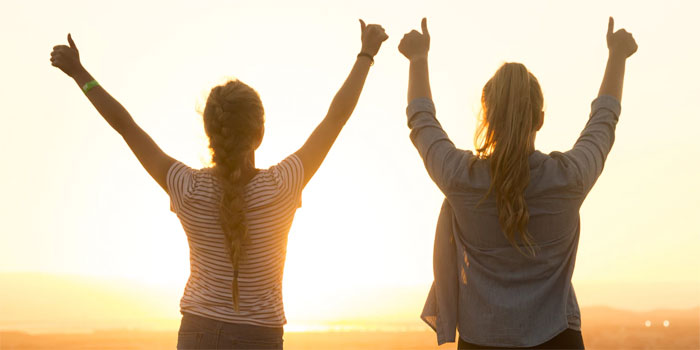 These are the main benefits of dropshipping on Amazon.
Amazon Is A Huge Marketplace
Amazon Dropshipping Is Easy To Setup
Amazon Dropshipping Is Not Risky
Amazon Is A Huge Marketplace
At the time of this posting, Amazon has over 50% marketshare for all of ecommerce. As a result, Amazon is by far the largest online retailer in the United States.
When it comes to launching your own online store, most people are concerned with how to generate traffic and Amazon largely solves the traffic problem for you.
Every day, Amazon has billions of shoppers looking to buy the products you have to sell. By piggybacking your products on existing listings and winning the buy box, you can leverage the Amazon sales channel to make sales immediately!
Amazon Dropshipping Is Easy To Setup
Most people are afraid of the technical aspects of starting their own ecommerce store. But with Amazon, you don't need to be tech savvy at all.
You don't need a website. You don't need a hosting company nor do you need to know anything about conversion optimization.
All you need is an Amazon seller account and you can start selling your products online.
In most cases, you don't need to create a new listing because one already exists. As a result, you may not even need to take product photos or purchase upc codes!
Just make sure you read the Amazon seller agreement and terms of service before you start selling.
Amazon Dropshipping Is Not Risky
Amazon dropshipping probably has the lowest barriers to entry of any ecommerce business model. With a free Amazon seller account, you can literally start making money right away without any money required up front.
You don't need to buy inventory. And as a result, you don't have to worry about cash flow, unsaleable products or clearance items at all. There are no overhead costs and no inventory risks which means that practically anyone can do this with zero experience.
The Downsides Of Amazon Dropshipping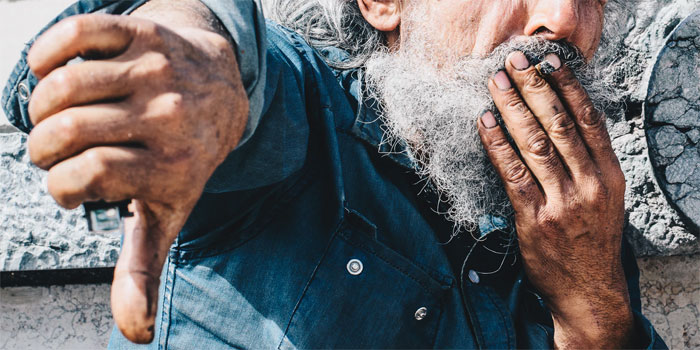 Amazon dropshipping has a huge list of downsides which I will enumerate below.
Amazon Dropshipping Margins Are Razor Thin
Amazon And Supplier Prices Change Constantly
An Amazon Dropshipping Business Is Not A Sellable Asset
Amazon Hides Customer Data From You
Most Dropship Suppliers Won't Work With You
Amazon Can Ban You At Any Time
Amazon Dropshipping Margins Are Razor Thin
The margins for dropshipping on Amazon are already very low. Depending on the supplier and the product for sale, dropshipping typically carries a 10-30% margin.
For certain products, I've seen margins as high as 50% but that is definitely not the norm.
Meanwhile, it can be quite expensive to sell on the Amazon platform.
For example, Amazon typically takes 15% of your top line revenue right off the bat as Amazon selling fees. If your margins are only 30%, that means that you only have 15% leftover to play with.
With such low profit margins, any minor slip up can ruin your business.
To realize why, it's important to understand how selling on Amazon works.
Dropshipping other people's products on Amazon is predicated on winning the buy box and maximizing your gross profit margins. Chances are, you will NOT be the only one on Amazon selling your exact same products.
As a result, you constantly have to play with your pricing to compete with other sellers and usually the lowest price wins the buy box.
Unless you have the best margins for your product (unlikely), it will be extremely difficult to win the buy box and still make an acceptable profit after you subtract Amazon's fees.
I've seen this time and time again. Amazon dropshippers often find themselves in a price spiral to the bottom because every seller lowers their prices to fight for the buy box.
Low margins also means that you can't spend money on advertising and promotion.
Processing customer returns can be a major issue as well. Because Amazon's return policy is so liberal, you'll often have to eat the cost of a return if your products are not returned in sellable condition.
Amazon And Supplier Prices Change Constantly
Prices on Amazon are dynamic and change constantly. Similarly, your supplier prices also change on a regular basis.
Unless you watch both Amazon and supplier prices like a hawk, it's very easy to either lose out on potential sales (by not having the buy box) or lose money altogether on sales due to out of date supplier pricing.
As an Amazon dropshipper, it's almost impossible to manually change prices for all of your Amazon listings and account for supplier pricing changes at the same time WITHOUT using an automated tool.
However, Amazon repricing tools are expensive and will incur additional overhead on a business that already has razor thin margins.
An Amazon Dropshipping Business Is Not A Sellable Asset
Unlike a traditional dropshipping store, an Amazon dropshipping business is not a sellable asset. After all, you don't own a single thing when you dropship on Amazon.
You don't own the marketplace. You don't own the customers. You don't even own the products!
With the Amazon dropshipping model, you are basically a worthless middleman, peddling goods that you don't even own or control.
Sure you can make some short term money this way, but it's cash flow, not an asset.
Amazon Hides Customer Data From You
According to Bain and Co, repeat business is the lifeblood for any ecommerce store. And a 5% increase in customer retention can result in an increase in 75% to the top line.
However, Amazon hides all customer data from you. As a result, you can never build a meaningful relationship with your audience nor can you ever intentionally sell to them again.
As an example, my ecommerce store over at BumblebeeLinens.com only has a 12% repeat customer rate. But that 12% represents over 36% of my yearly revenue.
I have colleagues who run stores where over 50% of their sales come from existing customers!
Because Amazon prevents you from contacting your customer, you are missing out on a lot of sales.
Most Dropship Suppliers Won't Work With You
When interviewing wholesale suppliers, a common question they'll ask you is whether you have a real, physical storefront or an online store.
After all, most dropshipping suppliers do NOT want you to sell their products on Amazon. Why?
It's because suppliers don't want a bunch of different companies creating a price war on Amazon. Typically, a supplier will either sell on Amazon themselves or pick a few key businesses to be Amazon sellers on their behalf.
Selling wholesale is much less risky and lower maintenance than being a dropshipper which makes working with Amazon dropshipping businesses less desirable from a third party supplier standpoint.
Amazon Can Ban You At Any Time
Remember all of the stringent requirements that Amazon imposes on their sellers mentioned above?
In order for any Amazon dropshipping business to be successful, your suppliers must be top notch.
They must ship out all orders on time
They must electronically provide inventory counts
They must electronically provide product detail changes
Basically, you are heavily dependent on your dropshipping supplier and it's VERY easy for a screw up outside of your control to take down your entire business!
For example, if you accidentally forget to shut down your listing due to a stock out and you generate a bunch of sales you can't fulfill, your Amazon seller account will probably get banned.
If your supplier accidentally ships a bunch of items that don't exactly match your Amazon product listing, you'll probably get a bunch of complaints and get banned.
If your supplier screws up and ships a bunch of orders late, you'll probably get banned.
But don't take my word for it. My friend John Rampton used to run a 7 figure Amazon dropshipping business until he got banned from Amazon and lost EVERYTHING overnight.
Below is a podcast interview I recorded with John that describes his traumatic experience.
What Are The Best Products To Dropship On Amazon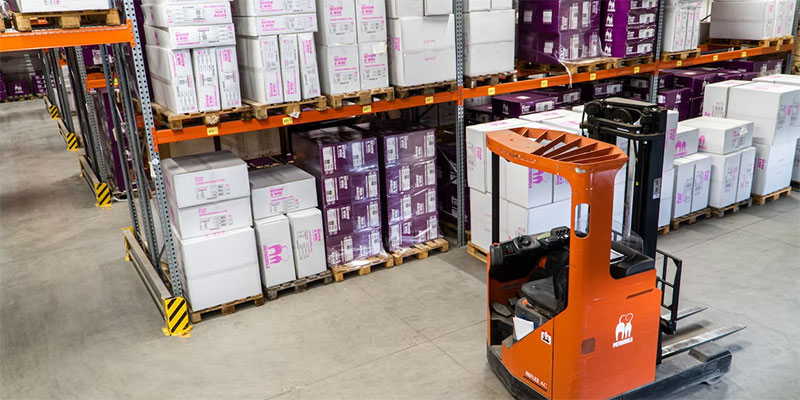 Because dropshipping margins are low, the best products to dropship on Amazon are higher ticket items that command premium pricing.
Here are some of the best products to sell on Amazon.
Niche products: You want to sell products that are in high demand but can't be readily found in brick and mortar stores. For example, you can dropship specialty kitchen tools, car parts for older cars or vintage inspired clothing.
Trending products: You want to sell products that are currently popular and in high demand. If the demand is high, then you'll make sales regardless of the level competition.
Popular products: You want to dropship products that have a proven track record of selling well on Amazon. Look on the Amazon best sellers page for a list of great products to sell.
High ticket items: These are products that are expensive to purchase and in high demand. For example, you can dropship fire pits, barbeque pits and wine refrigerators.
Before deciding to dropship any product on Amazon, you must conduct market research using a tool like Jungle Scout to assess demand, competition and profitability.
Remember, Amazon dropshipping margins are low so you must offer a product with at least 15% margins in order to make a profit after Amazon's transaction fees.
Best Amazon Dropshipping Software Tools

If you want to be successful with Amazon dropshipping, you'll need software to help you find profitable products to sell and to perform keyword research for your Amazon listings.
For product research, the tool Jungle Scout organizes every product sold on Amazon into a searchable database.
By accessing this database, you can quickly find profitable products to dropship by performing specific queries based on what you want to sell and your desired profit.
For example, I can have Jungle Scout return me all products under the Kitchen & Dining category that make at least $5000/month with less than 100 reviews. This is extremely powerful!
Jungle Scout also has a built in keyword tool that will tell you which keywords customers are searching for to find your products.
Below is a 5 minute video demo on how I use Jungle Scout to do product research. If you want to follow along with the video step by step, then download the tool at a discounted price.
Watch the 4 minute video below
The Different Types Of Amazon Dropshipping
There are 3 main Amazon dropshipping business models, AliExpress dropshipping on Amazon, Ebay dropshipping on Amazon and traditional Amazon wholesale dropshipping.
Based on Amazon's terms of service, two of the above are illegal and the third is your main option.
AliExpress Dropshipping On Amazon

The first "illegal" Amazon dropshipping method is called AliExpress dropshipping.
AliExpress dropshipping is a special type of dropshipping where all Amazon orders are fulfilled directly from China via AliExpress, an Ebay like marketplace owned by Alibaba.
Because AliExpress is based in China where products are generally cheaper, Amazon dropshippers take advantage of the price disparity to sell Chinese products at US prices and pocket the difference.
The big problem with AliExpress dropshipping is that the products are typically junk and the shipping times can take 3-4 weeks or longer for an item to arrive.
Because Amazon expressly prohibits dropshipping from another marketplace, AliExpress dropshipping on Amazon is prohibited. If you are caught, then you will get suspended so don't even try it.
Ebay Dropshipping On Amazon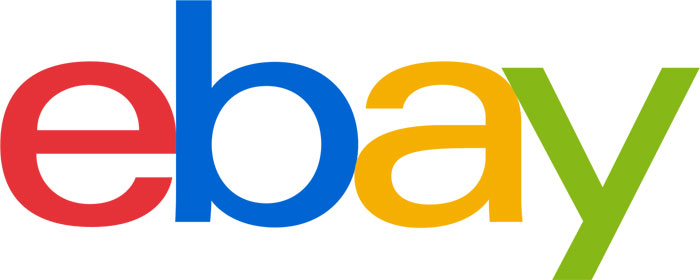 Another obsolete and illegal Amazon dropshipping method is called Ebay dropshipping.
Ebay dropshipping is where all Amazon orders are fulfilled directly from a cheaper listing on Ebay. Basically, a seller lists an item on Amazon at a higher price than an equivalent Ebay product and pockets the difference.
Once again, Amazon expressly prohibits dropshipping from marketplaces like Ebay, so don't even try it.
Amazon Dropshipping From A Wholesale Supplier

The only legitimate way to run a reputable dropshipping business on Amazon is to use a distributor or wholesaler as your dropship supplier.
All shipments must be branded with you as the seller of record and you must remove any trace of your dropshipping providers in your packing materials.
In other words, the Amazon order must appear to be fulfilled by your company in the eyes of the customer.
What's the Difference Between Amazon FBA and Amazon Dropshipping
The main difference between Amazon FBA and Amazon dropshipping is that Amazon FBA requires you to invest in inventory up front but Amazon dropshipping does not.
With Amazon FBA, you send your inventory to Amazon's warehouses and Amazon stores, picks, packs, and ships your orders on your behalf. Amazon also handles customer service and returns for FBA sellers.
With Amazon dropshipping, you don't store any inventory and you purchase your products from your supplier only after an order has been placed. Then, your supplier ships the product directly to your Amazon customer.
The main advantage of Amazon dropshipping is that you can offer a wide range of products without investing in any inventory upfront.
The main advantage of using FBA is that you get the Amazon Prime badge which will triple your conversion rate and sales.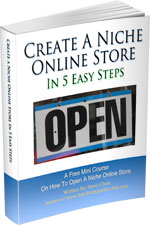 Ready To Get Serious About Starting An Online Business?
If you are really considering starting your own online business, then you have to check out my free mini course on How To Create A Niche Online Store In 5 Easy Steps.
In this 6 day mini course, I reveal the steps that my wife and I took to earn 100 thousand dollars in the span of just a year. Best of all, it's free and you'll receive weekly ecommerce tips and strategies!
Note: This post above may contain affiliate links, which means that I may receive a commission if you make a purchase when clicking a link. Please consult our privacy policy for more information.
Related Posts In Dropshipping
About Steve Chou

Steve Chou is a highly recognized influencer in the ecommerce space and has taught thousands of students how to effectively sell physical products online over at ProfitableOnlineStore.com. 

His blog, MyWifeQuitHerJob.com, has been featured in Forbes, Inc, The New York Times,  Entrepreneur and MSNBC.  

He's also a contributing author for BigCommerce, Klaviyo, ManyChat, Printful, Privy, CXL, Ecommerce Fuel, GlockApps, Privy, Social Media Examiner, Web Designer Depot, Sumo and other leading business publications.

In addition, he runs a popular ecommerce podcast, My Wife Quit Her Job, which is a top 25 marketing show on all of Apple Podcasts. 

To stay up to date with all of the latest ecommerce trends, Steve runs a 7 figure ecommerce store, BumblebeeLinens.com, with his wife and puts on an annual ecommerce conference called The Sellers Summit.  

Steve carries both a bachelors and a masters degree in electrical engineering from Stanford University. Despite majoring in electrical engineering, he spent a good portion of his graduate education studying entrepreneurship and the mechanics of running small businesses.