AliExpress dropshipping is the easiest way to start an ecommerce business if you are on a budget. You don't have to worry about inventory or shipping and there are little to no upfront costs to begin.
Normally, the hardest part about starting a dropshipping business is finding a reliable supplier.
But thanks to AliExpress and dropshipping apps like DSers, CJ Dropshipping and AliDropship, finding products to sell and automating a dropshipped online store is easier than ever.
This step by step guide will teach you how to get started with AliExpress dropshipping and educate you on the pros and cons of running a dropshipping business.
Get My Free Mini Course On How To Start A Successful Ecommerce Store
If you are interested in starting an ecommerce business, I put together a comprehensive package of resources that will help you launch your own online store from complete scratch. Be sure to grab it before you leave!
What Is AliExpress Dropshipping?

AliExpress dropshipping is an ecommerce business model where a store takes orders online that are fulfilled by an AliExpress merchant.
The beauty of AliExpress dropshipping is that you don't have to carry any inventory. Your primary responsibility is to take orders online and AliExpress ships the products directly to the end customer.
In other words…
You don't have to worry about storage costs.
You don't have to deal with shipping and fulfillment
You don't have to invest any money upfront for inventory
Overall, AliExpress dropshipping is the cheapest way to start an ecommerce business.
For less than $30, you can easily open up a store on Shopify, get a few sales funnels set up and immediately start selling online.
What is AliExpress And Why Is It So Cheap?

AliExpress is an Ebay-like service based in China that is owned by Alibaba. It's a marketplace where individuals from all over the world can buy wholesale direct from Chinese companies.
Editor's Note: Sellers on AliExpress can be individuals, small businesses, trading companies or factories.
The main difference between AliExpress and Ebay is that AliExpress is much larger and far less expensive.
Because AliExpress is based in China where the labor costs are substantially less, you can find products on AliExpress that are significantly cheaper than anywhere else.
The huge disparity in cost allows you to make a profit by selling an item at US prices and having it shipped directly from China.
Here's a quick example to illustrate the difference in price.
This snoring mouth guard costs only $1.73 per piece on AliExpress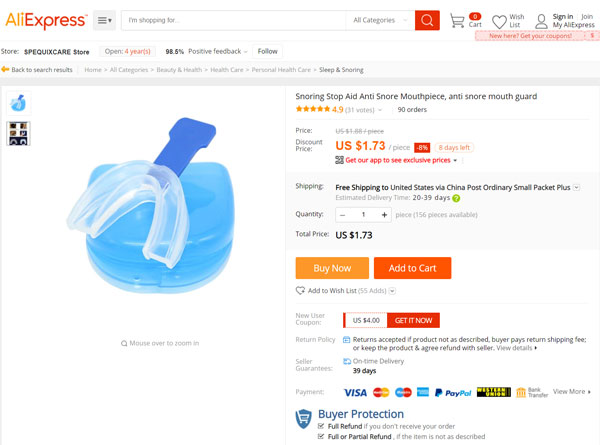 But on Amazon, it sells for $26.00.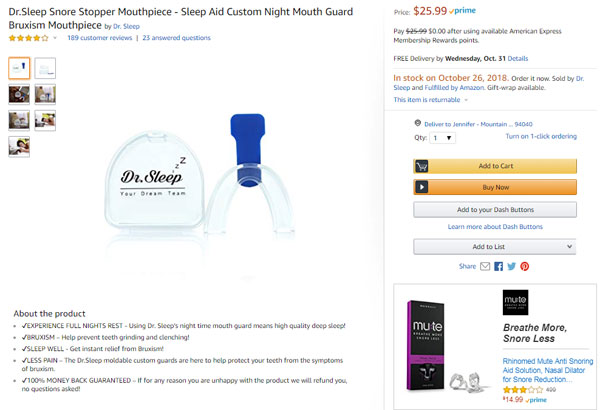 As you can see, the markup for this product is crazy high.
Imagine selling a product for $26 and buying it for only $1.73 without any upfront cost of inventory!
Is AliExpress Dropshipping Profitable?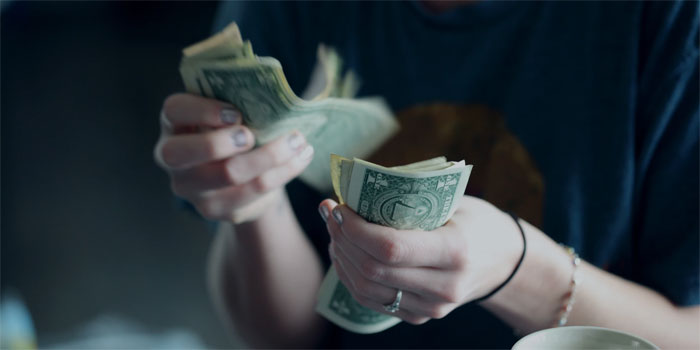 AliExpress dropshipping can be extremely profitable if you find great products and keep your shipping costs down.
Even though products on AliExpress are very inexpensive, you must pay to ship the product to the end customer from China.
Luckily, shipping from China is extremely cheap thanks to ePacket shipping.
Because of a 144 year old agreement called the Universal Postal Union (UPU) treaty, companies in China can ship small packages directly to consumers in the United States at ridiculously low rates which are far less than any American company.
For example, shipping a small package to Fairfax, Virginia, from North Carolina costs $1.94. But shipping a package from Shanghai, China to Virginia only costs $1.12.
This is not a typo. It literally costs less to ship a parcel from China to the US than within the US!
But these cheap shipping rates only go in one direction.

To ship a mouth guard to China from the US would cost $23.50! But to ship from China to California only costs a Chinese vendor less than $2!
This huge shipping cost discrepancy is what allows AliExpress dropshipping to be a viable business.
Using our mouth guard example above, you can sell a snoring mouth guard for $26 and pay a Chinese vendor on the order of $5 (including shipping) to have it shipped directly to a customer in the United States.
That's a $21 dollar profit with zero upfront risk!
Is AliExpress Dropshipping Legal?
AliExpress dropshipping is 100% legal as long as you don't sell counterfeit merchandise online.
AliExpress is a legitimate company and a safe marketplace to buy from but you may find counterfeit and knock-off merchandise on the platform.
As a general rule, any name brand product that you see on AliExpress will be fake or counterfeit. As long as you stay away from trademarked merchandise, dropshipping from AliExpress is safe and legal.
How AliExpress Dropshipping Works

AliExpress dropshipping works by listing a product on your online store that can be purchased on AliExpress at a lower price.
Here's how it works.
You find a product on AliExpress at low prices.
You list the product on your own online store.
When a purchase is made, you buy the same product on AliExpress and have it shipped directly to the end customer.
You keep the difference in cost as profit.
How To Get Started With AliExpress Dropshipping
Making money with AliExpress dropshipping requires 3 basic steps.
You must perform keyword research to find profitable products to sell
You must find reliable AliExpress suppliers to dropship your products
You must create an online store website to take orders
Step 1: Find Profitable Products To Sell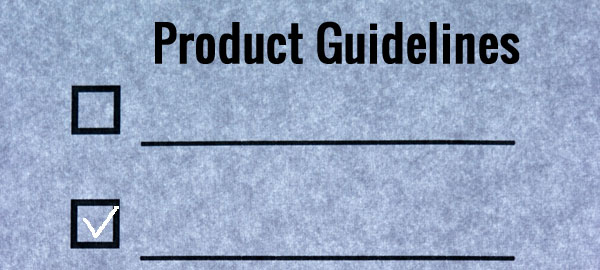 To find profitable products to dropship from AliExpress, you should follow these guidelines.
The product should not be fragile and easy to ship.
The product should be trendy and impulsive.
The product should not be readily available in brick and mortar stores.
The product should have a strong value proposition and/or coolness factor.
The product should be priced around $50 with at least a 200% markup.
If you are not a creative person, you can also use the following tools and websites to help brainstorm products to sell online.
Step 2a: Find An AliExpress Dropshipping Supplier
There are 2 ways to find AliExpress suppliers online.
The first way is to simply type in the product that you want to sell on AliExpress and purchase it from the supplier directly.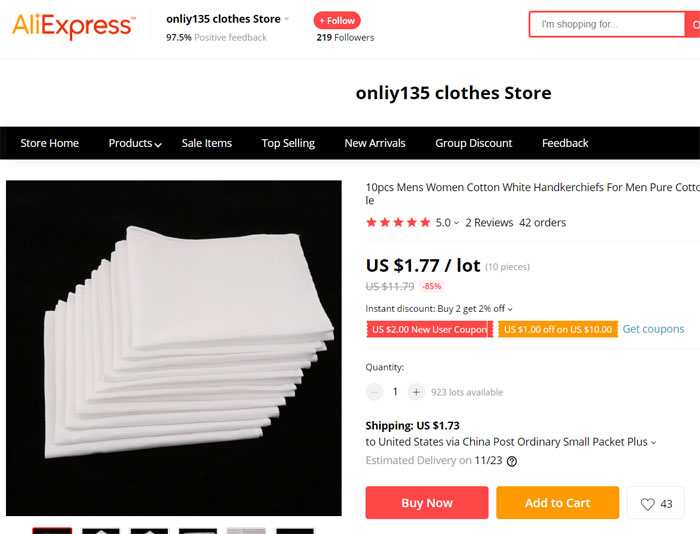 Here's how to find a reliable AliExpress supplier.
Look For Suppliers With a 90%+ Feedback Rating – To find the feedback rating, navigate to a supplier's page and click on the "feedback" tab. From here, the feedback score will tell you the seller's sales volume and the percentage of positive feedback received.

Do not use any supplier who has not shipped out at least 100 orders with a 90%+ feedback rating.

Never Sell Branded Products – Luxury brands do not sell on AliExpress and almost every name brand on AliExpress is fake or counterfeit. If the price sounds too good to be true, it usually is.
Use Responsive Suppliers – When you run an ecommerce business, you will eventually run into product quality issues and late deliveries. As a result, you must make sure that your supplier is responsive and helpful.

To test a potential supplier, message the supplier with a question and see how quickly they reply and how helpful they are. If you don't get a response or if you can't understand their messages, move on to a different supplier.

Pay Attention To Your Shipping Options – The most optimal AliExpress shipping method is ePacket delivery which takes 7-30 days. If the supplier does not support ePacket, you may want to find a different supplier. ePacket is by far the best AliExpress shipping method.
Always Order Samples – Before you sell a dropshipped product to a customer, you should first buy it yourself and examine it for quality. Always buy every product you plan on selling in your online store to make sure it's what you expect.
Do Not Include Packing Slips – You should ask your supplier to not include packing slips or invoices in the shipped package. Ideally, you do not want the end customer to know that you are dropshipping from AliExpress.
Step 2b: Open A Dropship Account On AliExpress With A Dropshipping Service Or App

The second way to open a dropship account on AliExpress is to use a dropshipping service or app.
A dropshipping app is a tool that connects your store to AliExpress and automates the ordering process from AliExpress suppliers.
By connecting your Shopify store to AliExpress via an app or plugin, you can instantly import millions of products to dropship WITHOUT manually entering in each product or browsing AliExpress.
Many dropship service companies will also pre-vet AliExpress suppliers and products in addition to handling the back end operations of your business.
Here's a shortlist of AliExpress dropshipping companies.
DSers – DSers is a Shopify app for AliExpress dropshipping. You can automatically import products from AliExpress and sell them from your store.
CJ Dropshipping – The CJDropshipping app allows you to instantly import thousands of AliExpress products directly into your ecommerce store. All product descriptions are synced directly with AliExpress so you don't have to manually enter in products.
Oberlo – Oberlo is a dropshipping platform that allows you to easily find and list products from AliExpress. Over 30,000 products are offered and there's a seamless integration with Shopify. Note: Oberlo shut down on May 22, 2022
AliDropship – The AliDropship app allows you to quickly list products from AliExpress into your Shopify or WooCommerce store.
Go here for a more complete list of dropshipping suppliers.
Step 3: Create An Online Store

When starting an AliExpress dropshipping business, you should use either Shopify or WooCommerce as your ecommerce platform.
Both Shopify and WooCommerce are two of the most popular ecommerce platforms in the world with full support for most dropshipping services and apps.
For example, services like Oberlo, CJ Dropshipping and AliDropship allow you to automatically import products into your shopping cart at the push of a button.
When an order is placed on your store, the dropshipping app will automatically make a purchase on AliExpress with your customer's shipping address.
By using an AliExpress dropshipping app, your business is highly scalable because the software takes care of orders and fulfillment.
AliExpress Dropshipping Risks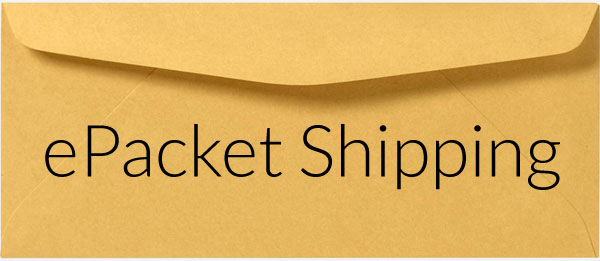 The biggest risk to AliExpress dropshipping is that your shipping costs are highly dependent on ePacket shipping which is slowly getting phased out.
During President Trump's time in office, the United States placed major pressure on the Universal Postal Union to change the terms of ePacket shipping because ePacket provides China with a huge one way advantage over the US in terms of shipping costs.
Over the years, ePacket has contributed to the big flood of cheap Chinese junk being sold to the US.
As a result of the Universal Postal Union negotiations (effective July 1, 2020), USPS will gradually phase in higher shipping fees over the next 5 years on packages from all international destinations.
These higher fees have the potential to destroy any profit that can be made with an AliExpress dropshipping business.
Editor's Note: There are other cheap AliExpress shipping methods available but they are either too expensive or take too long to deliver. ePacket is by far the best AliExpress shipping option.
The other major risk of AliExpress dropshipping is poor quality merchandise. In general, quality control on AliExpress is not very good and you must work with a good supplier in order to succeed.
However, buying from AliExpress is safe because they offer a buyer protection program. If your product doesn't arrive on time or as described, you can get a full refund.
The Pros And Cons Of AliExpress Dropshipping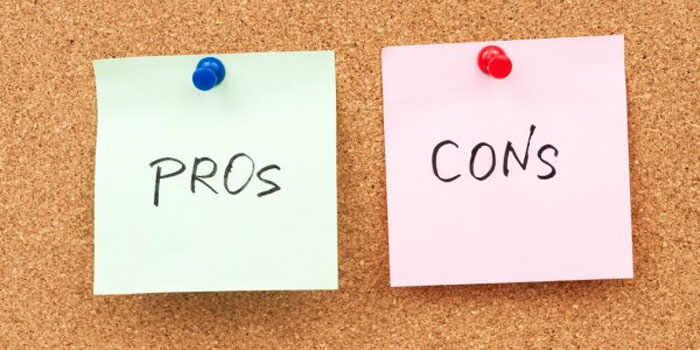 The main benefit of AliExpress dropshipping is that it is the cheapest and least risky way to start selling online. It also requires the least amount of setup compared to other ecommerce business models.
Meanwhile, services like Oberlo and CJ Dropshipping provide an app that automatically imports AliExpress products directly into your online store and handles ordering as well.
Here are the pros of AliExpress dropshipping.
You have instant access to a database of millions of products to sell.
You can start AliExpress dropshipping for very little money.
You control the pricing for your products.
You don't have to pay upfront for inventory and there are no minimum order quantities.
Your dropshipping software handles all of the ordering and fulfillment for you.
Here are the cons of AliExpress dropshipping.
Shipping times are extremely long. Even ePacket takes 7-30 days. Other AliExpress shipping methods can take up to 60 days.
Quality control can be a problem.
AliExpress suppliers may not speak English.
Your prices on AliExpress may change at any time.
The success of your business depends on the quality of your AliExpress suppliers.
For more info on quality control and shipping times on AliExpress, read these AliExpress reviews.
Is AliExpress Dropshipping Worth It?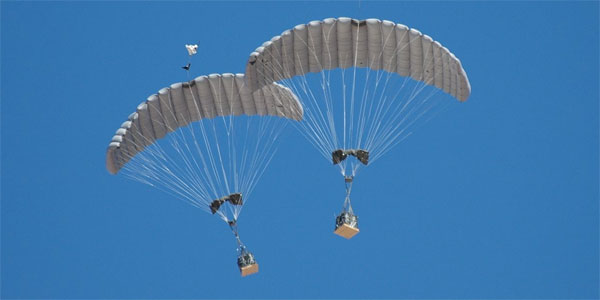 AliExpress dropshipping is worth it if you want to start an ecommerce business on a budget with low upfront costs.
However, running a profitable dropshipping business is getting much harder because of Amazon.
Many AliExpress suppliers are listing their products directly on Amazon at cheaper prices with faster shipping.
In general, my colleagues who are the most successful with dropshipping tend to either sell large, big ticket items or products that can be upsold with accessories or services.
It also helps to dropship products that are conducive to content marketing and customer education.
That being said, dropshipping can be a good way to dip your toes in the ecommerce waters especially if you have very little upfront money to invest in your business.
You can start out with a dropship store, find out what sells well and then choose to stock or private label your winners.
Looking Beyond AliExpress Dropshipping
If you followed MyWifeQuitHerJob.com for any length of time, you probably know that I'm not a huge fan of dropshipping as a long term business model.
Not only are the margins lower but you don't have any ownership of your brand.
Because there will be other vendors selling the exact same item as you, it's difficult for your shop to stand out.
You also have very little control over your customer service.
For example, if your dropship vendor often ships out products late, that will make your company look bad.
If your dropship vendor is out of stock on an item you just sold, you are responsible for contacting the customer.
If you want to be in the ecommerce game in the long run, you really have to own your own brand and sell private label products.
When you own your own brand, you are in full control of your own destiny.
You get to set the price
You control where you can sell your products
No one can copy your brand or trademark
Your margins are much higher (>80%)
Running a private label ecommerce store often requires a little more upfront investment but you avoid being at the mercy of external factors that can put you out of business.
In the grand scheme of things, AliExpress dropshipping should be a stepping stone on your ecommerce journey.
Because when it comes to entrepreneurship, the faster and easier it is to start a business, the less sustainable it will be.
Frequently Asked Questions About AliExpress Dropshipping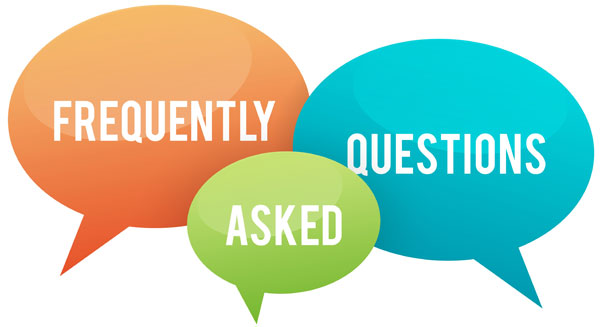 How does dropshipping work on AliExpress?
AliExpress dropshipping works as follows. When a customer makes a purchase from your online store, you then order the same item from AliExpress and have it shipped directly to your customer's address. You do not have to carry any inventory upfront.
Is AliExpress dropshipping free?
There is no upfront cost for AliExpress dropshipping. Because you don't have to carry any inventory, you can experiment with different products without any monetary risk.
Can you dropship from AliExpress to Amazon and Ebay?
Both Amazon and Ebay have disallowed dropshipping from marketplaces like AliExpress. If you are caught, you risk getting your account suspended or banned.
How long does AliExpress take to ship?
Orders from AliExpress can take anywhere from 2 weeks to a month depending on the vendor. As a result, you have to set delivery expectations with your customer up front.
Is Shopify and AliExpress dropshipping dead?
Because epacket shipping rates are going up dramatically, AliExpress dropshipping is getting harder.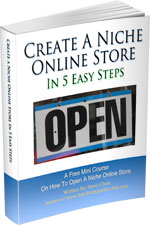 Ready To Get Serious About Starting An Online Business?
If you are really considering starting your own online business, then you have to check out my free mini course on How To Create A Niche Online Store In 5 Easy Steps.
In this 6 day mini course, I reveal the steps that my wife and I took to earn 100 thousand dollars in the span of just a year. Best of all, it's free and you'll receive weekly ecommerce tips and strategies!
Note: This post above may contain affiliate links, which means that I may receive a commission if you make a purchase when clicking a link. Please consult our privacy policy for more information.
Related Posts In Dropshipping
About Steve Chou

Steve Chou is a highly recognized influencer in the ecommerce space and has taught thousands of students how to effectively sell physical products online over at ProfitableOnlineStore.com. 

His blog, MyWifeQuitHerJob.com, has been featured in Forbes, Inc, The New York Times,  Entrepreneur and MSNBC.  

He's also a contributing author for BigCommerce, Klaviyo, ManyChat, Printful, Privy, CXL, Ecommerce Fuel, GlockApps, Privy, Social Media Examiner, Web Designer Depot, Sumo and other leading business publications.

In addition, he runs a popular ecommerce podcast, My Wife Quit Her Job, which is a top 25 marketing show on all of Apple Podcasts. 

To stay up to date with all of the latest ecommerce trends, Steve runs a 7 figure ecommerce store, BumblebeeLinens.com, with his wife and puts on an annual ecommerce conference called The Sellers Summit.  

Steve carries both a bachelors and a masters degree in electrical engineering from Stanford University. Despite majoring in electrical engineering, he spent a good portion of his graduate education studying entrepreneurship and the mechanics of running small businesses.