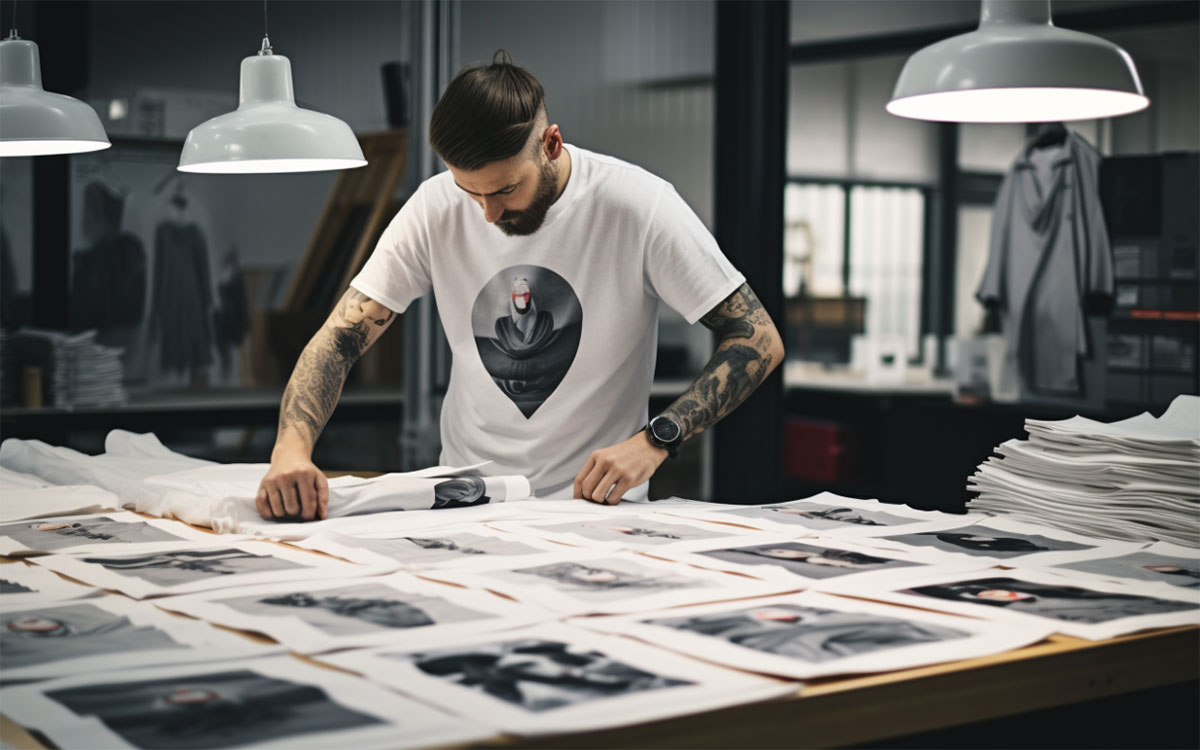 Print on demand is one of the easiest ways to create products to sell online, with no upfront costs. And TeePublic is a popular print on demand company that offers artists a marketplace to sell their creations.
But is TeePublic legit? How does it work, and what types of products can you buy and sell?
In this TeePublic review, I'll share everything you need to know about the platform, including their policies and ways to earn from the platform.
Whether you're an artist looking to sell your designs or a customer searching for unique items, this review will provide you with all of the necessary information.
Get My Free Mini Course On How To Start A Successful Ecommerce Store
If you are interested in starting an ecommerce business, I put together a comprehensive package of resources that will help you launch your own online store from complete scratch. Be sure to grab it before you leave!
What Is TeePublic?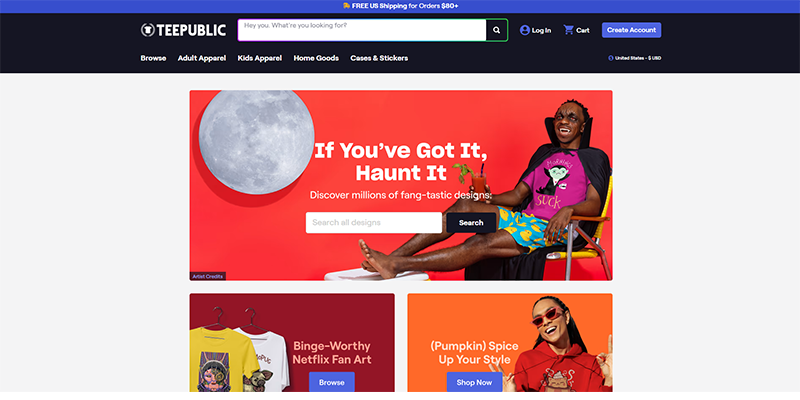 TeePublic is a US-based print on demand company that allows artists to upload and sell their designs online.
Founded in 2013 by Adam Schwartz and Josh Abramson, TeePublic initially focused on t-shirts but later expanded to include various other products, such as home goods, cases, stickers, and more.
For artists, TeePublic offers a simple and easy selling process. You upload your designs, and when a customer purchases a product featuring your design, you receive a commission.
TeePublic handles everything from printing and shipping to customer service, removing the need for upfront investment in inventory and fulfillment.
The company's global presence is made possible through their network of fulfillment centers worldwide, ensuring prompt product delivery.
Shoppers can enjoy a secure shopping experience, with a responsive customer support team available to assist with any inquiries.
Overall, TeePublic provides a user-friendly platform for artists to sell their designs while offering customers a convenient and safe buying experience.
Is TeePublic Legit?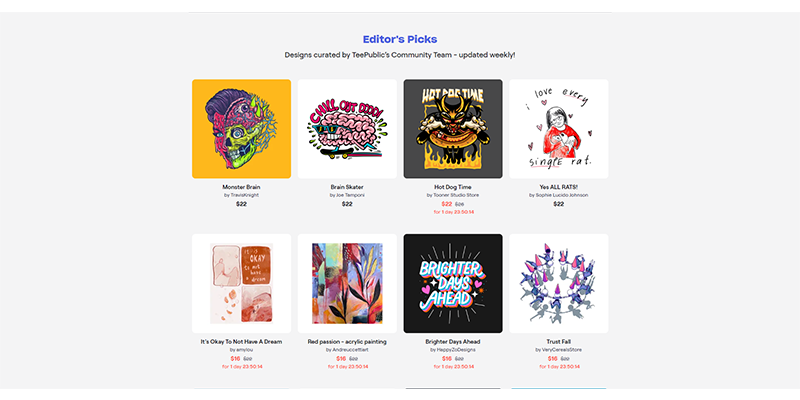 TeePublic is a legitimate company based in New York, USA that receives over 10 million website visits per month. TeePublic offers secure payments, reliable customer support, and a generous return window on applicable orders.
If you're an artist, you can confidently sell your designs, as TeePublic pays you on the 15th of each month for sales from the previous calendar month.
TeePublic was acquired by Redbubble in 2018, which is another print on demand that is publicly traded on the Australian Securities Exchange (ASX).
TeePublic is also accredited by the Better Business Bureau (BBB) and boasts solid ratings of 4.5/5 on Trustpilot and 4.1/5 on Sitejabber.
Is TeePublic Safe?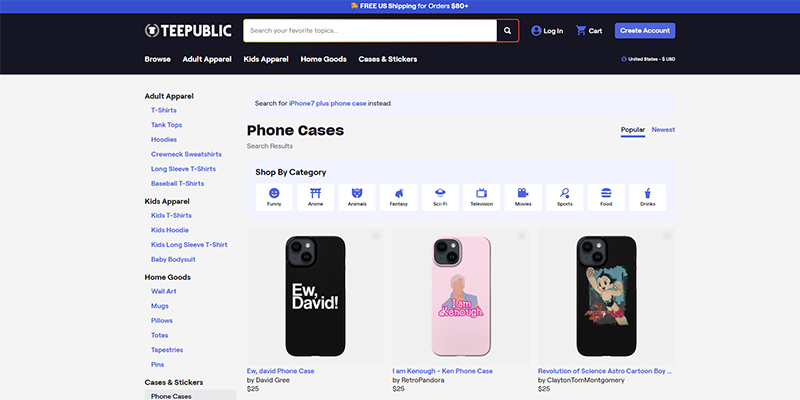 Buying from TeePublic is 100% safe because they have a program called "TeePublic Guarantee" that offers free exchanges for damaged goods and incorrect sizing.
In addition, TeePublic protects your personal and payment data through SSL encryption. They also offer estimated shipping times and a tracking number upon dispatch.
Based on TeePublic's extensive 20-year track record, you can trust that their platform is safe and reliable.
TeePublic Products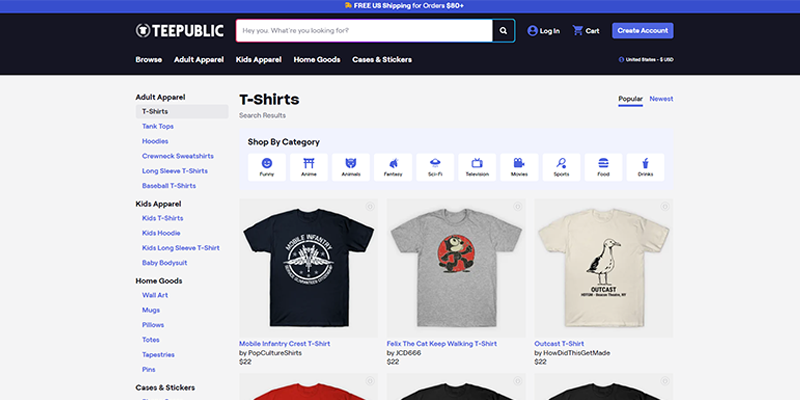 TeePublic offers over one million designs across 75 diverse products on their marketplace.
Here are a few of the items you'll find on TeePublic:
Baby bodysuit
Baseball t-shirts
Classic t-shirts
Hoodies
Long sleeve t-shirts
Magnets
Mugs
Phone cases
Pillows
Pins
Stickers
Sweatshirts
Tank tops
Tapestries
Totes
Wall art
While TeePublic's product range may seem limited compared to other print on demand marketplaces, they stand out with their exceptional product quality which has earned them glowing reviews.
Among their offerings, t-shirts are their most popular category. They offer classic solid-color shirts made of 100% Cotton in addition to shirts with cotton-polyester blends.
To learn more about the materials used for a specific product, click on a design, choose the product you're interested in, and find the "Material Info" section with all the details.
How TeePublic Works for Buyers
When a customer makes a purchase, TeePublic prints the artwork on the product and ships it to the customer on demand.
Unlike other online stores, TeePublic doesn't store your items in warehouses before you buy them. Instead, each order is custom-made by a dropshipper and sent to a printer near you when you place an order.
Here's a step-by-step guide to shopping on TeePublic:
Open An Account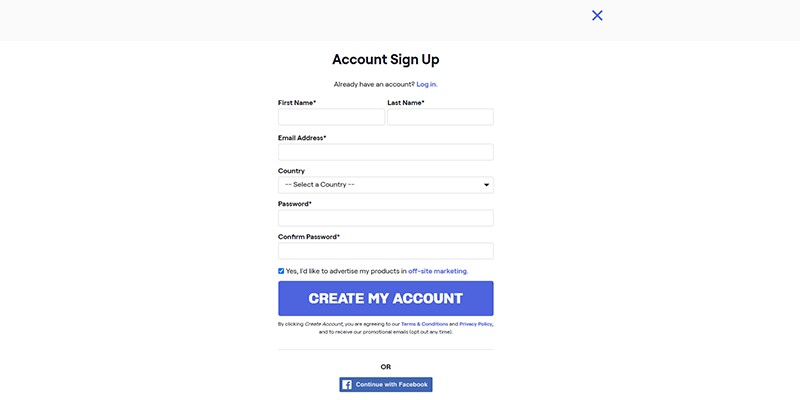 To create a TeePublic account, visit their homepage and click "Create Account" at the top right corner.
You'll need to provide your name, email address, and country. Alternatively, you can sign up using your Facebook account.
After registration, TeePublic will send you an account activation link for confirmation.
Shop On TeePublic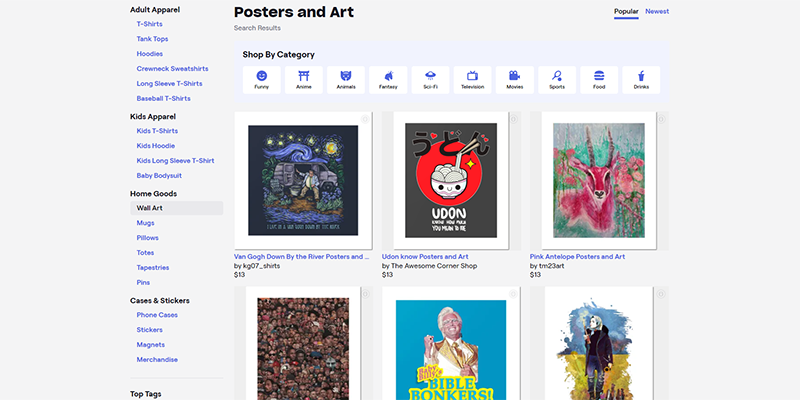 You can shop on TeePublic without opening an account. However, even if you check out as a guest, you'll still need to provide your email address and other details.
So, it's a good idea to sign up and enjoy discounts and updates on the latest arrivals and promotions.
Plus, your shopping cart details are saved if you need time before making a final purchase decision.
TeePublic Shipping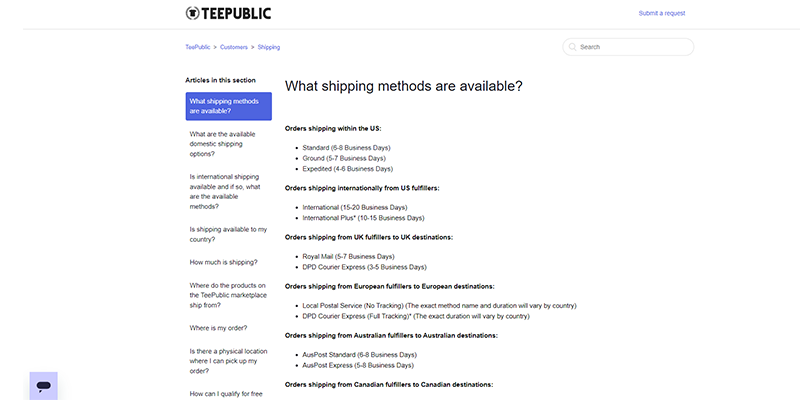 TeePublic delivers orders in three to ten business days, depending on your country and chosen delivery method.
TeePublic also provides estimated shipping times on the product page and at checkout.
You can select from available shipping options during checkout. For example, if you're in the US, you have the option of standard, ground, and expedited shipping.
TeePublic has fulfillment centers in Australia, Canada, Europe, the UK, and the US. If you're in one of these countries, you can expect delivery in three to eight business days.
International buyers outside these regions can expect delivery in ten to twenty business days.
The shipping cost depends on factors such as order value, shipping method, location of fulfillment center, and delivery destination. For example, US orders over $80 get free shipping.
What Is TeePublic's Return Policy?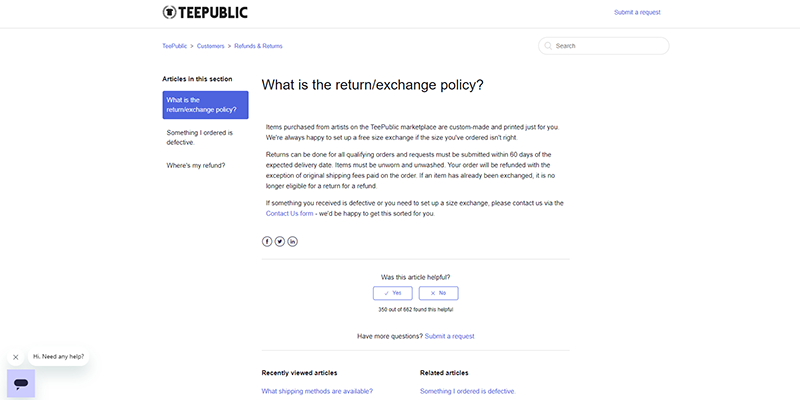 TeePublic's return policy allows free exchanges within 60 days of receiving your order.
Since each product is custom-made and printed just for you, TeePublic typically does not accept returns.
However, if your item arrives damaged, the sizing is incorrect, or you require a size exchange, TeePublic is happy to provide free exchanges.
What Payment Methods Does TeePublic Accept?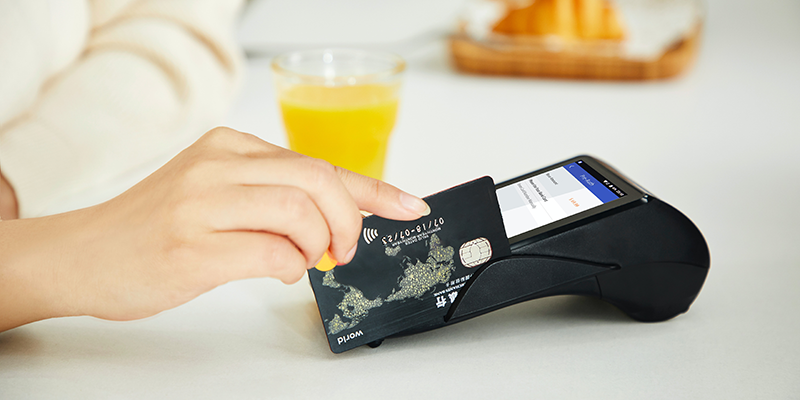 TeePublic only accepts payments made with major credit cards such as Visa, Mastercard, American Express, Discover, PayPal, Google Pay, and Apple Pay.
They don't accept payments by money orders, wire transfers, checks, or cash-on-delivery.
Is TeePublic Overpriced?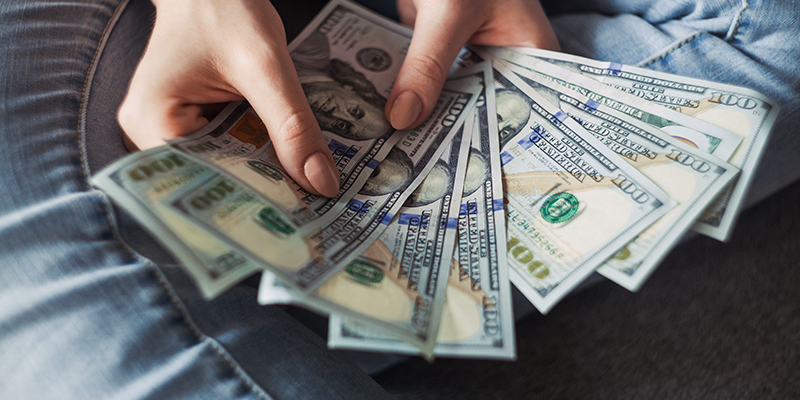 TeePublic's pricing is reasonable and more affordable than other print on demand marketplaces.
For example, their regular t-shirts are priced at $22, with discounts available at $16. Similarly, stickers are priced at $2.50, with discounted rates at $2.
TeePublic's advantage lies in its print on demand model, which means they don't need to store the products they sell. Not having to maintain extensive inventory helps them keep prices competitive.
All in all, TeePublic is a great choice for those who want to support independent artists while getting value for their money.
How TeePublic Works For Sellers
When a designer uploads their artwork, and a customer orders a product with their art, TeePublic takes care of printing, shipping, and customer service, all on-demand.
Here's a step-by-step guide to getting started as a seller on TeePublic:
Open An Account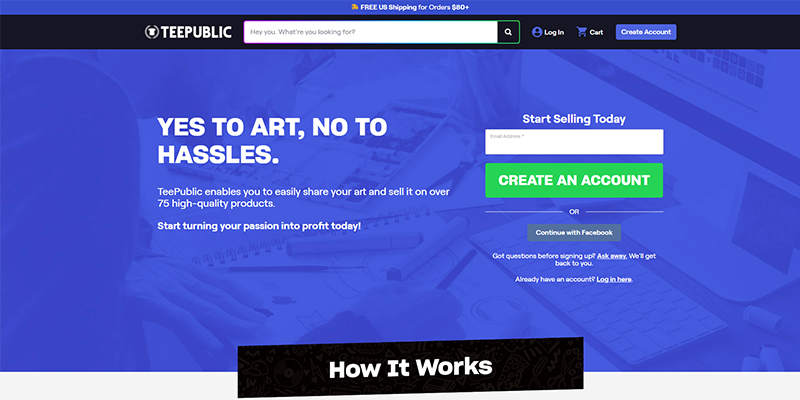 Independent creators can easily sign up by clicking the "Designer Sign Up" button on TeePublic's homepage or footer.
You can either sign up using your Facebook account or provide the following details:
First name
Last name
Email
Country
You'll have the option to tick a checkbox that states "Yes, I'd like to advertise my products in off-site marketing."
This basically means you'd like to advertise your products on external sites like TikTok and Facebook.
After signing up, you'll receive an email with an account verification link to complete your registration.
Understanding Account Types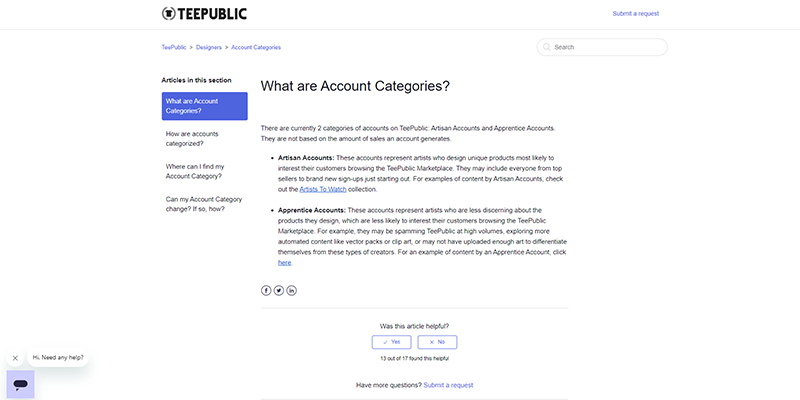 TeePublic categorizes accounts into two types:
Artisan accounts
Apprentice accounts
TeePublic determines this categorization during your enrollment on the platform, and you cannot change it. However, you can request a re-review.
Artisan accounts typically earn more than Apprentice accounts. For example, if you sell a Classic Hoodie with an Artisan account, you earn $4, whereas with an Apprentice account, you earn $3.
Let's take a look at both to understand the differences between these two accounts:
1. Artisan Accounts
Artisan accounts are for artists with unique products that typically sell well on TeePublic's marketplace. You don't have to be a top seller to have an artisan account.
To see examples of content from Artisan Accounts, explore the Artists To Watch collection.
2. Apprentice Accounts
Apprentice accounts are for artists who create more generic content, which may use vector packs or clip art. TeePublic refers to these accounts as "less discerning about the products they design."
For an example of content from an Apprentice Account, click here.
Upload Designs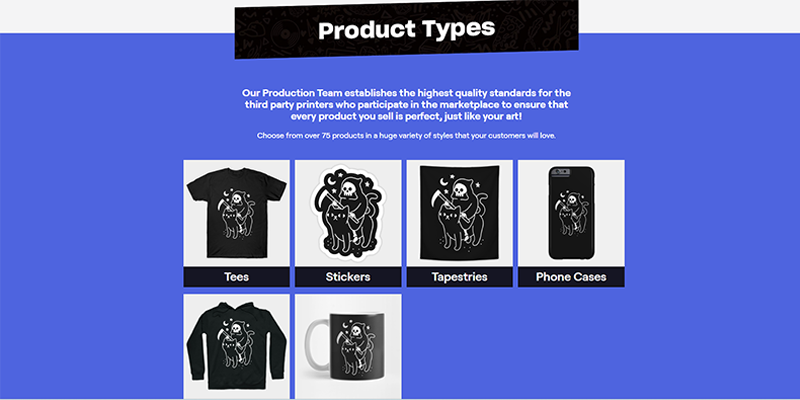 Uploading designs on TeePublic is easy. Here's how:
Click the blue "Upload Design" button located in the upper right corner of the dashboard.
Select a name for your storefront, which will also serve as your TeePublic store URL.
Simply drag and drop your high-resolution transparent .PNG file (150 dpi) to the center, or click in the center to browse your files and choose your design.
Add a design title, main tag, supporting tags, and a product description.
After completing the details, decide which product you want to feature your design on and choose the preferred color.
Finally, click either the "Publish" button to make your design immediately available or "Save for Later" to revisit it at your convenience.
Get Paid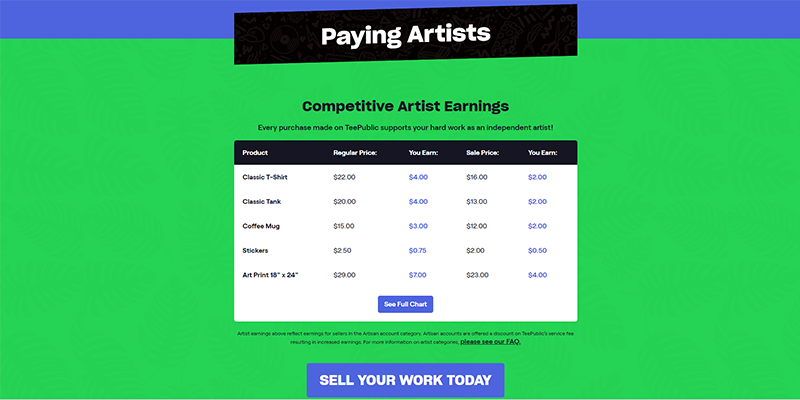 TeePublic sets the retail prices for products. This means you don't get to determine your own markup, unlike other POD marketplaces like Redbubble.
Products have two prices:
A discounted sale price is offered for the first 72 hours, during site-wide sales, or when you're featured in "Newest Designers" and "Features Designers."
A regular price for all other times.
Earnings are paid through PayPal or Payoneer on the 15th of each month for sales made during the previous month. For example, earnings from January sales are paid on February 15th.
Starting May 8, 2023, TeePublic introduced a fixed service fee for artists with each sale. The service fee is higher for Apprentice accounts than for Artisan accounts.
You can manage your payment information by going to your "Account" and selecting "My Sales" in the left-hand menu. On that page, you can view your payment options and update your email address and method as needed.
TeePublic Pros and Cons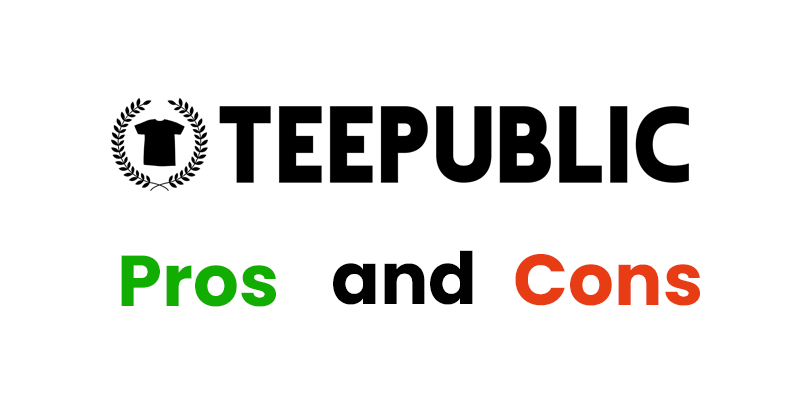 TeePublic provides a reliable platform for artists to sell their designs and offers customers competitive prices and high-quality products. However, there are some downsides to TeePublic, including service fees and limited profit margins.
Here's a breakdown of the pros and cons of TeePublic:
TeePublic Pros
Affordable pricing: Shoppers can enjoy budget-friendly prices, especially during sales.
Good quality: TeePublic manages to maintain high-quality standards despite its competitive pricing.
Global shipping: TeePublic ships internationally at low rates.
Great customer support: The customer service team promptly addresses inquiries and has earned praise for quickly resolving issues, such as replacing faulty items.
TeePublic Cons
Fixed pricing: TeePublic sets pricing for each category. This means artists don't get to decide on their own markup.
Low-profit margins: TeePublic offers low commissions in every category. To make a living from TeePublic, designers must sell in high volume.
Service fee: Starting May 8, 2023, TeePublic introduced a service fee for each sale made through their platform.
TeePublic Vs. Redbubble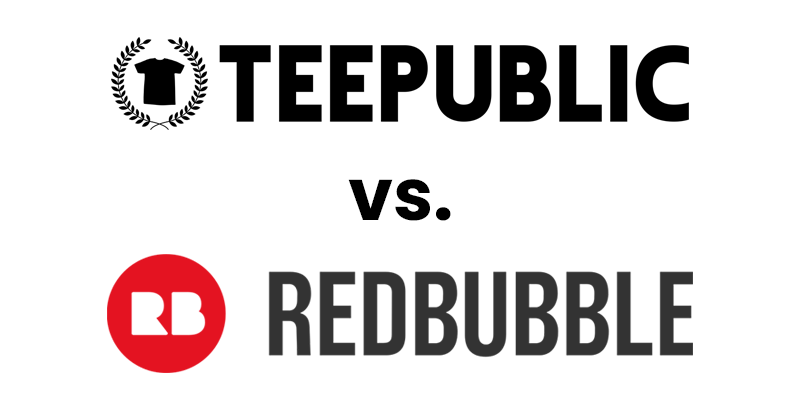 The major difference between TeePublic vs. Redbubble is that Redbubble has a much larger online presence than TeePublic, but TeePublic has lower product pricing than Redbubble.
Redbubble was launched in 2006 in Melbourne, Australia, and has established an online presence of 25 million monthly visitors.
In contrast, TeePublic, founded in 2013 in New York, US, enjoys a substantial but comparatively smaller online audience, with around 10 million monthly visits.
Another difference is in the range of products offered. Redbubble has items like greeting cards, pet mats, tech accessories, and coasters that are not on TeePublic. TeePublic, on the other hand, focuses primarily on t-shirts with a few more categories.
Redbubble also allows designers to add their own profit above the base price, offering them more control over their potential earnings.
TeePublic sets the pricing for product categories and does not permit artists to add their markups. This can limit the earning potential on TeePublic unless artists achieve high sales volumes.
While both platforms have their strengths, customer feedback often highlights product quality. Many customers prefer TeePublic's t-shirts, citing better material quality and more durable stitching.
Overall, TeePublic is an excellent choice for designers primarily focused on t-shirt designs. Redbubble works best for artists who want the flexibility to set their own prices to reach a wider audience.
But the good news is that you don't have to pick between the two platforms. You can easily import your Redbubble designs to TeePublic with a click of a button.
How To Import Your Redbubble Store To TeePublic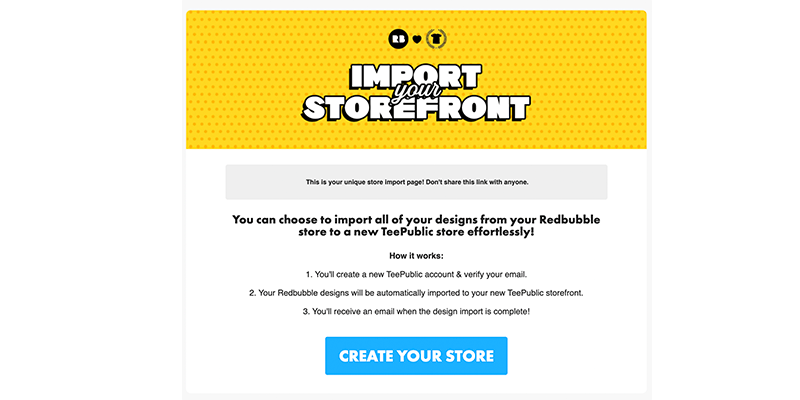 If you're a designer with a RedBubble account, you can easily transfer all your designs from your Redbubble store to a new TeePublic store.
Here's how:
Log in to your Redbubble.com account and go to your Redbubble account dashboard.
On the left-hand side of the page, find the "Artist tools" section and click the "Sell on TeePublic" button.
Agree to import your store to TeePublic by selecting "Create your TeePublic store now and choose to import your art."
Click " Create Your Storefront " on the "Import Your Store " landing page to import your Redbubble store to TeePublic.
You'll be prompted to sign up for a TeePublic account. Complete the registration form, and you're good to go!
This tool facilitates a one-time store import from Redbubble to TeePublic. It won't automatically sync both storefronts on an ongoing basis.
If you don't see the store Importer feature in your Redbubble account, it's likely because Redbubble hasn't made this feature available to all accounts.
The Truth About TeePublic Reviews
TeePublic holds a review rating of 4.5 out of 5 stars on Trustpilot and 4.1 out of 5 stars on Sitejabber, with rave reviews on their product quality and customer support. However, customers have complained about late deliveries and fit issues.
Here are the most common TeePublic reviews you'll find online, along with tips to avoid these issues:
TeePublic Review #1: Late Delivery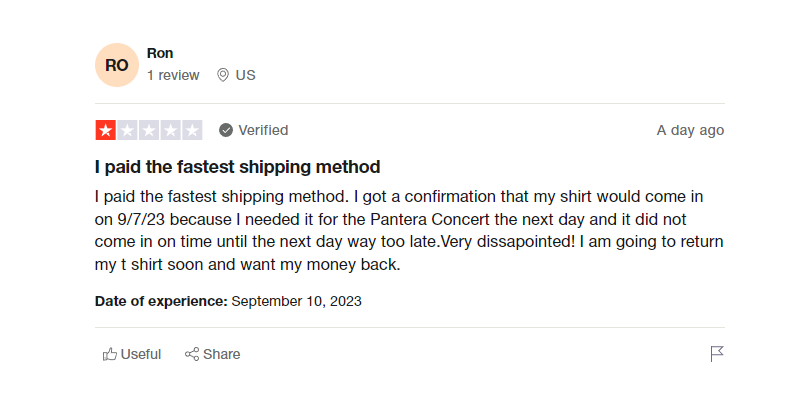 TeePublic typically takes one to three days to process orders, with delivery times ranging from three to seven days, depending on the destination.
Unlike most online stores that can dispatch orders within one to two days, TeePublic's on-demand printing model requires more processing time.
Some customers have voiced frustration over delayed deliveries, even after opting for express or priority shipping at an additional cost.
To avoid disappointment, plan your purchases well in advance, especially for important events or occasions.
TeePublic Review #2: Fit Issues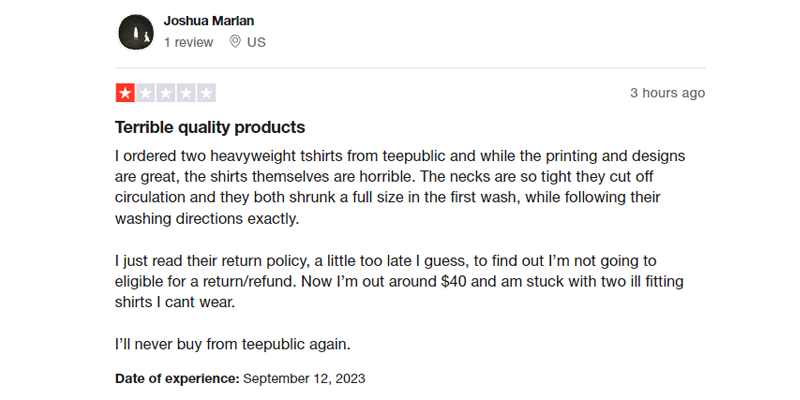 Another common complaint relates to clothing fit.
TeePublic has a generous return policy, allowing returns within 60 days of order delivery, primarily for damaged items or exchanges, as refunds are not the standard practice.
As a result, check each item's sizing guide before you place your order. In addition, if you encounter any fit problems, TeePublic's customer care team is known for being helpful and may assist with exchanges.
TeePublic Alternatives
TeePublic is a great choice for shoppers who want unique designs on apparel.
However, if you're a designer looking to maximize your profit margins, you may want to consider exploring some alternative platforms, such as the following:
Society6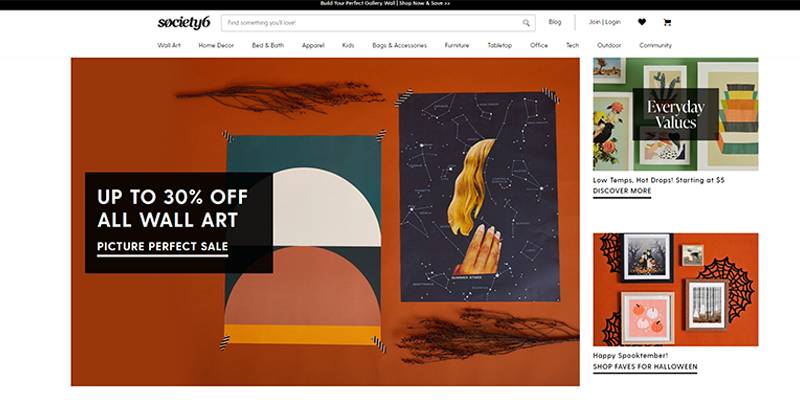 Society6 is a print on demand company that lets you upload and sell your artwork as prints, wall art, phone cases, tote bags, and more.
Society6 provides a 10% commission on most products, except for art prints, canvas prints, and framed prints, where you can adjust your custom margin.
Society6 stands out for their strong focus on artists and is highly regarded among art enthusiasts.
Zazzle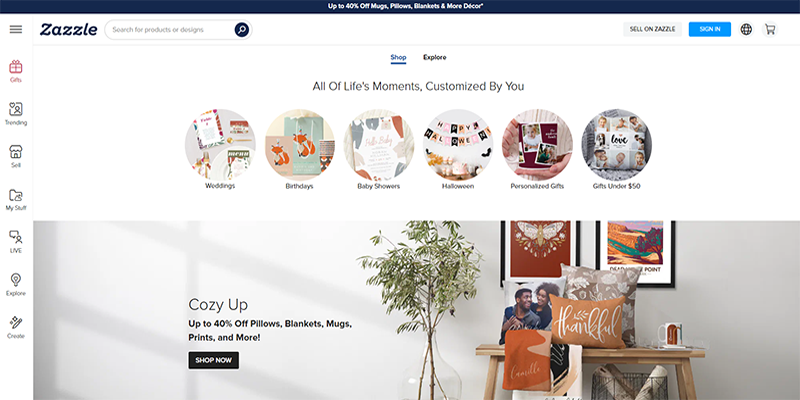 Zazzle is one of the world's largest print on demand companies, offering a vast selection of over 1300+ products.
You have the freedom to set your markups, referred to as "Royalty Rates." While Zazzle recommends an average royalty rate of around 12%, you can adjust it as high as 99% on most products.
With nearly 30 million monthly visitors, Zazzle provides a substantial platform to reach a wide customer base.
Printful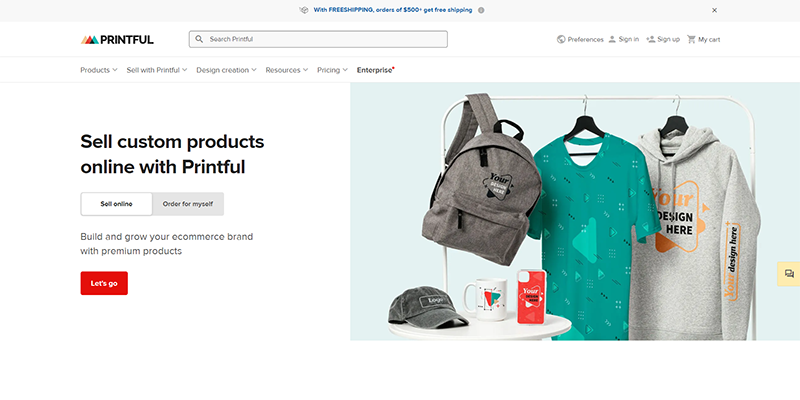 Printful distinguishes itself from TeePublic and other alternatives by not being a marketplace. Instead, you manage your website, add designs to products, and oversee customer service, while Printful handles the printing and shipping process on your behalf.
A key advantage of using Printful is that the commission is entirely yours, and you can determine your markups. There are no service fees, and you make the rules.
Printful's global network of 15 fulfillment centers worldwide ensures speedy product delivery.
Moreover, Printful seamlessly integrates with various third-party marketplaces, including Etsy, Amazon, eBay, Shopify and Ecwid, simplifying selling your products across multiple platforms.
Is Selling On TeePublic Worth It?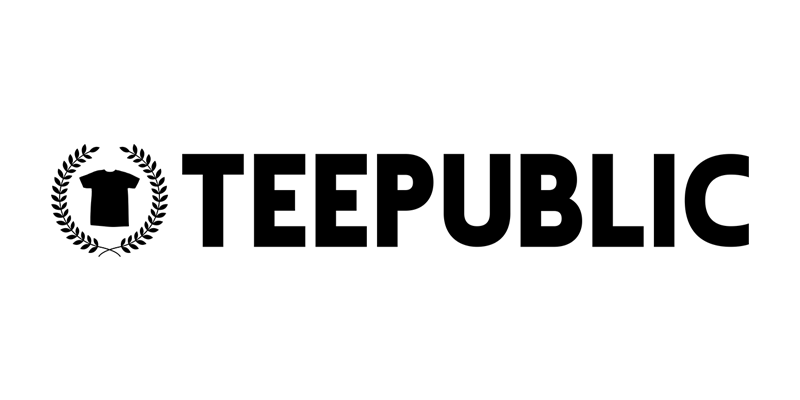 Selling on TeePublic is 100% worth it for artists and creatives who want to generate extra income without the hassles of managing inventory, fulfillment, or shipping.
TeePublic provides a platform to showcase your designs on various products, allowing you to reach a broad audience of ten million monthly website visitors. This exposure can translate into significant opportunities for sales.
If you're interested in exploring more print on demand companies, you can refer to my article, "36 Best Print On Demand Companies For Custom Products."
However, there's a drawback to selling on TeePublic and similar POD marketplaces. You can't sell the products you create on other ecommerce platforms, like Etsy, eBay, Amazon, and Shopify.
In addition, these platforms often introduce service fees and other charges that can reduce your profit margins.
If flexibility is a priority for you, it's worth considering platforms like Printful and Printify. These print on demand platforms provide more extensive integration options and do not charge commissions or service fees.
TeePublic FAQs
Can You Make Money With TeePublic?
You can earn money with TeePublic by selling your designs on their platform, typically earning a commission of around 8% to 12% per sale.
What Can I Sell On TeePublic?
You can sell your artwork and designs on products like t-shirts, stickers, tank tops, and pillows on TeePublic.
Are TeePublic And Redbubble The Same?
TeePublic and Redbubble are two different print on demand companies. Although Redbubble acquired TeePublic in 2018, both operate as separate platforms.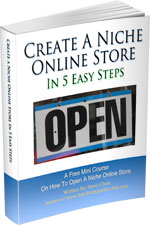 Ready To Get Serious About Starting An Online Business?
If you are really considering starting your own online business, then you have to check out my free mini course on How To Create A Niche Online Store In 5 Easy Steps.
In this 6 day mini course, I reveal the steps that my wife and I took to earn 100 thousand dollars in the span of just a year. Best of all, it's free and you'll receive weekly ecommerce tips and strategies!
Note: This post above may contain affiliate links, which means that I may receive a commission if you make a purchase when clicking a link. Please consult our privacy policy for more information.
Related Posts In Dropshipping
About Steve Chou

Steve Chou is a highly recognized influencer in the ecommerce space and has taught thousands of students how to effectively sell physical products online over at ProfitableOnlineStore.com. 

His blog, MyWifeQuitHerJob.com, has been featured in Forbes, Inc, The New York Times,  Entrepreneur and MSNBC.  

He's also a contributing author for BigCommerce, Klaviyo, ManyChat, Printful, Privy, CXL, Ecommerce Fuel, GlockApps, Privy, Social Media Examiner, Web Designer Depot, Sumo and other leading business publications.

In addition, he runs a popular ecommerce podcast, My Wife Quit Her Job, which is a top 25 marketing show on all of Apple Podcasts. 

To stay up to date with all of the latest ecommerce trends, Steve runs a 7 figure ecommerce store, BumblebeeLinens.com, with his wife and puts on an annual ecommerce conference called The Sellers Summit.  

Steve carries both a bachelors and a masters degree in electrical engineering from Stanford University. Despite majoring in electrical engineering, he spent a good portion of his graduate education studying entrepreneurship and the mechanics of running small businesses.