Most people know eBay as a place to sell used items lying around the house. But over the years, eBay has evolved into a leading online marketplace where you can resell new products or even your own private label brands.
eBay is so popular that more than 3 out of 10 mobile users in the US use the eBay app. This makes eBay the ideal platform for you to start your ecommerce business.
In this post, you'll learn everything you need to know about how to sell on eBay, including why you should use it, how much it costs, the different types of listings, and how to list your first product on eBay.
Get My Free Mini Course On How To Start A Successful Ecommerce Store
If you are interested in starting an ecommerce business, I put together a comprehensive package of resources that will help you launch your own online store from complete scratch. Be sure to grab it before you leave!
Why Sell On eBay?
The main reason to sell on eBay is that eBay allows you to showcase new and used items in a place where millions of people shop every day.
There are 187 million eBay users worldwide and approximately 80% of those are from the US.
eBay makes it easy for individual sellers and businesses to register and list items on their platform.
As an individual, you can start by selling used items you find around your house to make some extra cash.
And if you want to start a retail arbitrage business, you can sell clearance, returned, out-of-season, and open-box merchandise on the platform.
If you compare selling on Amazon vs Ebay, the primary advantage of selling on eBay is that you don't have to win the buy box in order to get visibility for your products.
Here's what an Amazon listing looks like.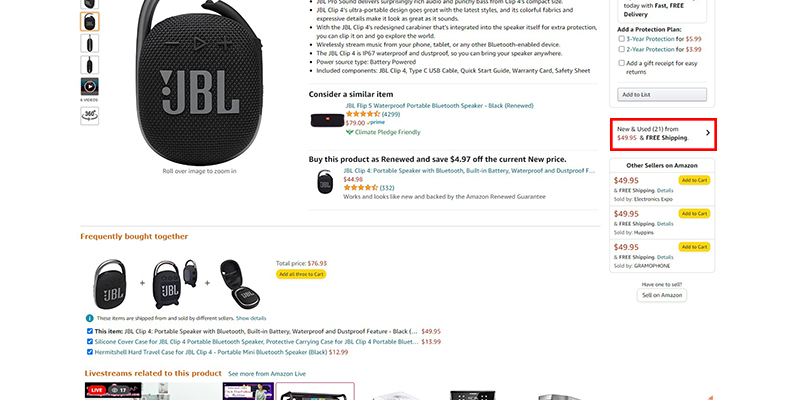 On Amazon, the option to buy new and used goods is buried within the same listing.
On the other hand, eBay has individual listings for all products, irrespective of the product condition.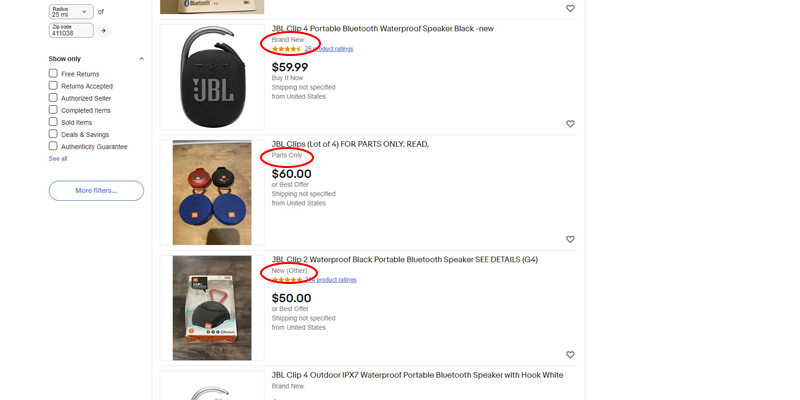 eBay also lets you create auction-style listings for physical products and services such as graphic design and SEO.
To summarize, eBay is an excellent platform for artists, individual sellers, retailers, online arbitrage sellers and private label brands alike.
How Does eBay Work?
Here's how eBay works:
You register an account on eBay.
You list your product at a fixed price using the "Buy It Now" option or set a starting amount and let users bid for your item using the "Auction" option.
You specify the condition of the item.
Once a customer purchases your product, you ship it out with an eBay approved carrier to protect yourself against "Item not received" claims filed through the eBay Money Back Guarantee.
eBay charges a 10% to 15% commission fee and releases payment to your account in 1 to 3 business days.
Is eBay Safe?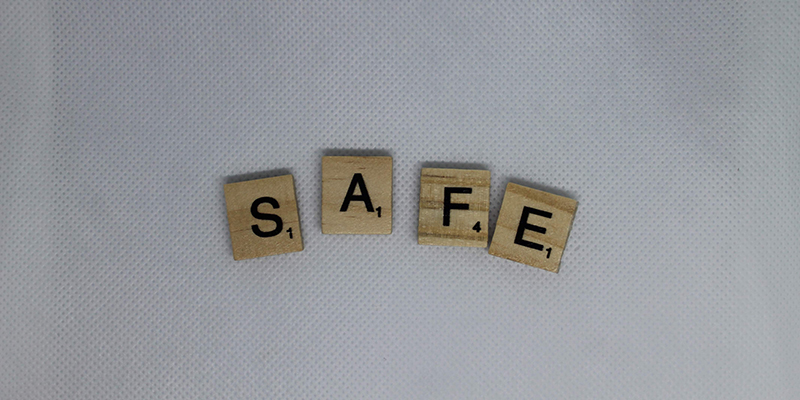 Buying and selling on eBay is 100% safe because eligible purchases are covered by eBay's free Money Back Guarantee program.
As a buyer, if you don't receive the item you purchased on time and as described, you are eligible for a full refund.
As a seller, you are liable for the entire transaction from start to finish and you must guarantee the quality of your products to the end customer.
Overall, eBay is very safe for buyers but as a seller, you must bear the full burden of the transaction. Make sure you ship out all orders with an eBay approved carrier with full order tracking to prevent buyer fraud.
What Is The eBay Buyer Protection Program?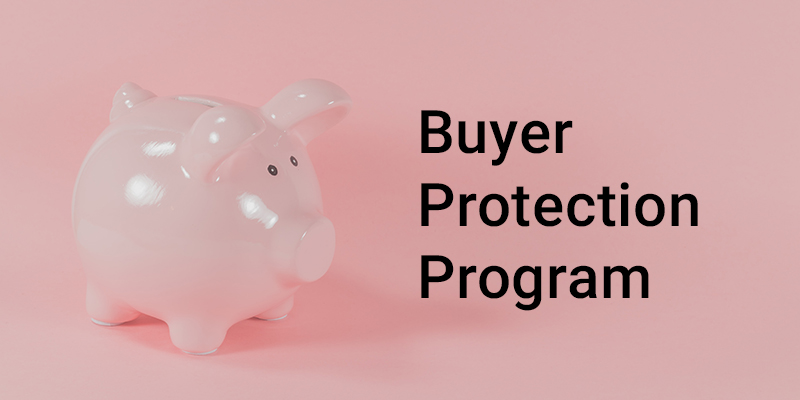 The eBay Buyer Protection program, commonly known as the Money Back Guarantee program, protects buyers from fraud on the eBay platform.
The Money Back Guarantee policy is free and covers most transactions on eBay.
With eBay's Money Back Guarantee, a buyer can request a refund if:
The order isn't delivered.
The item arrived damaged, faulty, or not as described on the listing.
The seller sends the wrong item.
The seller doesn't fulfill their return policy.
To receive a refund, the buyer must first contact the seller by opening a case in the Resolution Center. If the seller doesn't respond or can't provide a satisfactory resolution within 3 business days, the buyer can escalate the case to eBay.
eBay will review the case and contact the buyer within 48 hours. If the order is eligible under the Money Back Guarantee, eBay will issue a full refund, including shipping fees.
The eBay Money Back Guarantee does not protect the following orders:
Orders not placed through eligible payment methods at checkout such as credit/debit card, PayPal, Apple Pay, or eBay gift card.
Payments made through cash, bank transfer, money orders, and escrow services aren't covered under the program.
Categories like real estate, websites, digital content, intangible goods, NFTs, classified ads, services, travel tickets, heavy machinery, and motor vehicles.
How Much Does It Cost To Sell On eBay?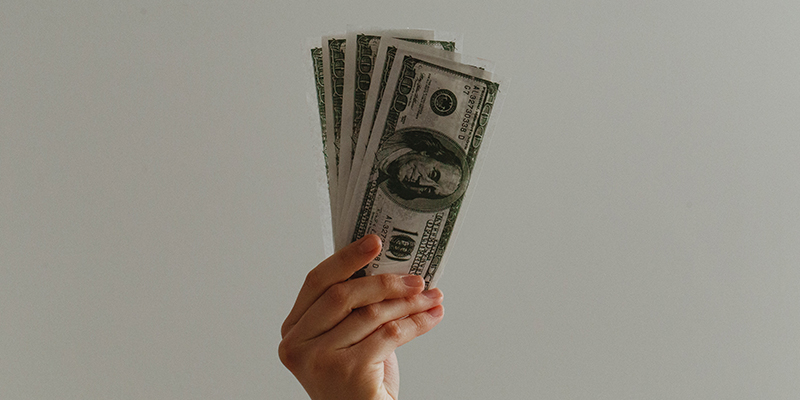 eBay costs 35 cents to create a listing followed by a 12.9% + $.30 selling fee in order to sell on the platform.
However, the cost of selling on eBay can vary depending on the number of listings, listing type, product category, and whether you have an eBay store subscription.
To understand exactly how much it costs to sell on eBay, you must understand all of the variable costs.
Listing Types
There are two types of eBay listings 一 Buy It Now and Auction.
Buy It Now: Buy It Now is a fixed-price listing where a customer purchases your product by adding it to their cart and making a payment.
Auction: An auction listing is when you choose a starting price for your product and interested buyers place bids. The highest bid "wins" when the auction ends.
Selling Fees
eBay charges two types of selling fees 一 insertion fee and final value fee.
Insertion fee: The insertion fee is essentially a listing fee. eBay allows you to list the first 250 listings in a month at no extra cost. After that, the insertion fee starts at $0.35 per listing.
Final value fee: The final value fee is the commission eBay charges on your product. The final value fee depends on the category but is usually around 12.9%, plus $0.30 per order.
Subscription Fees
If you want to open an eBay store, eBay offers 5 pricing plans as follows:
Starter: $4.95 per month. You get 250 free listings a month for both fixed-price and auction listings. After that, the insertion fee is $0.30 for each listing. The starter plan is best for individual sellers who want to build a brand on eBay.
Basic: $21.95 per month. You get 1000 fixed-price listings and 250 auction listings a month. After which, the insertion fee is $0.25 per listing. The basic plan is great for brands that are new to eBay and want benefits like final value fee discounts.
Premium: $59.95 per month. You get 10,000 fixed-price listings and 500 auction listings a month. After that, the insertion fee is $0.10 for fixed-price listings and $0.15 for auction listings. The premium plan works best for established small businesses with an extensive list of products.
Anchor: $299.95 per month. You get 25,000 fixed-price listings and 1000 auction listings a month, plus dedicated customer support. Beyond that, the insertion fee is $0.05 for fixed-price listings and $0.10 for auction listings. The anchor plan is ideal for high-volume sellers.
Enterprise: $2999.95 per month. You get 100,000 fixed-price listings and 2500 auction listings a month, plus dedicated customer support. After that, the insertion fee is $0.05 for fixed-price listings and $0.10 for auction listings. The enterprise plan is perfect for large businesses doing millions in sales.
All of these plans, except the Starter plan, have access to the Terapeak Sales Insights tool. The Terapeak tool contains data from millions of product listings on eBay with data points such as average price sales, sales trends, and buyer locations.
All plans except Starter get a discount on commissions.
For example, a starter plan subscriber must pay a 15% commission in the "Watches" category. But if you're on the Basic or higher plan, the commission is reduced to 12.5%.
To sell on eBay, you don't need to sign up for a subscription plan. You can list products for free and pay a commission fee when you make a sale.
But once you start selling in volume, a subscription plan can save you money on insertion and final value fees.
What Categories Are On eBay?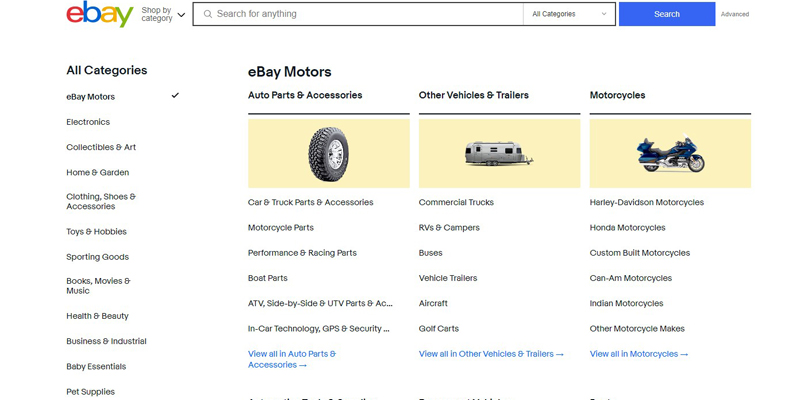 The main eBay categories are as follows:
Books, movies and music
Business & Industrial
Baby essentials
Clothing, Shoes & Accessories
Collectibles
Consumer Electronics
Crafts
Dolls & Bears
Health and beauty
Home & Garden
Motors
Pet Supplies
Sporting Goods
Sports Mem, Cards & Fan Shop
Toys & Hobbies
Antiques
Computers/Tablets & Networking
Where To Find Items To Sell On eBay?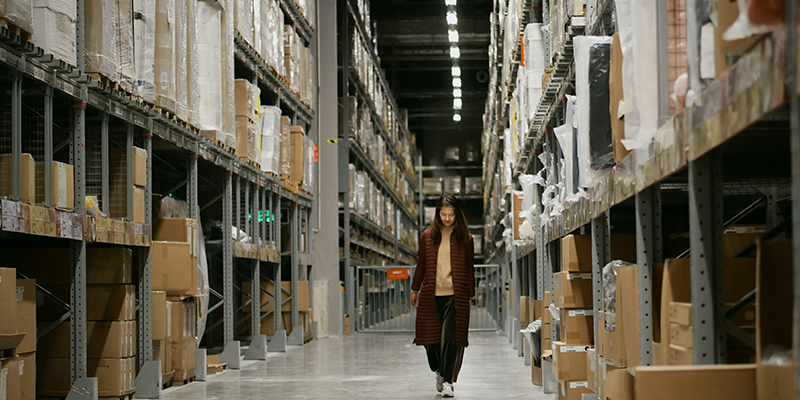 The best places to find items to sell on eBay are thrift stores, flea markets, dollar stores, garage sales, Amazon return pallets, factory outlets, Alibaba, and AliExpress.
Thrift stores, dollar stores, and garage sales: You can find a lot of used goods such as books, toys, games, and furniture in thrift stores and garage sales. Use Garagesalefinder.com to find local garage sales. You can also buy tools, electronic items, and cables from your local dollar store and sell them at near-retail prices on eBay.
Flea markets: You can find antiques, collectibles, and other interesting items at a low price in flea markets. You can clean and restore the goods before auctioning them off on eBay.
Amazon return pallets and liquidation stores: Liquidators can be an excellent source for branded stock items. Many large companies like Amazon sell returns and faulty items in large batches called Amazon return pallets to liquidation stores such as BULQ and BlueLots at extremely low prices. You can bid online or buy random lots from them, refurbish the goods, and resell them for a good profit.
Factory outlets: Factory outlets often have open-box, overstock, and minimally used merchandise. You can refurbish the goods and sell them for higher margins since refurbished goods are often in high demand.
Alibaba and AliExpress: If you want to build your brand using private label products, you can source goods from Alibaba and AliExpress at low prices. This is a popular business model that many businesses have used to build 7-figure brands.
The Best Products To Sell On eBay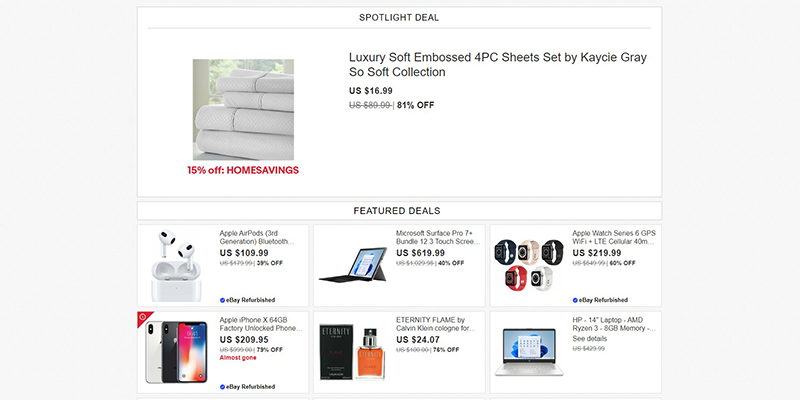 The best and most profitable products to sell on eBay are electronics, automotive, jewelry & watches, collectibles, toys, cell phones & accessories, and computers/tablets.
In general, electronic equipment and accessories sell extremely well on eBay. Refurbished computers are also in high demand right now.
You can buy used electronics in bulk directly from a liquidator or supplier at a heavy discount and then inspect, clean, and refurbish them to sell on eBay at retail prices.
Just make sure that your products work, and that you accurately specify the product's condition.
Products sold on eBay can be listed as…
New
Open box
Certified – refurbished
Excellent – refurbished
Very good – refurbished
Good – refurbished
Seller refurbished
Used
For parts or not working
If you don't want to refurbish your products for sale, you can list them as "used" or "for parts or not working" where the item isn't fully operational and does not function as intended.
You can also consider selling collectibles and branded toys from Marvel and Lego since they often fetch a high price.
For more ideas on good products to sell, check eBay Explore to discover popular and trending products.
How To Sell On eBay
Here's a step-by-step tutorial that explains how to sell on eBay.
Step 1: Set Up An eBay Seller Account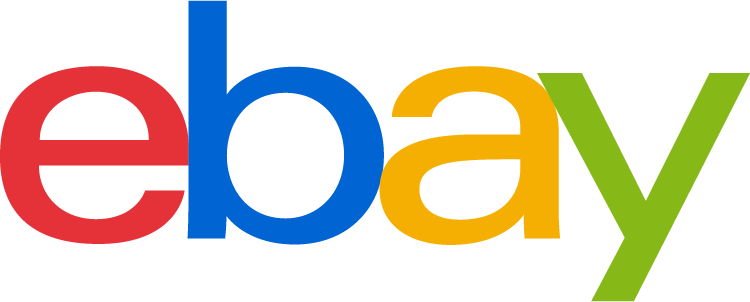 Sign up for a free eBay seller account on the Create an Account page. You can register as an individual using a Personal account or as a professional seller using a Business account.
Personal accounts can only list 10 items with a total order value of up to $500 per month. There are no such restrictions for business accounts.
If you register as an individual, you can upgrade to a business account by going to "My eBay > Account tab > Personal Information > Edit > Change Account Type."
Once you've registered an account, you'll need to complete a short verification process.
eBay automatically assigns a username for you, but you can go to "My eBay > Account > Personal Info" to change it.
Note: You also have the option to start an eBay subscription store while registering your account. But you don't need one when starting out and you can always sign up later.
Step 2: Do Product Research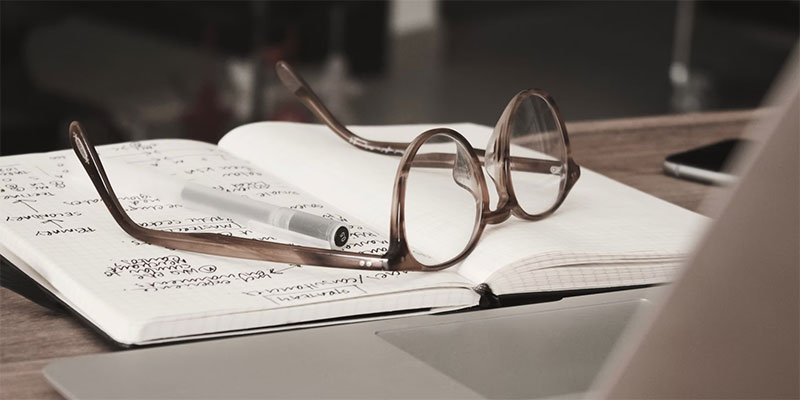 There are 2 main factors you should consider when researching products:
Product demand
Profitability
Product Demand
The easiest way to identify product demand is by looking at eBay "completed listing" data. eBay shows you active, sold, and unsold items for all products over the past 90 days.
For example, when I search for "Apple iPhone 13 Pro Max 128GB," I see 749 active listings.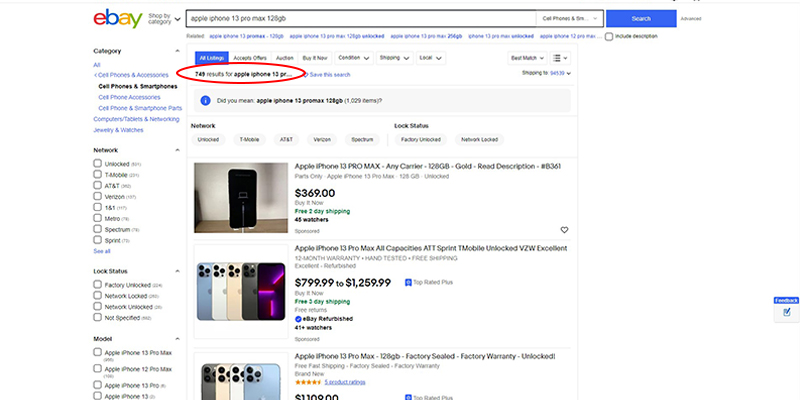 But when I use the "Show only" filter in the left sidebar menu and select "Sold Items" and "Completed Items," the new updated number is 3089. That is the number of products customers have purchased in the last 90 days.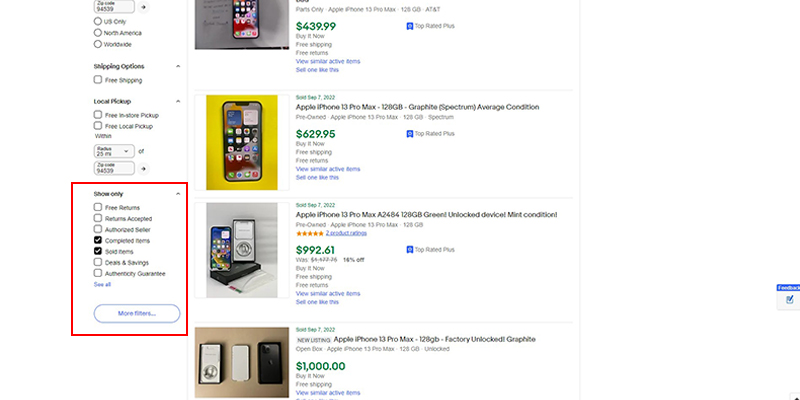 Note: If the sidebar menu isn't available, use the "All Filters" hyperlink above the products.
If you check the sell-through rate, which is a percentage value calculated by dividing the number of units sold (3089) by the number of active listings for that product (749), it is a whopping 412%.
A sell-through rate of 50% and above is the bare minimum required for quick-selling products. If it's any lower, the product isn't popular.
As you can see, the Apple iPhone 13 is a quick-selling product, and the competition isn't exceptionally high.
You can also use Terapeak for free product research if you're a Basic, Premium, Anchor, or Enterprise eBay Store subscriber. If you don't have a store or you're using the Starter plan, you can subscribe to Terapeak for $19 a month.
Profitability
The main two factors you should consider when calculating profitability are:
Your cost of goods and selling price.
The final value fee for your category.
Both of these factors influence the amount of commission you pay on sales. Keep in mind that the final value fee decreases after a certain price threshold.
Here's a breakdown of the final value fee for some items:
Automotive: 12.9%
Jewelry: 12.55%
Watches: 15%
NFTs: 5%
Guitars & Basses: 6%
Heavy Equipment: 3%
Athletic Shoes: 8%
Electronics: 12.9%
Make sure that your selling price minus fees is greater than the cost you paid for your products.
Step 3: List Your Items
Follow these steps to create a new eBay listing:
Go to "Seller Hub > Listings > Create Listing."
Once you're on the "Sell Your Item" form, use the search box to type the name, UPC, IBN, or part number of the item you're selling. eBay will find a matching item and prefill the item details for you. If there's no product like yours on eBay, select "Continue without selecting a product."
Upload high-quality images and add product details like title and subtitle.
Specify the product category. You can list your product in two categories for an extra fee.
Add product details like brand name, type, color, etc.
Specify the condition of the product. If it's a used product, describe features and cosmetic issues.
In the "Pricing" section, add pricing and quantity for a "Buy It Now" listing. You should see the average sold price of the product in the last 90 days. Use the data to set your product price. If you want to switch to an Auction listing, click on Edit all options.
In the "Delivery" section, add your shipping terms and the regions you ship to. You can also offer international shipping by clicking on "Add shipping service > Additional international service."
In the "Reach more buyers" section, you can promote your product using Promoted Listings Standard, Bold Title, and Gallery Plus. You can skip these 3 ads for now. If you want to offer a discount when buyers purchase more than one item, then click the "Volume Pricing" toggle and add the discount rate for 2, 3, and 4 items.
Set up a return policy, item location, and payment method.
Click "List it" to list the item immediately, or use "Save for later" to save the product as a draft.
Step 4: Add Shipping Details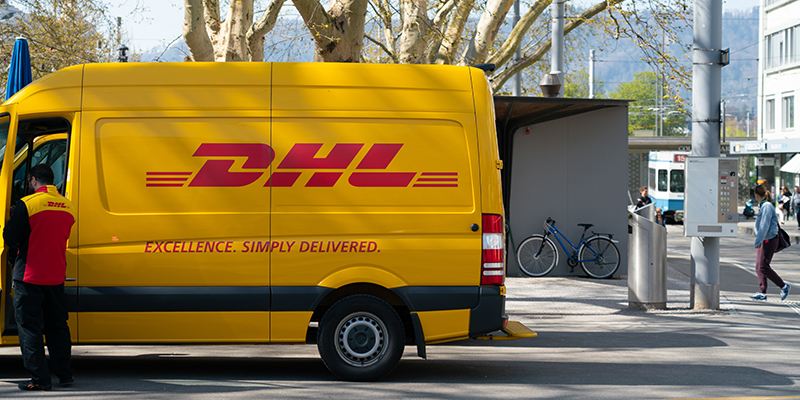 To protect yourself from "Item not received" claims through the Money Back Guarantee program, it's best to use a shipping carrier integrated with eBay.
eBay has partnered with many domestic carriers such as USPS, UPS, FedEx, and OnTrac to give their sellers discounted shipping rates.
Once you make a sale on eBay, print a shipping label on eBay from "Sold in My eBay" or from the "Orders page" in Seller Hub.
The label costs are deducted from your available funds or your on-file payment method.
Shipping tips:
USPS provides free boxes at the Post Office. But make sure you use the cartons only when shipping with USPS.
You can buy cartons in bulk from Walmart, Target, or Home Depot at low rates.
Add protective padding like bubble wrap to protect the items.
How Does eBay Bidding Work?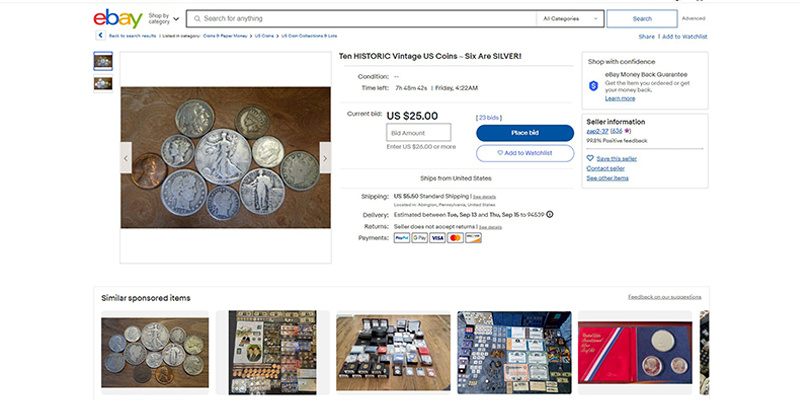 When you list an item for sale using the Auction listing type, you choose a starting price, and interested buyers place their bids. When the auction ends, the highest bidder gets the item.
You can list the item for auction for 1, 3, 5, 7, or 10 days. Most auctions last for 7 days.
You can have a 1-day auction if you know there's high demand for a product and it will sell quickly. Categories that do well for 1-day auction listings are event tickets, real estate, holiday packages, and collectibles.
If no one bids for your item, you can relist it manually or use the auto-relist option. Auto-relists are free, except for listings in the vehicle category.
Most auction listings can be relisted up to 8 times, after which the item will appear as "unsold."
You can also add a "reserve price" for an additional fee. Reserve price is the minimum amount you're willing to sell an item for. The item won't be sold if the reserve price isn't met.
For example, if you have a limited edition baseball card collection and the starting price is $500, you can encourage buyers to bid higher by setting a reserve price at $600.
If a buyer bids below the reserve price, they get a "Reserve not met" message. You can lower the reserve price during an auction if you get lower-than-expected bids.
If the reserve price has not been met and the auction ends, you can offer the item to the highest bidder with a Second Chance Offer option. Then, the buyer can accept or reject your offer.
You can also add a Buy It Now price to an auction listing which will be shown until the first buyer places a bid. The Buy It Now price must be at least 30% higher than the auction starting price.
What Is The eBay Global Shipping Program And How Does It Work?
The eBay Global Shipping Program (GSP) allows your eBay listings to be available worldwide in every country where eBay has a presence.
Once you receive an order from an international buyer, you send your goods to an eBay shipping center and eBay then ships it to the end customer.
If the item breaks or is damaged in transit, you receive a full refund and your seller performance will NOT be affected.
In terms of costs, the buyer is responsible for paying for shipping, customs duties, taxes, and all other international fees.
Tips For Selling On eBay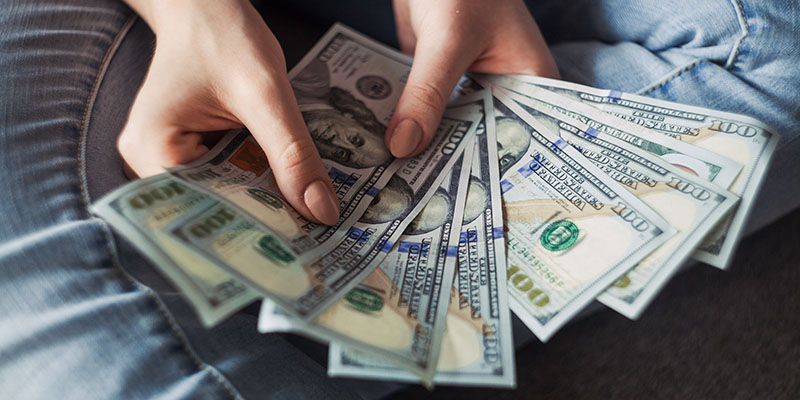 Optimize Your Product Listings
Be descriptive and use relevant keywords in the title and product description. Include ISBNs or UPCs wherever possible to help search engines find your product easily.
Be Honest
You should accurately describe the wear and tear of the product and provide images to let buyers know what they should be expecting. You must also select the condition of the product appropriately.
Use High Resolution Images
Don't use generic or brand-supplied images. Instead, take multiple product images from different angles in a well-lit environment.
Offer 30-day Returns
eBay allows sellers to set their own return policies. You can even offer no returns on your listings. However, eBay reports show that listings with a 30-day free return policy have a 17% higher conversion rate while listings with 60-day free return policy have a 34% higher conversion rate.
Turn On International Shipping
Becuase eBay's Global Shipping Program offers a money back guarantee for sellers, you can greatly expand your reach by turning this option on.
The buyer bears the burden of paying the additional shipping costs and custom duties so you won't have to pay any additional fees.
Improve Your Feedback Score
Every buyer and seller has a feedback score which is a combination of both buying and selling on eBay. Since you'll have no feedback when you're starting out, buy inexpensive goods from eBay sellers to build positive feedback for your new account.
Sellers will also leave good reviews after receiving good feedback for themselves. Aim for 15 to 20 feedbacks before you start selling on eBay.
Boost Your Listings
There are several ways you can enhance your listings. Here are some ways to upgrade your items on eBay:
Gallery Plus: With Gallery Plus, customers get quick access to the gallery on the search results page by clicking on the enlarge icon below the display image.
Bold: Bold, as the name suggests, makes the listing title bold to make it stand out against other listings.
Subtitle: You get a subtitle for your listing, which is otherwise unavailable.
List in two categories: eBay allows you to assign only 1 category per item by default. You can list your item in 2 categories using this optional upgrade.
1,3,7,10 day duration: This is specifically for auction listings where you can list the item for a variable number of days.
International site visibility: If you use this option, eBay makes your listings visible in the top search results on other eBay sites. International site visibility is currently supported in the US, UK, and Canada.
Classified Ad listing format: With Classified Ads, you state a price, the buyer contacts you, and then you both finalize the transaction outside eBay.
Note: The pricing for optional upgrades is different for fixed-price and auction-style listings. The price also varies depending on the product price, category, and duration.
Pros Of Selling On eBay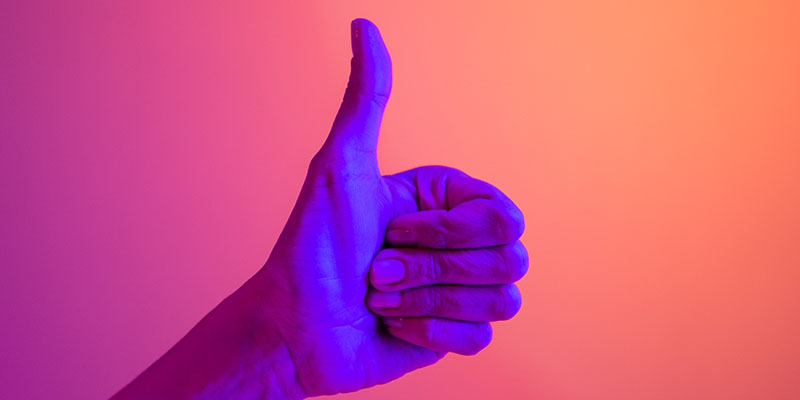 You can sell almost anything on eBay: eBay has minimal restrictions on what you can sell. In fact, you can even sell a broken watch that isn't working correctly.
Auction-based listing: Amazon, Etsy, and other online marketplaces don't have auction-based listings like eBay. If you have vintage, collectibles, best-selling toys, jewelry, luxury handbags, and shoes, you can expect a high number of bids.
Shipping assistance: eBay has ties with multiple shipping carriers so sellers can save as much as 50% on shipping.
Global reach: eBay is available in 180 countries. In addition, eBay's Global Shipping Program makes it easy for US sellers to ship their products globally by taking care of shipping and issuing a full refund in case of any damages in transit through their Money Back Guarantee program.
Ease of use: The process to set up and run an eBay store is straightforward. The buyer user interface is also intuitive, which makes it easy for them to purchase.
Low investment: You can sell random items from your home to gain experience. You can then look into retail arbitrage and online arbitrage before moving on to wholesale and private labeling business models.
Lower fees: eBay has lower commission rates than Amazon. The fees are even lower for top-rated sellers and eBay store subscribers.
Cons Of Selling On eBay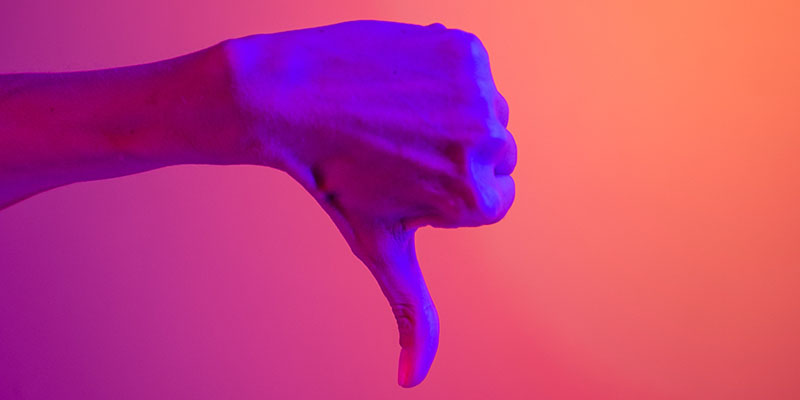 Multiple fees: eBay has multiple selling fees such as insertion fee, final value fee, reserve fee, start price, etc. The rules for each category are different, which is confusing for new sellers.
Not easy to communicate with buyers: You can only communicate with buyers after they purchase your item, which makes it difficult for buyers to ask questions about your product.
Difficult to build a brand: eBay does not allow you to contact buyers outside of eBay which makes it challenging to develop a brand on eBay.
No automated fulfillment: Unlike Amazon, eBay does not have fulfillment centers. As a result, you'll need stock and ship your own products.
Is Selling On eBay Worth It?
Selling on eBay is 100% worth it especially if you sell collectibles, electronics, automotive items, and accessories that are not readily available in the market.
Since eBay doesn't have any seller or inventory requirements, you can start selling any product with minimal inventory from the comfort of your home.
To maximize profitability, you should look into selling used electronics and accessories by buying from liquidators or local suppliers. Once you generate some sales, you can look into refurbishing the products yourself or seek the help of a third-party refurbisher before listing the items on eBay.
eBay is also great for getting rid of merchandise lying around your house.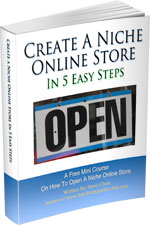 Ready To Get Serious About Starting An Online Business?
If you are really considering starting your own online business, then you have to check out my free mini course on How To Create A Niche Online Store In 5 Easy Steps.
In this 6 day mini course, I reveal the steps that my wife and I took to earn 100 thousand dollars in the span of just a year. Best of all, it's free and you'll receive weekly ecommerce tips and strategies!
Note: This post above may contain affiliate links, which means that I may receive a commission if you make a purchase when clicking a link. Please consult our privacy policy for more information.
Related Posts In Ecommerce Platforms
About Steve Chou

Steve Chou is a highly recognized influencer in the ecommerce space and has taught thousands of students how to effectively sell physical products online over at ProfitableOnlineStore.com. 

His blog, MyWifeQuitHerJob.com, has been featured in Forbes, Inc, The New York Times,  Entrepreneur and MSNBC.  

He's also a contributing author for BigCommerce, Klaviyo, ManyChat, Printful, Privy, CXL, Ecommerce Fuel, GlockApps, Privy, Social Media Examiner, Web Designer Depot, Sumo and other leading business publications.

In addition, he runs a popular ecommerce podcast, My Wife Quit Her Job, which is a top 25 marketing show on all of Apple Podcasts. 

To stay up to date with all of the latest ecommerce trends, Steve runs a 7 figure ecommerce store, BumblebeeLinens.com, with his wife and puts on an annual ecommerce conference called The Sellers Summit.  

Steve carries both a bachelors and a masters degree in electrical engineering from Stanford University. Despite majoring in electrical engineering, he spent a good portion of his graduate education studying entrepreneurship and the mechanics of running small businesses.