When starting an online store, selecting the best ecommerce platform depends on 5 factors.
Your Budget – How much money are you willing to spend on your shopping cart?
Ease Of Use – Is the user interface intuitive and easy to navigate?
Flexibility – Do you want to add custom functionality to your store? Do you want full control over the platform?
Customer Support – Does your ecommerce platform offer great support?
3rd Party Developer Support – Does your ecommerce platform have an ecosystem of app developers and theme designers?
Overall, there is no one size fits all solution for your online store and you should never blindly signup for an ecommerce platform just because it's popular.
Every shopping cart has its pros and cons which must be carefully weighed based on your situation. Below are the most frequently asked questions about selecting an ecommerce platform for your online store.
Get My Free Mini Course On How To Start A Successful Ecommerce Store
If you are interested in starting an ecommerce business, I put together a comprehensive package of resources that will help you launch your own online store from complete scratch. Be sure to grab it before you leave!
What Is An Ecommerce Platform?
An ecommerce platform is software that allows you to sell physical and digital products online. A shopper can browse the products they want to buy, add them to their shopping cart and check out directly on your website.
Because credit card information is transmitted through the Internet, every ecommerce platforms must be secure and have the necessary features to conduct transactions online.
How Do Ecommerce Websites Earn Money?
Ecommerce websites make money by sourcing wholesale products in bulk and then selling them online at retail prices. The typical gross margins for an ecommerce website that carries inventory is 50% or more.
There are many different ecommerce business models to choose from which include…
Regardless of which ecommerce business model you choose, ecommerce websites make their money by buying products in bulk at lower prices and then selling them individually at a markup.
How Do Ecommerce Platforms Work?
Ecommerce platforms are software applications that allow customers to make purchases on your website. In most cases, your ecommerce platform is the same software that runs your website.
Ecommerce platforms work by allowing visitors to browse a listing of products for sale. Customers can add interested products to their shopping cart and checkout by paying directly online via credit card, Paypal, Apply Pay or any secure payment platform.
Once an order is received, the ecommerce platform alerts the online store owner who then fulfills the order. Depending on the business model, order fulfillment and inventory tracking can be completely automated.
What Ecommerce Platform Should I Use?
The right ecommerce platform for you depends on several factors such as your budget, how tech savvy you are and the features you require.
Here's a list of the best ecommerce platforms available.
WooCommerce
If you are on a low budget, WooCommerce is an ecommerce platform that can be installed for less than $3 per month. In fact, my 9 and 11 year old kids launched their own print on demand tshirt business on WooCommerce with their allowance money.
The biggest shortcoming of WooCommerce is the lack of support. You must be reasonably tech savvy to succeed with WooCommerce and be a good problem solver.
But overall, WooCommerce is the most popular shopping cart in the world and well supported by 3rd party developers. Read my review on Shopify Vs WooCommerce
Shift4Shop
If you are on a low budget and you reside in the United States, Shift4Shop is also a fantastic solution. Shift4Shop is a fully hosted ecommerce platform that is as powerful as Shopify and 100% free to use.
The only downside is that Shift4Shop is not as user friendly as Shopify but you can't beat free. Read my review on Shift4Shop vs Shopify.
Overall, Shift4Shop is not nearly as popular as Shopify or WooCommerce so there is far less 3rd party developer support. But most essential tools like Klaviyo support Shift4Shop out of the box.
BigCommerce
If you are willing to pay at least $30/month for your ecommerce platform, BigCommerce is an excellent solution. BigCommerce is well supported by 3rd party developers and contains everything you need to run a fully featured store out of the box.
Unlike Shopify where you get nickel and dimed paying for 3rd party apps, BigCommerce offers every feature you need at one all inclusive price.
The only downside to BigCommerce is that you are charged based on your store revenue. Read my review on Shopify Vs BigCommerce.
Shopify
Shopify has become the standard for ecommerce and is the 800 pound gorilla in the ecommerce platform space. If you have the budget for Shopify, then Shopify is highly recommended.
However, the costs for Shopify can quickly add up as you add more plugins to your site. The average Shopify store uses 7 add-ons which carry recurring fees.
But overall, you can't go wrong with Shopify if you are willing to pay the money.
Which Ecommerce Platform Is The Best?
If price is not a criteria, then Shopify is the best ecommerce platform overall. Because Shopify is so popular, most 3rd party software tools support Shopify first and foremost.
As a result, if you need a cutting edge feature or add on, then you'll probably find it in the Shopify app store.
Which Ecommerce Platform Is Best For Small Business?
If you are a small business that generates 6,7 or 8 figures, then you should go with a fully hosted ecommerce platform like BigCommerce or Shopify.
In the grand scheme of things, the cost of your shopping cart will be a small fraction of your overall revenue and you'll want to pay for great support and uptime.
Both Shopify and BigCommerce have an excellent track record and their customer support is fantastic.
Which Ecommerce Platform Is Best In India?
The best ecommerce platform for India is Shopify and BigCommerce because they offer excellent international support.
But between the two options, I give the edge to BigCommerce. Every BigCommerce theme provides a multi-currency converter out of the box.
Based on the IP address, your visitor will be shown prices in the correct currency depending on where they live.
Furthermore, BigCommerce supports many more payment gateways than Shopify.
Shopify Payments does not work in India which means that you'll have to pay extra transaction fees to use a supported payment gateway in India.
Which Ecommerce Platform Is Best For Dropshipping?
The best ecommerce platforms for dropshipping are Shopify and WooCommerce.
The most important aspect of dropshipping is EDI support. EDI stands for electronic data interchange and allows your ecommerce platform to stay in sync with your supplier in terms of inventory.
Because Shopify and WooCommerce are the most popular shopping carts in the world, many dropshipping suppliers support these 2 platforms out of the box.
BigCommerce deserves an honorable mention as well, but their pricing scheme is not conducive to dropshipping.
Because BigCommerce charges based on revenue and not profit, you will likely make less money on BigCommerce because the margins for dropshipping are so low.
Which Ecommerce Platform Is Best For SEO?
The best ecommerce platforms for SEO are BigCommerce, Shift4Shop and WooCommerce.
These 3 platforms allow you to freely adjust your title tags, meta descriptions and url slugs to whatever you want for maximum SEO flexibility.
If you are wondering why Shopify is not on this list, it's because Shopify offers poor flexibility and control over your URL slugs.
All Shopify categories and product pages follow a rigid URL structure which is non optimal.
Furthermore if you want to add a blog to your Shopify store, it must be placed on a subdomain which is not ideal for SEO.
Both BigCommerce and WooCommerce offer a native WordPress integration which allows you to run your blog in a subfolder to maximize your SEO authority.
Which Ecommerce Platform Is Best For Beginners
The best ecommerce platform for beginners is Shopify. Shopify is both user friendly and beautiful and it's designed from the ground up for ease of use.
You can think of Shopify as the Apple of ecommerce platforms. There are other competing platforms which are just as easy to use as Shopify (such as Wix and Squarespace) but they are not nearly as powerful.
What Ecommerce Platform Does Amazon Use?
Amazon uses their own proprietary ecommerce platform and is not available for public use. However, sellers can list their products directly on the Amazon marketplace for a fee.
Amazon also offers a program called Amazon FBA where you can send your inventory directly to Amazon and they will handle order fulfillment and customer support.
If you are interested in learning how to sell on Amazon, take my free 6 day mini course below.
What Ecommerce Platform Does Walmart Use?
Walmart uses their own proprietary ecommerce platform and is not available to the public. However, sellers can list their products on the Walmart marketplace for a fee.
Similar to Amazon, Walmart offers their own Amazon FBA-like fulfillment platform that handles shipping and customer service.
What Ecommerce Platform Does Squarespace Use?
Squarespace offers an inexpensive and easy to use ecommerce platform designed for beginners and new online store owners.
While Squarespace is attractively priced and easy to use, it is not designed for serious ecommerce entrepreneurs.
Because Squarespace has very little marketshare in the ecommerce space, there are very few 3rd party developers that support the Squarespace platform.
For example, Squarespace does not support Klaviyo, an email marketing tool that is the standard for seasoned ecommerce stores.
SMS marketing tools like Postscript and Attentive do not support Squarespace either.
Bottom line, Squarespace is a great way to begin selling online but it's not a good choice for long term shops.
What Ecommerce Platform Does Wix Use?
Wix offers an inexpensive ecommerce platform designed for online sellers who are not tech savvy and brand new to ecommerce.
Similar to Squarespace, Wix is easy to use, designed for beginners and allows you to take transactions online.
However, Wix does not support many ecommerce tools that are required for serious ecommerce entrepreneurs.
While Wix is slightly more flexible than Squarespace, there are very few ecommerce tools that natively support the Wix platform and you have to pay for glue logic platforms like Zapier or Integromat to implement critical features.
Overall, Wix is great way to start selling online but it's not designed for serious online store owners. Feel free to read my full breakdown of Shopify vs Wix.
What Ecommerce Platform Does GoDaddy Use?
GoDaddy offers their own proprietary ecommerce platform which is designed to add ecommerce functionality to an existing GoDaddy website.
However, the GoDaddy ecommerce platform is NOT well supported by 3rd party developers or even GoDaddy itself. As a result, the GoDaddy platform should be avoided.
What Ecommerce Platform Is A Website Using?
The easiest way to tell what ecommerce platform a website is using is to use a free tool called BuiltWith.
Here's how it works.
Simply type in the website URL on the BuiltWith.com website.
BuiltWith will tell you which ecommerce platform the site is using along with a list of plugins and addons.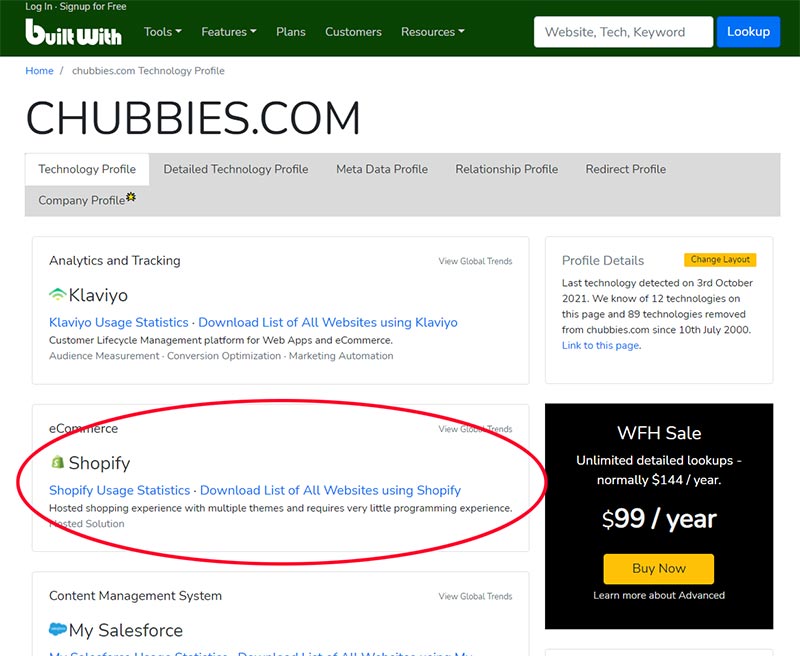 If you use this tool to browse your favorite ecommerce store, you'll notice that most of the established stores you'll find are on either Shopify BigCommerce or their own proprietary platform.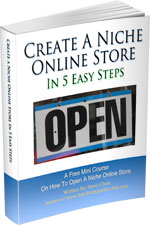 Ready To Get Serious About Starting An Online Business?
If you are really considering starting your own online business, then you have to check out my free mini course on How To Create A Niche Online Store In 5 Easy Steps.
In this 6 day mini course, I reveal the steps that my wife and I took to earn 100 thousand dollars in the span of just a year. Best of all, it's free and you'll receive weekly ecommerce tips and strategies!
Note: This post above may contain affiliate links, which means that I may receive a commission if you make a purchase when clicking a link. Please consult our privacy policy for more information.
Related Posts In Ecommerce Platforms
About Steve Chou

Steve Chou is a highly recognized influencer in the ecommerce space and has taught thousands of students how to effectively sell physical products online over at ProfitableOnlineStore.com. 

His blog, MyWifeQuitHerJob.com, has been featured in Forbes, Inc, The New York Times,  Entrepreneur and MSNBC.  

He's also a contributing author for BigCommerce, Klaviyo, ManyChat, Printful, Privy, CXL, Ecommerce Fuel, GlockApps, Privy, Social Media Examiner, Web Designer Depot, Sumo and other leading business publications.

In addition, he runs a popular ecommerce podcast, My Wife Quit Her Job, which is a top 25 marketing show on all of Apple Podcasts. 

To stay up to date with all of the latest ecommerce trends, Steve runs a 7 figure ecommerce store, BumblebeeLinens.com, with his wife and puts on an annual ecommerce conference called The Sellers Summit.  

Steve carries both a bachelors and a masters degree in electrical engineering from Stanford University. Despite majoring in electrical engineering, he spent a good portion of his graduate education studying entrepreneurship and the mechanics of running small businesses.