What is MMS and SMS marketing and how does it work? In this post, you'll learn how to use text message marketing to grow your ecommerce store along with real examples and data from my online shop.
When I first heard about SMS marketing, I was extremely skeptical.
After all, I already get way too much spam in my email and Facebook Messenger inbox and I usually reserve texts for friends and family.
But one day, I noticed that my favorite restaurant started sending me text messages for reservations which I thought was very convenient.
Then, my favorite tennis shop started sending me texts to remind me when to restring my racket and to offer me an occasional coupon, and I didn't mind.
Because I was willing to let my favorite businesses personally message me, I decided to pull the trigger on text message marketing with my own ecommerce store.
Overall, the results have been INCREDIBLE!
In this article, I'll teach you everything that I've done to implement SMS and MMS marketing with my own online store along with a thorough analysis of SMS marketing versus email marketing versus Facebook Messenger marketing.
Get My Free Mini Course On How To Start A Successful Ecommerce Store
If you are interested in starting an ecommerce business, I put together a comprehensive package of resources that will help you launch your own online store from complete scratch. Be sure to grab it before you leave!
What Is MMS And SMS Marketing?
SMS stands for short message service and it's been around since the early 90s. An SMS message is basically a text message without images and you are allowed up to 160 characters per text.
MMS stands for Multimedia Messaging Service which is a service that expands upon SMS and allows you to send multimedia content such as images, audio files and short video clips.
In general, both SMS and MMS are used interchangeably when used to describe text message marketing and practically every mobile device today supports both SMS and MMS.
SMS Vs MMS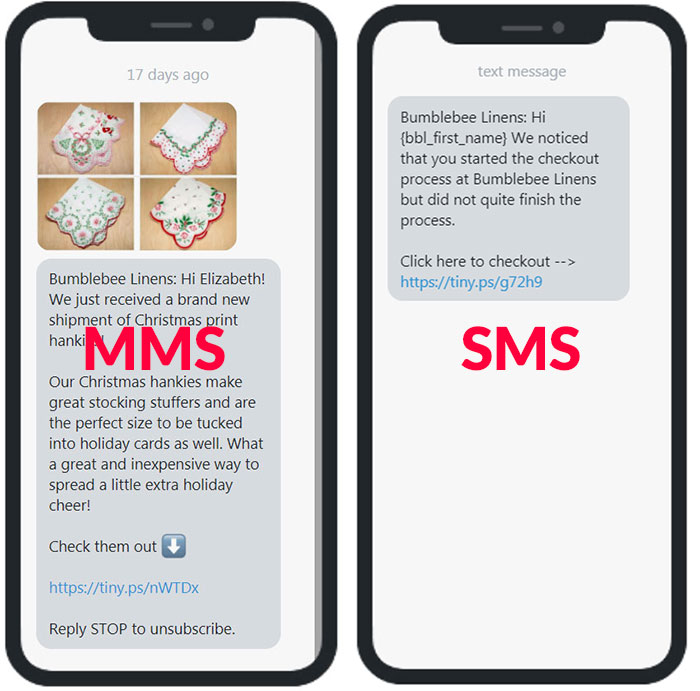 When it comes to text message marketing, it is important to understand the distinction between SMS vs MMS because MMS messages cost a lot more to send.
For example, sending emojis in your texts can cost up to 3X more than a regular message with just ascii characters.
Here are the main differences between MMS and SMS.
MMS allows you to send up to 1600 characters. SMS only gives you 160 characters to work with.
MMS allows you to send images, gifs,audio and video. SMS does not allow anything including emojis.
MMS usually costs 3X more than SMS to send a message
Here's a handy table that summarizes SMS vs MMS.
| | SMS | MMS |
| --- | --- | --- |
| Acronym | Short Messaging Service | Multimedia Messaging Service |
| Images & Emojis | Not allowed | Can be embedded |
| Maximum Length | 160 characters | 1,600 characters |
| Price | $.01 | $.03 |
Because of the big price difference between SMS vs MMS, you should only send SMS messages when conversing with your customers 1 on 1 and reserve MMS messages for marketing broadcasts to your list.
MMS And SMS Marketing Advantages
Compared to both email and Facebook Messenger, SMS marketing has the highest engagement rate by far.
Here are some crazy SMS marketing statistics for your review.
SMS messages have a 209% higher response rate than phone, email, or Facebook. According to SMS Bump, almost 30% of consumers will respond to your SMS messages. And out of the responders, almost 50% will make a purchase.
SMS messages have a 98% open rate on average compared to email at 24%.
The average person takes 90 seconds to reply to an SMS message. For email, it's 90 minutes.
Let's see how these industry engagement rates compare to my own email, text and Facebook Messenger campaigns.
Below are the open rates for a promotion I sent out during Black Friday.
Here's my email click through rate from Klaviyo.

Here's my Facebook Messenger click through rate from my sponsored message ad. The CTR of the ad was 21% but the actual percentage of people who clicked over to my store after engaging with my chatbot was 38%.
As a result, the true CTR of my Facebook Messenger send was 21% * 38% = 7.98%.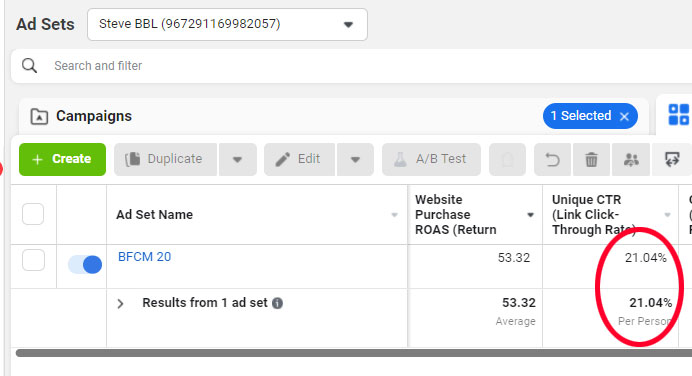 Here's my SMS marketing click through rate from Postscript.

From the data above, my click through rate for SMS marketing is 5X better than email and 1.06X better than Facebook Messenger.
For a typical SMS broadcast, my click through rate normally hovers between 10%-15% and my SMS engagement always beats email every single time.
Overall, here's a summary of the advantages of SMS and MMS.
Texting has the highest engagement rate of any marketing medium that I've ever used.
You can track opens, links clicked etc… just like with email marketing and Messenger marketing.
Texting is conversational. Users can reply and chat with you directly.
People open and read text messages immediately.
Aside from superior open and click through rates, the most important aspect of SMS marketing is the ability to have conversations with your customers.
Whenever I send a text message broadcast, I always receive a bunch of text replies with questions. And if I reply to these questions immediately, I can almost always convert a customer to a sale.
The 1 to 1 conversational aspect of SMS messaging is powerful!
SMS Marketing Overview

In order to get started with SMS marketing for your business, you'll need to sign up with a text message provider.
While I can't speak for other types of online businesses, I did a lot of research into SMS providers for ecommerce and decided to go with Postscript.io
Here's why I chose Postscript over the rest.
Postscript specializes in ecommerce stores and integrates well with Klaviyo and Gorgias.
Postscript doen't charge you for storing phone numbers unlike most email providers. You only pay for what you send.
Postscript has an extremely simple interface and integrates very well with Shopify.
In any case, you should do your own research but you can't go wrong with Postscript if you run an ecommerce store.
Once you have selected your provider, there are many regulations you MUST follow before you send a single text!
How To Get Setup With SMS/MMS Marketing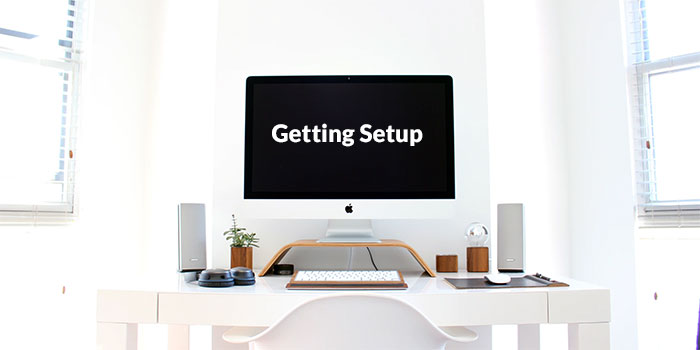 The Telephone Consumer Protection Act ("TCPA") enforces strict penalties on unsolicited text messages sent to your smartphone. As a result, you must setup your website to be in compliance with SMS regulations.
When you first sign up for Postscript, they will ask you to add special verbiage to your terms of service and privacy policy. This is required! (Feel free to read my privacy policy as an example.
After you've updated your policies, here are the rules for gathering mobile phone numbers.
Note: All consumers must provide "express written consent" before they can receive marketing communications via SMS.
You must request that a customer sign up for marketing updates via a form or checkbox.
You must have the customer acknowledge that they are ok with receiving texts from you.
You should use opt out language in every text message sent.
With these rules in mind, let's talk about the best ways to get text message subscribers!
How To Get SMS Subscribers
As mentioned above, you have to be extremely careful about how you onboard SMS subscribers to your list. Under the TCPA, sending spam text messages is illegal and can result in fines starting at $500 per infringement up to $1,500.
This means that you can not go through your contacts list and start randomly adding people to your list. You can not add phone numbers from business cards that you acquire at a conference.
Every subscriber you add to your list MUST give you consent to send a message.
Here are all of the ways that I'm currently gathering SMS subscribers for my ecommerce store over at Bumblebee Linens.
Feel free to copy my strategies!
Strategy #1: Send A Text For Free Merchandise
On every page of my site, I offer free merchandise in return for a phone number.
Note: The exact optin message is different depending on whether the visitor is on desktop or mobile. More on this below.
This is what mobile users see on our site.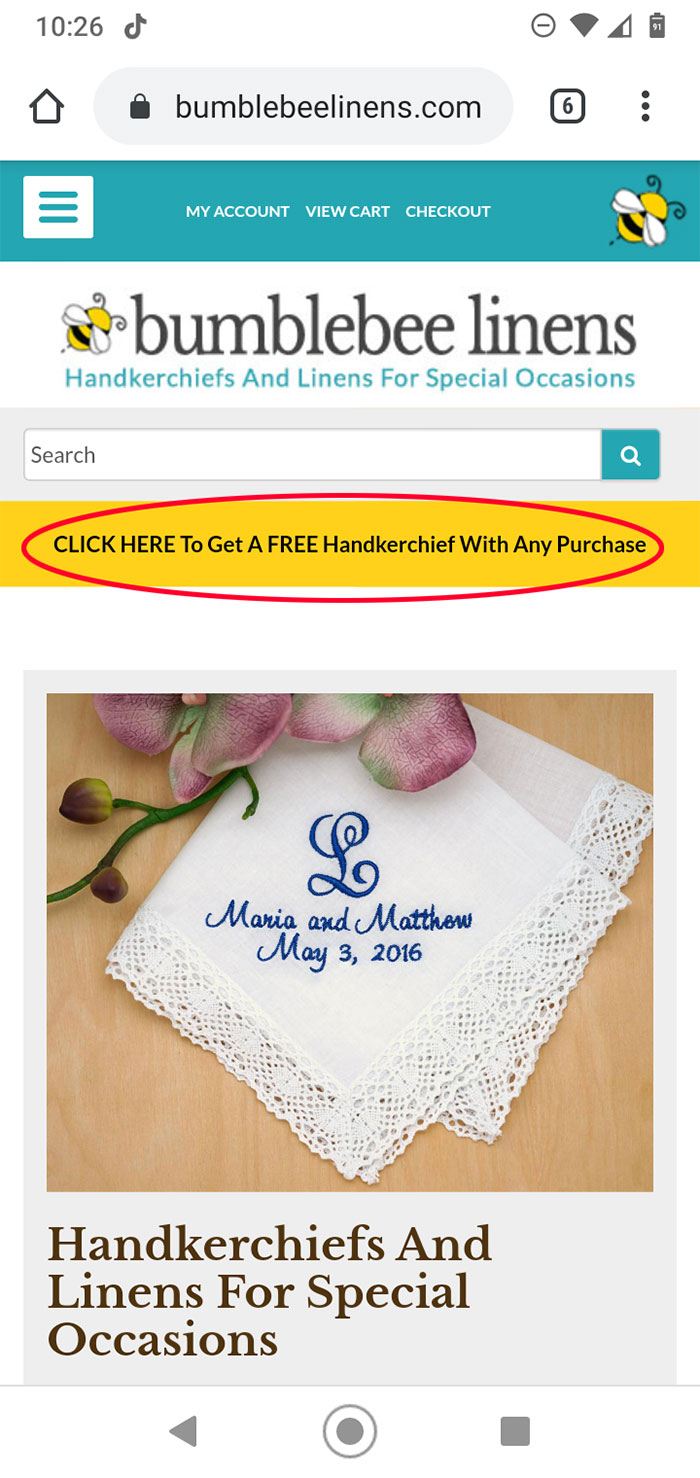 After a user clicks on the above link, their text messaging app is automatically opened with the following pre-populated message. This is known as a 2 tap optin.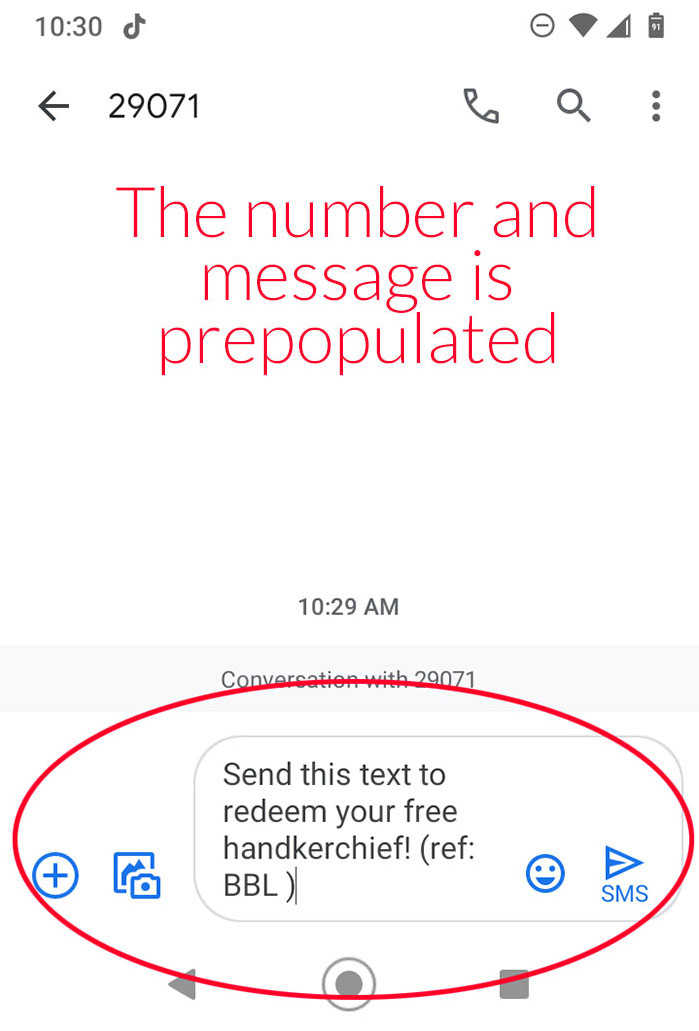 Once the visitor hits "send", they receive a message back with instructions how to redeem their free handkerchief.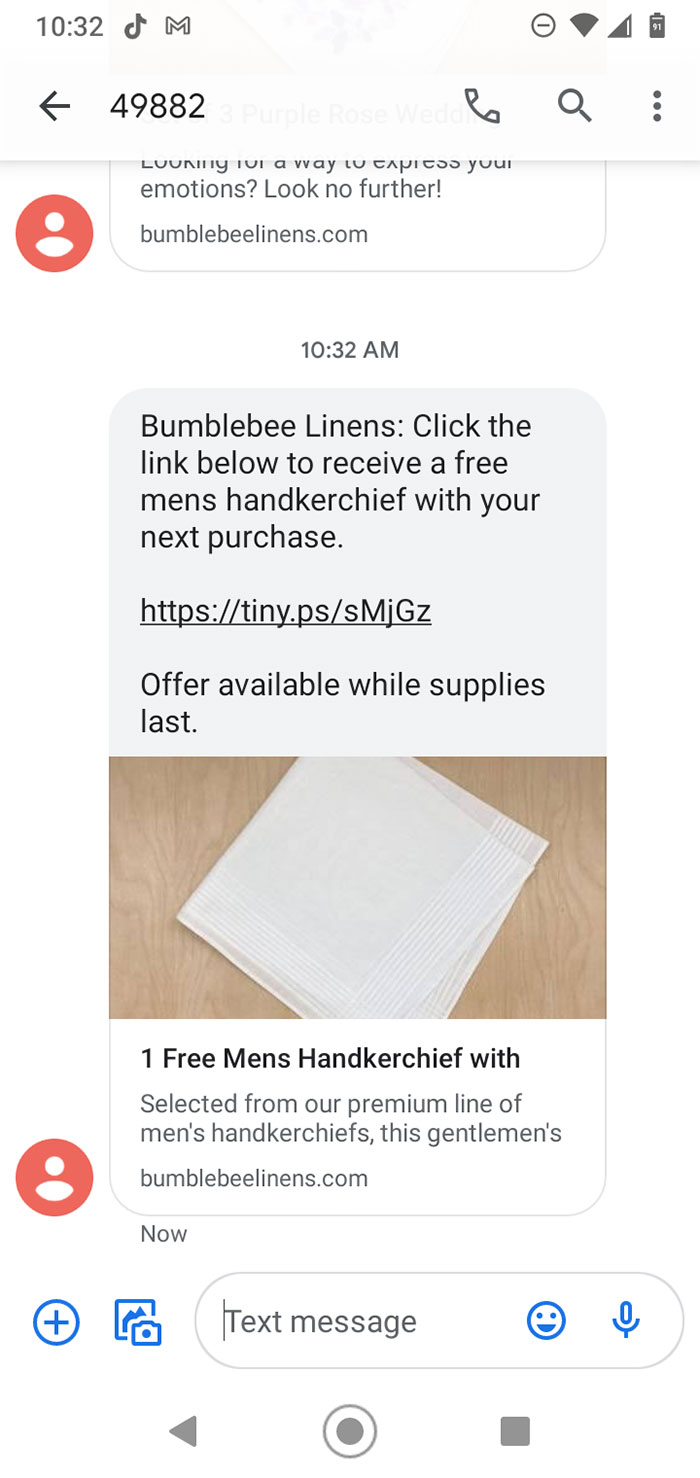 The mobile optin process is seamless. No phone numbers need to be manually entered and the visitor instantly becomes a subscriber.
On desktop, the process is slightly different.

Instead of having a user enter in their phone number manually, I simply have them text the word "BBL" to a 5 digit number to receive their free merchandise.
Strategy #2: Gather Subscribers During Checkout
Your best and most engaged SMS subscribers can be had during the checkout process. After all, these visitors already know and trust your ecommerce store and are willing to open up their wallets.
Here's a typical Shopify store implementation where a checkbox is used to gather mobile phone numbers during the checkout process.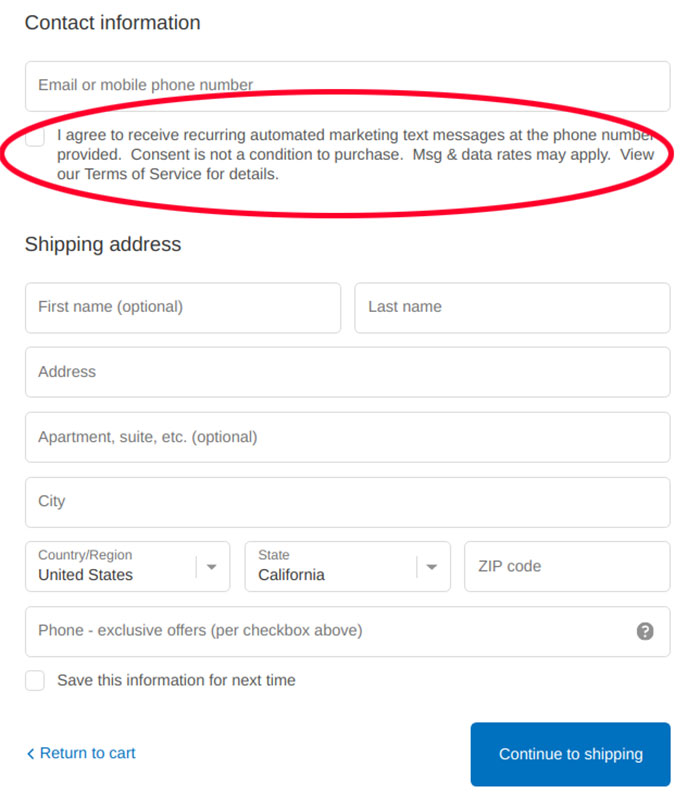 Don't worry, Postscript can implement the above checkbox for your Shopify store at the click of a button.
Strategy #3: Use A Spin To Win Popup
While you can use a dedicated popup form to obtain a SMS subscriber, you should ideally grab an email AND a phone number if possible.
While you can use a combined email/SMS popup, these forms don't convert as well because you are asking for 2 pieces of sensitive information simultaneously.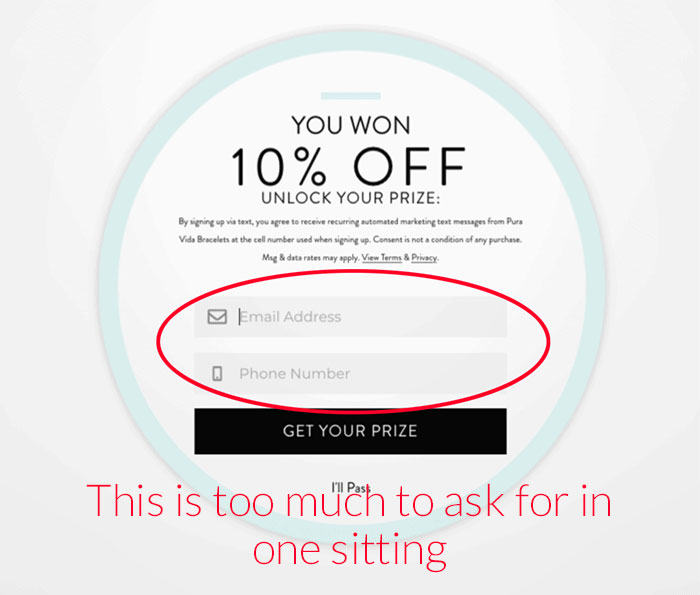 Instead of trying to trying to grab both an email and a phone number at the same time, you should provide an incentive for each.
Here's a spin to win popup form that I use for my store which can be implemented with a tool like Privy for free.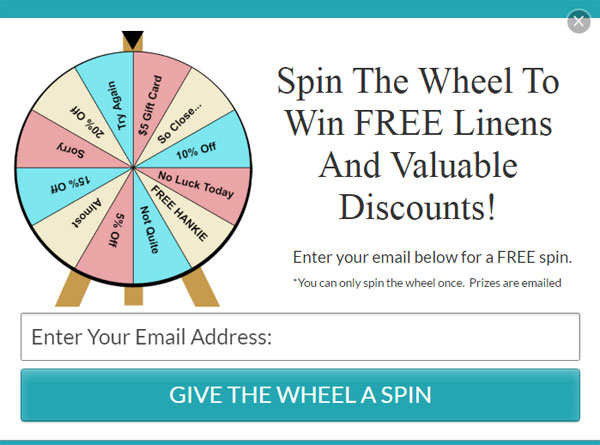 After they enter their email, they get a chance to spin the wheel for valuable prizes in my shop.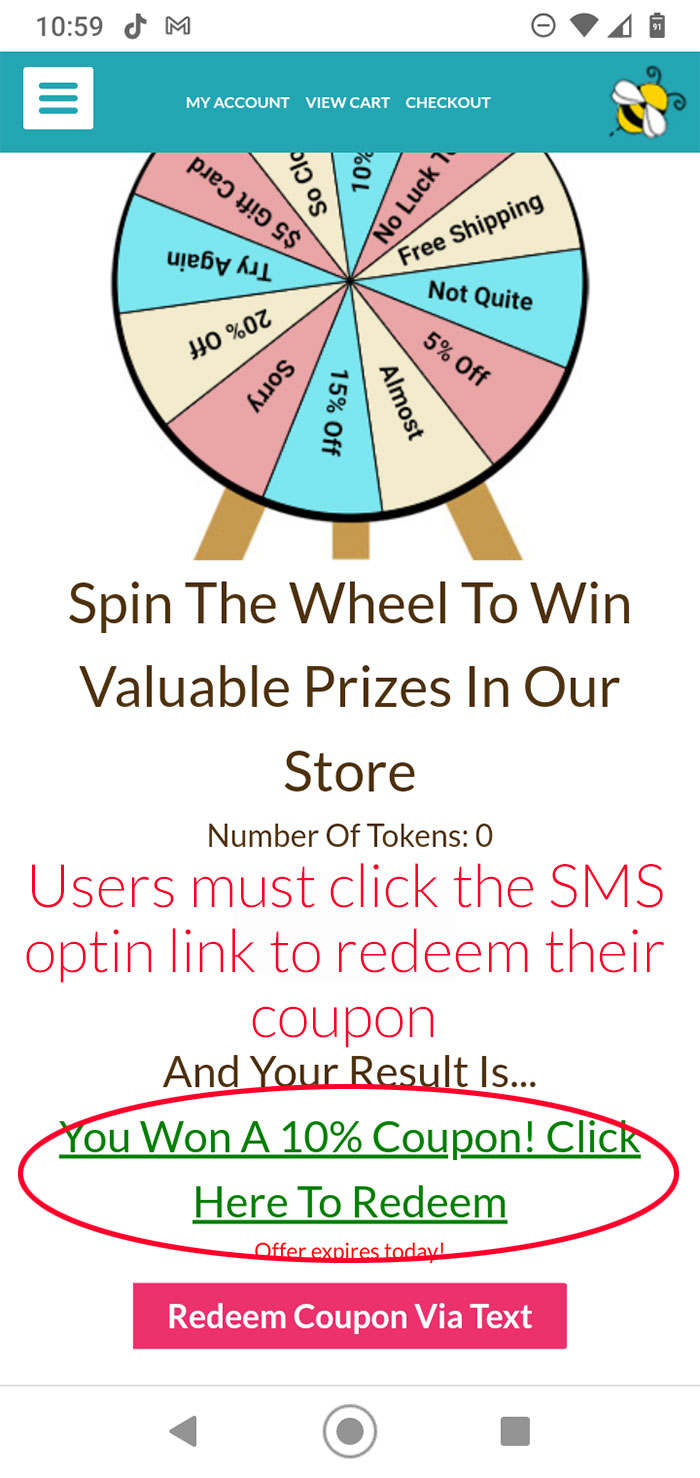 Every slot on the wheel is a winner and in order to get the coupon code, they must click the link to receive a text message with their prize.
Visitors are much more likely to give you their email and mobile number this way. This form is the highest converting form on my site and converts at 3.7%.
Strategy #4: Run A Facebook Messenger Ad With A ChatBot
One of the best ways to gather cold SMS subscribers is to run a Facebook Messenger ad. Facebook Messenger ads are the most effective ads you can run because Facebook already has everyone's mobile number in their database.
As a result, your customer's phone number can be pre-populated in your bot so they don't have to type at all!
To run Facebook Messenger ads, I use a tool called ManyChat.
Note: ManyChat can do text message marketing as well, but it's not really built for ecommerce. As a result, I have all SMS numbers sent to Postscript.
Here's an example where I'm giving away a 30% coupon in return for a mobile phone number.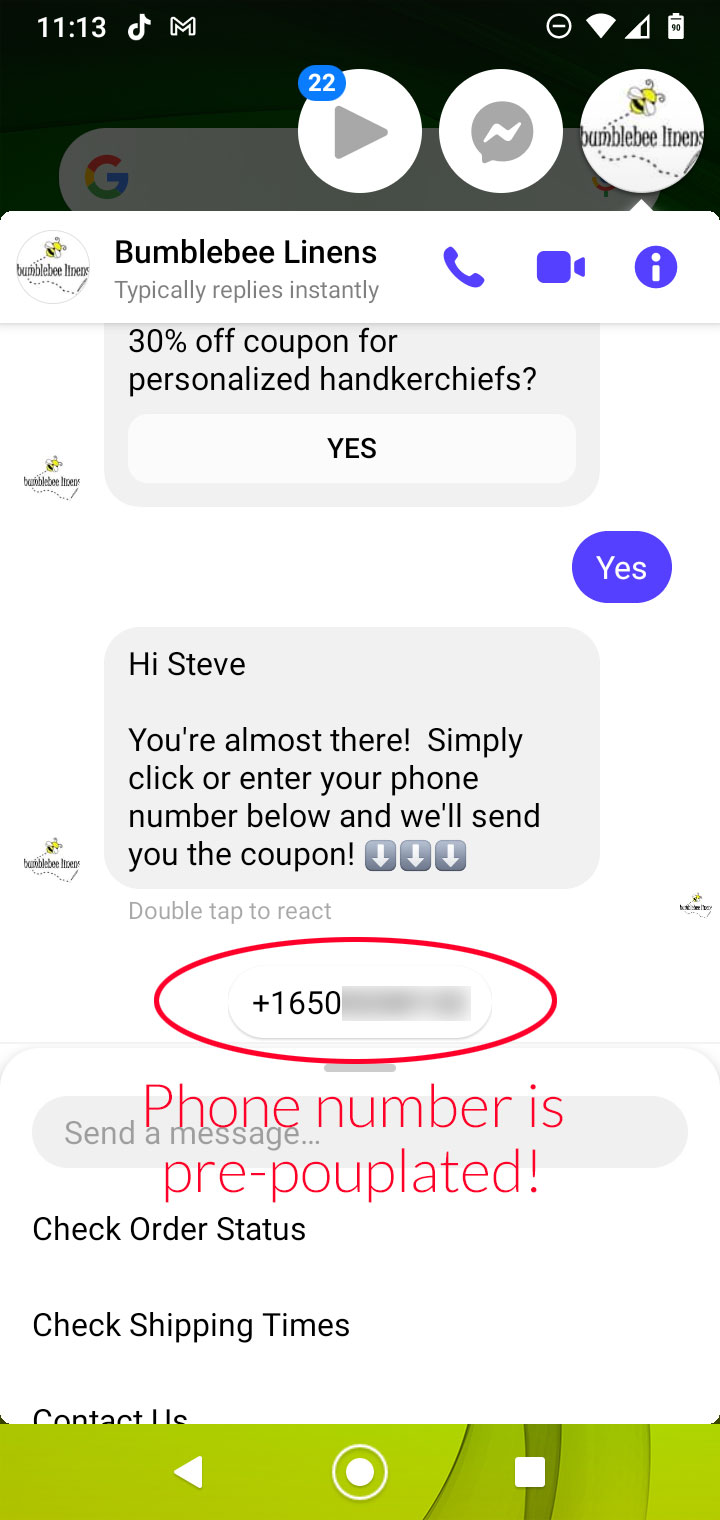 As you can see in the photo above, my mobile phone number is automatically populated as a button so the user just has to tap their phone. Once I have their phone number in ManyChat, I send it over to Postscript to text the user their coupon code.
Sending SMS And MMS Messages
While customers are receptive to your marketing text messages, you should send your messages sparingly to avoid annoying your customers.
Right now, I'm sending messages at most once or twice per week and I'm not utilizing any automated SMS flows for my ecommerce business outside of abandoned cart.
My click through rates are usually in the double digits and my unsubscribe rate hovers between 2-3% per send.
According to Postscript, the average unsubscribe rate is between 1-2% so I'm a little higher than average, but I haven't received any complaints.
Here's a typical SMS message that I might send out on a weekly basis.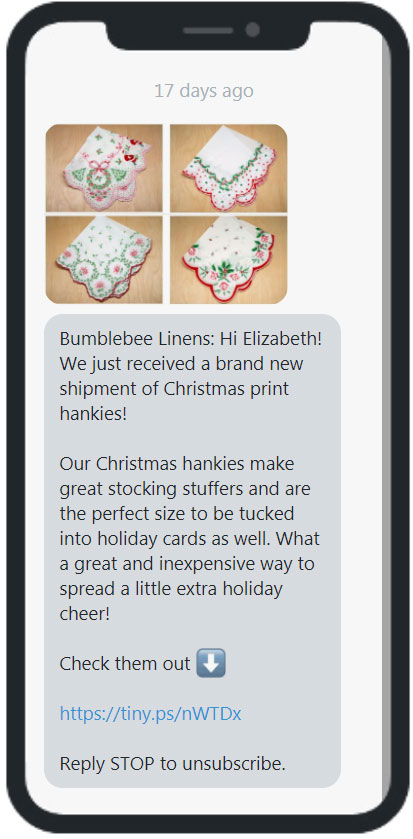 You can also send out abandoned cart messages if a user starts checkout but doesn't complete their purchase.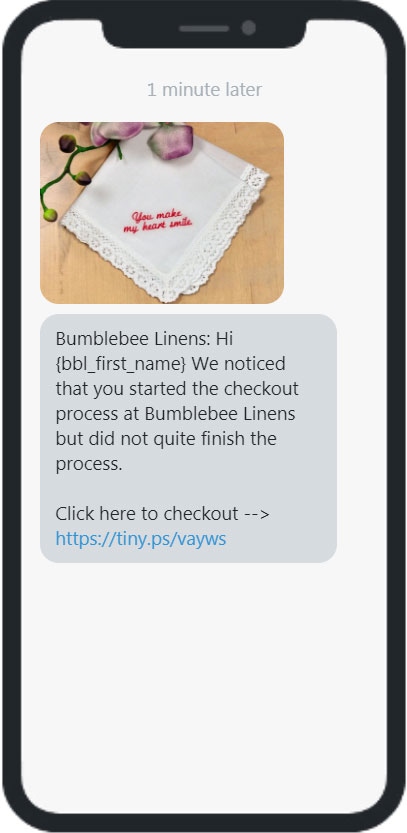 When combining email marketing, SMS marketing and Facebook Messenger marketing together, I always stagger my sends. For example, I'll send an email on Monday, a text on Tuesday and run a Messenger ad on Wednesday.
SMS Marketing Best Practices
Unlike email, every text message that you send will cost you at least a penny per subscriber. So it's in your best interests to send text messages to segmented audiences with the highest engagement.
This is where Postscript shines because it's designed specifically for ecommerce.
With a click of a button, you can instantly import all of your segments from Klaviyo and create custom segments of your own.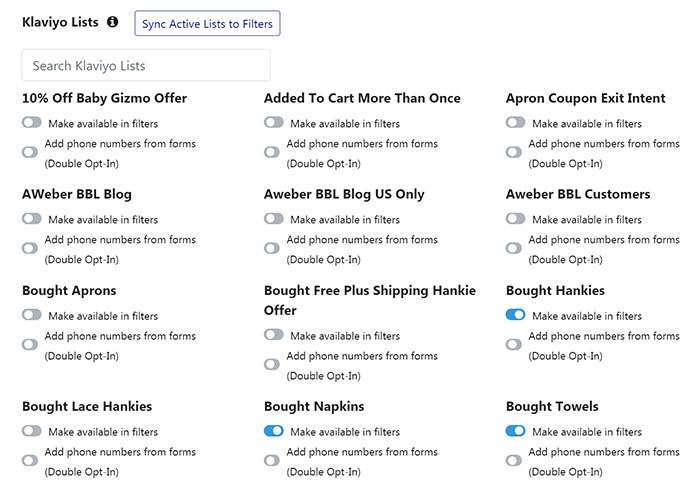 As a result, if you are running a sale for custom aprons, you can send a special text message for customers who are only interested in your aprons.
By segmenting your audience, you'll get the highest ROI for your SMS marketing efforts!
The True Power Of SMS Marketing
Aside from high open and click through rates, the true power of SMS marketing lies within the conversations that you create.
Right now, I have Postscript connected up to Gorgias, which is a tool I use to manage all of my customer service in one place.
Whenever anyone replies to a text message that I send, it goes to Gorgias where I can manage my responses.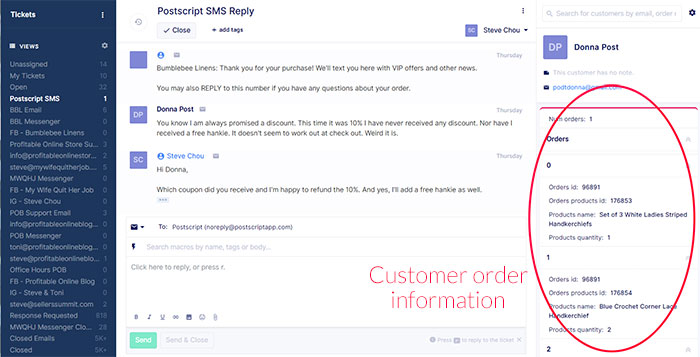 What's nice about Gorgias is that all of the information related to a customer's phone number is pulled up in the sidebar on the same screen as the message.
In addition, you can create macros to respond to standard messages at the click of a button.
In general, SMS is a much better platform for having conversations with your customers compared to email. As a result, I often find myself upselling and crossselling directly within Gorgias to my text message subscribers.
Not only do text conversations convert to sales but it conditions your customers to expect texts from your company going forward.
SMS Marketing Vs Email Marketing Vs Facebook Messenger Marketing
To compare SMS vs email vs Facebook Messenger apples to apples, I sent out 3 campaigns on Black Friday spaced one day apart for each platform.
The email generated $2398.89. Meanwhile, a text message advertising the same offer one day later generated $1341.
Even though my email list is 10X larger than my SMS subscriber list, SMS regularly pulls in half of the revenue generated by email. In some cases, SMS performs better.
If I compare SMS vs Facebook Messenger marketing, the revenue per subscriber is also slightly better.
When I ran a Facebook Sponsored Message campaign to a Messenger list roughly 2X the size of SMS, the Messenger campaign generated $1940.97 with an ROI of 53.32X.
Here's a table that compares list size versus revenue for email, SMS and Facebook Messenger (normalized to my SMS list size).
| | | | |
| --- | --- | --- | --- |
| Medium | Normalized List Size | Revenue | Normalized Revenue |
| SMS | 1 | $1341 | $1341 |
| Email | 10 | $2398.89 | $239.88 |
| Messenger | 2 | $1940.97 | $970.48 |
According to the numbers above for my online store, SMS generates 558% more revenue per subscriber than email and 38% percent more than Facebook Messenger per subscriber.
Should You Use SMS Marketing?
If you aren't using text message marketing for your ecommerce store yet, you should definitely start now.
Not only does SMS marketing carry the highest revenue per subscriber of any marketing medium, but it's fairly inexpensive as well because you only pay for what you send.
The best part is that you own your mobile phone number list and no one can take it away from you.
In many respects, SMS marketing is a lot like email marketing except the ROI is much better and you can easily build lasting relationships by having direct conversations with your customers.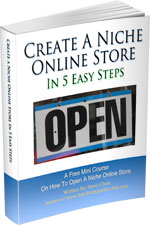 Ready To Get Serious About Starting An Online Business?
If you are really considering starting your own online business, then you have to check out my free mini course on How To Create A Niche Online Store In 5 Easy Steps.
In this 6 day mini course, I reveal the steps that my wife and I took to earn 100 thousand dollars in the span of just a year. Best of all, it's free and you'll receive weekly ecommerce tips and strategies!
Note: This post above may contain affiliate links, which means that I may receive a commission if you make a purchase when clicking a link. Please consult our privacy policy for more information.
Related Posts In Ecommerce Marketing Strategies
About Steve Chou

Steve Chou is a highly recognized influencer in the ecommerce space and has taught thousands of students how to effectively sell physical products online over at ProfitableOnlineStore.com. 

His blog, MyWifeQuitHerJob.com, has been featured in Forbes, Inc, The New York Times,  Entrepreneur and MSNBC.  

He's also a contributing author for BigCommerce, Klaviyo, ManyChat, Printful, Privy, CXL, Ecommerce Fuel, GlockApps, Privy, Social Media Examiner, Web Designer Depot, Sumo and other leading business publications.

In addition, he runs a popular ecommerce podcast, My Wife Quit Her Job, which is a top 25 marketing show on all of Apple Podcasts. 

To stay up to date with all of the latest ecommerce trends, Steve runs a 7 figure ecommerce store, BumblebeeLinens.com, with his wife and puts on an annual ecommerce conference called The Sellers Summit.  

Steve carries both a bachelors and a masters degree in electrical engineering from Stanford University. Despite majoring in electrical engineering, he spent a good portion of his graduate education studying entrepreneurship and the mechanics of running small businesses.