If you are currently selling online with Shopify, a great way to boost your sales is by launching a Shopify affiliate program.
This post will walk you through the process of setting up an affiliate program and help you choose which Shopify affiliate app to sign up for depending on your budget and needs.
First off, choosing a Shopify affiliate program app is not very straightforward. If you do a search in the Shopify app store for "affiliate marketing", over 49 different results show up.
To make your choice even more difficult, every single Shopify affiliate marketing app description sounds exactly the same and it's hard to tell them apart.
The truth is that most Shopify affiliate marketing apps offer similar functionality and the main difference is how the app is priced and the size of the apps' built in affiliate network.
In this article, I'll give you a run down of the most popular Shopify affiliate apps from the perspective of an influencer who makes 6 figures as an affiliate marketer AND from someone who also runs an affiliate program for a 7 figure ecommerce store.
Get My Free Mini Course On How To Start A Successful Ecommerce Store
If you are interested in starting an ecommerce business, I put together a comprehensive package of resources that will help you launch your own online store from complete scratch. Be sure to grab it before you leave!
What Is Affiliate Marketing?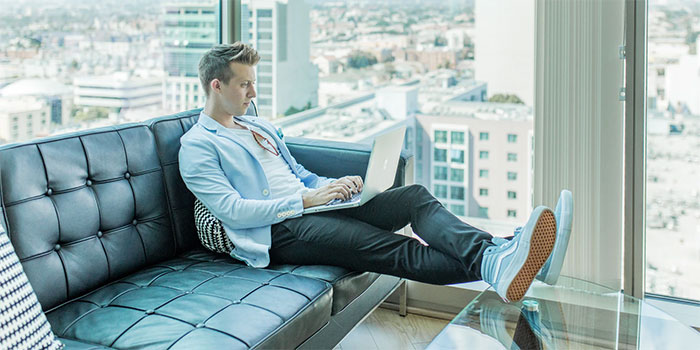 Affiliate marketing is a sales strategy where you leverage influencers or "affiliates" to promote your products and compensate them with a cut of every sale you make.
Affiliate marketers act like virtual salesmen for your online store. By sharing your products on social media, blogs, and other publications, your affiliates earn a commission every time a customer clicks a special affiliate link and makes a purchase.
Here's exactly how it works.
An affiliate joins your Shopify affiliate program.
Your Shopify affiliate app provides the affiliate with a special link to promote your products.
The affiliate shares their link on their blog and other marketing channels.
You pay the affiliate a commission for every sale that is made.
How Does Affiliate Marketing Work?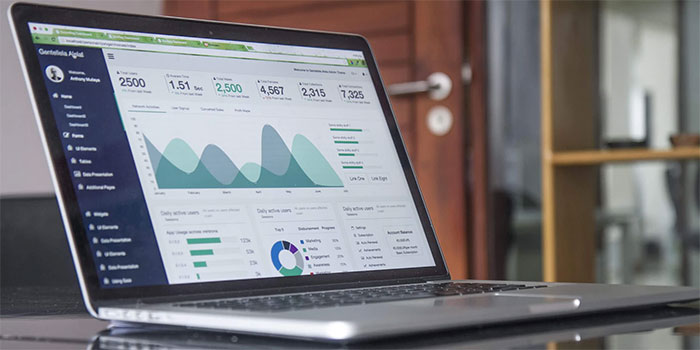 A common question I get asked is how affiliate marketing works and how sales actually get tracked.
When a customer clicks on an affiliate link, they are tagged by either a cookie or a browser variable with the affiliate's unique ID.
When the customer makes a purchase, this cookie or browser variable is matched up with the affiliate ID to give proper credit for the sale.
As the owner of the affiliate program, you can set the payout and the duration of the cookie.
For example, you can set a rule for your affiliate program that a customer must make a purchase within 30 days after clicking on an affiliate link.
The commission payout can be expressed as a percentage of the sale or a flat fee. For most ecommerce stores selling physical products online, the affiliate payout is typically between 10-20% but you can set it at whatever you like depending on your margins.
In general, the higher the payout, the more attractive your offer will be to potential affiliates.
Why Run A Shopify Affiliate Marketing Program?

The main benefit for running an affiliate program for your Shopify store is that you only pay a commission when an actual sale is made.
As a result, there's no upfront risk for running an affiliate program and you can commission an army of virtual salesmen for your products.
Your affiliate program also provides you with a compelling reason to convince influencers to promote your products.
Overall, there's no real downside to offering an affiliate program for your Shopify store as long as you have the margins to support it.
How To Create An Affiliate Program For Your Online Store

Once you've decided to create an affiliate program for your Shopify store, the hard part is choosing the right app. As mentioned earlier, there are almost 50 different Shopify affiliate marketing apps to choose from.
To save you time, I've chosen the most popular 8 apps for your review along with full explanations.
Here's the criteria I used to evaluate each program.
Functionality – The amount of features the affiliate program offers.
Price – How much does the Shopify app cost?
Network – Does the Shopify app have a built in database of affiliate marketers?
Of the 3 features above, the most important factor for attracting potential affiliates is the size of the affiliate network.
As an affiliate marketer who generates 6 figures per year recommending products online, I can personally tell you that I hate signing up for individual, standalone affiliate programs.
For example, if there are 5 companies that I want to promote, I'd much rather sign up for 1 affiliate program that covers all 5 companies rather than sign up for 5 separate programs.
Most influencers promote MANY products and it's much easier to keep track of the payouts of each product when they are under 1 roof.
The other must have feature is an affiliate dashboard. Most serious affiliate marketers want accurate tracking of both clicks as well as conversions.
In fact, here are the features for an affiliate program that are par for the course. Unless otherwise noted, all of the programs below support the following features.
Percentage and flat rate commissions for either customers and/or products referred
One time and recurring commissions
Customizable affiliate links
Affiliate dashboard to display statistics
Coupon codes tied to affiliate conversions
Easy payment of affiliates
With that in mind, let's talk about the apps!
Refersion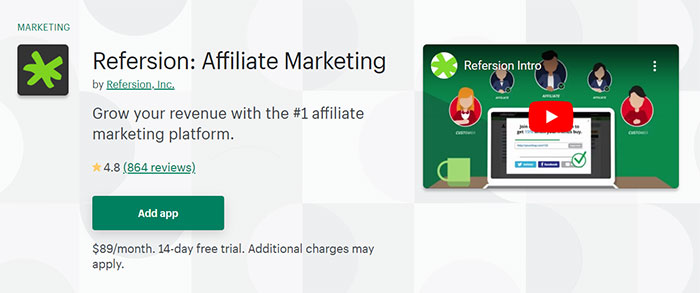 Refersion is a well known Shopify affiliate marketing app and arguably one of the most robust platforms available.
The only downside is that it's also one of the most expensive. As a result, Refersion is best suited to larger ecommerce stores who have the budget.
Here are the best features of the platform.
Refersion has a large, built in network of affiliate marketers for easy signup and onboarding.
All affiliates get the own personal dashboard to track performance and create affiliate links for campaigns.
The ability to trigger affiliate conversions based on custom coupon codes and emails.
The ability to set different commissions based on product or SKU.
US based customer support
A migration service to port data and content from legacy systems
Software training and support for your team
Refersion costs $89/month to track up to 130 orders per month. After that, you have to contact sales for a custom quote (which I hate).
Because Refersion is on the pricier side, the primary value add is being listed in their marketplace and having access to their network of existing affiliates.
Rating From 1-10(Best)
Functionality – 7 out of 10
Price – 3 out of 10
Network – 5 out of 10
Click Here To Try Refersion For Free
Affiliate Marketing By Secomapp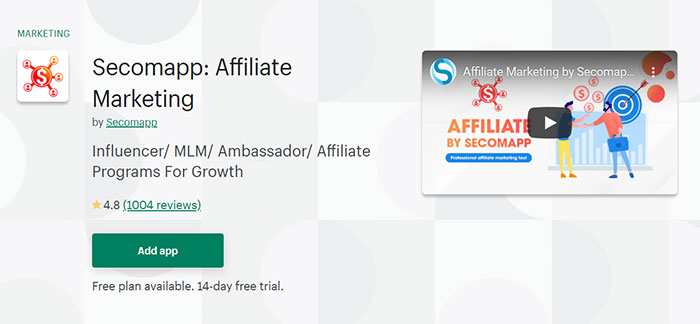 Secomapp is another fully featured affiliate marketing app that offers a pay per conversion cost structure. In other words, you are charged based on the number of affiliate sales you generate.
With Secomapp, you can create groups of commission tiers with completely separate commission structures. Affiliates can automatically be moved to different tiers based on performance to incentivize more product sales.
Probably the most unique feature that Secomapp offers is the ability to automatically convert customers to affiliates. In addition, affiliates can invite other affiliates under them to create a multi-level marketing network.
What I like about Secomapp is their transparent pricing and the fact that they offer a free tier for smaller shops.
The app is free for up to 200 orders per month. After that, their plans max out at $120/month for unlimited orders.
Rating From 1-10(Best)
Functionality – 8 out of 10
Price – 6 out of 10
Network – 1 out of 10
Click Here To Try Secomapp For Free
LeadDyno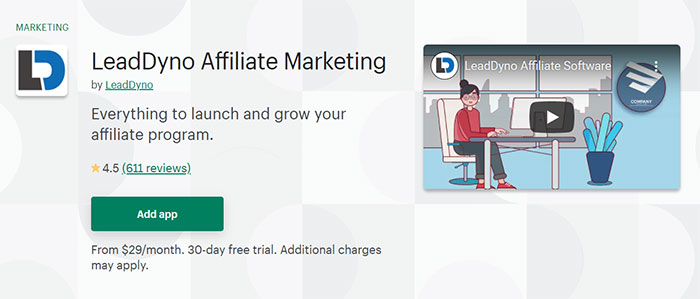 LeadDyno is another fully featured Shopify affiliate app that offers a 30 day risk free trial. Feature wise, LeadDyno does everything that Secomapp and Refersion has to offer but the pricing structure is different.
Instead of charging based on affiliate conversions, you are charged based on the traffic to your Shopify store.
For example, it costs $29/month for up to 2000 unique visitors per month.
Other notable features of LeadDyno are that you can send affiliate newsletters and create time based incentives to create a sense of urgency for your affiliates.
In addition, you can send automated emails to invite customers to become affiliates and create email marketing drip campaigns as well.
But perhaps the most distinguishing feature is the ability to pay your affiliates in cryptocurrency with their Coinbase integration!
Overall, I'm not a huge fan of their pay per traffic pricing model but LeadDyno does offer some features like email that the other programs do not along with excellent support.
Chances are, you probably already have a separate email marketing platform for your ecommerce store like Klaviyo which makes LeadDyno's email features a non-factor. As result, choosing LeadDyno basically comes down to price.
LeadDyno does not offer an affiliate network either.
Rating From 1-10(Best)
Functionality – 9 out of 10
Price – 2 out of 10
Network – 1 out of 10
Click Here To Try LeadDyno For Free
Affiliatly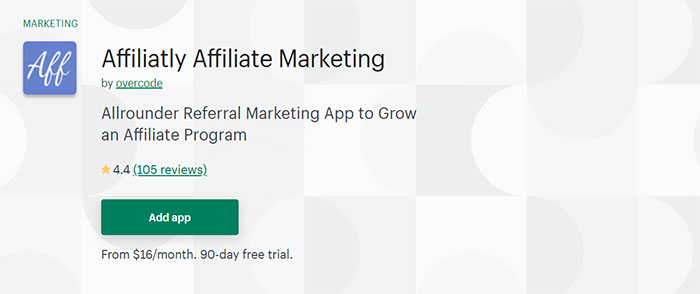 What I like about Affiliatly is that you aren't charged based on affiliate orders or traffic. Instead, you pay a flat fee based on the number of affiliate partners you have signed up to your affiliate program.
Affiliatly starts at $16/month for up to 50 active affiliates which is more than enough for most small ecommerce stores. And when it comes to the sheer number of affiliates you have, the 80/20 rule always applies.
20% of your affiliates will generate more than 80% of your revenue. As a result, it's a good practice to prune your non performing partners to save time and money.
Feature wise, Affiliatly covers all of the expected features of a fully featured affiliate program. In addition, they offer a 90 day free trial which is 3X longer than other similar apps.
Affiliatly does not offer an affiliate network.
Rating From 1-10(Best)
Functionality – 7 out of 10
Price – 6 out of 10
Network – 1 out of 10
Click Here To Try Affiliatly For Free
Affilo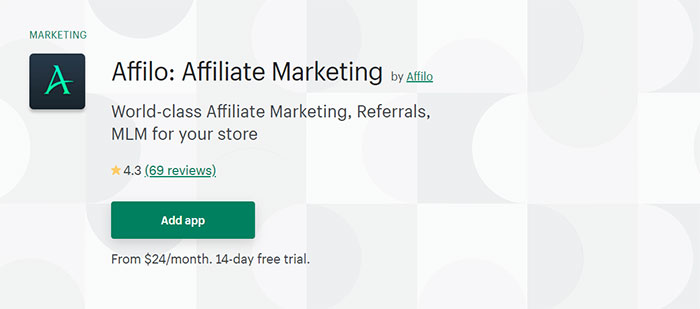 Affilo is an all in one solution that covers both customer referrals and affiliate marketing. Feature wise, they are on par with the other apps mentioned in this post.
The main difference is that Affilo charges you based on an "all you can eat for 1 flat price model".
For $24/month, you get unlimited affiliates, orders and unlimited clicks and traffic.
This makes Affilo one of the most economical Shopify affiliate apps available which does NOT scale higher as your store grows.
They also offer full support 7 days a week. The only downside is that they don't have an affiliate network but you can't beat the price!
Rating From 1-10(Best)
Functionality – 8 out of 10
Price – 7 out of 10
Network -1 out of 10
Click Here To Try Affilo For Free
Enlistly

There's nothing really special about Enlistly except for the price. It's an app that does all of the basics that a Shopify affiliate app should have with no extra bells and whistles.
As a result, it's also one of the cheapest affiliate apps on this list which makes it perfect for new store owners.
in fact, Enlistly is free for up to 3 active affiliates for unlimited orders(without discount codes) along with most of the features you'd expect from a quality affiliate program.
If you are dipping your toes in the influencer marketing space, then Enlistly is a great app for you to use to test the waters.
Even as your affiliate program grows, Enlistly is very economical. For $9/month, you get up to 25 active affiliates and 10 assigned discount codes with plans topping out at $99/month.
Rating From 1-10(Best)
Functionality – 6 out of 10
Price – 8 out of 10
Network – 1 out of 10
Click Here To Try Enlistly For Free
Affiliate Marketing GoAffPro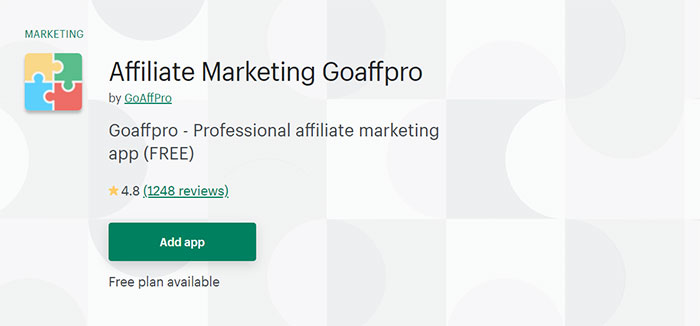 GoAffPro is another Shopify affiliate app that is extremely economical for new shop owners. The base app is 100% free and there are no limits to the number of affiliate partners, sales or traffic!
In fact, you can run a scalable affiliate program on Shopify on the free plan alone! The price (FREE) is what makes the GoAffPro app one of the most popular Shopify affiliate apps in the world.
However, in order to access some of the more advanced features, you'll have to pay a flat $24/month.
Here are the missing features from the free plan.
Targets and bonuses
Multiple affiliate groups and sign up pages
Automatic invoices
Multi level marketing
Bulk affiliate messaging
Embedded affiliate store
If your store gets less than 100 orders per day, the free plan is probably all you need!
Rating From 1-10(Best)
Functionality – 8 out of 10
Price – 8 out of 10
Network – 1 out of 10
Click Here To Try GoAffPro For Free

Up until this point, only apps from the Shopify app store have been evaluated to implement an affiliate marketing program. But the problem with 99% of these apps is that they don't have a large network of affiliates under the same roof.
Outside of Refersion which only has a moderately sized network, companies like ShareASale have gigantic networks that house some of the biggest brands in the ecommerce space.
As a blogger and affiliate marketer myself, I promote over 20+ brands under the ShareASale umbrella which makes the signup and payout process much more convenient.
For example, every month I get a single check from ShareASale for all of my affiliate conversions.
As a blogger who promotes hundreds of products, I'm very reluctant to sign up for standalone affiliate programs because it's too much work to do the bookkeeping.
In order to convince me to sign up for your standalone affiliate program, I have to really believe in your product and have confidence that I can make significant money promoting your company. Otherwise, it's not worth my time.
If you are reaching out to a high value influencer, chances are that they are promoting many products as well.
And you have a better chance of landing a high profile affiliate if you use an affiliate network like ShareASale.
However, having access to a large affiliate network comes at a price. To join ShareASale, you have to pay a $550 setup fee and a 20% fee based on the commission amount.
This is significantly more expensive than any standalone Shopify app!
But if you are serious about your affiliate program and you want to attract higher profile influencers, then signing up for a large affiliate network will make it a lot easier.
Rating From 1-10(Best)
Functionality – 9 out of 10
Price – 1 out of 10
Network – 9 out of 10
Which Shopify Affiliate App Should You Use?
On the surface, all of the features of every Shopify affiliate app blend together. At a base level, they all have similar functionality and you can run a powerful affiliate program with any of the apps listed above.
The primary distinguishing factors are the price, the size of the affiliate network and the level of support you'll receive.
If you are brand new to affiliate marketing, I recommend the following apps because they are cheap or free.
If you want the most features out of an affiliate marketing app and don't like getting nickel and dimed, then go with…
If you want to be able to pay your affiliates in cryptocurrency, go with…
If you want to have access to an affiliate network then go with…
ShareASale – Over 200K affiliate partners and 1000s of brands
Refersion – Over 5000 affiliate partners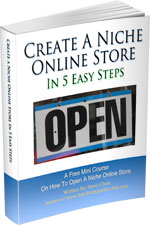 Ready To Get Serious About Starting An Online Business?
If you are really considering starting your own online business, then you have to check out my free mini course on How To Create A Niche Online Store In 5 Easy Steps.
In this 6 day mini course, I reveal the steps that my wife and I took to earn 100 thousand dollars in the span of just a year. Best of all, it's free and you'll receive weekly ecommerce tips and strategies!
Note: This post above may contain affiliate links, which means that I may receive a commission if you make a purchase when clicking a link. Please consult our privacy policy for more information.
Related Posts In Ecommerce Marketing Strategies
About Steve Chou

Steve Chou is a highly recognized influencer in the ecommerce space and has taught thousands of students how to effectively sell physical products online over at ProfitableOnlineStore.com. 

His blog, MyWifeQuitHerJob.com, has been featured in Forbes, Inc, The New York Times,  Entrepreneur and MSNBC.  

He's also a contributing author for BigCommerce, Klaviyo, ManyChat, Printful, Privy, CXL, Ecommerce Fuel, GlockApps, Privy, Social Media Examiner, Web Designer Depot, Sumo and other leading business publications.

In addition, he runs a popular ecommerce podcast, My Wife Quit Her Job, which is a top 25 marketing show on all of Apple Podcasts. 

To stay up to date with all of the latest ecommerce trends, Steve runs a 7 figure ecommerce store, BumblebeeLinens.com, with his wife and puts on an annual ecommerce conference called The Sellers Summit.  

Steve carries both a bachelors and a masters degree in electrical engineering from Stanford University. Despite majoring in electrical engineering, he spent a good portion of his graduate education studying entrepreneurship and the mechanics of running small businesses.