This post will teach you a step by step method to 2X your Twitter followers within 6 months without paying for followers and without following and unfollowing random people.
All of the subscribers that you build using this method will be genuine fans who actually read your tweets and have the potential to become customers for your business.
First off, I want to give a special thanks to JK Molina for teaching me everything I know about Twitter and the proper way to grow a Twitter account.
Here's a snapshot of my Twitter account back in March 22, 2021 before I started implementing this Twitter strategy.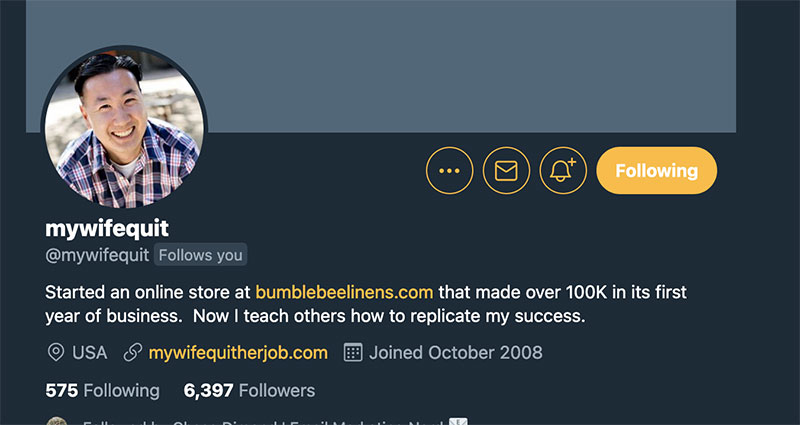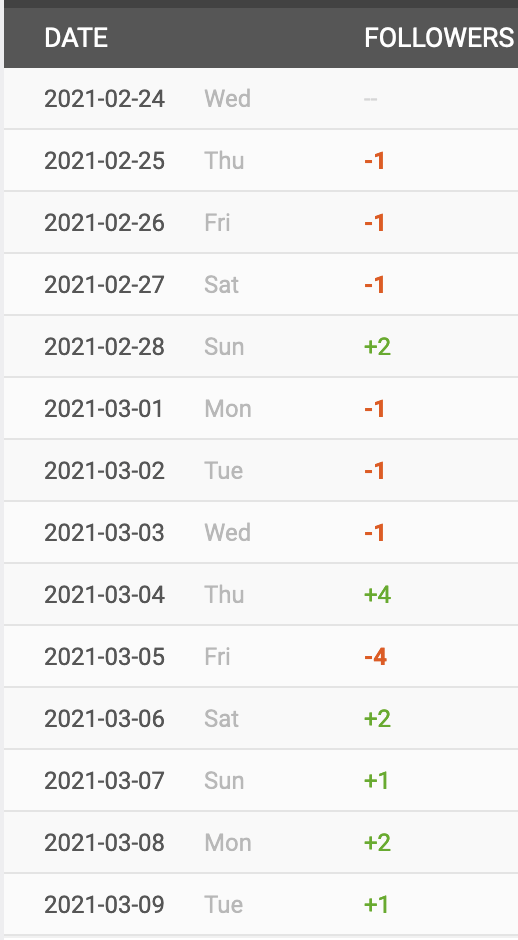 As you can see in the photos above, my Twitter account was stagnant and not growing at all.
Meanwhile, here's a snapshot of my account after JK Molina started helping me with my Tweets.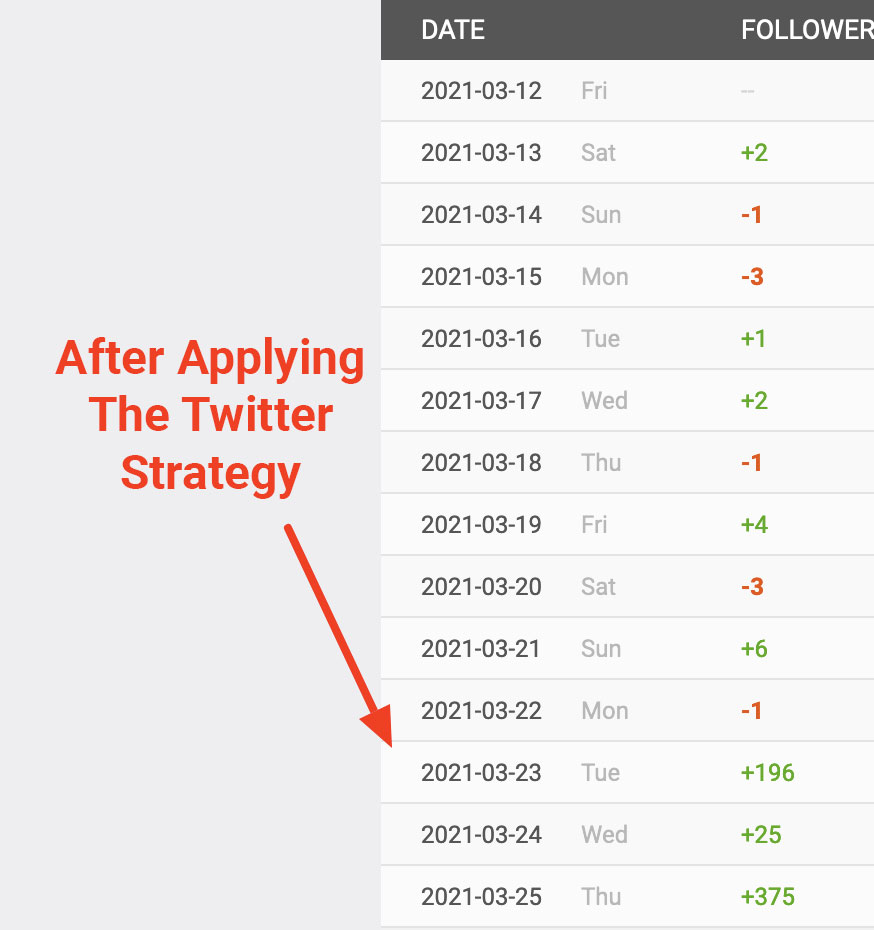 In just 3 days, my Twitter account broke 7K followers.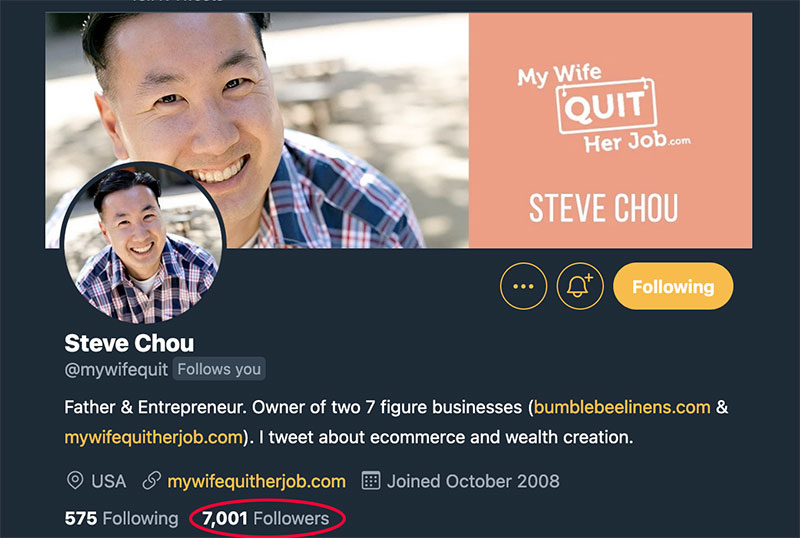 Fast forward 6 months later, my account is at 14K followers which is more than double what I started with.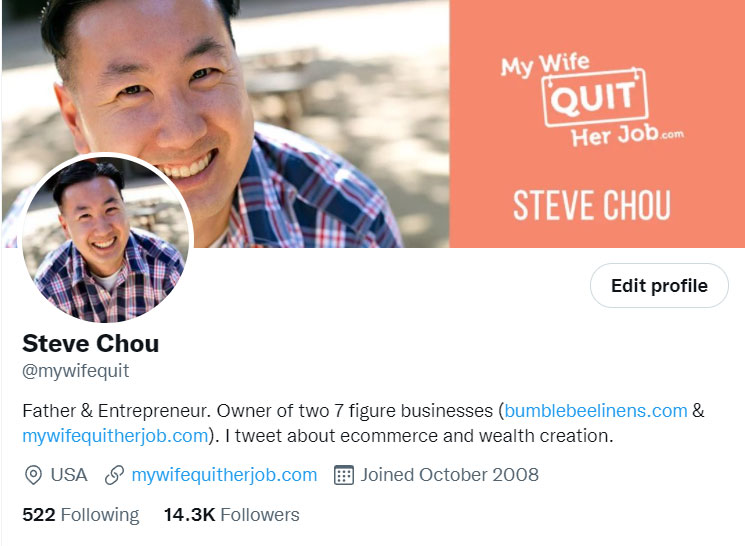 In this post, I've documented my entire Twitter journey and I'll show you exactly how I achieved these results step by step!
Get My Free Mini Course On How To Start A Successful Ecommerce Store
If you are interested in starting an ecommerce business, I put together a comprehensive package of resources that will help you launch your own online store from complete scratch. Be sure to grab it before you leave!
Why You Should Grow Your Twitter Followers
For the longest time, I didn't understand Twitter. Why would you want to read 280 character posts when you can look at photos or watch videos on Instagram, Facebook or Tiktok?
How can Twitter possibly benefit your online business?
In just 6 short months, Twitter has become a critical part of MyWifeQuitHerJob.com for lead gen, thought leadership and new customer acquisition.
Here's a list of ways that Twitter has benefited my business and why you should grow your Twitter following.
Networking – Twitter gives you an uncanny ability to reach other creators, experts and celebrities online. For some reason, big names on Twitter are much more receptive to receiving DMs and tweets compared to any other social platform. For me, I'm much more likely to respond to a Tweet or a Twitter DM because the character limit makes communication much more efficient. Twitter is quick and dirty and doesn't require much thought.
Business Opportunities – If you create content in the business, ecommerce or making money space, Twitter is huge! Twitter has led to many leads for my online course, my blog and my podcast over at MyWifeQuitHerJob.com. I've even seen a number of job postings on Twitter and it's a great way to directly access your audience.
Authenticity – Unlike Instagram which is a collection of everyone's greatest hits, Twitter has a reputation for painting an accurate view of the world. Twitter is known for providing raw, unfiltered opinions. As a result, tweeting about the ups and downs of your business is expected and appreciated.
Virality Potential – Popular tweets are much more likely to go viral on Twitter as opposed to Instagram or Facebook where the reach has been intentionally nerfed.
I can't speak for other niches. But if you are in the software, tech or business space, Twitter is a great way to build connections and customers for your business.
In the last 6 months, Twitter was responsible for generating at least 1304 new email subscribers. I say "at least" because it's impossible to track "type-in" traffic for people who Google your name online.

The Fundamentals Of Growing A Twitter Account
There is no right or wrong way to grow a Twitter account, but there are best practices that you should follow.
Like any other social media platform, constantly tweeting out self promotional material never works well.
For example, I used to tweet out blog post links 3 times per day which completely destroyed my reach.
No one wants to follow a person who just posts links to their own work. To be successful on Twitter, you have to put out interesting content directly on the platform.
An occasional link to a lead magnet, blog post or video is ok but should be done sparingly at opportune times.
Here's a list of quick tips on how to be successful on Twitter.
Write A Good Bio – Your bio matters and you should tell people why they should follow you. What are you good at? What makes you unique? Write a 1-2 sentence bio that describes why people should listen to what you have to say.
Don't Be Overly Promotional – Only a small fraction of your tweets should be promotional or take people off Twitter. If you provide value with your tweets, people will read your bio and find you organically online.
Tweet Multiple Times Per Day – The chances of any given follower seeing your tweet is small. As a result, you must tweet multiple times per day in order to reach different parts of your audience.
Tweet About Your Experiences – While you might think your life is boring, someone out there will find it fascinating. Show off your personality. Tweet about your experiences, your ups and your downs and people will follow you.
Interact With Others – The true power of Twitter lies with the one on one interactions you have with your followers. Respond to all of your DMs and you'll build a loyal following.
How To Put Together A Twitter Content Strategy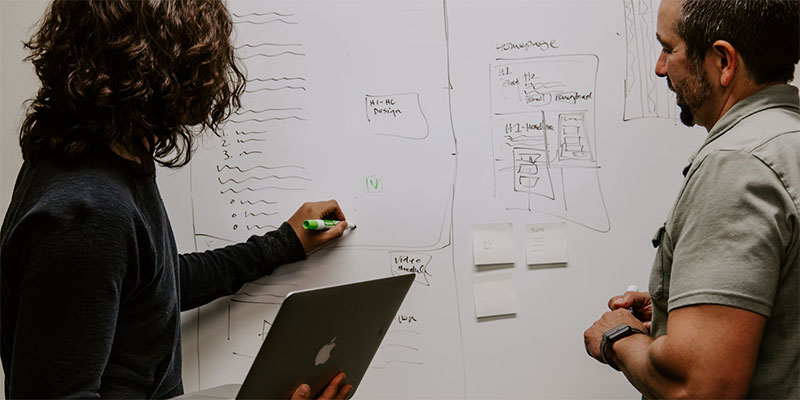 The hardest part about growing your Twitter account is consistently putting out great content. Here is the exact content strategy that JK and I used to 2X my Twitter following within 6 months.
First off, in order to keep the content creation workload manageable, I opted to tweet 3 times per day with 2 Twitter threads per week.
Because my goal is to attract followers in the ecommerce business space, I lumped my tweets into 5 distinct buckets.
Story Tweets – Posts designed to tell my story and make myself relatable to my target audience. My story posts are a collection of personal experiences running my 7 figure businesses.
Credibility Tweets – Posts that demonstrate my expertise in the field of ecommerce. Credibility posts teach the audience a quick tip or strategy on how to increase sales.
Engagement Tweets – Posts that are designed to create a reaction or initiate a comment. These tweets can be in the form of a question or a controversial statement.
Twitter Threads – Posts that consist of many tweets chained together. Twitter threads are designed to go into a topic in much greater depth like a blog post. Twitter threads are the best way to build your following.
Lead Generating Tweets – Posts that are designed to build my email list. Lead gen tweets are used sparingly and usually follow a post with high engagement.
Here's an example of a story tweet.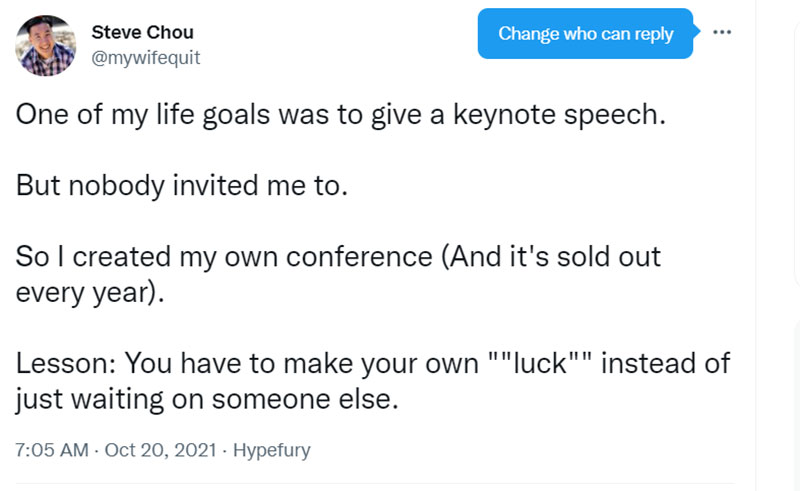 Here's an example of a credibility tweet.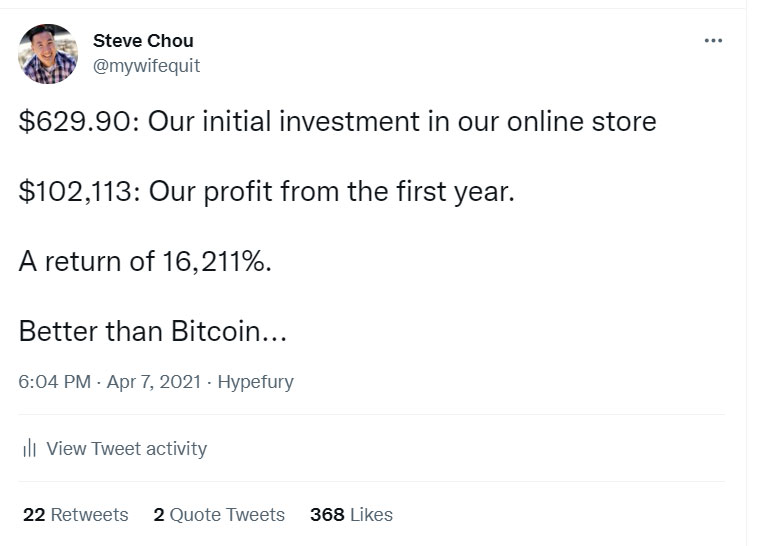 Here's an example of an engagement tweet.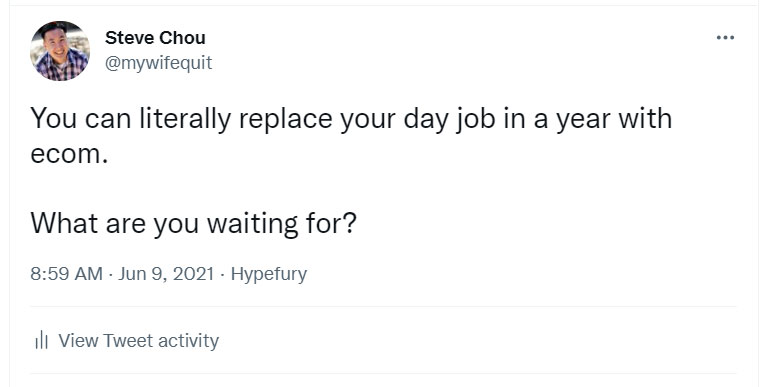 Here's an example of a Twitter thread.

Here's an example of a lead gen tweet.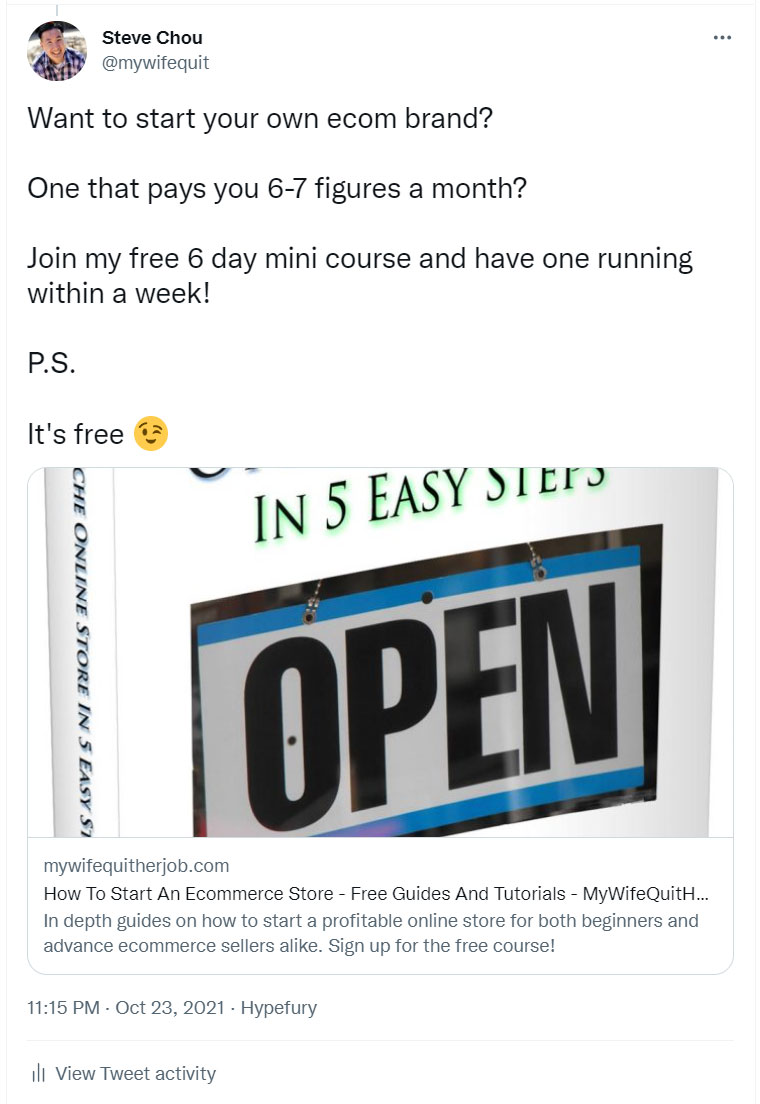 Out of all 5 tweet types, Twitter threads are the most effective for building a following and generating email signups.
In an ideal world, you should post as many Twitter threads as you can. But in practice, Twitter threads take a long time to draft and it requires a team of writers to create multiple threads per day.
How To Create Killer Twitter Content

Creating unique Twitter content 3 times per day, 7 days per week might seem like a daunting task. However, there's an easy, manageable way to do it if you use the right software tools.
First off, running a successful Twitter account absolutely requires a tweet scheduling tool. After all, it's impossible to tweet in real time across different time zones.
Without a tweet scheduler, running a Twitter account is far too tedious.
Second of all, you need to come up with great content to post. This is the hardest part!
To come up with engaging Twitter content, I highly recommend a tool called Tweet Hunter. Tweet Hunter is a tool that scrapes Twitter to show you the most viral tweets for a given category.
Tweet Hunter also has a built in AI feature that can automatically create a tweet for you on your topic of choice that you can then massage into your own words.
Especially if you are new to Twitter, it's important to understand the lingo and the type of tweets that do well on the platform.
You should spend at least a few hours browsing and using Twitter to get a feel for what content works the best.
How To Create Your First Viral Tweet
Here's a step by step guide on how to create your first viral tweet. If you're not a good writer or a creative person, use a tool like TweetHunter to get some post ideas.
First off, type in a topic for your tweet.

TweetHunter will find all of the best tweets in the past 30 days for your topic. Find one that you like!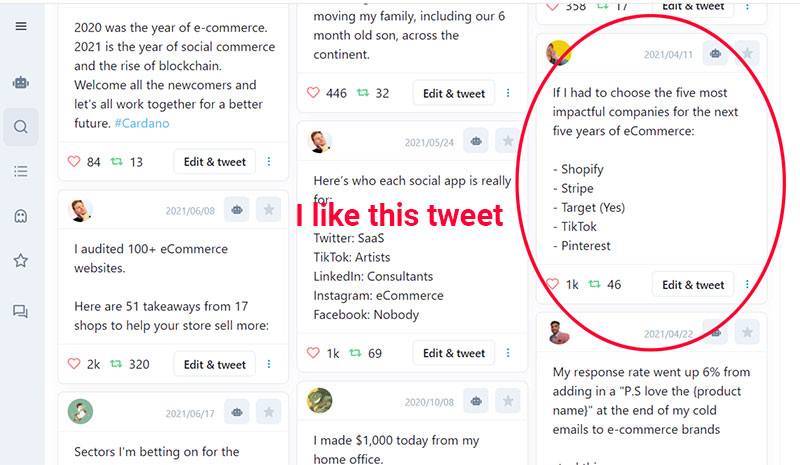 Then, compose your tweet in the upper right corner of the tool. In this example, I transformed the popular tweet shown above into my own unique content by discussing my favorite ecommerce tools.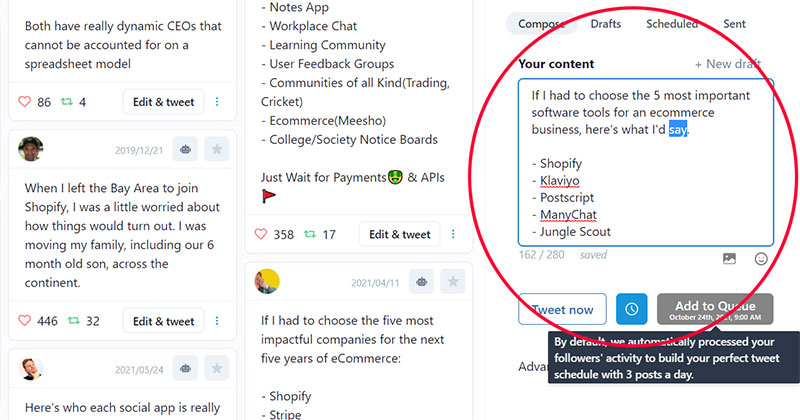 Once you are done writing your post, Tweet Hunter has a built in scheduler that schedules your tweet! As a result, you don't need any other scheduling tools to manage your account.
You can also have Tweet Hunter automatically retweet your content. For example, if you have followers in different time zones, you'll want to send out the same tweet multiple times so everyone will have a chance to see it.
TweetHunter also has a "plug" feature which allows you to automatically plug your lead magnet if a certain threshold of "likes" have been met on a popular tweet.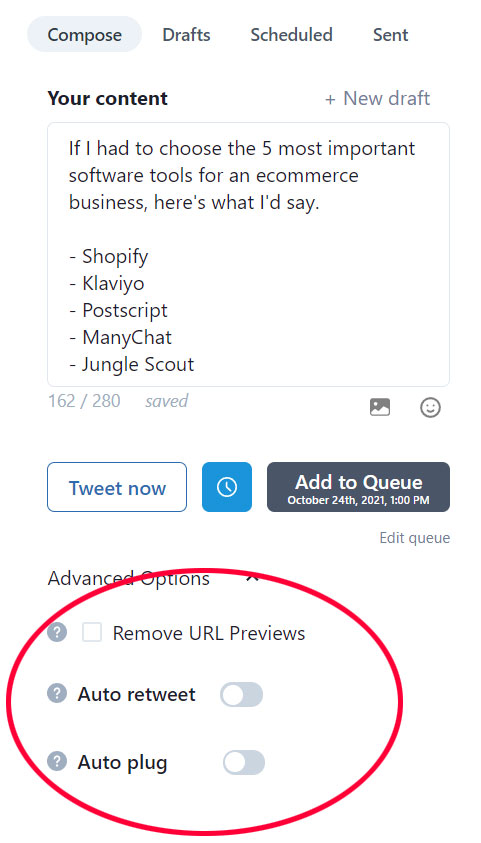 Just for fun, here's the exact tweet that I drafted using TweetHunter in the example above 2 hours later. It already has 50 likes!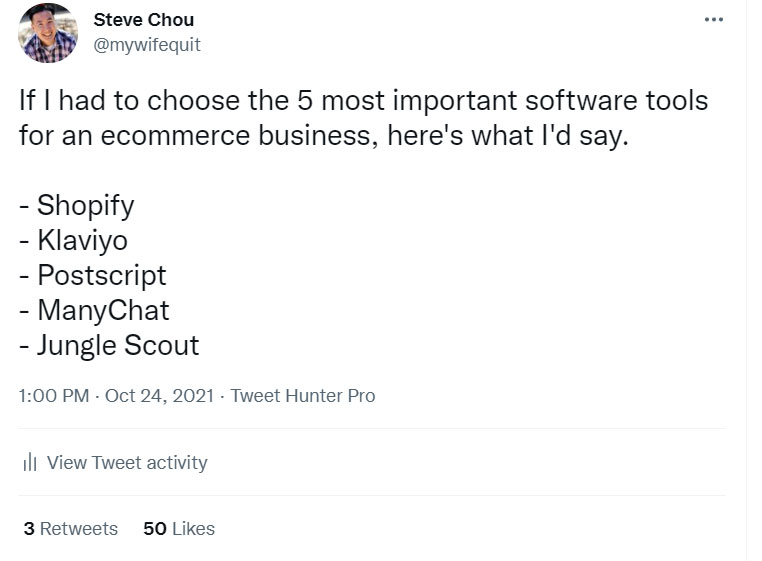 By putting your own spin on popular Twitter posts, you can quickly and easily batch a full week's worth of tweets (21 tweets) in an hour or less.
Consistency is the key and it doesn't matter if you post a few duds. Being successful on Twitter is like panning for gold. If you put out enough good tweets, one will eventually go viral. And when it does, you will reap disproportionate rewards!
How To Come Up With Creative Twitter Content
If you're not a good writer and would rather outsource your Twitter writing, TweetHunter also offers a ghostwriting service.
When you see a tweet that you like, simply click on the "request variation" button next to the post.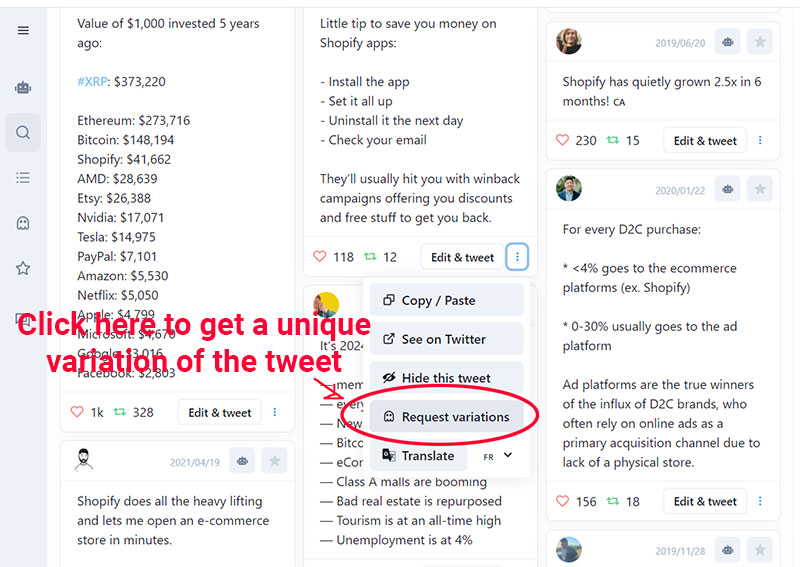 Within 48 hours, a ghost writer will create a unique variation of your selected tweet which you can then massage into your own style of writing.
I have played around with this feature and it works pretty well. But as a professional blogger, it's not that hard to compose 280 characters of content. Let's not get too lazy now:)
The other feature of TweetHunter that I do use quite often is the "Collections" tab.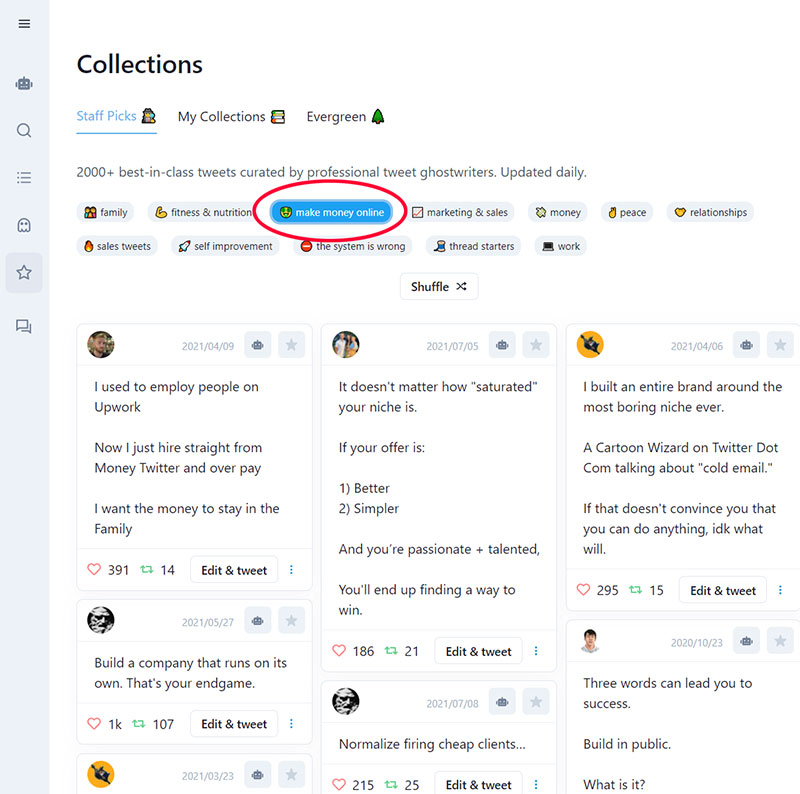 Collections are the best tweets curated by professional Twitter ghostwriters. These lists are updated daily and are a great source of inspiration when composing new content.
For my niche, I constantly browse popular tweets in the the "make money online" and "self improvement" categories for new ideas.
Repurposing Your Twitter Content
If you tweet 3 times a day, 7 days per week, one of your tweets will eventually go viral if you follow my instructions above.
And when your tweet goes viral, it will be obvious.
Here are some reactions from Twitter after I published my first viral thread.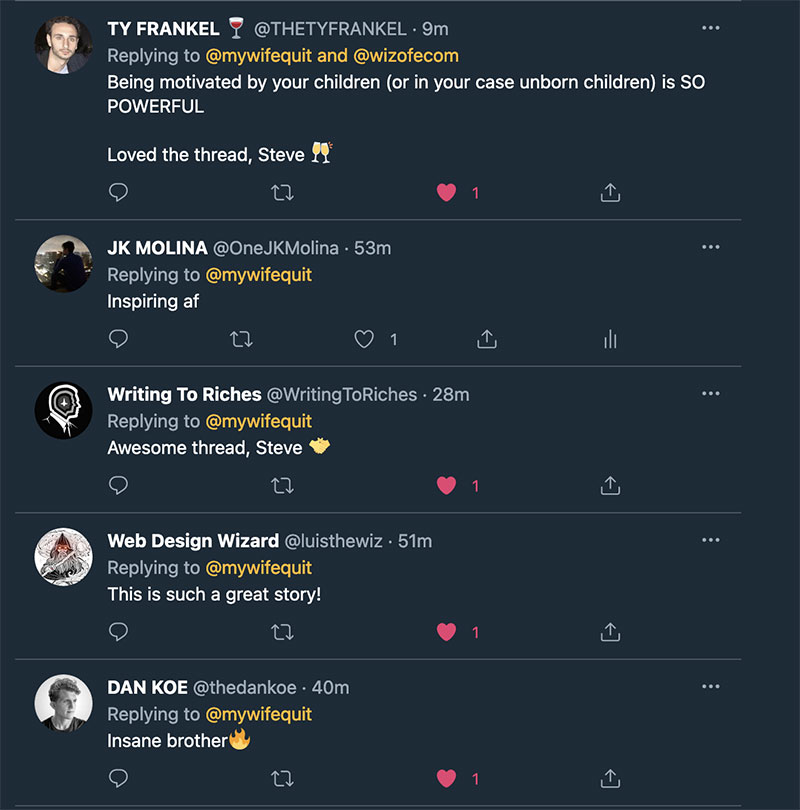 Meanwhile, my Twitter following blew up!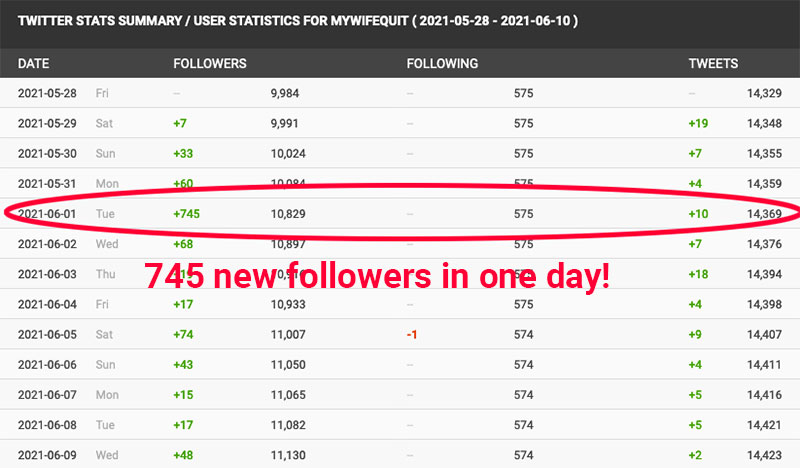 Once you have a few popular tweets in the bag, you can then repurpose this content on Instagram, Facebook and TikTok.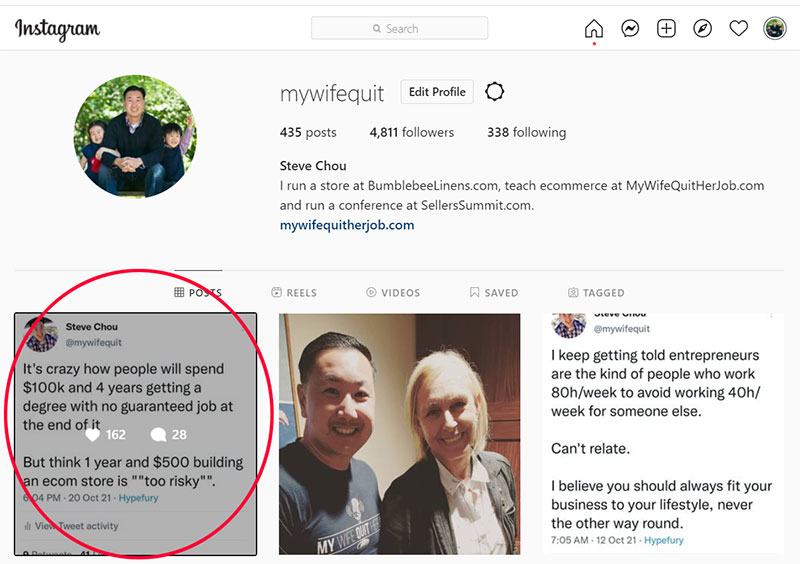 It seems counterintuitive, but pictures of tweets do quite well on Instagram. Why? It's because people are much more likely to share a catchy saying or a quote as opposed to a picture of you:)
All you have to do is go to analytics.twitter.com and find your most engaging tweets.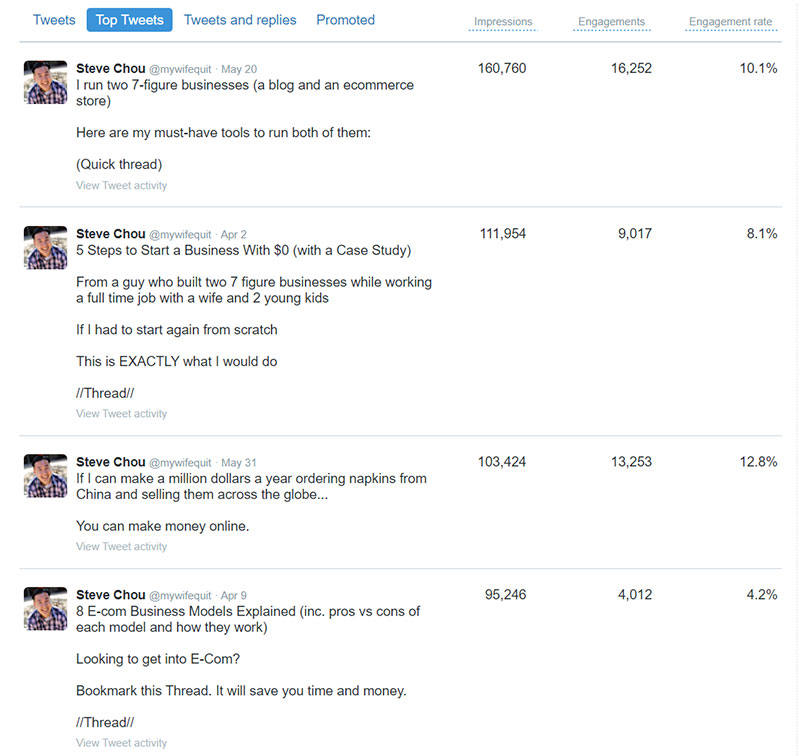 Then, take a snapshot of your tweet directly from the Twitter app, crop the photo and post it on Instagram. It takes 5 seconds!
For my most popular Twitter threads, I also convert the content into 30 second TikToks. Short form video is all the rage right now and Twitter content can easily be transformed into a video.
I literally pick up my phone, turn on the camera and record myself reciting the tweet. In fact, I've had several TikToks go viral this way!
How To Grow Your Twitter Followers
As with all social media, growing your Twitter followers is all about consistency. You must commit to tweeting multiple times per day, 7 days per week in order to build up your account fast.
Remember, your following will never see all of your tweets so it's ok to repost the same content multiple times spun in a different way.
For example, here's the same tweet reworded 3 different ways.

In order to post consistently, you need a constant source of inspiration. That's why I strongly recommend using a tool like TweetHunter to quickly isolate popular posts on Twitter.
Remember, you aren't copying other people's posts. You are putting your own unique spin on a subject in a clever way.
If you have extra bandwidth, try to publish at least 1-2 Twitter threads per week. In the blogging world where I come from, writing a comprehensive post on a subject is par for the course.
But when you compose a comprehensive thread on Twitter, everyone thinks you are a god.
What's great about Twitter is that the platform forces you to be concise. And concise content is exactly where the world of short attention spans is going.
Your Twitter posts can be easily be repurposed into…
Instagram Posts
Facebook Posts
TikTok Videos
Instagram Reels
You Tube Shorts
With the correct process in place, you can easily double your Twitter following in 6 months or less. The secret is batching your work and making Twitter a part of your routine.
The Money Is In The DMs
Once you've built up a following, your Twitter DMs will start to blow up. Every day, I receive multiple messages for…
If someone has taken the time to DM you a thoughtful message, make sure you respond. Once you've had a real conversation with a potential customer, your conversion rate will drastically improve.
What I like about Twitter is that it's like a stock that can only go up!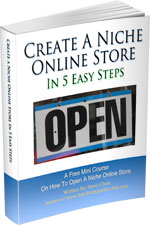 Ready To Get Serious About Starting An Online Business?
If you are really considering starting your own online business, then you have to check out my free mini course on How To Create A Niche Online Store In 5 Easy Steps.
In this 6 day mini course, I reveal the steps that my wife and I took to earn 100 thousand dollars in the span of just a year. Best of all, it's free and you'll receive weekly ecommerce tips and strategies!
Note: This post above may contain affiliate links, which means that I may receive a commission if you make a purchase when clicking a link. Please consult our privacy policy for more information.
Related Posts In Ecommerce Marketing Strategies
About Steve Chou

Steve Chou is a highly recognized influencer in the ecommerce space and has taught thousands of students how to effectively sell physical products online over at ProfitableOnlineStore.com. 

His blog, MyWifeQuitHerJob.com, has been featured in Forbes, Inc, The New York Times,  Entrepreneur and MSNBC.  

He's also a contributing author for BigCommerce, Klaviyo, ManyChat, Printful, Privy, CXL, Ecommerce Fuel, GlockApps, Privy, Social Media Examiner, Web Designer Depot, Sumo and other leading business publications.

In addition, he runs a popular ecommerce podcast, My Wife Quit Her Job, which is a top 25 marketing show on all of Apple Podcasts. 

To stay up to date with all of the latest ecommerce trends, Steve runs a 7 figure ecommerce store, BumblebeeLinens.com, with his wife and puts on an annual ecommerce conference called The Sellers Summit.  

Steve carries both a bachelors and a masters degree in electrical engineering from Stanford University. Despite majoring in electrical engineering, he spent a good portion of his graduate education studying entrepreneurship and the mechanics of running small businesses.