My wife and I don't often buy Groupon/Living Social coupons, but recently we stumbled upon a few great deals that caught our attention so we decided to give them a shot.
One of the Groupons was for a new fusion restaurant and the other was for a spa. Both coupons offered a 50% discount for their services.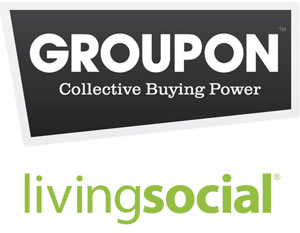 Now Groupon can be a great way to give your service based business some additional customer exposure.
But in our case, my wife and I will NEVER ever go to these businesses again and the reason has nothing to do with quality.
In fact, the food at the restaurant was quite good and my wife had a pretty decent experience at the spa as well. What's ironic is that there was nothing inherently wrong with the places we bought Groupons for. In fact, if we were not Groupon customers, we might even have gone back.
But these business made a few crucial mistakes that pretty much eliminated their chances of repeat business. And after reading several Yelp reviews, these mistakes seem to be pretty prevalent among businesses using couponing services like Groupon or Living Social.
The Purpose Of Groupon And Living Social
As a small business owner, the purpose of Groupon or Living Social is not to make a short term profit on the sales of your coupon.
By the time you slash 50% off your prices and then give an additional 50% of the remainder over to Groupon, you are only making one-fourth of what you would normally make per sale.
Related: Should You Use Groupon For Your Small Business?
Sure, not everyone will redeem their coupons but the upshot is that you should not plan on making a profit from the coupons alone. Groupon and Living Social should be classified as marketing expenses.
The main goal of Groupon and Living Social is to provide mass exposure for your business and hopefully establish some new repeat customers. But the problem with most businesses is that they don't realize this fact when they jump in bed with a mass couponing service.
And as a result, they screw things up and drive customers away. Here's are some rules to live by if you decide to use a service like Groupon or Living Social for your small business.
Rule #1: Don't Try To Extract Every Last Penny
The problem with many businesses is that they think that they can make up the cost of a Groupon by upselling the customer more expensive services. Here's a common Groupon scenario.
Customer walks in the door and presents Groupon
Shopowner seems somewhat annoyed
Shopowner provides the basic service that was paid for but constantly tries to upsell more expensive services
Customer just wants to relax and enjoy the service, gets pissed by the constant upsells and never comes back
As you can probably imagine, it can be really annoying to sign up for a service and be constantly bombarded by sales pitches. As a small business owner, you need to realize that you are trying to impress the customer so much that they want to come back.
So don't treat your Groupon visitors differently than your regular customers and don't try to make up for your losses. In fact, you should treat Groupon customers extra special so they'll want to come back!
Rule #2: Make Sure The Rules Are Absolutely Clear
When my wife and I purchased a Groupon for a restaurant, we had no idea that we needed to present the coupon up front before we ordered (Why the heck is this a requirement anyways?). But there was no indication of this rule anywhere in the restaurant except for a small note posted at the front desk by the business cards.
So while my wife and I had an excellent meal, we were shocked at the end of the night when we discovered that our Groupon was not usable because we didn't tell the waiter about it before we sat down.
Rules are rules so what could we do? So we left the restaurant paying full price, pissed off and vowed never to eat there again. Plus, we told some of our friends about the experience as well which may deter them from going there in the future as well.
If I were the restaurant owner, I probably would have let the coupon slide. It's not worth the bad word of mouth for a measely 30 dollars. But why take the chance in the first place? Why impose artificial rules that could potentially piss off a customer?
Rule #3: Do Not Treat Coupon Customers Like Second Class Citizens
Just because a customer paid less for a service doesn't mean that you should treat them any differently. A customer is a customer and you should provide them with the same level of care, especially if you want them to come back.
So why do businesses treat Groupon customers differently? If you read the fine print of some of the Groupons that you receive, sometimes you'll notice that your coupon may not be redeemed for certain "premium level" services.
For example if you go to a hair salon, you may only be eligible for a junior stylist. If you go to a spa, your coupon may not be eligible for certain treatments. What is the point of segregating your customers?
If you can't afford to provide the same level of service for your coupon, then don't even bother issuing it! What will inevitably happen is that your customer will not have as good of an experience as a "regular" customer and they will never come back.
Rule #4: Make Sure You Have A Unique Value Proposition
If your business is going to sell a Groupon, make sure the customer experience is memorable and that you have some way of standing out among the competition.
If you own a restaurant, make sure the customer gets a taste of your signature dish. If you own a service, make sure you emphasize why you are special.
I've purchased several restaurant related Groupons in the past with just mediocre food and ambiance. Now why would I go back to a restaurant with just mediocre food and pay full price?
Word of advice. Don't even bother selling coupons if your business blends in with the rest of the pack. You will not get repeat customers this way.
The Most Important Rule Of All
So how about this?
Instead of trying to scrape every last dollar from your customer to make up for the heavy discount, why not try something different?
Instead of skimping out on your Groupon customers, why not give them the royal treatment?
The primary purpose of Groupon and Living Social is to provide additional marketing for your business so you should write everything off as a marketing expense. Face the facts! You are probably going to lose money in the short term!
Your main goal is to try and drive repeat business so you should go out of your way and lay out the red carpet for your Groupon customers. If a customer comes to your restaurant with a Groupon, give them a free dessert!
The amount of buzz that you will generate from going out of your way to please a Groupon customer will amplify your word of mouth marketing. Try to stand out among all of the other businesses who are going about it all wrong!
Do you have any Groupon or Living Social experiences to share? I'd love to hear about it.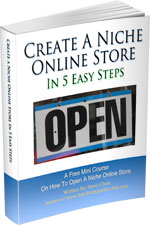 Ready To Get Serious About Starting An Online Business?
If you are really considering starting your own online business, then you have to check out my free mini course on How To Create A Niche Online Store In 5 Easy Steps.
In this 6 day mini course, I reveal the steps that my wife and I took to earn 100 thousand dollars in the span of just a year. Best of all, it's free and you'll receive weekly ecommerce tips and strategies!
Note: This post above may contain affiliate links, which means that I may receive a commission if you make a purchase when clicking a link. Please consult our privacy policy for more information.
Related Posts In Ecommerce Marketing Strategies
About Steve Chou

Steve Chou is a highly recognized influencer in the ecommerce space and has taught thousands of students how to effectively sell physical products online over at ProfitableOnlineStore.com. 

His blog, MyWifeQuitHerJob.com, has been featured in Forbes, Inc, The New York Times,  Entrepreneur and MSNBC.  

He's also a contributing author for BigCommerce, Klaviyo, ManyChat, Printful, Privy, CXL, Ecommerce Fuel, GlockApps, Privy, Social Media Examiner, Web Designer Depot, Sumo and other leading business publications.

In addition, he runs a popular ecommerce podcast, My Wife Quit Her Job, which is a top 25 marketing show on all of Apple Podcasts. 

To stay up to date with all of the latest ecommerce trends, Steve runs a 7 figure ecommerce store, BumblebeeLinens.com, with his wife and puts on an annual ecommerce conference called The Sellers Summit.  

Steve carries both a bachelors and a masters degree in electrical engineering from Stanford University. Despite majoring in electrical engineering, he spent a good portion of his graduate education studying entrepreneurship and the mechanics of running small businesses.