In this post, I provide an in-depth BigCommerce review from the perspective of a 7 figure online store owner who has helped many students with their BigCommerce shops.
When it comes to selecting the right ecommerce platform, a common question I get asked is "which apps do you need for your shop?"
But in my mind the real question should be, "why doesn't your base ecommerce platform offer what you need out of the box?"
Why should you install a hodge podge of different apps that may conflict with one another and pay recurring fees when you can simply sign up for an ecommerce platform that does it all?
When it comes to platform stability, an in-house solution is almost always more robust and stable than a 3rd party add-on.
If you hate getting nickel and dimed, BigCommerce is an ecommerce platform that has adopted an "everything you need out of the box philosophy".
Unlike other shopping carts that force you to pay for apps, BigCommerce offers a suite of ecommerce features that are available right out of the box for one flat fee per month.
This in-depth BigCommerce review will outline the pros and cons of the platform and help you decide whether BigCommerce is the right shopping cart for you.
Get My Free Mini Course On How To Start A Successful Ecommerce Store
If you are interested in starting an ecommerce business, I put together a comprehensive package of resources that will help you launch your own online store from complete scratch. Be sure to grab it before you leave!
What Is BigCommerce?
BigCommerce is a fully hosted ecommerce platform that allows you to easily set up your own online store to sell physical or digital products online.
By paying a low monthly fee, BigCommerce will host your website on their servers and handle all of the technology. As a result, you don't need any technical skills to begin nor do you need to install any software on your own machine.
As long as you have a web browser and access to the Internet, you can sell online!
Web design skills are not necessary either. BigCommerce offers a wide variety of themes, both free and paid and a suite of ecommerce features designed to help you effectively sell online.
BigCommerce is a public company and hosts many well known brands such as Skullcandy, Clarks, Hush Puppies, Camelback and more.
BigCommerce Pricing

Unlike other fully hosted ecommerce platforms such as Shopify, BigCommerce's pricing is fully transparent.
For one flat fee, you get access to an entire suite of features (without the need for plugins), to run a powerful online store.
You won't get nickel and dimed with separate apps with monthly recurring fees and what you see is what you get.
The only caveat is that BigCommerce's monthly fee is based on the revenue your online store generates.
BigCommerce Standard Plan – You pay $29.95/month for an online store that generates up to 50K in yearly revenue.
BigCommerce Plus Plan – You pay $79.95/month for an online store that generates up to 180K in yearly revenue.
BigCommerce Pro Plan – You pay $299.95/month for an online store that generates up to 400K in yearly revenue.
BigCommerce Enterprise Plan – You must contact BigCommerce for custom pricing.
Getting charged based on revenue can either be good or bad depending on your profit margins.
For example, let's say your net profit margins are only 5%. If your online store generates $15,000 in revenue per month, that leaves you with a profit of $750.
At this revenue level, you would be placed on the BigCommerce Pro plan which costs $299/month and would cost you almost 40% of your profit.
For low margin businesses like dropshipping, you are probably better off going with a platform like Shopify that doesn't charge based on revenue.
However, most of you in the 20-40% profit margin range will not have a problem. Click here for a more in depth analysis of BigCommerce pricing.
BigCommerce Transaction Fees
The great news about BigCommerce is that they do not charge transaction fees on any of their plans.
In addition, you are free to use whichever credit card processing company that you want without incurring additional transaction fees.
In contrast, Shopify charges up to a 2% transaction fee if you don't use Shopify Payments.
By default, BigCommerce offers payment processing out of the box using Braintree. Here are the default payment processing rates based on your plan.
BigCommerce Standard – 2.9% + 30 cents
BigCommerce Plus – 2.5% + 30 cents
BigCommerce Pro – 2.2% + 30 cents
BigCommerce Enterprise – 2.2% + 30 cents (negotiable)
When it comes to credit card processing, I want to stress that the freedom to choose your own payment processor is a big deal because credit card fees can quickly add up as your revenue grows.
For example, you can often negotiate rates lower than 2.2% on your own once you cross over 50K/month in revenue.
The ability to use any credit card gateway without transaction fees is an even bigger deal if you are outside of the United States.
For example, if you are on Shopify and you live in Thailand (or any country where Shopify Payments in not supported), you'll have to pay a 2% transaction fee in addition to your credit card processing fee.
With BigCommerce, you can use any payment provider without any additional costs.
BigCommerce Plans And Features
While BigCommerce offers a fully functional shopping cart out of the box, there are a few features that are only available on the higher plans.
If you want an executive summary of features, consult the table below. Otherwise, continue reading and I'll explain each feature along with the single BEST reason to choose BigCommerce over other platforms!
Feature / Plan
BigCommerce Standard
BigCommerce Plus
BigCommerce Pro
Products
Unlimited
Unlimited
Unlimited
Support 24/7
Yes
Yes
Yes
Domain name
Domain names are ~$12 per year
Gift cards & coupons
Yes
Yes
Yes
Customer groups & segmentation
No
Yes
Yes
Abandoned cart recovery
No
Yes
Yes
Stored credit cards
No
Yes
Yes
Product filtering
No
No
Yes
Custom SSL
No
No
Yes
BigCommerce transaction fees
0%
0%
0%
Transaction fees PayPal credit card (optional)
2.9% + $0.30 (regular rate)
2.5% + $0.30
2.2% + $0.30
Yearly sales threshold

(exceeding these thresholds requires a higher plan)

$50k
$150k
$400k
Monthly Deal Pricing
$29.95 / month
$79.95 / month
$299.95 / month*
Annual Deal Pricing
$29.95 / month
$71.95 / month
$269.95 / month*
More information
Visit BigCommerce and try it for free for 30 days
In addition to the table above, here are some important features that are supported on all plans.
Google Shopping Feed – BigCommerce will automatically generate a Google Shopping feed for your online store so you can run Google Shopping ads right away.
Google Analytics – BigCommerce has a built in integration with Google Analytics for ecommerce tracking.
Facebook Pixel – BigCommerce has a built in integration with Facebook to install the Facebook tracking pixel.
Drag And Drop Website Builder – BigCommerce has a built in website builder so you can design great looking pages without hiring a designer.
Support For Many Payment Gateways – BigCommerce supports over 65 different payment gateways in over 230 countries in multiple currencies. BigCommerce also supports Paypal Express checkout, Stripe and practically every payment system you can think of out of the box.
For more plan specific features, continue reading this BigCommerce review.
BigCommerce Standard Plan

As mentioned earlier, BigCommerce offers a full suite of ecommerce features out of the box that are more than adequate for you to start selling online.
Here's a list of features that are included in the BigCommerce Standard plan (and higher).
Drag And Drop Page Builder – If you are not tech savvy, their drag and drop page builder can help you design great looking web pages without touching a single line of code.
Free Templates – There are a variety of free BigCommerce themes that are mobile responsive and look great.
Payment Processing – BigCommerce offers an out of the box integration with Braintree payments but you are free to use the payment gateways you want.
Search Engine Optimization – BigCommerce has superior SEO tools and features compared to other shopping carts (like Shopify) because they allow you to manually adjust the titles, meta descriptions and URL slugs for all of your products and categories.
Image Optimization – BigCommerce will automatically shrink down your images for fast page loading speeds.
Discounts And Gift Vouchers – Offer buy one get one free promotions, tiered discounts, repeat customer discounts and more. BigCommerce's discount engine is powerful!
Product Reviews – BigCommerce can automatically solicit product reviews to be displayed on your online store. These reviews can also show up in the Google search results.
Professional Reports – You can generate detailed customer reports, customer acquisition reports, search engine reports, financial reports and more from their backend interface.
Automatic Currency Conversion – This feature is important if you sell in multiple currencies in different countries. BigCommerce has fantastic international support.
BigCommerce Plus Plan

BigCommerce's cheapest standard plan is only $29.95 but it's missing 4 main features. By upgrading to the BigCommerce Plus plan for $79.95/month, you'll receive the following.
Abandoned Cart Saver – This tool automatically emails your customers when they begin checkout but don't complete the process. Most seasoned ecommerce entrepreneurs will be using Klaviyo or an equivalent tool to handle abandoned carts which makes this feature less important.
Persistent Shopping Cart – When a customer abandons their order, their shopping cart contents are saved until they return. This feature is important for abandoned cart recovery.
Credit Card Storage – This feature stores credit card information on BigCommerce's PCI compliant servers so a customer doesn't have to enter in their payment information again for subsequent purchases. This is important for mobile transaction because no one likes typing on a small keyboard.
Customer Segmentation – You can easily create different classes of customers with different incentives. This is important if you have wholesale customers.
BigCommerce Pro Plan

The jump from the BigCommerce Plus plan to the BigCommerce Pro plan isn't very dramatic because you don't gain much more functionality.
The most prominent feature of the Pro plan is the ability to gather Google customer reviews.
Google Reviews is a free program offered by Google that allows you solicit store wide feedback about your shop. These reviews will then show up in the Google search results which may increase the credibility of your BigCommerce store.
Displaying the Google reviews badge can also improve your conversion rates provided that you have favorable reviews.
Another notable feature of the BigCommerce Pro plan is the ability to offer faceted search and product filtering.
If you have many products in many different categories, you can offer additional search features to allow customers to quickly narrow down what they are looking for.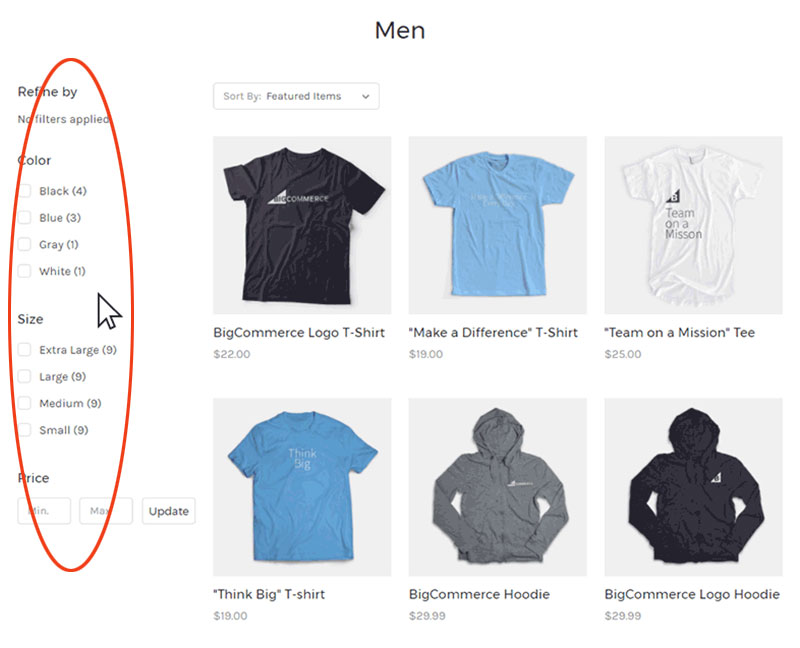 For example, you can use faceted search to quickly display just the red items in your online store or the products that cost less than a certain dollar amount.
The final feature of the Pro plan is the ability to purchase a custom SSL certificate. However, 99% of you will never use this feature.
BigCommerce Enterprise Plan
The main benefit of the BigCommerce Enterprise plan is dedicated support. You will be assigned a dedicated account manager and have access to priority support.
In addition, you gain the ability to work directly with the BigCommerce support team to add custom functionality to your shop using the BigCommerce API.
This plan is reserved for larger online stores in the mid 7 figure revenue range and typically costs at least $1000-2000 per month depending on volume.
Note: You can stay on the BigCommerce Pro plan beyond $400k/year in revenue. However, you'll have to pay an additional $150/month per additional $200K in yearly revenue.
BigCommerce Blogging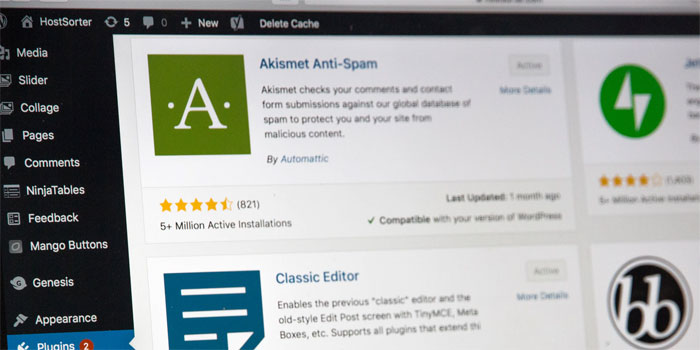 Every online store owner needs to start their own blog in order to generate free traffic from the search engines and to establish a strong brand.
But the problem with most fully hosted shopping carts is that their built-in blogging platform only provides a barebones feature set.
For example, if I want to add an auto-generated table of contents to every post, I would have to create it manually on BigCommerce or Shopify's native blogging platform.
While BigCommerce's blogging platform is adequate if you want to write an occasional blog post, serious bloggers need to be on WordPress.
However, integrating WordPress with a fully hosted ecommerce platform usually requires a steep tradeoff.
Platforms like Shopify require you to place your blog on a completely different subdomain.
For example, instead of putting your blog at www.yourstore.com/blog, Shopify forces you to use blog.yourstore.com.
Because Google treats a subdomain as a completely different website, having your blog on a subdomain is not ideal for SEO.
BigCommerce WordPress Integration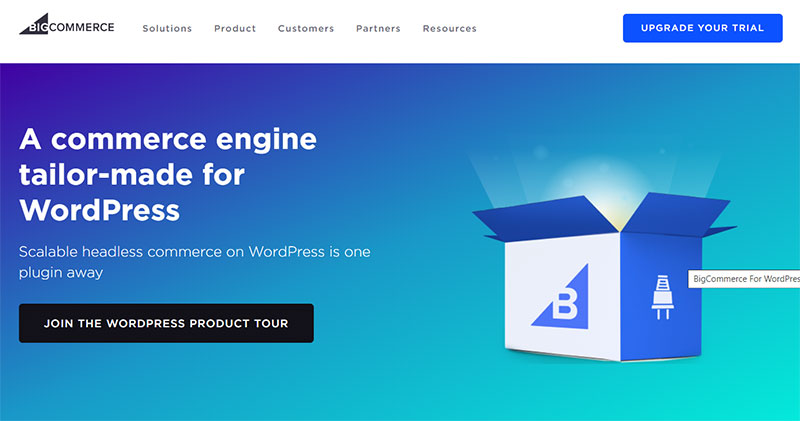 If you want to integrate a WordPress blog with your BigCommerce store, BigCommerce offers a seamless WordPress integration that allows you to have both your blog and your shop on the same domain.
As mentioned earlier, having both entities on the same domain is ideal for SEO and BigCommerce allows you to do exactly that.
Here's what you need to do step by step.
Install Your WordPress Blog – You can follow these directions to install a WordPress blog in under 5 minutes.
Install the BigCommerce for WordPress Plugin – Click here to download and install the plugin.
The BigCommerce for WordPress plugin installs a fully featured shopping cart on your WordPress blog without slowing down your site.
This solution is ideal because your shopping cart is hosted on BigCommerce which is completely separate from your main blog.
In fact, all ecommerce transactions are conducted on BigCommerce's servers behind the scenes. But from the perspective of the customer, they are shopping directly from your WordPress site.
BigCommerce's WordPress integration is the best of both worlds. You can run a WordPress blog on the same domain as your online store and your blog won't get bogged down by ecommerce transactions!
If there's a single best reason to use BigCommerce, this is it!
BigCommerce Design Themes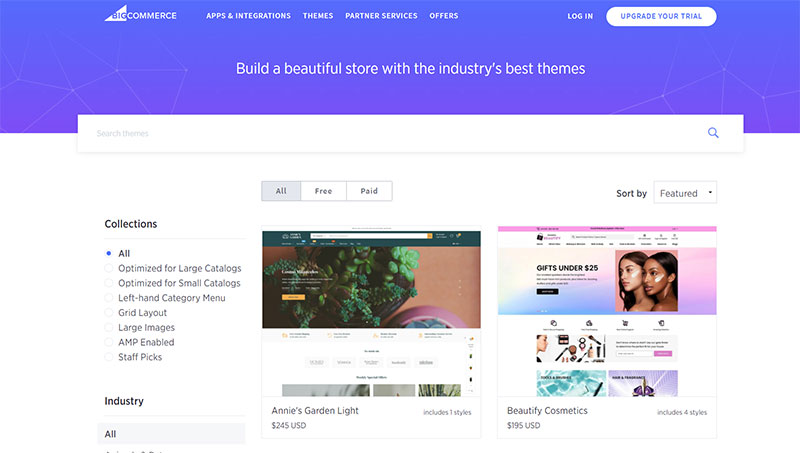 For the past several years, BigCommerce has quickly closed the gap in terms of design quality.
Today, BigCommerce offers a variety of great looking free themes. If you opt for a paid theme, it will cost you between $150-$300.
Once you've selected a theme, all you have to do is upload your own graphics and text to customize your site.
Based on experience, most BigCommerce templates will take you about 85% of the way there but you may need to make slight tweaks to the HTML code to get your site looking exactly how you want.
BigCommerce also offers a nice drag and drop website builder for the design challenged.
Every BigCommerce theme (including the free themes) is fully responsive and mobile friendly. In addition, every free theme also provides a multi-currency converter out of the box.
Based on the IP address of your customer, they will be shown prices in the correct currency depending on where they live.
BigCommerce Search Engine Optimization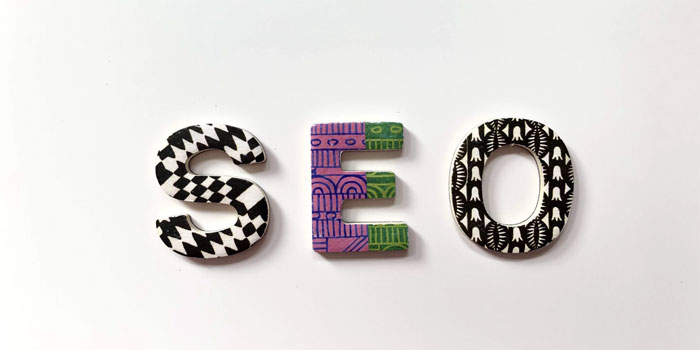 One of BigCommerce's biggest strengths lies with their SEO tools because you can adjust your page titles, your meta descriptions and your URL slugs however you like.
This flexibility is worth mentioning because Shopify has a very rigid URL structure which can not be changed and is not ideal for SEO.
For example, here's what a typical Shopify URL looks like.
https://www.rightchannelradios.com/collections/cb-antenna-mounts/products/firestik-3-way-cb-mirror-mount
A more optimal SEO URL would read as follows which can be achieved with BigCommerce.
https://www.rightchannelradios.com/firestik-3-way-cb-mirror-mount
Every BigCommerce theme is mobile friendly, responsive and follows Google's best practices.
In addition, BigCommerce offers image optimization and compression via Akamai. Akamai Image Manager is an automated image optimizer that displays the smallest possible image on your shop based on screen size.
This reduces page load times which is optimal for SEO. In addition, BigCommerce also uses a CDN which serves up your content from the nearest geographically located server.
BigCommerce Ease Of Use
Because BigCommerce offers almost every ecommerce feature you need out of the box, it's not as easy to use as Shopify. More features always adds more complexity.
However, BigCommerce's interface is fairly straightforward and user friendly and you shouldn't have any problems navigating their site even if you are brand new to ecommerce.
The BigCommerce feature that I like the most is their drag and drop page builder.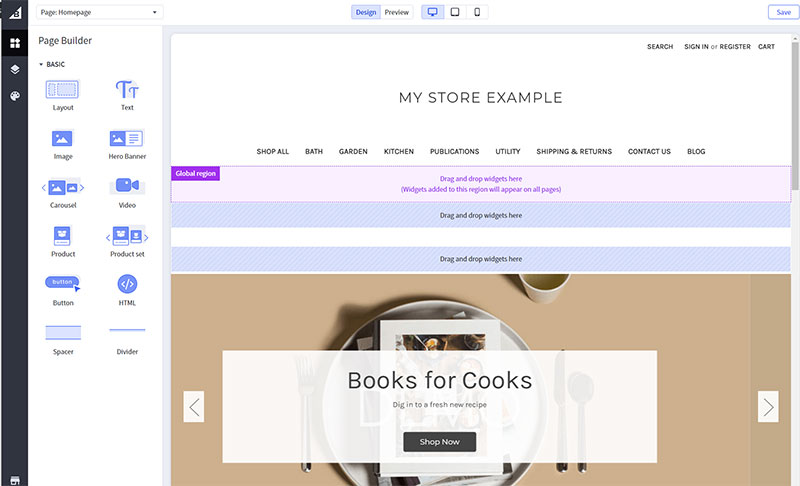 Similar to Elementor, Site Origin, or Gutenberg for WordPress, you can easily drag and drop elements onto your page to design your own custom website without any coding required.
However, it's important to note that you can't edit your hardcoded theme elements with the drag and drop editor. Adjusting your core theme usually requires some HTML coding.
For example, you can't remove the front splash image with the editor if the front splash is a part of your theme.
But overall, BigCommerce's user interface is easy to use and you should be able to design a great looking website with the right theme.
BigCommerce Point Of Sale (POS)
Aside from running an online store, you can also take payments from a physical location such as a brick and mortar store or a trade show booth.
BigCommerce integrates with popular POS providers like Square and Clover and all transactions are automatically updated in the BigCommerce backend.
Most 3rd party POS providers support BigCommerce out of the box but make sure you check the BigCommerce website for a complete list of providers.
BigCommerce App Store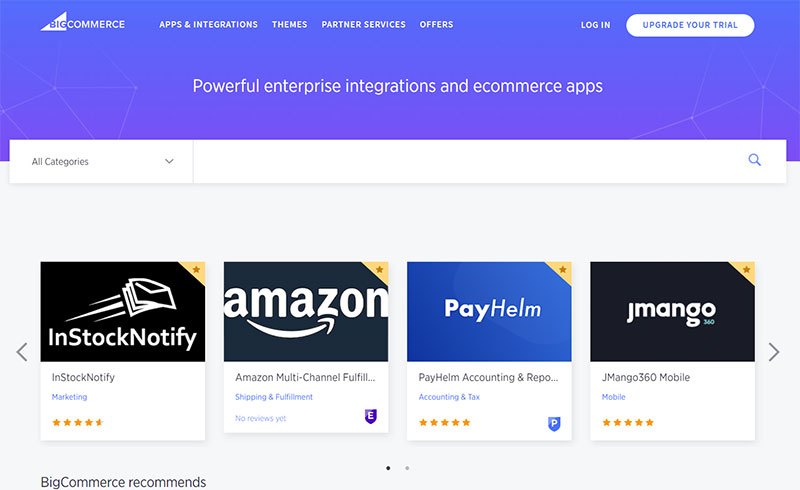 Compared to Shopify, BigCommerce's app store is smaller by a factor of 6.
But in reality, most BigCommerce store owners will not need to install many apps because most of the essential functionality is already built in.
Right now, BigCommerce is the #2 fully hosted shopping cart provider behind Shopify. And as a result, most new cutting edge ecommerce features will arrive on Shopify first over BigCommerce.
In addition, the relative popularity of Shopify over BigCommerce means that there are many more 3rd party Shopify developers than BigCommerce.
However, cutting edge ecommerce apps always eventually make their way to BigCommerce.
But depending on your timeframe and what you need for your shop, BigCommerce may or may not be the best solution for you in the 3rd party apps department.
Here's a list of every software tool that I use to run my 7 figure online store.
BigCommerce's Main Strengths
When it comes to comparing different ecommerce platforms, every shopping cart tends to blend together so here's a concise summary of BigCommerce's main strengths over the competition.
Blogging
Because BigCommerce allows you to host your online store and your blog on the same domain, BigCommerce is a superior solution if you plan on starting a store blog.
In addition, BigCommerce offers superior SEO features compared to competing platforms like Shopify because you can adjust your titles, meta descriptions and URL slugs.
Pricing
Assuming you sell higher margin goods, BigCommerce will tend to be cheaper than competing platforms like Shopify.
Because most essential shopping cart functionality is already included, you won't get nickel and dimed with apps with recurring monthly fees.
Multi Currency And International Support
BigCommerce offers currency conversion on all of their free themes by default.
In addition, BigCommerce does not charge transaction fees which gives you the freedom to use whatever payment gateways you want no matter where you live.
Right now, Shopify Payments is only offered in a small number of countries which means that you'll be forced to pay an extra 2% if Shopify Payments is not supported.
In addition, you can sell on BigCommerce in multiple languages with a 3rd party app and translations are automatic.
Product Variants
If you sell a product with many variants, BigCommerce offers excellent support.
For example, if you sell a shirt that comes in 6 sizes with 10 colors and 10 styles, BigCommerce can accommodate you.
Unlike Shopify which only allows 100 total product variants, BigCommerce offers up to 600 different styles for the same product.
BigCommerce's Main Weaknesses
Below is a concise summary of BigCommerce's primary cons compared to competing online store platforms.
Pricing
BigCommerce charges based on revenue which means that your fees scale with the growth of your online store. This can be problematic if you sell cheap, low margin products.
There's also very little differentiation between the higher plans which means that you are paying more money without additional functionality to show for it.
Less 3rd Party Support
BigCommerce is not as popular as Shopify so cutting edge apps will usually arrive later.
For example, Gorgias is a tool that I've been using for several years now and they just announced BigCommerce support.
In addition, there are less available BigCommerce developers than Shopify as well.
BigCommerce Review Summary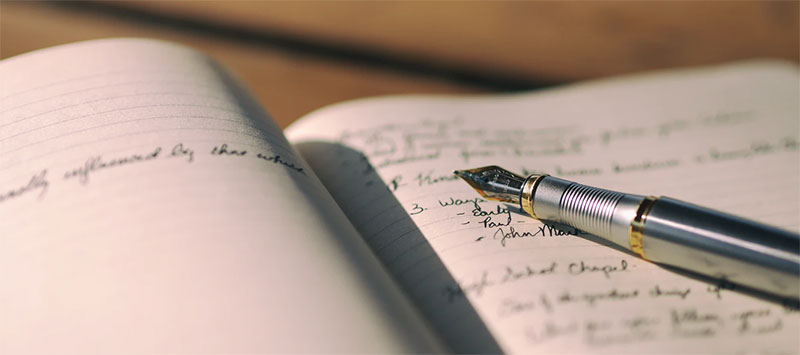 BigCommerce is one of the best fully hosted ecommerce platforms available and I highly recommend them.
Personally, I hate getting nickel and dimed which is why I appreciate the fact that BigCommerce includes so much out of the box functionality even with the cheaper plans.
BigCommerce is also very strong on the SEO front and their seamless WordPress integration allows you to have your blog and shop on the same domain. This feature alone can justify the cost.
Finally, BigCommerce is superior to most other shopping carts when you sell internationally. Because they offer multi-currency support and no transaction fees, you can sell anywhere in the world.
The only aspect of BigCommerce that I don't like is their revenue based pricing. But they have to get paid somehow.
BigCommerce Alternatives
BigCommerce's main competitor is Shopify but there are many BigCommerce alternatives at your disposal.
If you enjoyed this BigCommerce review, I've also compared other popular ecommerce platforms for you to look at.
Here's a BigCommerce review I wrote that directly compares Shopify vs BigCommerce
Meanwhile, WooCommerce is also a popular choice among new ecommerce merchants. Here's my Woocommerce vs Shopify comparison.
Recently, Shift4Shop burst onto the scene with a free fully hosted shopping cart solution. Here's my Shift4Shop review.
Finally, some of you might prefer Wix for a casual ecommerce store. Here's my Wix review.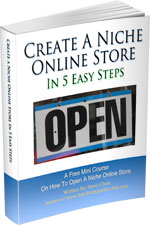 Ready To Get Serious About Starting An Online Business?
If you are really considering starting your own online business, then you have to check out my free mini course on How To Create A Niche Online Store In 5 Easy Steps.
In this 6 day mini course, I reveal the steps that my wife and I took to earn 100 thousand dollars in the span of just a year. Best of all, it's free and you'll receive weekly ecommerce tips and strategies!
Note: This post above may contain affiliate links, which means that I may receive a commission if you make a purchase when clicking a link. Please consult our privacy policy for more information.
Related Posts In Ecommerce Platforms
About Steve Chou

Steve Chou is a highly recognized influencer in the ecommerce space and has taught thousands of students how to effectively sell physical products online over at ProfitableOnlineStore.com. 

His blog, MyWifeQuitHerJob.com, has been featured in Forbes, Inc, The New York Times,  Entrepreneur and MSNBC.  

He's also a contributing author for BigCommerce, Klaviyo, ManyChat, Printful, Privy, CXL, Ecommerce Fuel, GlockApps, Privy, Social Media Examiner, Web Designer Depot, Sumo and other leading business publications.

In addition, he runs a popular ecommerce podcast, My Wife Quit Her Job, which is a top 25 marketing show on all of Apple Podcasts. 

To stay up to date with all of the latest ecommerce trends, Steve runs a 7 figure ecommerce store, BumblebeeLinens.com, with his wife and puts on an annual ecommerce conference called The Sellers Summit.  

Steve carries both a bachelors and a masters degree in electrical engineering from Stanford University. Despite majoring in electrical engineering, he spent a good portion of his graduate education studying entrepreneurship and the mechanics of running small businesses.