If you are looking to sell handmade or vintage goods online, then you're probably deciding between Shopify vs Etsy as your primary ecommerce platform.
Right now, Shopify is one of the most popular shopping carts in the world that is scalable, flexible and future proof.
Meanwhile, Etsy provides an inexpensive way to start selling online with a built in audience of 82 million buyers.
Overall, there are many pros and cons to selling on Shopify vs Etsy which will be clearly outlined in this post.
Specifically, Shopify and Etsy will be compared based on…
Ease Of Use
Design Flexibility
Traffic And Sales Potential
Search Engine Optimization
Pricing And Payment Options
Ecommerce Selling Features
Get My Free Mini Course On How To Start A Successful Ecommerce Store
If you are interested in starting an ecommerce business, I put together a comprehensive package of resources that will help you launch your own online store from complete scratch. Be sure to grab it before you leave!
Shopify Vs Etsy – The Primary Differences

The main difference between Shopify vs Etsy is that Shopify is an ecommerce website builder and Etsy is an online marketplace similar to Amazon.
With Shopify, you can quickly and easily create your own online store. You have full design flexibility and you can sell whatever you want. However, you must drive your own traffic and sales.
Meanwhile, Etsy is an online marketplace that attracts over 81.9 million buyers every single year. In 2020, shoppers spent over 1.3 billion dollars on the platform.
By listing your products on Etsy, you can instantly reach millions of shoppers without the need to learn how to advertise and generate traffic.
The caveat however, is that you are only allowed to sell products on Etsy that fall under the following guidelines.
Goods that are handmade by you and not mass produced
Vintage products that are at least 20 years old
Craft supplies used for product creation
On Shopify, you can sell anything you want (except for products in specific categories such as investment, adult or other regulated industries).
Overall, Etsy is like running a booth at a virtual arts and crafts fair whereas Shopify is like opening your own standalone online store.
With Shopify, you have full control over…
The domain for your shop
The look and feel of your site
How and what you sell with full customization
Shopify Vs Etsy – Pros And Cons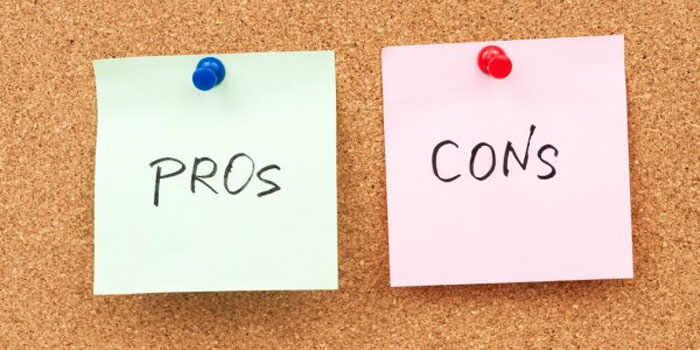 Because Shopify is an ecommerce platform and Etsy is a marketplace, there are inherent pros and cons to selling on each platform.
Here are the advantages and disadvantages of selling on Shopify vs Etsy.
Editor's Note: Overall, Shopify is a superior selling platform if your goal is to create a lasting brand. Etsy is great if you want a side hustle to make a few extra dollars selling your own handmade products.
Shopify Pros
Access To Powerful Marketing Tools – With Shopify, you have access to a suite of ecommerce selling tools that are not available to Etsy sellers. For example, Shopify has a comprehensive app store that allows you easily run email marketing or SMS marketing campaigns. There are also apps that allow you to track your inventory across many different sales channels and manage your accounting. As an ecommerce seller, Shopify is far more powerful than Etsy on all fronts.
Shopify Is Scalable – Shopify hosts some of the largest brands in the world such as Gymshark, Kylie Cosmetics, Red Bull and more. Shopify is designed to host online stores of all sizes that can easily scale as you grow.
Shopify Has Few Restrictions – You can sell whatever you want however you want with few restrictions.
You Can Create A Brand – With Shopify, you own your own domain and website with full control over the display and branding of your products.
Shopify Cons
You Have To Drive Your Own Traffic And Sales – Shopify allows you to put up an online store but doesn't help with discoverability. You have to learn how to advertise through Google Ads, Facebook ads or social media to establish your own customer base.
Shopify Is More Expensive To Start – The cheapest Shopify plan starts at $29/month. As a result, it's more expensive to start selling on Shopify than Etsy.
Shopify Has A Steeper Learning Curve – Shopify is a powerful selling platform. As a result, there's a steeper learning curve to setup and start selling online.
Etsy Pros
Large Built In Audience – With over 82 million shoppers on the platform, you can get instant exposure to your products for sale.
Low Financial Risk – It's extremely inexpensive to start selling on Etsy. For only 20 cents, you can create an Etsy listing that is active for 4 months.
Easy To Use – Etsy's selling interface is both simple and easy to use. You upload your products, images and a description and you can instantly start selling with minimal setup.
Etsy Cons
Competition Is Fierce – There are over 4.3 million sellers fighting for the attention of 82 million shoppers across a variety of product categories. To be successful, you must stand out.
Limited Product Selection – Because you can only sell handmade products, your sales are limited by how fast you can make your own products. Mass production is not allowed.
Limited Access To Your Customers – The lifeblood of any business is repeat sales. Etsy owns all of your customer data and you have limited access to your buyers.
High Transaction Fees – Etsy charges a 20 cent listing fee and a 5% transaction fee for the privilege of selling on their platform.
Shopify Vs Etsy Pattern – Which Is Better?

Etsy also has their own store builder called Etsy Pattern which allows you to build your own brand outside of the Etsy marketplace.
Unlike Etsy, you can sell whatever you want on Etsy Pattern but the platform is much less powerful than Shopify. In terms of selling features, it's not even close.
However, Etsy Pattern can make sense if you already sell on Etsy and you are on a budget.
Here are the prominent features of Etsy Pattern.
Listing Synchronization – Your Etsy Pattern store and your Etsy listings are automatically synchronized. As a result, if an item sells on the Etsy marketplace, your inventory is automatically updated in your Etsy Pattern store.
Sell Anything – You are not limited to handmade or vintage products. You can sell whatever you want even if it is mass produced.
Costs $15/month – Etsy Pattern comes with a 30 day free trial and costs only $15/month which makes it more affordable than Shopify.
Choose From A Variety Of Themes – Etsy offers 10 free themes to choose from to customize your shop. There is also a website editor to add custom designed pages to your store.
Custom Domain Name – You can give your store a custom URL similar to Shopify.
Must Be An Etsy Seller – In order to use Etsy Pattern, you must have at least 1 active listing on the Etsy marketplace.
Overall, Etsy Pattern is a very limited and poor mans version of Shopify. If you plan on creating your own brand, you should avoid Etsy Pattern and just sign up for Shopify.
The remainder of this post will compare Shopify to the Etsy Marketplace and not Etsy Pattern.
Shopify Vs Etsy – Which Is Easier To Use?
Because you don't have to worry about setting up an entire website from scratch, getting started on Etsy is much easier than Shopify.
If you're just looking to list your products online and start selling right away, then Etsy is a faster way to do so.
To get started on Etsy, all you have to do is…
Sign up for an account
Choose a store name
Create a product listing
Enter your payment details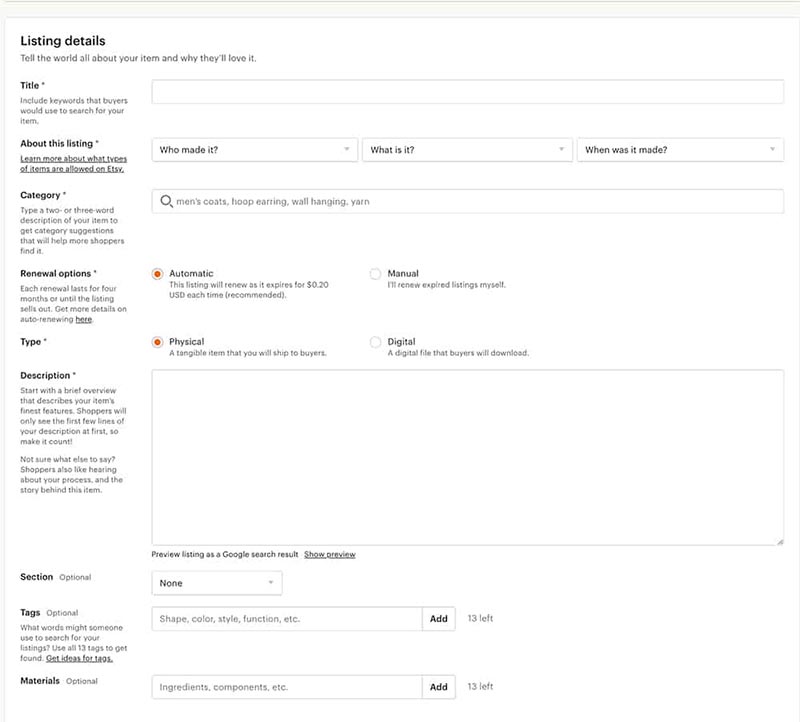 The entire setup process is guided with a wizard and you can literally start selling within 30 minutes.
Meanwhile, setting up a Shopify store is easy as well. Similar to Etsy, Shopify has a guided wizard that walks you through the setup process.
However, setting up a Shopify store is much more involved because you have to choose a theme, setup shipping, email etc…
Overall, both platforms are very easy to use depending on what your end goals are. But in terms of sheer speed to making money, I give Etsy the edge.
Winner: Etsy
Shopify Vs Etsy – Design Flexibility
Shopify is much more flexible than Etsy in terms of design.
Because Etsy is a marketplace, there's no room for customization. Their platform is designed so that every product listing looks identical except for the image and product description.
On one hand, uniformity makes it easier to create an Etsy listing and start selling right away. But the downside is that it's hard to differentiate yourself from the competition.
Etsy also does not allow custom domains. Your Etsy store is a subdomain of Etsy and your URL will look like this.
www.etsy.com/shop/steveslinens
As a result, it's extremely difficult to create a recognizable brand on Etsy.
Meanwhile, Shopify is fully customizable and you can design the look and feel of your website and listings however you want.
First off, Shopify provides you with over 100 themes to choose from and many of them are free. In addition, Shopify has a large 3rd party developer network that offers plugins and custom design elements as well.
You can further customize the shopping experience by adding surveys, polls, wizards, live chat, email marketing, subscriptions etc… There is literally no limit to the amount of customization that you can implement on Shopify.
In terms of design flexibility and customization, Shopify is the clear winner here.
Shopify Vs Etsy – Generating Traffic And Sales
Etsy has the advantage over Shopify in terms of generating immediate traffic and sales. Because Etsy receives over 82 million customers per year, you can tap into that audience when you list a product on Etsy.
Not only that, but Etsy shoppers are specifically looking to buy handmade and vintage goods which increases the likelihood of a sale.
Etsy's large built in audience is their primary advantage over Shopify.
With Shopify, you are starting from ground zero. No one knows who you are and you must generate your own traffic and sales through strategies such as…
Learning these skills can be time consuming and requires a significant learning curve. However, they allow you to be self sufficient and in full control over your brand.
But in terms of generating immediate traffic and sales, Etsy wins.
Winner: Etsy
Shopify Vs Etsy – Search Engine Optimization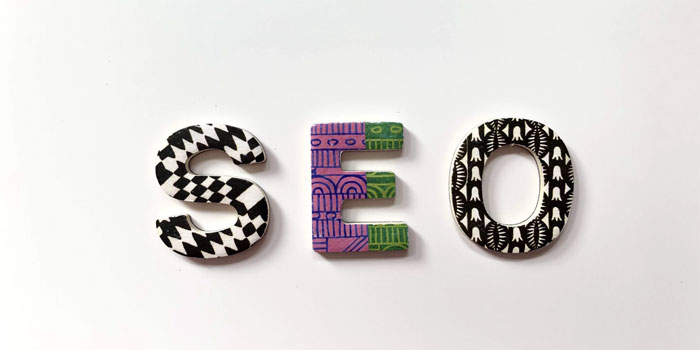 When comparing Shopify vs Etsy, products listed on Etsy will have an advantage when it comes to search engine optimization. Here's why.
When you run a Shopify store, your SEO efforts will be focused on the Google search engine. To rank in Google search, Shopify allows you to adjust your titles and meta descriptions to optimize your ranking potential.
But brand new shops will have little or no domain authority and you won't be able to rank in search right away.
When you sell on Etsy however, you have an advantage when ranking on Google because Etsy listings carry tremendous weight in the search engines.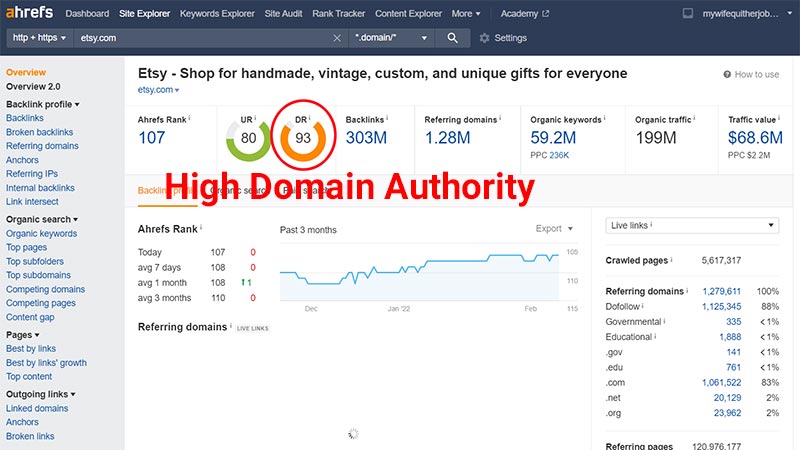 As a result, a brand new listing on Etsy is much more likely to rank on Google search compared to a brand new Shopify store.
Furthermore, Etsy has its own on site search engine which generates traffic and sales as well.
Etsy's search engine is different than Google in that everyone searching on Etsy is looking to buy handmade products. As a result, you have 2 opportunities to rank in search with an Etsy store.
By ranking in both Google search and Etsy search, you have a higher chance of being found.
Winner: Etsy
Shopify Vs Etsy – Pricing And Payment Options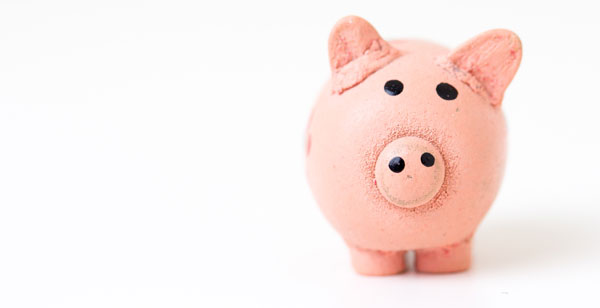 When it comes to costs, Shopify will almost always be more expensive than Etsy.
With Shopify pricing, there are 5 plans to consider.
All plans above give you access to every feature you need to start an ecommerce store including…
Unlimited product listings
Credit card processing
Gift Cards
Discount Codes
Site Security
With Etsy, there are 3 primary fees that you'll have to pay.
Listing Fee – $.20 per item
Transaction Fee – 5% per item sold
Etsy Payments Fee – Etsy charges 3% + 35 cents per transaction
Etsy also offers a premium plan called Etsy Plus that costs $10 per month. Etsy Plus users get…
15 Free listing credits
$5 Credit towards Etsy ads
Custom banner templates and other shop customizations
Email alerts for back in stock items
Access to discounts and perks
If you want your own standalone store on Etsy, Etsy Pattern will cost you $15/month.
When it comes to pricing, the cost of Shopify vs Etsy will depend on how many sales you make per month.
For example, if you generate 100K in sales on Etsy, you'll end up paying $5000 in transaction fees. As a result, running a Shopify store will be cheaper at this revenue rate.
However, Etsy will tend to be cheaper if you sell fewer products online.
Winner: Draw
Shopify Vs Etsy – Ecommerce Selling Features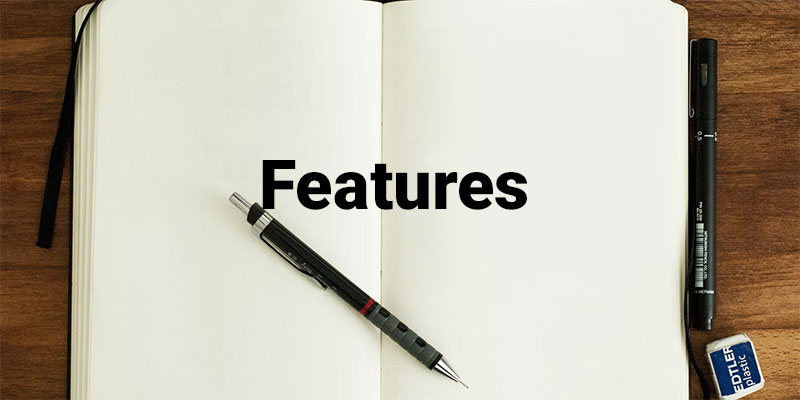 Shopify has many more selling features than Etsy when it comes to marketing your ecommerce store.
Because Shopify is one of the most popular shopping cart platforms in the world, Shopify attracts many 3rd party developers that are constantly adding new features to their platform.
On the surface, Etsy offers most of the basic features you need like discount codes, basic social sharing and the ability to advertise on the Etsy search engine.
But with Shopify, the sky is the limit. For example, you can….
Add popup email forms to your website to collect email addresses.
Connect your shop to hundreds of dropship suppliers
Add live chat and other customer service features
Add upsell and cross sell features
Add a customer loyalty program
Add social media marketing apps
Add SMS marketing apps
Add subscription and recurring revenue apps
Add product review apps
Implement an abandoned cart recovery system
Start an affiliate program
Because Etsy is a closed marketplace, Etsy does not allow you to own your customer base which greatly limits your selling options.
In terms of features, Shopify wins hands down. Shopify is the best platform if you want to scale a brand to 7,8 or even 9 figures online.
When To Use Shopify Vs Etsy

Here's a summary of key points when comparing Shopify vs Etsy.
Etsy is an online marketplace with a built in audience that can generate you immediate sales
Etsy is cheaper to get started at low volume but gets more expensive as you generate more sales
Etsy owns your customer base and offers limited marketing opportunities to your existing audience
Shopify has many more selling features than Etsy
Shopify offers design flexibility to build a long term brand
Shopify allows you to have your own custom domain
The decision to sell on Shopify vs Etsy depends on your budget and sales goals.
Choose Etsy if…
You are a brand new seller with a limited budget
You want to sell handmade or vintage goods online
You don't plan on having an extensive catalog of products
You don't plan on selling anything other than handmade products
You just want to make a few dollars as a side hustle.
Choose Shopify if…
You want to create a scalable ecommerce business
You want to sell mass produced products
You want cutting edge ecommerce features to sell online
You want to own your own custom domain
You want the freedom to build a brand
It's important to note that Shopify and Etsy are not mutually exclusive platforms.
You can sell on both Etsy and Shopify at the same time. In fact, the Etsy marketplace can easily be integrated with a Shopify store where your inventory is synced in real time.
Because Shopify is much more powerful than Etsy Pattern, Shopify is a better long term choice for owning your own online store.
The Best Ecommerce Platform For You
Every seller starts from ground zero and follows a natural progression with their ecommerce business.
If you don't have much money to spend on your business, then start on Etsy.
Once your Etsy store starts generating some sales, consider launching a Shopify store to further build your brand and establish an audience for your goods.
Ultimately, your goal should be to sell on many different platforms to expand your reach.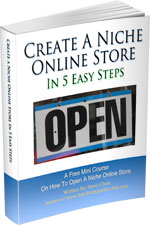 Ready To Get Serious About Starting An Online Business?
If you are really considering starting your own online business, then you have to check out my free mini course on How To Create A Niche Online Store In 5 Easy Steps.
In this 6 day mini course, I reveal the steps that my wife and I took to earn 100 thousand dollars in the span of just a year. Best of all, it's free and you'll receive weekly ecommerce tips and strategies!
Note: This post above may contain affiliate links, which means that I may receive a commission if you make a purchase when clicking a link. Please consult our privacy policy for more information.
Related Posts In Ecommerce Platforms
About Steve Chou

Steve Chou is a highly recognized influencer in the ecommerce space and has taught thousands of students how to effectively sell physical products online over at ProfitableOnlineStore.com. 

His blog, MyWifeQuitHerJob.com, has been featured in Forbes, Inc, The New York Times,  Entrepreneur and MSNBC.  

He's also a contributing author for BigCommerce, Klaviyo, ManyChat, Printful, Privy, CXL, Ecommerce Fuel, GlockApps, Privy, Social Media Examiner, Web Designer Depot, Sumo and other leading business publications.

In addition, he runs a popular ecommerce podcast, My Wife Quit Her Job, which is a top 25 marketing show on all of Apple Podcasts. 

To stay up to date with all of the latest ecommerce trends, Steve runs a 7 figure ecommerce store, BumblebeeLinens.com, with his wife and puts on an annual ecommerce conference called The Sellers Summit.  

Steve carries both a bachelors and a masters degree in electrical engineering from Stanford University. Despite majoring in electrical engineering, he spent a good portion of his graduate education studying entrepreneurship and the mechanics of running small businesses.