If you want to start an ecommerce business selling clearance merchandise, this post will teach you how to buy Amazon return pallets for sale at rock bottom prices.
Those of you who shop on Amazon know that their return policy is extremely lenient. Recently, Amazon changed their "no questions asked" refund policy to 90 days which means that consumers can now return almost ANYTHING within 3 months!
As a result, Amazon considers a 10% return rate to be normal for most merchandise but it depends on what is being sold.
Here's what the typical return rate looks like on Amazon based on product category.
Books and media: 5-7%
General merchandise in the home, kitchen and sporting goods: 8-10%
Consumer electronics: 25-35%
Clothing and fine jewelry: up to 40%
From the perspective of a seller, sometimes it doesn't make economic sense to pay Amazon to send your returns back. And for this reason, Amazon carries a large amount of merchandise that it just needs to get rid of.
As a buyer of Amazon returns, you can make a lot of money by refurbishing and reselling used merchandise online.
Get My Free Mini Course On How To Start A Successful Ecommerce Store
Are you interested in creating a strong, defensible brand for your products? If so, I put together a comprehensive package of resources that will help you launch your own online store from complete scratch. Be sure to grab it before you leave!
What Are Amazon Return Pallets?
Amazon return pallets are containers of products that have been returned to Amazon that are sold sight unseen at low prices to anyone willing to take a risk.
Sellers buy these return pallets at clearance prices, refurbish each product and resell them for profit.
How Much Do Amazon Return Pallets Cost?
Amazon return pallets cost anywhere from $100 to $20000 depending on the size and contents of the pallet. For example, a return pallet consisting of computers and electronics would cost more than a pallet of home goods.
You must also pay the cost of shipping the return pallet to your warehouse which depends on the weight, dimensions and distance from the liquidation company.
In some cases, the cost of shipping can exceed the value of the return pallet itself. You should expect to pay between $300-$500 per pallet.
Is It Safe To Buy Amazon Return Pallets?
It is 100% safe to buy Amazon return pallets as long as you buy from an authorized Amazon return pallet distributor like Amazon Liquidation Auctions or Bulq. However, the quality and condition of the products you receive in an Amazon return pallet will vary.
Some products may be brand new in its original packaging whereas other products may be missing parts or broken.
Buying Amazon return pallets is always a crap shoot. If you take the time to go through and refurbish the returned merchandise, you can make a significant amount of money.
How To Buy Amazon Return Pallets
The best way to buy Amazon return pallets is directly through Amazon or through a liquidation company like Bulq or Liquidation.com.
The more you are willing to buy, the cheaper the cost. Typically liquidated items from Amazon are sold either by the pallet or the truckload.
When you buy liquidated merchandise from Amazon, the pallet or bundle will usually carry an "estimated retail value" and it's almost always sold off via an auction.
If you've ever watched the show "Storage Wars", buying Amazon return pallets works in a very similar way except that you are not allowed to examine the merchandise at all.
Sites selling Amazon return pallets are typically organized by category, lot size, brands, retailers and by location.
Here's an Amazon return pallet auction that I was looking at the other day.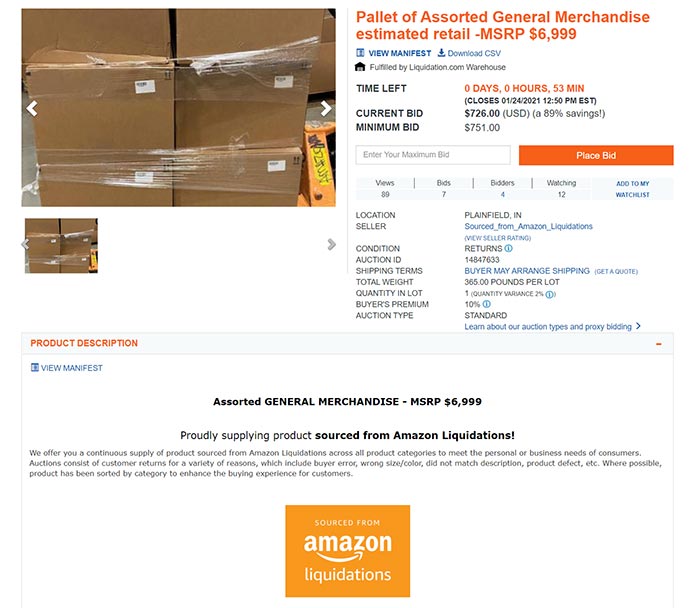 From the auction description, you have no idea what's inside those brown boxes and that's what makes it fun and exciting.
Editor's Note: Amazon return pallets don't always come in unmarked brown boxes. Sometimes, you can tell what brands or types of products are contained within the bundle to guide your decision.
The MSRP of $6999 is determined by tallying up the full selling price of all of the items in the pallet but the goods inside can be in any condition. Certain parts may be missing. Product may be broken. It's up to you to sort it all out.
If you end up bidding on and winning an auction, you can arrange to have the pallet shipped directly to your warehouse, but it generally makes more economic sense to look for Amazon liquidations in your geographic area.
Where To Buy Amazon Return Pallets For Sale
You can buy Amazon return pallets directly through Amazon or through an independent liquidation company.
Every year, Amazon auctions off its returned merchandise to the highest bidder. These auctions typically take place after the holiday season when consumers return unwanted gifts en masse.
In addition, there are many Amazon liquidation companies out there that buy from Amazon and other independent businesses and take a cut of every sale.
Regardless, buying Amazon returns is almost always a crap shoot but if you bid less than 20% off MSRP, you have a good chance of making a profit depending on how much time you spend refurbishing your products.
Below is a list of places to buy Amazon return pallets.
Amazon Liquidation Auctions
In 2018, Amazon partnered with B-Stock to launch Amazon Liquidation Auctions. Amazon Liquidation Auctions is the official b2b marketplace where you can buy overstock merchandise directly from Amazon.
In order to bid on an auction, you first have to register with B-Stock and be approved to bid. There is no fee for applying or for being an approved buyer.
Right now, Amazon Liquidation Auctions is only accepting applications from the US and you must have a valid reseller certificate to be eligible.
Editor's Note: If you are located in Europe, you can register on the Amazon EU Liquidation Auctions marketplace separately.
In the event that you bid and win an auction, B-Stock will require you to submit additional business information as well as payment.
BULQ

BULQ is one of the biggest sellers of liquidation merchandise on the Internet and they work with many retailers in addition to Amazon.
What I like about BULQ is that there are no auctions. If you see something that you like, you just add it to your cart and check out.
So if you hate auctions, then BULQ might be a better fit.
You also get much more visibility into what's inside the pallet compared to other liquidation outlets.
For example, here's a listing for computer equipment on BULQ.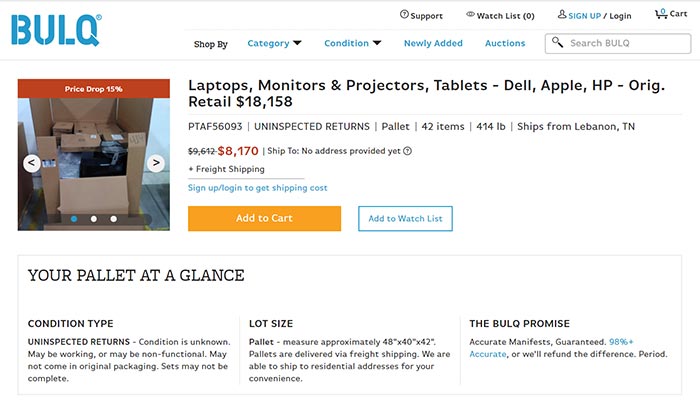 Not only do you get a more descriptive photo of the pallet, you also get the exact contents of what is inside!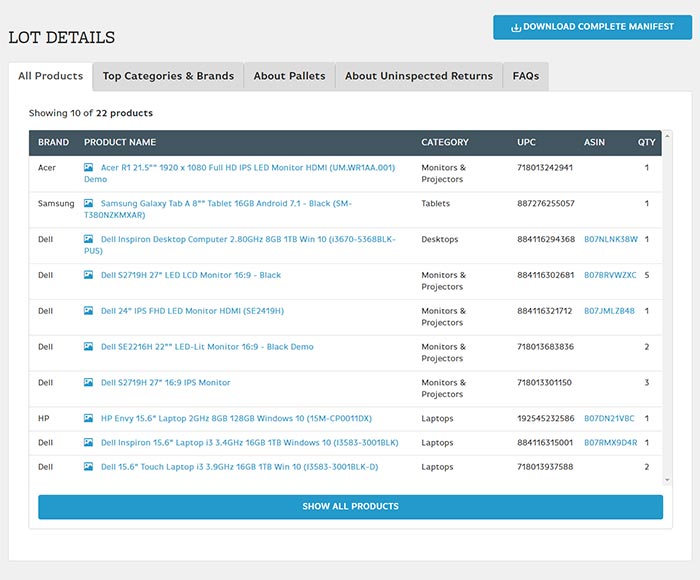 But as with any return pallet, the condition of your products are 100% unknown. Some items may not be functional or broken and certain sets may not be complete.
It's also worth noting that BULQ offers different types of pallet liquidations on their site. While most pallets are "uninspected returns", you can also find pallets of brand new merchandise as well.
Liquidation.com

Liquidation.com is the largest liquidation company online and like BULQ, they work with many different retailers in addition to Amazon.
But the main difference from BULQ is that every Amazon return pallet is sold via auction. As a result, you must register and bid on a pallet instead of buying it outright.
Here's an example of a Liquidation.com auction for computer equipment returned from Amazon.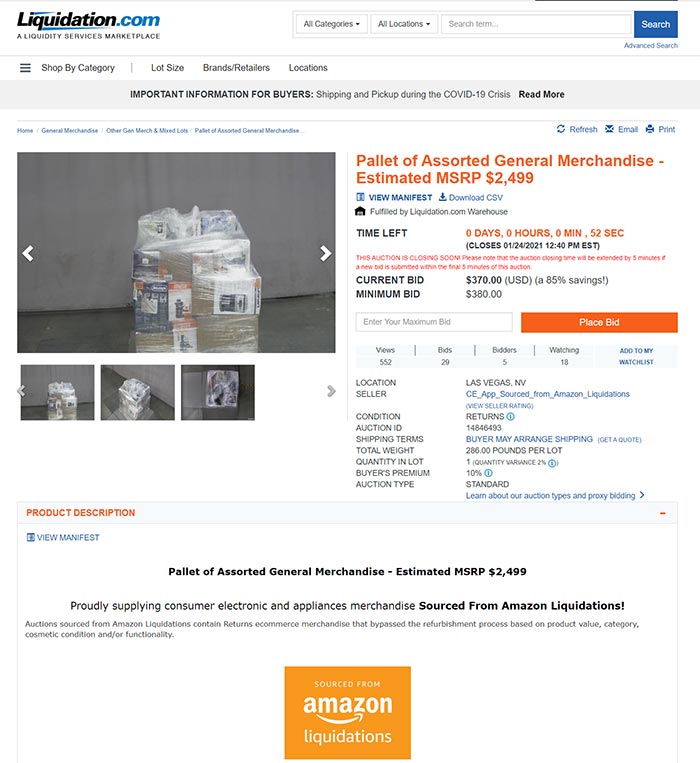 If you squint your eyes and look very closely, you can make out the products and brands that are contained within this mystery package.
But in general, Liquidation.com rarely gives you any information about what's inside your pallet for sale.
Overall, the auction method can be hit or miss. If you can find a pallet that no one is bidding on, you can get a great deal. But popular pallets often get bid up considerably beyond what the pallet may be worth.
Once again, it's a crap shoot!
DirectLiquidation.com

DirectLiquidation.com does a lot of business with Amazon but they also work with well known big box stores like Target and Walmart.
What's nice about DirectLiquidation.com is that you can perform searches by brand or store.
For example, if you prefer to buy returns from Target, you can have DirectLiquidation.com only show you merchandise from Target.
Similar to Liquidation.com, all sales are conducted by auction and you must first register for an account in order to bid on a pallet.
Here's a sample auction from Walmart.com.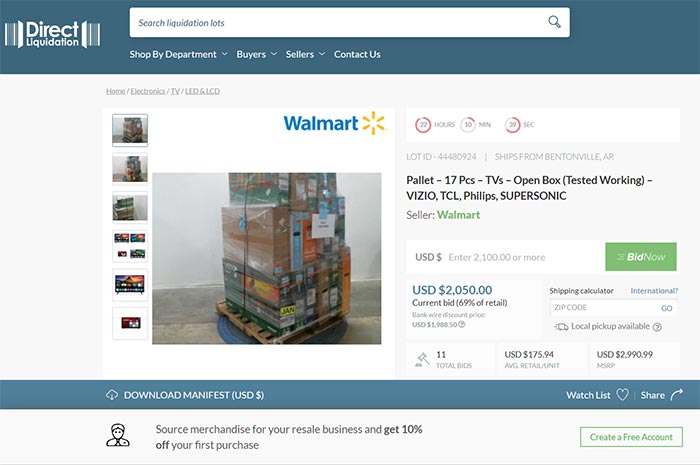 Out of all of the liquidation platforms discussed thus far, DirectLiquidation.com tends to have the least detailed descriptions of the bunch.
You also have to be careful about the photos used in the auctions as they may not reflect the actual image of the products being sold.
888Lots.com

888Lots.com buys a significant portion of their inventory from Amazon. But what's unique about 888Lots.com is that you can often buy individual products at a low price if you are willing to deal with potentially broken merchandise.
Editor's note: Some items on 888Lots.com are brand new as well.
Here's an example of a pair of headphones I was looking at the other day. 30% is not much of a discount but sometimes you can find some great deals.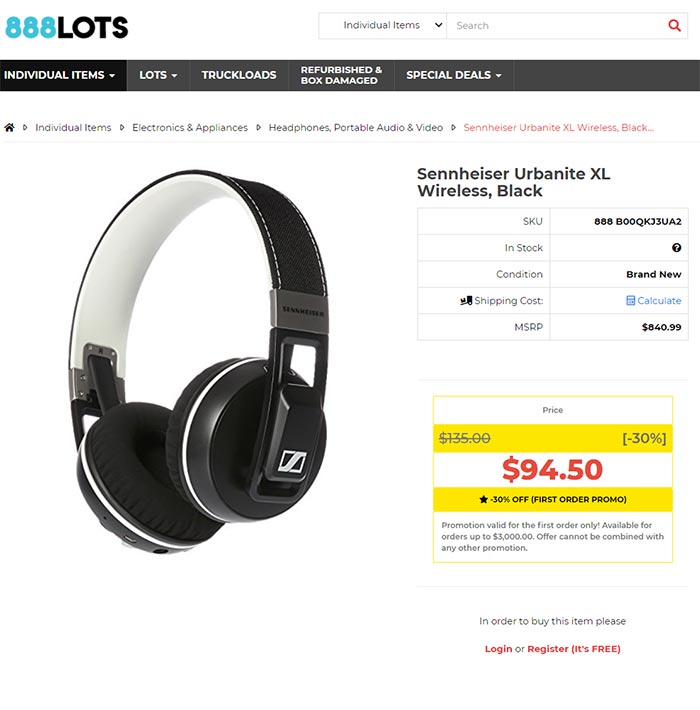 888Lots.com also offers a variety of pallets for sale and like BULQ, they include a description of what's inside every lot along with the suggested MSRP.
They even include an Amazon profit calculator so you can determine whether it's worth selling these goods on Amazon.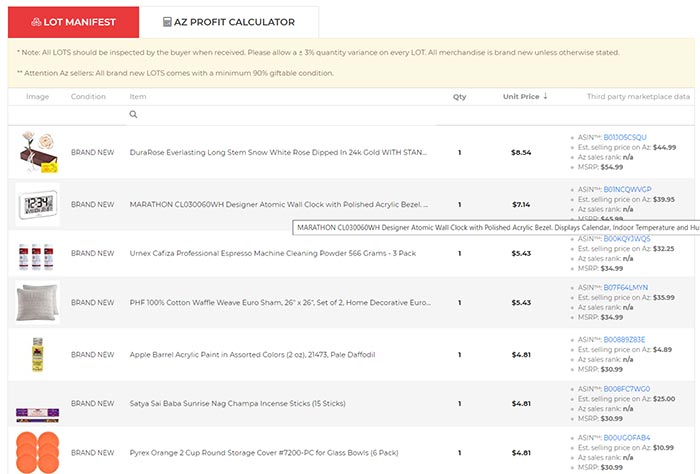 Overall, 888Lots.com is easily the smallest liquidator out of all of the companies mentioned in this article. But there are many deals to be found if you check back regularly.
BlueLots

BlueLots is a US based company that sells return pallets from Amazon in addition to other large retailers.
What's unique about BlueLots is that they don't charge buyers a fee for buying a pallet. Instead, they make their money by charging the retailers directly.
All sales are auction based and most pallets contain an inventory manifest which describes exactly what is in the pallet along with the condition and MSRP.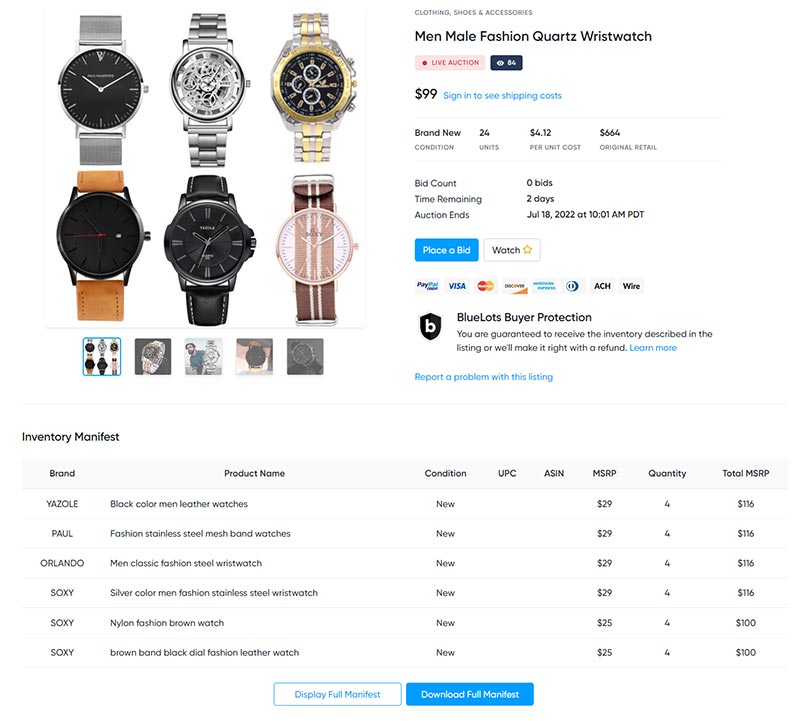 Overall, the BlueLots website is very clean and the shopping experience is simple and intuitive.
BoxFox.co

BoxFox is a B2B marketplace that sells excess inventory from independent retailers and Amazon to buyers via an auction.
What's unique about BoxFox is that they only sell brand new merchandise, not returns. As a result, you don't have to worry about the condition of the goods in your pallet.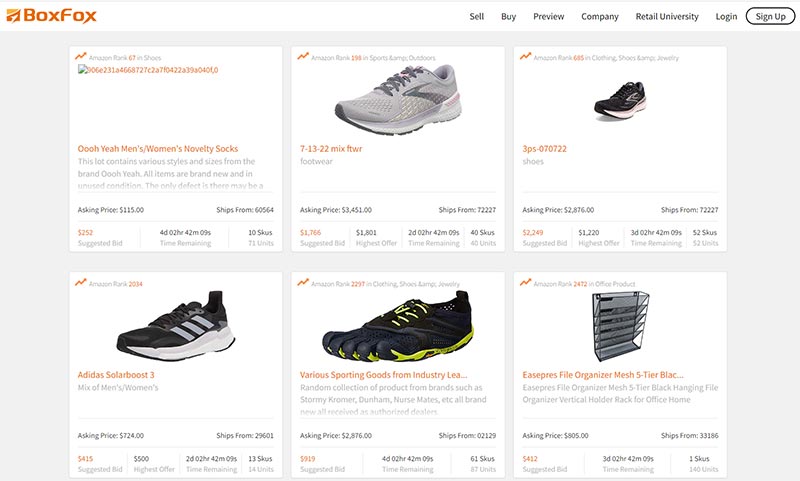 BoxFox is intended for surplus and clearance inventory and there's no minimum purchase. As a buyer, you pay a 7% transaction fee and the shipping cost.
How To Make Money Selling Amazon Return Pallets
The best way to make money with Amazon return pallets is by refurbishing the merchandise and reselling each product at higher prices on marketplaces like Amazon or your own ecommerce store. This process is known as retail arbitrage.
The secret to being successful selling Amazon return pallets is to take the time to refurbish as much of the product as possible to make it seem "like new".
There are also several strategies that you can employ to boost the value of your liquidated goods and it's both an art and a science.
Strategy #1: Repair And Refurbish EVERYTHING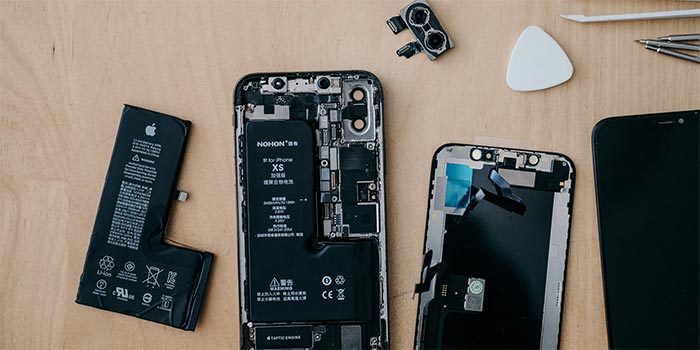 Fixing the item that you want to resell is par for the course, and that's where most people stop.
But if you can sell a working and FULLY PACKAGED product, you'll make significantly more money than selling a functional, but unboxed product by itself.
The problem with most Amazon return pallets is that the packaging and accessories are often damaged or non existent. And in order to get top dollar for resale, you must track everything down.
Fortunately, you can often buy empty boxes for popular merchandise on Ebay.
For example, let's say that I receive a bunch of Apple watches in my Amazon return pallet without boxes or instructions. By performing a quick search on Ebay, I can buy 5 empty Apple watch boxes for $35.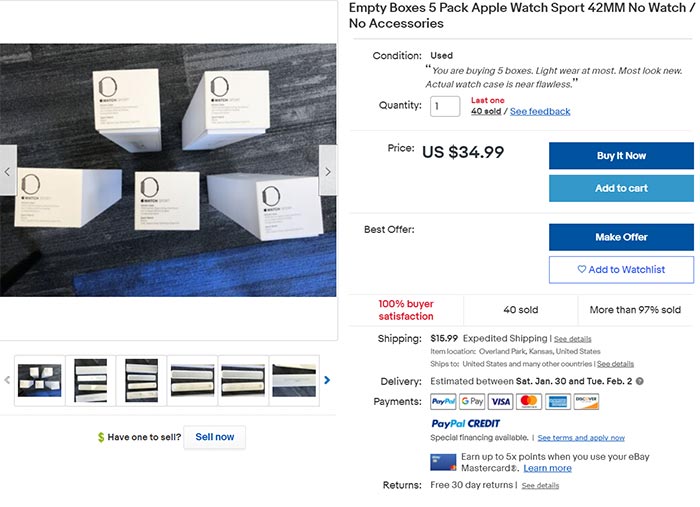 $7 for an empty box might sound a bit high, but a boxed Apple watch will command a 25%+ premium in resale value with the box than without!
As a result, it's in your best interests to track down the box, the instructions and all of the accessories prior to resell. As an added bonus, you may want to invest in a shrink wrap machine as well!
Strategy #2: Bundle Products Together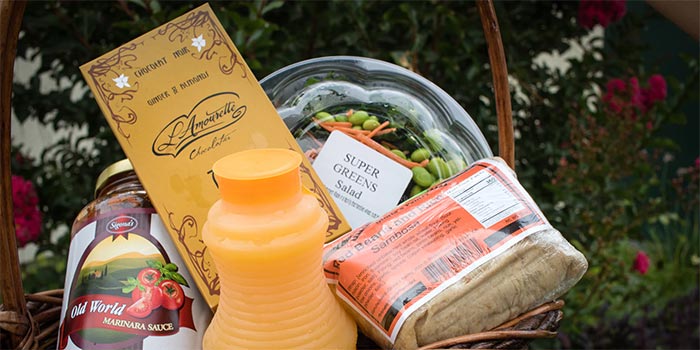 Back in the day, I used to buy broken computer equipment for parts that I would strip down and sell individually. But once I had mastered the art of reselling, I discovered that a fully working computer was worth significantly more than its parts.
For example, I could charge a 25% percent premium for a working computer compared to the value of the parts inside.
There are many products that can be bundled together to increase the overall value of your offering. This way, you can sell off more of your inventory in a single shot.
Strategy #3: Accessorize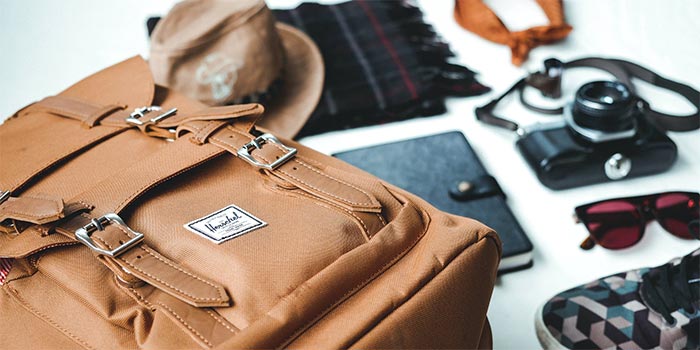 In many cases, items like electronics are returned because they are missing a charger or some accessory that was not included in the box. Accessories can be easily located on Ebay and can make a huge difference in your asking price.
In general, any item missing from the original box will make your product come across as more used.
For example, a brand new Apple watch WITHOUT the charger will sell for less than a "like new" Apple watch with all accessories and box that is shrink wrapped.
How Much Can You Make Selling Amazon Return Pallets?
If you are meticulous about refurbishing every item in a pallet, then you can make up to a 30-50% profit off every Amazon return pallet that you buy.
But you must research the contents of every pallet. For example, you should look up every item (if the information is available) on both the Ebay and the Amazon app to calculate your potential profit.
Evaluate the cost for every piece in the pallet and how much it could potentially sell for and then apply a weighting factor to account for broken merchandise.
With some practice and a little bit of luck, you'll eventually develop a set of standard operating procedures to buy and evaluate products to sell.
Is Buying Amazon Return Pallets Worth It?
Buying and selling returned Amazon merchandise in bulk can be both exhilarating and fun and make you up to 100k in profit at the same time.
The main advantage of this business model is that you don't really need much storage.
Most of the products that you buy from your pallet will be immediately sent back to Amazon's warehouses for resale or listed on Ebay.
It also doesn't require much money or technical skill to start because you will be relying on 3rd party marketplaces for your sales.
But in the long run, buying and selling returned merchandise is not easily scalable and it can feel like running on a hamster wheel. You never know when your next pallet will be your last and you'll often end up with lots of unsellable merchandise.
The main reason I stopped my online arbitrage business was because it had plateaued and I wasn't willing to invest in more human capital to continue to grow it.
In addition, I had so much junk lying around the house that my wife threatened to divorce me:) But it's a great way to get started in ecommerce.
So if you are new to selling online, buying and selling Amazon return pallets can be a great way to dip your toes in the water without much risk.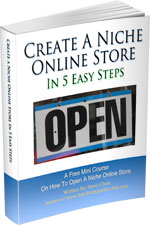 Ready To Get Serious About Starting An Online Business?
If you are really considering starting your own online business, then you have to check out my free mini course on How To Create A Niche Online Store In 5 Easy Steps.
In this 6 day mini course, I reveal the steps that my wife and I took to earn 100 thousand dollars in the span of just a year. Best of all, it's free and you'll receive weekly ecommerce tips and strategies!
Note: This post above may contain affiliate links, which means that I may receive a commission if you make a purchase when clicking a link. Please consult our privacy policy for more information.
Related Posts In Products To Sell On Amazon
About Steve Chou

Steve Chou is a highly recognized influencer in the ecommerce space and has taught thousands of students how to effectively sell physical products online over at ProfitableOnlineStore.com. 

His blog, MyWifeQuitHerJob.com, has been featured in Forbes, Inc, The New York Times,  Entrepreneur and MSNBC.  

He's also a contributing author for BigCommerce, Klaviyo, ManyChat, Printful, Privy, CXL, Ecommerce Fuel, GlockApps, Privy, Social Media Examiner, Web Designer Depot, Sumo and other leading business publications.

In addition, he runs a popular ecommerce podcast, My Wife Quit Her Job, which is a top 25 marketing show on all of Apple Podcasts. 

To stay up to date with all of the latest ecommerce trends, Steve runs a 7 figure ecommerce store, BumblebeeLinens.com, with his wife and puts on an annual ecommerce conference called The Sellers Summit.  

Steve carries both a bachelors and a masters degree in electrical engineering from Stanford University. Despite majoring in electrical engineering, he spent a good portion of his graduate education studying entrepreneurship and the mechanics of running small businesses.