Every now and then, you'll source a product that simply does not sell. And when this happens, you'll need an economical way to recoup the cost of your Amazon FBA merchandise or use an Amazon liquidation company.
Getting rid of your unsold inventory and closing your Amazon listing is a tough decision to make especially if you invested a lot of money upfront to purchase your goods.
But here are some compelling reasons to liquidate your slow selling Amazon products.
Storage Fees Are Killing You – Amazon's storage fees are quite high to begin with and they raise their prices every year. If you are on the cusp of incurring long term storage fees, you'll want to liquidate your inventory before that happens.
Your Inventory Is Weighing You Down Mentally – There are many problems to worry about with an ecommerce business and you should be focusing your time on your best sellers, not your duds.
Not Worth Your Time – It's human nature to avoid taking a loss on an investment and your dead weight product may even be selling a few units here and there. But there are other higher ROI tasks you should be attending to!
This post will teach you a number of different ways to get rid of unwanted inventory while mitigating your losses.
Get My Free Mini Course On How To Start A Successful Ecommerce Store
Are you interested in creating a strong, defensible brand for your products? If so, I put together a comprehensive package of resources that will help you launch your own online store from complete scratch. Be sure to grab it before you leave!
The Best Way To Liquidate Your Amazon Inventory
The method that you choose to dispose of your goods depends on your situation and time frame. For example, if you are on the cusp of incurring a significant long term storage fee from Amazon, you'll want to liquidate your goods sooner rather than later.
And in some cases, it makes sense to simply have Amazon destroy your goods.
Here's how much it costs to have Amazon throw away your products.
Size tier
Shipping weight
Removal/disposal fee per unit
Standard size
0 to 0.5 lb
$0.25
0.5+ to 1.0 lb
$0.30
1.0+ to 2.0 lb
$0.35
More than 2 lb
$0.40 + $0.20/lb above first 2 lb
Oversize and special handling items*
0 to 1.0 lb
$0.60
1.0+ to 2.0 lb
$0.70
2.0+ to 4.0 lb
$0.90
4.0+ to 10.0 lb
$1.45
More than 10.0 lb
$1.90 + $0.20/lb above first 10 lb
On the flip side, if mitigating your losses is your highest priority and you have some time, then choosing a more gradual liquidation approach might be more appropriate.
Below are all of the different ways to liquidate your Amazon products and goods that you sell on your ecommerce store.
Amazon Liquidation Strategy #1 – Create A Discount Code And Submit To A Deal Site
There are hundreds of daily deal sites that advertise coupons and killer deals on Amazon and other ecommerce platforms.
Simply go into your Amazon Seller Central account and create a discount promotion of 50% or greater.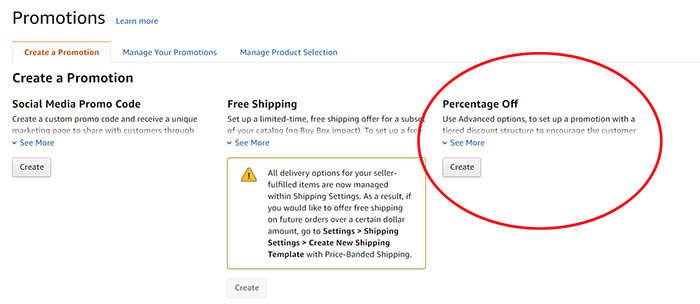 However instead of making the promotion code private, make sure that the code is overtly displayed on the product listing itself by checking the following option.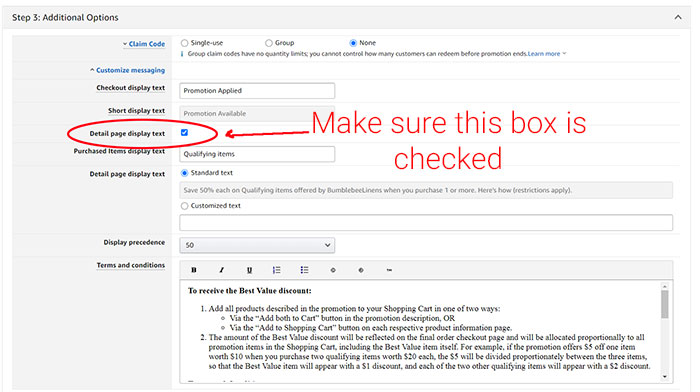 This will cause your product listing to display the promotion code to everyone which should skyrocket your conversion rate.
Then, once you have your promotion setup, email every daily deal site that you can find on Google about your deal and they will broadcast it out for you with their affiliate link.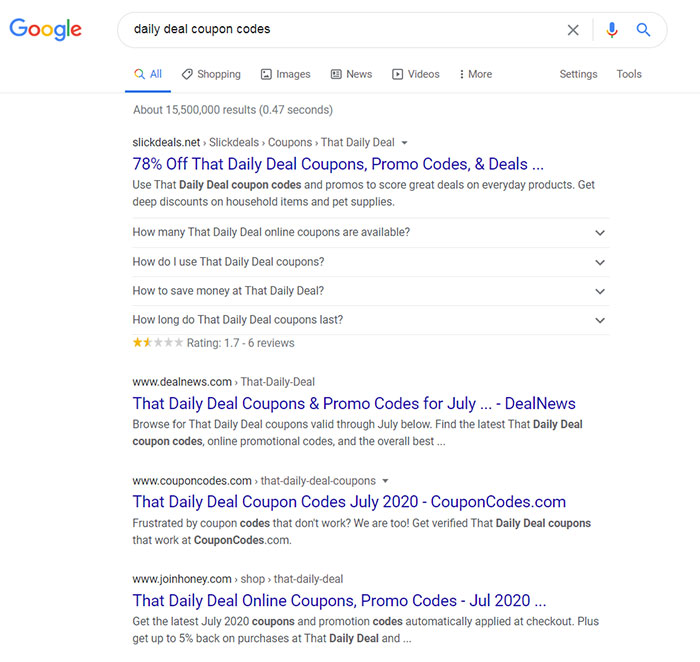 Done correctly, you should attract a lot of bargain hunters.
Amazon Liquidation Strategy #2 – Create A Bulk SKU
When it comes to liquidating products on Amazon, it's best to leverage Amazon's huge marketplace if you can.
The best way to get rid of your goods fast is to simply create a bulk Amazon listing at a significant discount and mark it as merchant fulfilled.
Make sure you use the words "bulk" in your product title.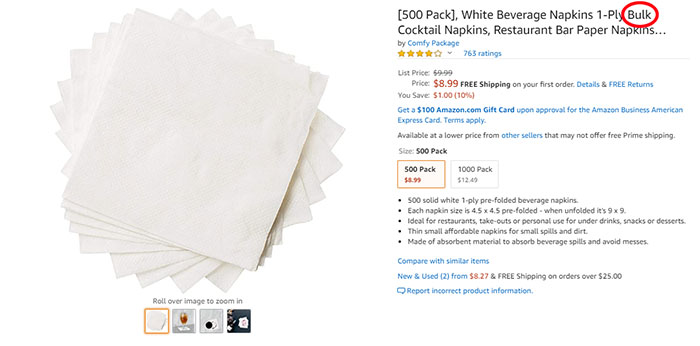 Whenever you get an order, you can simply use Amazon multi-channel fulfillment to fulfill the order direct from Amazon's warehouse.
A few quick notes about this strategy.
You do not need to re-label your goods for your bulk listing. By creating a merchant fulfilled listing, you can send a bunch of your existing FBA products to fulfill your order
By applying the word "bulk" to your listing title, you will naturally attract larger buyers for your goods. You may also want to list your goods on Amazon Business if applicable at a significant discount.
Amazon Liquidation Strategy #3 – Sell Your Goods On Ebay
Ebay is an excellent liquidation outlet for your Amazon products and the best part is that everyone's sales data is widely visible.
If you did your homework prior to selling your product, hopefully you chose a product with a high sell through rate on Ebay.
In any case, if you want to liquidate your products quickly on Ebay, simply create a bulk item auction with a low starting price to create buzz and then rely on multiple shoppers to bid up your bulk listing.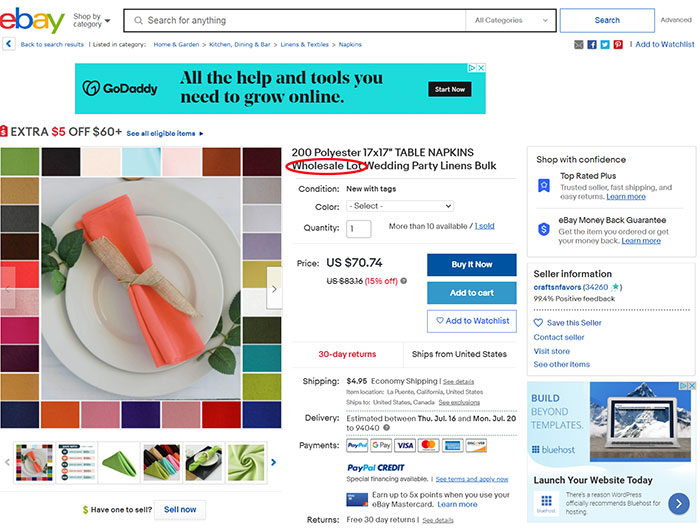 In your listing title, make sure you use words like "Clearance", "Wholesale Lot" or "Bulk" as that will attract buyers.
Amazon Liquidation Strategy #4 – List Your Items On Amazon Outlet
Amazon Outlet is a great place for customers to shop for clearance items and heavily marked down goods. Essentially, Amazon Outlet is an outlet mall for online shoppers.
On the "Manage Excess Inventory" page, you can submit a promotional offer of at least 20% and selected deals will be featured on the Amazon Outlet page for a fixed period of two weeks.
Here's how it works.
From the inventory menu, select Inventory Planning as shown below and then click on the Manage Excess Inventory tab.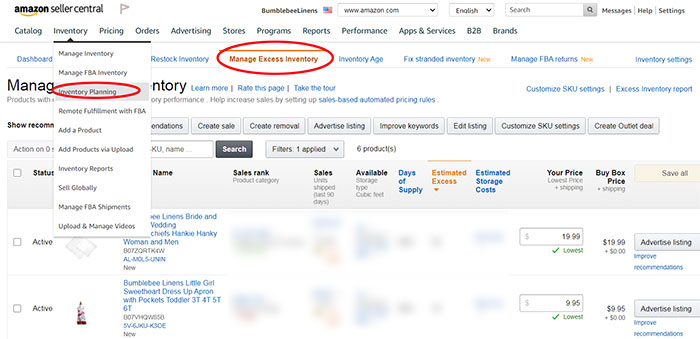 Then, click on the "Create Outlet Deal" button to see which products are eligible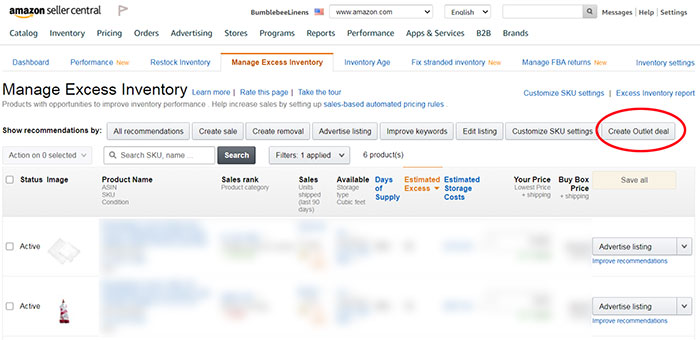 Finally, select "Create Outlet Deal" from your desired product, enter your price and click submit.
The best part is that listing your goods on Amazon Outlet is free although you still have to pay for fulfillment and referral fees.
However, you can not list your products on Amazon Outlet unless you meet the following requirements.
You must have a Professional selling plan
Your seller rating must be at least 3.5 stars
You must have inventory in Amazon FBA for at least 90 days
You must have more than 10 units in stock
Your product must have some sales history
Your product must be in new condition
Your product must have a rating of at least 3 stars or no reviews
You can not be enrolled in Subscribe & Save
Your product can not be enrolled in a different promotion
Your product can not have been on an Amazon Outlet deal for the past 60 days
Overall, Amazon Outlet deals are free to run and behave much like a lightning deal.
This liquidation strategy is a bit of a crap shoot, but with a little luck, your liquidation deal will be shared by a large network of Amazon influencers and potentially go viral.
Here's how to set it up.
Under the Advertising tab in Seller Central, select "Social Media Promo Code"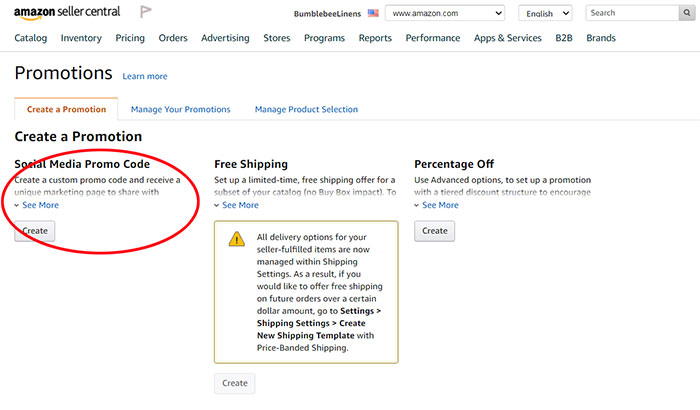 Then, under Additional Options, select "Share This Promo With Amazon Influencers"

With a little bit of luck, a large influencer could pick up your promotion and share it with their audience!
Amazon Liquidation Strategy #6 – Use Amazon Vine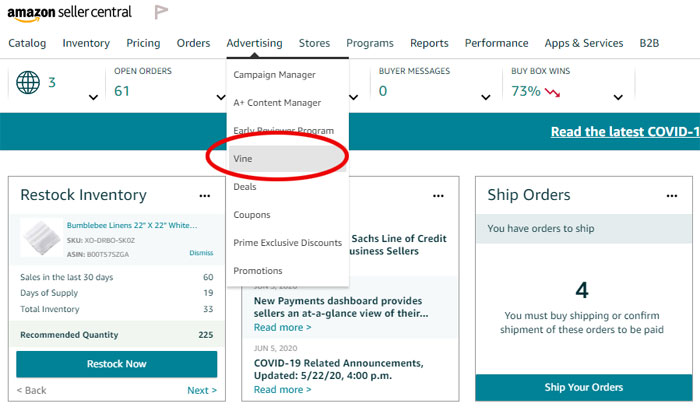 Amazon Vine is a product review program that Amazon manages and their reviewers are invite only. All Amazon Vine members receive free products in exchange for their unbiased review.
By enrolling your products in Amazon Vine, you must give away 30 units to Amazon Vine review members. However, a significant percentage(80%+) of these members will leave an honest review of your product.
If you believe that your product still has some life left, then using the Amazon Vine program could jump start the visibility of your listing in Amazon search.
Currently there's no fee to enroll and you can only sign up your products that have less than 30 reviews.
To use Vine, simply select this option in Seller Central under "Advertising".
Amazon Liquidation Strategy #7 – Use An Inventory Liquidator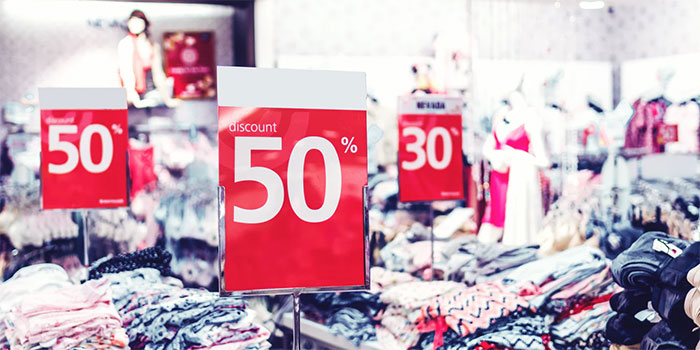 If you Google "Amazon Liquidation Outlet", you'll find that there are many liquidation companies that will buy your merchandise for pennies on the dollar.
However, you'll typically get less than 5% back on your products. If you are thinking about using a liquidation outlet, you have to factor in whether it's worth your time because…
You still have to recall your goods from Amazon which costs money.
You may incur additional costs to get your goods to the liquidator.
Recently, Liquidation.com disclosed that it spent approximately $33.7 million on Amazon liquidation inventory. And to give you an idea of their profits, they sold that inventory for around 5% of the retail value.
This means that for them to make a profit, you will probably get paid significantly less than 5%!
Liquidation.com also sells Amazon return pallets to liquidate returned merchandise. Overall, liquidation outlets should be your last resort.
Amazon Liquidation Strategy #8 – Donate Your Goods To Charity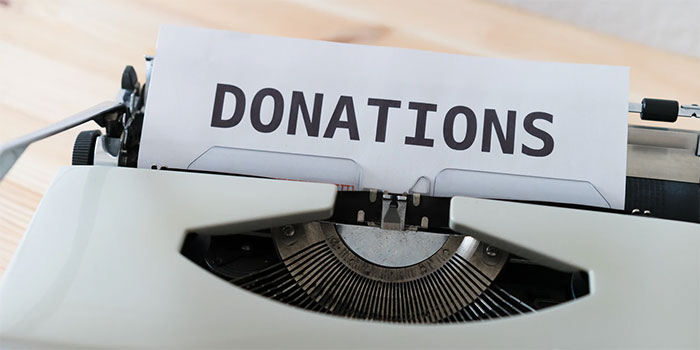 For some reason, this option is often overlooked. But donating your goods to charity is not only painless and easy but you are actually helping someone in need.
Depending on your tax bracket, you could recoup around a third of your money by simply donating all of your products to Goodwill (for example), and writing it off on your tax return.
Editor's Note: I'm not a tax attorney so please take my tax advice with a grain of salt:)
For our ecommerce business, we routinely donate a large portion of our irregular merchandise to charity every year. Overall, it comes down to time.
Would you rather spend your effort trying to recoup a few pennies or would you rather get rid of your merchandise in one fell swoop without much effort?
Over the years, we've leaned more and more towards the charity route.
Amazon Liquidation Strategy #9 – Sell To Your Competitors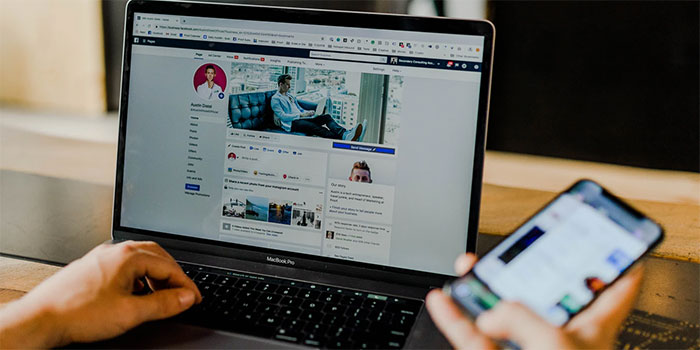 If you don't plan on selling a product ever again, it makes sense to reach out to as many related sellers as possible and simply ask them if they want to buy your unsold stock.
We've actually employed this tactic in reverse on several occasions.
For example, we frequently receive offers from handkerchief vendors who are willing to sell us their inventory for pennies on the dollar. Because we have a large audience of handkerchief buyers, we can easily move stock whereas they can not.
With the right deal in place, this can be a win win strategy for both parties.
My Advice To You
Overall, you will eventually source a product for your ecommerce business that does not sell as well as you expect. It's inevitable!
And the best way to mitigate your losses is to have a proper liquidation plan from the very beginning.
But planning aside, the best way to liquidate your goods is by leveraging your own audience.
For example, I can usually liquidate most products by simply marking them down 50% and sending it out to my email list. If I'm willing to discount more, I can easily run a large promotion and send it to a daily deals site.
All of the Amazon liquidation methods described above should be evaluated carefully based on effort and time versus the money.
Most new entrepreneurs heavily discount the value of their time. But sometimes, it's better to get rid of everything quickly, take a loss and focus on higher income generating activities. Good luck!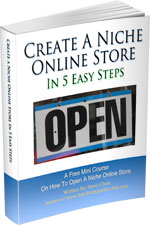 Ready To Get Serious About Starting An Online Business?
If you are really considering starting your own online business, then you have to check out my free mini course on How To Create A Niche Online Store In 5 Easy Steps.
In this 6 day mini course, I reveal the steps that my wife and I took to earn 100 thousand dollars in the span of just a year. Best of all, it's free and you'll receive weekly ecommerce tips and strategies!
Note: This post above may contain affiliate links, which means that I may receive a commission if you make a purchase when clicking a link. Please consult our privacy policy for more information.
Related Posts In Amazon Sales Strategies
About Steve Chou

Steve Chou is a highly recognized influencer in the ecommerce space and has taught thousands of students how to effectively sell physical products online over at ProfitableOnlineStore.com. 

His blog, MyWifeQuitHerJob.com, has been featured in Forbes, Inc, The New York Times,  Entrepreneur and MSNBC.  

He's also a contributing author for BigCommerce, Klaviyo, ManyChat, Printful, Privy, CXL, Ecommerce Fuel, GlockApps, Privy, Social Media Examiner, Web Designer Depot, Sumo and other leading business publications.

In addition, he runs a popular ecommerce podcast, My Wife Quit Her Job, which is a top 25 marketing show on all of Apple Podcasts. 

To stay up to date with all of the latest ecommerce trends, Steve runs a 7 figure ecommerce store, BumblebeeLinens.com, with his wife and puts on an annual ecommerce conference called The Sellers Summit.  

Steve carries both a bachelors and a masters degree in electrical engineering from Stanford University. Despite majoring in electrical engineering, he spent a good portion of his graduate education studying entrepreneurship and the mechanics of running small businesses.