Most ecommerce business owners focus their efforts and marketing dollars on trying to land new customers. But getting cold traffic to convert is not only hit or miss but expensive as well.
In fact, did you know that most entrepreneurs who advertise on Facebook consider a top of funnel ad campaign successful if they just break even?
Now how can an unprofitable ad campaign possibly be considered a success?
It's because successful ecommerce business owners know that customers who buy from you once are 65% more likely to buy from you again and repeat sales are where the profits are at.
It's all about lifetime value of a customer!
Here are some statistics to further reinforce this point.
It costs 5X more to acquire new customers than to keep current ones – The National Law Review
61% of small businesses report that more than half of their revenue comes from repeat customers – BIAKelsey
A 5% increase in customer retention can increase a company's profitability by 75% – Bain & Co
A 2% increase in retention has the same effect as decreasing costs by 10% – Leading On The Edge Of Chaos
This article is part 3 of a 3 part series on how to double your ecommerce business. Below are links to part 1 and part 2 in case you missed them.
Today, I'm going to reference real data from both my Amazon and my ecommerce store to show you how you can drastically increase your ecommerce sales by leveraging the power of repeat business and increasing lifetime value.
Get My Free Mini Course On How To Start A Successful Ecommerce Store
Are you interested in creating a strong, defensible brand for your products? If so, I put together a comprehensive package of resources that will help you launch your own online store from complete scratch. Be sure to grab it before you leave!
Why Customer Lifetime Value(LTV) Is Key And Why Repeat Business Is So Powerful
Listening to firms like Bain & Co preach the merits of repeat business is one thing, but real data is always more convincing. As a result, I'm going to share some actual numbers from my shop.
If you are not familiar with my ecommerce store, Bumblebee Linens, we primarily sell handkerchiefs and linens catering to the wedding industry.
Even though the wedding industry is quite lucrative, what sucks about it is that the opportunities for repeat business are few and far between.
At least that was my original assumption until I ran some numbers on my clientele.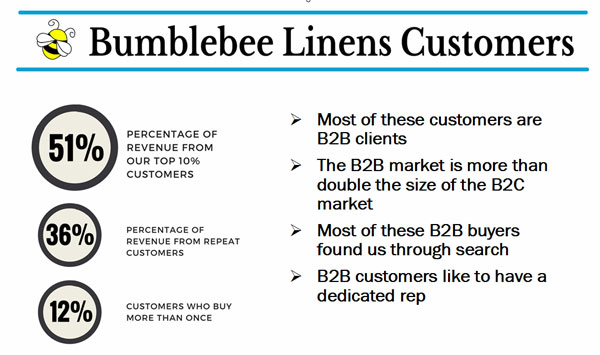 As expected, only a small fraction(12%) of our customers are repeat customers. But these 12% make up over 36% of our revenues!
And when I look at data from prior years, the numbers are consistent.
Every single year, we can count on between 30-40% of our annual sales being in the bag without doing any additional work!
As a result, my wife and I spend a significant amount of effort getting existing customers to buy more.
The 67/20 Rule Of Ecommerce Sales
Even though repeat customers are incredibly valuable and can provide a strong foundation for your ecommerce business, you can't go after everyone.
Most small business owners have limited resources so when it comes to increasing your repeat sales, you have to focus your efforts on the customers who will make you the most money.
For example, here's an analysis that I recently performed on my online store.
First off, I created separate segments in Google Analytics based on customer purchase value.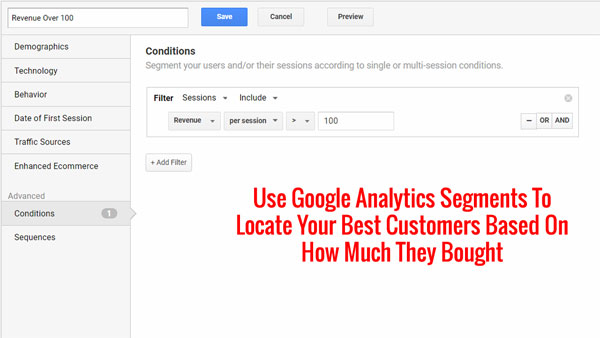 And with this data, I created a breakdown of my customer distribution based on average order value.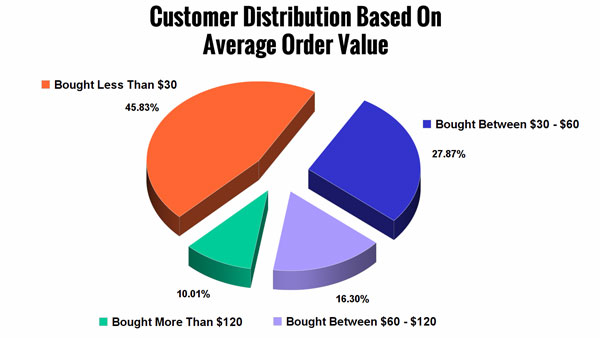 According to the graph above, almost half of my customers (45.83%) spend less than $30 and only 10% of my customers spend more than $120.
Note: The average order value for my store is around $60 which is why I specifically chose $30 (.5 AOV) and $120 (2X AOV) as my thresholds for this analysis
In other words, most of my customers spend less than half of my typical average order value..
But watch what happens when I frame the data slightly differently.
The graph below is my store's revenue distribution as a percentage of sales based on average order value.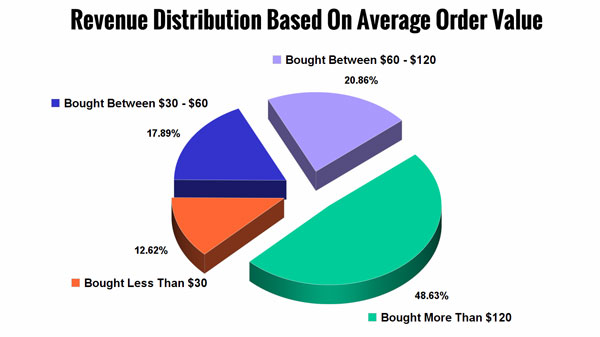 According to my data, my biggest customers who spend over $120 per order generate almost half of my overall sales. Meanwhile, my cheapest customers who spend less than $30 only contribute 12.6% to the bottom line.
What is this data telling me?
I don't have many big fish customers but they are making me the most money!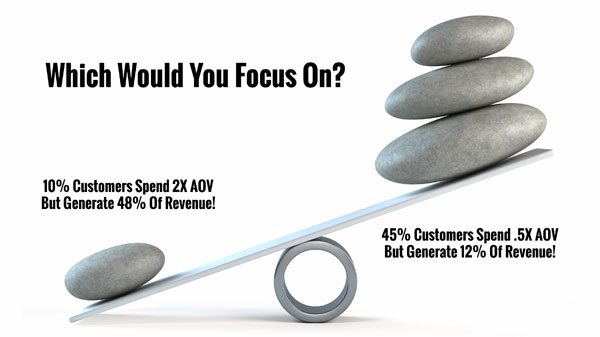 Here's some more data about our top customers.
Our top 10% of customers yield 51% of our revenues
Our top 20% of customers yield 67% of our revenues
In a nutshell, my best customers are generating the bulk(67%) of my sales and that's where my focus should be. If I want to increase my profits, I need to concentrate all of my efforts on my cash cows.
Note: The numbers for my shop are not unusual and I've compared notes with several of my ecommerce colleagues. If you do a little digging into your data, you'll find that between 67-80% of sales will come from your top 20% of customers.
Step 1: Filter Out Your Best Customers On Amazon

One of the biggest disadvantages of selling on Amazon is that Amazon purposely hides customer data from you.
They hide their email addresses
They hide their phone numbers
Not only that, but they make it a major pain in the butt to access and analyze your sales data.
But with the right tools, you can easily find out who your best customers are and take appropriate action.
Right now, I'm using Efficient Era to easily extract information about my top customers on Amazon.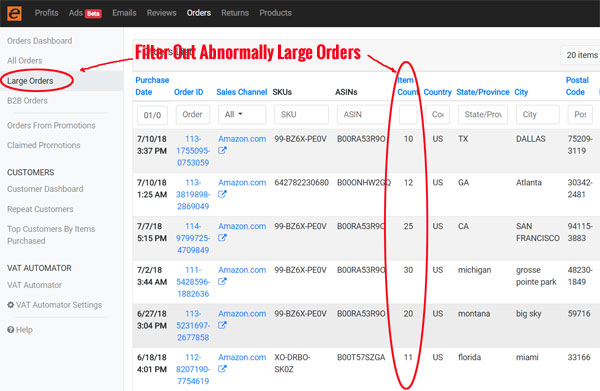 With just one click of the button on the "Large Orders" tab, I can easily find people who have bought unusually high quantities of product.
Why are these large orders important? It's because large orders usually indicate a business customer who has buying power.
In the case of our online shop, most people who buy in large quantities are event or wedding planners or businesses who have consistent needs.
Efficient Era conveniently allows you to download all of these customers into a spreadsheet!
BTW, signing up for Efficient Era is a no brainer if you run an Amazon business as the tool is practically free. Smaller Amazon sellers often get away with paying less than a dollar per month!
Click Here To Sign Up For Efficient Era For Free
Step 2: Track Down Your Large Customers On Amazon
Once you know who your large customers are, it's relatively straightforward to find their contact information. Even though Amazon does not provide any phone numbers or email addresses, you can easily find business listings online.
For example, this customer purchased 10 dozen napkins via 2nd day air from us which is an unusually high number for an individual.
By doing just a little searching on Google, LinkedIn and Facebook, it was immediately obvious that this customer works for a catering company.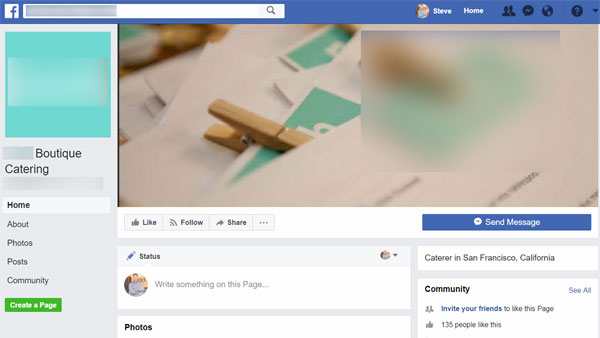 A few minutes later, I had this company's phone number and real email address.
Step 3: Find Your Best Customers On Your Own Website

The process of finding your best customers is even easier on your own website because you have all of the data from prior purchases.
What I like to do is go through my database and search for the following…
Customers who have purchased over 2X my typical average order value
Customers who have purchased more than once
Customers who have purchased the most over all time
Because I use Klaviyo as my email provider, I have all of this data available at the push of a button and I can easily create email segments.
For example, here's a segment of repeat customers that I created in 2 seconds.
Klaviyo will also filter out your best customers for you at the push of a button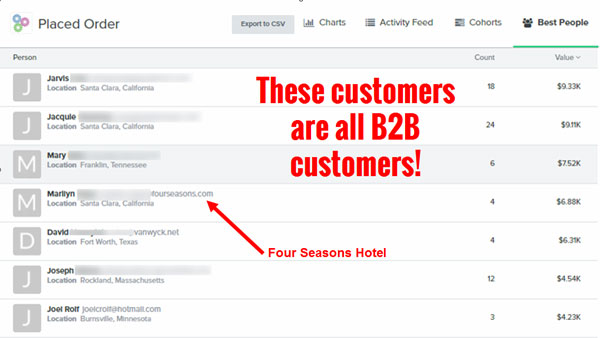 If you have not performed this analysis on your own website yet, I highly advise that you start now because you'll likely be in for a shock.
For example when I first ran this analysis on my own shop, I discovered that almost all of our best customers were hotels, caterers or event planners!
Click Here To Try Klaviyo For Free
Step 4: Reach Out To Your Best Customers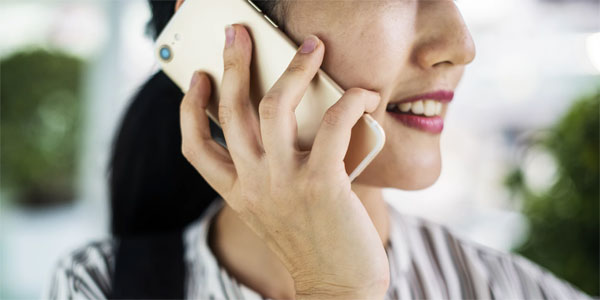 Once you know who your best customers are, it's time to establish a relationship.
Personally, I like to call customers directly but you can just as easily reach out via email or snail mail. In my experience, a phone conversation works best.
The key thing to realize is that these people are ALREADY your customers.
They are aware of your company
They have given you money
They are satisfied with their purchase
They are NOT cold contacts and they will probably need your products again!
Once I get a client on the phone, I'll usually offer them special discounts and a dedicated representative for future orders.
Because most of our large customers are business clients, they are usually thrilled to get a discount and special treatment.
Some of the benefits that we offer our largest clients include…
Special handling of orders and a dedicated contact at our company
Exclusive discounts
Guaranteed on time delivery and concierge service
It ends up being a win win for both us and the customer.
The customer gets discounts and special treatment and we get a customer for life.
Even though it takes a lot of effort to reach and land one of these customers, even just a single repeat customer can drastically affect your bottom line.
Note: I do not recommend using this strategy for Amazon customers. Do so at your own risk.
Step 5: Don't Be Afraid To Email People More Often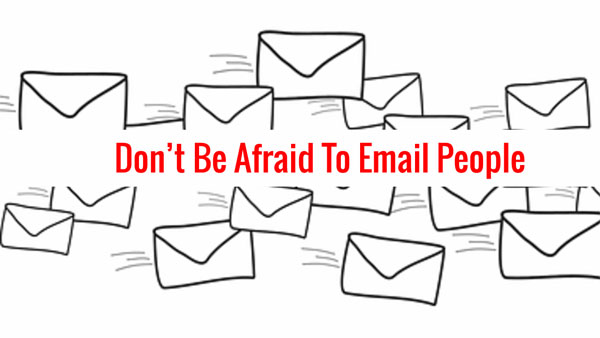 Aside from contacting your biggest customers directly by phone, you can also boost your overall repeat customer rate by sending out email campaigns to your existing list.
After teaching my ecommerce course now for many years, I found that most people are overly paranoid of email list burnout.
Here's the thing.
Customers are more resilient than you think and I'm willing to bet that you are sending emails way less than you should be.
To put things into perspective, our store generates about 30% of our revenues from email marketing.
Roughly 18% of this revenue comes from our automated email campaigns.
Abandoned cart – An email sequence is sent out when a customer starts checkout but doesn't finish the process.
Pre purchase sequence – An email sequence is sent out following a signup for our lead magnet
Post purchase sequence – An email sequence is sent out following a purchase
Win back campaigns – An email sequence is sent out to customers who have purchased once but have not purchased again in a while.
View through abandoned cart – An email sequence is sent out to customers who viewed a product but didn't checkout
For more information about how to implement these email campaigns, please refer to the following articles on my blog.
The other 12% of our email marketing revenue comes from sending out direct campaigns and this is where most people don't send enough.
Editor's note: We also send out postcard marketing campaigns for existing customers.
Quick question for you. Whenever you have a sale, how many emails do you send out? 1 or 2?
Most people send out exactly one email.
But whenever we run a promotion, we send out up to 6 emails.
Here's what our flow looks like.
Email 1: Initial sale announcement and deadline
Email 2: Resend the same email to non opens
Email 3: Sale ends soon email
Email 4: Resend the same email to non opens
Email 5: Sale ends today email
Email 6: Sale extended an additional day
Does this seem like too many emails to you? Over the holidays last year, we emailed our entire list everyday for 12 straight days. And guess what?
Every single email made money!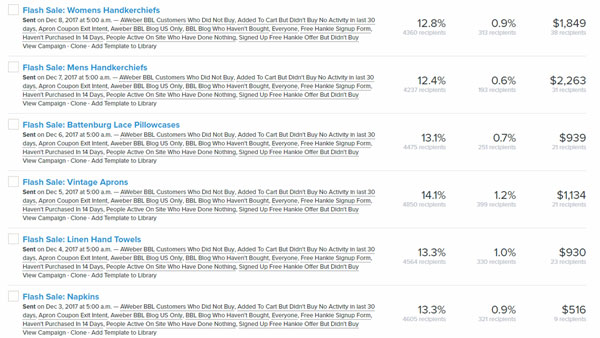 And did anyone complain? Not really!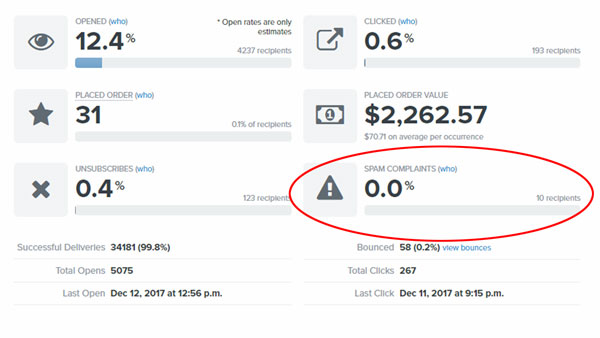 If are just emailing your customers once a month or once every other week, try upping the frequency and see what happens.
I can almost guarantee you that your list will be ok and every email you send will make you money!
Key Takeaways
When it comes to increasing your repeat customer rate and improving your customer lifetime value, you need to take proactive action.
Start by separating out your largest customers and see if you can find any business clientele. Once you find your B2B customers, give them special treatment.
Establish a relationship and get them to buy from you FOREVER!
Meanwhile, don't be afraid to send out emails. Ideally, email marketing should make up at least 20% of your revenues if not more.
If you are on the lower end of this scale, then that means that you aren't leveraging email enough. Good luck!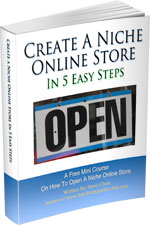 Ready To Get Serious About Starting An Online Business?
If you are really considering starting your own online business, then you have to check out my free mini course on How To Create A Niche Online Store In 5 Easy Steps.
In this 6 day mini course, I reveal the steps that my wife and I took to earn 100 thousand dollars in the span of just a year. Best of all, it's free and you'll receive weekly ecommerce tips and strategies!
Note: This post above may contain affiliate links, which means that I may receive a commission if you make a purchase when clicking a link. Please consult our privacy policy for more information.
Related Posts In Amazon Sales Strategies
About Steve Chou

Steve Chou is a highly recognized influencer in the ecommerce space and has taught thousands of students how to effectively sell physical products online over at ProfitableOnlineStore.com. 

His blog, MyWifeQuitHerJob.com, has been featured in Forbes, Inc, The New York Times,  Entrepreneur and MSNBC.  

He's also a contributing author for BigCommerce, Klaviyo, ManyChat, Printful, Privy, CXL, Ecommerce Fuel, GlockApps, Privy, Social Media Examiner, Web Designer Depot, Sumo and other leading business publications.

In addition, he runs a popular ecommerce podcast, My Wife Quit Her Job, which is a top 25 marketing show on all of Apple Podcasts. 

To stay up to date with all of the latest ecommerce trends, Steve runs a 7 figure ecommerce store, BumblebeeLinens.com, with his wife and puts on an annual ecommerce conference called The Sellers Summit.  

Steve carries both a bachelors and a masters degree in electrical engineering from Stanford University. Despite majoring in electrical engineering, he spent a good portion of his graduate education studying entrepreneurship and the mechanics of running small businesses.