As a buyer, the Amazon Renewed program is a great way to find incredible deals on merchandise online.
As a seller, the Amazon Renewed program is a great way to make some serious money from home selling refurbished merchandise.
More and more people are moving towards buying second-hand items to offset the rising costs of inflation.
The "recommerce" market is currently valued at over $40 billion and is expected to double next year.
In this post, you'll learn how the Amazon Renewed program works and how to sell pre-owned and refurbished items on Amazon step by step.
Get My Free Mini Course On How To Start A Successful Ecommerce Store
Are you interested in creating a strong, defensible brand for your products? If so, I put together a comprehensive package of resources that will help you launch your own online store from complete scratch. Be sure to grab it before you leave!
What Is Amazon Renewed?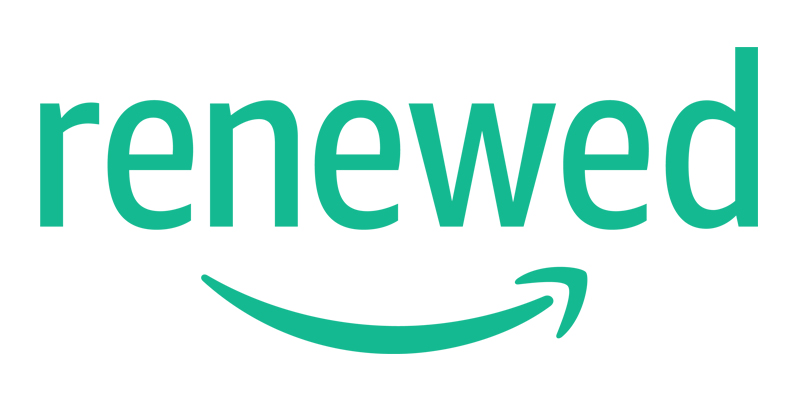 Amazon Renewed is an Amazon program where sellers can sell pre-owned, refurbished and open-box products.
All items must be professionally cleaned, inspected, and tested before being repackaged to look and work like brand new products.
To meet Amazon's quality standards, an Amazon-qualified supplier or specialized third-party refurbisher must test your products before they are listed.
Amazon Renewed products can be broadly categorized into:
Open-box: Items that were removed from their original packaging but weren't used by the customer. Open-box items are generally unused returns or used for demos in online unboxing videos and retail shops.
Pre-owned: Items that have been used and show signs of usage. Pre-owned items are generally lightly-used returned products.
Refurbished: Items that are used and returned due to a fault in the item. These products are repaired before being sold.
Although Amazon Renewed products look like brand new items, they may have minor physical defects like scratches and marks.
To help customers understand the condition of the product and to prevent lower quality refurbished products from being sold, Amazon classifies all "renewed products" based on their condition as follows:
Excellent condition: The item has no scratches or signs of cosmetic damage visible when holding the item 12 inches away.
Good condition: The item has light scratches that are barely visible when held 12 inches away.
Acceptable condition: The item can have a few scratches visible when the screen is turned off. The product also has light scratches clearly visible when the item is held 12 inches away.
Regardless of condition, all Amazon Renewed items:
Are fully functional.
Have more than 80% of their original battery life.
Have generic or original accessories and packaging provided.
Come with a 90-day Amazon Renewed Guarantee.
Is Amazon Renewed Merchandise Safe To Buy?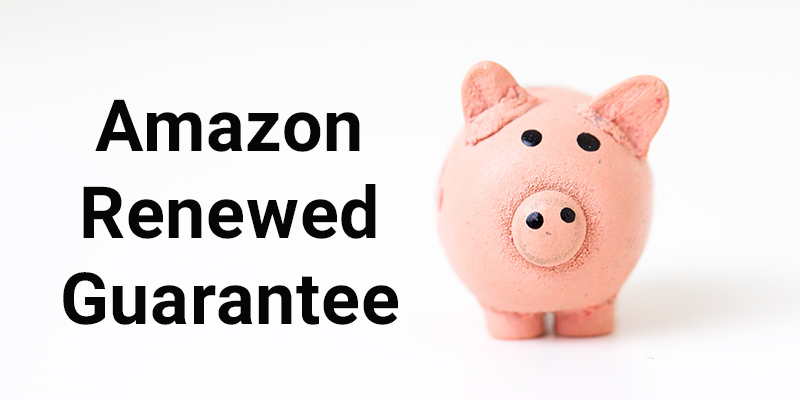 Amazon Renewed products are 100% safe to buy. All renewed merchandise is covered by the Amazon Renewed Guarantee which provides a 90 day warranty on all products sold in North America.
Amazon also forces sellers to have their Amazon Renewed merchandise inspected by an Amazon qualified supplier or 3rd party refurbisher.
As a result, you will not lose any money buying Amazon Renewed products.
What Is The Amazon Renewed Guarantee?
The Amazon Renewed Guarantee is a 90-day warranty program offered by Amazon on all renewed products sold in North America.
Here's what the Amazon Renewed Guarantee offers:
A full refund or a replacement on renewed items returned within 90 days of purchase if the product is not working as expected or if the customer is unsatisfied with the product.
A full refund or a replacement on Renewed Premium items returned within 1 year of purchase.
Free troubleshooting via phone or chat.
Quick support for claims.
The Amazon Renewed satisfaction guarantee is expected to be honored by sellers and not Amazon.
You can also offer your own guarantee to customers in addition to the Amazon Renewed Guarantee. However, Amazon is not responsible for any claims made by your "Voluntary Guarantee."
Here's how the Amazon Renewed Guarantee works:
The customer accesses Amazon's "Talk to the Expert" support team if they are not satisfied with the product.
The customer requests for a replacement if technical troubleshooting doesn't fix the issue.
A prepaid shipping label is sent to the customer to return the product. If you're a Fulfilled by Merchant (FBM) seller, you must opt-in for prepaid return mailing labels within Seller Central. As a Fulfilled by Amazon (FBA) seller, you are automatically eligible for prepaid returns.
Amazon confirms that the customer hasn't accidentally damaged or tampered with the product.
A replacement of the same model, including color and version, is sent if available, or the customer receives a full refund.
What's The Difference Between Amazon Renewed Vs Selling Used Items On Amazon?
The main difference between selling on Amazon Renewed versus selling used items on Amazon is that Amazon Renewed is a separate marketplace where you can win the buy box as a used item seller.
Here are the primary differences between selling used items as a regular seller versus Amazon Renewed.
You can win the buy box as an Amazon Renewed seller which is impossible for a regular used item seller on Amazon.
Amazon guarantees all Amazon Renewed purchases which makes the customer feel safe.
Amazon charges an extra fee for all Amazon Renewed sales.
What Items Are Allowed In The Amazon Renewed Program?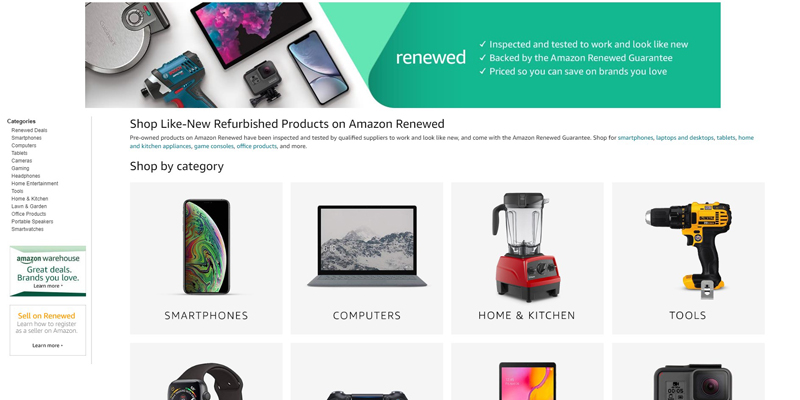 You can sell all items in the following categories under the Amazon Renewed program:
Automotive parts
Cameras
Headphones & audio
Home appliances
Home & industrial tools
Kitchen appliances
Laptops & computers
Musical instruments
Outdoors & sports
Office equipment
Smartphones
Tablets
Television sets
Video game consoles
Watches
Where To Find Items To Sell On Amazon Renewed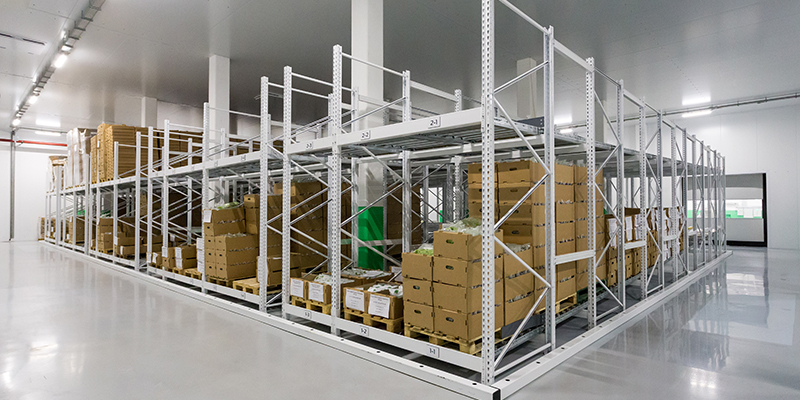 The best places to find refurbished items to sell on Amazon Renewed are manufacturers and wholesale vendors and buying Amazon return pallets from liquidation companies.
Manufacturers: Manufacturers sell excess merchandise to liquidation companies, retailers, and third-party sellers like you, who then resell the products as refurbished for a smaller profit margin.
Liquidation companies: Liquidation companies buy surplus goods from manufacturers or returns from ecommerce companies. They then refurbish the products and resell them to small businesses or D2C.
Amazon Return Pallets: Amazon regularly sells returned merchandise by the pallet sight unseen at low prices via an online auction.
You can buy electronics in bulk from these sources and resell them at near retail prices. However, you need to ensure that all products are in working condition and not missing any parts.
If the product is in its original packaging and has little or no cosmetic issues, you can charge high prices as a "like new" product.
How To Sell Pre-owned And Refurbished Items With Amazon Renewed
The process of listing pre-owned and refurbished items on Amazon is the same as listing a new item, except that you must specify the item's condition.
Here's how to list refurbished items with Amazon Renewed step by step.
Step 1: Sign Up As An Amazon Seller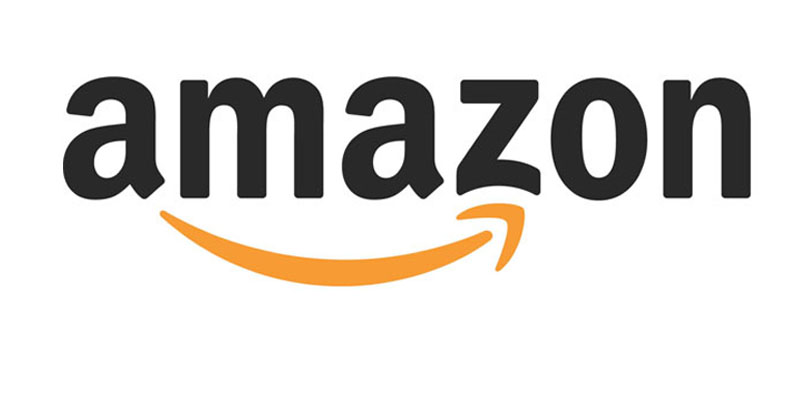 You must register as a professional seller to list pre-owned, open box, or refurbished products on Amazon since Amazon only accepts qualified and experienced sellers for their Amazon Renewed program.
A professional sellers account carries a monthly fee of $39.99 but you get access to Amazon advertising, ecommerce tools, and other features.
There are 3 main Amazon selling fees you must be aware of with Amazon Renewed.
Referral fee: This is Amazon's commission for facilitating a deal between you and the customer. The Referral fee depends on the category. For example, the referral fee for the Computers category is 8%.
Renewed Program fee: All Amazon Renewed sellers must pay a "Renewed Program fee" which differs by category. For example, Renewed cell phone devices are charged a 2% fee.
FBA fee: A Fulfilled by Amazon (FBA) fee is applicable if Amazon stores, packs, and ships products for you.
Step 2: Qualify For The Amazon Renewed Program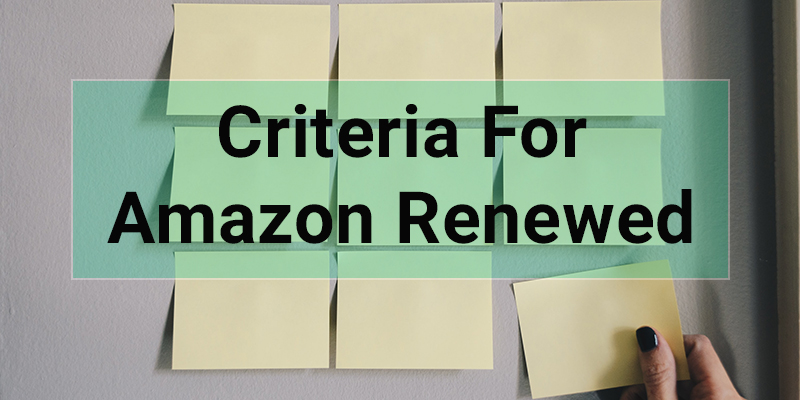 Amazon does not allow every seller to join their Amazon Renewed program. You must meet the following criteria to qualify:
You must supply invoices showing at least $50,000 of total value in qualified refurbished purchases in the previous 90 days from the date of application. Products with a selling price of $15 or less are not counted in the minimum total value of $50,000.
Refurbished Apple item sellers must supply invoices showing a minimum of $2.5 million of total value in Apple refurbished products in the last 90 days from the date of application.
If you want to list a factory refurbished item without manufacturer warranty, you must submit a minimum of 8 images of a sample product and packaging from all sides.
You must submit images of the product with the screen turned on if it's an electronic item.
Your Order Defect Rate (ODR) must be 0.8% or less in the last 60 days from the date of application.
Step 3: Apply For Amazon Renewed
You can submit your application through Seller Central or by emailing renewed-application@amazon.com with the necessary documentation.
Don't forget to add your full name and phone number with the country code. You should receive a response within 10 to 12 business days.
If you don't meet the Amazon Renewed Program's qualification requirements, you can still list your products in "Used condition" under an existing Amazon listing.
Step 4: Find An Existing Renewed Amazon Listing
Amazon allows only one listing per Renewed item. As a result, you must first search for an existing Renewed Amazon listing to find its Renewed ASIN.
For example, here's a listing for "Apple iPad Air (Renewed)."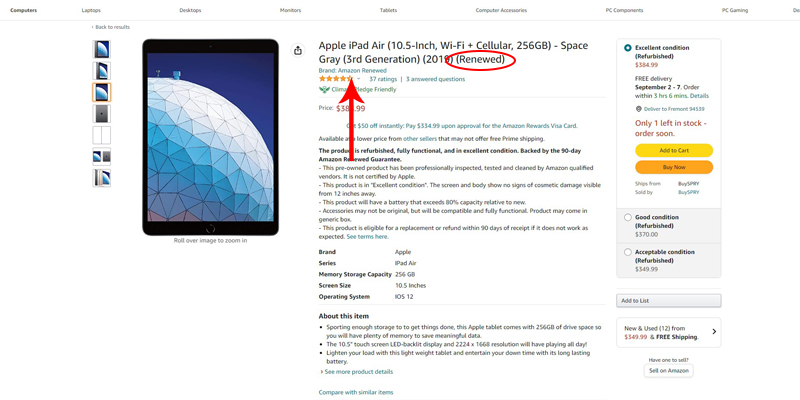 The product has "Renewed" in the title and the brand name is "Amazon Renewed."
You'll see 3 different offers in the Buy Box based on whether the product is in excellent, good or acceptable condition.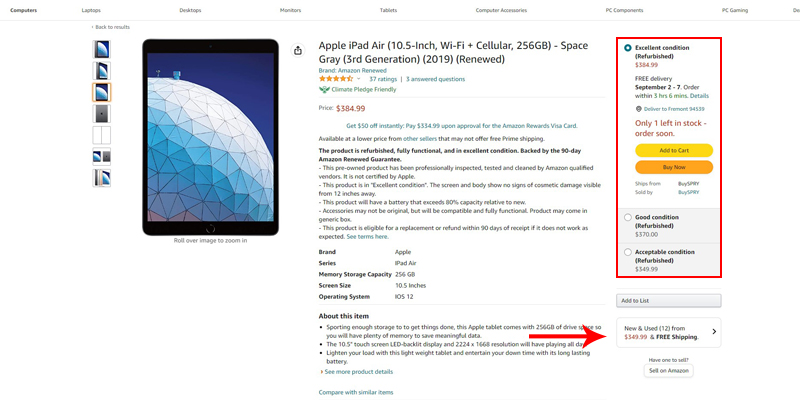 Below the main buy box, you'll find a small box that shows "New & Used" offers.
If you don't win the buy box, clicking the "New & Used offers" link will display offers for all "Renewed" items sorted by price and delivery from low to high.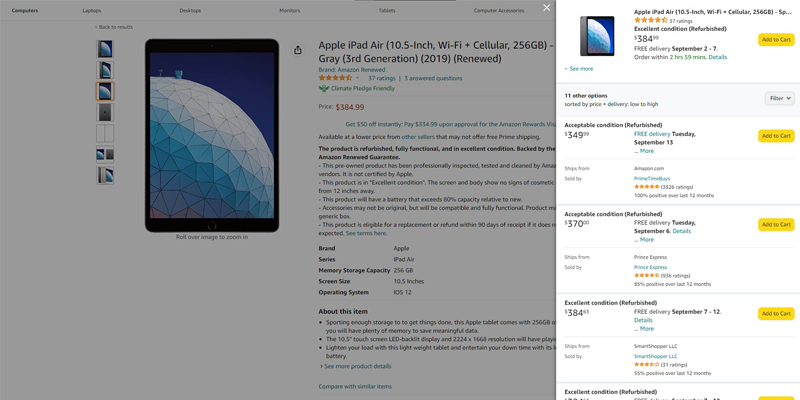 Step 5: Add Your Refurbished Product
Here are step by step instructions how to add your Renewed product to an existing Amazon listing.
Log in to Seller Central, click "Catalog," and select "Add a Product" from the dropdown.
Click "I am adding a certified refurbished product" below the search box. This link is only visible for approved Renewed sellers.
Enter the ASIN of the product in the search box. If you don't know the ASIN, go to the Renewed product page and scroll down to the product information section to find the identification number.
If there's an existing Renewed ASIN, confirm it's the right product and click on "Add offer."
Add product condition, price, and fulfillment method.
Once all required information is added, select "Save and Finish."
If there's a brand-new product on Amazon that doesn't have a Renewed listing, you'll need to create a new Renewed ASIN in order to add your product. Here's how to do it:
Go to "Catalog > Add a Product."
Click "I am adding a certified refurbished product."
Enter the ASIN of the product in the search box.
Amazon will prompt you to add Inventory Quantity, Price, SKU, and UPC.
Click "Create Renewed ASIN."
Tips For Selling On Amazon Renewed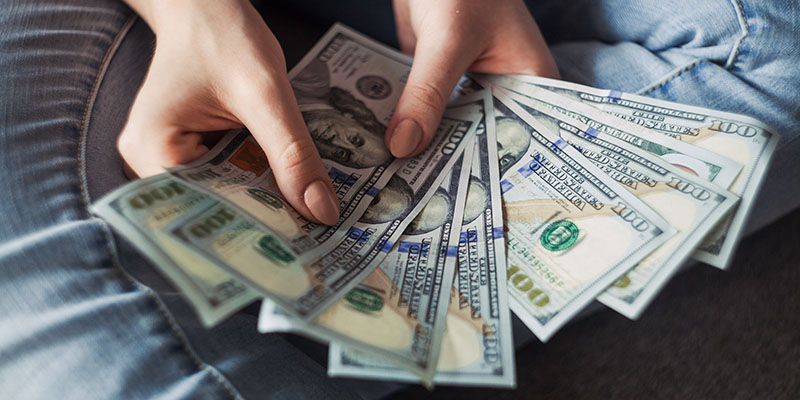 Find products with high demand and low competition: Because you'll be competing with other sellers for the "New & Used" buy box with other sellers, choose a product that's high in demand but isn't sold by many sellers. Use a tool like Jungle Scout to get sales data from other Amazon Renewed sellers.
Avoid selling products that are sold by Amazon: It's extremely difficult to compete against Amazon selling their own products. Don't do it.
Price competitively: Set the renewed product price lower than the current Buy Box price. Because Amazon displays products from low to high pricing, your product will be displayed higher in the list.
Use Amazon FBA to be eligible for Prime: Amazon FBA sellers are automatically eligible for Prime which will increase your conversion rate by ~3X.
Pros of Amazon Renewed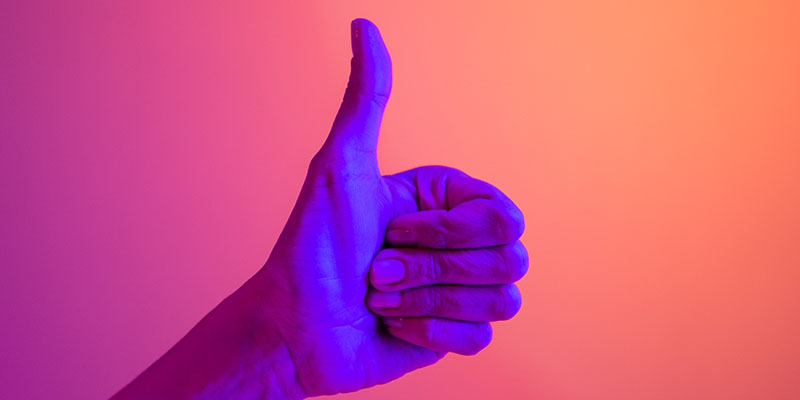 Low competition: Because only qualified sellers are allowed to join the Amazon Renewed program, the competition to sell refurbished items will be lower than selling used on normal Amazon listings.
Amazon favors Renewed products: Renewed products get a separate listing, unlike "Used" products, where sellers can't win the Buy Box. If you price your product competitively, you can win the Buy Box, regardless of product condition.
High profit margins: The market for refurbished items is at an all-time high due to inflation. Amazon is the most popular marketplace for refurbished items on the Internet.
Cons of Amazon Renewed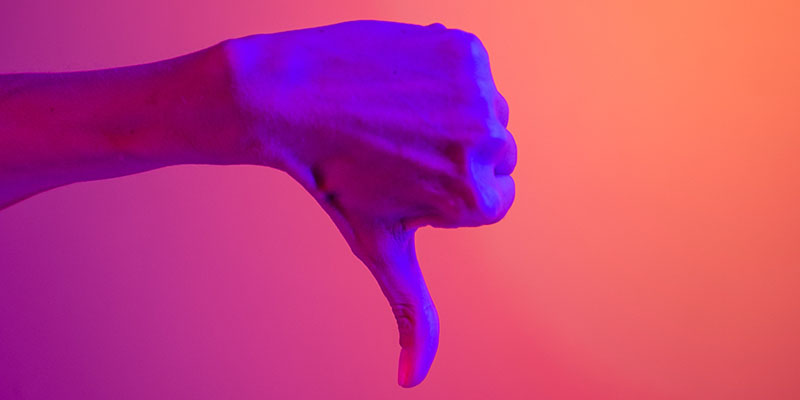 Amazon has strict requirements: Amazon only allows qualified refurbishers to join Amazon Renewed which makes it difficult for beginners to join the program. Amazon also requires sellers to have at least $50,000 worth of sales in the refurbished category.
Difficult to build a brand: The brand displayed under your listing is "Amazon Renewed" which makes it impossible to build your own brand as a seller.
Is Selling Refurbished Items On Amazon Worth It?
Selling refurbished items on Amazon Renewed is 100% worth it if you are meticulous about repackaging and testing every product you sell "like new".
Amazon only wants experienced sellers in their Amazon Renewed program. As a result, you need to have enough inventory before applying for the program.
If you're a beginner, you should start by selling used items on Amazon. Once you generate some sales selling second-hand products, you can look into buying electronics in bulk from suppliers and then applying for the Amazon Renewed program.
If you have experience selling refurbished items or other products on Amazon, then Amazon Renewed can be a great opportunity for you.
However, you should eventually start your own online store where you can build lasting relationships with your customers.
Amazon's high referral and Renewed Program fees significantly affect your profit margins and you can not build a brand on the platform.
Use Amazon as a starting point on your journey towards owning your own ecommerce store.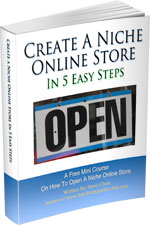 Ready To Get Serious About Starting An Online Business?
If you are really considering starting your own online business, then you have to check out my free mini course on How To Create A Niche Online Store In 5 Easy Steps.
In this 6 day mini course, I reveal the steps that my wife and I took to earn 100 thousand dollars in the span of just a year. Best of all, it's free and you'll receive weekly ecommerce tips and strategies!
Note: This post above may contain affiliate links, which means that I may receive a commission if you make a purchase when clicking a link. Please consult our privacy policy for more information.
Related Posts In Amazon Sales Strategies
About Steve Chou

Steve Chou is a highly recognized influencer in the ecommerce space and has taught thousands of students how to effectively sell physical products online over at ProfitableOnlineStore.com. 

His blog, MyWifeQuitHerJob.com, has been featured in Forbes, Inc, The New York Times,  Entrepreneur and MSNBC.  

He's also a contributing author for BigCommerce, Klaviyo, ManyChat, Printful, Privy, CXL, Ecommerce Fuel, GlockApps, Privy, Social Media Examiner, Web Designer Depot, Sumo and other leading business publications.

In addition, he runs a popular ecommerce podcast, My Wife Quit Her Job, which is a top 25 marketing show on all of Apple Podcasts. 

To stay up to date with all of the latest ecommerce trends, Steve runs a 7 figure ecommerce store, BumblebeeLinens.com, with his wife and puts on an annual ecommerce conference called The Sellers Summit.  

Steve carries both a bachelors and a masters degree in electrical engineering from Stanford University. Despite majoring in electrical engineering, he spent a good portion of his graduate education studying entrepreneurship and the mechanics of running small businesses.