This post will teach you how to create your own Amazon storefront step by step. You'll also learn how to leverage your Amazon store to drive traffic and sales from external sources.
One of the main problems with selling on Amazon is that it's really hard to establish a strong brand. Every product listing looks identical and your brand name is often displayed in a tiny font that is easily overlooked.
To improve your brand visibility, Amazon introduced "Amazon Stores" to allow you to set up a home base within Amazon to highlight your unique value proposition.
Amazon storefronts are especially useful if you don't have your own website yet or if you need a landing page to drive external traffic to your Amazon listings.
This guide will teach you how to create your own Amazon storefront step by step and best practices on how to leverage your storefront to increase your sales.
Get My Free Mini Course On How To Start A Successful Ecommerce Store
Are you interested in creating a strong, defensible brand for your products? If so, I put together a comprehensive package of resources that will help you launch your own online store from complete scratch. Be sure to grab it before you leave!
What Is An Amazon Storefront?
Amazon stores is a feature that allows you to set up your own branded store on Amazon through the use of a graphical page builder. The goal is to provide you with a custom landing page where you can show off your brand and your unique value proposition.
For example, here's what my Amazon storefront looks like.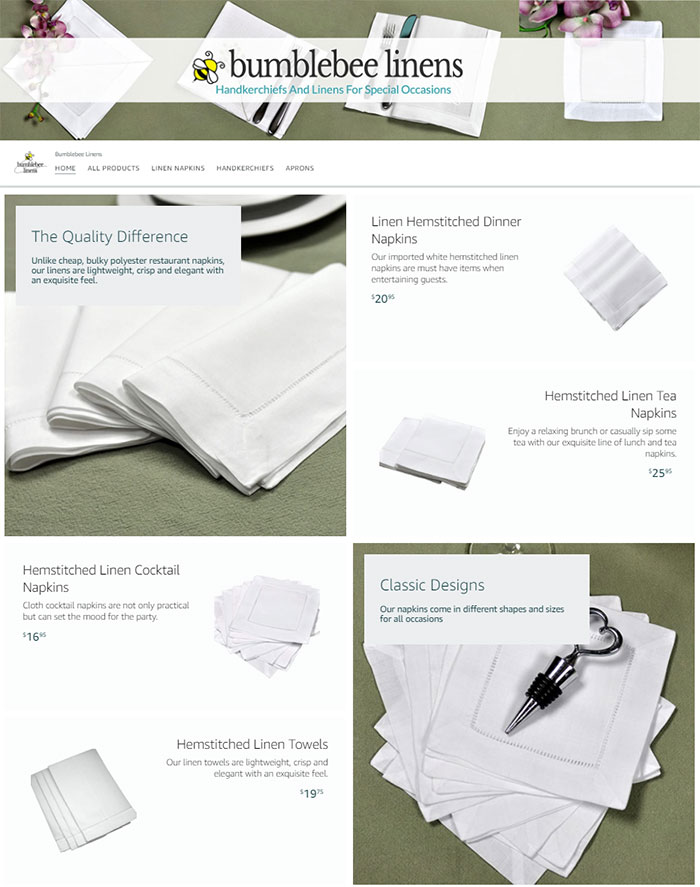 Creating an Amazon storefront does not require any technical skill and Amazon provides many attractive templates that allow you to quickly design a multi-page store within a matter of minutes.
Best of all, setting up an Amazon store is free for any registered brand owner.
Requirements For Setting Up An Amazon Storefront
The main requirement for setting up an Amazon store is that you must be enrolled in the Amazon Brand Registry program.
The Amazon Brand Registry program helps you protect your brand and products from dirty sellers on Amazon and it requires a registered text or image-based trademark.
Brand registry also gives you access to a slew of other Amazon features including A+ content and a special dashboard where you can search for and file copyright and trademark infringement claims.
But outside of the Amazon Brand Registry requirement, there is no minimum number of products required to create an Amazon store. You don't have to pay for advertising either.
Basically, once you are enrolled in brand registry, Amazon storefronts are available to all 3rd party sellers, 1st party sellers and Amazon agencies.
Why You Need An Amazon Store
Amazon Stores are essential if you don't have a website and you need a convenient place to showcase your Amazon products.
If you aren't ready to invest in your own online store yet, you should definitely create an Amazon storefront. Your business needs a home base and your Amazon store can serve as a destination for buyers to learn more about your brand and the specific value it provides.
What's nice about Amazon stores is that you can easily build great looking web pages on Amazon that showcase your products with photos, text and video.
You can also dynamically populate your Amazon store pages with your products based on keyword parameters that you specify.
For example, the apron tab of my Amazon store automatically displays all of my products with the word "apron" in the title.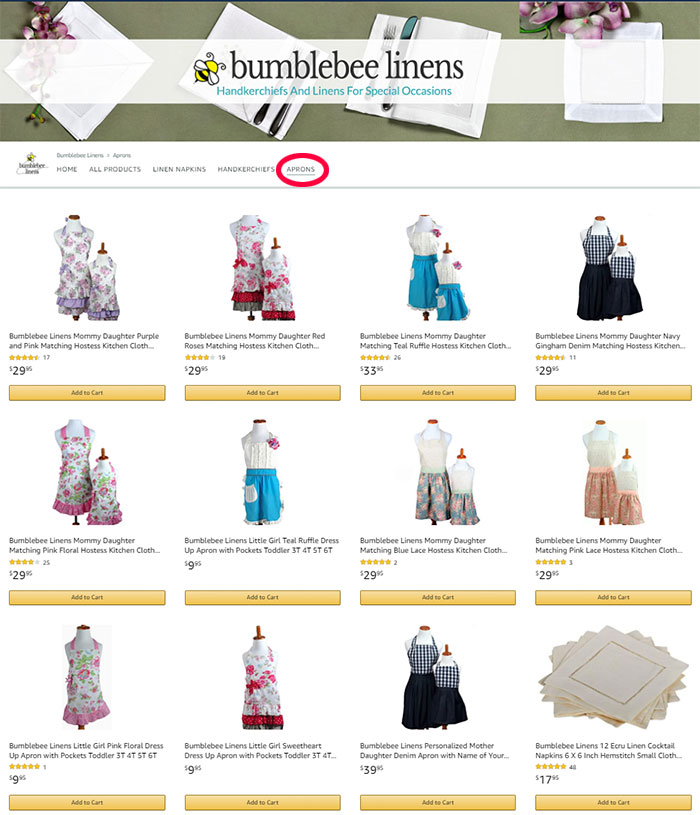 Overall, Amazon Stores let you create multiple pages with up to 3 levels of hierarchy. Everything is self-service and you can use its built in social sharing features to drive awareness and traffic.
Do You Need An Amazon Storefront If You Already Have An Online Store?
If you already own your own online store, creating an Amazon Storefront page is less important until you start running Amazon DSP ads.
In general, driving traffic to your own website should always be your top priority but Amazon DSP ads are the exception.
Amazon DSP ads allow you to drive traffic to your Amazon listings from an external website while leveraging Amazon customer data.
For example, if someone visits my Amazon listing but doesn't buy, I can run an Amazon DSP ad to bring that customer back to my listing even if they are browsing a non-Amazon website.
In any case, people who initially find you through Amazon will want to complete their purchase on Amazon. As a result, it doesn't make sense to drive Amazon retargeted traffic back to your own website.
Instead, you should direct existing Amazon customers to your Amazon storefront because that's where they want to shop!
In a nutshell, even if you own your own website, you should always direct Amazon shoppers to your Amazon storefront page and everyone else to your own online store.
How To Create Your Amazon Storefront Step By Step
The following instructions assume that you have already been approved for Amazon Brand Registry and that you have the Amazon Stores tab available in Seller Central.

If you don't see this tab, that means that you mostly likely don't have Amazon Brand Registry enabled.
Step 1: Choose Your Template
After you click on Stores–>Manage Stores, you'll be directed to the Amazon page builder which you'll be asked to choose a page template.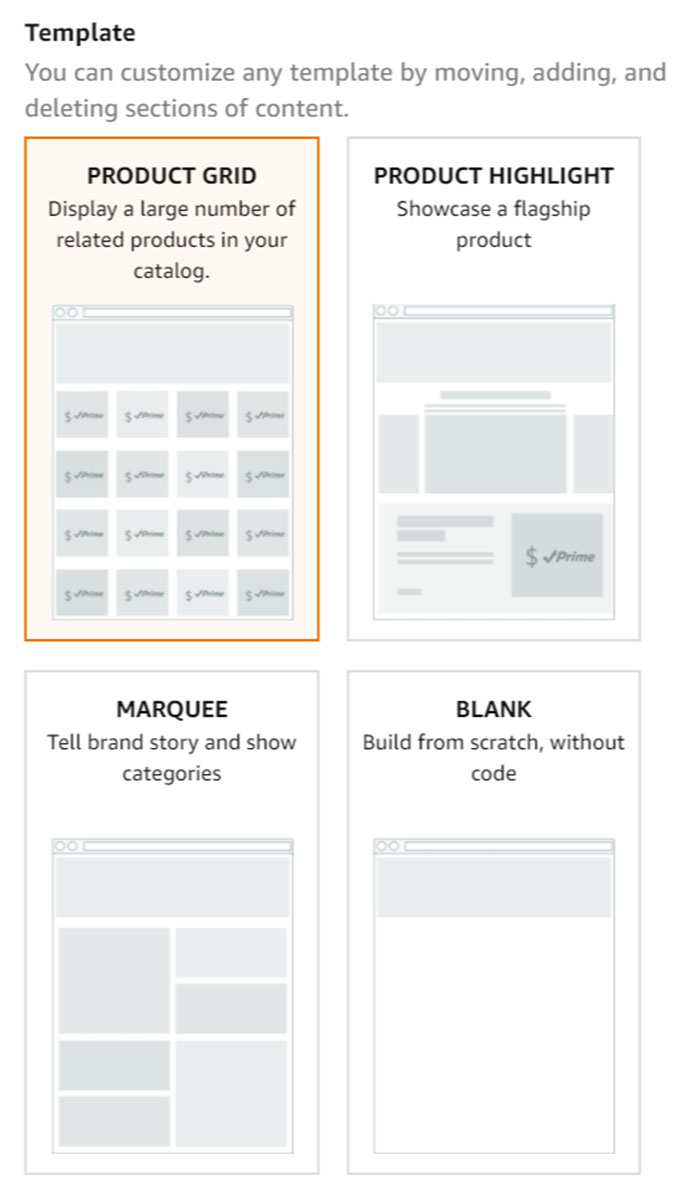 Pick whatever template suits your fancy. I personally prefer the Marquee template but keep in mind that you do not have to use the templates that Amazon provides.
In fact, you can literally create your own design template from complete scratch.
Step 2: Enter In Your Store Settings
Once you choose your template, you'll be directed to the page builder where you get to design your storefront.
The first step is to enter in your store settings and logo.

Then choose your product grid style.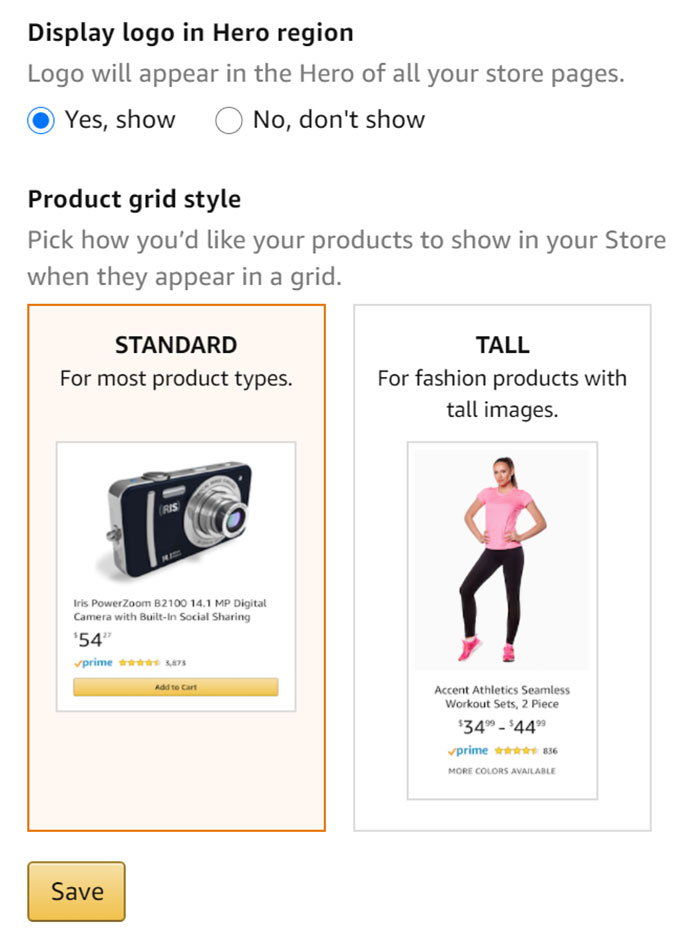 Step 3: Design Your Amazon Storefront
Designing your actual storefront is pretty straightforward as Amazon's design GUI is intuitive and easy to use.
For your home page, you'll want to outline your main unique value propositions front and center above the fold and display your bestselling products.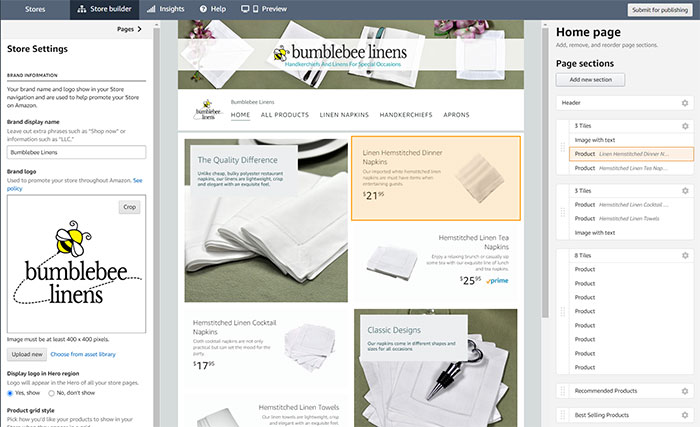 At the bottom of my home page, I included bestsellers and recommended products which are automatically populated by Amazon
After you finish your homepage, you'll want to create different category pages based on what you sell in your store.

For example, I created separate pages for the following
All Products
Linen Napkins
Handkerchiefs
Aprons
Step 4: Add Your Products
After you've decided on your layout, it's time to populate your store with products that you sell.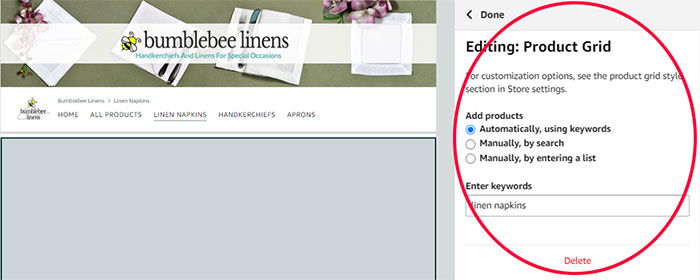 Amazon makes it really easy to do this by allowing you to either…
Have Amazon automatically populate your products based on keywords
Populate your products manually by search
Populate your products manually by cutting and pasting ASINS
To keep page maintenance down, I almost always have Amazon automatically populate my products based on keyword. This way, whenever I add a new Amazon product, it automatically gets added to my Amazon store.
Step 5: Submit Your Page For Review
Amazon is quite strict when it comes to approving your pages for publication.
As a result, you have to make sure you check for…
Spelling mistakes
Grammatical errors
Use of overly promotional language(ex. best or number 1)
Surprisingly, it took me several tries to get my page approved because Amazon kept dinging me for the language I used on the page.
For example, Amazon did not like it when I wrote that Bumblebee Linens carried the "largest selection of handkerchiefs" online.
In any case, page approval usually takes a few business days.
Step 6: Get A Vanity URL For Your Brand Page
For some reason, Amazon does not automatically assign you a vanity URL for your newly created Amazon store page.
For example, here's what my storefront URL looks like by default.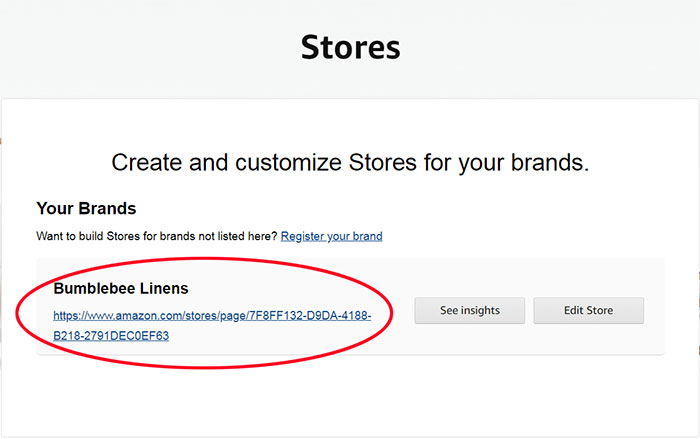 In order to receive a cleaner looking URL like www.amazon.com/yourstore/, you have to contact Amazon support. Unfortunately, this is the only solution I know of right now.
Under Help->Contact Us, select "Advertising and Stores".
Under "Contact Reason", this is what you should write.
Our Amazon store is published and we would like to create a vanity URL for it. Please change the Amazon storefront URL to use "Your Brand" in the URL.

We are the brand owners and are brand registered. Thank you.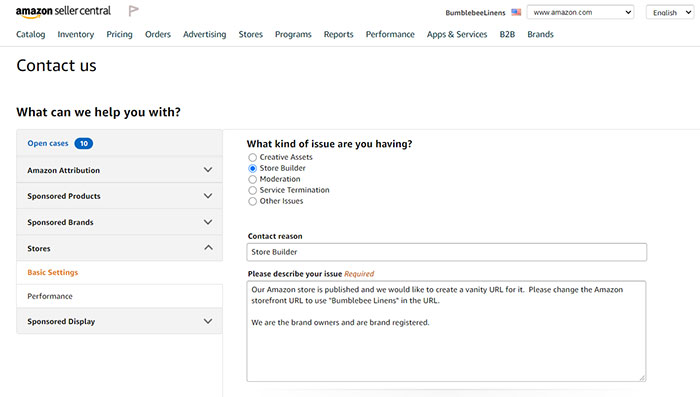 Within a week or so, you'll receive a response telling you that your brand page url has been changed to your vanity url!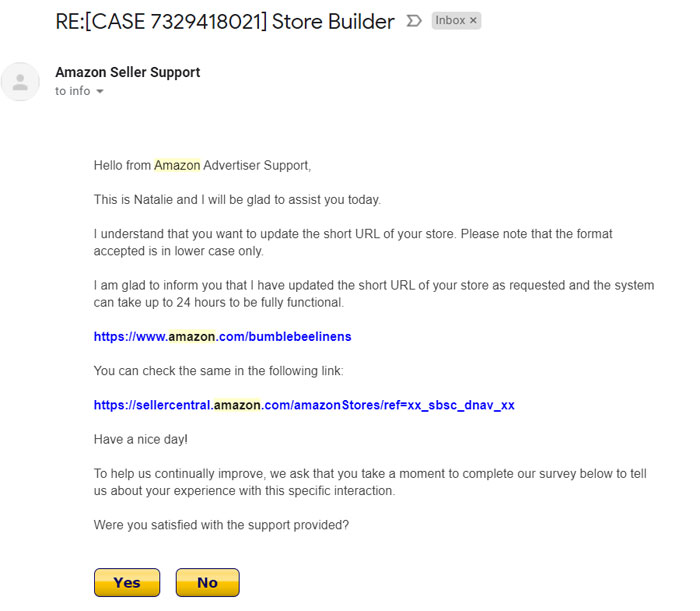 Check Your Amazon Store Analytics
Once your Amazon storefront is live, Amazon gives you access to a slew of analytics reports that are useful for seeing how well your page is performing.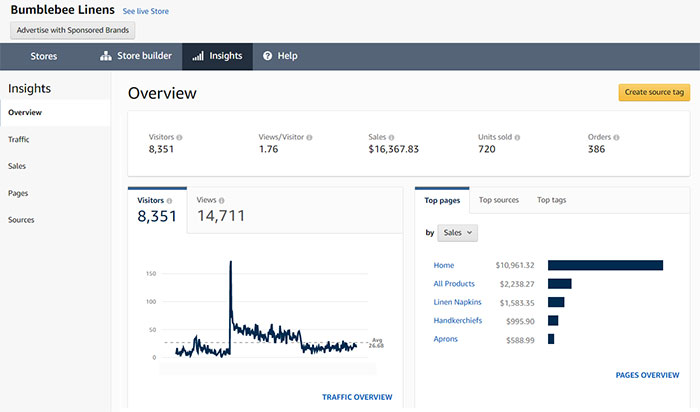 Here's a summary of what metrics your Amazon Storefront analytics will tell you about.
Visitors – This is the total number of unique visitors who visited your store pages.
Views – This is the number of views that a page received.
Top Pages – Amazon will display the top pages on your storefront and how much money they generated.
Sales – This is the total sales that your products generated from visitors who visited your page.
Units Sold – This is the total units sold that your store generated.
Traffic Sources – Amazon's page traffic report isn't very granular but it will tell you where your sales are coming from based on 3 categories: Amazon organic traffic, Amazon Sponsored Brands or "other" sources.
Tagged Sources – You can create custom source tags if you are driving your own external traffic to Amazon so you can measure the effectiveness of that traffic.
Create Tagged Source Links
Because I drive the majority of my traffic to my own online store, I rarely look at my Amazon Store analytics. However, for all external traffic that I drive to my Amazon storefront, I make sure to track sales by using tagged source links.
Amazon source tags allow you to create special links that you can use to track marketing promotions in your Amazon store analytics page.
For example, let's say that you want to drive traffic from your Facebook page to your Amazon storefront. You would first click on "Create source tag".

Then, you would give a name to this tagged link. In this example, I named the link "Facebook Home Page".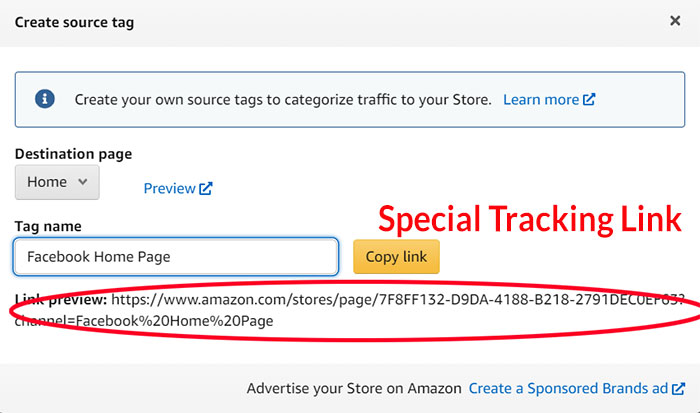 Finally, you would use this special link to advertise your Amazon storefront on Facebook.
Practical Applications For Your Amazon Storefront
Once you have your store all set up, you can use it to promote your products both on and off Amazon.
Here's what you can do to drive traffic to your listings.
Use a unique tagged source link to promote your Amazon storefront across social media. This includes Twitter, Facebook, Instagram, Pinterest etc…
Link to your Amazon store from your product listing detail pages to show your customers what else you carry and what your brand is all about.
Run Amazon Headline ads to promote your brand to Amazon shoppers.
Drive retargeted traffic to your Amazon storefront by using Amazon DSP ads
Use tagged source links to promote your Amazon store through email marketing, Messenger and SMS.
Use the Amazon store reporting tools to measure the performance of your marketing efforts.
While having an Amazon storefront is less useful than your own online store website, it can greatly improve the conversion rate of your advertising efforts, specifically Amazon Headline ads and Amazon DSP.
If you don't have a home base for your ecommerce business, an Amazon store is a quick and easy way to establish a presence online.
Because setting up an Amazon storefront is quick, easy and free, you should set one up no matter what.
Frequently Asked Questions About Starting An Amazon Store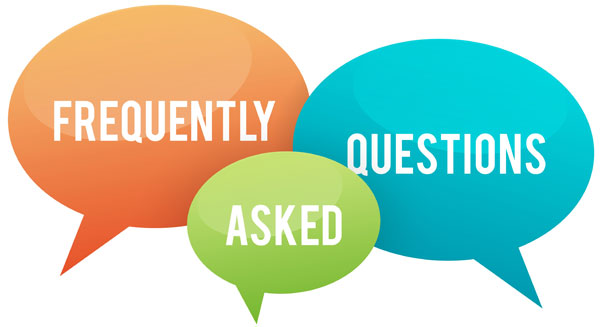 How much does it cost to create an Amazon store?
Creating an Amazon store is free and does not require any technical knowledge to start. The Amazon GUI is easy to use and you can have a store up in minutes.
What are the requirements for an Amazon store?
Amazon stores are only available to sellers who are brand registered on Amazon. This requires an active and registered trademark. Outside of brand registry, any 3rd party seller or agency can create an Amazon storefront.
How do I open an Amazon store?
To open an Amazon store, you need to have a professional sellers account and take part in the Amazon Brand Registry program. After that, you'll receive access to the Amazon stores tab in Seller Central where you can create an Amazon storefront using Amazon's graphical user interface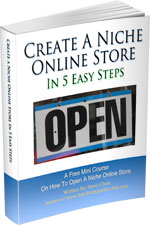 Ready To Get Serious About Starting An Online Business?
If you are really considering starting your own online business, then you have to check out my free mini course on How To Create A Niche Online Store In 5 Easy Steps.
In this 6 day mini course, I reveal the steps that my wife and I took to earn 100 thousand dollars in the span of just a year. Best of all, it's free and you'll receive weekly ecommerce tips and strategies!
Note: This post above may contain affiliate links, which means that I may receive a commission if you make a purchase when clicking a link. Please consult our privacy policy for more information.
Related Posts In Amazon Sales Strategies
About Steve Chou

Steve Chou is a highly recognized influencer in the ecommerce space and has taught thousands of students how to effectively sell physical products online over at ProfitableOnlineStore.com. 

His blog, MyWifeQuitHerJob.com, has been featured in Forbes, Inc, The New York Times,  Entrepreneur and MSNBC.  

He's also a contributing author for BigCommerce, Klaviyo, ManyChat, Printful, Privy, CXL, Ecommerce Fuel, GlockApps, Privy, Social Media Examiner, Web Designer Depot, Sumo and other leading business publications.

In addition, he runs a popular ecommerce podcast, My Wife Quit Her Job, which is a top 25 marketing show on all of Apple Podcasts. 

To stay up to date with all of the latest ecommerce trends, Steve runs a 7 figure ecommerce store, BumblebeeLinens.com, with his wife and puts on an annual ecommerce conference called The Sellers Summit.  

Steve carries both a bachelors and a masters degree in electrical engineering from Stanford University. Despite majoring in electrical engineering, he spent a good portion of his graduate education studying entrepreneurship and the mechanics of running small businesses.