This short guide will teach you how to trademark a name for your business so you can participate in the Amazon brand registry.
Most people who start an online business unknowingly neglect trademark issues when naming their business and products. Finding an open domain name is simple, but just because the domain that you want is not registered yet doesn't necessarily mean that you can do business using that name.
For example, just because the domain name MicrosoftHardware.com is available for registration doesn't mean that you can legally sell computer hardware under that business name.
Don't fall into the trap of not doing your homework ahead of time and make sure that your business and domain name do not conflict with any other established businesses.
If you accidentally choose a business or product name that is too similar to a competitor, they can accuse of you of violating their trademark and force you to change your business name.
Needless to say, this can be a major pain. Especially if you have an online business, your website domain may already be entrenched within the search engines and any domain name change could be catastrophic to your business.
Disclaimer: I'm not an expert on trademark law nor do I pretend to be in this guide. The information in this guide is derived from my own research and should not be taken as absolute fact.
Get My Free Mini Course On How To Start A Successful Ecommerce Store
If you are interested in starting an ecommerce business, I put together a comprehensive package of resources that will help you launch your own online store from complete scratch. Be sure to grab it before you leave!
What Is A Trademark?
A trademark is a word, phrase, or symbol that is used to market a product, business or service. Whoever owns a trademark for a particular product has special legal rights under both federal and state law which give them the power to prevent other businesses from using the same name.
Just the mere act of using a specific product name in public to market goods or services is enough to make it a trademark. But keep in mind that this name must be used to actually sell a product in order for it to qualify as a trademark.
Since the web is all encompassing and reaches people everywhere in the world, you have to especially be careful about infringing on other people's property.
Not only do you have to consider the names of businesses on the web, but you also have to consider brick and mortar stores all across the nation as well.
For example, just because I own MyWifeQuitHerJob.com, there could be a store with the same name(unlikely I know) somewhere across the country that has been doing business for decades.
If they could prove that they had trademark rights to MyWifeQuitHerJob before me, then they could take me to court and technically force me to relinquish my domain.
Choosing A Strong Business Name
In general, distinctive business names have the most trademark strength. For example, even if Microsoft, Intel, Oracle weren't behemoth companies, they would still have very strong trademarks because of their uniqueness.
On the contrary, a business under the name of Quality Linens would have a very hard time enforcing their trademark.
Because the business and product name you choose determines its trademark power, you should always choose a descriptive name that clearly distinguishes your product from the competition.
In fact, I would suggest split testing your business name using a service like PickFu
By getting external feedback from real people, you can make sure to choose the right business name that is both descriptive and memorable.
If you are having problems making the distinction between a good and bad name, think of products like Kleenex or Xerox as opposed to names like Tasty Chinese Food or Cheap Cars.
It's also important to keep in mind that trademarks can grow stronger over time as a company or product name becomes accepted into society.
For example, just because your name happens to be Calvin Klein doesn't mean that you can create your own clothing line (or market any product for that matter) under the same name.
Because Calvin Klein clothing has become popular worldwide, people naturally associate Calvin Klein with designer clothing. Any company with the same name would confuse customers.
Without getting into the vagaries of trademark law, trademark infringement pretty much only occurs when the use of a trademark by two different businesses is likely to cause confusion.
This is vague I know, but that's why we have so many lawyers in this world. Basically, the safest route is to make sure that your potential business or product name doesn't conflict with anyone else.
How To Play It Safe
Technically speaking, the mere act of registering your domain name makes that name function as a trademark already as long as you conduct business using that URL.
To make your trademark more enforceable however, you may want to register your domain name with the US Patent and Trademark Office.
When choosing a web domain, make sure you do web searches of all possible permutations of your business and product name. Keep in mind that even though you might be selling completely different products as another company of the same name, you could technically be accused of trademark infringement.
Therefore, it's best to stay away if you find any matches at all, though you might be able to risk it if the business sells completely different products.
No matter how small your business is though, you should always take the time to search the federal trademark database for your business name.
This is crucial because if you register a domain that is already in the federal database, you could be accused of "willful infringement".
For all intents and purposes, you would basically be immediately found guilty of trademark infringement even if you had no idea the database even existed.
Thankfully, the Patent and Trademark office is all computerized and searchable on the web. To check to see if your business or product name infringes on any known trademarks, simply go to www.uspto.gov/ebc/index_tm.html and follow the directions on the website.
Establish A Strong Trademark
If you don't find any overlapping domain names and trademarks after searching the web and the PTO website, it is probably safe to go ahead and use it.
Remember, once you've registered your domain name and begin selling products using this name, it technically counts as a trademark and you immediately possess all of the trademark rights associated with that name.
Pick a strong, distinctive name and you should not run into any major issues preventing others from using your brand. Remember, it's important to play things safe.
Trust me, you do not want to have to change your business name ever. Changing something as important as your brand name could spell the end of your small business.
Registering Your Own Trademark
In the long run, you will probably want to register your own trademark so other businesses can not use your business name. In addition, Amazon now requires a trademark in order to register your brand on their platform.
To register your own trademark in the quickest and easiest way possible, I recommend using a service called CorpNet.com because they are super accessible.
For example, you can get a free 20 minute consult right off the bat where you can ask questions WITHOUT GETTING CHARGED. As a result, I use them to file trademarks and answer both my legal and tax questions.
Click here to get your free 20 minute consult and then receive 10% off with coupon code:MWQHJ.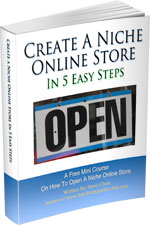 Ready To Get Serious About Starting An Online Business?
If you are really considering starting your own online business, then you have to check out my free mini course on How To Create A Niche Online Store In 5 Easy Steps.
In this 6 day mini course, I reveal the steps that my wife and I took to earn 100 thousand dollars in the span of just a year. Best of all, it's free and you'll receive weekly ecommerce tips and strategies!
Note: This post above may contain affiliate links, which means that I may receive a commission if you make a purchase when clicking a link. Please consult our privacy policy for more information.
Related Posts In Legal And Taxes
About Steve Chou

Steve Chou is a highly recognized influencer in the ecommerce space and has taught thousands of students how to effectively sell physical products online over at ProfitableOnlineStore.com. 

His blog, MyWifeQuitHerJob.com, has been featured in Forbes, Inc, The New York Times,  Entrepreneur and MSNBC.  

He's also a contributing author for BigCommerce, Klaviyo, ManyChat, Printful, Privy, CXL, Ecommerce Fuel, GlockApps, Privy, Social Media Examiner, Web Designer Depot, Sumo and other leading business publications.

In addition, he runs a popular ecommerce podcast, My Wife Quit Her Job, which is a top 25 marketing show on all of Apple Podcasts. 

To stay up to date with all of the latest ecommerce trends, Steve runs a 7 figure ecommerce store, BumblebeeLinens.com, with his wife and puts on an annual ecommerce conference called The Sellers Summit.  

Steve carries both a bachelors and a masters degree in electrical engineering from Stanford University. Despite majoring in electrical engineering, he spent a good portion of his graduate education studying entrepreneurship and the mechanics of running small businesses.