This is part 4 of a 7 part guide on how to start a small business.
Most people dread tax season when April 15th comes rolling around, but I actually get excited and almost giddy.
The reason is not because I enjoy filling out paperwork and paying the government large sums of money, but because it's only during tax time that I fully realize how much money our small business saves us every single year.
Most people get caught up on the sidelines doing research and debating whether their business idea even has a chance, but they are missing the point.
They don't realize how much money can be saved by having a small business even if it initially doesn't make any money at all. So if you are even mildly serious about pursuing a business idea, you should definitely take action and give it a try if not for tax reasons alone.
Small Business Startup Guide
When you don't have a small business, the government is truly ripping you off. All of your earnings get taxed as ordinary income (up to 35%) before you are even allowed to spend it. With a small business, you get to spend your money first and only get taxed on what is left over.
The best part is that even if your business is losing money on paper, you can pass these paper losses from your business directly to lower your own taxable income! Either way, your net worth benefits whether you are profitable or not.
What Expenses Are Deductible?
The IRS states that any "ordinary and necessary" business expenses can be subtracted from your business income prior to being to taxed. For our online wedding linens business, this includes computers, office equipment, machinery, office supplies, utilities and much more.
In addition, by planning our vacations around our business trips, we save a lot by deducting travel and entertainment expenses as well. The general rule is that as long as the expense is made for business and not personal purposes, you can deduct it from your business income.
Small Business Deduction Guidelines
Naturally, the government imposes many rules and regulations over how and what can be deducted on your tax return. Otherwise, small businesses would abuse these deductions all over the place.
I've put together a mini small business tax deduction guide below along with an outline of the most commonly taken small business writeoffs.
Once again, please keep in mind that I'm not an accountant or a tax lawyer. Any information provided in this article should be used as a guideline only and not taken as fact.
Tax rules change all of the time and you should check with the IRS before taking any deductions with your business.
What To Be Careful Of
Before you proclaim yourself a small business and start taking deductions all over the place, there are a few things to watch out for as far as the government is concerned. For one thing, you have to be able to prove to the IRS that your business is in fact a real business.
The definition of "business" is fairly broad. In general, you only need to prove to the IRS that you are actively trying to make money even though you may not necessarily be succeeding. Here are the criteria that the IRS uses to determine if your business is "real".
If your business makes a taxable profit for 3 out of 5 consecutive years, you're generally safe from your business being considered just a hobby.
If your business continues to declare a loss year after year, you will need to gather and keep evidence that you are making an active effort to turn a profit. This includes having a business website, business cards, a distinct and separate set of financial books, business licenses, permits and advertising expenses etc…
You have to stay up to date with all of the necessary business filings. For example, if you sell physical goods, you still have to declare your sales taxes even if you made no sales at all
Don't Be Afraid Of The IRS!
Most people don't take deductions that they are entitled to because they don't want to get audited or even take the risk. But the tax rules for businesses are in place for a reason so you should take advantage of them!
Naturally, your chances of getting audited can go up depending on what you choose to deduct but if you are truly trying to a run a legit business, you have nothing to worry about.
For our wedding linens business, we make sure not to be too over aggressive when it comes to taking business expenses yet we still manage to save thousands of dollars in taxes every year.
Just make sure that you consult a tax accountant before taking any crazy deductions. In addition, if you have any specific questions regarding what we deduct with our wedding linens business, feel free to drop me a line.
Once you sit and down and think about it, the tax benefits alone make starting your own venture a safer bet.
Need Additional Help?
Recently, I've started using LawTrades.com for all of this type of work because they are super accessible.
For example, you can get a free 20 minute consult right off the bat where you can ask questions to a real lawyer WITHOUT GETTING CHARGED. As a result, I use them to file trademarks and answer both my legal and tax questions.
Click here to get your free 20 minute consult and then receive $99 off if you decide to use them..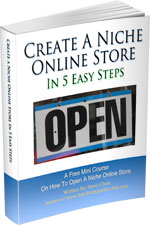 Ready To Get Serious About Starting An Online Business?
If you are really considering starting your own online business, then you have to check out my free mini course on How To Create A Niche Online Store In 5 Easy Steps.
In this 6 day mini course, I reveal the steps that my wife and I took to earn 100 thousand dollars in the span of just a year. Best of all, it's absolutely free!
Similar Posts
Have you read these?