This is part 6 of a 7 part guide on how to start a small business. In this lesson, you'll learn about small business accounting and bookkeeping.
Probably the most boring and tedious part of running a business is keeping track of earnings, expenses and maintaining "the books". For me personally, I hate tallying up the numbers and documenting all of my expenditures, mileage etc…
Hell, I have enough problems making sure that my checking account is balanced every month! But over the past few years running our online wedding business, I have come to realize that while keeping accurate numbers is boring, analyzing the numbers is actually fun and eye opening!
That's why I let my wife take care of the books while I just look at the reports:)
Rather than bore you to death defining mundane accounting terminology or explaining the nitty gritty of accounting and bookkeeping, I thought that it would be more interesting to let you in on how we keep track of and utilize the data we maintain for our online wedding linens business.
Two Main Ways To Keep The Books
First off, there two main ways to maintain your books, the cash method and the accrual method. In general, a business that carries inventory must use the accrual method of accounting which is why we use this method for our wedding linens business.
What this means is that income and expenses are treated and taxed when it is earned rather than when the money is actually received.
For our wedding linens business, let's say that I received a $10000 deposit in 2009 to make 100 dozen handkerchiefs for a customer to be delivered in 2010.
Under the accrual method, I can't declare this money as income in 2009 because I haven't delivered yet. Conversely, if I need to spend $2000 dollars upfront on the materials in 2009, I must take this as an expense in 2009 and not 2010.
The opposite of accrual accounting is called cash accounting in which income and expenses are taken when things are actually paid for.
In general, the cash method is only used for service oriented businesses but can be used for any business that is unincorporated and has annual receipts of less than a million bucks.
The cash method is a more intuitive way of keeping track of the books because it represents an accurate assessment of your cashflow.
Why does all of this matter? Because the IRS says so. We chose the accrual method because my wife used to use the accrual method while working as a financial analyst for a Fortune 500 company.
How We Track Expenses
The way we keep track of expenses is extremely high tech and requires a Masters degree in Electrical Engineering to implement. In our office, we have 3 bins. One bin is labeled entertainment, one bin is labeled cash expenses and the third one is labeled assets.
Whenever we travel, go out to eat or spend any money on entertainment, we throw our receipts into the "entertainment" bin.
The date and amount is usually already printed on the receipt but on the back, we also jot down the business purpose and the business relationship with the person we are entertaining. This extra information is important in case you ever get audited.
Whenever we make a business related expense outside of entertainment, we throw the receipt into the "cash" bin. This includes things like office supplies, ISP bills, internet charges, thread etc…
Finally, the third bin is reserved for business expenses that fall under the category of capital equipment or furniture. Leafing through this bin right now, we have a receipt in there for a sewing machine, a desk chair and some computer equipment.
Basically, anything in this bin is an asset that might potentially need to be depreciated over time. Under normal circumstances though, we don't have to depreciate anything thanks to section 179(You can read about section 179 in our small business taxes article).
In each of our cars, we carry a notebook where we jot down the number of miles we've driven on behalf of our business. For each entry, we make sure to write down the date, the beginning odometer reading, the ending odometer reading and the place that we drove to.
Each mile is worth around 50 cents(check the IRS for the exact deduction), so we make sure we write down every last mile. For more information on how to expense a vehicle, please refer to my article on How To Deduct Your Vehicle On Your Taxes.
How We Track Income
All of our income is tracked automatically in our shopping cart software. At the end of the month, our website creates a report itemizing everything that we sold, at what price and to which customer.
Our shopping cart also lists any related fees associated with each transaction such as paypal fees, credit card fees and shipping fees.
My wife then takes this data and imports this information into her master spreadsheet which includes the cost of goods and other information extracted from our receipts in the expense bins.
Everything outside of manually entering and scanning expense data from receipts is more or less completely automated.
What We Do With The Data
The fun part about having all of this data is that you can use it to recognize trends with your business. Here are some of the useful ways we use the data that we gather from our business numbers.
Tools Of The Trade
Here are some tools to help with your small business bookkeeping
Running Reports Is Fun
Keeping the books is boring, but recognizing and taking advantage of patterns with your numbers is quite fun and fulfilling! Bookkeeping is not just for the IRS.
Maintaining accurate numbers is essential for the livelihood of your business as well!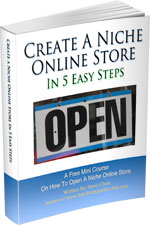 Ready To Get Serious About Starting An Online Business?
If you are really considering starting your own online business, then you have to check out my free mini course on How To Create A Niche Online Store In 5 Easy Steps.
In this 6 day mini course, I reveal the steps that my wife and I took to earn 100 thousand dollars in the span of just a year. Best of all, it's free and you'll receive weekly ecommerce tips and strategies!
Note: This post above may contain affiliate links, which means that I may receive a commission if you make a purchase when clicking a link. Please consult our privacy policy for more information.
Similar Posts
Have you read these?