This is an introduction to a 7 part guide on how to start your own small business.
It's hard enough as it is to start your own business. Not only do you have to come up with a profitable idea and execute but you also have to worry about government regulations and other matters in order to make your venture official and legal.
For my wife and I, getting past all of the red tape and paper work was extremely frustrating and confusing at the same time. It's unfortunate, but most of the information required to start your own business is not centralized in any way.
The federal government requires several forms to be filled out, your state government has some more forms to fill out and finally your city usually requires some amount of paperwork as well.
The main problem is that each of these institutions don't have any knowledge about what needs to be done outside of their own jurisdiction.
Small Business Startup Guide
For example, if you ask your local state office about what federal forms and regulations are required, they'll simply point you to IRS.gov.
Likewise, if you check online with the federal government, they won't have a clue about your state regulations. Compiling all of the necessary information and forms can be daunting which is why I've decided to document our experiences in making our business a legal entity.
This guide will attempt to summarize all of our thoughts and decision making processes through the course of creating our business. However please note that I'm not a tax or legal expert.
All advice described in the following series of articles are based on my own research and are not guaranteed to be completely accurate. Rules change all of the time and you should check up on everything I have to say below.
Do I Need To Go Legit?
One of the most common questions I get is whether a business really needs to go legit if it doesn't have much sales. I can't really answer that question for you but I can tell you my philosophy on the topic.
In general, I think any viable or legitimate business should bite the bullet and complete all of the necessary paperwork to become legal. Especially if you accept credit cards, your business can easily be exposed.
If the government finds out, you could become subject to fines and penalties or your business could be shut down. If you don't pay taxes on your earnings, the IRS can track you down and impose criminal charges and even jail time.
However if you are just a hobby business or occasionally sell junk out of your garage on Ebay, you can probably get away with it. But even so, you should keep in mind that there are many tax benefits in making your business official.
For example, you can write off business expenses and even reduce your own personal taxes if your business takes a loss. In the end, it's up to you whether you want to take the risk of getting caught.
Once you are in the government system, you open yourself up to the wonderful world of forms, rules and regulations. Don't worry though, I'll try to walk you through it. At the bare minimum, I will cover what I've gone through with our business.
What's Covered In This Guide?
I'm going to be covering the basics of becoming a legit business and why we made the decisions we did in turning our business into an LLC. Specifically, I'm going to write about…
Deciding on a corporate structure – You might think that you can get away with being just a sole proprietorship but there are many things to consider depending on the nature of your business.
Trademarks – Choosing your own unique domain name and making sure that your business name is not already taken is an extremely important step when starting your own venture. I'll go over some of the legal requirements and pitfalls involved.
Small Business Requirements And Permits – I'll go through all of the red tape and paperwork that we needed to fill out to make our business legal
An Overview Of Small Business Taxes – I'll go through what can and can not be deducted on your taxes.
Hiring Employees Vs Contractors – Once your business gets to a certain size, you'll need to make some important decisions on whether to hire employees or use contractors. Both decisions have their own unique implications
Bookkeeping – An overview of what records to keep and how to document profits and losses
Getting Professional Help – Working with lawyers, accountants etc…
Don't Be Afraid
All of the paperwork isn't so bad once you go through it once. The main purpose of these articles are to make you aware of what to expect as you go through the process.
And hopefully, you won't be afraid to take the plunge.
Note: If you ever get stuck or have any questions during this process, you can get a free 20 minute consult with a real lawyer by clicking on this link. I use LawTrades.com whenever I have any legal or tax questions regarding my business. Good luck!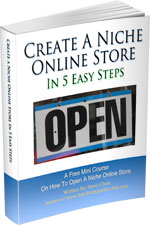 Ready To Get Serious About Starting An Online Business?
If you are really considering starting your own online business, then you have to check out my free mini course on How To Create A Niche Online Store In 5 Easy Steps.
In this 6 day mini course, I reveal the steps that my wife and I took to earn 100 thousand dollars in the span of just a year. Best of all, it's absolutely free!
Note: This post above may contain affiliate links, which means that I may receive a commission if you make a purchase when clicking a link. Please consult our privacy policy for more information.
Similar Posts
Have you read these?