This is part 3 of a 7 part series on how to start a small business.
Even though it's not technically difficult to officially register your business with the US and state government, it can be quite intimidating.
That being said, I can tell you that my wife and I were absolutely terrified about the entire process. What if we screw up and get audited?
What if we forget to obtain a permit or fill out some crucial paperwork? The good news is that it's not that complicated to fill out the forms. The bad news is that all of the information can not be easily found in one centralized location.
Small Business Startup Guide
For example, when you file with your state, they'll have no clue about the requirements for your city or town. Similarly, your city tax office will have no clue about the state or federal requirements.
Because all of the necessary information is all over the place, I sometimes wonder how people ever manage to get all of the paperwork and requirements correct the first time around.
In any case, this guide will hopefully provide a starting point in giving you an idea of what needs to be done to officially register your business with the government.
All of my experience is with the state of California so you'll have to check with your local state tax office for your own requirements.
Once again, I'm not an expert in this area. Business registration rules change all of the time and you should do your own legwork. In addition, I want to add that this part of the guide does not cover all of the regulatory requirements if you need to hire employees. I'll cover this is a subsequent section.
Where Do I Begin?
Assuming that you've already chosen a corporate structure and filed all of the necessary paperwork properly, you are now ready to register your business. Making your business official consists of 5 main steps which are enumerated below.
Obtain a federal employer identification number(FEIN)
Register your 'Doing Business As' or your 'Ficticious Business Name" if you plan on doing business under a different name
Obtain a business license from your city or locality
Obtain your state's sellers permit
Obtain any other necessary permits depending on the nature of your business
Obtain Your Federal Employer Identification Number
Technically if you are a sole proprietorship, you don't need to obtain a federal employer identification number or FEIN. But my advice is to get one no matter what for your small business in order to fully separate your business from your personal affairs.
The FEIN is used by the government to identify your small business much like a social security number. For example, this number will be used to open bank accounts, to file your taxes and to register for your business license.
Getting a FEIN is easy. Simply go to the following URL http://www.irs.gov/businesses/small/article/0,,id=102767,00.html and register for your EIN online in one easy step!
Register Your Fictitious Business Name
If you plan on using a name for your business that doesn't contain your name or the legal name of your business entity, you need to file for a ficititious business name.
The term FBN (fictitious business name) is used interchangably with DBA(Doing business as) so don't get confused if you hear both terms as they are both the same thing.
The government makes you file for an FBN in order to allow customers to locate the owner of a company without too much effort. This requirement really only exists to protect the consumer.
If a customer needs to file a complaint or file a lawsuit, they can find out the owner of the business easily.
Registering your FBN immediately is important for two reasons. For one thing, most banks won't let you open a business account without one and two, registering your business name will lay the groundwork to protect your trademark.
Remember, you only need to file a fictitious business name if you plan on using a business name that does not contain your own name.
For example, if I wanted to start Steve Chou's House of Linens, I wouldn't have to register an FBN. For more information on how to file an FBN, please check out my article on How to Obtain Your DBA (Doing Business As) or FIC (Fictitious Business Name)
Obtain A Business License From Your City
Everyone is out to get a piece of your profits and your local city government is no exception. Most cities will charge you an annual fee to run your business in addition to a small percentage of your profits.
Unfortunately, every city is different even within the same state so I can't really help you out much here with the specifics in how to file for a local business license.
To find out your city's requirements, you need to contact your local city tax collector or search for the "county clerk" for your city online.
Obtain A State Seller's Permit
Anyone who sells physical goods must obtain a seller's permit from their state. In California, you have to apply for a permit from the California Board of Equalization.
Mainly, this permit exists so you can collect sales tax from your customers and pay the state government in a timely manner.
Sales tax is only collected if you sell goods to someone that resides in your home state. Unfortunately, even if all of your customers are out of state, you still have to get a seller's permit.
Sometimes, it can be very vague as to what constitutes a physical good. For example, if you sell software to the public via electronic methods only, it's somewhat ambiguous whether your software is considered tangible.
However, if you ship CDs containing your software, you definitely have to obtain a seller's permit. In any case, you'll need to check with your state to make sure.
Obtain Other Permits That Are Specific To Your Business
Many businesses are subject to additional regulations that are not covered by the standard set of permits described above. Usually if your business has the potential to affect the public or the environment, you'll usually have to obtain additional permits.
This is usually the most complicated part of starting a business since there are literally hundreds of agencies that regulate businesses at both the state and federal level.
You'll also need to check with the zoning requirements for your business as well if you use any sort of hazardous chemicals etc….
Some states have websites that you can log on to find out all of the necessary permit requirements for your business. For California, I used the CalGOLD website(www.calgold.ca.gov) to check up on our wedding linens business.
Unfortunately, this site is specific to California but by entering in the parameters for your business, CalGOLD will tell you upfront which permits you might need. Your state may have a similar website you can consult.
Feeling Overwhelmed?
If you're feeling overwhelmed at this point, then you are not alone. My wife and I got dizzy reading over all of the required regulations and forms to run our wedding linens business.
Locating and filing for the basic selling permits is fairly straightforward but what you really have to watch out for are all of the special permits you might need to obtain.
For example, at one point my wife and I wanted to sell baby clothes and other baby related items online. Turns out that there are requirements that all baby goods need to get tested for chemicals at an independent testing site before you can sell them.
This testing is very expensive and must be done on a per item basis.
Use A Service To Help You
In any case, my wife and I went through all of these things more or less manually but if we were to do it all over again, we would use a service like LawTrades to take care of everything for us.
Inevitably, you will have lots of questions and the reason I like LawTrades.com is because you can easily reach someone knowledgeable live over the phone.
For example, you can get a free 20 minute consult right off the bat where you can ask questions to a real lawyer WITHOUT GETTING CHARGED. As a result, I use them to file trademarks and answer both my legal and tax questions.
Click here to get your free 20 minute consult and then receive $99 off if you decide to use them..
Seriously, your time should be spent building up your business and not on minute details like looking up rules and regulations. If you feel that you are spending way too much time wading through the red tape, it makes sense to pay an expert to do the work for you.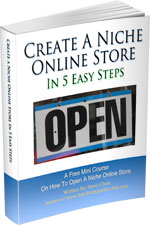 Ready To Get Serious About Starting An Online Business?
If you are really considering starting your own online business, then you have to check out my free mini course on How To Create A Niche Online Store In 5 Easy Steps.
In this 6 day mini course, I reveal the steps that my wife and I took to earn 100 thousand dollars in the span of just a year. Best of all, it's absolutely free!
Note: This post above may contain affiliate links, which means that I may receive a commission if you make a purchase when clicking a link. Please consult our privacy policy for more information.
Similar Posts
Have you read these?