Right now, there are many ways to advertise your products directly on the Amazon platform. But how do you reach customers who aren't shopping on Amazon? How can you advertise to customers who aren't necessarily searching for your products? This is where Amazon DSP comes in.
Right now there are over 5 million sellers on Amazon. And all of these sellers are fighting for limited eyeballs (~200 million shoppers/month) on the Amazon marketplace. With such a low ratio of shoppers to sellers, it's no wonder that Amazon PPC ad costs have gone up dramatically over the years.
Prior to Amazon DSP, if your customer was not shopping on the Amazon website and not using the Amazon app, your ads would not be displayed.
In this article, I'm going to cover what Amazon DSP is and how to use it boost your sales. I will also show you some of my own Amazon DSP ads and my stats and results.
Get My Free Mini Course On How To Start A Successful Ecommerce Store
Are you interested in creating a strong, defensible brand for your products? If so, I put together a comprehensive package of resources that will help you launch your own online store from complete scratch. Be sure to grab it before you leave!
What Is Amazon DSP?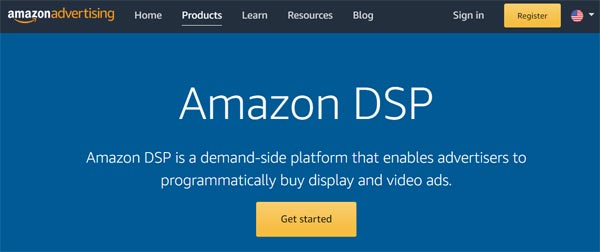 Amazon DSP stands for demand side platform and it allows you to buy video and image ad placements both on and off of Amazon. Basically, Amazon DSP gives you the ability to display ads on any website that is either owned or partnered with Amazon.
These properties include…
Kindle
Fire TV
IMDb
Freedive
Apps
Published Partners
3rd Party Exchanges
Amazon Owned & Operated properties
Here's an abridged list of 3rd party partners. (The real list is much larger)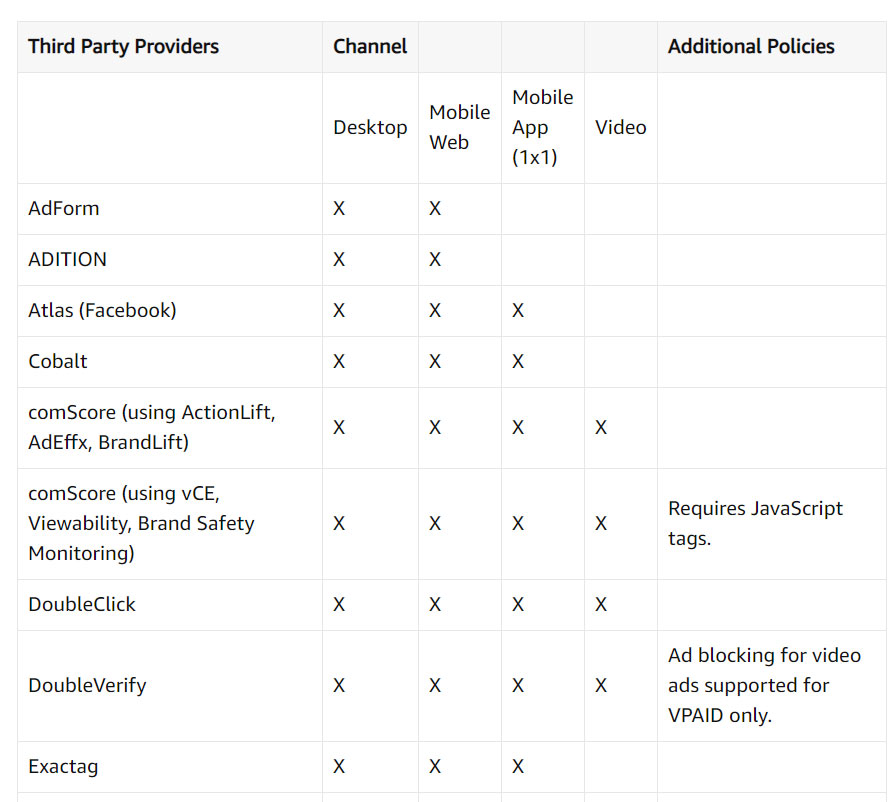 Basically, Amazon DSP behaves just like the Google Display Network and you can run your ads on most websites all over the world.
Chances are, you've already seen Amazon DSP ads in the following forms without even realizing it.
Desktop Display Ads
Mobile Banners Ads
Mobile Interstitial Ads
Image & Text Ads
In-stream Video Ads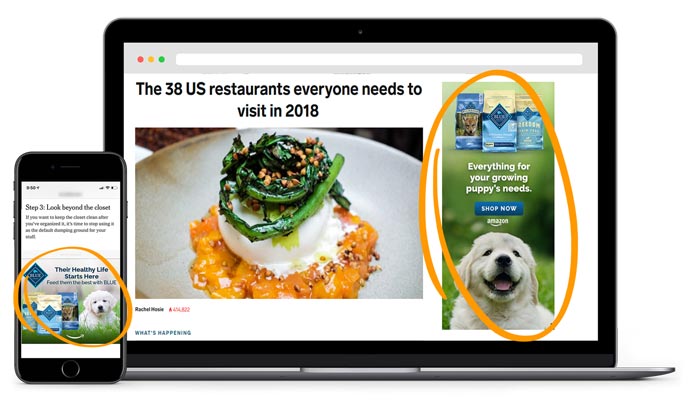 Right now, I'm running Amazon DSP ads for my Amazon products and I'm getting a good ROI showing my ads on mainstream websites(I'll show you real stats later in the post).
Amazon DSP ads are powerful because you are granted access to behavioral shopping data about your Amazon customers that can not be accessed anywhere else.
Because Amazon is the largest ecommerce platform in the United States with a 50% market share of online retail, Amazon easily has one of the most comprehensive ecommerce databases in the world.
Basically, Amazon knows every last detail about its shoppers and you can leverage that data to create extremely high converting display ads.
Here are some ad strategies you can apply with Amazon DSP. For example, you can target…
People who have browsed any of your products on Amazon
People who have browsed a certain product category
People who have shopped well known brands on Amazon
People who have searched for complementary products
Lookalike audiences from your existing customer data
Your own custom audiences that you upload
Amazon DSP Vs Amazon Sponsored Product Ads
With so many different ways to advertise on Amazon, the myriad of options can be confusing so here's a quick summary of the different Amazon ad types.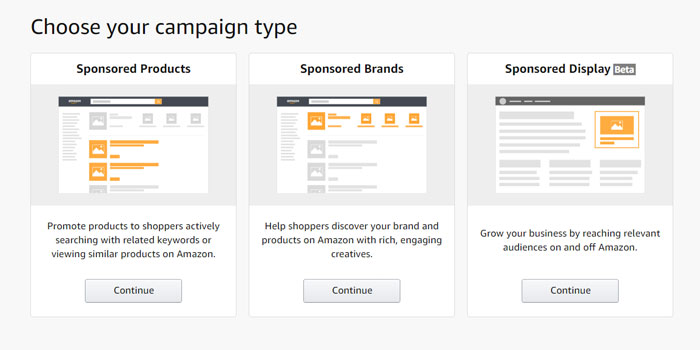 Amazon Sponsored Products
Amazon Sponsored Products ads work just like Google Search Ads and are displayed whenever a customer performs a search on Amazon. By typing in a keyword, customers are shown products that match their search intent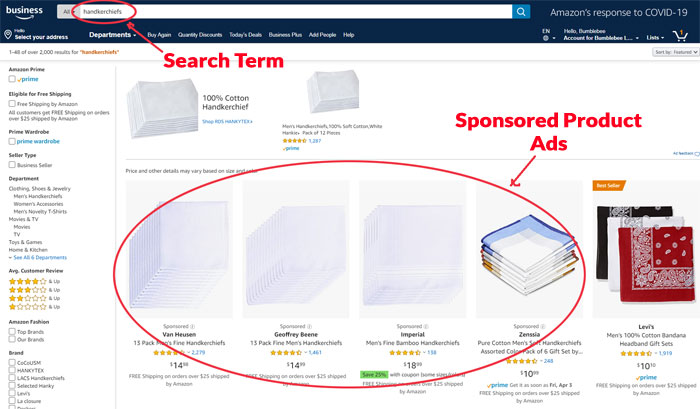 Amazon Sponsored Brands
Amazon Sponsored Brand ads work similarly to Amazon Sponsored Product ads in that they are displayed based on search intent as well.
However, Amazon Sponsored Brand ads are shown at the top of the search results. When a visitor clicks on a sponsored brand ad, they are taken either to a brand page or a list of select products.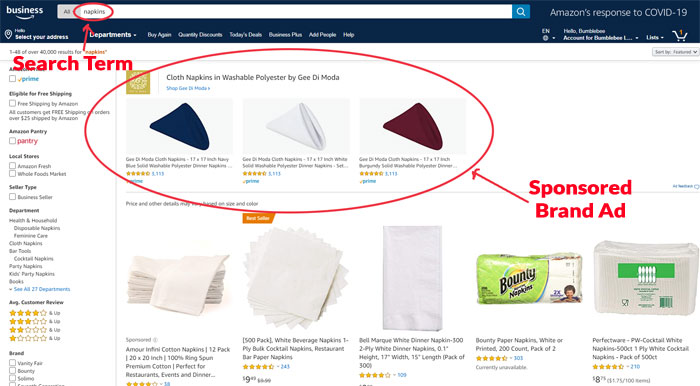 Amazon DSP (Amazon Sponsored Display Ads)
Unlike Amazon Sponsored Products and Amazon Sponsored Brand Ads, Amazon DSP ads behave more like Google Display and Facebook ads.
In addition, Amazon DSP ads can be shown on arbitrary sites outside of Amazon and do not rely on search queries to be displayed.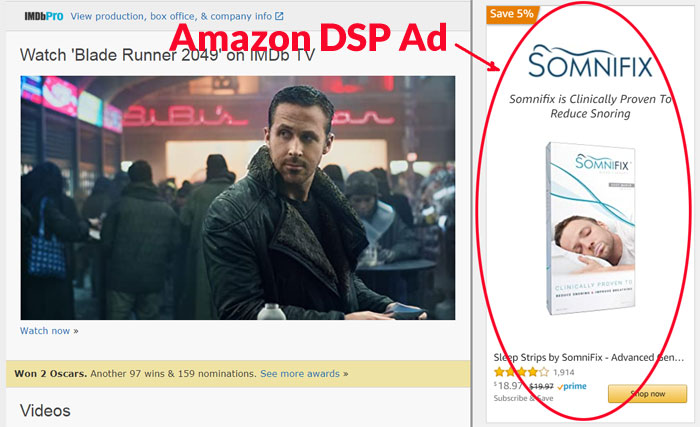 Billing for Amazon DSP ads works differently as well. Whereas you pay for Amazon Sponsored Products ads and Amazon Sponsored Brand ads based on cost per click, Amazon DSP ads are charged per impression.
In other words, you pay Amazon every time your ad is displayed regardless of whether a visitor takes an action on your ad.
Another key difference is that Amazon DSP ads are not triggered by keyword searches. Instead, you specify an audience to target and Amazon will serve up your ads appropriately.
But the most powerful aspect of Amazon DSP is that you can direct your ad traffic to anywhere that you want. For example, you can drive customers who have shopped on Amazon directly back to your own website!
If you can close the sale on your own site, then you get to keep your customer information and build up your own audience and brand.
How To Integrate Amazon DSP Into Your Existing Ads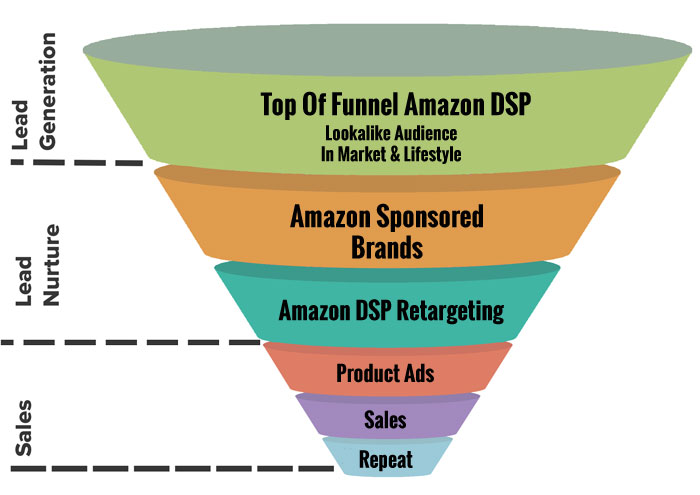 Prior to Amazon DSP, you could only target the middle and bottom of your sales funnel.
For example, Amazon Sponsored Products and Amazon Sponsored Brand Ads only allow you to advertise to customers with search intent which limits your reach.
There's no way to reach people who aren't actively looking for what you sell! In other words, it's impossible to generate brand awareness with a regular Amazon Sponsored Products or Sponsored Brand ad.
But thanks to Amazon DSP, you can now reach practically anyone in the world and place your products in front of people who never knew that they needed your product.
Right now, Amazon DSP allows you to display your ads based on 6 targeting options
Lifestyle Targeting – You can display ads to audiences based on broad interest groups like cooking, fishing, tech enthusiasts etc…
In-Market Targeting – You reach customers who are likely to make a purchase based on recent searches or browsing behavior
Contextual Targeting – You can display ads to audiences based on what they are browsing right now
Demographic Targeting – You can display ads based on age, gender, income, location etc…
Remarketing – You can display ads to audiences that have looked at or purchased your products
Lookalike Targeting – You can have Amazon look for buyers similar to those who've already bought from you
Custom Audience Targeting – You can upload your own audience for targeting
How To Run Amazon DSP Ads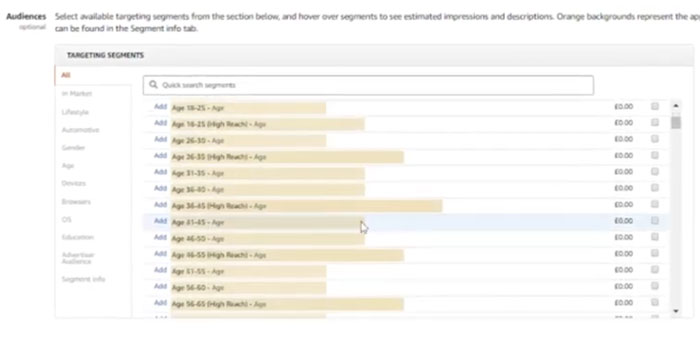 Amazon DSP ads are heavily based on machine learning. You basically tell Amazon who you want to target, which products you want to sell, when to run your ads and Amazon does the rest.
Amazon DSP ads can also be created automatically using Amazon's ad creation tools but in general, it's in your best interests to create your own ad creatives.
Once you've created your ads, Amazon will then place them on various websites, figure out which ads convert and continuously optimize your campaigns.
If you have your own online store, you can also put a pixel on your own site which will pass Amazon information about your store visitors which you can then use to create lookalike audiences etc…
Editor's Note: When implementing the Amazon pixel, you should be wary of what information you want to pass them. After all, Amazon has been known to take seller data and release their own competing private label products!
In general, Amazon DSP ads tend to convert better when you are sending visitors back to Amazon and not to your own site.
However, if you have a high customer lifetime value, then you may want to try to nab the sale on your own shop.
The true power of Amazon DSP is the wealth of Amazon specific customer information you have access to for targeting your ads.
How To Get Started With Amazon DSP Bottom Of Funnel Ads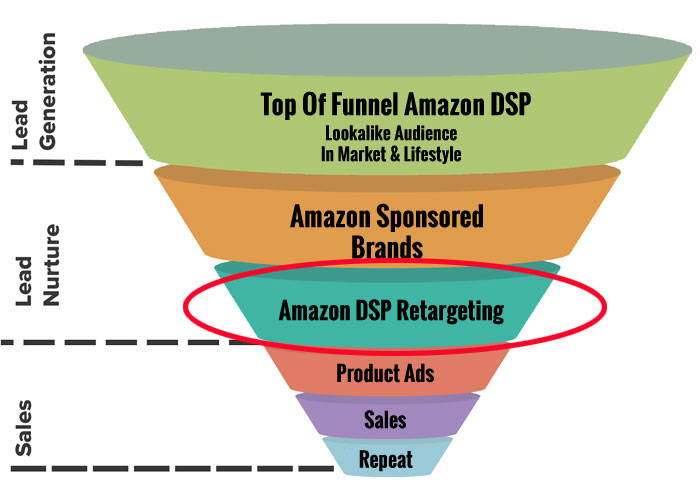 The quickest and easiest way to get started with Amazon DSP ads is to simply run a retargeting campaign.
Here are your retargeting options.
Amazon Pixel Remarketing – You can retarget customers who shopped on your own website
Amazon Product Remarketing – You can retarget shoppers who viewed a specific product but didn't buy
Amazon Brand Remarketing – You can retarget shoppers who viewed ANY of your products with a brand specific ad
Amazon Similar Product Remarketing – You can run ads to shoppers who browsed similar products to yours
Amazon Cross Sell Remarketing – You can run ads for complementary products to your existing customer base
To begin, you simply create an Amazon audience made up of shoppers from one of the above categories.
You then create an ad for that product in all of Amazon's supported ad sizes as shown below
| | | | | |
| --- | --- | --- | --- | --- |
| Ad Placement | Ad Size | Creative Dimensions* | Max. File Weight | File Format |
| Medium Rectangle | 300 x 250 px | 300 x 250 px | 200 kb HTML, 40 kb static (50 kb FR, IT, ES, JP) | JPG / PNG-8 |
| Leaderboard | 728 x 90 px | 728 x 90 px | 200 kb HTML, 40 kb static (50 kb FR, IT, ES, JP) | JPG / PNG-8 |
| Wide Skyscraper | 160 x 600 px | 160 x 600 px | 200 kb HTML, 40 kb static (50 kb FR, IT, ES, JP) | JPG / PNG-8 |
| Large Rectangle | 300 x 600 px | 300 x 600 px | 200 kb HTML, 50 kb static | JPG / PNG-8 |
| Billboard | 970 x 250 px, 800×250 pixels (DE) | 970 x 250 px, 800×250 pixels (DE) | 200 kb | JPG / PNG-8 |
| Mobile Leaderboard | 320 x 50 px | 640 x 100 px @2X (required) | 50 kb | JPG / PNG-8 |
| Mobile Detail and Search Results page | 414 x 125 px | 1242 x 375 px @3X (required) | 100 kb | JPG / PNG-8 |
Remember, you can allow Amazon to create all of your ads for you but in general, it's better to make your own so you can include your unique value proposition.
Here's what my ads look like.

Here's my Amazon storefront page where I'm driving the ad traffic to.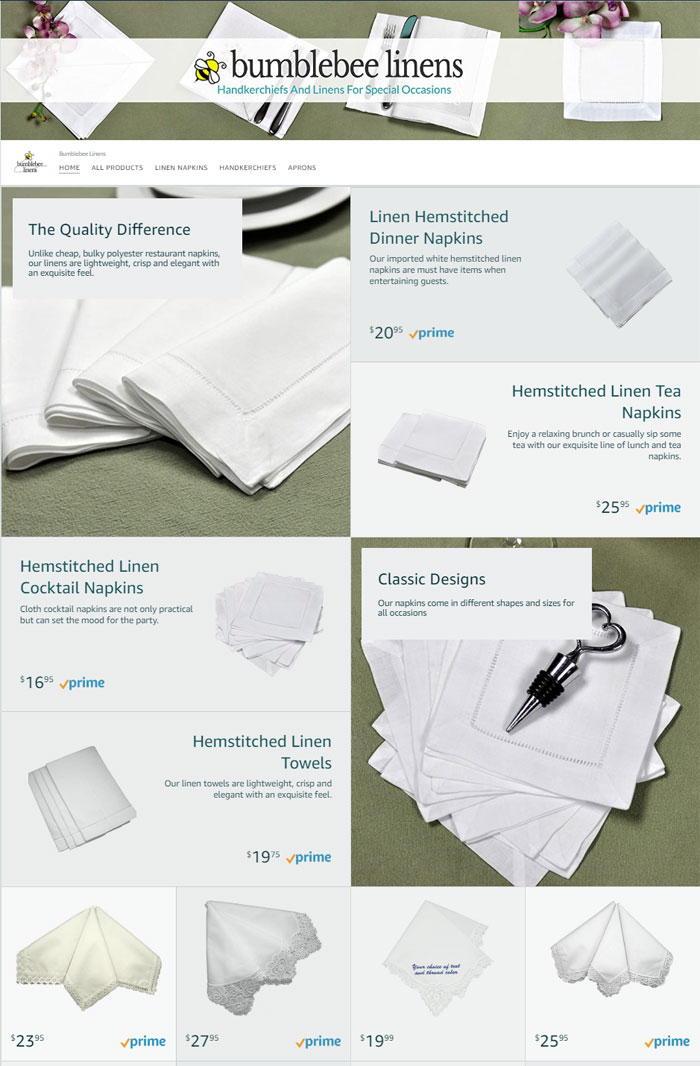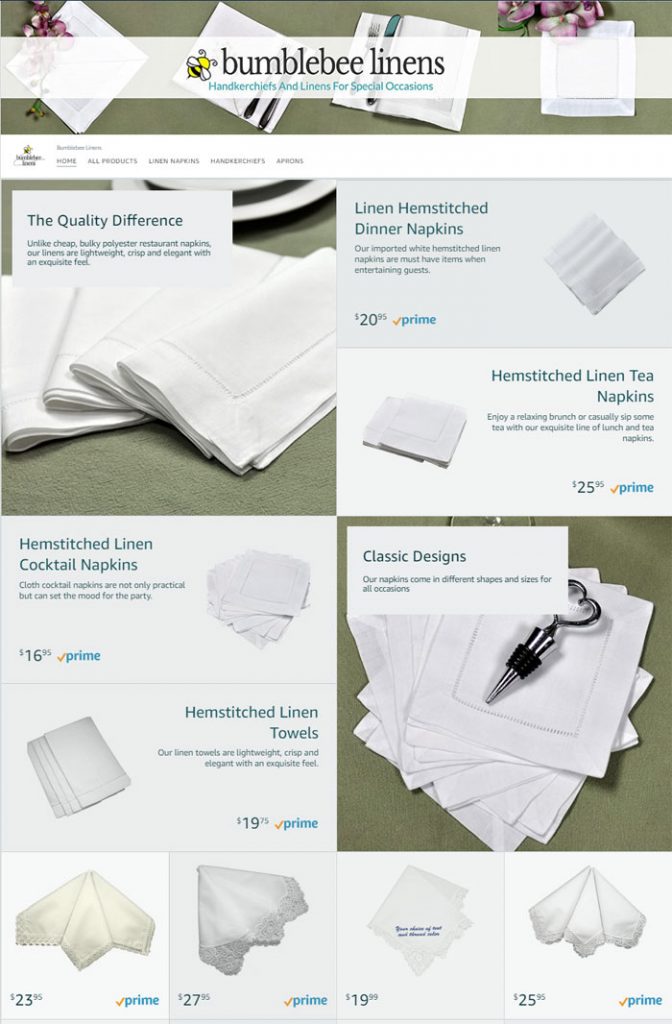 Here's how my retargeting ads performed last month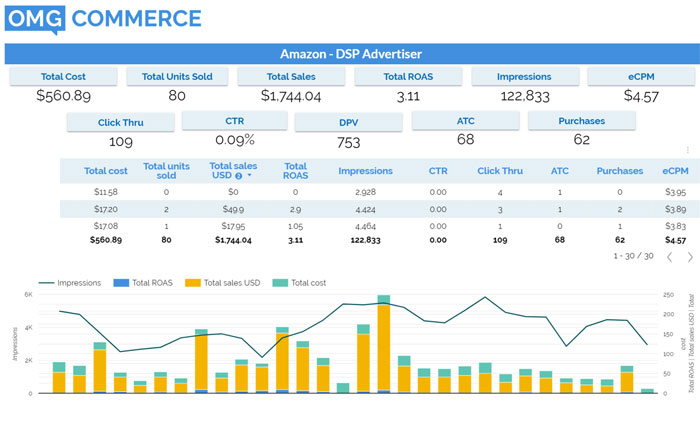 Right now, I'm getting about a 3X ROI but I've only been running DSP ads for about 3 months. Over time, my ROAS will improve with further refinement.
How To Get Started With Amazon DSP Top Of Funnel Ads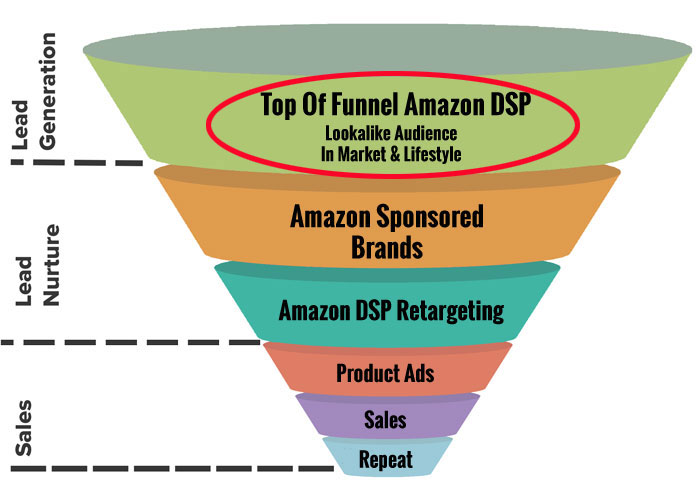 Amazon DSP is powerful because it allows you to access Amazon's hidden treasure trove of shopper preferences and behavior.
As mentioned above, you can use 4 main ways to target your top of funnel customers
Lifestyle Segments – Broad interest groups that your customers are interested in
In-Market Segments – Groups based on what customers have searched for recently
Demographic Segments – Groups based on where your customers live, how old they are etc…
Lookalike Segments – Groups that Amazon creates based on your existing customer list
For example for my linen napkins, I might target women over the age of 35 who like home and garden products.
Unlike Google Display Ad audiences, all of Amazon's audiences are based on customers looking for purchases not information.
As a result, your top of funnel Amazon DSP ads should convert better than your Google Display Ad counterparts depending on your offer.
Then, you can use your top of funnel Amazon DSP traffic to create retargeting audiences for your bottom of funnel ads.
Who Is Eligible For Amazon DSP?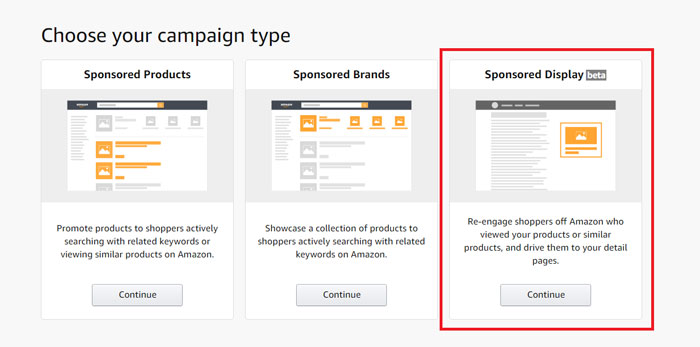 If Amazon DSP advertising sounds exciting to you, you'll be happy to know that it's available to all Amazon sellers with a few restrictions.
First off, you can only run Amazon DSP ads through Amazon or an authorized Amazon ads agency partner. Furthermore, you have to be willing to spend at least $35k.
Realistically, most small brands will not meet the ad spend threshold so you must look to Amazon advertising agency partners to share your ad spend with other clients.
This is exactly how I'm running my current Amazon DSP ads for my ecommerce brand.
Right now, I'm using OMGCommerce to run my Amazon DSP campaigns and they bill me once per month to run my ads. This way, I don't have to worry about meeting the $35K minimum and I get to leverage Amazon DSP ads to boost my sales.
Don't let the 35K minimum deter you from running Amazon DSP ads because there are ways around it!
Editor's Note: You must have at least a $5k overall monthly ad spend to work with OMGCommerce
The Missing Piece Of The Amazon Advertising Puzzle
Up until now, you could only advertise on Amazon using query based advertising which greatly limited your audience reach.
But with Amazon DSP, you can now reach practically any shopper on the Internet. In fact, Amazon DSP is disrupting the entire advertising industry much like how Facebook advertising took the world by storm not too long ago.
Unlike Facebook and Google however, Amazon's data is solely focused on shopping which makes their audiences the most valuable for ecommerce.
If you want to take advantage of Amazon DSP, then reach out to your favorite Amazon ads agency partner today. After all, 90% of Amazon sellers aren't leveraging these ads right now because of the ad spend minimum.
By taking a little initiative, you can have a leg up over the competition!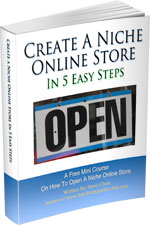 Ready To Get Serious About Starting An Online Business?
If you are really considering starting your own online business, then you have to check out my free mini course on How To Create A Niche Online Store In 5 Easy Steps.
In this 6 day mini course, I reveal the steps that my wife and I took to earn 100 thousand dollars in the span of just a year. Best of all, it's free and you'll receive weekly ecommerce tips and strategies!
Note: This post above may contain affiliate links, which means that I may receive a commission if you make a purchase when clicking a link. Please consult our privacy policy for more information.
Related Posts In Amazon Advertising Strategies
About Steve Chou

Steve Chou is a highly recognized influencer in the ecommerce space and has taught thousands of students how to effectively sell physical products online over at ProfitableOnlineStore.com. 

His blog, MyWifeQuitHerJob.com, has been featured in Forbes, Inc, The New York Times,  Entrepreneur and MSNBC.  

He's also a contributing author for BigCommerce, Klaviyo, ManyChat, Printful, Privy, CXL, Ecommerce Fuel, GlockApps, Privy, Social Media Examiner, Web Designer Depot, Sumo and other leading business publications.

In addition, he runs a popular ecommerce podcast, My Wife Quit Her Job, which is a top 25 marketing show on all of Apple Podcasts. 

To stay up to date with all of the latest ecommerce trends, Steve runs a 7 figure ecommerce store, BumblebeeLinens.com, with his wife and puts on an annual ecommerce conference called The Sellers Summit.  

Steve carries both a bachelors and a masters degree in electrical engineering from Stanford University. Despite majoring in electrical engineering, he spent a good portion of his graduate education studying entrepreneurship and the mechanics of running small businesses.