If you've built up a large social media following or a substantial YouTube subscriber base and you don't currently have a website, then the Amazon Influencer Program is a great way for you to monetize your audience.
As an aspiring Instagram or YouTube influencer, you may not have your own branded website yet.
After all, if your audience primarily lives on a 3rd party platform like YouTube or Instagram, why spend the time and money putting up a polished website that gets very little traffic?
But let's say that you promote a wide variety of affiliate products through your social media channels. Wouldn't it be much more convenient to have a page of all of your recommendations all in one place?
For example, instead of linking to every product individually on all of your posts or videos, why not simply send your followers to a single page of everything you love?
If you're an influencer with a decent sized following, the Amazon Influencer program allows you to do exactly that.
You can promote products to your social media following and earn a commission for every sale you refer.
This post will outline the benefits of the Amazon Influencer program and how it differs from the Amazon Associates program.
Get My Free Mini Course On How To Start A Successful Ecommerce Store
Are you interested in creating a strong, defensible brand for your products? If so, I put together a comprehensive package of resources that will help you launch your own online store from complete scratch. Be sure to grab it before you leave!
What Is The Amazon Influencer Program?

The Amazon Influencer Program allows you to get your own custom page on Amazon with an exclusive vanity URL to promote the products you recommend to your followers.
Whenever someone visits your page and makes a purchase, you earn a commission for the sale!
Your custom storefront on Amazon.com can be customized and curated with all of your favorite Amazon products and services all in one place which is a much more convenient way to promote your affiliate products on social media.
For example, a common question I'm asked is what gear I use to film my YouTube videos. But sometimes I get asked this question regardless of the topic of the video.
Instead of manually linking up my equipment on every video regardless of relevance, it's much easier to guide my subscribers to a separate page of every tool I use and love.
If you don't already have a website, then the Amazon Influencer program custom storefront is an easy way to put up a good looking home page on Amazon.com.
Because the Amazon Influencer program is an extension of the existing Amazon Associates program, if you are already promoting Amazon products, you'll automatically get access to the new influencer tools once you apply.
How To Qualify For The Amazon Influencer Program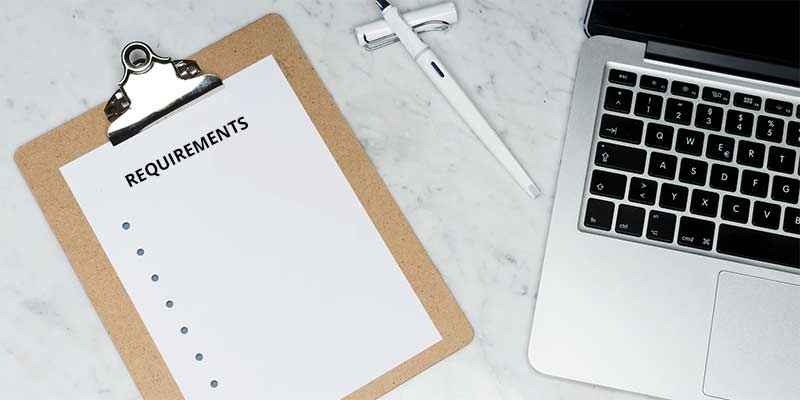 In order to apply for the Amazon Influencer Program, you must have either a YouTube, Instagram, Twitter or Facebook account.
It doesn't matter what topics you cover on your channel and influencers may participate in the program across most categories except sex, drugs, guns etc… Basically, if you talk about anything "sensitive", you probably won't get approved.
Once you apply, Amazon will look at the number of followers you have along with other engagement metrics to determine if you are a good fit.
The approval process for the Amazon influencer program is more rigorous than the regular Amazon Associates program and it's hard to predict Amazon's exact requirements.
But anecdotally, Amazon carefully looks at the nature of your content and the level of engagement with your followers.
For example, if you have 100K followers on Instagram but only 10 likes per post, then that's a huge red flag.
In their docs, Amazon states that they accept micro influencers and nano influencers as long as you have an engaged audience.
However, I've seen YouTube channels with very few subscribers get accepted into the program based on the high quality of their videos alone.
Bottom line, it's impossible to know whether you will get accepted or not but it's still worth applying. Worst case scenario, you apply again once your following gets larger.
Amazon Influencer Program Vs Amazon Associates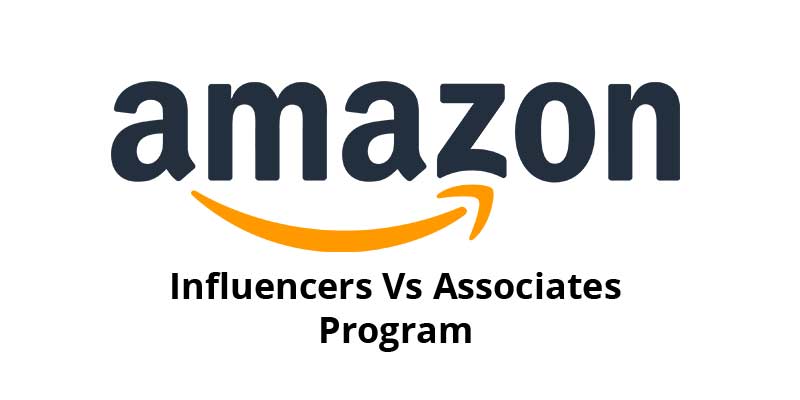 As mentioned earlier, the key difference between the Amazon Influencer program and the Amazon Associates program is the ability to create a custom Amazon storefront with your product recommendations.
If you already have a website or blog, then the Amazon Influencer program is virtually identical to the regular Amazon affiliate program.
In fact, the Amazon Influencer program is specifically described by Amazon as an extension of the Amazon affiliate program. And as far as I can tell, the commission payouts are identical as well.
Getting into the Amazon Influencer program is more difficult as well. Whereas Amazon pretty much accepts anyone to the Associates program with a website, the Amazon Influencer program is much more exclusive.
You can only get into the influencer program if you have a strong established audience.
The other big difference is that you may have access to more exclusive Amazon bounties that are unavailable to regular Amazon Associates members.
What Are Amazon Bounties?
Amazon Bounties are special offers and events for Amazon branded products that you can promote to make even more money online.
Unlike the typical Amazon Associates affiliate link which is pay per action or pay per sale, you can make money with Amazon bounties on a fixed advertising basis or a fixed cost per sale.
Here are some examples of Amazon bounties.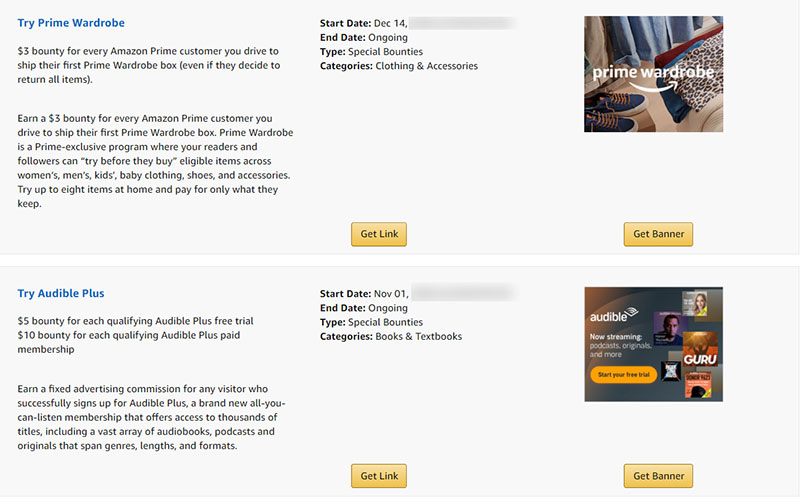 Based on the above, instead of earning a fixed percentage, you can make $3 for every customer you drive to Amazon Wardrobe or $5 for every Audible free trial.
Typically, Amazon bounties only apply to Amazon branded products and services which include…
Amazon Business Accounts
Amazon Wardrobe
Amazon Kindle
Audible
Amazon video
Amazon Pantry
Basically, the Amazon bounty program is an extra way to make money promoting Amazon's products. If you are large enough, Amazon may even reach out to you directly with exclusive offers.
How Much Can Amazon Influencers Make?
Amazon has reduced the payouts of their affiliate program every year. As a result, you need to generate a lot of traffic and sales in order to make significant money.
In general, you should treat Amazon Influencer revenue as a source of extra spending cash. Here's a breakdown of the affiliate percentages.
| Product Category | Fixed Commission Income Rates |
| --- | --- |
| Luxury Beauty, Luxury Stores Beauty, Amazon Coins | 10.00% |
| Digital Music, Physical Music, Handmade, Digital Videos | 5.00% |
| Physical Books, Kitchen, Automotive | 4.50% |
| Amazon Fire Tablet Devices, Amazon Kindle Devices, Amazon Fashion Women's, Men's & Kids Private Label, Luxury Stores Fashion, Apparel, Amazon Cloud Cam Devices, Fire TV Edition Smart TVs, Amazon Fire TV Devices, Amazon Echo Devices, Ring Devices, Watches, Jewelry, Luggage, Shoes, and Handbags & Accessories | 4.00% |
| Toys, Furniture, Home, Home Improvement, Lawn & Garden, Pets Products, Headphones, Beauty, Musical Instruments, Business & Industrial Supplies, Outdoors, Tools, Sports, Baby Products | 3.00% |
| PC, PC Components, DVD & Blu-Ray | 2.50% |
| Televisions, Digital Video Games | 2.00% |
| Amazon Fresh, Physical Video Games & Video Game Consoles, Grocery, Health & Personal Care | 1.00% |
| Gift Cards; Wireless Service Plans; Alcoholic Beverages; Digital Kindle Products purchased as a subscription; Food prepared and delivered from a restaurant; Amazon Appstore, Prime Now, or Amazon Pay Places | 0.00% |
| All Other Categories | 4.00% |
Even though the commission rates are relatively low, Amazon will pay you a commission based on the size of the customer's entire shopping cart as opposed to just the item you refer.
For example, if someone clicks on your affiliate link for a microphone but ends up buying a flat screen tv, you get a cut of both sales as long as they were made within 24 hours.
To illustrate your potential earnings with some real numbers, the typical Amazon payout is 4% on average. In order to make $100K, you have to refer $2.5M in sales.
Your commissions from the Amazon Influencer program are paid out about 60 days after each calendar month from when you referred your sale.
You can receive your funds by direct deposit, check or through an Amazon gift card. Depending on the payout type, Amazon will have a different payout minimum.
How To Get Started With The Amazon Influencer Program
Go the Amazon Influencer Program page on Associates Central and read the terms of service.
Apply to the program. You can qualify for the program with the social network of your choice. However, you should apply with the social media property where you have the largest following.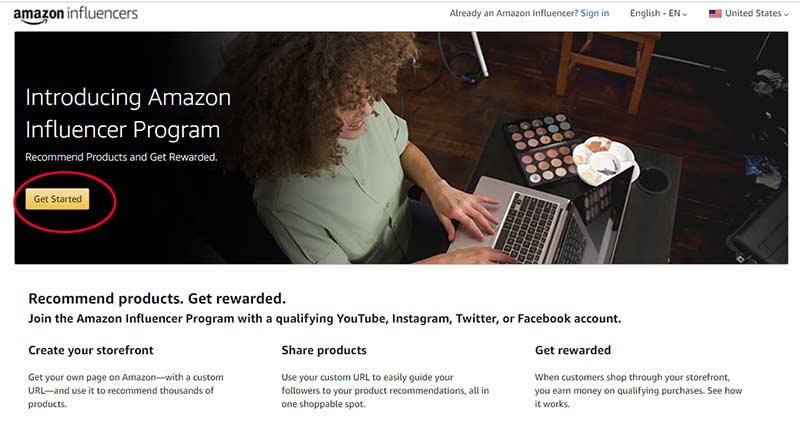 Set up your Amazon storefront. Select a vanity URL and add a description and photos to customize your page.
Populate your page with product recommendations. Use idea lists to add curated product recommendations and Amazon bounties to your page.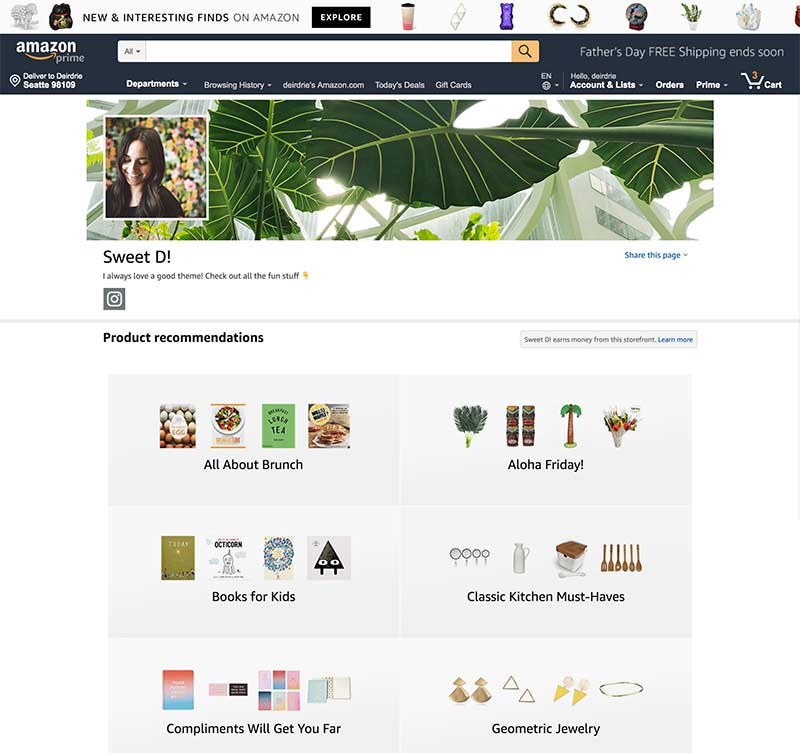 Promote Your Storefront on Your Channels. Refer your followers back to a central location of all of your Amazon recommendations for easy access.
Track Your Earnings. Pay attention to the products that sell the best on your social media channels. Sometime in the future, you may want to private label or create your own products for sale.
Your Amazon Influencer Program Storefront
Here's example of a typical Amazon storefront and how it is used with social media.
Amy Fritz is an up and coming YouTuber in the decorating and antiques space. However, she does not have her own website for her YouTube brand.
In her videos, she often talks about and promotes a variety of products. However, instead of linking up a ton of products in her video descriptions, she simply uses her Amazon Influencer store front link.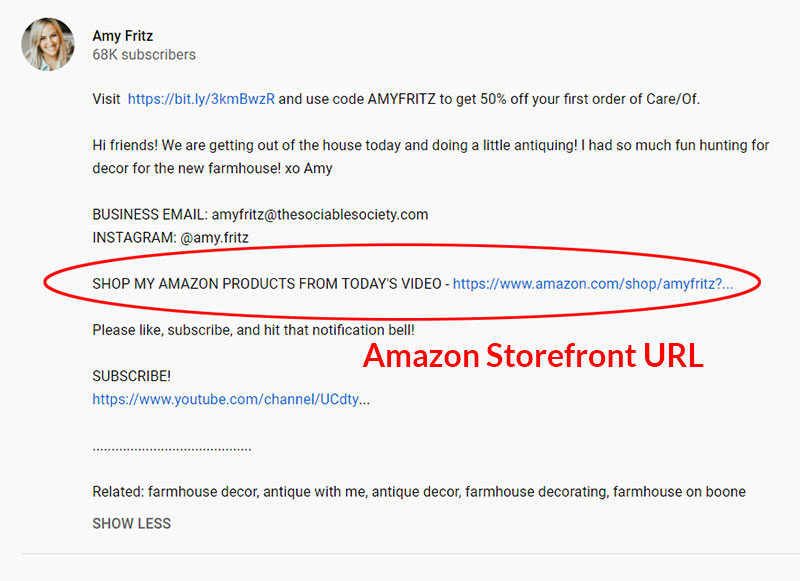 This is what her Amazon storefront page looks like.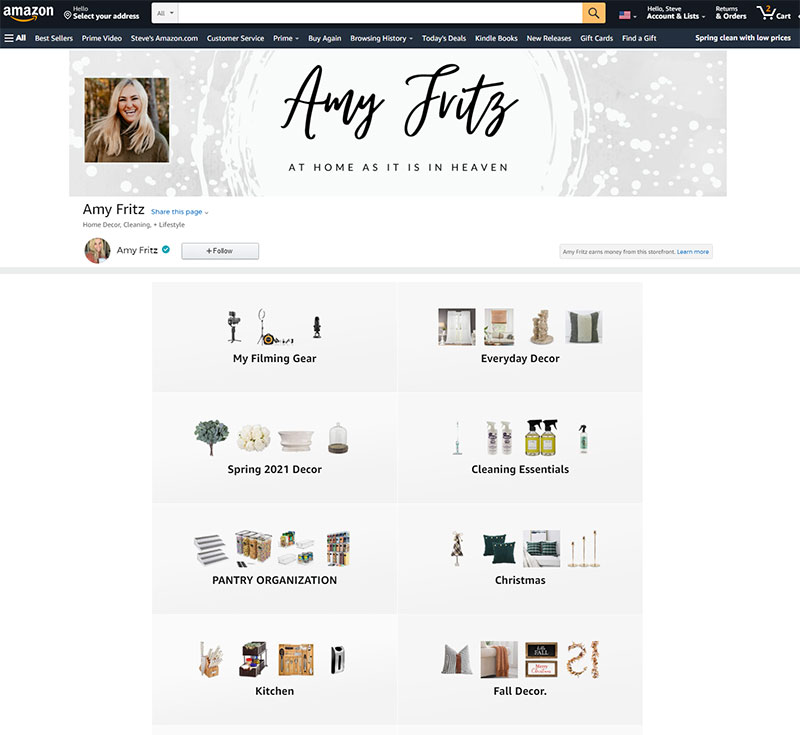 Her storefront page is well organized and covers a variety of categories that she's spoken about in her videos. In a way, your Amazon storefront can serve as a poor mans ecommerce affiliate store!
The biggest advantage that I see with an Amazon storefront URL is that you do not have to disclose that you are an affiliate in the social media description itself.
Instead, when a subscriber clicks over to your Amazon page, the page itself contains the disclosure.
How To Track Your Commissions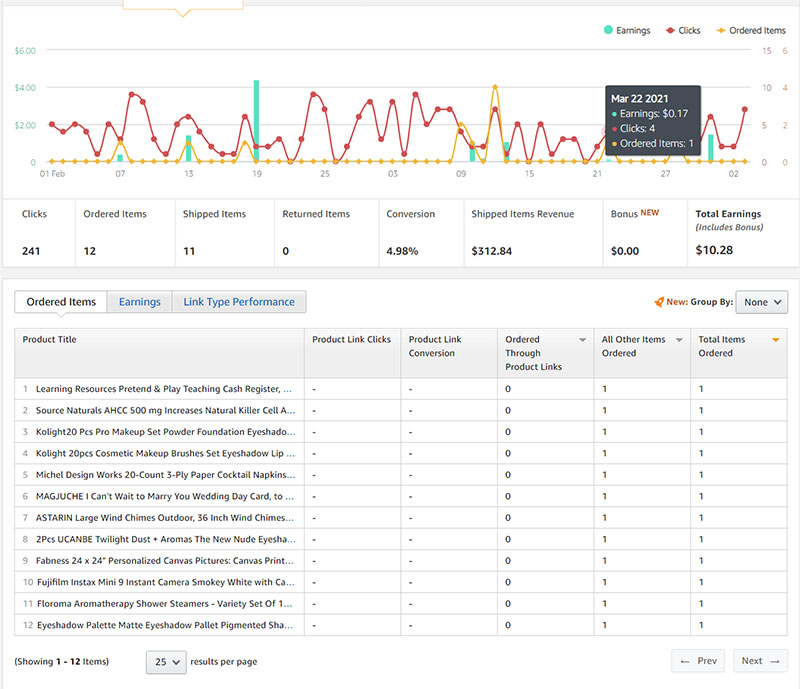 Amazon provides you with detailed tracking reports that tell you exactly what your followers purchased with your links.
This information is invaluable if you ever decide to sell your line of products.
For example, Amy Fritz recommends a variety of home decor products in her videos of which she's making about 4% commission per sale.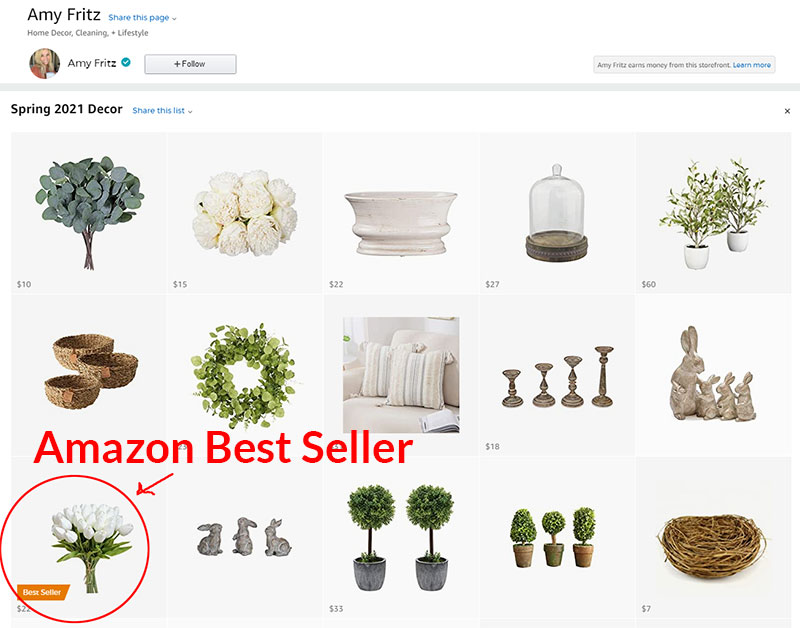 Let's say that she sells 1000 units of the artificial latex tulips per month.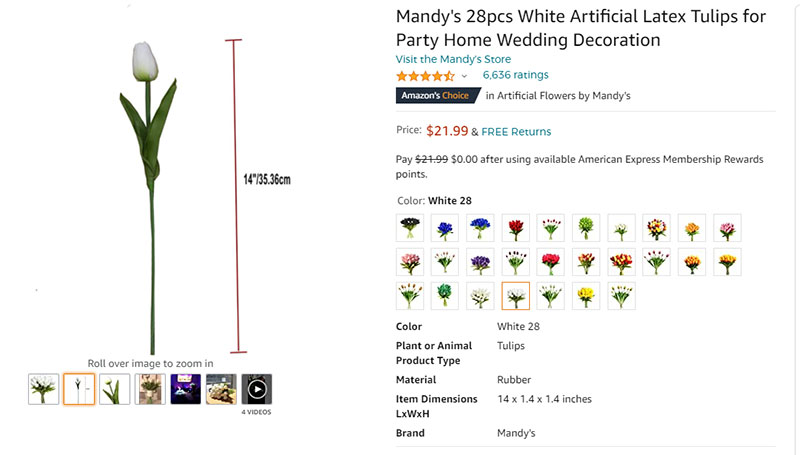 These tulips sell for $22 a piece. Amy makes a monthly commission of $22 * 1000 *.04 = $880. Not bad right?
But let's say that she decided to sell these tulips under her own private label brand. Assuming a 30% net margin, Amy could be making $22 * 1000 *.3 = $6600 / month.
This is the true value of the Amazon Influencer program!
By leveraging Amazon's vast marketplace, you can find out which products are the most attractive to your audience and then launch your own brand!
Read Amazon's Terms Of Service Carefully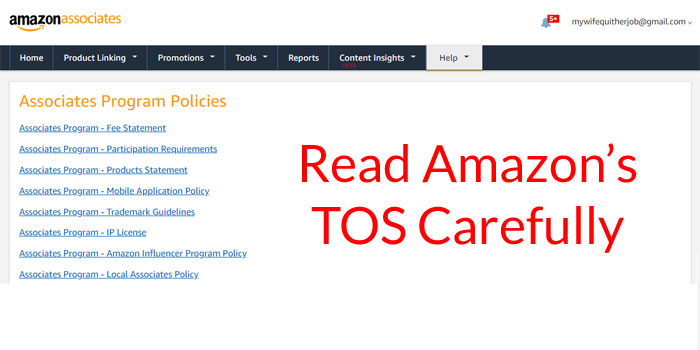 As an Amazon influencer, there are many rules that you must follow when promoting your products on social media.
If you violate any of the following rules, your account may get suspended.
Here's a list of the most important rules.
You can not sell sexually explicit items or have any explicit content on your site.
You can not make false claims about the products you are selling
You can not use Amazon reviews as your own on your social media posts
You can not offer incentives to purchase an Amazon product
You can not use paid placements for your affiliate products
You can not click on your own links and make purchases on Amazon
In addition to the above, there are many more specific rules to the Amazon Associates program that you MUST review.
Their guidelines change from time to time and it's very easy to get banned if you don't follow them to the letter.
Fortunately, the chances of violating the rules is greatly mitigated by steering all of your followers to your Amazon store page.
Amazon will take care of all of the disclosures on the page itself and the pricing will always be accurate.
Should You Join The Amazon Influencers Program?
The main value of the Amazon Influencers program is that addition of having your custom storefront URL on Amazon.
But if you already have your own branded website, this is not a compelling reason join. After all, you should be driving traffic back to a web property that you own so you can build your email list.
However, if you don't have the time to put up a polished website of your own, the Amazon Influencer program is a great way to establish a web presence for free.
In addition, you will have access to exclusive Amazon bounties and other offers which may not be available to regular Amazon Associates members.
Overall, there's no harm in applying so you may as well do so!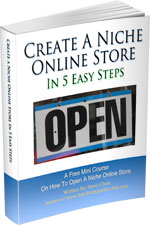 Ready To Get Serious About Starting An Online Business?
If you are really considering starting your own online business, then you have to check out my free mini course on How To Create A Niche Online Store In 5 Easy Steps.
In this 6 day mini course, I reveal the steps that my wife and I took to earn 100 thousand dollars in the span of just a year. Best of all, it's free and you'll receive weekly ecommerce tips and strategies!
Note: This post above may contain affiliate links, which means that I may receive a commission if you make a purchase when clicking a link. Please consult our privacy policy for more information.
Related Posts In Amazon Business Models
About Steve Chou

Steve Chou is a highly recognized influencer in the ecommerce space and has taught thousands of students how to effectively sell physical products online over at ProfitableOnlineStore.com. 

His blog, MyWifeQuitHerJob.com, has been featured in Forbes, Inc, The New York Times,  Entrepreneur and MSNBC.  

He's also a contributing author for BigCommerce, Klaviyo, ManyChat, Printful, Privy, CXL, Ecommerce Fuel, GlockApps, Privy, Social Media Examiner, Web Designer Depot, Sumo and other leading business publications.

In addition, he runs a popular ecommerce podcast, My Wife Quit Her Job, which is a top 25 marketing show on all of Apple Podcasts. 

To stay up to date with all of the latest ecommerce trends, Steve runs a 7 figure ecommerce store, BumblebeeLinens.com, with his wife and puts on an annual ecommerce conference called The Sellers Summit.  

Steve carries both a bachelors and a masters degree in electrical engineering from Stanford University. Despite majoring in electrical engineering, he spent a good portion of his graduate education studying entrepreneurship and the mechanics of running small businesses.