If you're looking to make a quick buck on a limited budget, reselling on Amazon might be the right business model for you.
You can start selling on Amazon part-time while keeping your day job and then transition to a full time seller once your business gains traction. The best part about reselling on Amazon is that you can run your business from the comforts of home.
Although reselling on Amazon is easy to do, it helps to use various Amazon apps and extensions to find profitable products to sell. You'll also need a marketing strategy to compete with the hundreds of other sellers selling similar products.
This guide will teach you how to get started reselling on Amazon and what you need to look out for to avoid losing money.
Get My Free Mini Course On How To Start A Successful Ecommerce Store
Are you interested in creating a strong, defensible brand for your products? If so, I put together a comprehensive package of resources that will help you launch your own online store from complete scratch. Be sure to grab it before you leave!
Different Ways Of Reselling On Amazon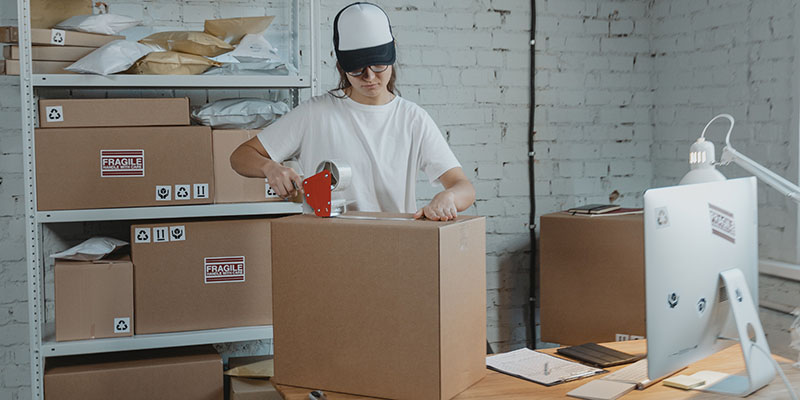 Retail Arbitrage
Retail arbitrage is an ecommerce business model where you buy discounted, clearance, or inexpensive products from retail stores and resell them at higher prices on Amazon.
Retail arbitrage is a good way to make money if there's a significant difference in the retail and online pricing of a product. For example, if you buy a product at Walmart for $10 and resell it on Amazon at $25, you can make a profit of $15.
Online Arbitrage
Online arbitrage is an ecommerce business model where you purchase low-priced products from online retailers like AliExpress and resell them on Amazon.
Online arbitrage is essentially retail arbitrage, except that the buying source is online rather than a brick and mortar store. If you're a new seller, online arbitrage can teach you how to sell online before starting your own ecommerce store.
Amazon Dropshipping
Amazon dropshipping is an ecommerce business model where you buy products on demand from a wholesaler, who directly ships the products to your customer.
There is no upfront investment in inventory or storage, and you can purchase products without any minimum order requirement.
Amazon Wholesale
Amazon wholesale is a business model where you buy products in bulk from wholesale suppliers and resell them on Amazon.
Buying wholesale is an excellent reselling strategy if you have a decent sized budget but you're not ready to invest the time and money to create your own private label products.
Selling wholesale on Amazon yields higher margins (~50%) but you'll need to find reliable supplires and manage your own inventory.
However, 3rd party logistics firms(3PL) or services like Amazon FBA can help you offload inventory and shipping logistics.
Is It Legal To Resell Products On Amazon?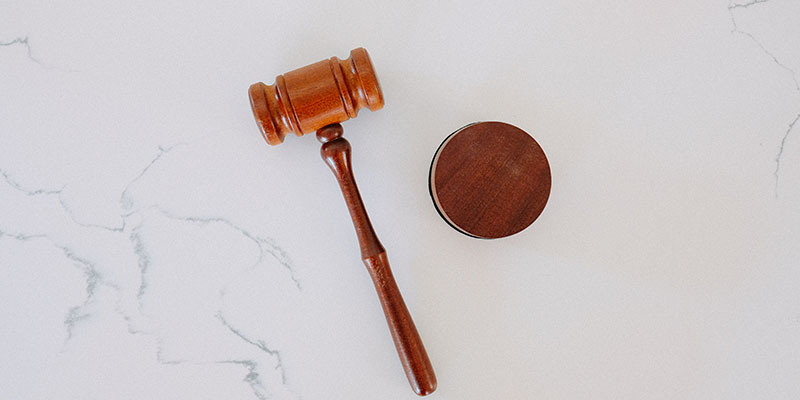 Reselling products on Amazon is 100% legal. Once you buy a product, it's yours, and you're free to resell it online or offline.
The "first-sale doctrine" states that intellectual property owners have limited rights to control the resale of their goods, except for record and software rentals.
As a result, you can resell practically anything on Amazon. If you search for a branded product on Amazon, you'll likely see multiple vendors selling it.
However, Amazon does impose restrictions on reselling specific brands. You may need to obtain pre-approval from Amazon before listing certain products.
Although Amazon doesn't have an official list, sellers have been asked to seek approval for Adidas, Lego, Disney, L'oreal, Marvel, Samsung, RayBan, and Under Armour products.
If you want to avoid the approval process, choose to resell products from generic brands.
How Reselling On Amazon Works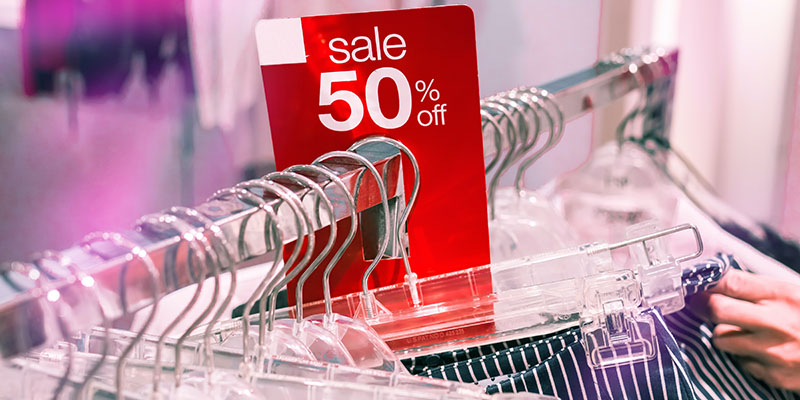 Here's how reselling on Amazon works:
You buy a product from a retail store, online retailer, or wholesaler at a significantly lower price than the market rate.
You list the product with a markup on Amazon using the Amazon Seller app.
Once a customer buys your product, you ship it yourself or use Fulfillment by Amazon (FBA) to fulfill the order. If you're dropshipping, the supplier ships the product directly to your customer.
You pocket the difference between your cost and the selling price minus a referral fee charged by Amazon.
How To Get Started Reselling On Amazon
Here's a step by step tutorial on how to become an Amazon reseller:
Step 1: Sign Up For An Amazon Sellers Account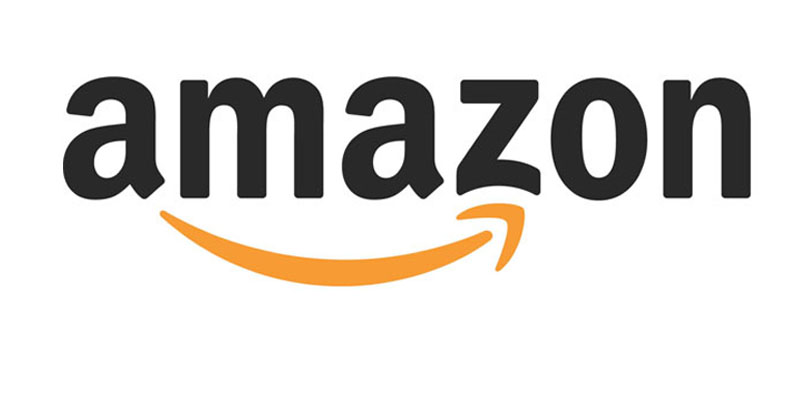 You can sign up as an individual or a professional seller when registering for an Amazon Seller account. All you need to sign up is your government ID, credit card, and tax details.
Accounts created by an individual are free and don't carry a monthly fee. But you need to pay $0.99 every time you sell a product on Amazon in addition to the standard 15% commission fee.
On the other hand, professional accounts are charged a monthly fee of $39.99 and get access to additional tools and features. The $.99 fee is waived with professional accounts.
You can sign up as an individual and upgrade to a professional account once you exceed 40 sales in a month.
Step 2: Research Products To Sell On Amazon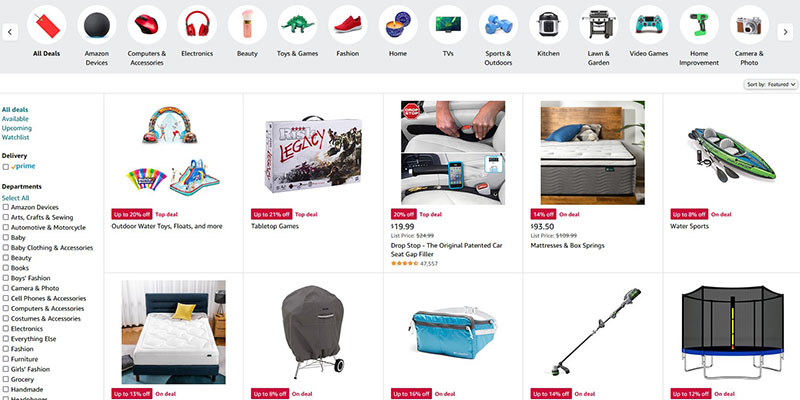 To make a profit reselling products on Amazon, you need to sell products that are popular but have low competition.
If you sell a highly competitive product at a low margin, your profits will be low. If your product is not in high demand, you'll lose money by not selling enough.
Here are some tips to help you pick the bestselling products to sell on Amazon:
Order product samples before listing the product or buying in bulk.
Go to consumer forums and find products that people are looking to buy.
Avoid fragile or heavy items that can increase shipping costs.
Don't list restricted products such as alcohol and hazardous items.
Avoid listing difficult to assemble products.
Choose products with high margins(>30%). You can use extensions from Jungle Scout or Helium10 to see how well a product sells on Amazon. You can check for different parameters such as sales history, price history, and product profitability.
Avoid listing seasonal items.
Here's a 4-minute video demo of how I do product research with JungleScout.
Step 3: Find Stores Or Suppliers For Products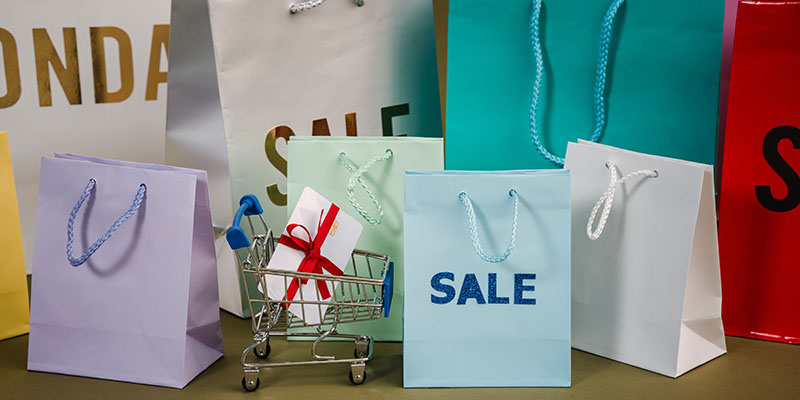 Finding great bargains is the key to making money as an Amazon reseller.
If you're doing retail arbitrage, you need to visit multiple stores to find the best deals. Here's a list of places to find good bargains:
Hypermarkets: Walmart and Target have clearance sales where the prices are often significantly lower than the Amazon retail price.
Warehouses: Costco and Sam's Club offer extremely low prices on their clearance products, but you'll need their annual paid membership to get their pricing.
Department Stores: Look for end-of-season sales in department stores such as Macy's, Kohl's, and Nordstrom, where the product prices are heavily marked down.
Outlet Malls: Retailers often send unwanted or excess goods to outlet malls, where they are sold at low prices.
Liquidation Stores: Amazon return pallets are sold in large batches to Amazon liquidation stores such as BULQ at dirt cheap prices from where you can buy random lots.
Tip: Use the Amazon Seller app to scan the product package or barcode to see its pricing on Amazon.
If you're doing online arbitrage, you need to scour online stores and websites to find great deals.
To expedite the product research process, you can use online arbitrage tools such as Tactical Arbitrage, Keepa, or RevSeller, which scrape through millions of product listings and show you potential deals based on the parameters you've set.
If you want to dropship, explore this list of dropshipping suppliers where you can get access to millions of products across various categories.
Editor's Note: AliExpress dropshipping is not allowed on Amazon and neither is Ebay dropshipping. If you dropship from either marketplace, your account will get suspended.
You can also look into Alibaba dropshipping and work with real factories and manufacturers to dropship products on your behalf. Once you're ready to create your own private label products, you can ask your Alibaba suppliers to produce your own line of branded products.
Finally, if you want to buy wholesale, you can look for suppliers locally or go with China wholesale vendors where you can purchase low-priced or white label products manufactured overseas.
To find local wholesale suppliers in the USA, you can use supplier directories such as ThomasNet and Maker's Row.
Step 4: Create Optimized Listings On Amazon
Go to your Seller Central account to add a new product for sale. If you're selling an existing product, search for the product in the Amazon catalog by its name, unique code (UPC), barcode (EAN), book number (ISBN), or Amazon identification number (ASIN).
In order to make your product listing visible to Amazon buyers, you must optimize your product listing with Amazon SEO to rank higher in the search results. An optimized listing on Amazon should meet the following criteria:
Relevant keywords in the title and description.
High-quality images and videos.
Clear product descriptions.
Informational bullet points that highlight the product's USP.
Step 5: Send Your Products To Amazon FBA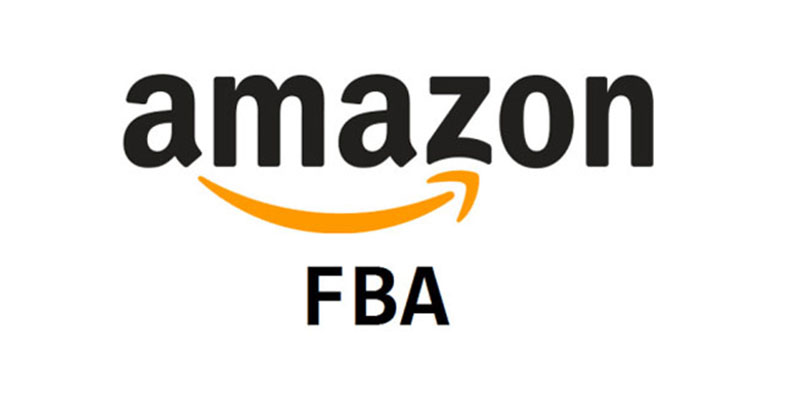 You can ship your products to an Amazon fulfillment center and let Amazon handle the storing, packing, and shipping of your goods using FBA.
If you use Fulfillment By Amazon, your products become Prime eligible. Having the Amazon Prime badge increases your conversion rate exponentially as it gives customers free two-day shipping.
However, Amazon FBA will cost you an additional 10% to 20% of your revenue on top of Amazon's referral fees.
That being said, Amazon FBA isn't the only way to fulfill your orders. You can also use Fulfillment by Merchant (FBM) and Seller Fulfilled Prime (SFP).
With Fulfillment By Merchant, you are responsible for storing and shipping your own orders and you have full control over what customers receive from start to end. But aside from your own shipping and storage costs, the only fee you have to pay is Amazon's standard closing fee.
If Amazon's FBA fees are too high for your products, you can start off with FBM or use a third party logistics company (3PL).
Seller Fulfilled Prime(SFP) is a unique fulfillment method where you ship your own orders with Amazon Prime eligibility. To be eligible for SFP, you must have a high seller rating and satisfy Amazon's strict shipping and fulfillment requirements.
Note: If you're dropshipping, you must choose the Fulfillment by Merchant method because your suppliers will be shipping the product directly to your customers.
Step 6: Win Buy Box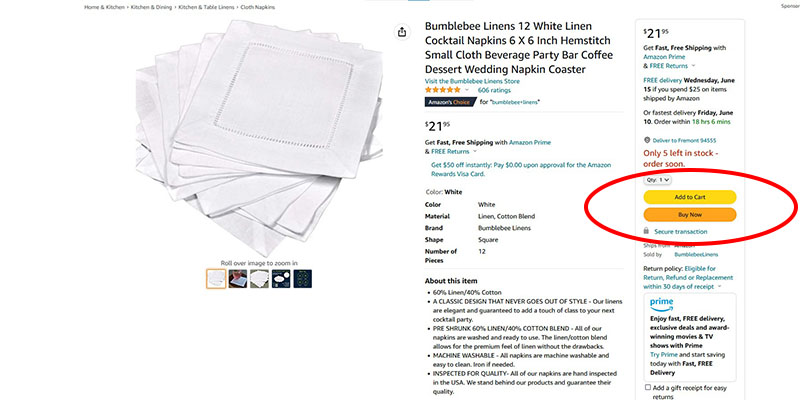 The Buy Box is a white box with "Add to Cart," "Buy Now," and "Add to List" buttons located on the Amazon product detail page.
Only sellers that meet Amazon's performance-based requirements are eligible to win the Buy Box. Meanwhile, sellers who don't win the Buy Box are placed in the "More Buying Choices" box.
To become a successful Amazon reseller, you must own the Buy Box on your product page because 82% of Amazon sales go through the Buy Box.
Since multiple sellers can sell the exact same product, you must fight with other merchants to get the Buy Box. To have the best chance of winning the Buy Box, you must fulfill the following conditions:
You should have a professional Amazon sellers account.
Your products must be new and not used.
You must have a strong on time shipping record.
You must have a high seller rating.
Your product pricing must be competitive.
You must have inventory in stock.
To check for buy box eligibility, go to your "Manage Inventory" page and navigate to "Preferences" > "Buy Box Eligible". Then, click on the "Save Changes" button located at the bottom of the page.
You should see a column that displays the Buy Box eligibility status for each of your products.
The fulfillment method you use also carries an impact. In general, Amazon FBA merchants have a better chance of earning the Buy Box.
Although you can win the Buy Box as an FBM seller, you need to have a high seller score and sell your products at a low price.
If you're having problems winning the buy box for your products, you may need to reduce your price further.
Step 7: Market Your Product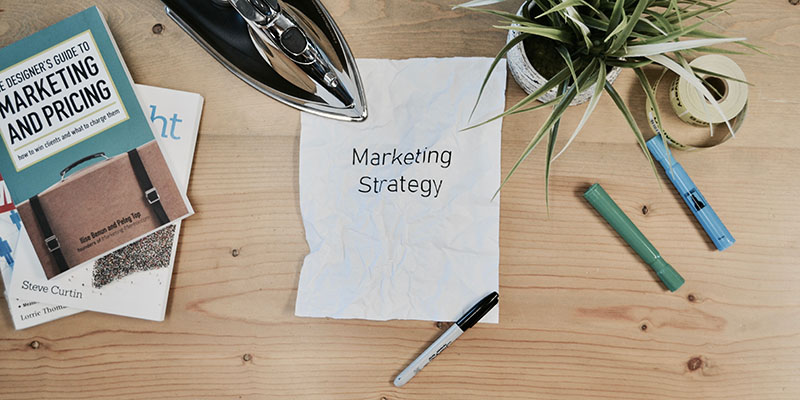 In order to generate sales reselling products on Amazon, you need a marketing strategy. Use the following tips to increase sales and gain a competitive advantage over other sellers:
Pay attention to customer reviews: Customer reviews and ratings can make or break a shopper's buying decision as customers can't physically see or feel a product.

To maximize your chances of getting a positive review, include a thank-you card in your packaging to let customers know you are grateful for their purchase. You can ask for a review on the card itself or send a request using Amazon's Request a Review feature.

Read this for more information on how to get reviews on Amazon.

Promote your product on social media: There's more to social media marketing than just posting about your products on channels like Facebook and Instagram. Your ultimate goal is to create a brand identity and reach potential customers outside of Amazon.

The right way to market on social media is to have conversations with your followers and post interesting facts and how-to videos that appeal to your target audience.

You can also link your social media accounts on your Amazon brand page and product listings to increase your followers.

Run Amazon PPC ads – Find the keywords that customers are typing in to find your products and bid on these keywords. Read this for more information on how to run profitable Amazon PPC ads
What Are The Best Products To Resell On Amazon?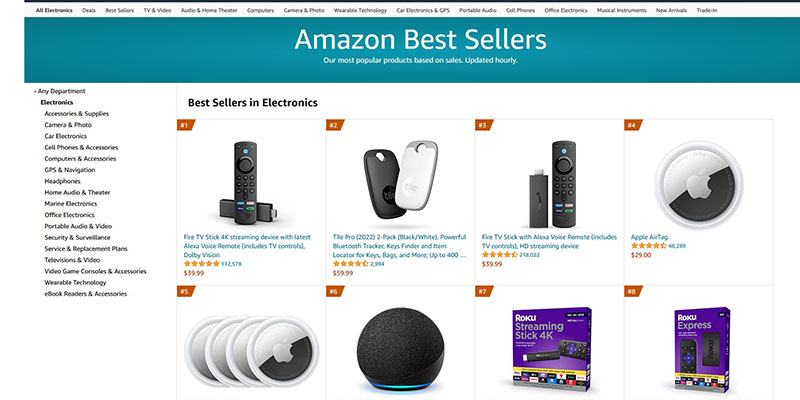 Here are some of the best products to sell on Amazon:
Electronics & Accessories: Electronics is the highest-selling category on Amazon. Although the Electronics category is competitive, the referral fee is only 8% compared to other categories like Kitchen, where it's 15%.
Toys & Board games: Toys and Games is an evergreen category that generates many sales around the holidays. Since the pandemic, toys and board games sales have increased as parents look to keep their children occupied and entertained.
Home & Kitchen: Home and Kitchen is a popular category because people now spend more time at home than ever before. Some good products to sell include coasters, wall art, candles, and shakers.
Books: The margins on new and used books are fairly high and customers are willing to pay hundreds to thousands of dollars for first editions, vintage, and collectible signed copies of their favorite books. Textbooks are also great to sell as they have a high resale value.
Records and record players: Many artists have started reselling their music on vinyl as the demand for records has increased in recent years. You can purchase used records at a low cost and resell them to music fans at a good profit.
Phone cases: Phone cases are light and small, which makes them inexpensive to store and ship. The demand for phone cases continues to rise as people upgrade their phones every year.
Collectibles: Collectibles is a super niche category, but you can earn a fortune if you sell the right products. Collectibles include sports tickets, comics, Pokemon cards, books, posters, etc. There's a constant demand for these products, but you must keep up with the latest prices in order to make a profit.
Tips For Reselling On Amazon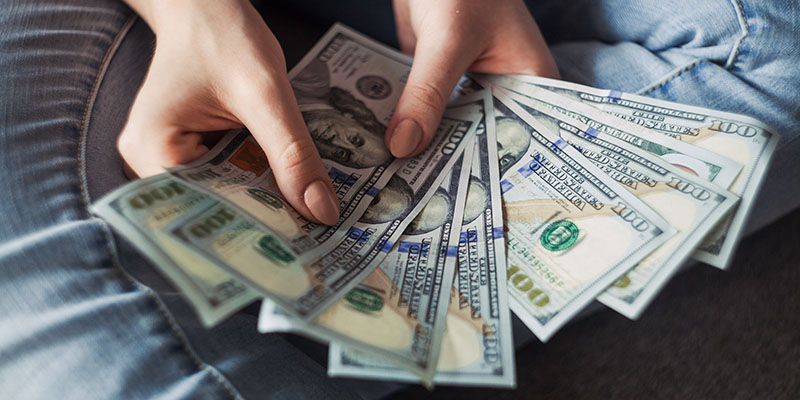 Follow trends: Use tools like Google Trends or Camel Camel Camel to find upward trending products. Also, check seasonality to find out which products sell better during different seasons and holidays.

For example, selling inflatable pools and floats is extremely profitable during the summer. People are willing to pay 2x to 3x the market price as floats usually run out of stock quickly.

Check Amazon restrictions: Amazon has restrictions on which products and brands you can sell. In addition, Amazon also restricts certain categories, such as jewelry and watches which require approval to list products for sale.

Use the Amazon Seller app to check for restrictions by entering the product SKU and checking for "Selling Eligibility".

Source high-quality products: Whether you're selling a low- or high-competition product, don't sell junk. Selling a high quality product improves your chances of getting good reviews and ratings, which always leads to more sales. Selling poor quality products can lead to a high amount of returns which will eventually result in a suspension.
Choose low competition products: If you're a new reseller, it's best to select low competition products to establish yourself as a leader in a category. Selling a low competition product also makes it easier for you to win the Buy Box.
Buy high margin products: Amazon charges a hefty 15% fee to sell on their marketplace. With FBA, your fees can be as high as 25%. As a result, you should never buy a product unless you can make at least a 30% margin (bare minimum).
Pros Of Reselling On Amazon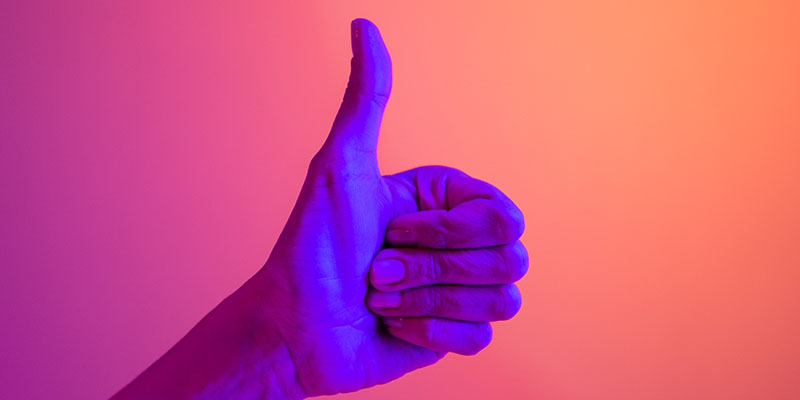 Low upfront costs: You don't need much money to resell goods on Amazon unless you're buying wholesale. The bulk of your investment will be the cost of your products.
No technical experience: You don't need to be tech savvy because Amazon takes care of everything. If you know how to surf the web, you can resell on Amazon.
Low overhead: Amazon FBA handles most of the fulfillment heavy lifting so you don't need to run your own warehouse. Outside of the cost of your products, there is little to no overhead to run an Amazon reselling business.
Great for beginners: Reselling on Amazon is a great option for new sellers who want to learn how to sell online before investing in private label products.
Cons Of Reselling On Amazon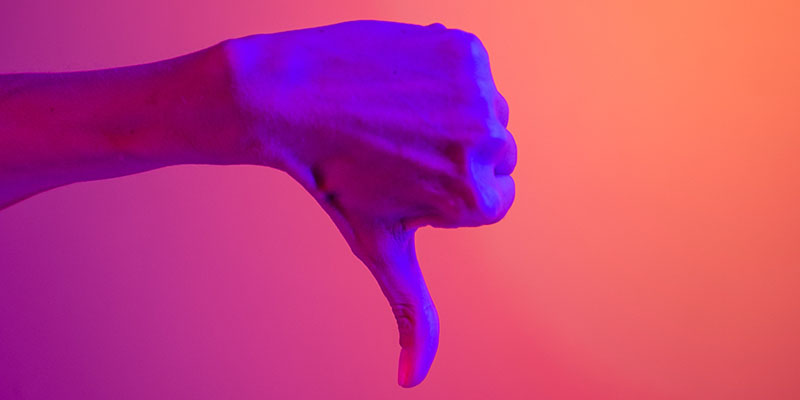 High competition: Amazon has 1.11 million active sellers in the US. As an Amazon reseller, you'll be competing with many sellers selling the same product as you.
Low margins: Because the competition is fierce, you may need to lower your prices to win the Buy Box which may reduce your profit margins.
No control over product supply: As a reseller, you don't have control over production or your supply chain. You also can't control product quality, so your reputation as a seller depends on the quality of your suppliers.
Amazon constantly changes the rules: Amazon constantly changes its rules about what you can or can not sell and how to communicate with your customers. You must keep up with the latest rules or risk a suspension.
Amazon hides your customers from you: Selling on an online marketplace like Amazon means you can't build long-lasting relationships with customers. All communication must involve order fulfillment and you can not lead your customers away from Amazon.
Alternatives To Reselling On Amazon
Reselling on Amazon isn't a scalable business model because you need to spend a significant amount of time shopping for products. Because you don't have a steady supply of goods, you're constantly on the lookout for new deals.
Out of all the Amazon reselling models, retail arbitrage takes the most effort because you must physically shop at brick and mortar stores. Online arbitrage isn't as labor-intensive, but you need to constantly monitor online deals which can disappear quickly.
Dropshipping and buying wholesale are better ecommerce models than retail and online arbitrage because you have a steady supply of products and reliable suppliers in place.
But the best way to resell on Amazon is to sell your own private label products. Having your own brand establishes credibility and no one can undercut you on price or steal your buy box.
Ultimately, your goal should be to own your own website where you can build a strong brand and customer base. Reselling on Amazon should just be a stepping stone.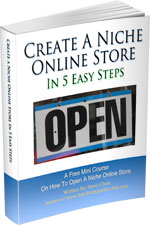 Ready To Get Serious About Starting An Online Business?
If you are really considering starting your own online business, then you have to check out my free mini course on How To Create A Niche Online Store In 5 Easy Steps.
In this 6 day mini course, I reveal the steps that my wife and I took to earn 100 thousand dollars in the span of just a year. Best of all, it's free and you'll receive weekly ecommerce tips and strategies!
Note: This post above may contain affiliate links, which means that I may receive a commission if you make a purchase when clicking a link. Please consult our privacy policy for more information.
Related Posts In Amazon Business Models
About Steve Chou

Steve Chou is a highly recognized influencer in the ecommerce space and has taught thousands of students how to effectively sell physical products online over at ProfitableOnlineStore.com. 

His blog, MyWifeQuitHerJob.com, has been featured in Forbes, Inc, The New York Times,  Entrepreneur and MSNBC.  

He's also a contributing author for BigCommerce, Klaviyo, ManyChat, Printful, Privy, CXL, Ecommerce Fuel, GlockApps, Privy, Social Media Examiner, Web Designer Depot, Sumo and other leading business publications.

In addition, he runs a popular ecommerce podcast, My Wife Quit Her Job, which is a top 25 marketing show on all of Apple Podcasts. 

To stay up to date with all of the latest ecommerce trends, Steve runs a 7 figure ecommerce store, BumblebeeLinens.com, with his wife and puts on an annual ecommerce conference called The Sellers Summit.  

Steve carries both a bachelors and a masters degree in electrical engineering from Stanford University. Despite majoring in electrical engineering, he spent a good portion of his graduate education studying entrepreneurship and the mechanics of running small businesses.