Seller Fulfilled Prime (SFP) is a fulfillment program that lets you list products on Amazon with the Prime symbol WITHOUT using Amazon's warehouses.
By signing up for SFP, a seller must commit to offering the same level of service as Amazon fulfillment which includes two day Prime shipping.
Compared to FBA, Seller Fulfilled Prime can be attractive because it gives you control over your fulfillment operations and your profit margins.
If you've ever sold on Amazon FBA, you know that Amazon often loses inventory or restricts the number of products you are allowed to send into their warehouses due to capacity.
With Seller Fulfilled Prime, you are in full control of your inventory and SFP can save you from paying the high costs of Amazon storage and fulfillment fees.
But before you sign up for Seller Fulfilled Prime, you must decide if your business can meet Amazon's strict requirements.
Amazon is rolling out new changes to SFP in 2021, and knowing these changes will help you decide if Seller Fulfilled Prime is the best option for your ecommerce business.
This post covers everything you need to know about Seller-Fulfilled Prime, including:
The differences between FBA, FBM, and SFP
Seller-Fulfilled Prime requirements
The pros and cons of SFP
SFP changes to expect in 2021
Alternative SFP fulfillment methods
Get My Free Mini Course On How To Start A Successful Ecommerce Store
Are you interested in creating a strong, defensible brand for your products? If so, I put together a comprehensive package of resources that will help you launch your own online store from complete scratch. Be sure to grab it before you leave!
What Are The Differences Between Fulfilled By Amazon, Fulfilled By Merchant, And Seller Fulfilled Prime?

When it comes to selling on Amazon, sellers can either fulfill orders themselves or allow Amazon to handle orders for them.
In this section, we'll go over the different Amazon fulfillment methods to help you decide if you should sign up for Seller Fulfilled Prime.
In addition, I will list the pros and cons of each fulfillment method, so you can weigh your different options.
Fulfillment by Amazon (FBA)
Ideal For: Amazon sellers with decent margins and high sell-through rates who do not want to deal with inventory and fulfillment.
Fulfillment by Amazon (FBA) allows sellers to store their products in Amazon's warehouses. In turn, Amazon packs, ships, and fulfills the orders.
FBA products automatically sell as Prime since Amazon has full control over their shipping operations.
But the downside with FBA is that sellers have to build up their sales before they are allowed to send in products in quantity.
When their warehouses are at capacity, Amazon can refuse to accept new shipments from your company or greatly limit the number of products that are allowed to be stored.
Especially if you are a brand new seller, it may take a while to build up your sales velocity to effectively leverage FBA.
Furthermore, FBA storage fees and fulfillment fees can cost you more money than fulfilling orders on your own.
Amazon has been steadily increasing their rates every year and it's important to note that Amazon FBA is only economical if you are able to turnover your inventory on a regular basis.
If sales are slow, Amazon charges a monthly storage fee whether or not your products sell and twice a year, your products will incur long term storage fees if they have not sold within 6 months.
But the biggest advantage of FBA is that it saves you the trouble of managing your own fulfillment network.
Fulfillment by Merchant (FBM)
Ideal For: Amazon sellers with lower sell-through rates and tighter margins.
Fulfillment by Merchant (FBM) sellers either ship their orders themselves or use a third-party logistics (3PL) firm to fulfill their own products. FBM is typically the default option for sellers starting out on Amazon.com.
By selling with FBM, you get access to Amazon's huge customer base without paying Amazon's high FBA fees and there are no inventory or unit limits for your business.
At the same time, you get to maintain control over your business operations and product margins.
Since FBA fees can be quite expensive depending on the product, FBM is a good option for you if you have slim margins or if your products do not sell very quickly.
But it's worth noting that you still have to pay Amazon's monthly subscription fees, per-item selling fees and referral fees as an FBM seller. Moreover, FBM products are not eligible for the Amazon Prime badge which limits your pool of customers.
For example, many buyers filter out non Amazon Prime sellers when they shop on Amazon.
Seller-Fulfilled Prime (SFP)
Ideal For: Amazon sellers who want to use the Prime badge while maintaining control over their business, profit margins, and branding.
If you want to enjoy the combined benefits of FBA and FBM, you may want to consider Seller-Fulfilled Prime (SFP) as a fulfillment option.
SFP sellers are able to offer two day Prime shipping while enjoying the sales benefits of the Amazon Prime badge. Meanwhile, Amazon gets to increase its Prime offerings without expanding their warehouse operations.
Sellers under SFP store their inventory in their own warehouse or in a third-party fulfillment center and are responsible for fulfilling every order.
Not only that, but you must commit to fast, two-day shipping without charging extra for customers.
You will also have to meet extremely strict criteria to be eligible for SFP and maintain SFP status. But the benefits of SFP can make this program worth looking into as a fulfillment method.
What Is Seller-Fulfilled Prime And How Does It Work?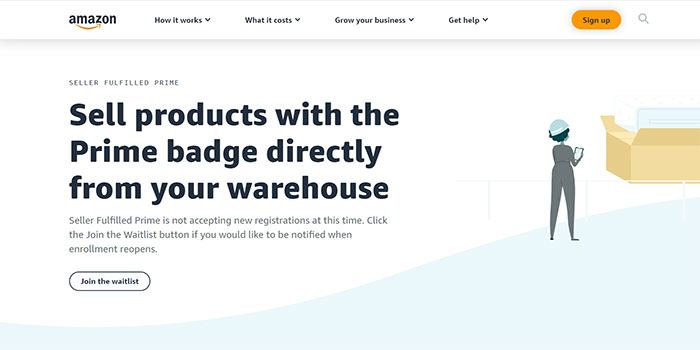 Seller Fulfilled Prime is a fulfillment program offered by Amazon where sellers get the Prime shipping badge while fulfilling their own orders.
The process of signing up for Seller Fulfilled Prime is extremely strict and Amazon often has a wait list for new SFP applicants.
In fact, Amazon's SFP application process is purposely complex to ensure that sellers can live up to the Prime badge and meet Amazon's lofty fulfillment standards.
First off, all Seller-Fulfilled Prime applicants have to go through a rigorous trial period.
During this trial period, you must meet Amazon's standard delivery times, cancellation rates, and other metrics. (The next section provides a more detailed list of these requirements.)
In general, the SFP enrollment process includes:
Registering your business on the Amazon Seller-Fulfilled Prime website.
Enabling Prime shipping in the Prime shipping template within SFP Seller Central.
Assigning SKUs to enroll in SFP through the Prime shipping template.
Fulfilling Amazon shipping requirements during the trial period.
Once you complete the trial period, Amazon will automatically enroll you in SFP and approve the Prime badge on your product listings.
What Are The Requirements For Seller Fulfilled Prime?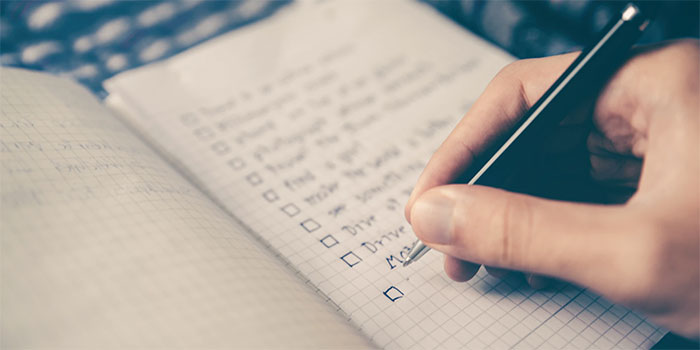 Amazon requires SFP applicants to go through a trial period of between 5 to 90 days.
And within this 90-day trial period, you must meet Amazon's strict criteria for at least 50 Prime trial orders.
Editor's Note: Your listings will not have the Prime badge during the trial period.
Here's a list of requirements you must meet in order to qualify for SFP:
Offer Premium shipping options – If you don't have premium shipping enabled, you must quality for it first. To be eligible, your account must be 90 days or older. All orders must be tracked meet the following metrics: 99% tracking, 97% on-time delivery and a .5% or less cancellation rate.
Achieve on-time shipping for over 99% of orders – During the trial period, Amazon expects you to have a 99% on-time shipping rate and a 99% same-day shipping rate. All orders must be processed and shipped by 4PM on the day of the order for two day shipping and by 1pm for same day shipping.
Keep your cancellation rate lower than .5% – In the event that you are overwhelmed with orders and can't fulfill your orders within .5%, you won't be approved.
Use Amazon Buy Shipping Services for at least 99% of orders – You must purchase shipping labels in Seller Central and automatically add tracking info to orders.
Use Amazon Seller-Fulfilled Prime carriers to deliver orders – You must use Amazon approved shipping services for all of your orders.
Agree to Amazon's Returns Policy – Amazon always favors the buyer.
Allow Amazon to deal with customer service inquiries.
Amazon automatically enrolls you into SFP after you complete the trial period, and you'll be able to start selling Prime products.
To maintain your eligibility for SFP, you'll have to achieve the same Prime trial metrics consistently.
If your feedback rating or cancellation rate drops below Amazon criteria even for one day, you could lose the Prime badge on your listing and no longer be eligible for SFP.
The Pros And Cons Of Seller Fulfilled Prime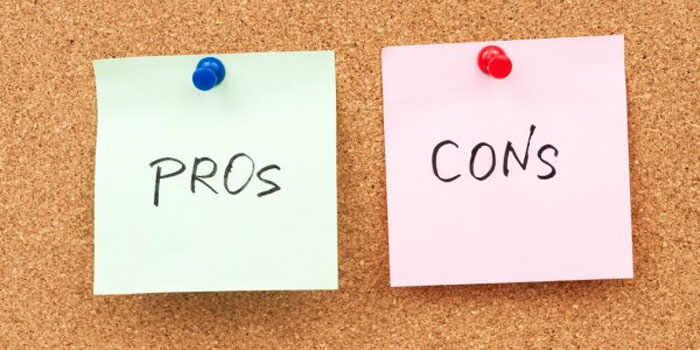 Here are the advantages and disadvantages of Seller Fulfilled Prime that you must be aware of before you sign up.
In general, shipping via SFP is an enormous commitment which will require a significant amount of resources to maintain.
The Pros Of Seller Fulfilled Prime
You get access to Amazon's 150 million Prime members – SFP lets you leverage Amazon's vast and loyal customer base. 67% of Amazon Prime members said they would shop at Amazon if they had to choose only one store.

Prime customers often filter their search by Prime products. This means better discoverability for your Prime listings.

You avoid paying FBA fees and storage fees – Amazon's storage and fulfillment fees are high compared to practically any 3PL.

Because Amazon's fees depend on product weight and dimensions, SFP can be more profitable than FBA depending on what you sell.

You have more control over your inventory – With SFP, you are in full control of your own fulfillment and you can negotiate your own rates.

Amazon can not limit your unit count or lose your inventory. In addition, SFP allows you to save time and effort by maintaining all of your operations in one location (no need to ship to multiple Amazon warehouses), whether its in your own warehouse or in a third-party fulfillment center.

You increase your chances of winning the Buy Box when selling other brands – Sellers who win the Buy Box become the default option when customers click on "Add to Cart." SFP products with the Prime badge have better chances of winning the Buy Box than FBM products.
The Cons Of Seller-Fulfilled Prime
You have to comply with Amazon's strict requirements to maintain SFP status – Amazon has extremely stringent requirements for SFP, and you lose Prime eligibility if you can't meet their demands.

In addition, the Seller Fulfilled Prime requirements will get even more strict starting in February 2021. More on this below.

You must spend money on storage and shipping costs – While you don't have to pay FBA and Amazon storage fees, you still have to spend money on your own fulfillment operations. If you've never run a warehouse before, SFP is not a good way to learn.

Because Amazon is so strict with their requirements, there are very few 3PLs who can comply with their policies.

You have to deal with returns – SFP sellers have to follow Amazon's return policies and handle their own customer returns. In comparison, FBA sellers can offload these logistics challenges to Amazon, which automatically accepts returned items.

Handling returns as an SFP seller can be overwhelming if you have limited storage space or if you don't have SOPs in place to handle them.
Who Should Sign Up For Seller Fulfilled Prime?

Seller Fulfilled Prime is a great option for experienced sellers who sell in volume, who want to be in full control over their fulfillment and who can meet Amazon's stringent demands for the Prime badge.
But SFP is definitely not for the feint of heart. Unless you are experienced with warehouse management or unless you have access to a 3PL that you can trust to ship orders on time all of the time, then I would stick with Amazon FBA.
If you are on the fence about SFP and you think the requirements are strict now, they will get even worse in 2021.
For example, SFP sellers are currently allowed to offer regional two day Prime shipping in select areas. But starting February 2021, SFP sellers will have to provide nationwide two day delivery and Saturday delivery to customers.
Below is a summary of what's set to change with Seller Fulfilled Prime in 2021.
I will also enumerate some alternative SFP fulfillment options that you can use to maintain the Prime badge on your listings.
2021 Changes To Amazon SFP And What It Means For Sellers
In February 2021, Amazon will introduce changes to Seller-Fulfilled Prime in an effort to improve the company's performance metrics.
By next year, SFP sellers will have to meet the following new requirements:
Offer nationwide two day delivery for standard-sized products.
Provide Saturday delivery and pick-ups.
Meet one and two day delivery targets.
These stringent requirements will further limit the number of sellers who can enroll in SFP. Here's an announcement Amazon recently sent out to SFP sellers verbatim
Dear seller,

We are always listening to our customers, and Prime members consistently tell us they want free and fast shipping. This is why Amazon is making significant investments in our fulfillment and transportation capabilities to make Prime faster, transitioning from a Two-Day to a One-Day delivery program. As we continue to improve the Amazon Prime experience for customers, we want to ensure Seller Fulfilled Prime (SFP) meets customers' expectations of Prime.

We know that as a seller enrolled in SFP, you work hard to provide customers with a delightful shopping experience. Despite these good intentions, even before COVID-19, fewer than 16% of SFP orders in the US met the Prime Two-Day delivery promise customers expect, in large part because many sellers do not operate on weekends. As a result, we are making the following changes to this program in the US:

Starting February 1, 2021, SFP sellers will be required to use shipping methods that support Saturday delivery and pick-ups to provide customers with a more consistent delivery experience throughout the week. View your Shipping Settings here and click 'General Shipping Settings'.
Starting February 1, 2021, SFP sellers will be required to meet targets for one- and two-day delivery promises. These delivery promise metrics measure the percentage of customer page views that displayed a one or two-day delivery promise when your SFP offer was the featured offer, regardless of whether a purchase was made. The delivery speed targets ensure that customers have a consistent experience regardless of who fulfills their Prime order.
To help you meet the targets for one- and two-day delivery promises, we are launching a new dashboard that measures the quoted delivery speed of your SFP offers (please note dashboard may not be available to all sellers until later this afternoon). This dashboard monitors two new metrics: Percent of One-Day or less Detail Page Views and Percent of Two-Day or less Detail Page Views.
Starting February 1, 2021, SFP sellers will be required to have nationwide delivery coverage for all standard size delivery products. You can see which of your products are standard size or oversize on the Manage SFP page.

We recognize these changes are meaningful. We want to make sure you have plenty of time to determine how these changes affect your business and to make any adjustments you may need, which is why these new requirements will not take effect for more than five months.

While the current performance of the program is not meeting customer expectations, these changes will help deliver an experience our Prime customers expect, including fast delivery. We will continue innovating with tools and offerings that help make SFP more compelling to you and our shared customers.

You and SFP are important to Amazon and our customers, and to help you navigate these changes, we have launched a guide in Seller Central with details, examples, and answers to your questions. We have also set up a dedicated support team that you can contact at sfp-performance@amazon.com.

Regards,

The Seller Fulfilled Prime Team
How These Changes Will Affect Seller Fulfilled Prime Applicants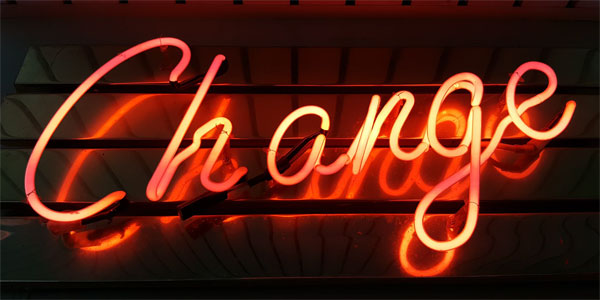 Amazon is pushing for same day and weekend delivery for all SFP sellers which means that you will be forced to operate around the clock.
In the past, Amazon has been quick to the ban hammer when performance metrics are not met and you must have systems in place to manage your inventory before even considering SFP.
The real question is whether Seller Fulfilled Prime will save you money over Amazon FBA.
In order to maintain two day or same day delivery, you likely will need to have multiple warehouses spread across the country or have your warehouses in the central part of the US.
For example, if your warehouse is on the west coast and you have to fulfill an order from the east coast, it's not going to be economical to ship your package cross country via two day air.
If you decide to use a 3PL, that 3PL must guarantee that Amazon's requirements will be met all year round or you'll risk getting banned.
Even with the current Seller Fulfilled Prime requirements, many sellers were already not meeting Amazon's standards. In their letter to sellers, Amazon reported that less than 16% of SFP orders met the Prime two day delivery promise.
And it's about to get worse…
Right now, SFP sellers can opt to offer regional Prime shipping only to areas where they can fulfill two day delivery. Sellers have to offer free premium shipping to other regions, but they don't need to explicitly deliver orders within two days. This will change with the new SFP criteria. Everyone must get two day delivery no matter what.
Amazon will enforce Saturday delivery and same day shipment. Today, Amazon runs the most sophisticated and extensive fulfillment operations in the world. They run 24/7 and use robots and thousands of human workers. In order to succeed with SFP, they expect you to have the same resources.
Given all these factors, it will be extremely difficult to meet Amazon's performance standards unless you have multiple warehouses or partner with a 3PL provider.
Seller Fulfilled Prime Alternatives
Even though you may not be able to meet the Seller Fulfilled Prime requirements all year around, there's nothing that prevents you from switching back and forth from FBA, FBM and SFP.
And depending on your inventory situation in real time, it may make sense to dynamically switch your fulfillment methods.
For example, you can switch back to FBA or FBM if SFP proves to be too costly for your business. You can keep some units in FBA in the event that your SFP operations get overwhelmed.
If certain warehouses in certain parts of the country are out of stock, you may want to switch to FBM in order to avoid expensive, long distance shipping costs.
While you don't have to explicitly select a single fulfillment method on Amazon, it's in your best interests to have a strategy to switch back and forth between FBA, FBM and SFP depending on the circumstances.
And if you are new to selling on Amazon, SFP is likely not worth your resources. Stick with FBA.
Moving Forward
Signing up for Seller Fulfilled Prime doesn't have to be a matter of either or. Sellers with a wide product range and varying profit margins can combine different fulfillment methods.
Before you apply for Seller Fulfilled Prime, test the waters by shipping out FBM orders to see if you can meet Amazon's performance standards.
This way, you can find out early on if SFP is the best fulfillment option for your business before you commit.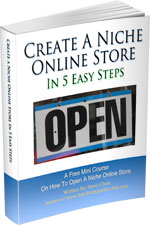 Ready To Get Serious About Starting An Online Business?
If you are really considering starting your own online business, then you have to check out my free mini course on How To Create A Niche Online Store In 5 Easy Steps.
In this 6 day mini course, I reveal the steps that my wife and I took to earn 100 thousand dollars in the span of just a year. Best of all, it's free and you'll receive weekly ecommerce tips and strategies!
Note: This post above may contain affiliate links, which means that I may receive a commission if you make a purchase when clicking a link. Please consult our privacy policy for more information.
Related Posts In Getting Started On Amazon
About Steve Chou

Steve Chou is a highly recognized influencer in the ecommerce space and has taught thousands of students how to effectively sell physical products online over at ProfitableOnlineStore.com. 

His blog, MyWifeQuitHerJob.com, has been featured in Forbes, Inc, The New York Times,  Entrepreneur and MSNBC.  

He's also a contributing author for BigCommerce, Klaviyo, ManyChat, Printful, Privy, CXL, Ecommerce Fuel, GlockApps, Privy, Social Media Examiner, Web Designer Depot, Sumo and other leading business publications.

In addition, he runs a popular ecommerce podcast, My Wife Quit Her Job, which is a top 25 marketing show on all of Apple Podcasts. 

To stay up to date with all of the latest ecommerce trends, Steve runs a 7 figure ecommerce store, BumblebeeLinens.com, with his wife and puts on an annual ecommerce conference called The Sellers Summit.  

Steve carries both a bachelors and a masters degree in electrical engineering from Stanford University. Despite majoring in electrical engineering, he spent a good portion of his graduate education studying entrepreneurship and the mechanics of running small businesses.