The Amazon Inventory Performance Index (IPI) score helps Amazon sellers understand their inventory health so that they can optimize their inventory to generate more sales on Amazon.
Since inventory management is a key factor for making money on Amazon, you stand to benefit from learning more about IPI.
In this article, I'll explain how the IPI score works and share some strategies to help you improve your score.
Get My Free Mini Course On How To Start A Successful Ecommerce Store
Are you interested in creating a strong, defensible brand for your products? If so, I put together a comprehensive package of resources that will help you launch your own online store from complete scratch. Be sure to grab it before you leave!
What Is An Inventory Performance Index Score?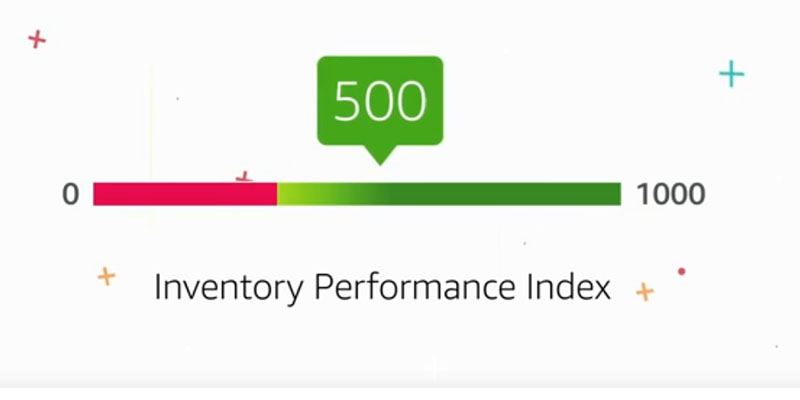 Inventory Performance Index (IPI) is a score between 0 and 1000 that measures how well a seller manages their inventory. The higher the score, the better the seller's inventory health is.
Amazon introduced the IPI in 2018 to help sellers identify areas for improvement in their inventory levels, including low and excess stock levels.
For example, keeping too much inventory on hand increases storage costs. By optimizing inventory levels, you can reduce inventory holding costs and increase your profit margin.
Improving your IPI score benefits your business and helps Amazon maintain optimal warehouse stock levels while making better use of their warehouse network.
How To Check Your Amazon IPI Score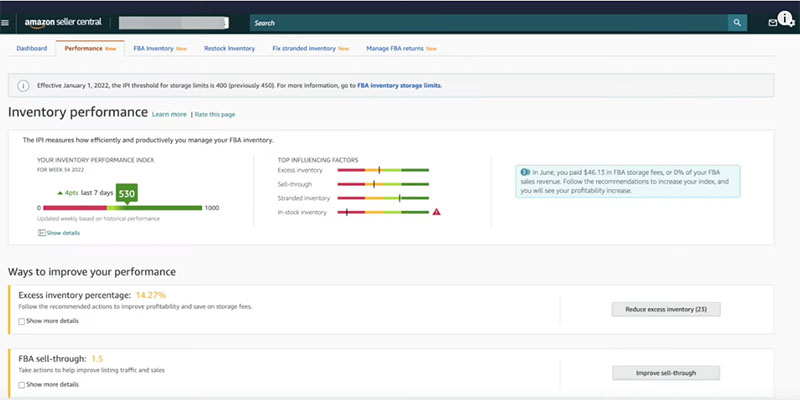 The "Inventory Dashboard" within Seller Central displays your Amazon Inventory Performance Index score.
To access your score, click the "Inventory" tab and select "Inventory Planning" from the dropdown menu. Then, click the "Performance" tab to see your IPI score.
How Is Amazon IPI Score Calculated?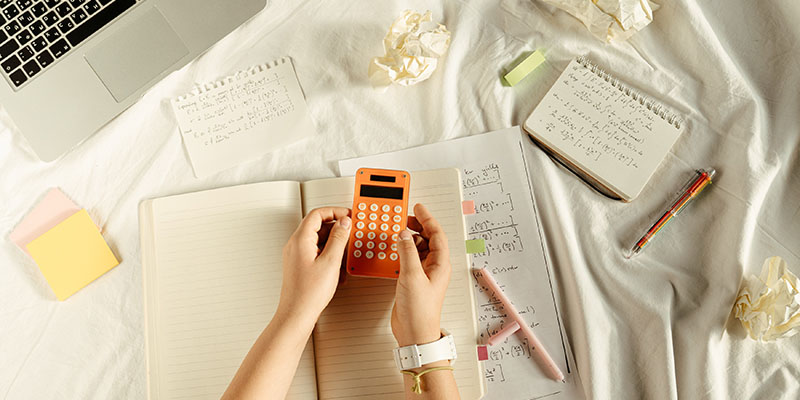 Amazon's Inventory Performance Index (IPI) is calculated based on four factors:
Excess Inventory Percentage: This is a measure of how much of your inventory is not likely to be sold in the next 60 to 90 days. If you have too much inventory that isn't moving, it can negatively affect your IPI score.
Sell-through Rate: This is a measure of how quickly your inventory sells compared to how much you have in stock. A high sell-through rate can improve your IPI score.
Stranded Inventory Percentage: Stranded inventory refers to items that are in Amazon's fulfillment centers but aren't available for purchase for one reason or another. High percentages of stranded inventory can negatively impact your IPI score.
In-Stock Inventory Percentage: This metric measures the proportion of time your popular products (those that have sold in the past 60 days) have been in stock and available for purchase. Keeping popular items consistently in stock can help improve your IPI score.
Because Amazon doesn't publicly disclose their exact IPI formula, how the score is calculated remains a mystery.
Amazon has stated that the (IPI) calculation is proprietary and will not be published, just as they do not publish the Buy Box algorithm.
Which Factors Influence The Amazon Inventory Performance Index?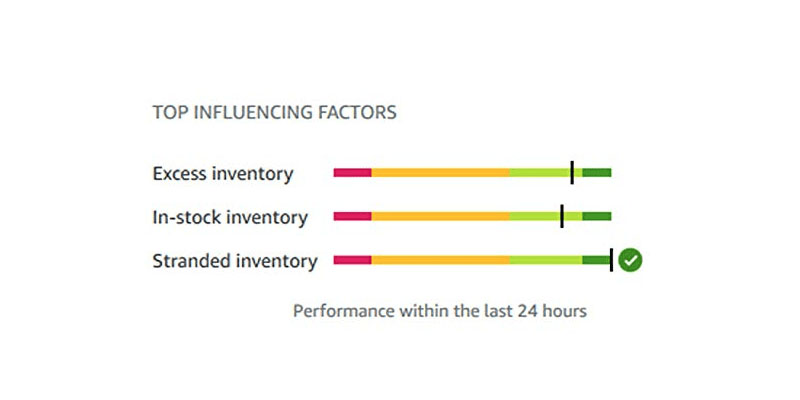 The factors influencing Amazon's IPI score include excess inventory, sell-through rate, stranded inventory, and in-stock inventory. Let's take a closer look at each one.
Excess Inventory
Amazon operates fulfillment centers, not storage facilities, so they prefer that goods move from their warehouses to customers as quickly as possible.
Any stock that remains in an Amazon fulfillment center location for more than 90 days is considered "excess" or "overstock."
Since excess inventory is frowned upon by Amazon, avoid overstocking at all costs. I'd suggest maintaining a 30 to 60-day supply to prevent a poor IPI score.
Amazon also provides the following three metrics to help you manage your inventory in the "Manage Excess Inventory" tab:
Excess Units: The number of units that incur extra storage fees and make no profit. This value is determined by customer demand for your product and product costs.
Estimated Total Storage Costs: The total costs you would incur if you didn't take any action to reduce excess inventory and let it sit idle in FBA centers over three years.
Reduce Excess Inventory: The number of SKUs with excess inventory. You can click the "Reduce Excess Inventory" button to take action on the stock.
Note: Amazon has stated that out-of-stock goods don't impact your IPI score negatively.
Sell Through Rate
The sell-through rate is the number of units sold and shipped in the last 90 days divided by the average units in stock at an Amazon FBA center during the same period.
Amazon provides actionable insights in the inventory dashboard to help you improve your sell-through rate and decrease long-term storage fees.
Click "Improve sell-through" to go to the "FBA Inventory Age" page, where you'll find products with low sell-through rates.
You'll also see other metrics such as available inventory, sales rank, sales over the last 90 days, inventory storage duration, and estimated long-term storage costs.
Amazon recommends ways to improve the sell-through rate for each product on the right side of the product metrics. If you click the dropdown, you should see more suggestions like "Edit listing" and "Lower price."
Stranded Inventory
Stranded inventory refers to the number of units in your inventory stored in the Amazon FBA warehouse that have no active offers due to a listing problem. As a result, customers aren't able to purchase these products, which results in lost sales and more storage fees.
You can easily resolve this issue since Amazon shows how many units have stranded inventory and how to fix them.
You'll see a warning if you have stranded inventory and a "Fix listings" button in the inventory performance dashboard.
Click "Fix listings" to go to the "Fix stranded inventory" page, where you'll see a list of stranded products. Amazon also displays other metrics such as auto-removal data, the date of the stranded event, the reason why the products are stranded, and the option to relist them.
In-Stock Inventory
Amazon evaluates your performance to check how well you stock popular ASINs. Although the in-stock inventory rate doesn't affect your IPI negatively, it can improve your score.
Amazon estimates the number of lost sales in the last 30 days based on predicted sales when the product was out of stock.
If you sell limited edition or non-replenishable products, you can exclude them from affecting your FBA in-stock rate.
What Is A Good IPI Score?
A score between 450 to 800 is considered favorable, but it depends on the current IPI threshold set by Amazon.
For example, the Inventory Performance Index threshold is at 400 at the time of writing. Ideally, you should aim for a score of 500 and above to maintain a healthy inventory performance.
Amazon changes their IPI thresholds frequently and often varies between 400 and 500. That's why you must check the threshold and your IPI to ensure your score doesn't dip below the minimum threshold.
What Happens When Your Amazon IPI Score Drops Below The Threshold?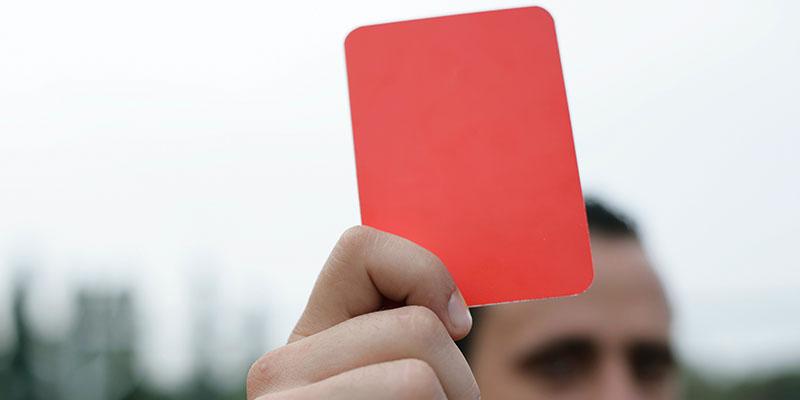 When your Amazon IPI goes below the threshold, Amazon will subject your account to inventory storage restrictions.
Your storage volume and restock limits can be found in "Inventory performance" or "Manage FBA shipments."
Amazon sets a restock limit based on the storage type, such as standard size, oversize, and footwear. For example, if you're a new seller, you can send a maximum of 1000 units under each storage type to Amazon fulfillment centers.
If your IPI score is at or below the minimum threshold, you'll be imposed a storage-type restock limit.
Amazon also imposes a fine of $10/cubic foot for excess units if your IPI is significantly below the threshold for six weeks before or at the end of the quarter.
They use this timeframe because Amazon calculates your IPI score at the end of each quarter, which falls on March 31, June 30, September 30, and December 31, and six weeks before the quarter ends.
As a result, you must keep an eye on your IPI score and maintain it above the minimum threshold to avoid restrictions and penalties.
How To Increase Your Amazon IPI Score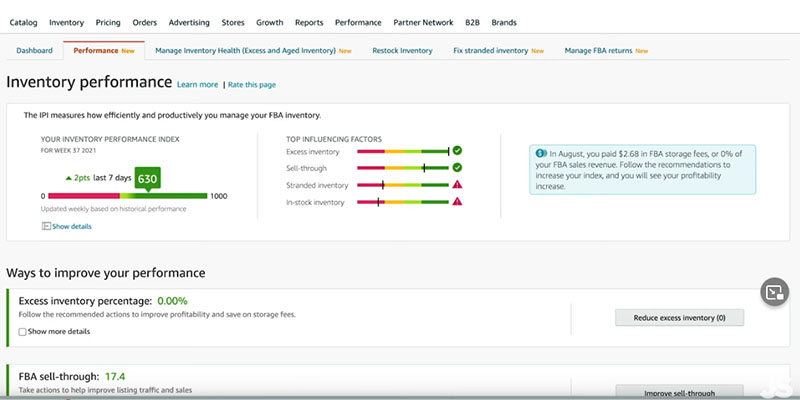 You can increase your Amazon IPI score by reducing excess inventory, improving your sell-through rate, preventing long-term storage fees, and being proactive with any listing issues.
Reduce Excess Inventory
Since excess inventory can impact your IPI score, remove items from your inventory that aren't in demand or profitable.
You can navigate to the "Manage Inventory Page" in your inventory dashboard to find suggestions for handling excess inventory.
Improve Sell-through Rate
You must maintain a good 90-day sell-through rate with a green color on the IPI rating bar. If your sell-through rate decreases, you should check Amazon's suggestions for each product on the "FBA Inventory Age" page.
You can also improve your sell-through rate by running sponsored ads, improving your Amazon SEO, running product sales to increase conversions, and using more attractive product images.
Avoid Long-term Storage Fees
Amazon charges long-term storage fees for inventory sitting in their warehouses for more than 185 days. If you want to avoid paying excess storage fees, you must create a removal order or ask Amazon to get rid of your inventory.
Be Proactive With Listing Issues
To prevent potential IPI score issues, be proactive in managing your listings. Here are some steps you can take:
Check your stranded inventory rate to avoid paying more storage fees.
Maintain inventory of popular products with 30 to 60 days of supply.
Monitor your inventory dashboard frequently.
Remove excess inventory.
Utilize 3PLs for storage.
Create shipments in advance if you estimate your score will fall below the threshold for a certain period. Once stock restrictions have been placed on your account, it becomes challenging to create inbound shipments. However, you can send inventory with already-created shipments.
Final Thoughts On Amazon's IPI Score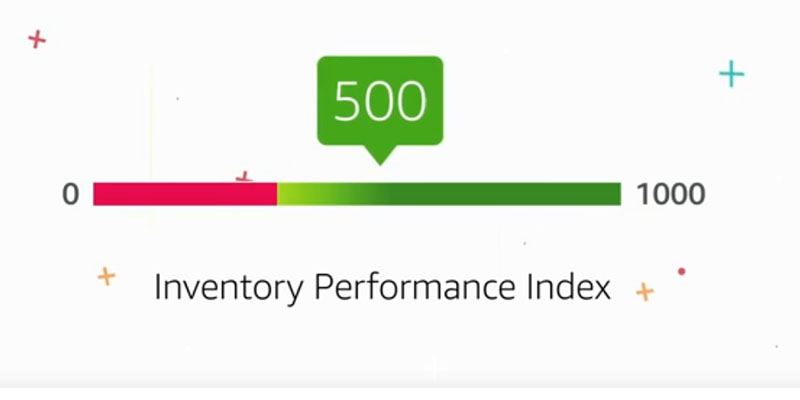 Optimizing your inventory is necessary for becoming a successful seller on Amazon. But it takes time to figure out how many units you need to stock for each ASIN you sell.
Paying attention to your IPI score will ensure you don't overstock and help you maintain a better sell-through rate. Remember to check Amazon's actionable insights on how to improve your IPI in case it dips.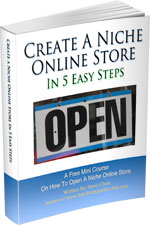 Ready To Get Serious About Starting An Online Business?
If you are really considering starting your own online business, then you have to check out my free mini course on How To Create A Niche Online Store In 5 Easy Steps.
In this 6 day mini course, I reveal the steps that my wife and I took to earn 100 thousand dollars in the span of just a year. Best of all, it's free and you'll receive weekly ecommerce tips and strategies!
Note: This post above may contain affiliate links, which means that I may receive a commission if you make a purchase when clicking a link. Please consult our privacy policy for more information.
Related Posts In Getting Started On Amazon
About Steve Chou

Steve Chou is a highly recognized influencer in the ecommerce space and has taught thousands of students how to effectively sell physical products online over at ProfitableOnlineStore.com. 

His blog, MyWifeQuitHerJob.com, has been featured in Forbes, Inc, The New York Times,  Entrepreneur and MSNBC.  

He's also a contributing author for BigCommerce, Klaviyo, ManyChat, Printful, Privy, CXL, Ecommerce Fuel, GlockApps, Privy, Social Media Examiner, Web Designer Depot, Sumo and other leading business publications.

In addition, he runs a popular ecommerce podcast, My Wife Quit Her Job, which is a top 25 marketing show on all of Apple Podcasts. 

To stay up to date with all of the latest ecommerce trends, Steve runs a 7 figure ecommerce store, BumblebeeLinens.com, with his wife and puts on an annual ecommerce conference called The Sellers Summit.  

Steve carries both a bachelors and a masters degree in electrical engineering from Stanford University. Despite majoring in electrical engineering, he spent a good portion of his graduate education studying entrepreneurship and the mechanics of running small businesses.