Alibaba is the world's largest e-commerce marketplace and offers a rich variety of wholesale suppliers to source products to sell.
If you are unable travel to a tradeshow like the Canton Fair in China, buying from Alibaba is the next best way to find reliable China wholesale suppliers for your online store.
Is Alibaba legit? This guide will answer that question as well as present the essential steps on how to buy from Alibaba with confidence, ensuring you secure the best deals while steering clear of fraudulent transactions.
Get My Free Mini Course On How To Start A Successful Ecommerce Store
If you are interested in starting an ecommerce business, I put together a comprehensive package of resources that will help you launch your own online store from complete scratch. Be sure to grab it before you leave!
What is Alibaba?

Alibaba is a wholesale marketplace where you can find manufacturers for your products, as well as already-made products.
In some circles, Alibaba is considered the largest ecommerce site in the world, rivaling Amazon.
Some of the features of Alibaba include:
Buy Products At Wholesale Prices – Most people who use Alibaba for the first time are shocked to see how low the prices are compared to retail. You can easily obtain margins of 66% or higher.
Large Selection Of Products – You might be surprised at the large selection of products available through Alibaba, allowing you the chance to find what you need — and even explore different niches.
No Branded Products – You can create your own brand and logo and have it put on the products you get from Alibaba.
Create Custom Products – You can even use your own designs to create custom products that you can then sell.
Work With Manufacturers – On Alibaba, you actually find and work with manufacturers, so you have a chance to be involved in how your product is designed, built, and shipped.
When you find a supplier on Alibaba, it's important to realize that you are working with a 3rd party factory that is not affiliated with Alibaba. After all, Alibaba is not a retail website.
Alibaba is an online directory that doesn't sell anything. Instead, they connect you with the manufacturers and suppliers who are actually doing the selling.
Unlike Amazon which is more of a storefront, Alibaba offers a wholesale directory with the ability to source your products directly from manufacturers. Feel free to read our Amazon vs Alibaba guide to learn more about the difference between Amazon and Alibaba.
How To Buy From Alibaba
Here are the necessary steps to buy from Alibaba:
Know Your Niche
Go to Alibaba.com
Provide an Email Address
Fill in Your Other Information
Look for Suppliers
Verify Supplier Credibility
After Narrowing Down Your Suppliers, Make Contact
Negotiate Price
Check Your Order
Anyone can use Alibaba for free. And you do not need to have a company, a sellers permit or any credentials whatsoever. A website is not necessary either.
The only thing that an Alibaba supplier cares about is that you can buy consistently in bulk.
1. Know Your Niche
Ideally, you should already know your niche before you use Alibaba. After all, one of the first things to do when starting an online store is to have an idea of what you're going to sell.
Editor's Note: If you are still in the niche finding stage, make sure you read my post on How To Find The Best Products To Sell Online – The Ultimate Step By Step Guide
In fact, before you place a large order with a supplier you find on Alibaba, it's important that you've validated what you plan to sell.
Make sure you've done the research and you know there's a market or niche for the products you plan to use to stock your online store.
After all, Alibaba is way too large to haphazardly browse for product ideas so knowing what you want to sell is a must.
In addition, you should know roughly how much your product should cost in order to make an adequate profit selling online.
Take a look at pricing on Amazon and other marketplaces to see what your product sells for and work backwards to determine your breakeven point for sourcing costs.
Ideally, you want to have at least a 66% margin on your goods. So if the item is selling for $21 on Amazon, you want to be able to source it for less than $7.
2. Go to Alibaba.com
If you know your niche, go to Alibaba.com and click on the button that asks you "Join Free."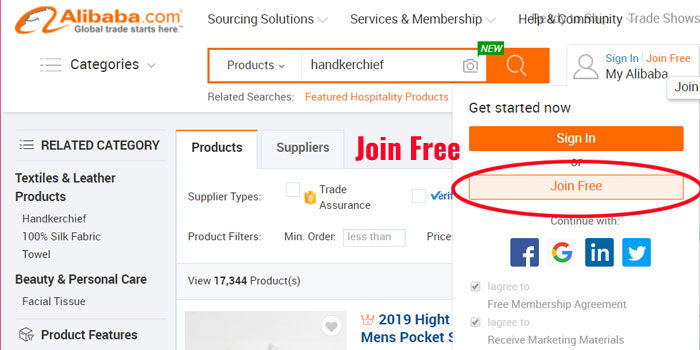 Note: It's not explicitly necessary to join Alibaba in order to perform a supplier search. However if you plan on using some of Alibaba's other services like trade assurance, you will need an account.
3. Provide an Email Address
One of the best things you can do before you head over to Alibaba is to set up a separate email account.
Once you're active on Alibaba and looking for suppliers, you'll get a ton of emails. A separate account can help you keep these emails from taking over your inbox.
Put your email in and then verify it.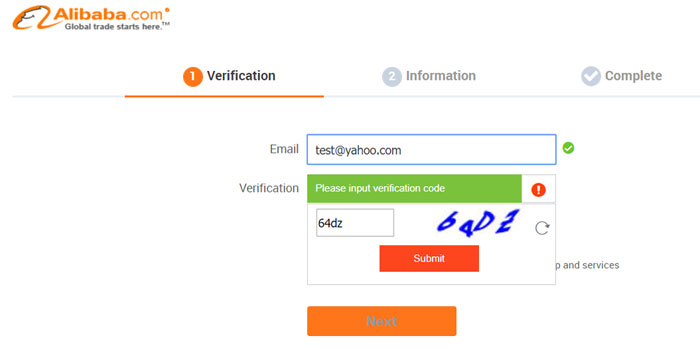 4. Fill in Your Other Information
Next, you'll have to provide all your other information, including your location, the fact that you're a buyer, your company name, and more. As soon as you confirm, you're ready to go.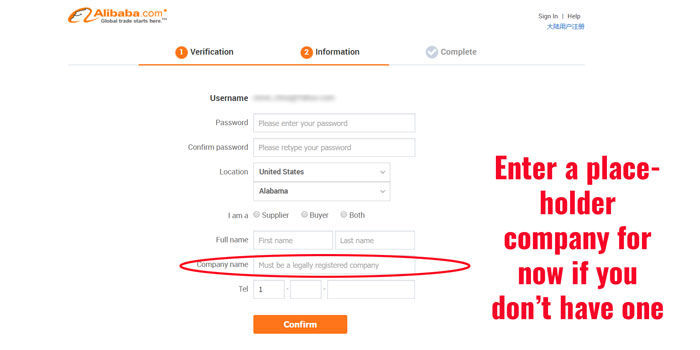 If you don't have a company name just yet, simply add a placeholder for now.
5. Look for Suppliers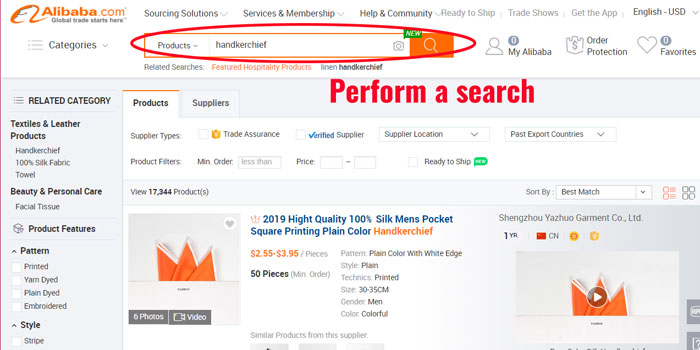 At this point, you are ready to find suppliers in your niche. As an example, if I were looking for a supplier for my wedding handkerchief store, I'd type in "handkerchiefs" in the search box.
Once you perform a search, Alibaba will spit out a bunch of suppliers for whatever it is you are selling.
You can see examples of what they offer, as well as how soon orders are ready, and whether customization is possible.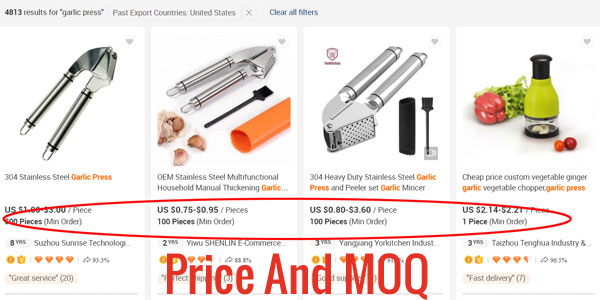 Specifically, you should pay attention to the price and the minimum order quantity.
Some manufacturers may require a larger upfront purchase so you'll want to reach out to factories that are inline with your spending power.
In general, the more you can buy in bulk, the lower your prices will be. But please be aware that the prices on Alibaba are often wildly inaccurate.
In general, the prices listed on the Alibaba website tend to be much higher than what you can actually get when you start negotiating with your supplier.
Overall, you should reach out to as many suppliers as you can and get as many quotes as you can so you can get an idea of the range of prices for your product.
Sometimes, it also helps to check prices on 1688.com to make sure that the quotes you are getting are in the right ballpark.
Note: 1688.com is known as the Chinese version of Alibaba. Because this website caters to Chinese based sellers, the pricing on 1688.com is often much lower than Alibaba.com and will give you an idea of how low a supplier is willing to go.
Be careful however, as there could be quality differences between the 2 websites. The other disclaimer is that 1688.com is completely in Chinese.

6. After Narrowing Down Your Suppliers, Make Contact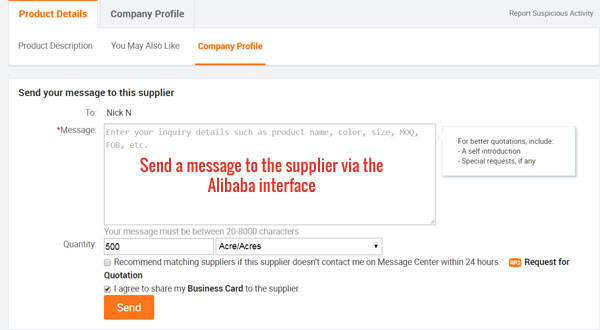 Product pages give you the option to contact the supplier, and some even have a chat function.
Doing your due diligence on a supplier is a must before moving forward with any order. Try to find out a little more about the product and obtain a sample.
All suppliers should be willing to send you a sample order. If they refuse, then do not work with them.
However, you may have to pay a high price for your sample because the supplier must create them by hand. But it's better to pay for a few sample orders to compare than to place a large order and find yourself disappointed.
While the sample will be expensive, most vendors will allow you to apply the cost of your sample towards your first bulk order.
Here are some of the things you want to find out as you contact suppliers:
Minimum order requirements: How much you have to order, at minimum, in a full order
Sample pricing: In many cases, you will have to pay for samples. Find out what the cost will be.
Nail down production pricing:  It's common to see a range for pricing, such $1 – $2 per unit. But you want to know the actual cost. Get them to verify whether it's $1 or $2, realizing that it might be higher if you customize.
Production time: You have to know how long it will take to put together the order. And you also have to add in shipping time. Understand that overseas sourcing can take many weeks — or even months.
Payment requirements: Find out how you will be required to pay. Try to keep the transaction through Alibaba, especially if it is up front. Find out, too, if you can work out other payment plans later if you establish an on-going relationship.
With that in mind, here are some guidelines on how to contact a supplier on Alibaba.
First off, you need to realize that most good suppliers on Alibaba receive hundreds of inquiries per day. As a result, you need to project confidence and know exactly what you want to buy.
Here's a sample script that I use when I reach out to a supplier for the first time.
Hi Alibaba Supplier Name,

My name is Steve and I'm a buyer for Bumblebee Linens and we specialize in selling handkerchiefs. In fact, we are the largest seller of handkerchiefs on the Internet. We are interested in carrying many of the items that you have to offer.

Specifically, I would like to get pricing and availability for the following items

"list the items…provide photos if you have them"

Please send pricing in 500,1000 and 5000 unit quantities. Also, if you could send us your product catalogs, lead times for manufacturing, and MOQ we would greatly appreciate it.

Thank you,
Steve
You'll notice that my message above is concise, professional and to the point. In addition, I ask for multiple quotes depending on the size of the order.
Even if you don't plan on buying in 5000 unit quantities, it helps to ask because it implies that you can and are willing to buy that many units.
7. Negotiate Price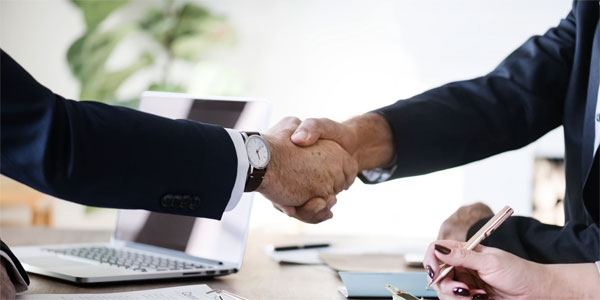 Once you've seen a sample and are satisfied, you should negotiate prices with the seller. In fact, all suppliers in China expect to have some sort of negotiation.
However, your ability to negotiate largely depends on your order volume. If this is your first order and your order size is small, you will probably have limited negotiation power.
Realize, too, that your negotiated price might not include shipping. You'll need to get the shipping price separate and make sure that it doesn't overwhelm your profits.
But overall, if you have solicited enough quotes from different vendors, you should have a pretty good idea of how much your product costs to source.
And as you go back and forth with your supplier, please keep in mind that you should never negotiate the price of your sample.
This will make you come across as an amateur and leave a bad taste in the mouth of your supplier.
8. Check Your Order

Before your order ships, you will want to hire an inspection company like Asia Inspection(QIMA) to examine your goods BEFORE they are sent to you.
After all, once your goods are sent, it's extremely expensive to ship them back to China in the event of a problem.
Once your order arrives, it's important to thoroughly check it. Count the items to ensure you have what you should. Also, examine each of the products. Are any of them damaged? Are they clean? Is the packaging acceptable?
Most inspection companies only have time to examine a statistically significant sample size so there could still be defects.
If there's a problem with your order, especially damage, you can reach out to the supplier and even to Alibaba to see about getting a refund.
Technically, Alibaba Trade Assurance protects the buyer in the event that the supplier fails to ship on time or if the product quality varies greatly from what has been agreed upon.
How To Buy A Single Item From Alibaba
While Alibaba is mainly used for wholesale transactions, you can buy a single item from Alibaba using the following steps.
Set the minimum order filter to "1". When shopping on Alibaba, you can filter the results to only show suppliers willing to sell in smaller quantities, including just one item. This filter refines your search results, showing you suppliers with flexible minimum order policies.
Check product details for '1 piece' minimum order. Each product listing includes detailed information about the item, including minimum order quantity. This is the smallest number of units that a supplier is willing to sell in a single transaction. If a product has '1 piece' listed as the minimum order quantity, it means the supplier is willing to sell one item.
Communicate directly with the supplier to confirm single-item sales. Since most suppliers in Alibaba are used to dealing with bulk orders, reach out directly and confirm if they're willing to accommodate single-item sales.
Contact the supplier and politely express your interest in their product. Clearly state your intention to buy only one piece. Remember to ask any additional questions about the product, shipping costs and time, and payment methods. Good communication can help avoid misunderstandings and ensure a successful transaction.
Purchase the single item from Alibaba. Once you've received confirmation you can purchase your one product, use Alibaba's secure payment platform to complete the transaction.
It's not ideal to purchase only one item from Alibaba. If you're mostly doing personal shopping, consider AliExpress instead.
Is Alibaba Safe?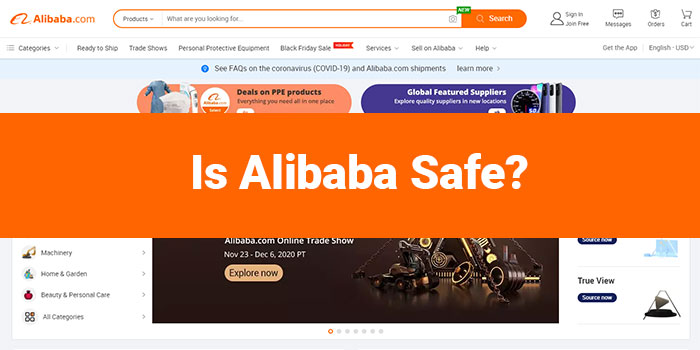 Buying from Alibaba is generally considered safe. As of the first quarter of 2022, Alibaba had over 903 million active buyers indicating the platform is reputable and trustworthy. Alibaba has also provided various security measures to ensure safety such as its Trade Assurance program.
Trade assurance is a service that allows you to protect your online orders when your payment is made through Alibaba.com.
Here's how it works.
Look for the Trade Assurance symbol as you are browsing suppliers on Alibaba. If you work with only Trade Assurance suppliers, your order will be protected.
Make sure you pay for your order online via Alibaba's secure payment platform. If you do not pay through Alibaba, you will not be protected.
If there's an issue with your order, you can request a refund within 30 days of delivery.
There are no additional fees to use Trade Assurance but you may have to pay a payment processing fee depending on which payment method you select.
After you pay your supplier via Alibaba.com, if the supplier fails to ship on time or if the product quality varies from the agreed terms, Alibaba will investigate and help resolve your claim.
In the event that no resolution can be achieved, Alibaba will simply refund you your money. As a result, it is completely safe to buy from Alibaba.
3 Tips For Buying Safely On Alibaba
Unfortunately, not every supplier on Alibaba is as reputable as they should be. In fact, you might find that some suppliers end up selling low-quality products that can cause you problems with your customers.
Even though Trade Assurance protects you from monetary loss, it can take time to recover your funds and resolve supplier disputes. As a result, it's always better to take precautions and avoid potential sourcing issues upfront.
If you want to increase the chances that you won't end up with problematic merchandise, it's vital that you observe the following safety tips.
1. Use Reputable Suppliers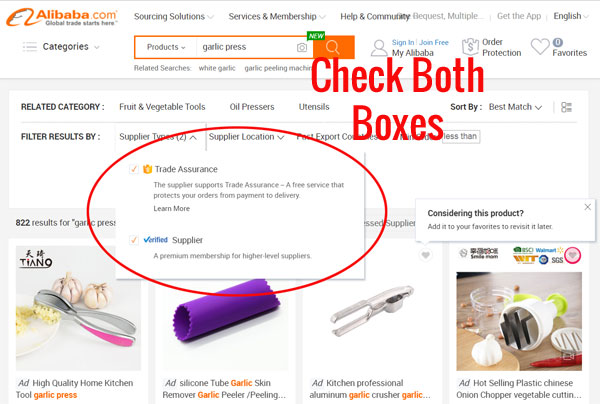 There are different supplier types offered by Alibaba. These suppliers have often to jump through additional hoops to be certified.
There's never a complete guarantee of total quality, but if you look for suppliers with ALL THREE of the following ratings, you're more likely to find one that takes quality very seriously.
Gold Supplier: This supplier has paid a costly fee to be pre-qualified. In many cases, the fact that a fee is paid means that it's less likely you'll end up getting scammed.
Trade Assurance Supplier: With this designation, you can be reasonably sure that the products are checked before shipment and that they will arrive on time. Otherwise, you can get a refund from Alibaba.
Assessed Supplier: A third-party inspector has been to see this supplier, and you can even get a downloadable report of the results.
This is a good place to start when narrowing down your supplier possibilities.
You also need to be wary of suppliers that ask for a full payment to be sent up front, and that you send it independent of Alibaba. That can be an indication that something shady could be about to go down.
2. Check the Reviews and Ratings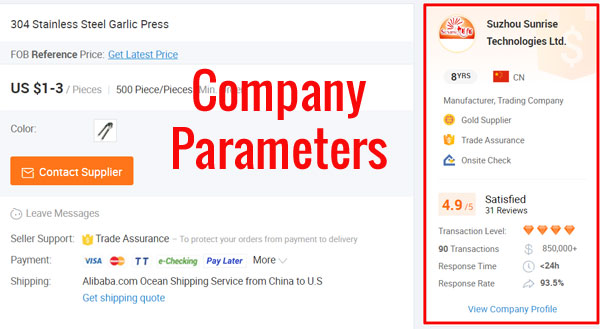 Before you decide on a supplier, make sure you check the reviews and ratings associated with them. You can check reviews on Alibaba, of course, but it's also a good idea to branch out a little.
Consider Googling the supplier's name to get an idea of what to expect. Don't be afraid of Googling the name alongside terms like "scam" to get a better idea.
There are also international supplier websites, like Supplier Blacklist, that provide reviews and warnings for certain suppliers. This can be a good way to do your homework.
As you look at forums and reviews, watch for these red flags:
Very low product prices in conjunction with complaints about low quality
Complaints about defective parts or broken products
Assertions that the first shipment was good, but the second shipment showed quality issues
Poor working conditions in factories
While you can't completely avoid poor quality all the time, you can reduce the chances that you get stuck with low-quality products.
3. Avoid Brand Name Products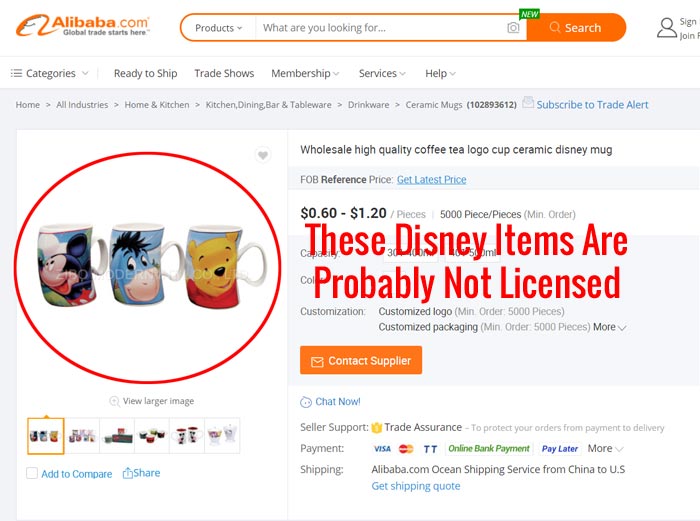 Finally, when looking at suppliers and hoping to find a good one to work with, look out for those that purport to offer brand names.
For the most part, licensed products are not available on Alibaba. So, if you have a supplier claiming to offer low-cost products branded with Nike, Louis Vuitton, or Coach, there's a good chance that they're knock-offs.
If you sell these products in turn, you can be subject to legal action. So watch out for suppliers that claim to offer you access to hot brands at very low prices. Chances are that you could wind up in trouble.
4. Trust Your Gut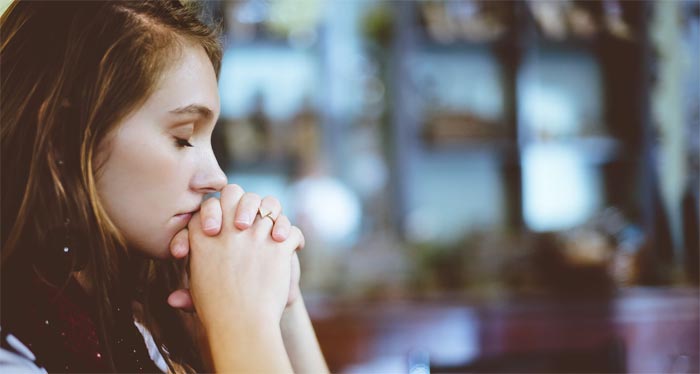 Don't forget to trust your gut. If something seems too good to be true, it probably is.
Does something seem extra reasonable? Are you suspicious of how easy it all seems to be happening? Take a step back. You don't want to end up scammed.
I am always extra careful when dealing with Chinese suppliers and I'm always overly paranoid. Be careful who you trust!
What Types Of Products Are Best To Buy On Alibaba
Generally, it's better to purchase simpler products on Alibaba. Having a deep understanding of the products you intend to buy reduces the likelihood of encountering quality issues. Try to stick to products that are straightforward and within your expertise.
That being said, here are some product categories that have shown success on Alibaba:
Home & Kitchen Appliances
Beauty & Personal Care products
Pet Supplies
Sports & Entertainment products
Toys
Fashion and Apparel
Common Terminology When Buying On Alibaba
As you look at product pages, there are some common terms you need to be aware of as you move forward.
Free On Board (FOB)

You might see that there's a FOB unit price when you look at a product page.
What this means is that the manufacturer will pay the costs that come with getting the product to the port in China but you are responsible for getting the goods from the port to your warehouse.
Most suppliers will send their products using ocean freight which is the cheapest way to get items from Asia to the United States.
However, it's important to realize that you, as the buyer, will be responsible for paying the cost associated with getting your products across the ocean and the final destination. Be prepared to pay those costs.
Note: I created a real landed cost of goods calculator that provides a reasonable estimation of your products costs including shipping. Click here to check it out
Ex Works (EXW)

If you notice that a supplier's price is much lower than all of your other quotes, make sure that they are not quoting you Ex Works or EXW pricing.
EXW is an international trade term that essentially means that the buyer must cover all of the transport costs.
Unlike FOB where the supplier pays the cost of transport from the factory to the port of origin, suppliers are only responsible for the product with EXW.
As a result, EXW pricing is often substantially cheaper than FOB. Before you decide to go with a vendor based on price, make sure to have them clarify the shipping terms (FOB vs EXW).
Minimum Order Quantity (MOQ)

Realize, too, that many suppliers require a minimum order or MOQ. You might have to order at least 200, 500, or 1,000 units of a product in order to do business.
Because it's wholesale, many suppliers expect that you will order in bulk. This bulk ordering is part of what keeps the price down when you order from Alibaba.
This is one reason that it's so important to order samples. You might want to order a smaller sample set, for less, in order to see the general quality of the product. If you order a large minimum, and the product arrives and is of poor quality, you might be stuck.
How to Negotiate Low Minimum Order Quantities
To negotiate low minimum order quantities (MOQs) on Alibaba, try the following:
Highlight long-term potential: Emphasize your interest in establishing a long-term business relationship. Suppliers may be more willing to lower their minimum order quantity for customers who show potential for repeat orders and increased business volume.
Demonstrate market demand: Since you've done research on your niche, present these and other relevant market data to showcase the demand for the product. Highlighting the potential for higher sales volume can encourage suppliers to reconsider their MOQ requirements.
Negotiate gradual scaling: Propose a gradual increase in order quantities over time.
Offer incentives: Discuss offering incentives to suppliers, such as making prompt payments, providing positive reviews or testimonials, or promoting their products through your marketing channels.
Pros and Cons of Buying from Alibaba
Buying from Alibaba gives you access to a vast range of products at wholesale prices and options for customization. However, you run the risk of encountering scams, difficulty in resolving disputes, potential language barriers, and long shipping times.
Carefully weigh the pros and cons below before you move forward so you have an idea of what to expect.
Pros

Low cost: Sourcing from Asia can offer you huge cost savings, and Alibaba offers you access to wholesale prices that are even lower than what you'd see in the U.S.
Wide variety of products: If you can imagine it, it's probably available on Alibaba. There are millions of products inside of just about every niche. You can probably find a manufacturer offering what you want.
Ability to customize: Customize your product. Maybe you just want your branding added to a product. Or maybe you want something specific. You can customize your products without much trouble at all.
Product packaging: Just as you can customize your products, you can also customize your packaging. You have the ability to make sure everything is to your specifications
Monitor your products first: With drop shipping, you can't actually see the product before it goes to your customers. You have no idea what the quality is. On the other hand, with Alibaba, the products come to you first, so you can inspect them.
Work with the suppliers: You can work directly with the manufacturers. Carefully monitor your suppliers to ensure you are working with middlemen. But, in the end, being able to directly work with manufacturers can be a huge deal.
Identify quality suppliers: Because of Alibaba's increasingly rigorous methods, there's a good chance that you can identify quality suppliers. You have less of a chance of running into problems later.
Cons

It can take a long time to get your products: One of the biggest drawbacks is how long it can take to get your products. Most suppliers send on container boats which can a month. Plus, you have to wait for your order to actually be manufactured.
You have to be careful about your supply chain: Because of the length of time, you can't start selling till you have the products in hand. Plus, you have to pay attention and order more before you exhaust your inventory.
Minimum orders can be high (and expensive): You might need to order a large amount in order to get started. As a result, it can be expensive, and if you're wrong about your niche, you could be on the hook.
Asian products might be different: Consider, Asian sizing is different from American sizing, so you might run into problems when sourcing clothing from Alibaba. There are other differences that could lead to misunderstandings and not provide an optimal experience for your customers.
Quality might not be as promised: Watch out for photos. Sometimes what arrives doesn't look as you thought. You might end up with items of lower quality than you anticipated. Also, it's important to note that there are times that the second or third shipment might be of lower quality than the first shipment.
Products might be broken: After being shipped so far, some of the items might be broken. You might also find some faulty items.
You're responsible for getting the product to customers: There is no drop shipping with Alibaba, so you're in charge of making sure your wares make it to your customers. Order fulfillment is up to you.
How To Ship Your Products From China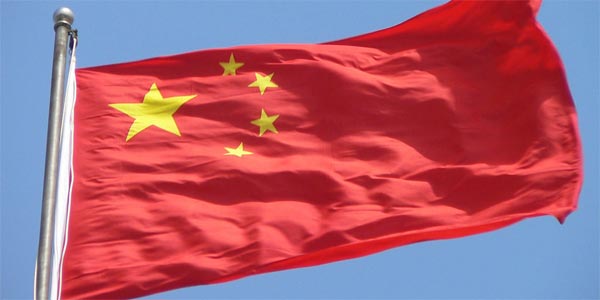 Once you've settled on the products you want to be shipped, it's easier to ask your supplier to arrange for the shipping and add the shipping charges to your invoice.
Products under 200 lbs. are usually shipped via air through popular international couriers like FedEx, UPS, etc.
If your products weigh more than 200 lbs, it's recommended to utilize sea freight instead due to the significantly reduced shipping cost. However, utilizing sea freight will likely require the assistance of a freight forwarder.
The average air shipping cost from China to the USA is between $2.50 to $4 per pound. However, using sea freight to ship a container will cost between $2,000 and $3,000 per container.
For more information, please consult this guide on shipping from China
Best Payment Options for Alibaba Suppliers
Here are the payment methods ranked from safest to least safe when working with Alibaba suppliers.
Alibaba Trade Assurance Or Escrow
PayPal
Letter of Credit
Bank or Wire Transfer
Credit Cards
Western Union
Note: Typical payment terms for Chinese factories are 30/70. This means that you pay 30% down and the remaining 70% upon completion of product.
Alibaba Trade Assurance Or Escrow

Escrow is a preferred method because it allows for protection for both buyers and suppliers. Your money is held in a separate account, managed by a third party. When delivery is confirmed, the money is released.
With escrow, the supplier knows the money is there, and that they don't have to just trust that it's coming. At the same time, the buyer knows that the money isn't going to be turned over to the supplier until they receive the goods and can inspect them for quality.
PayPal

Many suppliers on Alibaba accept PayPal, and many buyers already use it. However, even though suppliers accept PayPal, it might not be their preferred method. They feel at risk because if you're not honest, they can suffer from chargebacks.
However, as a buyer, PayPal's protection offers some peace of mind for you.
Letter of Credit

A letter of credit or LOC is issued by your bank to your supplier's bank to serve as a guarantee for payments made to the factory.
The supplier verifies that the letter of credit is valid and then ships the buyer's order. Afterwards, the supplier takes the necessary documentation to the bank to collect on the letter of credit.
Finally, the supplier withdraws the money and the issuing bank collects the money from the buyer.
Unless you're placing a huge order, in excess of $15,000 or $20,000, this might not be worth the trouble. There's a lot that goes into a letter of credit, so getting it set up needs to be worth the trouble.
Bank Or Wire Transfer
Wire transfers are the standard way payments are made to Chinese factories. Wire transfers do cost money however, and it's in your best interests to set up a business bank account that allows free transfers overseas.
Many factories in China only accept wire transfers as payment.
Western Union

It's almost always a bad idea to send payment via Western Union. If you have a supplier pressuring you to send payment this way, it could be a major red flag that the supplier is actually a scammer.
There is absolutely no way to get your money back if it turns out you're working with a fraud.
Do your best to work through escrow if you can, and see if you can get your payments protected in some way. This is especially important when working with new suppliers.
What Is The Difference Between Gold Vs. Non-Gold Suppliers On Alibaba?

Gold Suppliers undergo a stringent verification process conducted by a third-party inspection agency. They have a proven track record and are recognized for their reliability. These suppliers also have access to Alibaba's Trade Assurance program, providing additional buyer protection.
Here are some of the main benefits for Gold Suppliers on Alibaba.
Priority ranking
Unlimited product posting
Higher number of product showcases
Ability to quote buying requests
Additional marketing perks
On the other hand, non-Gold suppliers have not undergone the same level of verification and do not possess the same recognized status or access to Trade Assurance.
While gold suppliers are generally considered more reliable, their products may vary in quality and their prices may fluctuate.
Trading Companies Vs. Factories: Which Is Better?
Alibaba has two types of basic suppliers: trading companies and factories.
Factories manufacture their own products in house, offer customization, and generally have larger production capacities. Dealing directly with factories can potentially lead to lower costs but the quality of products may vary.
Trading companies act as intermediaries, provide a broader range of products from multiple manufacturers, offer sourcing expertise, and often accept smaller order quantities. They're slightly costlier but offer consistent quality.
What Are Alternatives To Alibaba?
If buying from Alibaba isn't the right fit for you, there are several Alibaba alternative platforms worth considering. Here are five notable options:
Global Sources: With suppliers primarily from Asia, Global Sources features a wide range of products across different industries and offers services like supplier verification and product certification.
AliExpress: AliExpress provides a retail marketplace experience with a wide range of products at competitive prices, targeting small and medium-sized buyers.
1688: An online B2B marketplace owned by Alibaba Group, 1688 is the Chinese-only version of Alibaba. The language used on the site is primarily Chinese.
Final Thoughts on Buying From Alibaba
Alibaba can be a great place to source products for your online store. The prices are cheap, and if you're careful about your supplier, you can get good deals and products of good quality.
However, it's important to do some groundwork ahead of time. Overall, Alibaba is best suited for those who want to private label their own products and obtain the best pricing possible.
Good luck!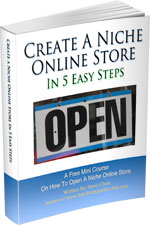 Ready To Get Serious About Starting An Online Business?
If you are really considering starting your own online business, then you have to check out my free mini course on How To Create A Niche Online Store In 5 Easy Steps.
In this 6 day mini course, I reveal the steps that my wife and I took to earn 100 thousand dollars in the span of just a year. Best of all, it's free and you'll receive weekly ecommerce tips and strategies!
Note: This post above may contain affiliate links, which means that I may receive a commission if you make a purchase when clicking a link. Please consult our privacy policy for more information.
Related Posts In How To Find Products To Sell
About Steve Chou

Steve Chou is a highly recognized influencer in the ecommerce space and has taught thousands of students how to effectively sell physical products online over at ProfitableOnlineStore.com. 

His blog, MyWifeQuitHerJob.com, has been featured in Forbes, Inc, The New York Times,  Entrepreneur and MSNBC.  

He's also a contributing author for BigCommerce, Klaviyo, ManyChat, Printful, Privy, CXL, Ecommerce Fuel, GlockApps, Privy, Social Media Examiner, Web Designer Depot, Sumo and other leading business publications.

In addition, he runs a popular ecommerce podcast, My Wife Quit Her Job, which is a top 25 marketing show on all of Apple Podcasts. 

To stay up to date with all of the latest ecommerce trends, Steve runs a 7 figure ecommerce store, BumblebeeLinens.com, with his wife and puts on an annual ecommerce conference called The Sellers Summit.  

Steve carries both a bachelors and a masters degree in electrical engineering from Stanford University. Despite majoring in electrical engineering, he spent a good portion of his graduate education studying entrepreneurship and the mechanics of running small businesses.