If you look at the DHGate reviews online, you'll find that DHGate has a reputation for selling poor quality merchandise. As a result, I'm often asked is DHGate safe to buy from and is it a legit company?
First off, DHGate is a marketplace and they don't sell their own products. In fact, DHGate is very similar to AliExpress and Ebay in that they provide a platform for others to sell online.
Because it is impossible to police every product listing, you may encounter dishonest sellers who will sell you cheap and worthless junk.
But DHGate is a reputable company founded in 2004 that generates hundreds of millions of dollars in revenue every year. Overall, DHGate is a successful company because they provide value to their customers.
As with any marketplace, you have to understand how to navigate the waters and take the proper precautions while shopping in order to not get ripped off.
This guide will teach you how to buy from DHGate safely without getting scammed.
Get My Free Mini Course On How To Start A Successful Ecommerce Store
If you are interested in starting an ecommerce business, I put together a comprehensive package of resources that will help you launch your own online store from complete scratch. Be sure to grab it before you leave!
What Is DHGate?

DHGate is a wholesale marketplace based in Beijing China that allows independent small businesses in China to sell direct to consumers and ecommerce business owners worldwide.
The closest competitor to DHGate is AliExpress. And like AliExpress, they offer a huge variety of products that span practically every category that you can think of including, apparel, electronics, computers, jewelry and more.
90+% of the sellers on DHGate are Chinese and most are not true factories. The bulk of the listings on DHGate are from small business outlets that sell a variety of products.
Some sellers on DHGate are 1 man operations and others are merchants looking to offload excess product at a discount.
As a result, if you want to create your own private label brand or if you need a steady supply of product, then DHGate is not the right place for you.
DHGate sellers come and go all of the time and it's difficult to find a consistent supply of the exact same product on a regular basis.
However, DHGate can be a great place to source different products at low MOQs to test a market you want to enter.
Is DHGate Legit?
DHGate is definitely a legitimate company that generates over 9 figures in revenue on a yearly basis connecting sellers in China to individuals and ecommerce business owners worldwide.
If you place an order on DHGate, you will receive your merchandise.
However, whether you receive what you "expect" to receive is a different story. Because DHGate is a such a large marketplace, you'll encounter a wide variety of sellers that carry merchandise of differing quality.
As mentioned earlier, DHGate has many negative reviews on reputable review sites like the Better Business Bureau and a 2 star overall review on TrustPilot.
However if you look closely at the reviews, you'll realize that nearly every complaint is directed towards an unscrupulous seller on the platform and not DHGate itself.
DHGate is just a marketplace that connects buyers to sellers. They do not sell their own merchandise and they have extensive safeguards to prevent fraud.
Is DHGate Safe To Buy From?
Contrary to the negative reviews, buying from DHGate is very safe because of their "Returns & Refund Guarantee". When a product is purchased on DHGate and is not as described, DHGate will step in to help resolve the dispute.
If the dispute can not be resolved and DHGate rules in your favor, DHGate will refund you your money.
DHGate also provides a "Buyer Protection" program that essentially acts as an escrow service.
DHGate will hold the funds for your purchase until your order is completely received. Once you've confirmed the delivery and satisfaction for your goods, only then will DHGate release the payment to the seller.
DHGate's Buyer Protection program is key because it takes fraud out of the equation altogether and DHGate will freeze the seller's funds in the event of a dispute.
Overall, it is completely safe to buy from DHGate because…
DHGate tracks your shipment and verifies that it was delivered.
DHGate will help resolve any disputes regarding product quality.
Sellers are not paid until the buyer accepts the merchandise.
It's important to note that these protections are only provided if you conduct transactions through DHGate. If you deal directly with the seller, you will not be protected.
Why DHGate Has A Bad Reputation For Quality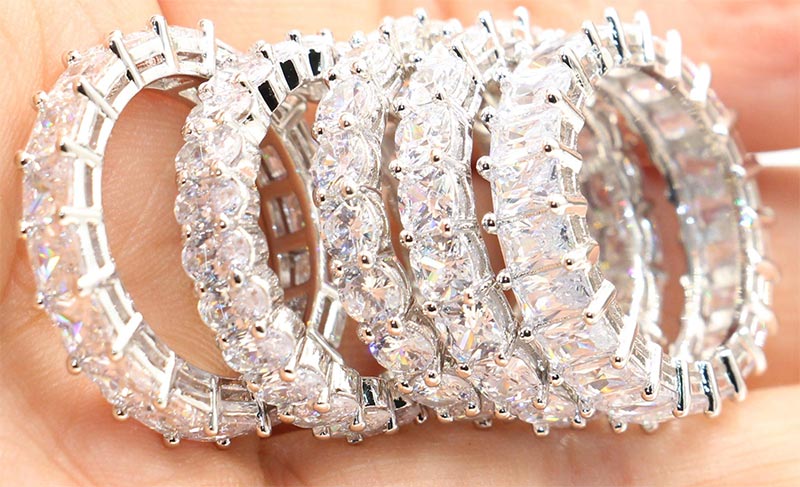 DHGate has a poor reputation online because buyers often have unrealistic expectations for quality.
Remember, 90% of the sellers on DHGate are from China and they may have a different standard of quality than what you are used to.
For example, when you buy a product from a department store in the United States, every product sold goes through a rigorous quality control process.
Sellers on DHGate however, are often just trying to offload excess product at a major discount. They usually don't perform much quality control and as a result, you have no idea what you'll receive in the mail. It's almost like gambling!
As mentioned earlier, DHGate is not a great place to find wholesale suppliers for your ecommerce store. Quality control will always be a problem and most sellers come and go so there's very little stability.
However, there are many great products and deals to be had on DHGate. You just have to understand the right way to shop on the platform.
How To Buy From DHGate Safely Without Getting Scammed
Here is a step by step guide on how to make your first purchase from DHGate safely and how to mitigate your risks.
First off, it's essential that you create an account on DHGate. Remember, in order to qualify for buyer protection, you must conduct all transactions through DHGate directly.
Go to DHGate.com and click on the "Join Free" button.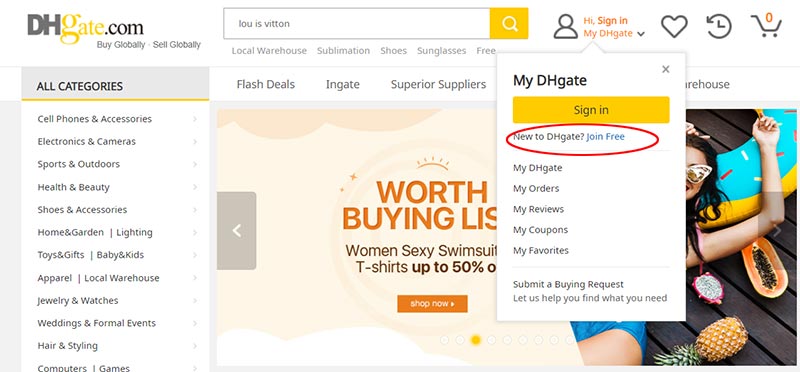 Then, type a product into the search bar and start shopping. When you find something that you like, simply click on the "Add To Cart" button.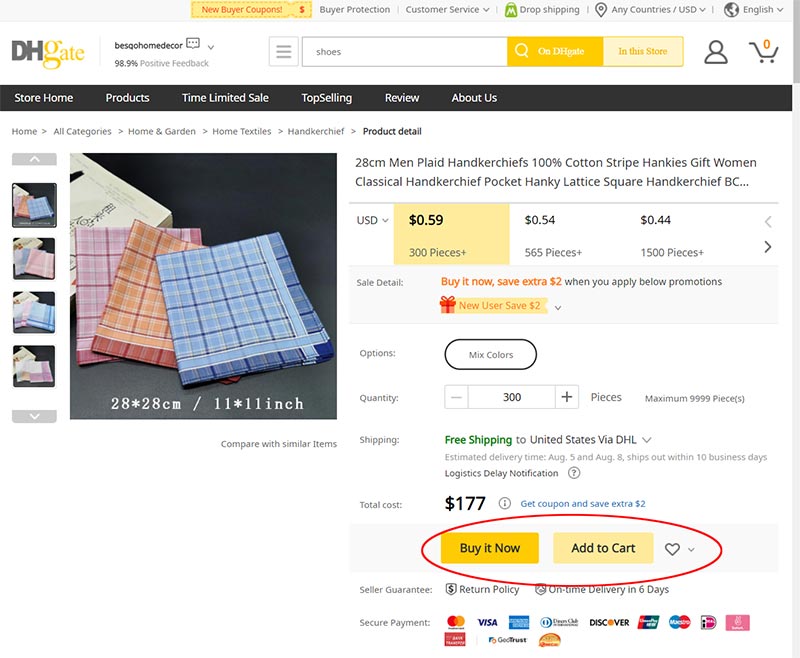 Once you are on the shopping cart page, it's important to click on the seller's profile and see what else they sell.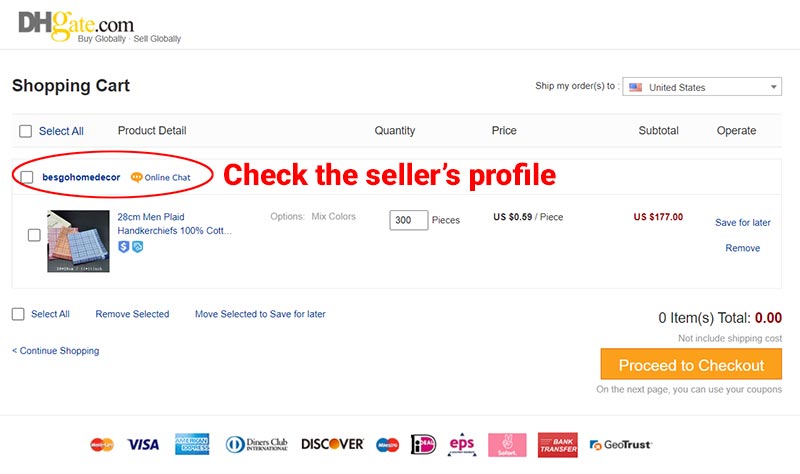 How To Evaluate A Seller On DHGate
On the seller profile, you should pay attention to 3 different areas.
On the upper left corner of the page, open up the seller profile.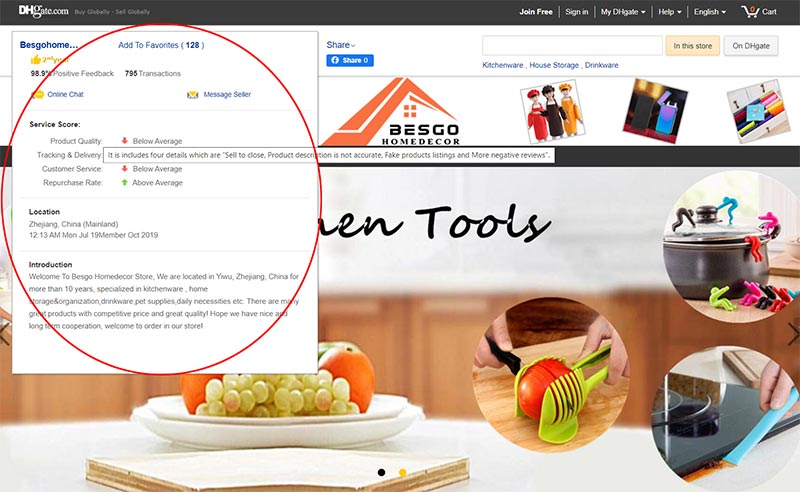 In general, I prefer to buy from sellers with the following metrics.
Has been a seller for at least 2-3 years
95+% Positive Feedback
Product quality above average
Customer service above average
In the example above, I would be hesitant to work with this supplier because the product quality is below average despite a 98+% positive feedback rating.
You should also read the seller reviews in depth to get an idea of the seller's customer service practices. In general, I only read the negative reviews and skip the positive ones.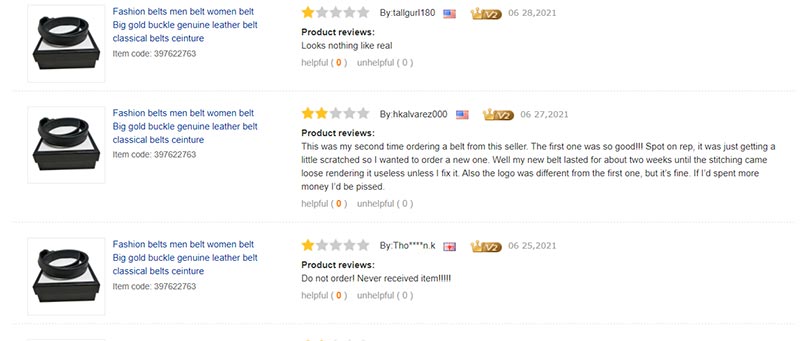 You should also pay attention to the quality of their home page. In the example below, this seller did not even bother to add their logo or change their splash page from the default.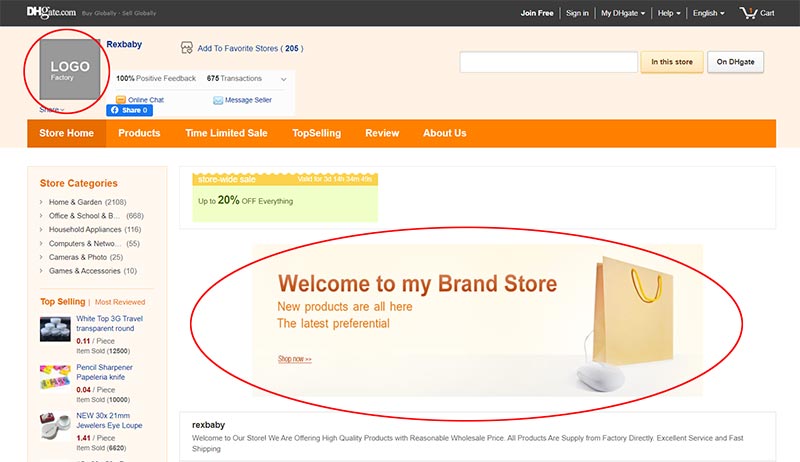 This is a red flag that you are dealing with a small time seller on DHGate.
The next section of the seller's page you should pay close attention to is their "Store Categories".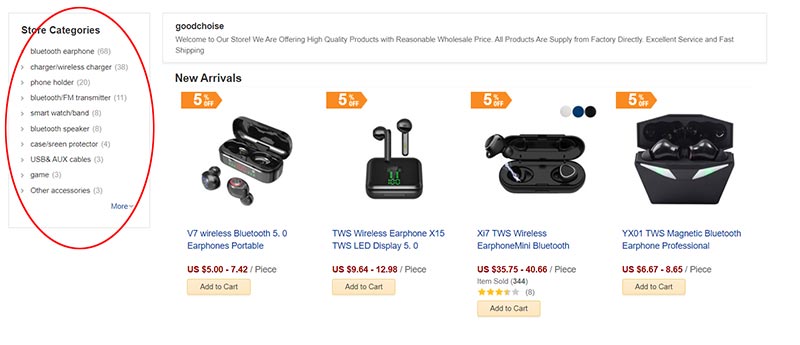 Most professional sellers specialize in a specific product category and are experts in their niche. For example, the seller in the photo above specializes in cell phone accessories.
But if you see a seller that sells a bunch of random products in their store, it usually means that they are just buying whatever junk they can find at a great deal.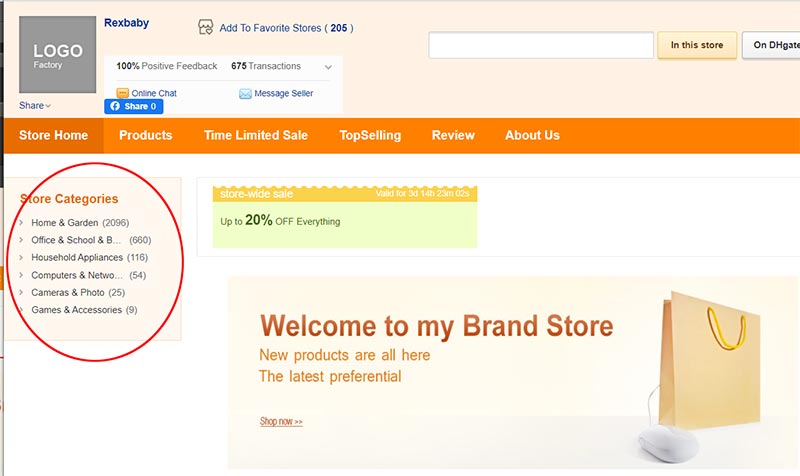 Check DHGate Delivery Times
Most products on DHGate are shipped out of China using ePacket shipping. However, the larger DHGate sellers have warehouses in the United States.
If you can find a seller with a local warehouse, not only will shipping be cheap (or free), but it also means the seller sells a high volume of product and is likely more reliable.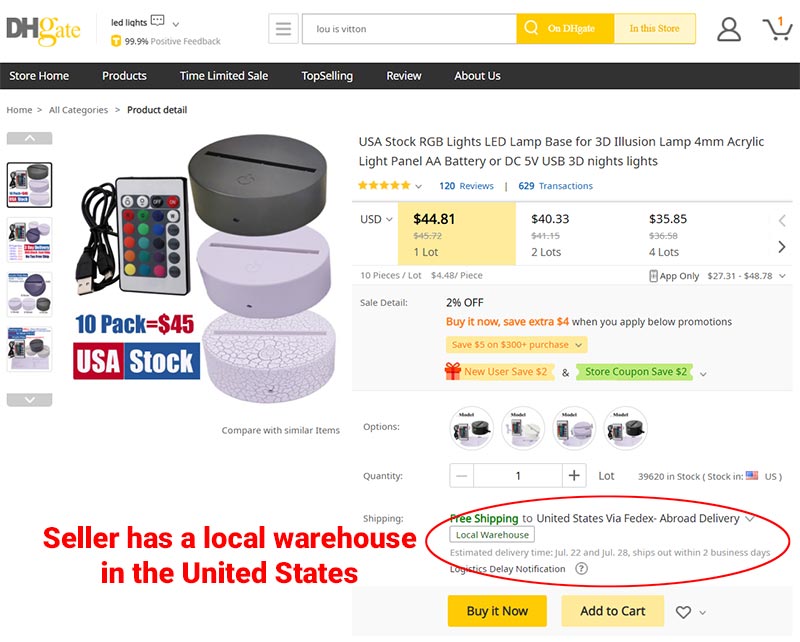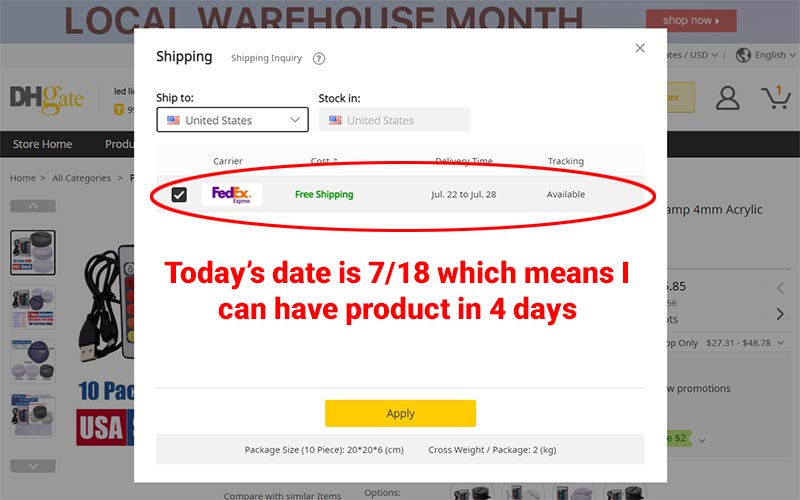 Most sellers on DHGate don't have local warehouses so you can expect shipping times to vary from 2 weeks all the way up to 2 months for delivery.
In the example below, shipping for this product is free but will take 2 months for delivery.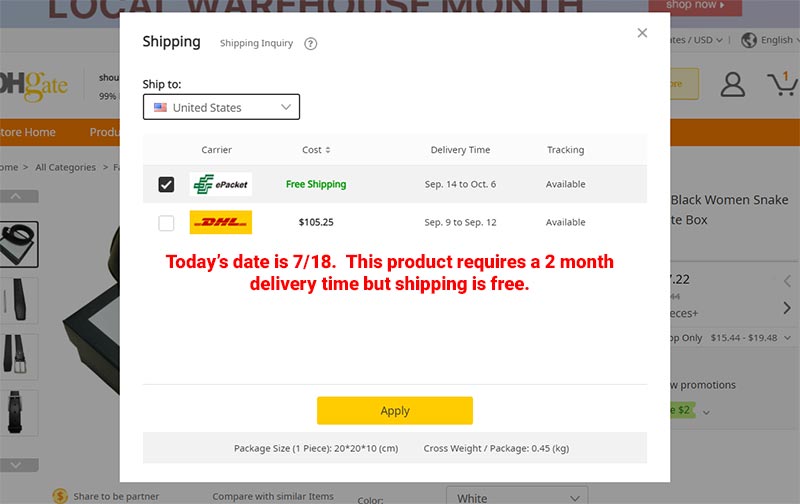 Make sure you check the delivery date on all products BEFORE you place the order. DHGate's buyer protection program guarantees that you'll receive your products by the end of the promised date range on the listing.
DHGate Payment Methods
Once you're ready to checkout, click on the "Proceed To Checkout" button and fill out your billing and shipping information.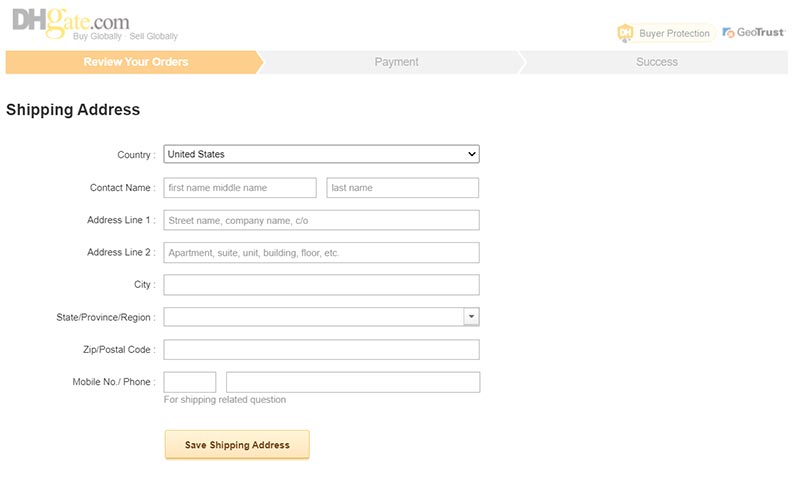 DHGate accepts many different forms of credit card payments but Paypal is notably missing.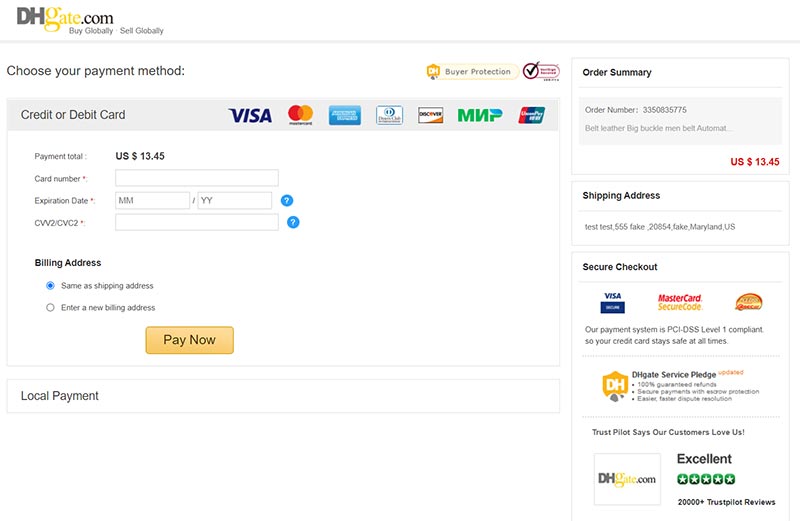 Overall, DHGate accepts…
Visa
Mastercard
American Express
Diners Club
Discover
Union Pay
Maestro Card
Bank Transfer
In general, you should pay by credit card over a bank transfer so you can build up points and mileage for your card. Paying by credit card also gives you the option of disputing the payment in case DHGate's buyer protection refund takes too long.
Either way, you are protected by DHGate's buyer protection as long as you pay on the DHGate platform. And by using a credit card, you are doubly protected from fraud. There is no risk.
How To Cancel A DHGate Order
If you have buyer's remorse, you can cancel your order on DHGate quite easily but it depends on the timeframe.
If your order is within 2 hours of your "Item Being Processed", you can simply click the "Cancel Order" button on your order page.
The order will be cancelled immediately.

However if 2 hours have already elapsed, you must use the "Request Refund" button instead. From there, you must wait for the seller to reply.

If the seller doesn't reply within 7 days, you are automatically issued the refund.
However, the seller has the option to reject the refund and ship out the package before the shipping deadline. As a result, if you are thinking about cancelling your order, make sure you do it within 2 hours!
How To Use DHGate Buyer Protection
As soon as you receive your DHGate order, you must inspect it for quality immediately. Make sure you examine your goods very closely and take action right away if you are shipped a piece of junk.
In the event that you are not satisfied with your order, you must act within a certain timeframe in order to get your money back.
According to the DHGate website, the Buyer Protection window is 90 days. But to play it safe, you should contact the seller immediately if there are any problems with your order.
If the seller does not reply within the Buyer Protection window, you can apply for a refund by opening a dispute.

From here, DHGate will help mediate the dispute.
What To Avoid On DHGate
As you shop on DHGate, you're likely to see brand name goods on the platform. For example, you might find Gucci bags, Ferragamo shoes, Nike products and more!
These are all fake!
Whatever you do, do not buy these products and try to sell them because it's illegal to do so. In fact, your products can be seized in customs and you may face criminal prosecution.
You should also be wary of re-selling any product that involves the safety of the customer. For example, I would avoid selling bicycle helmets or any product that could result in bodily harm or injury.
Remember, the quality standards of the sellers on DHGate may not match the standards of your home country. Listing photos also may not be representative of the actual product sold because sellers copy images from legitimate sellers on a regular basis.
The only way to tell the quality of a product is to buy a single item first before placing a bulk order.
Should You Shop On DHGate?
DHGate's poor reputation is the direct result of unrealistic expectations. If you see a super cheap product on DHGate, then it's probably a piece of junk.
As long as you don't expect superior quality merchandise, you'll probably be happy with DHGate.
Overall, you can think of DHGate as a poor mans Ebay and a worse version of AliExpress. The DHGate marketplace is a random mishmash of individuals and small companies in China selling their products online.
It's highly unlikely that you'll find real factories or suppliers on the platform and if you base your ecommerce business on DHGate, you might make a few bucks here and there but it's not going to lead to a long term business.
That being said, it's 100% safe to buy on DHGate if you know what you are doing. And there's practically no chance of getting ripped off and losing your money because of DHGate's buyer protection program.
However, quality control is a huge problem and it's generally not worth the headache if you want to start a long term ecommerce business.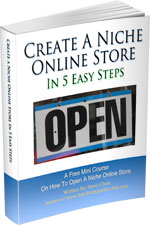 Ready To Get Serious About Starting An Online Business?
If you are really considering starting your own online business, then you have to check out my free mini course on How To Create A Niche Online Store In 5 Easy Steps.
In this 6 day mini course, I reveal the steps that my wife and I took to earn 100 thousand dollars in the span of just a year. Best of all, it's free and you'll receive weekly ecommerce tips and strategies!
Note: This post above may contain affiliate links, which means that I may receive a commission if you make a purchase when clicking a link. Please consult our privacy policy for more information.
Related Posts In How To Find Products To Sell
About Steve Chou

Steve Chou is a highly recognized influencer in the ecommerce space and has taught thousands of students how to effectively sell physical products online over at ProfitableOnlineStore.com. 

His blog, MyWifeQuitHerJob.com, has been featured in Forbes, Inc, The New York Times,  Entrepreneur and MSNBC.  

He's also a contributing author for BigCommerce, Klaviyo, ManyChat, Printful, Privy, CXL, Ecommerce Fuel, GlockApps, Privy, Social Media Examiner, Web Designer Depot, Sumo and other leading business publications.

In addition, he runs a popular ecommerce podcast, My Wife Quit Her Job, which is a top 25 marketing show on all of Apple Podcasts. 

To stay up to date with all of the latest ecommerce trends, Steve runs a 7 figure ecommerce store, BumblebeeLinens.com, with his wife and puts on an annual ecommerce conference called The Sellers Summit.  

Steve carries both a bachelors and a masters degree in electrical engineering from Stanford University. Despite majoring in electrical engineering, he spent a good portion of his graduate education studying entrepreneurship and the mechanics of running small businesses.